Plan A Destination Wedding in Kerala With This Smart Planning Guide
Not sure how to begin planning a destination wedding in Kerala? The following checklist along with some ideas will help you get started.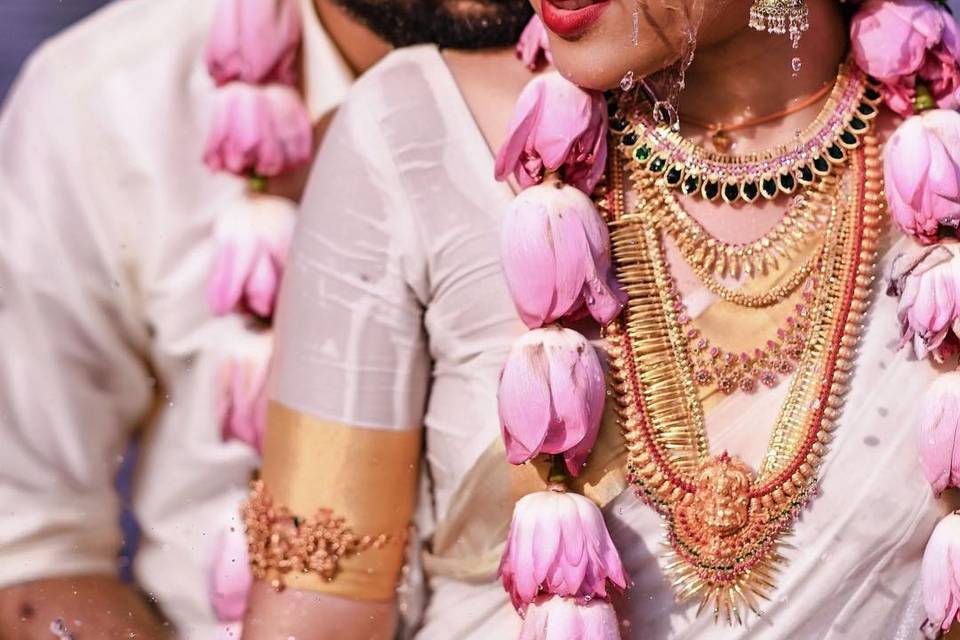 Fancy having a destination wedding in Kerela? And why shouldn't you? God's own country with its abundant natural beauty is an ideal location for a wedding away from your hometown. Imagine the backwaters of the state serving as a backdrop for your wedding pictures and your groom arriving on an elephant to take you away. Everything sounds so fancy when you're planning a destination wedding in Kerala.
If you are planning to tie the knot in Kerala but are confused about the planning process, we have got everything covered. From the venue to the cost of planning, these tips and ideas will help you get started.
How to Plan a Destination Wedding in Kerala?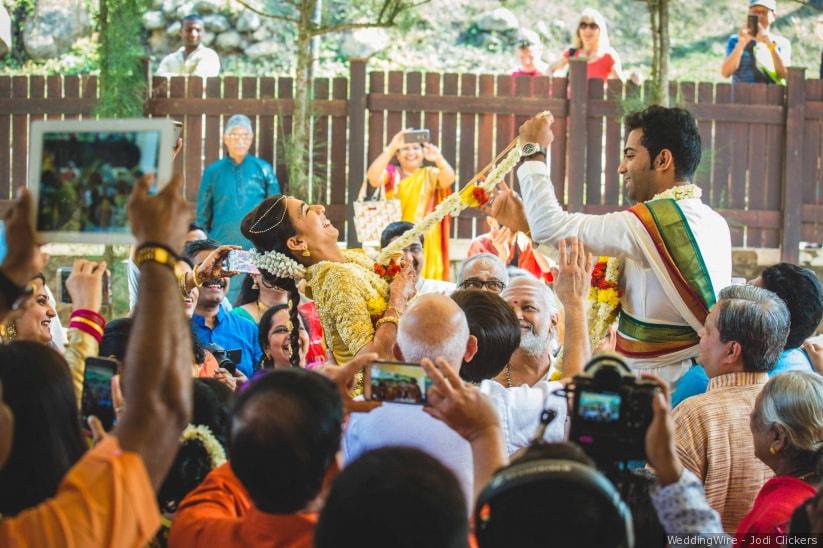 The following checklist will help you plan a wedding of dreams in Kerala. Have a browse!
1. Choose a date of the season that is best for Kerala
Although Kerala boasts of pleasant weather throughout the year, the most suitable time to have a destination wedding in the state is between October to March. The weather during these months is enjoyable and pleasant enough to have outdoor ceremonies. But it's always advised to hold events (especially those for a destination wedding in Kerala) either early morning or in the evening as afternoons are a little humid.
A tip for the bride, this humidity will definitely affect your bridal makeup so make sure you set it with a setting spray after using the right kind of products.
2. Hire a wedding planner
When it comes to destination weddings, hiring a wedding planner is advised especially if you are not familiar with the destination. Not only will it help you strike a better deal with the vendors, but a planner can also guide you through the culture, season, and languages of the area. Getting what you envision at such a location becomes easier when you have a mediator to bridge that language barrier and execute ideas that suit your wedding.
3. Factor in the accessibility
One of the most important things to check when you lock down Kerala as your destination for the wedding is the total number of flights flying in. The city is well-connected with two international airports and has a good rail network. Figure out airport transfers for your guests. Wedding transportation services would be best to hire from a local vendor for the whole event. Also, seek your wedding planner's advice for hotels in Kerala according to your budget.
4. Pick local vendors
Picking local vendors can help to make your big day a lot more remarkable. They know about the best local stuff and the unique aspects that the destination has to offer. Their invaluable insight will help to keep your events true to the place by maintaining the authenticity of the destination. And of course, local vendors mean no additional cost for wedding transportation and accommodation.
Best Locations for Destination Wedding in Kerala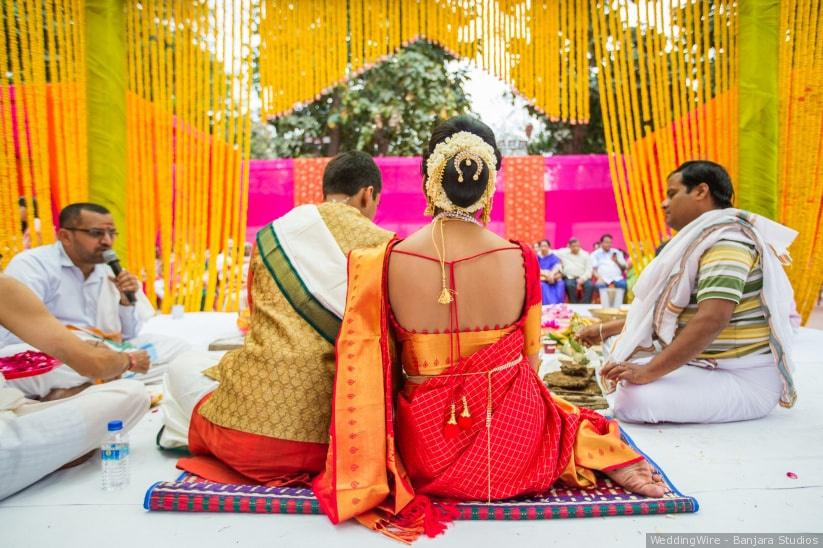 God's own country offers not one but many different types of locations where a beautiful wedding can take place. We share them with you.
1. Houseboat wedding
A houseboat wedding in Kerala is perfect for those who wish to have a lavish celebration for their loved ones. You can either book it for the entire wedding or just one of the ceremonies. A good houseboat venue like the Lake Palace Resort in Alleppey has large floors and comfortable accommodation facilities. During the season the approximate price per room per night is Rs 25,000. It would surely be a unique experience for your wedding guests as well to witness a wedding on houseboats.
2. Beach wedding
When it comes to a destination wedding in Kerala, you cannot go wrong with taking your vows at the beach. One of the most recommended venues to have a beach wedding in Kerala is the Leela Kovalam. The 5-star property which is the only clifftop beach resort in the country assures you of a luxurious yet a relaxed experience along the vast stretches of the blue water. On average, a wedding including all arrangements like food and accommodation for around 150 to 175 guests would cost between Rs 30 lakh to Rs 40 lakh.
3. Amidst the hills
A clear blue sky, lush greenery, and breathtaking hills make for a beautiful backdrop for wedding photographs. Isn't it? Kerala offers a number of venues to host a wedding amidst the hills. For instance, the Spice Tree, a luxury resort in Munnar is a great mountain retreat for an absolute heartwarming affair. The cost per room starts from Rs 15,000 per night.
4. Temple wedding
No matter what, there is nothing more beautiful than a simple traditional temple wedding. In Kerala, Guruvayar Temple is known to be one of the most auspicious places to tie the knot according to the culture of the state. For those looking to get married in a traditional Hindu style can consider the Sree Krishna Temple in Ambalappuzha. Experiencing the traditional culture of Kerala will also bring a unique flavour to your wedding.
Real Destination Wedding in Kerala
Need some real-life inspiration to gear you towards your own destination wedding in Kerala? Here are a few examples:
1. Kriti and Srijan's Destination Wedding in Kerala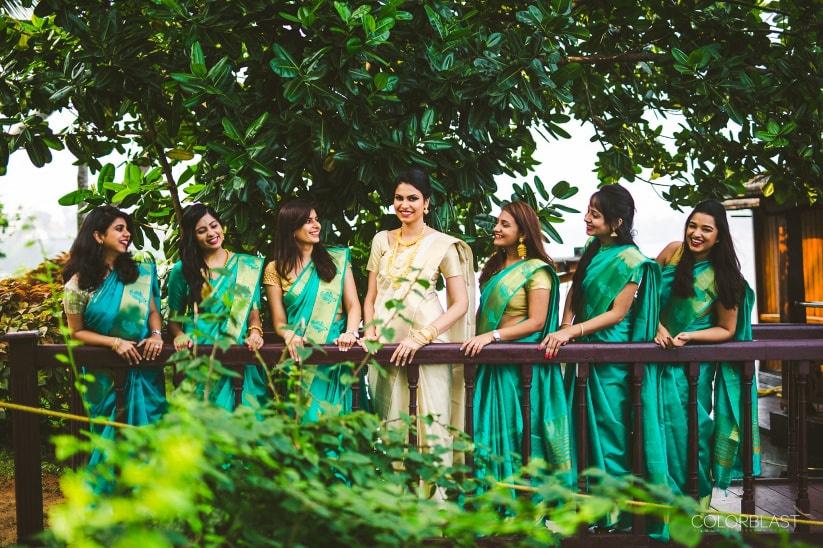 Kriti and Sujin's wedding at the backwaters of Kerala was truly a day to remember! The couple tied the knot in the presence of their loved ones at the St Paul's Orthodox Church, Koodal. The fun-filled celebration was continued at the Raviz Resort, Asthamudi.
As we can see from the pictures, the bride squad and groom squad, each had their fun moments during the wedding. It was only justified to capture it with dedicated posed photographs.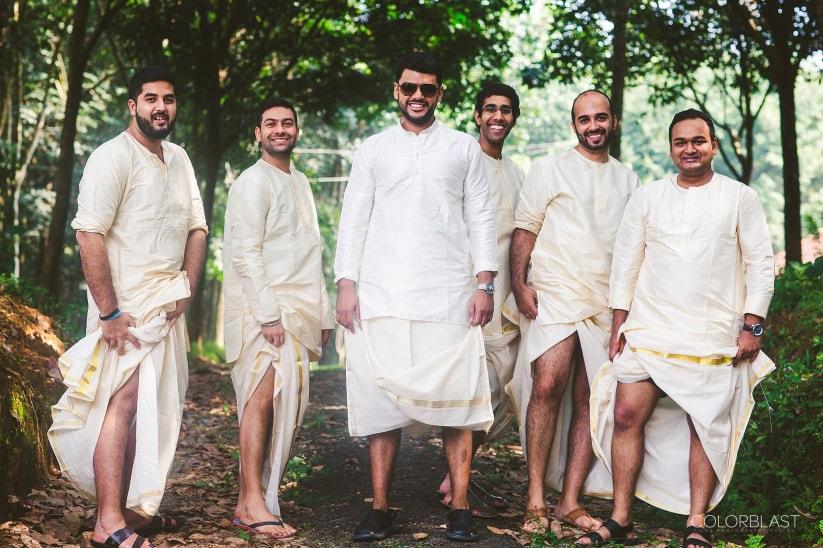 2. Nikolaus and Sharon's destination wedding in Kerala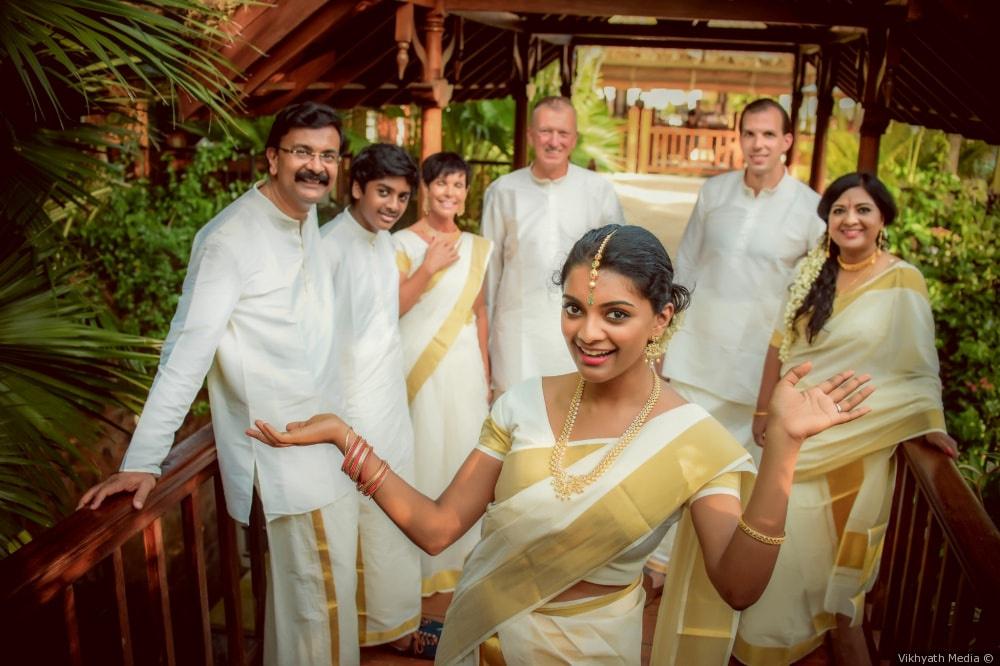 This diverse couple's dream getaway wedding in Kerala is all about friends, family, the backwaters and cream silk fabrics. When Nikolaus and Sharon decided to bring their loved ones to the southern state, they decided to do so at the grand Taj Green Cove Resort and Spa. And they did it with stand-in features like a boat ride bridal entry, with classical dancers (green-faced Kathakali men and Mohini Attam women) matching drumbeats before they went down the aisle.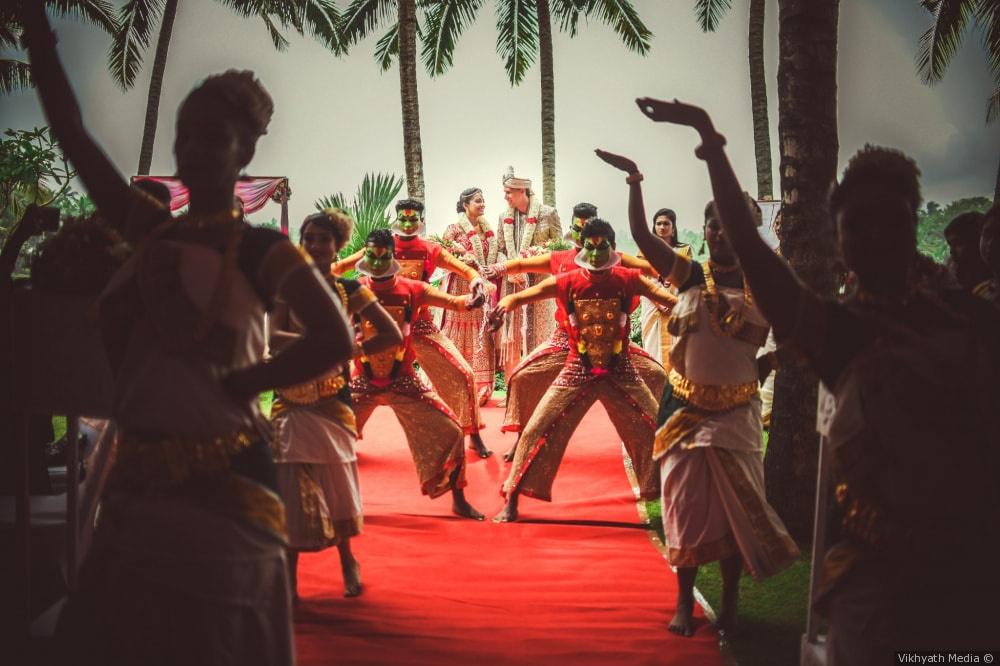 3. Nitin and Rachna's Destination Wedding In Kerala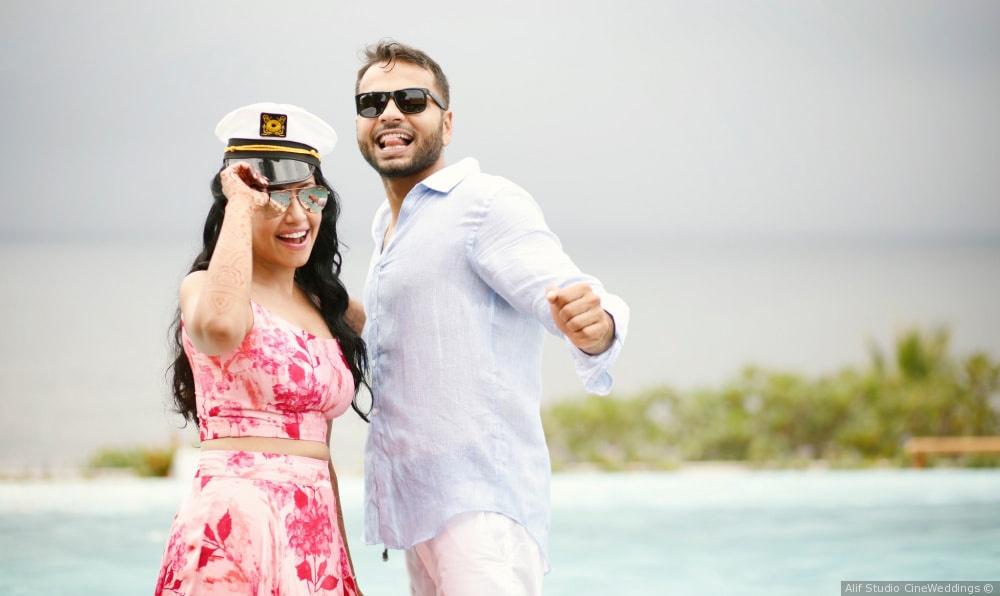 Nitin and Rachna's destination wedding experience turned into the ultimate beach wedding party. Captured by Alif Studio Cineweddings and put together by Krayonz Entertainment, this wedding had a snazy pool party with gay counters holding bangles and more, a set of cultural events for their wedding guests and a vintage marriage car bedecked in florals and a snazzy reception party to bring it all together.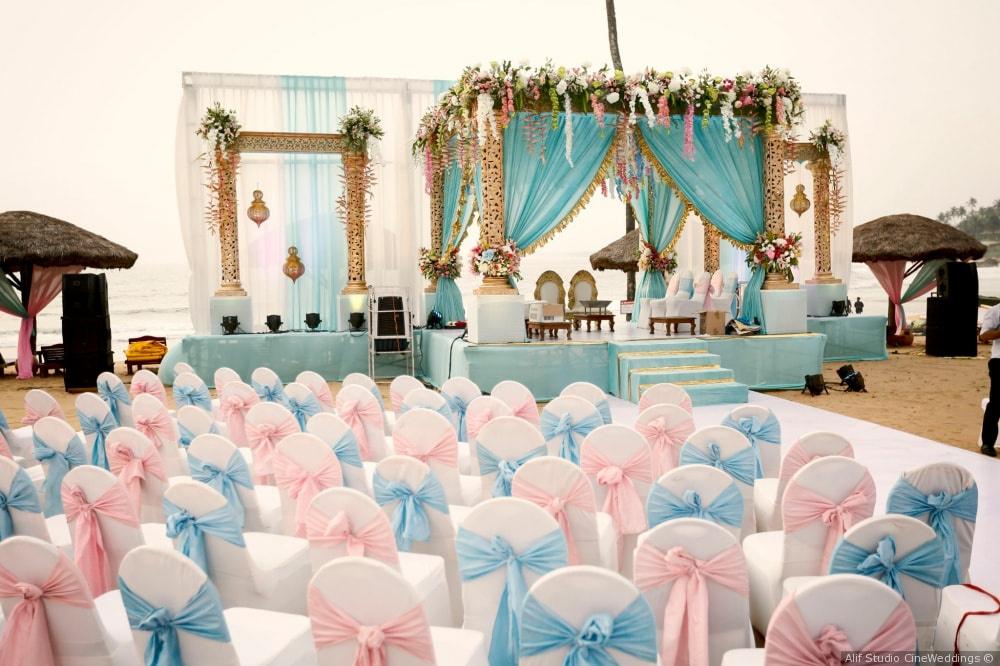 We recommend that you browse through their real wedding pictures for an immersive experience.
Irrespective of the type of wedding you opt for, be it a luxury houseboat event or a traditional ceremony in a temple, a destination wedding in Kerala will be an unforgettable experience for everyone. This planning guide will definitely come in handy once you start the planning and booking process for your destination wedding in Kerala.
Which type of wedding would you like to plan? Let us know through comments.