Check Out These 9 Designer Sarees for Engagement day That Are Going to Make You Look Super Sophisticated on Your Big Day
It all starts from the engagement ceremony and if you crack that you have nothing to worry about. Going for a designer saree for engagement day is exactly what you need to look perfect and feel comfortable.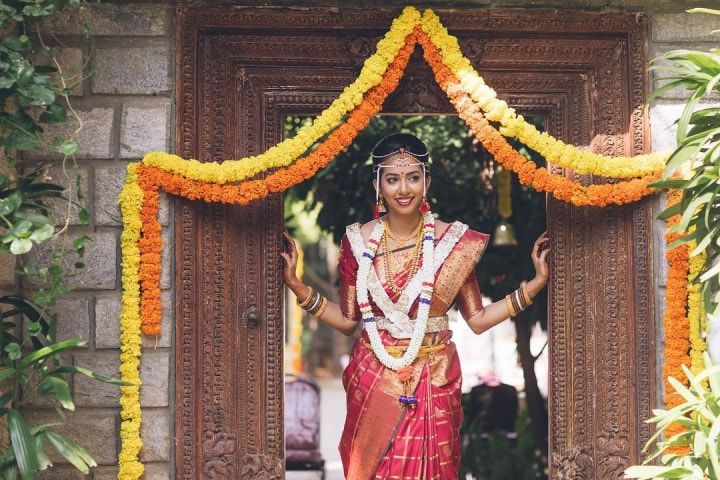 Ready to meet your significant other's, whole tribe? Nerve racking right? Everything's got to be perfect. From your jewellery to your outfits. Exactly why a designer saree for engagement day would be a perfect choice. You just know it when you find the perfect one. But the road to perfect can be long, seeing the myriad of options available in the market. It can be daunting and tricky but if you have a basic idea of what you want, things can get much easier.
Fret not! We have you covered. Have a look at these elegant sarees that are going to steal the show.
1. Shimmer & Sequins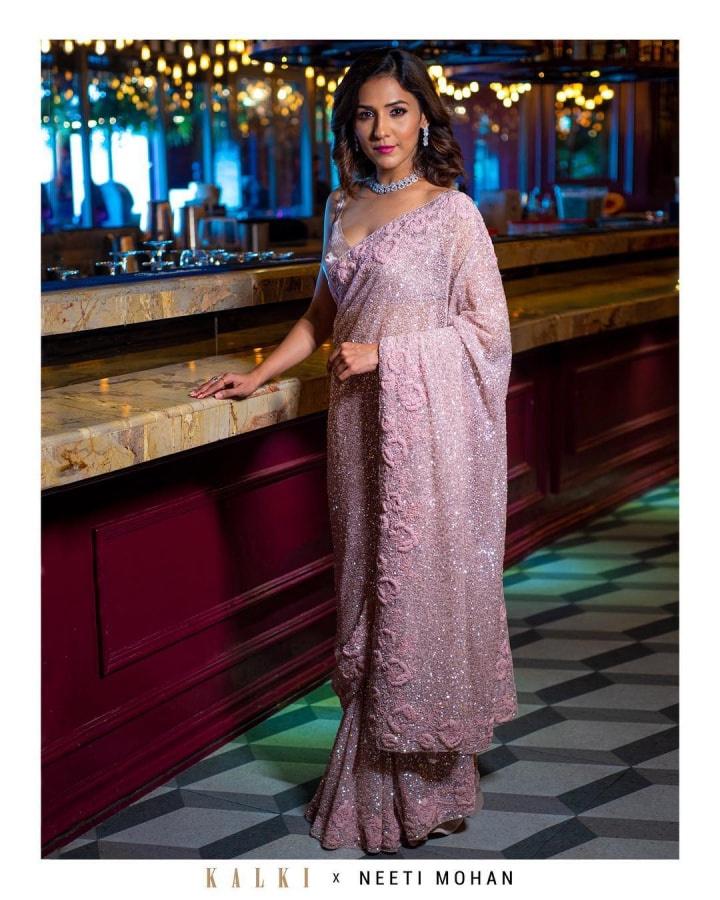 Shimmer always works! So, if you decide to mix it up with a lovely pastel shade like this, you are bound to look like the star of the show (which you are). Moreover, the blend of studs and sequins on a pretty georgette, make it one of the perfect designer sarees for engagement. Pair it up with a sleeveless blouse like this and you are ready to shine.
2. The Classic Silk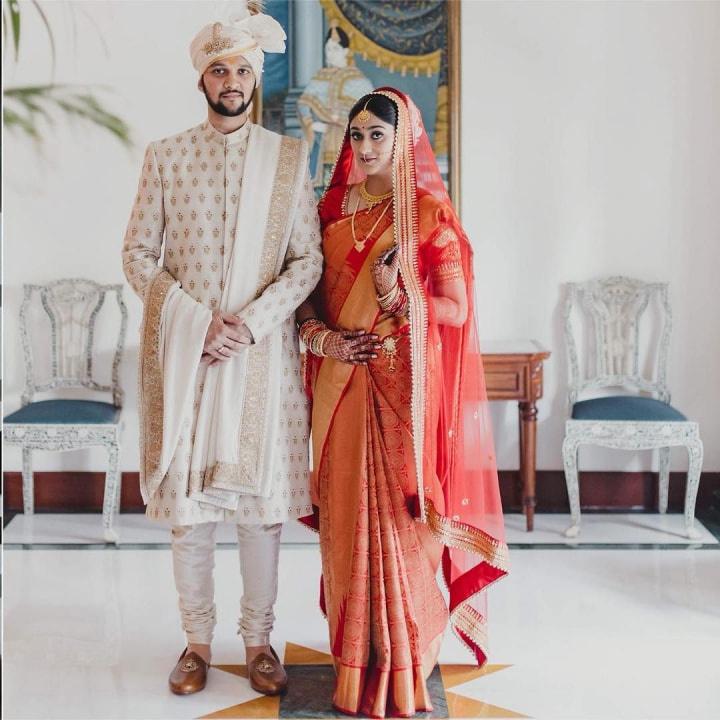 We're sure you've been guilty of stealing some of these gems from your mum's wardrobe. Silk sarees are an investment, but one that will last you a long time. Go for a silk designer saree for engagement and pair it up with a simple blouse like this or a contrasting elbow sleeve blouse. A little pro-tip; pick a saree that incorporates two to three bright colours for a vibrant fun look.
3. Hassle-free drape saree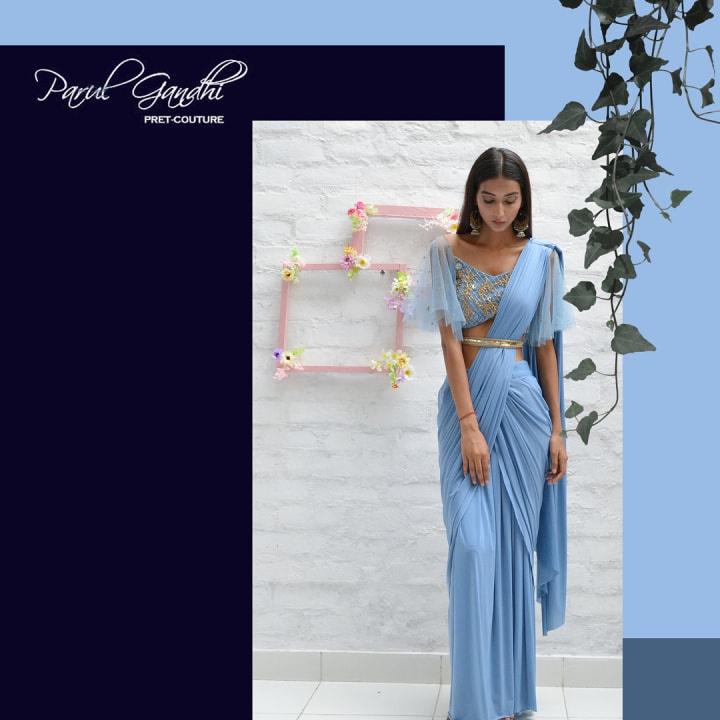 Don't have the patience to drape a saree from scratch? Well, you don't have to anymore, thanks to the brilliant concept of a drape saree. This is a beautiful designer saree for engagement day because you really don't have to worry about carrying it. It's so effortless that you can go crazy, dancing all night and it won't budge. Pair up a nice heavy-work blouse with a chiffon or georgette drape saree and it will do wonders for your look.
4. Ruffles all the way!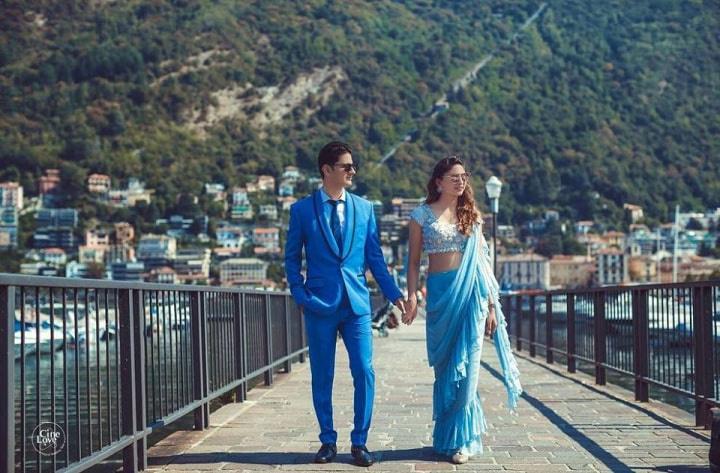 If you are looking for a lively designer saree for engagement then go for ruffles. They add such a fun element to your look while also keeping the elegance intact. You can either go for contrasting coloured ruffles or just add some sequins to it. Seriously, there's so much you can do with it.
5. The shimmery net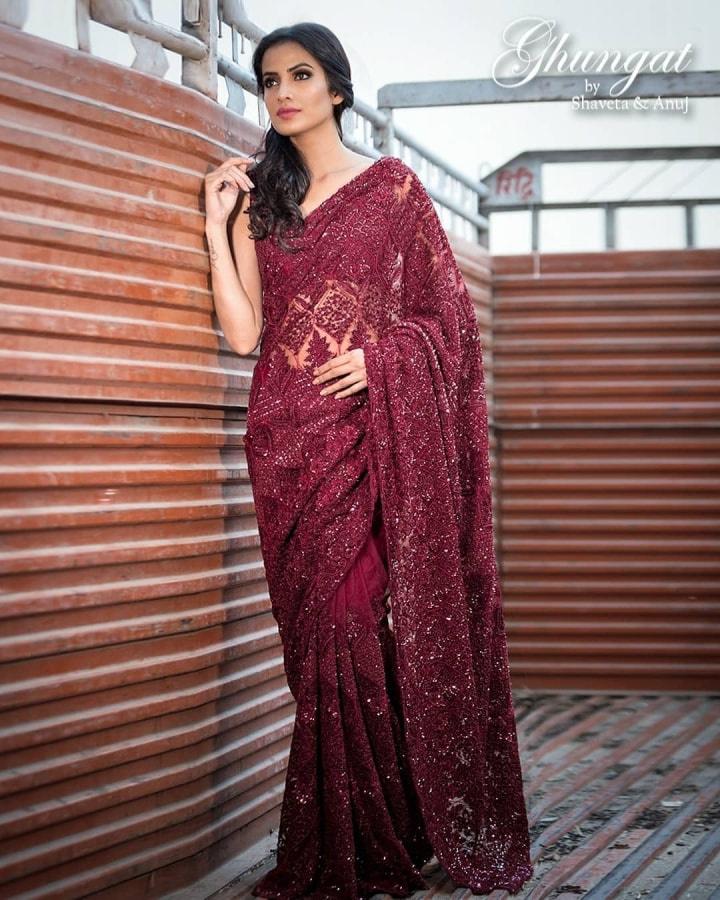 You can play around with a net saree as much as you want; from keeping it simple to go going all out. Going for net designer sarees for engagement is always a good idea. Experiment with an ombre net if that's what you like or dark, maroon colour like this. The maroon-on-maroon work does such a lovely job of giving the garment a cohesive, sophisticated look.
6. Lehenga Saree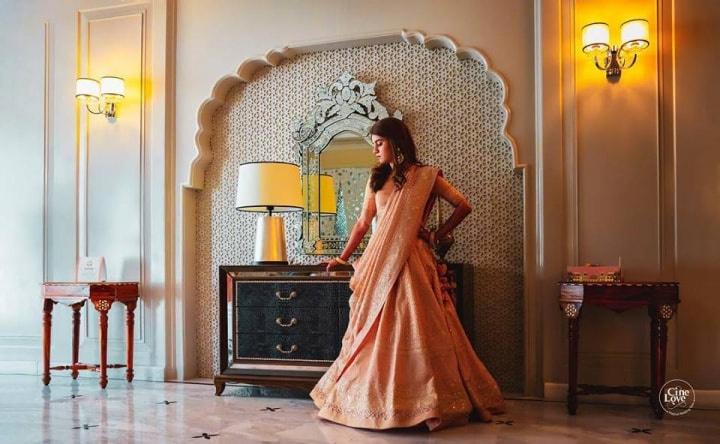 Can't decide between a lehenga or a saree? Well, go for both! The style looks so chic and put together. Moreover, it makes you look like the elegant bride that you are. Something like this works in either light peachy shades or a mix of bright shades. If you are feeling a tad bit experimental, give colour-blocking a shot. Pair two opposite shades for a rich, vibrant look.
7. The Velvet Saree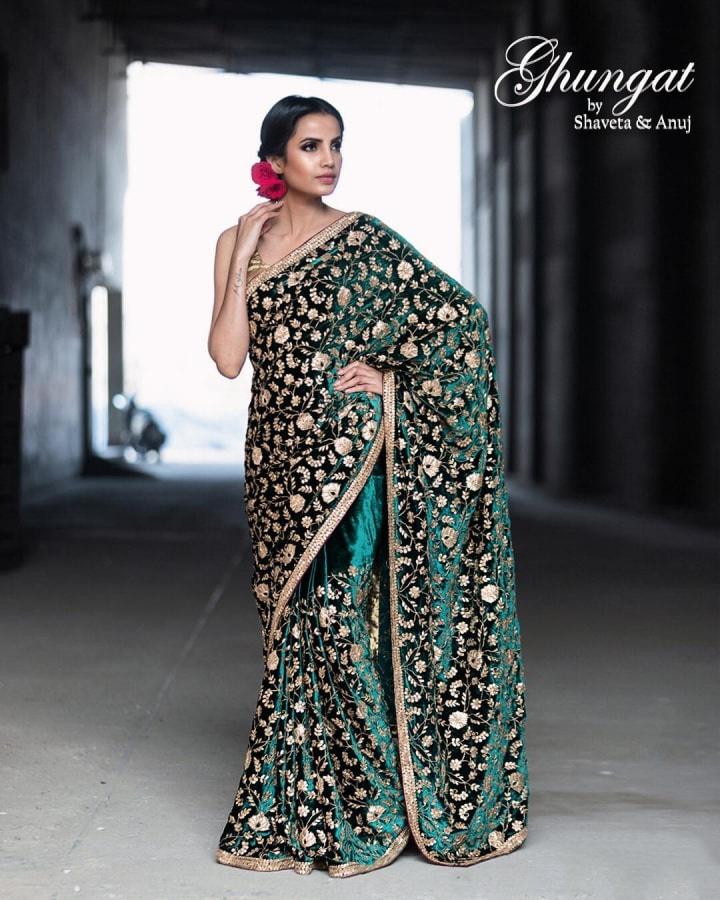 A velvet saree with elegant zari or thread work will not only look elegant but also extremely rich. So pick a velvet designer saree for engagement day to get that sophisticated yet fun look. A nice simple lace for the border that compliments the work will make it look much more comprehensive and eye-catching. Remember to go for the dark plums, olives and other such shades to complete the look.
8. Studs Galore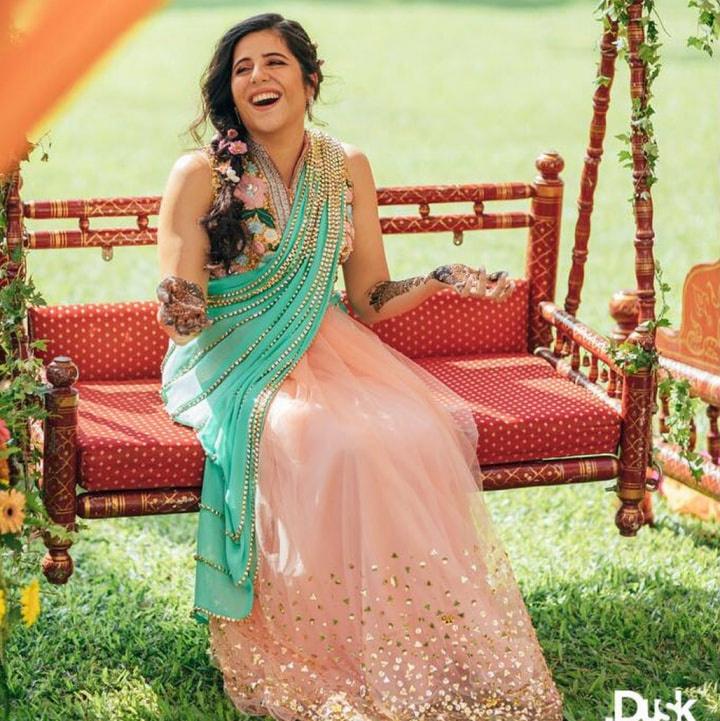 Go all out with studs on your saree. They look really spunky and add a little twist to your basic saree. What you can also do is pair two completely different colours or completely different cloth materials. Much like this saree that does both! It's surprising how well the opposites work with each other.
9. The South Indian Style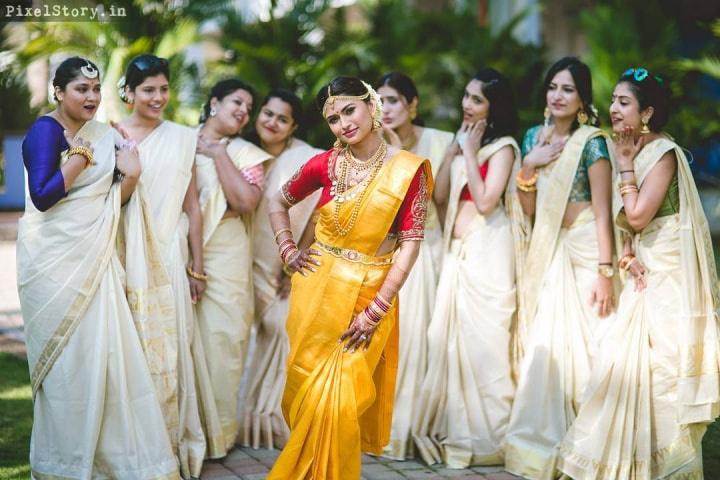 Another one of the classics. Although it's a silk saree only but with a different style of draping. More than the style its just the addition of the belt that makes such a difference. If you are not a South-Indian, you have all the more reason to wear it. It will make you stand out and add that element of surprise. Complete the look with a fresh Gajra and a lovely Matha Patti.
Well, that was a little glimpse into the plethora of options available in the market. All you need for a perfect designer saree for engagement is a basic design and your designer can take it from there. Oh and also, do remember to keep that lovely smile intact because regardless of your attire, you should look and feel happy. You don't want to ruin your pictures, especially for the big day.
Be sure to tell us which one's your favourite out of the bunch and if you have a friend ready to tie the knot, share it with her too.