Need Churidar Designs to Look Slim? Here's How to Pick the Right Ones!
If you have a curvy body, you need not worry about feeling under-confident at weddings, as these dresses with churidars are perfect in making you look slim. Keep reading to know what they are!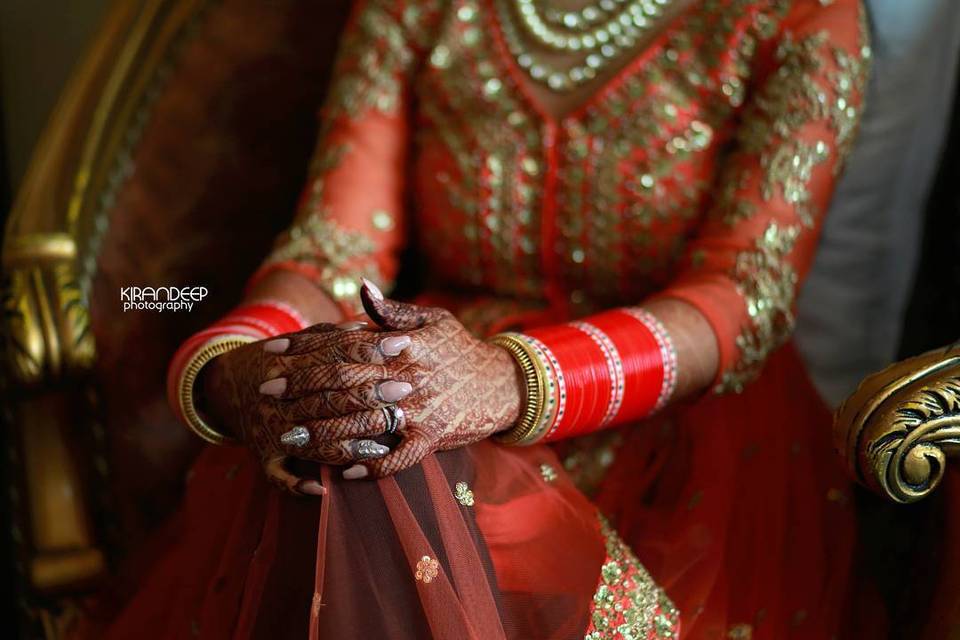 Having a healthy body with a few extra kilos should not stop you from feeling confident and great at a wedding or any function. While most of the modern outfits women wear cannot help you by making you look slim, this is where Indian traditional clothes score well. Many Indian traditional outfits can help you attain that slim look you want so much when attending a function. Let different outfits with churidar designs to look slim help you with this bit!
There are various dress hacks that make your life easier when it comes to slimming down your appearance in traditional attire. Wearing a churidar is one of them. What the churidar does is, with so many folds at the bottom, it makes you look taller. The equation is simple- the taller you look the slimmer you can appear. Wearing heels adds on to that. You must always wear long Kurtis or tunics on top to slim down your appearance. It is all a matter of being able to create an illusion to help you look slim.
The following are a few of the popular style tips using churidar designs to look slim.
1. The colour of the churidar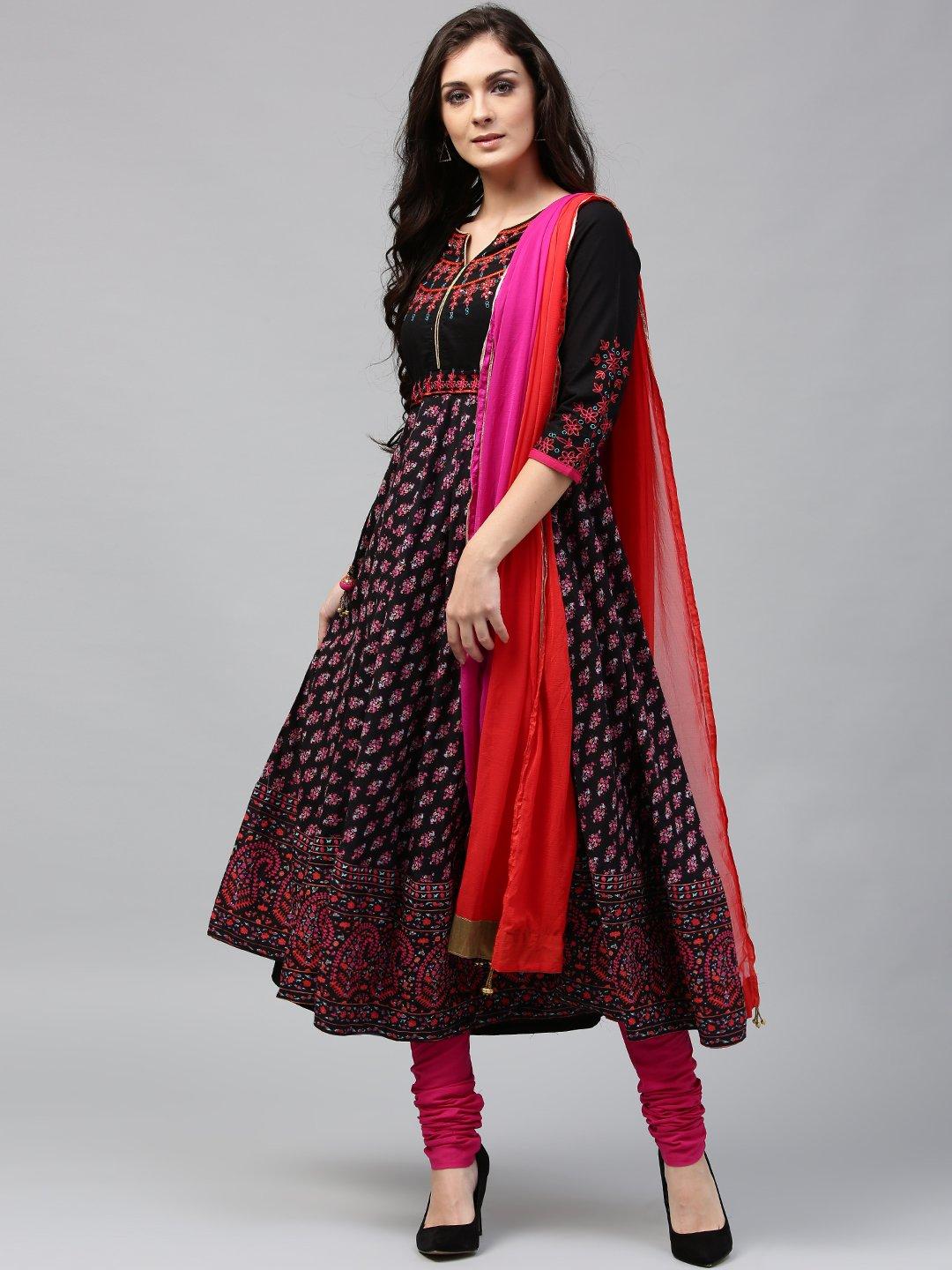 Image Courtesy: Myntra
First things first, the colour of the churidar designs to look slim can alone help you in this regard. Wearing black or dark-coloured outfits to look slim is one of the most basic rules of fashion. This universal law applies here too in case of an outfit with churidar. You can go for an all-black look with the top and the churidar both being black in colour.
Do not forget to pick something with subtle embroideries on your dupatta or the kurta. If you are confused about the colour, just go with golden as it can never go wrong with black. It adds elegance to the outfit as well. Complete the look with oval shaped hanging earrings to make you slimmer.
2. Have small designs on the Kurti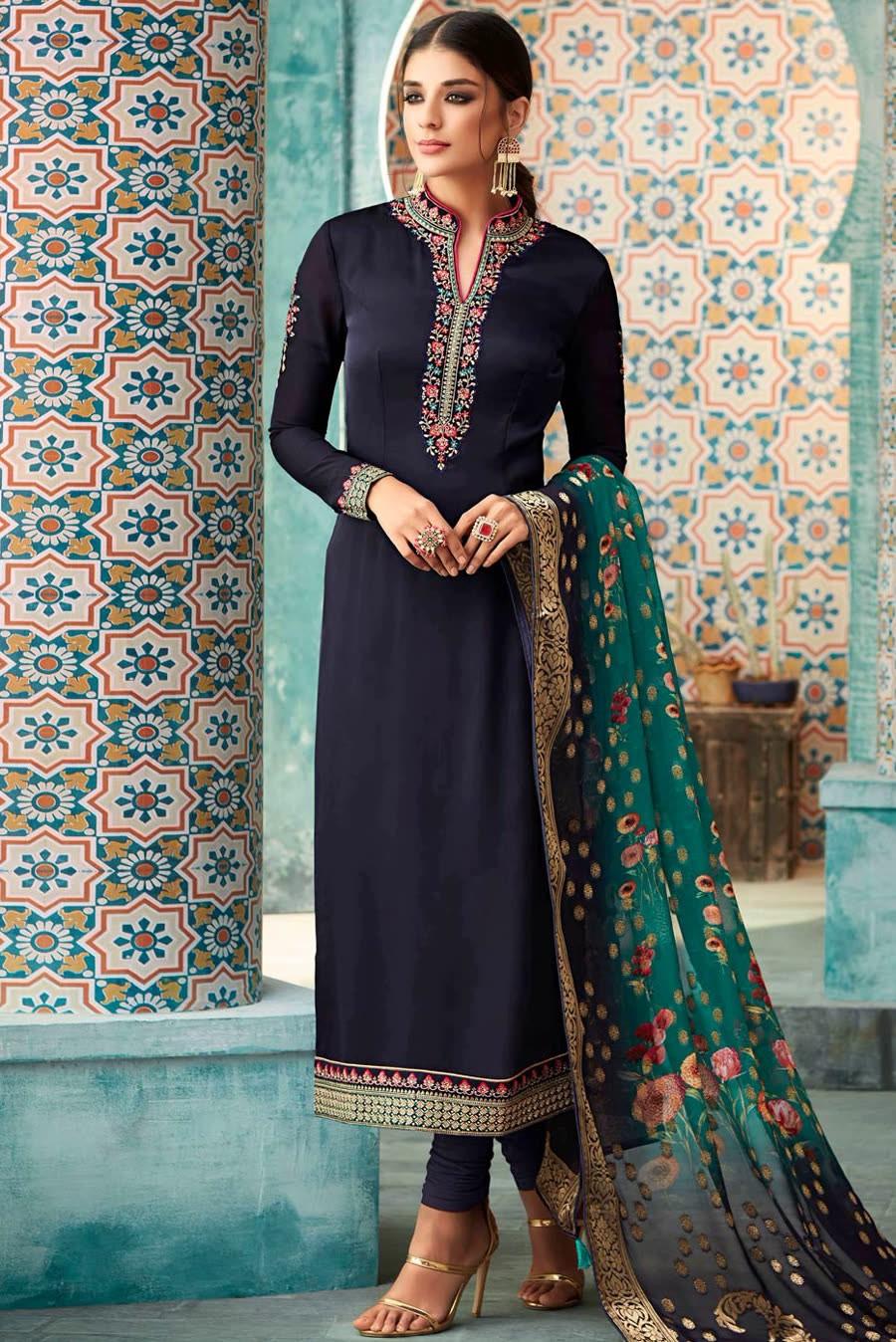 Image Courtesy: Aaina Girl
Having too many designs on the kurta or tunic can make you look a bit bulky. It may make you look heavier mainly because larger prints create the illusion of a larger base. Therefore, avoid heavy floral designs and stick to basic designs with minimalistic embroidery and sequins. This lets the dress flow vertically and makes you look slim. Pair it with a dark coloured churidar that makes your legs look slim.
Whenever you think of churidar designs to look slim, think of this pro tip about embroidery as it will save you a lot of hassle. If you are not too heavy in your abdomen region, then you may also go for single coloured long kurta. This garment generally has a column-like shape, making it the perfect attire for you to look fit.
3. Let the dupatta come to your rescue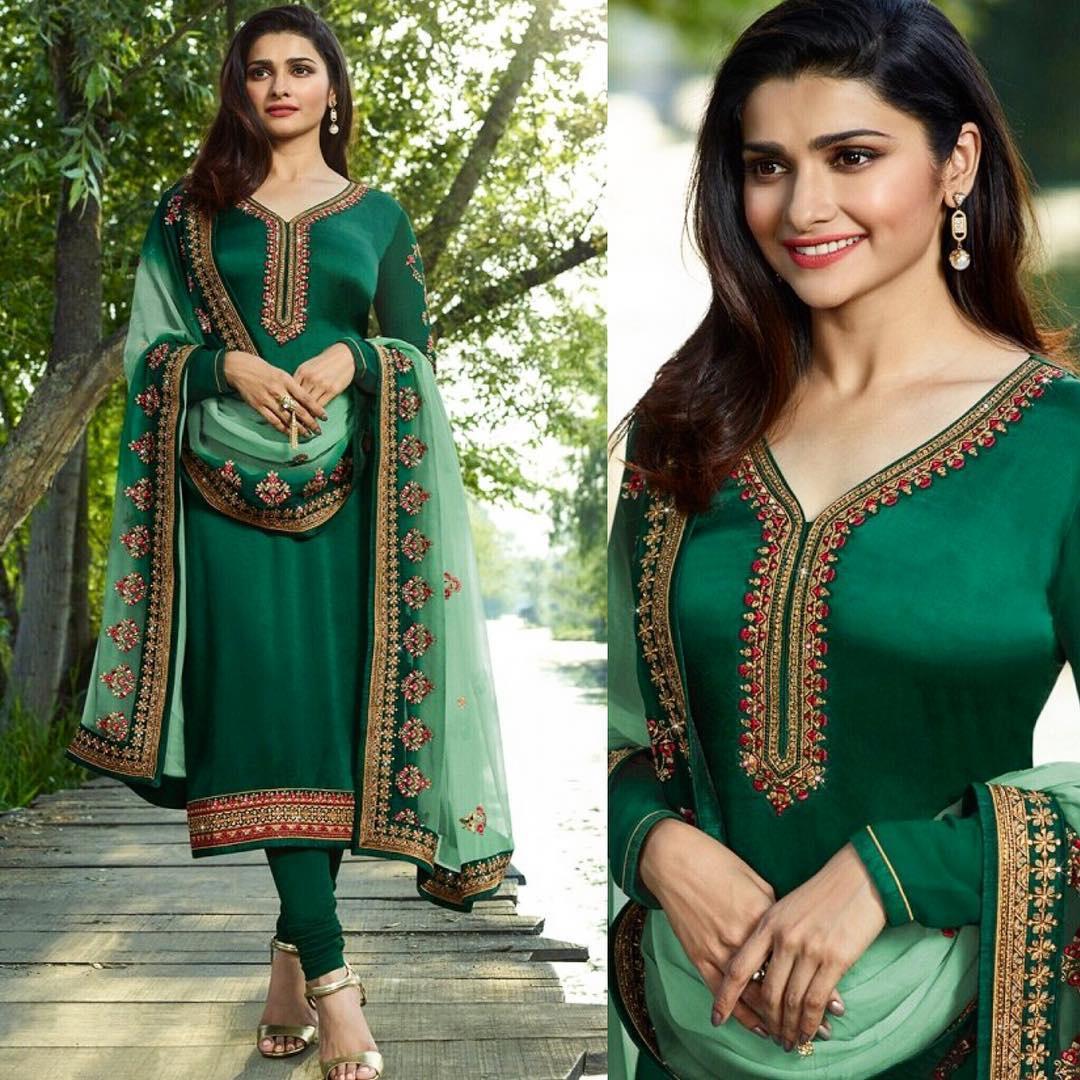 Image Courtesy: Hatkay11's Instagram
With any dress that uses churidar designs to look slim, the most basic thing that you can accessorise with is the dupatta. Use it to your advantage by hanging it on your hands and covering your back. Holding your dupatta like this allows you to cover all the bulges that one may possibly see. This is extremely helpful for people with love handles or a heavy tummy. The dupatta style allows you to cover your back and the loose ends cover your stomach. Don't forget to wear heels to look tall! With the majority of your excess bulk covered, you will surely look great with this style hack.
4. Flares always help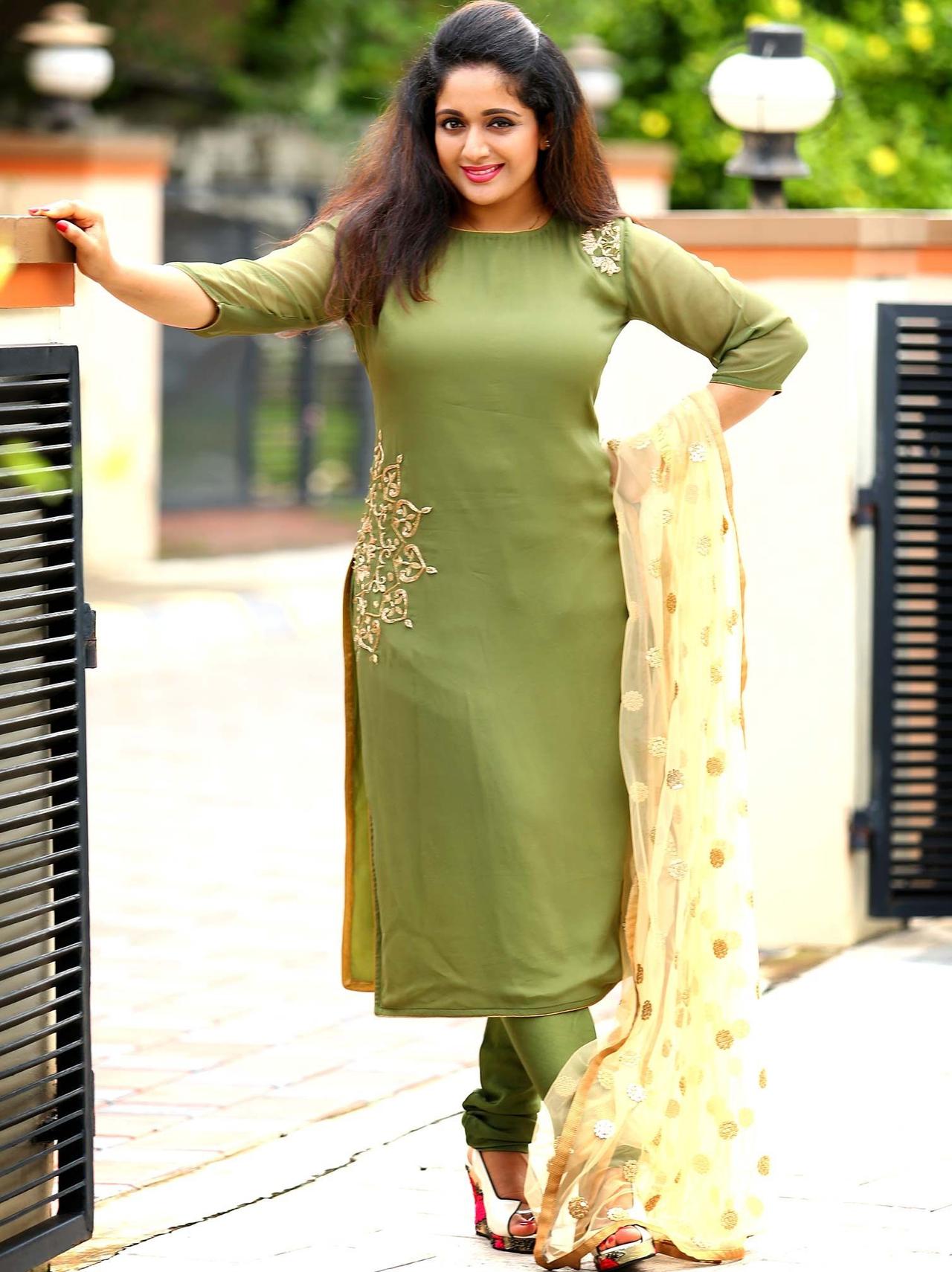 Image Courtesy: Pinterest
Getting a tunic with flares along with a churidar is one of the best churidar designs to look slim. What makes it so easy to wear and wonderful to look at is the flowy nature of the flares, which can help you camouflage your weight. However, make sure that you use darker shades of colour here too. Have sleeves that stop at three-fourths of your arm's length.
Furthermore, in this look, you do not have to use your dupatta as a cover and can just use it any way you want. You can either drape it around the neck or just use it on one of the shoulders.
5. When in doubt, go for an Anarkali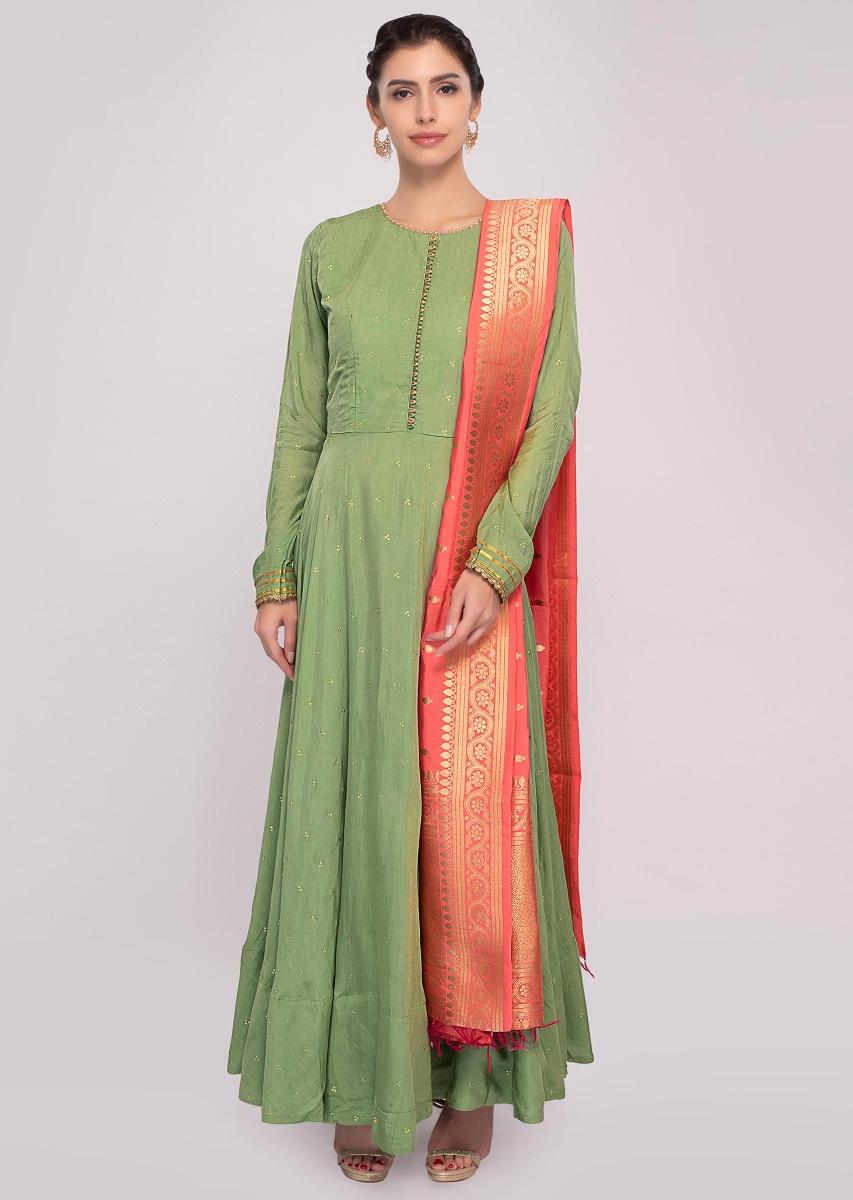 Image Courtesy: Kalki Fashion
If any of the dress hacks of churidar designs to look slim are not working for you, just go for an Anarkali. It is the perfect choice for any woman out there. It allows you to have heavier embroidery included as the A-line nature of the top makes up for it. Furthermore, it also allows you to explore different colours that are not that dark. Therefore, an Anarkali design is the perfect solution to look slim in Indian traditional wear.
Though we understand why you are looking for outfits to make you look slimmer, we do urge you to embrace your body for what it is! The only thing that makes a woman look beautiful is confidence!