Spotted! 9 Stunning Bridal Jewellery Designs We Love Right Now
Bridal jewellery designs are as important as the bridal ensemble itself. Click on and be inspired by the looks we spotted on some gorgeous millennial brides.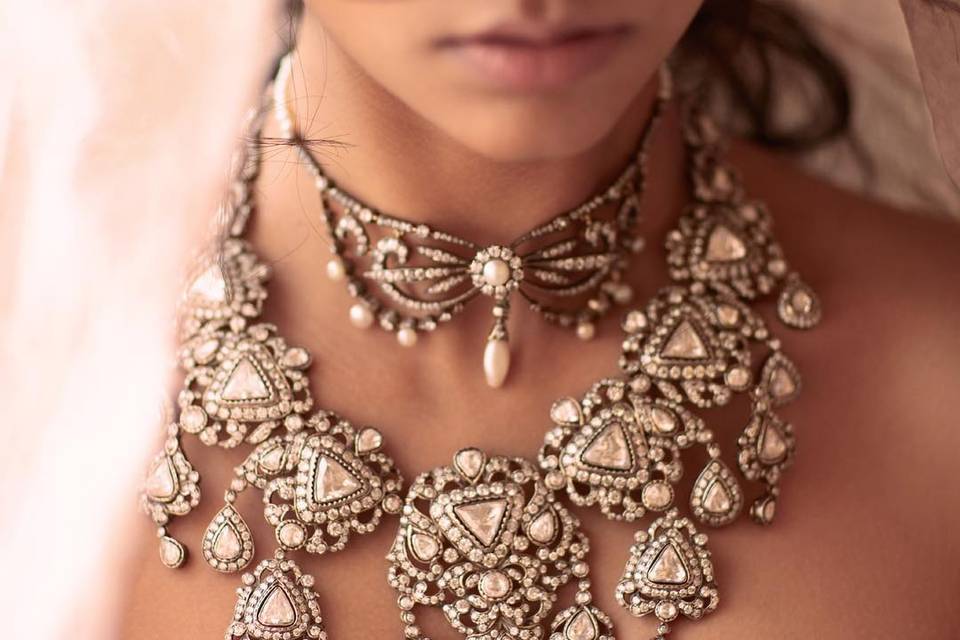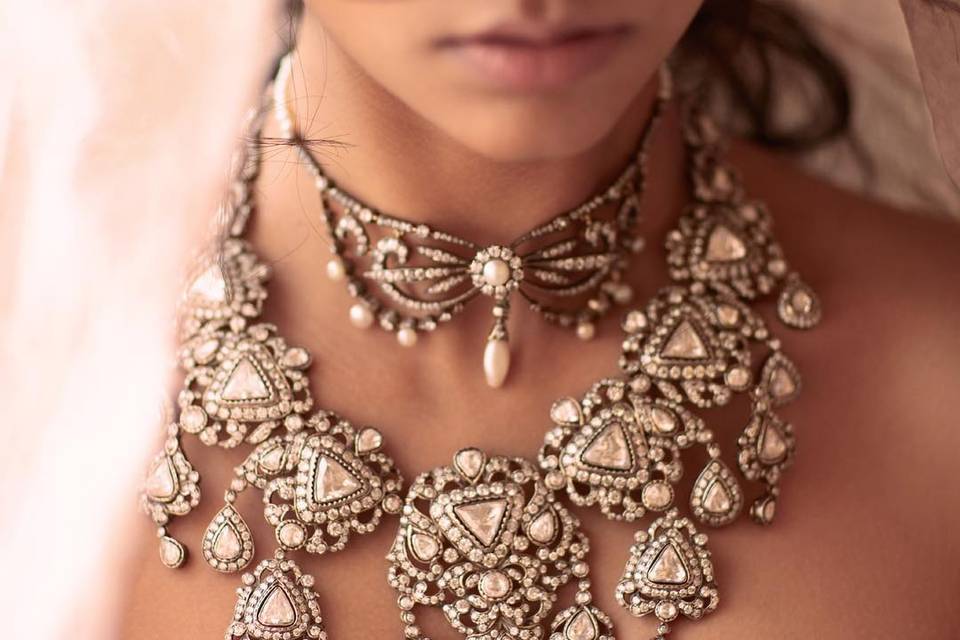 Image courtesy: Sabyasachi on Instagram
As you walk down the aisle on your big day, you know all eyes will be on you. Make it worth their while by adorning gorgeous bridal jewellery designs that will put all the viewers in awe of your divine beauty on your big day. Glistening jewels topped with your bridal glow is a sight that all the guests crave and you are the photographer's muse.
Get These Latest Bridal Jewellery Designs Now
Make sure you make the most of this opportunity and be an inspiration for other brides-to-be around you by choosing bridal jewellery designs that catch the eye. We have gathered some creatively paired bridal jewellery designs to inspire you to create your D-day look.
1. Go authentic with Temple jewellery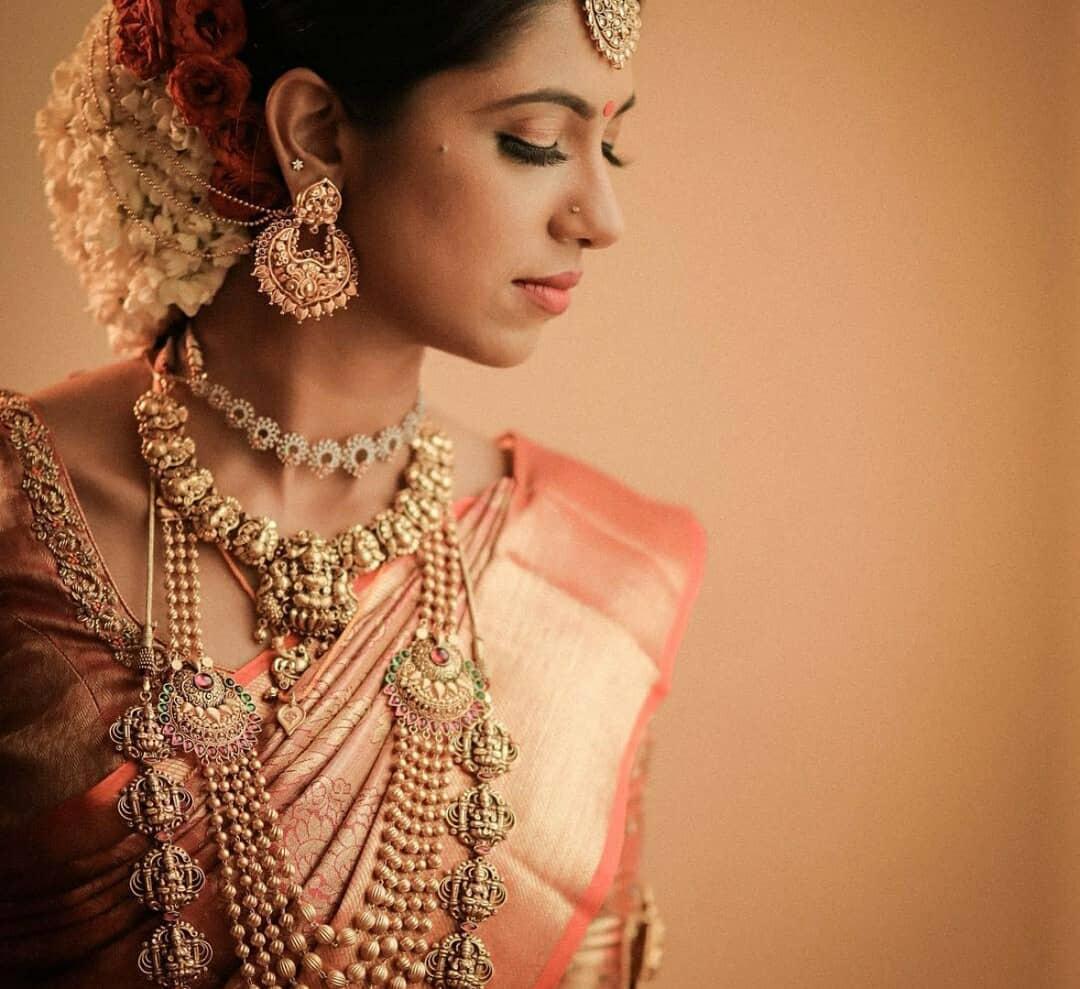 Gain a distinct advantage with the new trend towards authentic, temple jewellery as part of your bridal look. While most associate these latest bridal jewellery designs with a regional or a south Indian bridal look, it can move further than that. Imagine the balance that these designs (either gold, golden or even oxidised silver) would create as chunky, statement pieces with funky sharara pants or with a fusion, lehenga gown.
For a more distinct approach, imagine attaching the fabled God and Goddess symbols to your blouse designs or as part of your hair accessories and dupatta accents.
2. Funk up those stones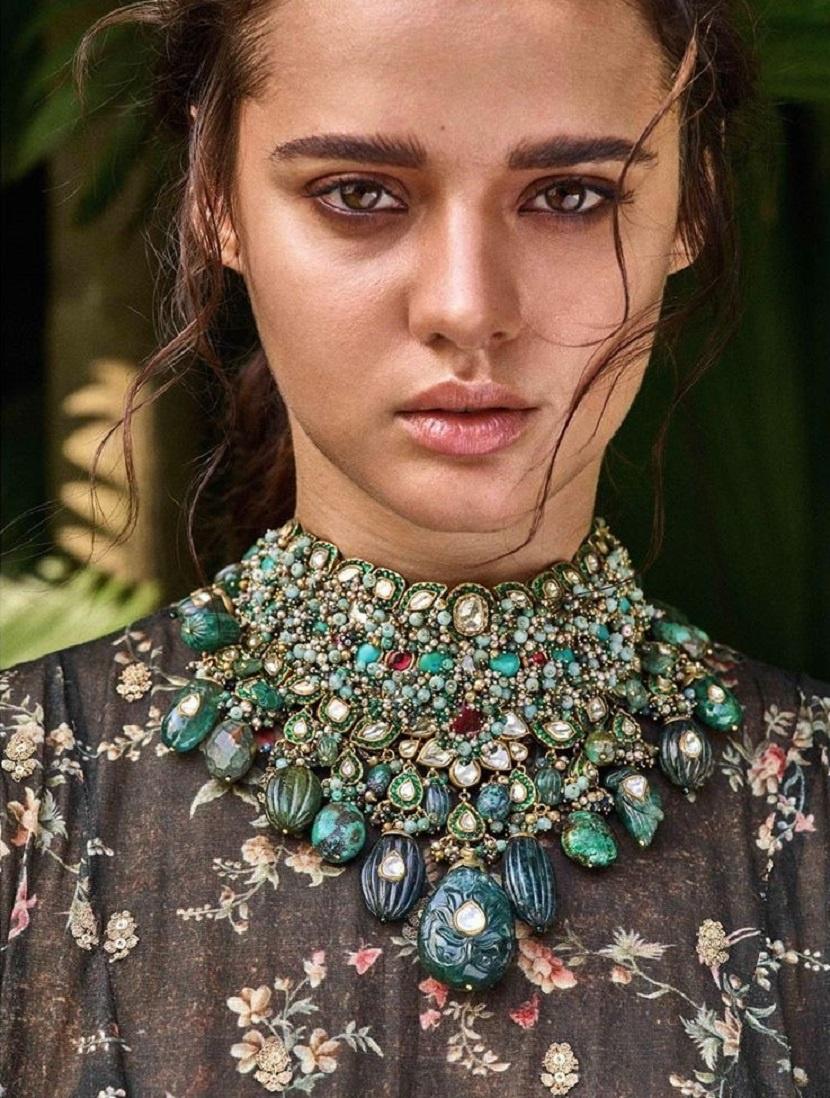 Image courtesy: Sabyasachi on Instagram
From a core, traditional set of bridal jewellery designs to funky, chunky jewellery may seem like a leap absolutely across the board. But trust us, these two trends are very much front, centre and in - check out how even the famed heritage jewellery brand Sabyasachi chose to do a distinct set of gems around Mediterranean jewellery designs.
Include heavy, gigantic or even raw and cut stones - from Azure to Lapis Lazuli to your selection of conventional Kundan jewellery and see the difference it would make to your look. You can also sample pearls, beads and onyx stones alongside raw emeralds and turquoise chunks.
3. Gorgeous gold and auspicious orange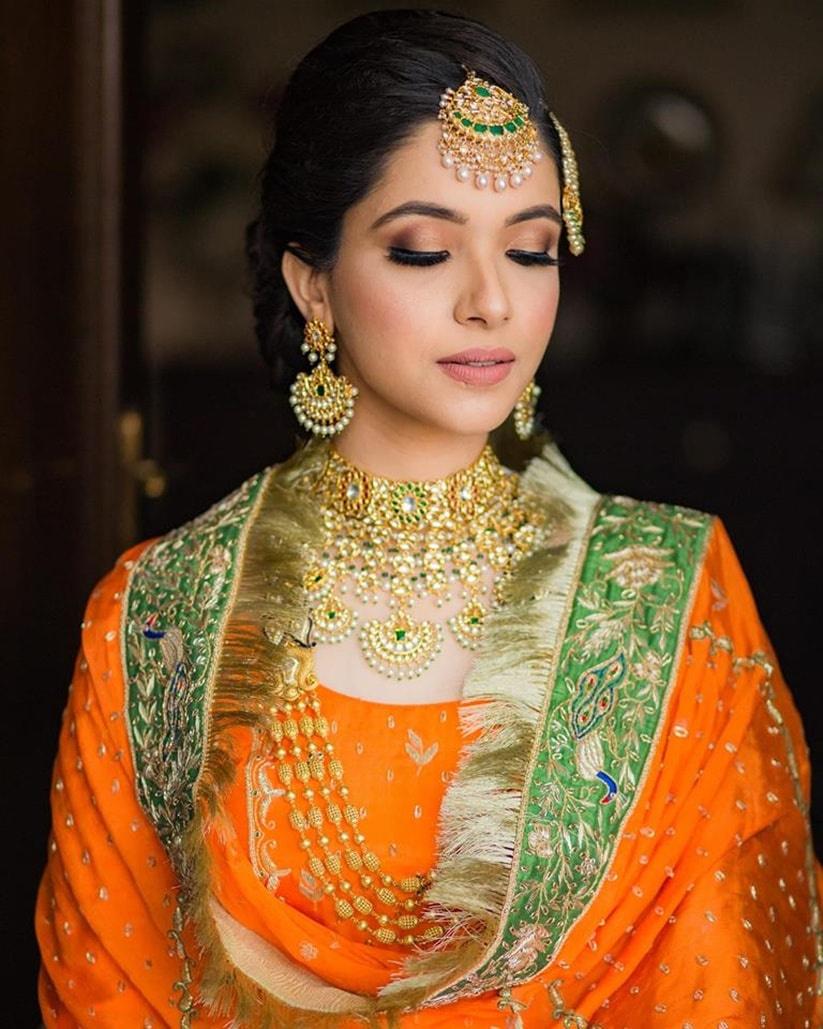 Orange has been an auspicious colour in our culture since as long as we can remember. This damsel bride took this sacred colour to another level by choosing it to be the colour of her bridal ensemble. Adding highlights to her look is the precious gold jewellery that she adorns so gracefully. What brings the whole look together, however, are the subtle hints of emerald stones encrusted in her bridal jewellery. Her choice is bridal jewellery designs is truly breathtaking
4. Pastel and contrasting gems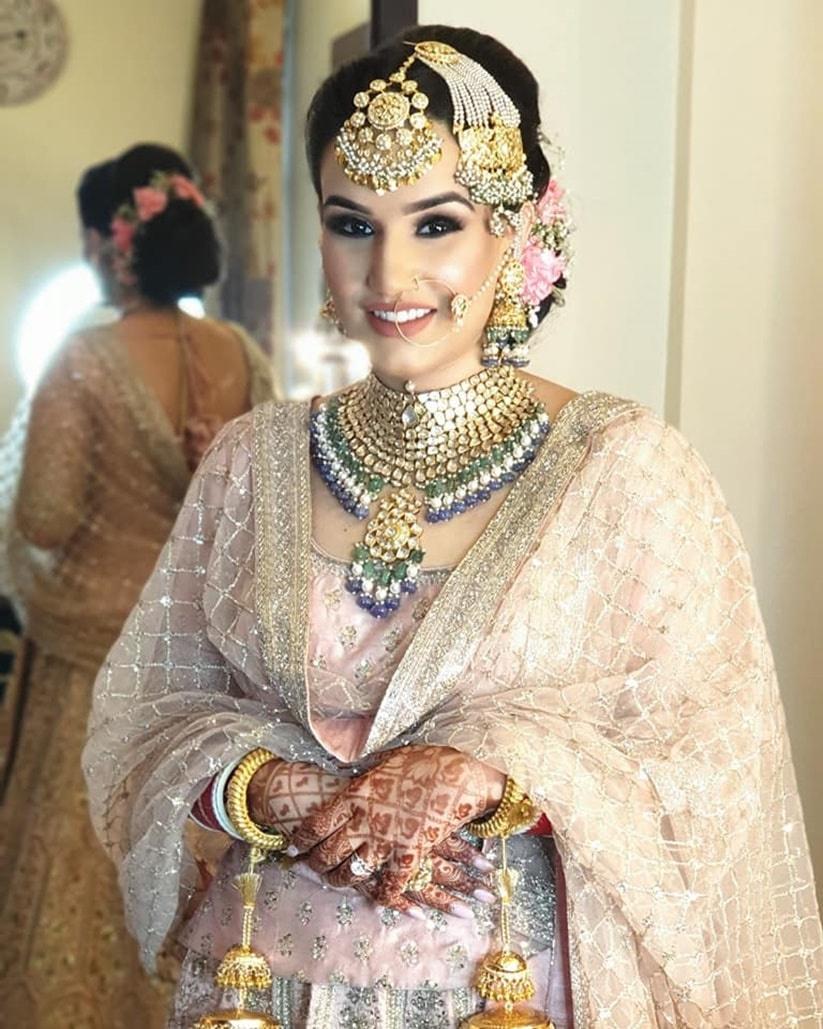 Although the greatest vision from this bride is the gorgeously serene smile she has, her ensemble and bridal jewellery designs are no less of an inspiration. Pairing a pastel champagne colour bridal Lehenga with dull gold bridal jewellery set lavishly encrusted in precious uncut Polki diamonds is the look to go for. The accents in the look don't just end here. Her selection of bridal jewellery designs has the use of gorgeous emeralds, sapphires and diamonds that add a regally European look to the traditional Polki set. And the scattered us of micro pearls is just a treat to the eyes.
5. Kundal baubles and glistening gold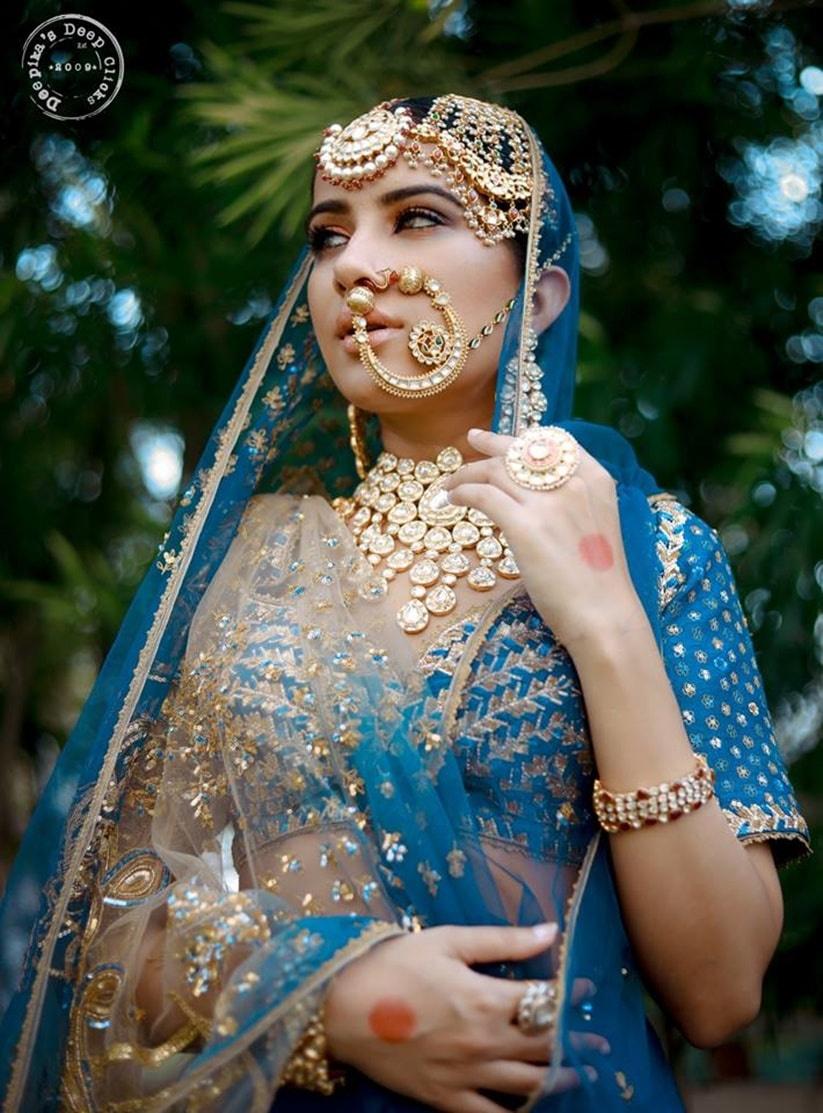 Adorning a bright blue ensemble on your wedding day is not a look that most brides go for, but this stunner here proves the stereotype wrong. Looking absolutely gorgeous in a blue bridal ensemble, this bride has paired her outfit with traditional uncut Polki Jewellery. The mix of a trendy outfit with traditional jewellery is a seamless and flawless blend. The showstoppers here are the statement nose ring in solid gold and the stunning baubles of uncut Polki diamonds.
6. The classic contrasts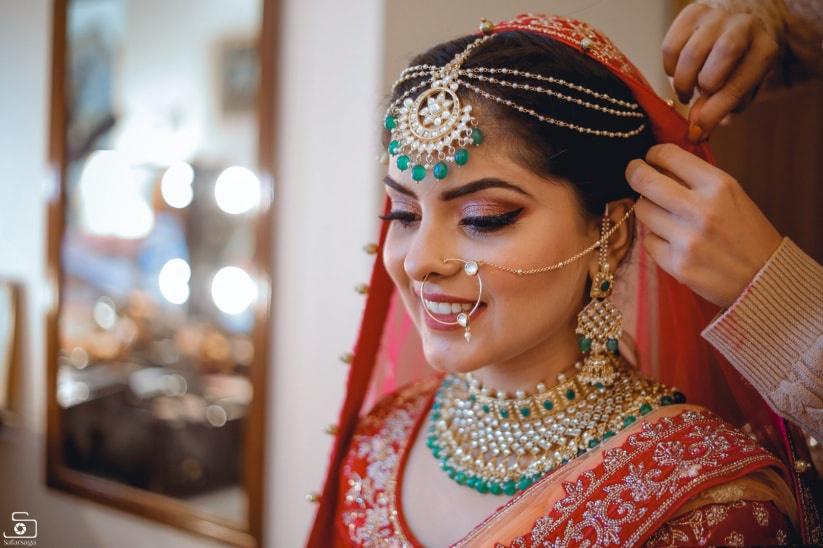 Classics can never go wrong when it comes to pairing your wedding attire to your bridal jewellery designs. Pairing a traditional red wedding ensemble with gold jewellery generously embellished with precious emeralds is one such classic look that will never go out of style. There is something mesmerising about a traditional bride that keeps the viewer captivated. This bridal look paired with the bride's priceless smile is the one to be added to your list of inspiring bridal jewellery designs.
7. Antique ancestral heirlooms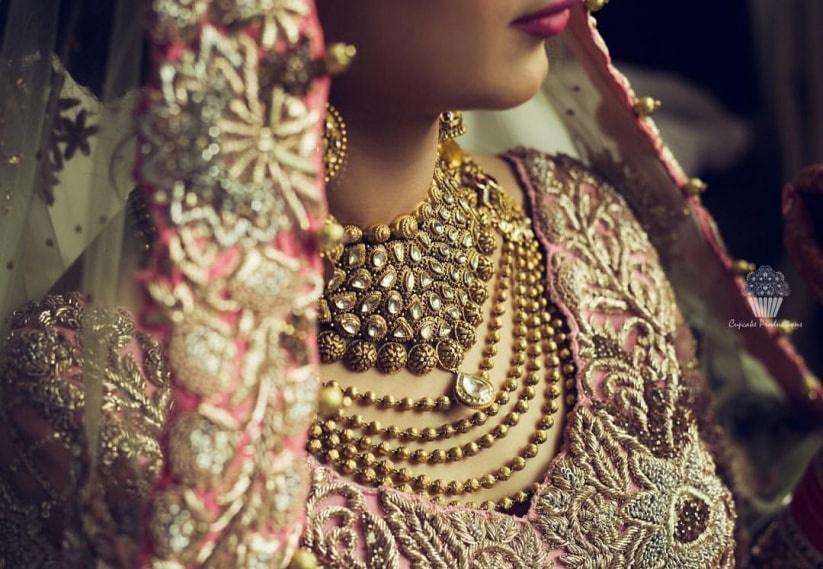 There is something uniquely charming about jewellery that has been passed down the generations in a family and has become a part of the family's heirloom. More than just a pretty sight and regal look, their heirlooms carry the love and blessings on the ancestors to the newer generations. The value that these bridal jewellery designs hold is more than that of just gold and gemstones, it is of the culture and memories that these unique pieces carry with them.
8. Polkis and pearls with a dash of pink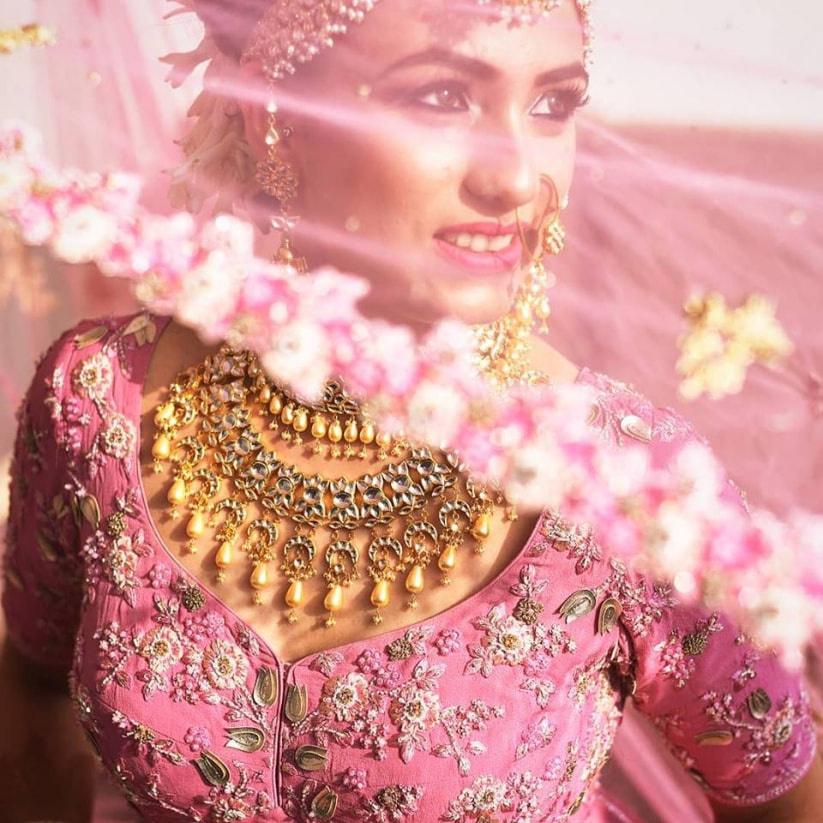 Image Courtesy: Free Souls Photos & Films
Pink in all its hues has been the colour of choice for almost every modern bride. It adds a personal character to the bridal look without walking too far away from the traditions. Make sure that you pair your pink bridal outfit with bridal jewellery designs that bring out the hue while looks great on its own also. And the best way to achieve it is by pairing it with bridal jewellery set lavishly embellished with pearls and completed with the use of uncut Polki diamonds. It's all about the trendy traditional look!
9. Mesmerising waterfall choker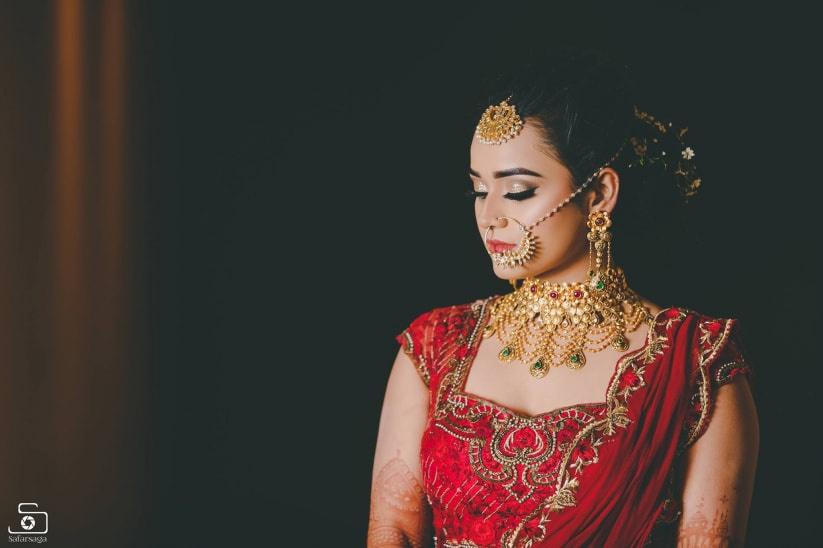 Let the jewels do that talking when you adorn absolutely gorgeous bridal jewellery designs on your big day. this millennial bride is adding a trendy look to her stunning traditional bridal attired by adorning a unique choker necklace encrusted with precious emeralds and rubies creating a waterfall effect with thin gold chains stringing between them. This is not a look that you see every day and definitely the one to add to your list of out-of-the-box bridal jewellery designs for the modern-day bride.
Now that we have shared some truly one of a kind bridal jewellery designs spotted on real brides, start planning your look by thinking of the kind of bridal jewellery you want to pair with your bridal attire. Each one of these brides has done something different, something special and something that reflects their unique personality through their choice of bridal jewellery designs. And we encourage you to do the same for a truly personalised touch to your look on your biggest day.
Explore a plethora of bridal jewellery designs with our Wedding Wire bridal jewellery partners and select the one that exhibits your style in your way!