10 Barat Songs for the Ultimate Wedding Mashup (Hindi and Punjabi)
Indian weddings are vibrant and full of life and so are the barat songs and the ceremonies that add significance to the barat. Have you made a barat song playlist yet? If not, just read on and you're good to go.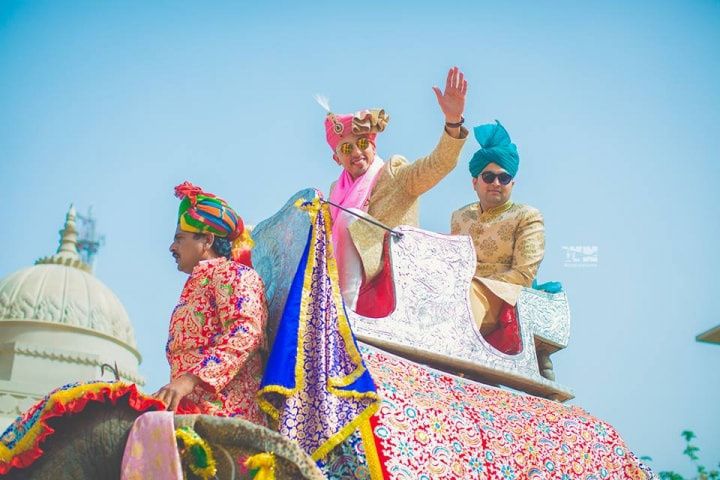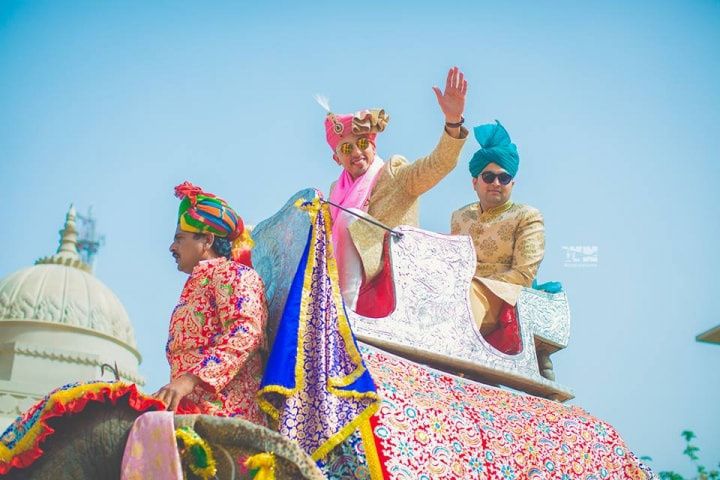 Being a barati and dancing yourself crazy to barat songs is one of the most fun parts of a wedding. There is so much buzz about the perfect bridal entry and so much is being said and written about it; we think it's time we give the same attention to the dapper groom's entry too. The dancing and receiving of the barat is something that everyone looks forward to - the groom, the bride, the parents, the best friends and everyone; it's an excitement and a vibe that is contagiously fun!
So, what is the concept of barat songs? Many grooms' question the song and dance madness, but the tradition dates back to centuries. Receiving the barat is a sacred tradition for the bride's family and a happy dancing barat is a sign of a happy groom and his family. While the groom sits on a horse, chariot (even fancy cars, bikes and ATVs now!), the friends and family dance around the groom marking the happiness paving his entryway. While you may ask if this old tradition is still needed, there is no answer to that.
After all, it's your wedding and completely your choice whether you want to walk in smiling or dance your way to the wedding venue. But, if you really want to know what we think, a barat and barat songs are definitely a high point and something that you will remember, laugh about and cherish for years to come.
So what are the perfect barat songs that encompass all these excited emotions? Well, of course, there are no strict rules to follow here, and you can choose any song under the sun for your entry as the man of the hour, but a little inspiration is always a great start point. We have listed 10 barat songs, Hindi and Punjabi, that are not just popular barat songs but also 'on-point'.
Top 5 Hind Barat Songs:
1. Azeemo Shaan Shehenshah
Well, it may seem a tad bit dramatic but aren't Indian weddings all about the grandeur and the drama? Walk in feeling like a king who's coming to take his queen home.
2. Badri Ki Dulhaniya
Get your street style on and woo your dulhaniya as you walk in dancing to this crazy song.
3. Swag Se Swagat
New, popular and perfect for a groom's welcome song. You have the swag, it's about time you show it off too!
4. Tenu Leke Main Jaawan
Old is gold and this song proves just that. It's one of the most typical and cliché barat song but it still works like a charm.
5. Gallan Goodiyan
An exciting song that the whole family can dance too and go absolutely mad, starting off the wedding ceremonies on a happy note.
Top 5 Punjabi Barat Songs:
1. Balle Balle Soniya De Rang
This has got to be one of the most enthusiastic and absolutely relevant barat songs. It's fun, exciting and the perfect barat song vibe.
2. Sadi Gali
Ever since this song has come, it has been on the top of every barat song and wedding playlist for the energy and excitement it has; just like a barat.
3. Bhootni Ke
Why should the groom have all the fun? A great barat song for the groom's friends, brothers and cousins to dance to; the beats are absolutely barat-worthy.
4. Kaala Chashma
The classic Kaala Chashma has been reinvented and has a sexy cool swag, perfect for a modern-day groom and barat.
5. Na Ja
Top of the Punjabi music charts, this also needs to be top of the barat song lists. High on energy and a brilliant track to dance to.
Although most people think that the barat songs and the dancing is all that there is to a barat, it is actually much more than that. The receiving of the barat is followed by many ceremonies, different for different cultures and communities. For some, it is the mother of the bride who does a small puja and tikka for the groom. In other cultures, the men of the bride's family welcome the men of the groom's family also called the Milni. Some communities have a fun ceremony where the bride's sisters stop the groom's entry unless they receive a handsome bribe.
So what will you dance to at your much-awaited groom entrance? Do share your playlist and barat song suggestions with us in the comments below.