Anita Dongre Sarees - Check Online Designer Saree Collection By Anita Dongre
Find WeddingWire India's edit of the best Anita Dongre sarees from her latest designer collection. Choose sustainable bridal wear sarees & perfect picks for wedding guests prepping to attend 2021 weddings.

Here's an edit worth bookmarking for your upcoming traditional wear events. From designer sarees for a bridal trousseau to perfect benarasi silk or georgette sarees for the new-age wedding guest - this edit features all of Anita Dongre's latest and stunning saree designs.
Anita Dongre Sarees for Brides
The new-age bride-to-be loves to choose a beautiful blend of tradition with modernism for her bridal trousseau. Anita Dongre's Bridal Sarees bring out the best of India's heritage with millenial colors, accessories, and blouse designs. Hand block prints date back to the time of the Harappan civilization in India. The Hand block print infused in these modern Anita Dongre Bridal Sarees creates a true celebration of our rich history.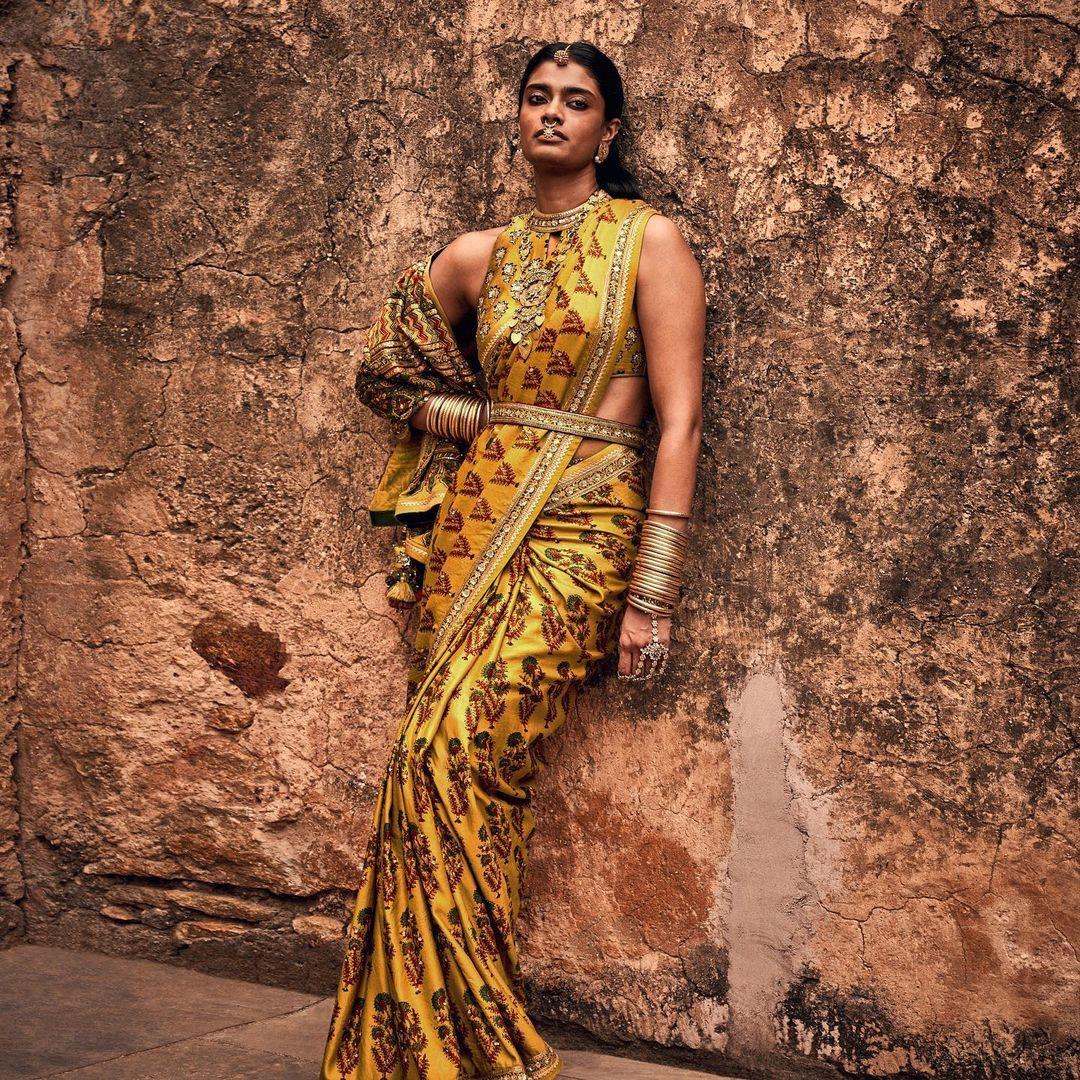 Anita Dongre Prisha Ajrakh Saree - Mustard l Price: 70,000/-
Are you a maximalist or a lover of elegant drapes? This Anita Dongre Prisha Ajrakh Saree accentuates the ancient symphony of wooden hand-block prints. Wrapped in the richness of mustard, this saree by Anita Dongre is made with vegetable dyes and adorned with signature gota hand embroidery. The choli and the belt seen in this picture can be purchased separately.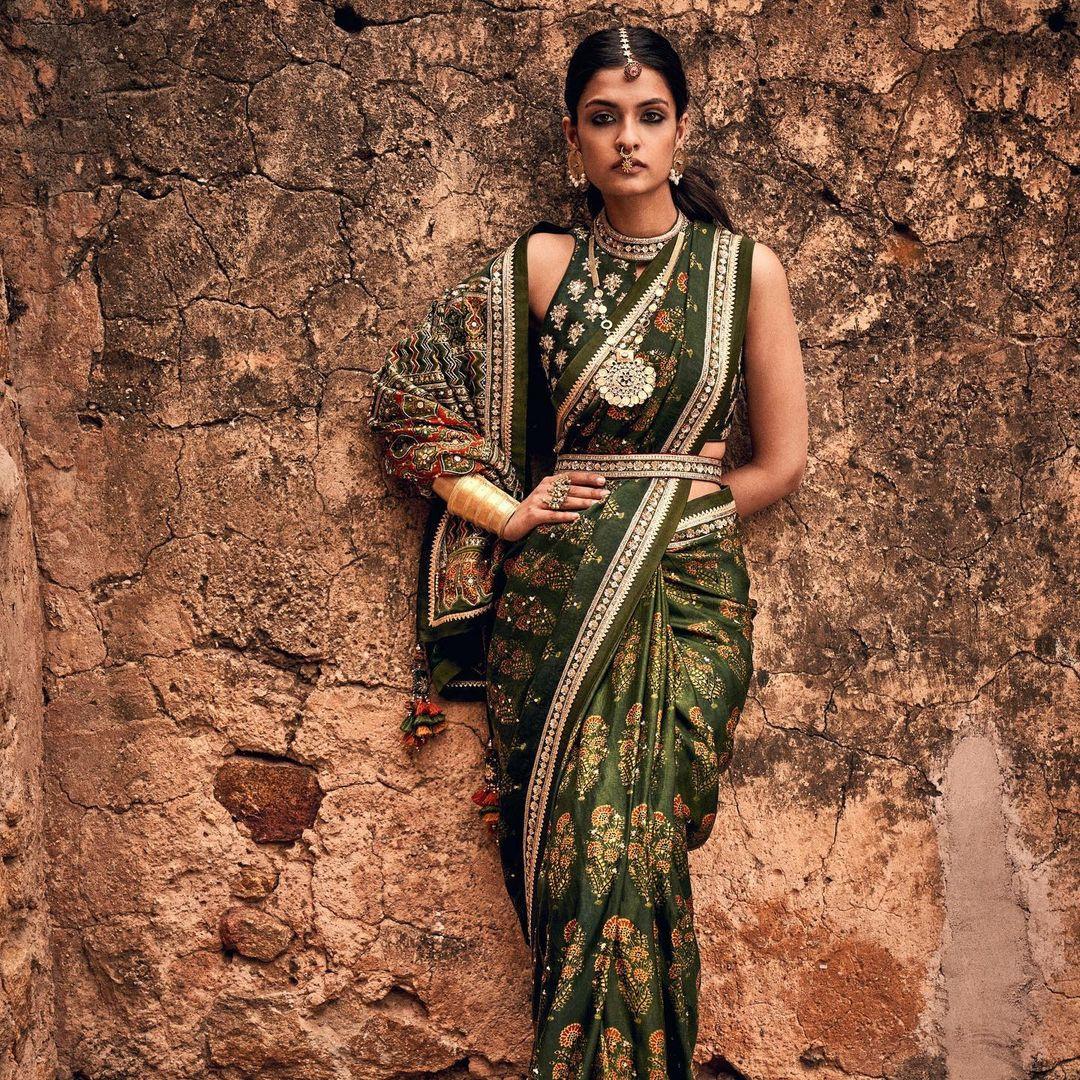 Anita Dongre Rutvi Ajrakh Saree - Emerald l Price: 70,000/-
Are your tempted to give your festive or bridal wardrobe the much-needed overhaul? This Anita Dongre saree will add an heirloom to your trousseau with its unique Ajrakh hand-block print. This designer saree by Anita Dongre has been made using eco-friendly dyes made up of authentic vegetable colors. The choli and the belt seen in this picture can be purchased separately.
Anita Dongre Sarees for Wedding Guests
Luxurious but light, with intricate borders and just the right amount of glamorous touch - sums up the mood and designs for Anita Dongre sarees. Pick from the wide variety of designer sarees by Anita Dongre to be dressed in the most elegant designer saree at your family/friend's wedding function. Find the WWI edit of the latest Anita Dongre Saree collection for Wedding Guests below with information on the saree costs.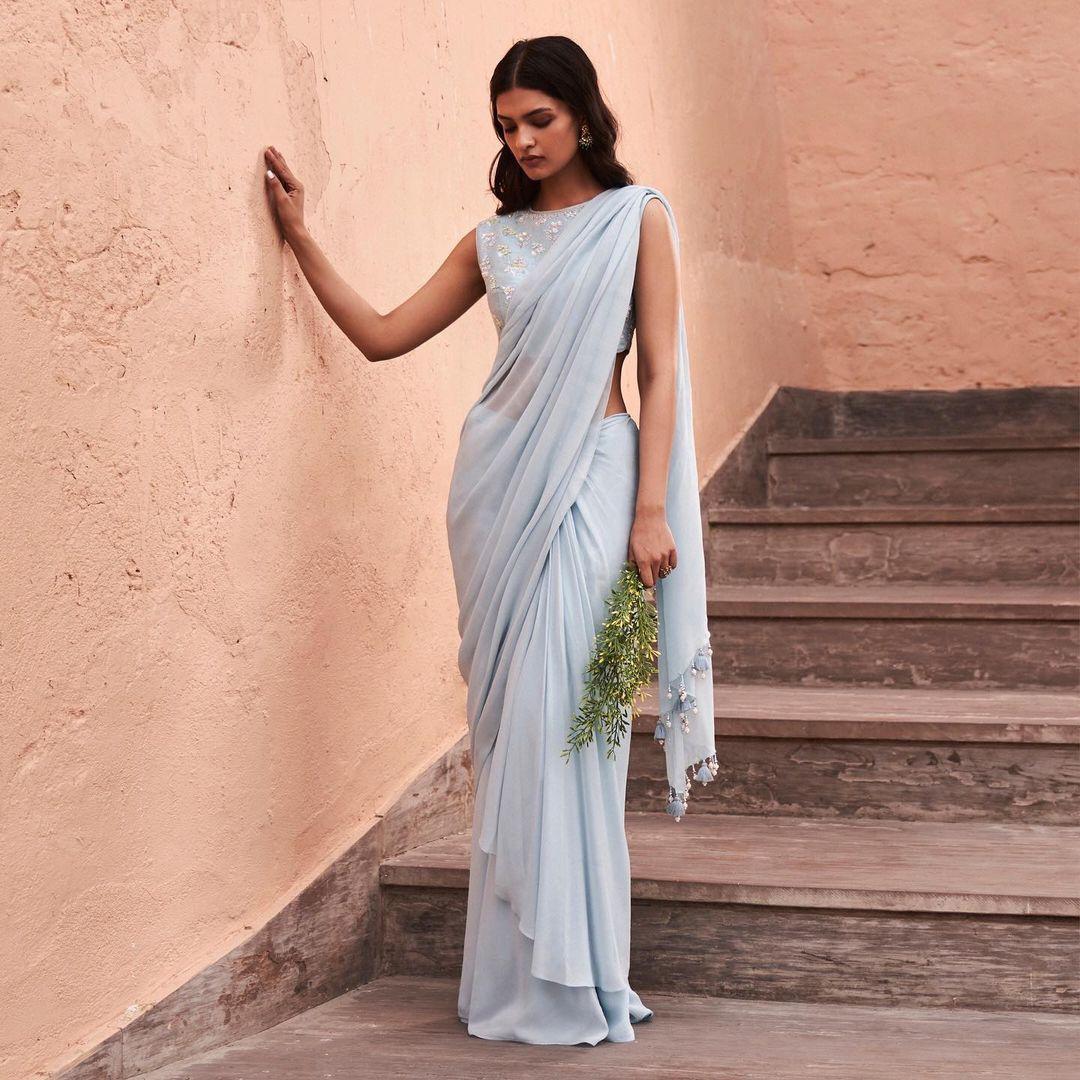 Anita Dongre Snowflower Saree - Powder Blue l Price: 40,000/-
Make a strong case for intimate fashion and set the stage for effortless dressing at your best friend/sister's wedding. This designer Anita Dongre powder blue saree is a pre-draped and pre-pleated design made of sustainable Bemberg georgette.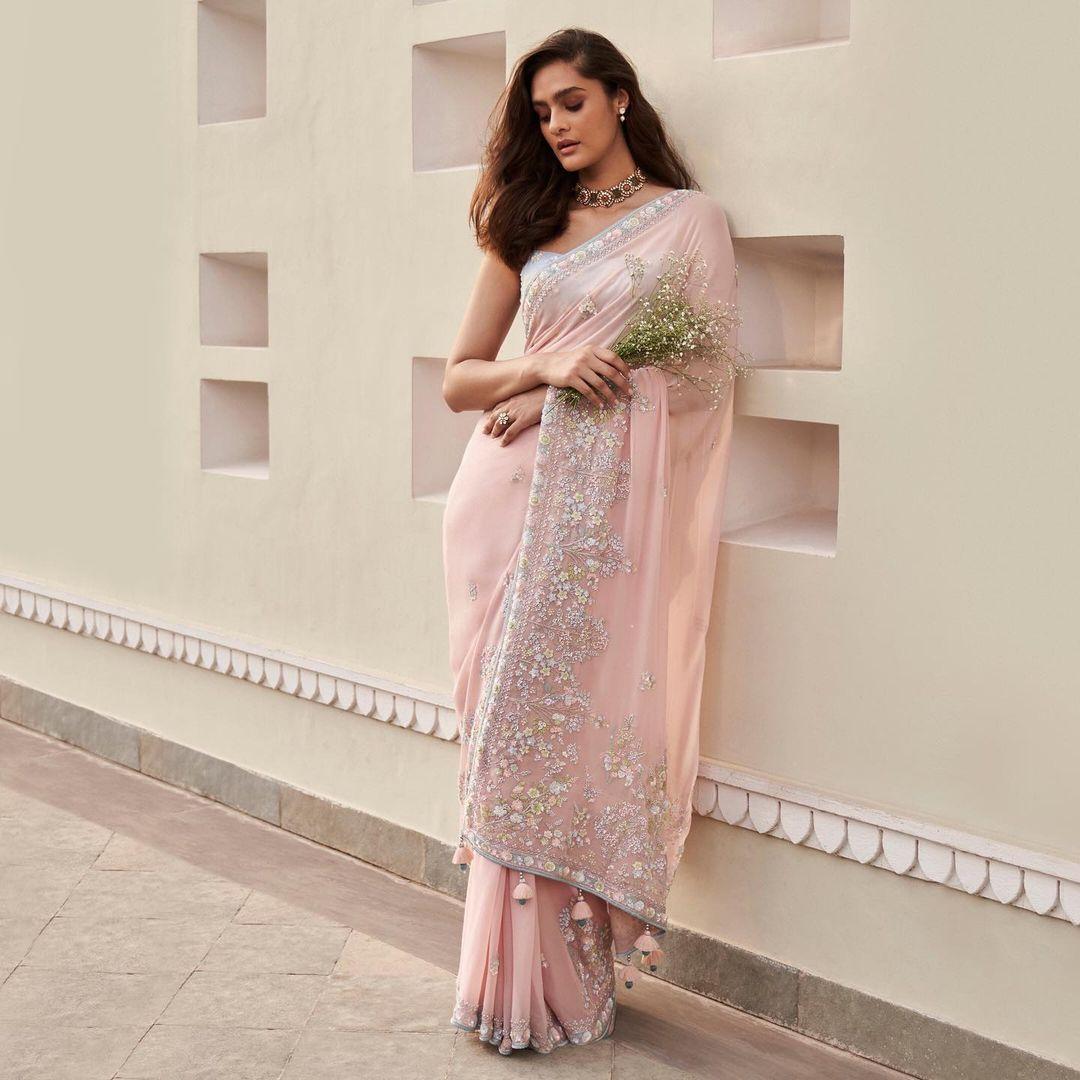 Anita Dongre Tryst Saree l Price: 110,000/-
Achieve a noteworthy look wearing the Anita Dongre Tryst Saree that wraps you in sublime shimmers. Adorned with intricate embroidery of Indian wildflowers, this designer saree by Anita Dongre is a graceful wear made of sustainable Bemberg georgette.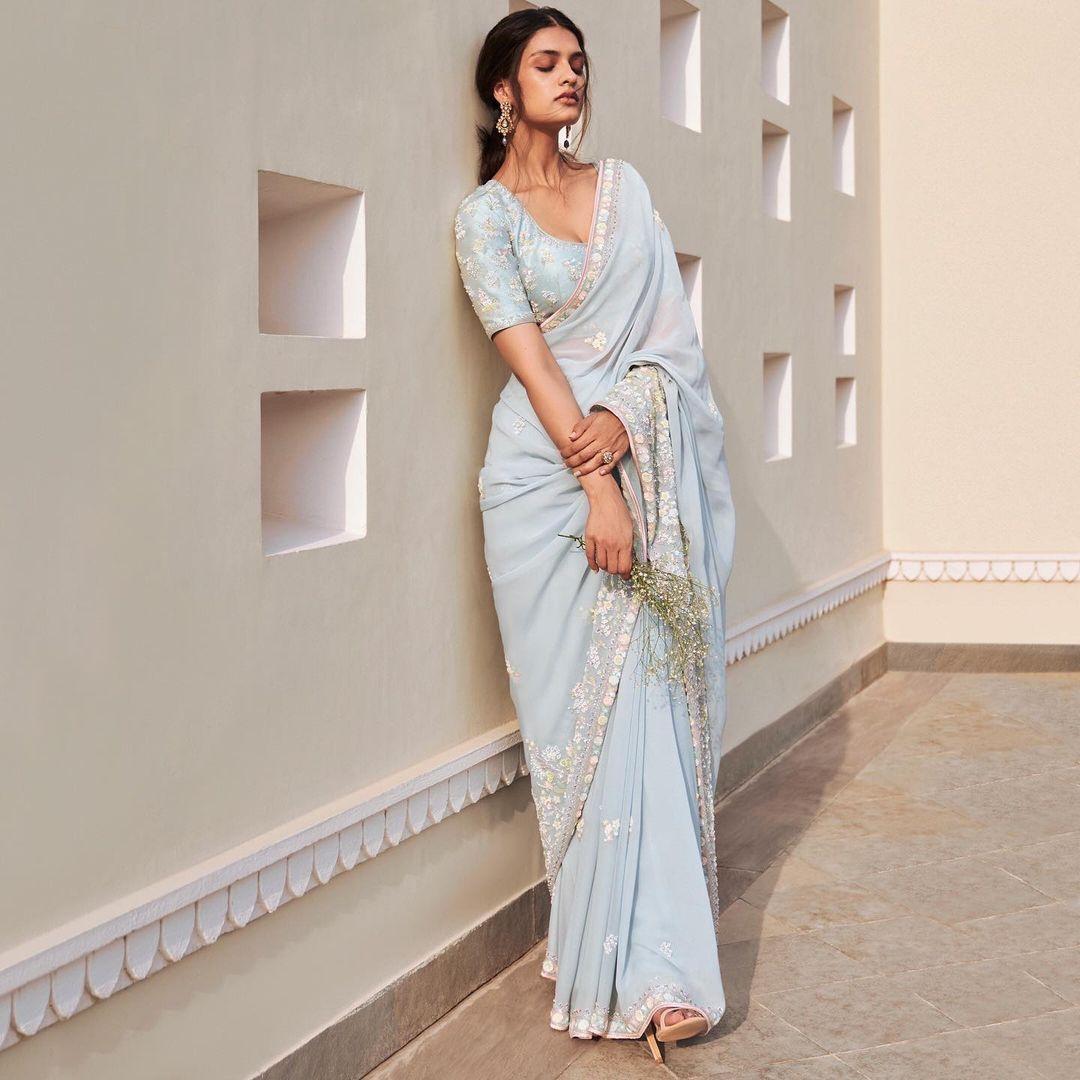 Anita Dongre Tryst Saree l Price: 110,000/-
You can also add the elegance of the Tryst Saree in powder blue. This designer Anita Dongre blue saree, made if sustainable Bamberg georgette is for graceful fans of the ornate!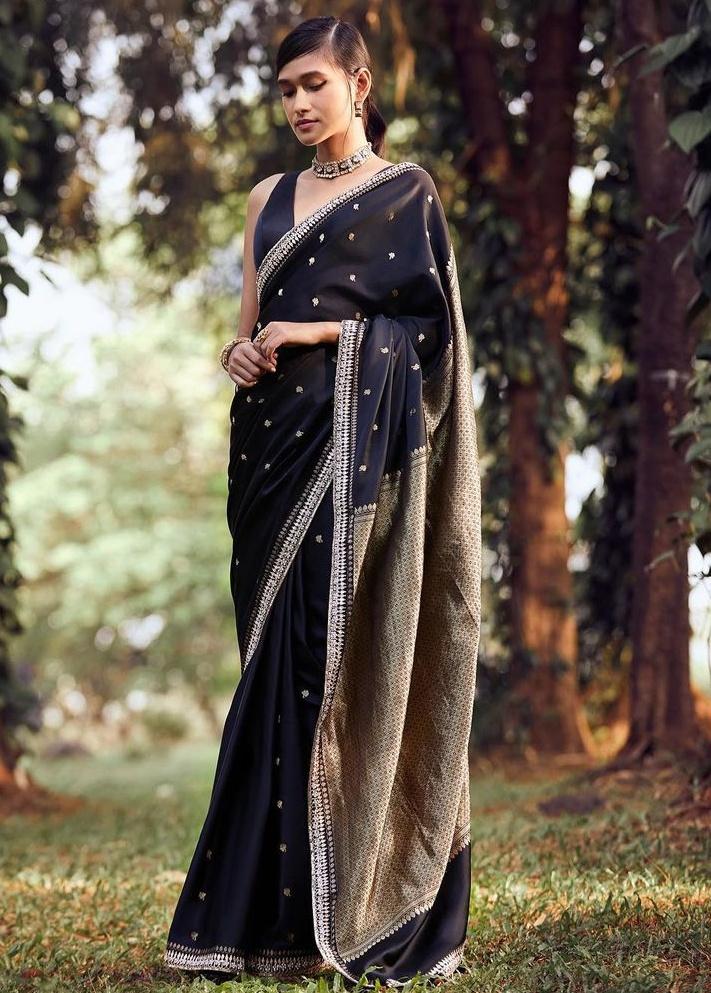 Anita Dongre Myreen Saree l Price: 60,000/-
Anita Dongre's Myreen Saree brings the classic and timeless black and gold combination back to our wardrobes. The designer saree is a handwoven beauty weaved with silk and an exquisite zari border.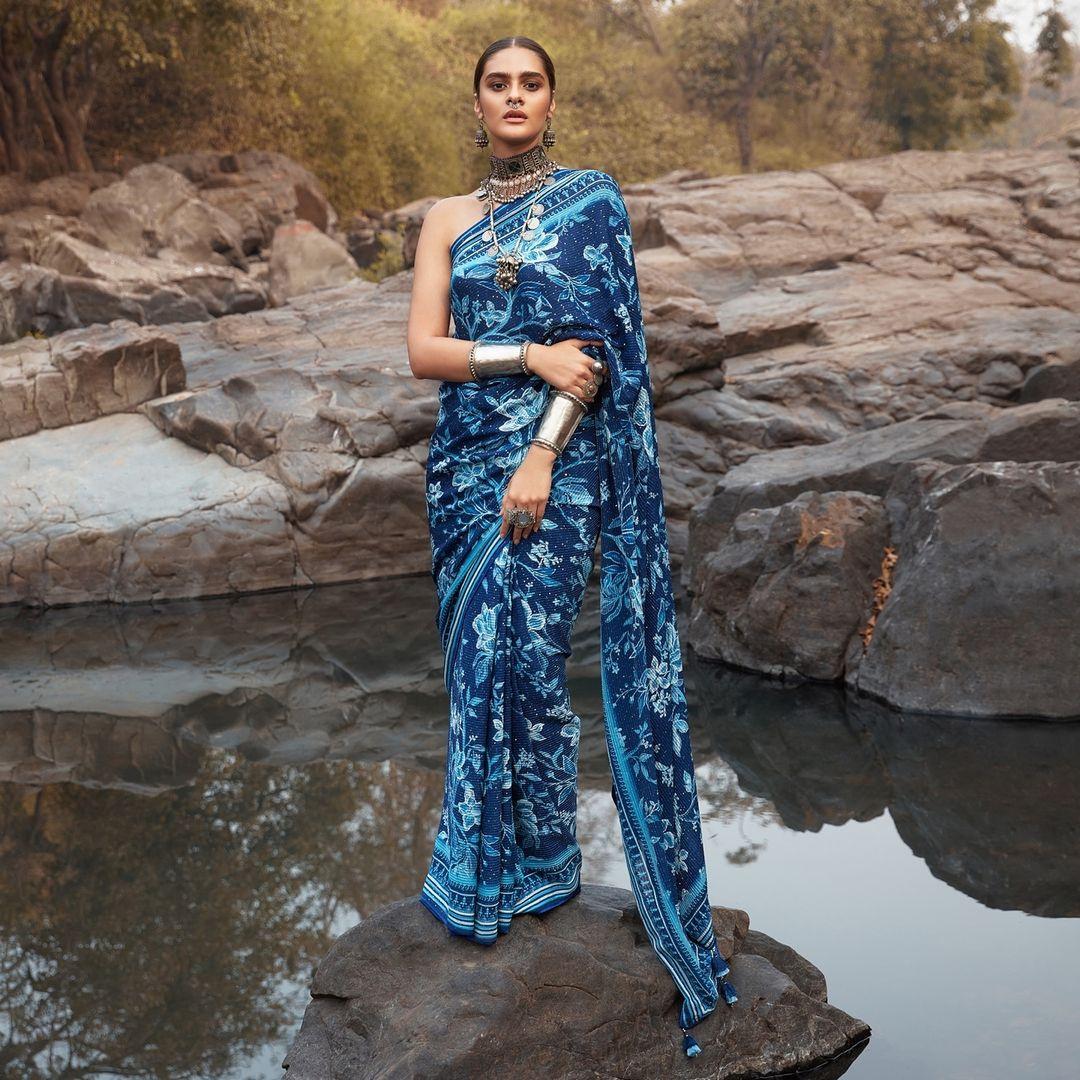 Anita Dongre Riviera Saree l Price: 35,000/-
Amp up your outfit for an upcoming festival with the strokes of deep indigo and botanical motifs on your Anita Dongre designer saree. Riviera from Anita Dongre's collection is made of sustainable fabric that was curated using biodegradable earth-friendly cellulosic fibers.
(L) Anita Dongre Nerida Saree, Price: 35,000/- l (R) Anita Dongre Thalassa Saree, Price: 35,000
Give a hard pass to Indian wedding fashion norms in this Anita Dongre Nerida saree. Wrapped in the allure of sage green, this sequinned saree is brought to life with blue borders and beautiful prints of flower-laden branches with soft strokes of powder blue booms. Set the goals of intimate wedding guest fashion right with this beauty!
You could also opt for the Anita Dongre Thalassa saree dipped in sage green. The saree highlights the beauty of unfiltered nature with prints of forest coverings in spring and adds joy to your wardrobe with blooming prints in pinks and greens.
Anita Dongre Adiba Saree, Price: 49,500/-
This luxuriously elegant Anita Dongre silk saree is a handwoven beauty that celebrates nature at its best! The ever jovial pink romances with purple and adorns the saree with floral motifs and a decadent zari border.
Make your wedding memories fashionable with Anita Dongre sarees. These designer sarees from Anita Dongre's latest collection will spoil you for sustainable as well as fashionable choices. You can head to the Anita Dongre Storefront on our website to contact the designer today.
Find More -
Anita Dongre Lehenga l Anita Dongre Gowns l Anita Dongre Suits l Anita Dongre Jewellery