Unconventional Structured Drapes to Consider for Your Bridal Outfits
Want to pick out a head-turner outfit for your engagement or cocktail? Take a look at the latest trend of structured drapes making way for more dramatic choices for the millennial bride.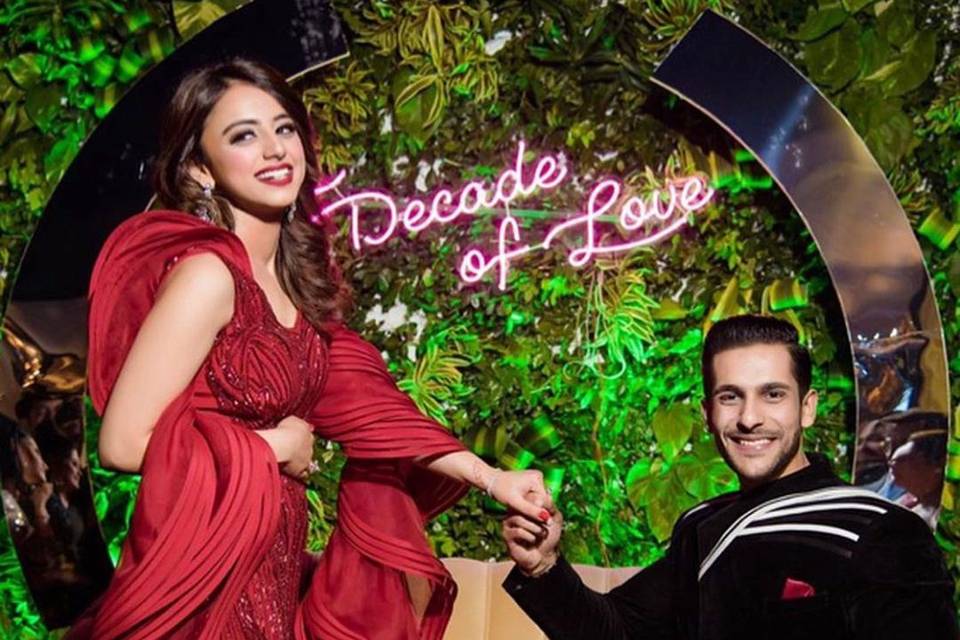 Dramatic and contemporary silhouettes have become the go-to choice for a lot of millennial brides. Be it for their sangeet, mehndi, or cocktail, the trend of structured drapes in wedding outfits is cooking up a storm. Several progressive couturiers like Gaurav Gupta, Shantanu & Nikhil, Amit Aggarwal, and Rimzim Dadu are adding a hint of traditionalism to modern-day bridal ensembles with their structured yet fluid creations.
The bridal fashion scene has surely moved up a notch with the conventional sarees transforming to cloud-like organza and chiffon ones, and designer gowns getting a revamp with ruffled hems, exaggerated shoulders, and dramatic sleeves. What's interesting to note is the fact that modern-day brides know exactly what they want and no longer shy away from picking out experimental hemlines, plunging necklines and unconventional colours.
From metallics to reds and golds, browse through our list of 5 distinctive wedding outfit options that are all about structured, fashion-forward styles.
Metallic Grey Saree by Rimzim Dadu
Image Courtesy: Rimzim Dadu
If you are a bride who would love to go with experimental designs, go for the metallic yarn for your wedding. A metallic grey saree like the one in the picture is a creation by Delhi-based designer Rimzim Dadu. We know the world has been raving about chiffon and organza sarees, but as we said, experimentating is key to 2020 weddings. Having said that, these sarees are not as heavy as the embroidered zardozi ones. The steel yarn is coated with nylon so these sarees can be easily dry-cleaned. You can go for statement earring and minimal jewelleryWith sarees like these, to keep the attention to the structured yet flowy pallu!
Red Elaborate gown by Amit Aggrawal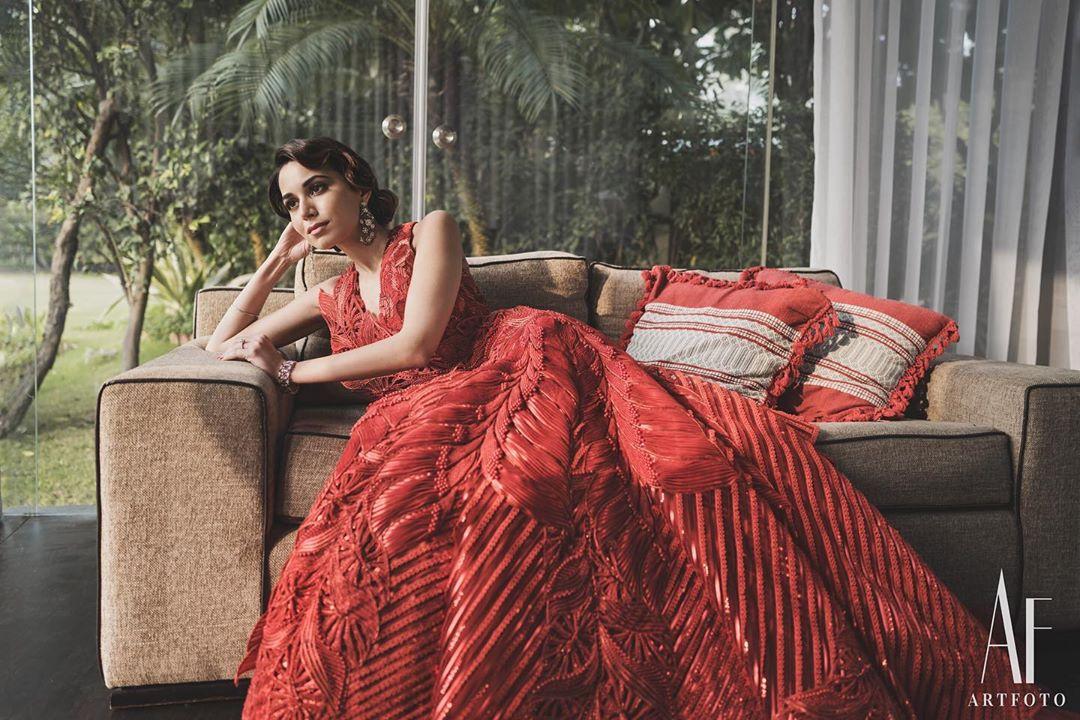 An elaborate red organza gown by designer Amit Aggrawal is perfect for brides who want to include traditional colours like red in their wedding trousseau. Ideal for a reception or sangeet night, a 3D floral gown like this one will make you stand out. Not only is a design like this latest off the ramps, but also makes a strong case of fashion-forward style for a modern-day bride.
Mosaic blue Gown by Gaurav Gupta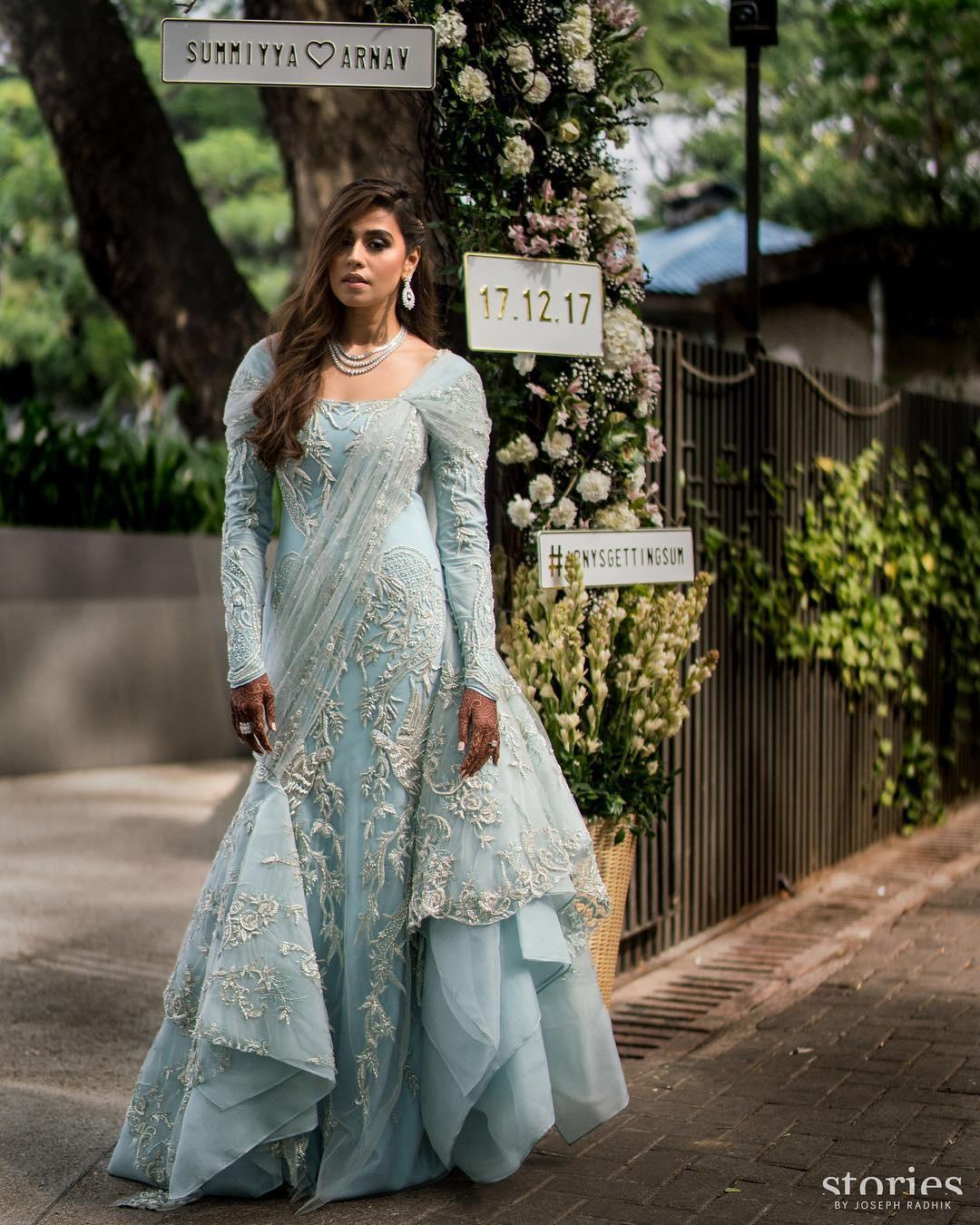 Ruffled gowns are making headlines this wedding season. Dramatic yet romantic, these go well for almost all body types. Frilly gowns like this one will make you look stellar for your sangeet or reception night! The silver embroidery and cut dana work make it embellished, and the deep square neckline leaves enough room for you to pair your jewellery. Go for a diamond set to finish your look.
Onion pink saree-gown by Gaurav Gupta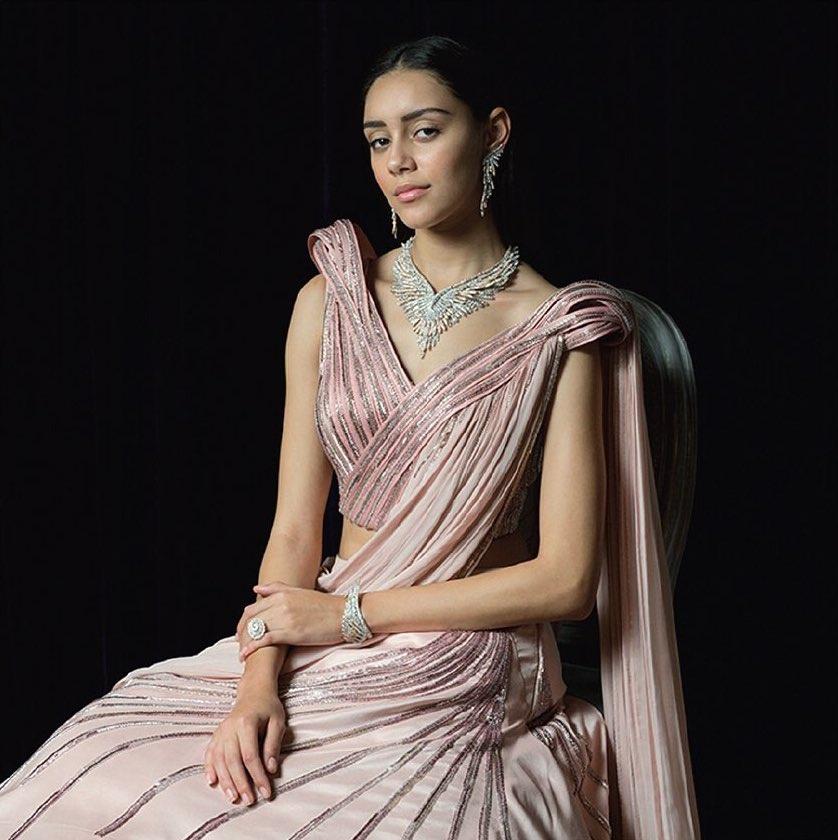 Saree gowns are back in trend, ladies! This onion pink saree gown by designer Gaurav Gupta has a customised pre-draped pallu with metallic embellishments. The saree gown has dramatic puffed-up shoulders with metallic straight lines and sequins all across its length and breadth. The sculpted sleeveless blouse and a flowy pallu make for a stunning style statement. A saree gown like this one is perfect for your Sangeet night. Style the look with a pair of Swarovski earrings and a matching necklace.
Intricate Ivory Saree with Ruffled pallu by Amit Aggrawal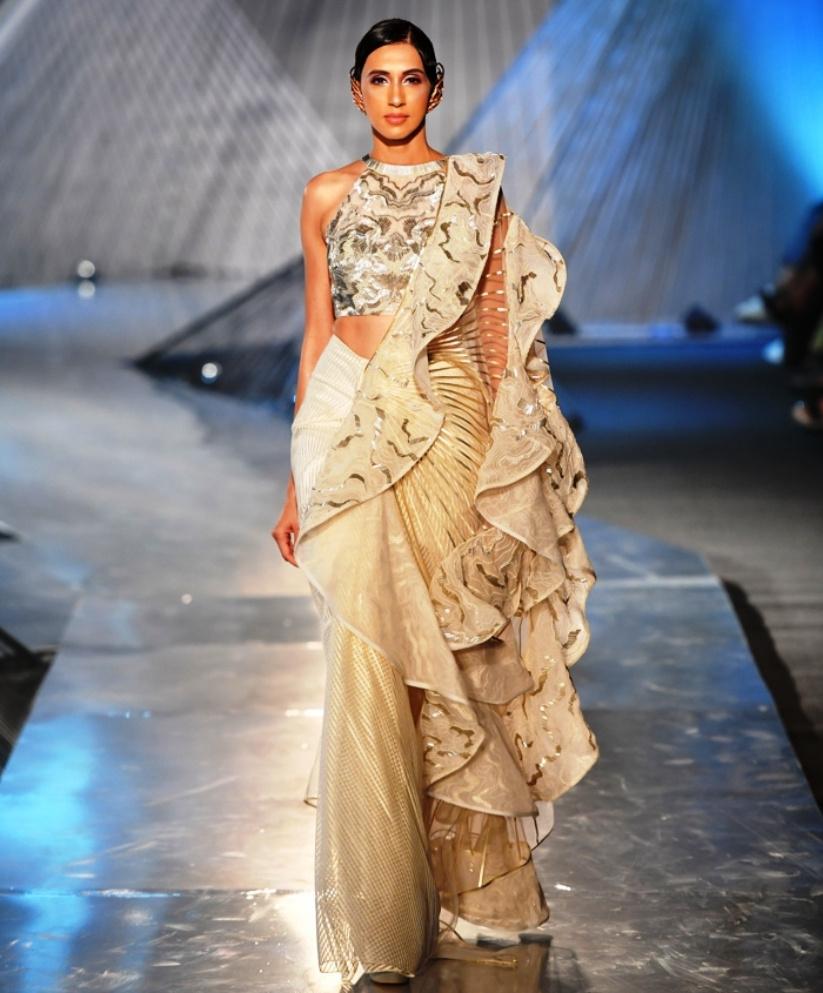 Want to skip the dressy gowns altogether? Go for a winged detailing ivory saree like this one by designer Amit Aggrawal. The saree has intricate gold details with a structured pallu that holds all the drama together! Stun your guests in a heavy ruffle pallu saree like this one; gold ensembles are in trend, so you can skip the lehenga and pick a similar off-beat saree in a structured silhouette! Far from usual, this ruffled saree is a trendsetter for sure.
Beige and gold ruffled gown by Shantanu & Nikhil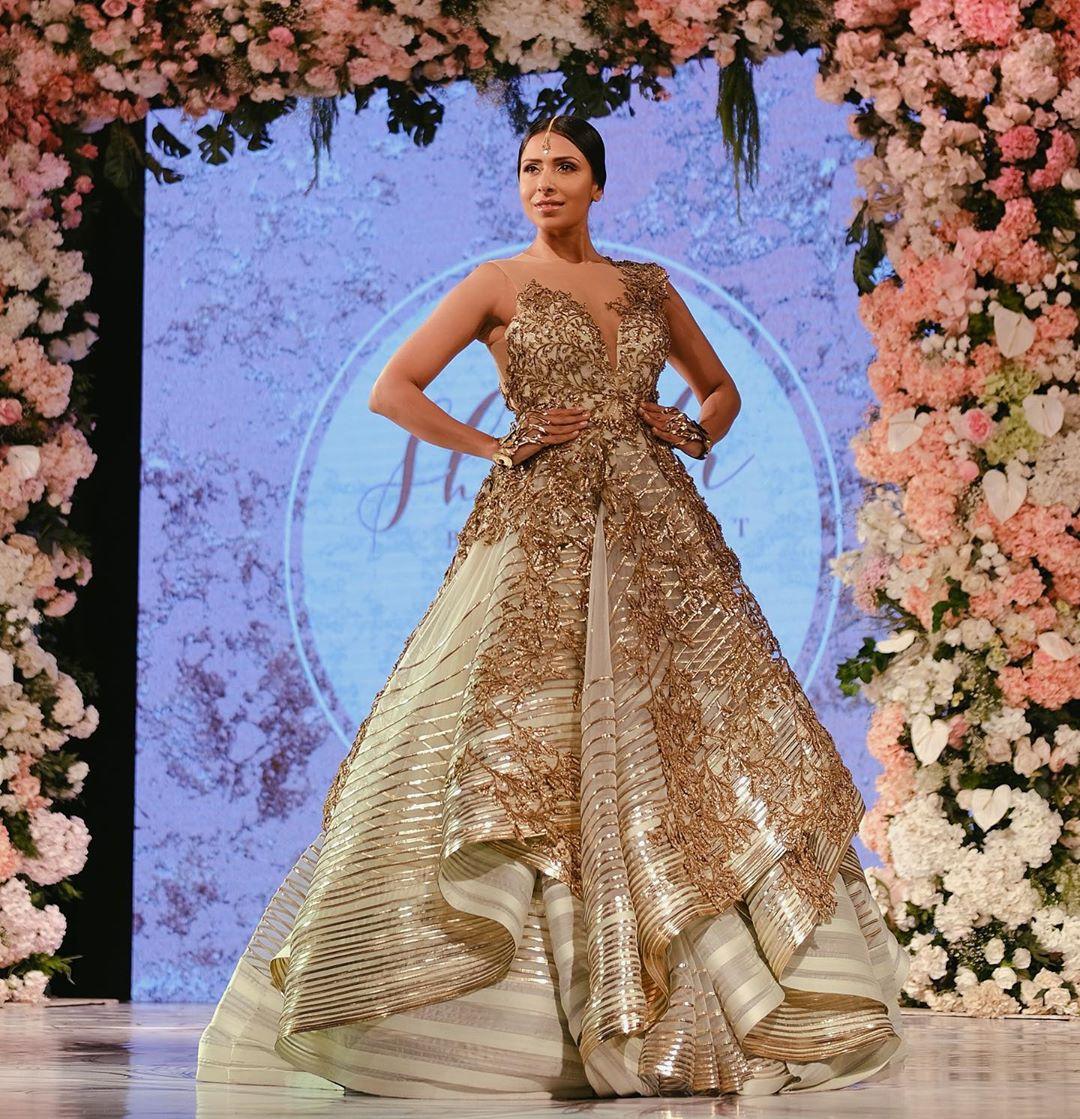 Jazz up your reception night look in a unique beige and gold ruffled gown just like this one! Beautifully done with heavy gold emboss floral embroidery all over, this creation by Shantanu & Nikhil is a definite head-turner. The sheer one-shoulder neckline creates a beautiful juxtaposition of contemporary design and traditional handwork while the fit and flare silhouette makes it look structured yet flowy. If you want a gold outfit this wedding season, go for these ruffled hemline gowns that are making quite a statement in 2020.
Your wedding is a once in a lifetime event. Make sure to pick out an outfit that resonates with your vibe the best. If you've reached the end of the article, you sure are an unconventional bride. Make a pick from these structured drape styles, perfect for making heads turn and speaking for you before you do!
Loved these striking designer looks? Which one would you choose to go ahead with? Let us know in the comments!