Step-by-Step Guide to Be A Member of WeddingWire India Community
Looking for a forum to share and explore your wedding ideas? The WeddingWire community is an absolute choice for you!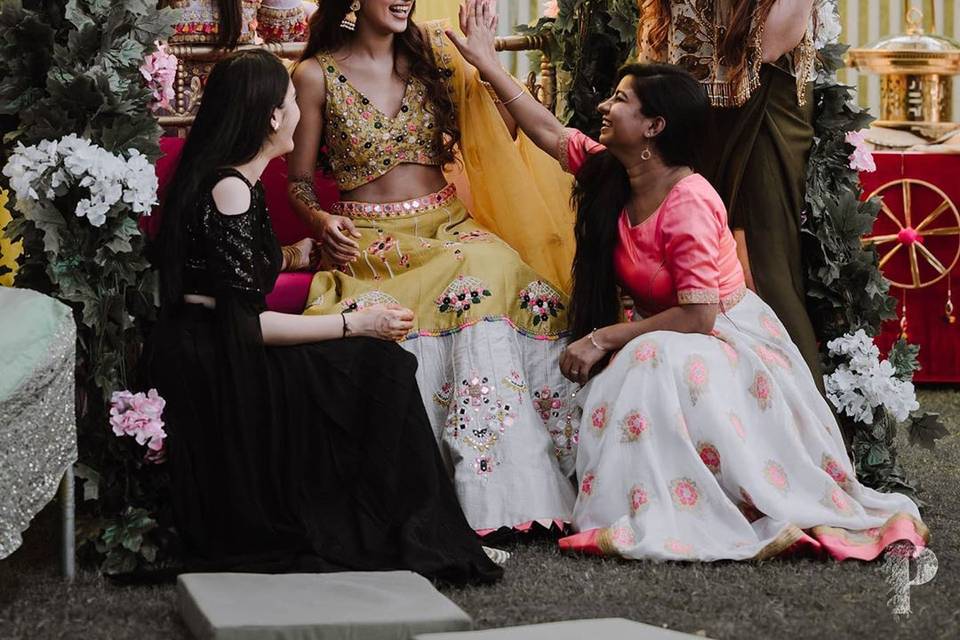 Nowadays, wedding planning has traversed the level of ordinary. Couples are more inclined towards planning the wedding of their dreams and making it a lifetime remembrance. Be it setting up the décor or planning the lights of the mandap, everything is beyond ordinary! A bunch of creative ideas can add sparks to your wedding planning. What's best when you get a chance to share your opinions with people and explore your planning choices to the fullest. If you like to share your cherub love story, planning thoughts, cool wedding stuff you've found, popular and stylish trends, then WeddingWire India Community is the perfect place to be. Taking inspiration from people who are also in a similar situation can be a big help and can also add a pinch of sparkle to your wedding planning. Are you on a lookout for suggestions or need a bunch of inputs on bridal shopping or beauty? Strike a conversation on this community to get a bunch of ideas from WeddingWire India experts and ease your planning process.
From 'who owns the most sparkling wedding ring in B-town, to which bollywood celebrity has spilled the beans of love', WeddingWire India Community has got you covered with all the snazzy ultimate wedding facts.
Why distress when WeddingWire India's community/wedding experts are here to ease your stress? All you have to do is, share your puzzlement on the community forum and receive the most appropriate and useful information. Wish to be a part of this awesome wedding club? Scroll up for some marvelousness and get a chance to be the highlighted member on the WeddingWire Community.
What is WeddingWire India Community?
Ever thought of discussing your problems with someone who is sailing on the same boat with similar thoughts and concerns as you? WeddingWire India community is a hub for all the community rock stars who wish to share their planning related queries and spread trending wedding subjects and support others to make better wedding planning decisions. We cover a spectrum of wedding planning questions like "how to select a wedding venue? Or What to gift your better half? The best proposal ideas, expert skincare inputs before the big day and so much more. Don't worry, we have got your back with all the relatable solutions only in our community section.
WeddingWire community guidelines will help you get started and give a clear view as well. But, what do you need to do first? Sign In, and you will get to open a plethora of options!
Step I- How to Sign Up?
That's an easy-peasy task! Signing Up is the first and the most important aspect of being a part of WeddingWire India Community. Fill up the details required to sign up with a new account or you can also log in with the help of your Facebook or Google Account and start exploring the engaging categories. Did we say categories? Yes, Let's explore together!
Step II- Varied Categories on Community
Whenever we plan to execute something, we make sure to categorise ideas just to make the flow simple and understandable. The same thought goes behind the astounding categories on WeddingWire India's Community. There are 17 groupings which can be explored according to your interest and fascination. From planning a wedding to looking out for best honeymoon locations, we have a splendid variety of solutions and awesomeness. Guess what? You can also discuss your adorable relationship or talk about an obstacle you are facing and get help! The community experts and other members will help you with calming and resourceful answers.
Captivated much? It's time to create a discussion on the community!
Step III- How to Start A New Discussion?
Once you get a hold of categories on our Community section, creating a discussion is a cinch and easy to grasp. Select any category that interests you and is in line with the topic you have in mind and you will notice a 'new discussion tab'.
After you select on tab, Fill in the details of your topic by mentioning the title and the message. Once you are done filling the details, click on send. And, you're good to go! Wasn't it easy?
Remember: Wedding content will make people comment on your discussion and give you valuable and effective solutions which will make your wedding voyage a cakewalk. Want to know how to comment on a discussion? Continue reading..
Step IV- Comment on A Discussion
After you've logged into your WeddingWire Community account, you stumble upon a discussion that strikes your fancy and you wish to become a part of that discussion by leaving a comment or a reply.
This is the tab with which you can reply to a discussion. What do you need to do? Just click on reply and it will take you to a comment box. That is how you leave a comment/reply on the discussion. What are you waiting for? Start commenting and make a trail of your opinions and thoughts. You can also share visuals to make your idea convincing.
Step V- Add A Photo or A Video to WeddingWire Discussion
Wish to express your emotions and happiness by sharing alluring pictures and fascinating videos? They are a great way to elevate your reply as it makes it easy for the user to understand the point in a subtle way. After you select the reply tab, the box where you can add your reply will have icons for adding pictures and videos as well. Selecting multiple pictures from the web or gallery adds a brownie point!
For minute details, you can explore the information here: How to add photos or videos to your wedding wire discussion.
Step VI- Points and Reward System!
There is no fun in doing a task unless you receive something in return. Are we right, or are we right? We understand your thoughts and will help you get settled with the point system, as what happens in community, stays in community!
Everyone starts as a Newbie and earns points through starting and posting discussions and commenting on posts. The more you will post, the more points you will earn!
Step VII- Send Messages and Make Friends on Community
It is fortunate to make friends so that you can share your wedding reveries. Well, we have got you covered with everything. WeddingWire community is a platform where you get to make friends and indulge in healthy and cheerful discussions. Sending out friend requests is just as easy.
Open the member's profile by clicking on their profile picture.
Click on the "Add Friend" button to send them a friend request
Once you are friends with someone, it becomes easy to start a conversation. All you need to do is to go to their profile and click on "Message" and begin ingenious conversations!
Sending Messages and making friends in the community just adds a spark on your profile!
Are you excited? We guess this is the most creative way to solve your wedding-related questions. You can also send wall messages which will create a positive impact on other members of the community.
Step VIII- Find Other Members Who Are Getting Married on The Same Day
It is a great feeling when you get to know who is getting married on the same date as yours. The best part is you can find them in our WeddingWire community. Once, you click on Members from the tab, a different page will open where you can modify badge colour, Season, Region, Date, and the list of members getting married will appear. Convenient enough, right?
Step IX- Wedding Acronyms For WeddingWire Community
Ever heard of wedding abbreviations? This is the most exciting and the fun step, where you get to know about wedding abbreviations which will give you a tag of whoopee! Get a chance to vibe with others by using wedding acronyms like FH- Future Husband, MIL- Mother in Law and a lot more. Isn't this interesting? You can also make your own wedding acronyms and share with the community members!!
Planning your special day should always be easy and exciting, why not make it blissful by being a part of the WeddingWire community? The community is going to be with you throughout and make your journey a happy one.
Comment below, and let us know who all are excited about being a part of the WeddingWire community!