4 Retro Theme Party Strands That Lead To A Stellar Sangeet Party
Organising a retro theme party and wish to work it into perfection. Then don't fret. We've come up with the all-authentic checklist for just this case.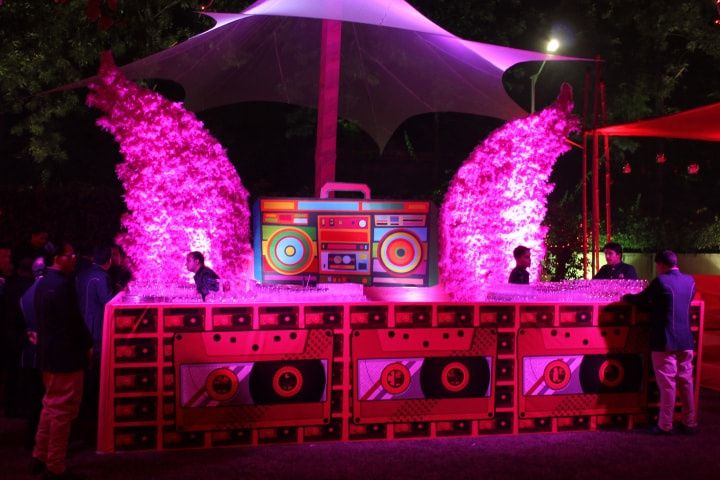 A retro theme party as your Sangeet? Now that's a themed idea that's bound to reach the stars - whether you decide to go for Bollywood retro, Hollywood retro or even on the period which suits your retro vibes. Here's how you can nail the right retro theme party for your musical night from an organisational perspective.
1. Retro begins with the look
First, figure out the basics as to where you plan to hold this glitzy party (indoors, outdoors and everywhere else). Next, deck the place up with enough props to bring in the 70s, 80s or even the 90s, if that's what you're thinking of.
So, who should you call -
A.) The Wedding Planner - In case you have one
B.) The venue - It could be a residential place where you've accommodated all of your guests or a party lawn nearby.
C.) The caterer - What's a party without good food?
D.) Wedding Decorator - To put up the drops and set a retro theme party move.
2. Plan your menu well
Now, that you've locked onto a venue for your retro theme party, decide and lock on a menu that befits the occasion, the more themed the better. Either name your drinks, desserts and mains in line with the era's stalwarts (a la Kishore Kulfi or Rafi Rabri), or have your servers in the retro getup, with sharp sideburns to complete the look.
Who do you call -
A.) Wedding Planner
B. Wedding Caterer
3. Get a trunk of costumes
You may mention that you're organising a retro theme party on your Sangeet invitations and wait to wowed by your guest's costumes. However, chances are, apart from a daring few, many may not fit in with the theme. So, what do you do?
Organise a trunk or rack of props and costumes that match the theme and set it up at the venue (preferably alongside a photobooth). You can get the two altogether if your photo booth vendor has a setup of costumes available. Else, ask the party planner where you're booking your costumes to set up a stall at your retro theme party.
Who do you call -
A.) Party planner
B.) Photo booth vendor
C.) Costumes on rent / for hire
4. Arrange for song and dance
A sangeet isn't complete without a set of musical numbers and the foot-tapping set of performances to close it all in. Give friends and family advanced notice and call them in to choreograph a set of killer performances for your retro themed party.
Next, ensure that you have the right music playing to get a peppy vibe for the day. Make a playlist, share it with your wedding DJ, set up a dance floor and wait for it all to come together as a splendid sensation.
Who do you call -
A.) Wedding planner
B.) Wedding Choreographer (and the willing Sangeet dance performers)
C.) Wedding DJ
D.) Decorator/venue coordinators for a dance floor
5. Organise retro-themed games
Organise a set of wedding games and ensure that everyone gets a chance to play. Let your MC (or the cousin with the oratory abilities) motivate everyone to join into the fun and arrange for ample prizes for everyone.
Who do you call
A.) Wedding MC
B.) Wedding planner
Pepped enough for your retro theme party? Great. Now just go through the motions and we'll ensure that you would have a great bash.
Read up on a Bollywood themed party here.