In the modern day battle between style and pocket, you are the one who ends up on the losing side. The fashion trends change so fast that it doesn't make any sense to spend excessive amounts on a bridal lehenga which you won't be able to wear on more than 2-3 occasions in your life. And why just bridal lehengas, even as a bridesmaid, you have an immense pool of selection - where each new lehenga is prettier (and pricier) than the previous one. What is a girl supposed to do?
It is natural that you'd want to be clicked in a plethora of beautiful lehengas, for all the different functions of all the different weddings you attend. Instead of the same 2-3 lehengas on rotation which caused a huge dent in your annual budget (after all, a beautiful lehenga today comes at a price that demands an EMI plan of its own), why not rent a beautiful and sophisticated lehenga. Not only do you get to flaunt a different designer in each function - you also steer clear away from the heavy-duty upkeep and maintenance of such elaborate and expensive pieces.
Attending or organising a destination wedding in Jaipur? Even better, we have a specially curated list of lehenga on rent in Jaipur that will prove to be your saviour.
1. Wrapd
Wrapd started with the idea of renting a party dress way back in 2009, ahead of its time in more ways than one. But the novelty and relevance of the idea stuck and it has managed to make the brand flourish over the years. Today Wrapd has an all-encompassing online presence throughout the country, including multiple physical stores in many parts of the nation - Jaipur being one of them. If you want a lehenga on rent in Jaipur, we cannot recommend this service often enough. Whether you are looking for pre, post or wedding functions, Wrapd has a lehenga for you - and yes, it is available on rent.
2. Rashi Creations
Recognising the need for affordable fashion in the pink city, Rashi creations started their operations with an aim to provide the women in the city with high-end lehengas and ethnic wear on rent. Their main aim is to solve the problem of 'occasional clothing' - items such as bridal lehengas, indo-western dresses and other ethnic wear which is heavy on the pocket but not used often. They keep updating their collections so that you are always up with the times. Looking for lehenga on rent in Jaipur? Their store can be your one stop solution for all ethnic wear needs.


3. Flyrobe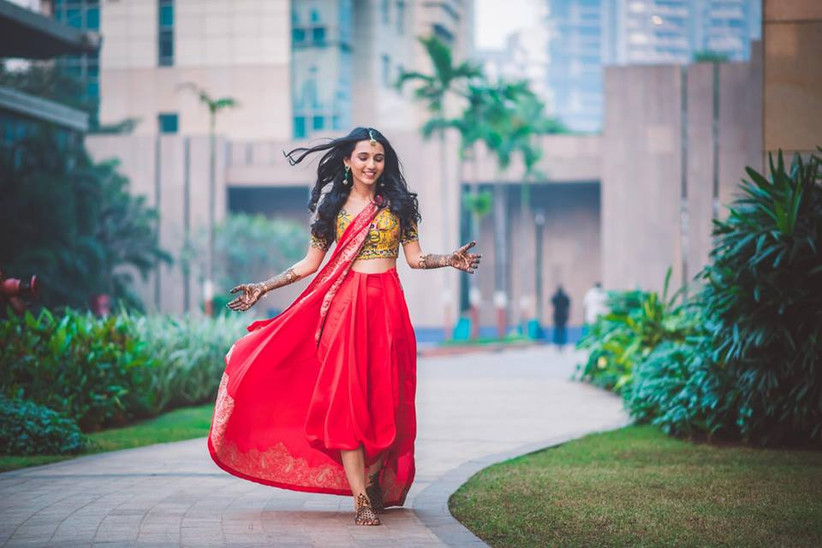 When it comes to renting traditional dress - Flyrobe is the go-to choice for the millennial bride. They are one of the most prominent platforms in the country who provide rental services. Not only do they have the best designer lehengas, but they also run frequent offers and you can avail amazing deals on every style and size of bridal lehengas. The brand is well known for its quality and service and delivers to many parts of the country, so if you are looking for lehenga on rent in Jaipur - check them out.


4. Peachtree
Peachtree specializes in rental outfits for all your wedding needs. Whatever you have in mind - a breathtaking outfit for a pre-wedding shoot, a gorgeous red bridal lehenga, or an indo-western gown for the reception ceremony, Peachtree can help you in getting your dream wedding look without spending all your money on just the attire. You can visit their store and check out all the available options for your outfit and find the perfect lehenga on rent in Jaipur. Whether you are the bride or bridesmaid, you can find something that fits your requirement and budget both.


5. Stage 3
If you're looking to get leading Indian designer labels such as Manish Malhotra, Anju Modi, Anamika Khanna, Rina Dhaka and Sabyasachi on rent, then Stage 3 can be the perfect place for you. This studio offers both buying and renting options, and they deliver all across the country. While looking for lehenga on rent in Jaipur, you can consider this option as well. Even if you are not all that sure about ordering it online - you can pay a visit to their Delhi studio which is comparatively close to Jaipur. A big plus is their services - styling and shipping which they provide free of cost. In addition, their in-house designers make sure that the collection is up-to-date and great in quality - to make sure that your wedding trousseau is nothing but the best. If the inspiration for your bridal look is the beautiful b-town brides, then this rental service will prove to be a God sent for you. Check out their collection and you will know for yourself.
Renting a lehenga is always a great idea because this is the only way you can keep up with the ever-changing fashion without burning a hole in your pocket. While looking for lehenga on rent in Jaipur, you have a variety of option - both online and offline that can help you in your quest to look the very best. So what are you waiting for? Get-Set-Rent!
Any particular lehenga on rent in Jaipur service that you swear by? Tell us in the comments.