Jutti With Heels: The Only Style Upgrade Brides & Bridesmaids Need
For the brides & bridesmaids who dread wearing heels, your prayers have been heard. Check out these comfortably chic Jutti with heels from Fizzy Goblet this wedding season.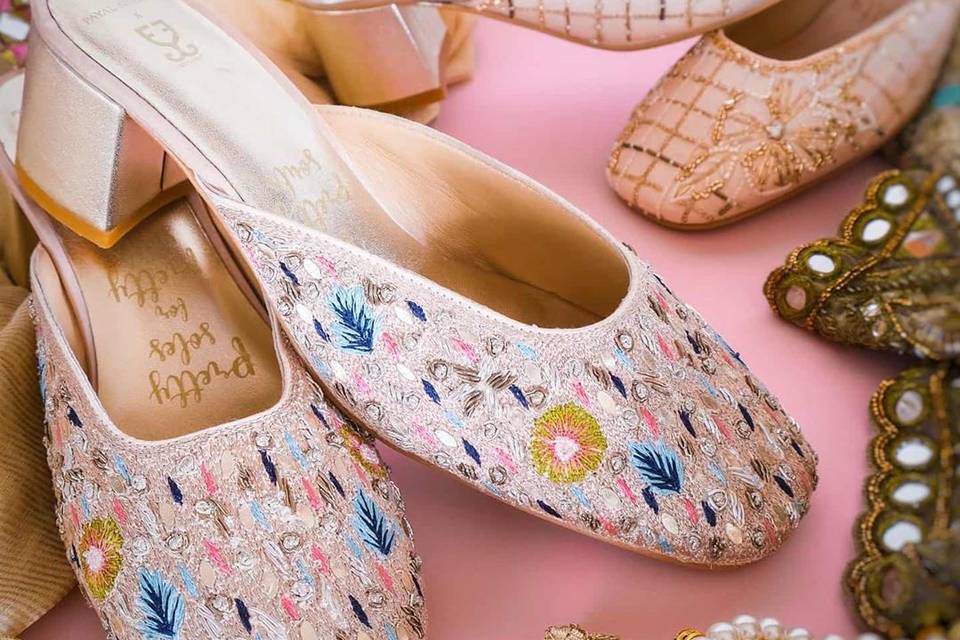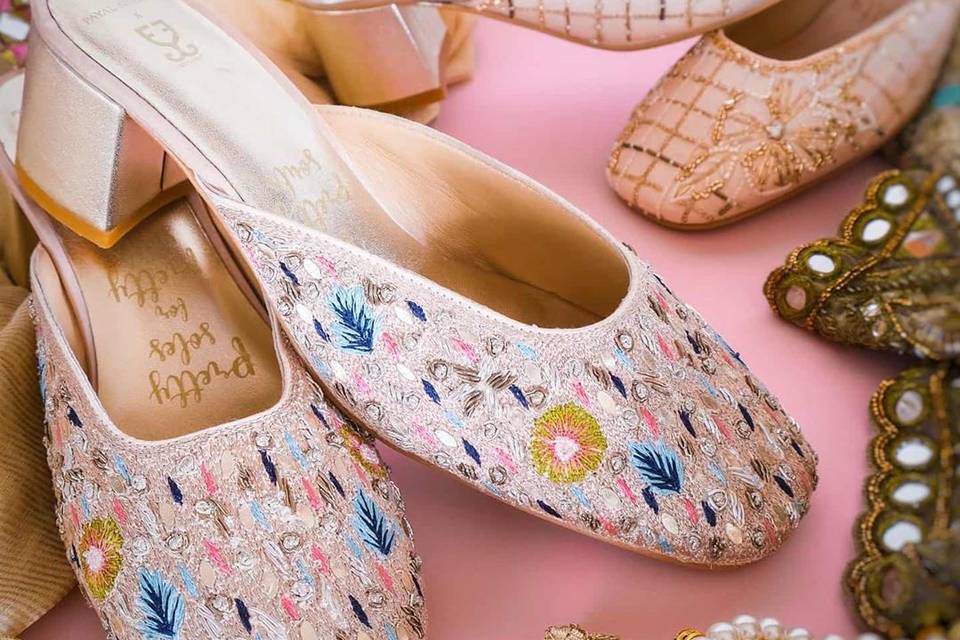 Juttis are back in fashion for quite some time now and have been trending ever since. While there is absolutely no reason why brides and bridesmaids would pass on wearing the ethnic Juttis, they are sure to miss wearing heels at some point eventually. To make sure that this conflict of choice between the gorgeous Juttis and the sexy heels doesn't become too big, Fizzy Goblet solved the problem once and for all. With a perfect blend of comfort and style, designer footwear brand, Fizzy Goblet recently introduced Jutti with heels–Fizzy Heels, for the millennial women to rock the nightclub look as well as the Shaadi attire this festive season.
Their Jutti with heels is a perfect solution to all footwear problems that the new age brides and bridesmaids have ever had. Now they have the comfort of Juttis with the sexiness of heels all in one. This one-of-a-kind combination is a much-needed addition to make Indian outfits with flares and drapes look all the more alluring, and sashay away like an ultimate diva.
Apart from it being their most comfortable collection, launching Jutti with heels has transformed the humble Jutti into a thing of art. So, scroll down to see some of their most beautiful collections and choose the design you've been looking for this festive season.
The Floral Sequinned Beauty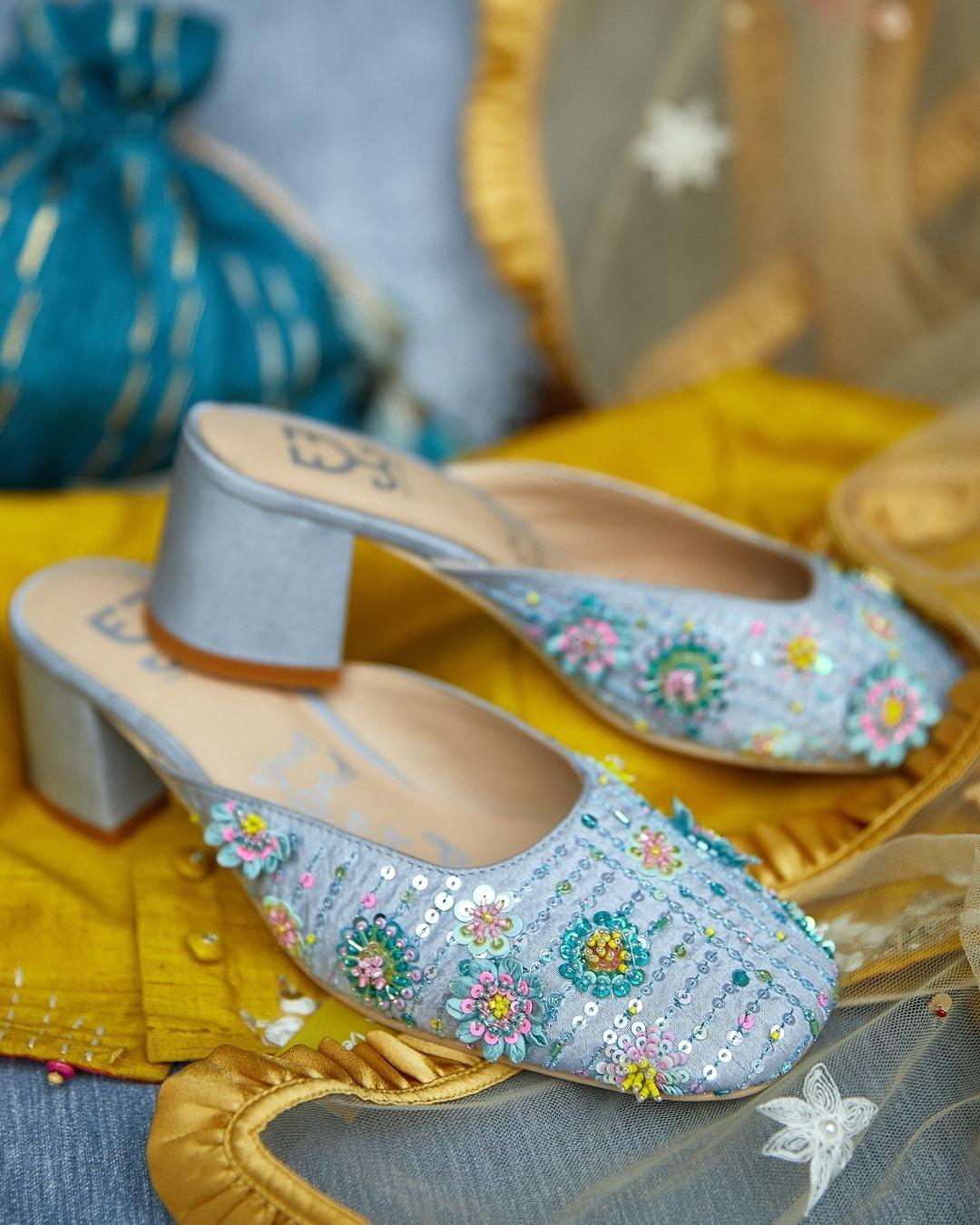 The first Jutti with heels design on our list is this icy blue one that has a floral pattern. Sequins in this handcrafted Jutti with heels look extremely stunning, while the colourful design will allow the new age brides to match this subtle yet stunning footwear with anything and everything.
The Richly Embellished Chequered Design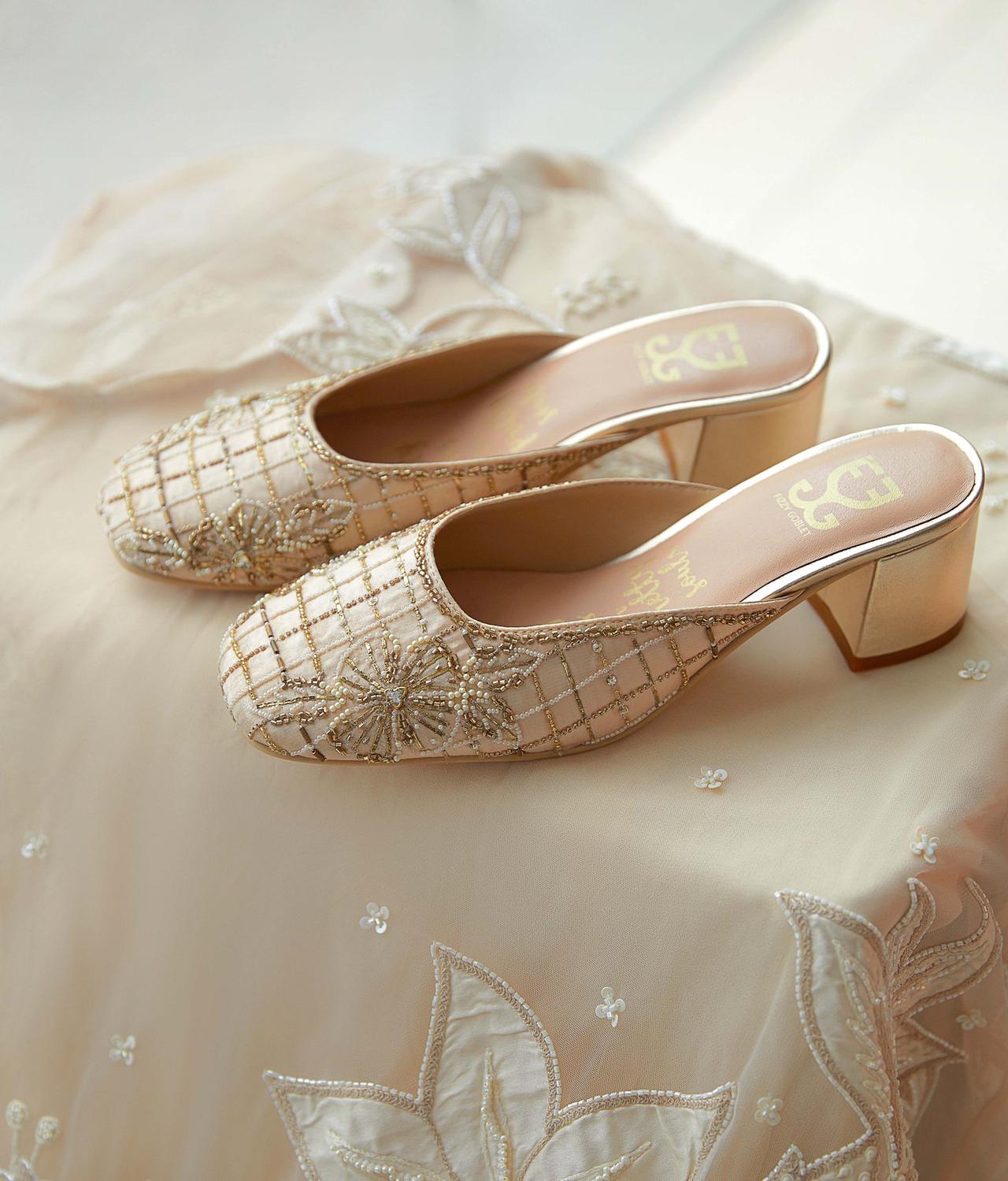 For the millennials who love embellished footwear, this off-white beauty is one of the most stunning Jutti with heels pattern that they will come across this festive season. This is one of the designs that are sure to look just as stunning with western attires as it would on Indian wear. Brownie points for the versatile and muted colour option!
The Thread & Mirror Work Pattern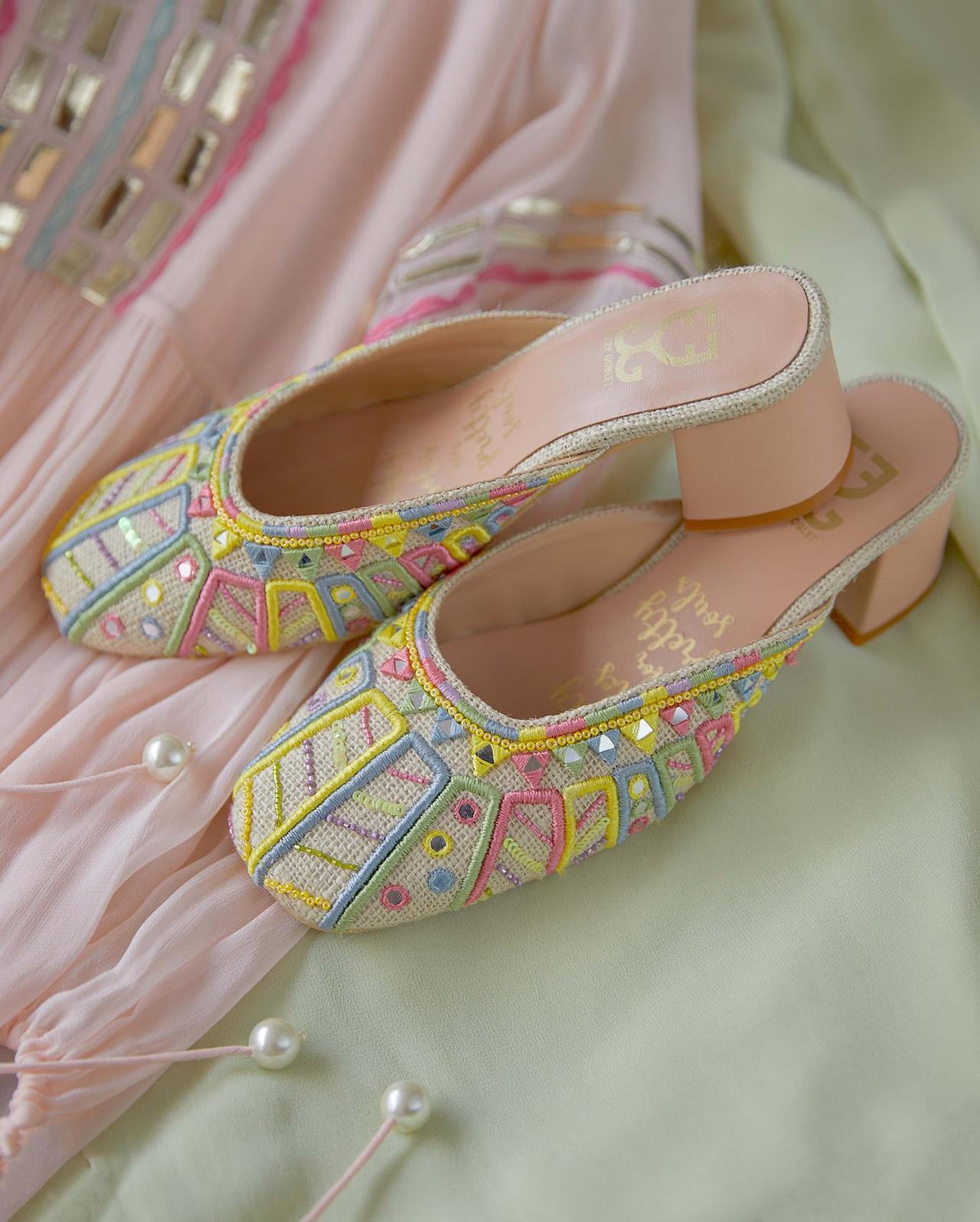 Fizzy Goblet got the art back in vogue while also turning heads around with their stunning designs and beautifully handcrafted pieces. This colourful thread work Jutti with heels uses mirrors as the perfect embellishment to make the design eye-catching for the new age brides and bridesmaids.
The Peachy Perfect Design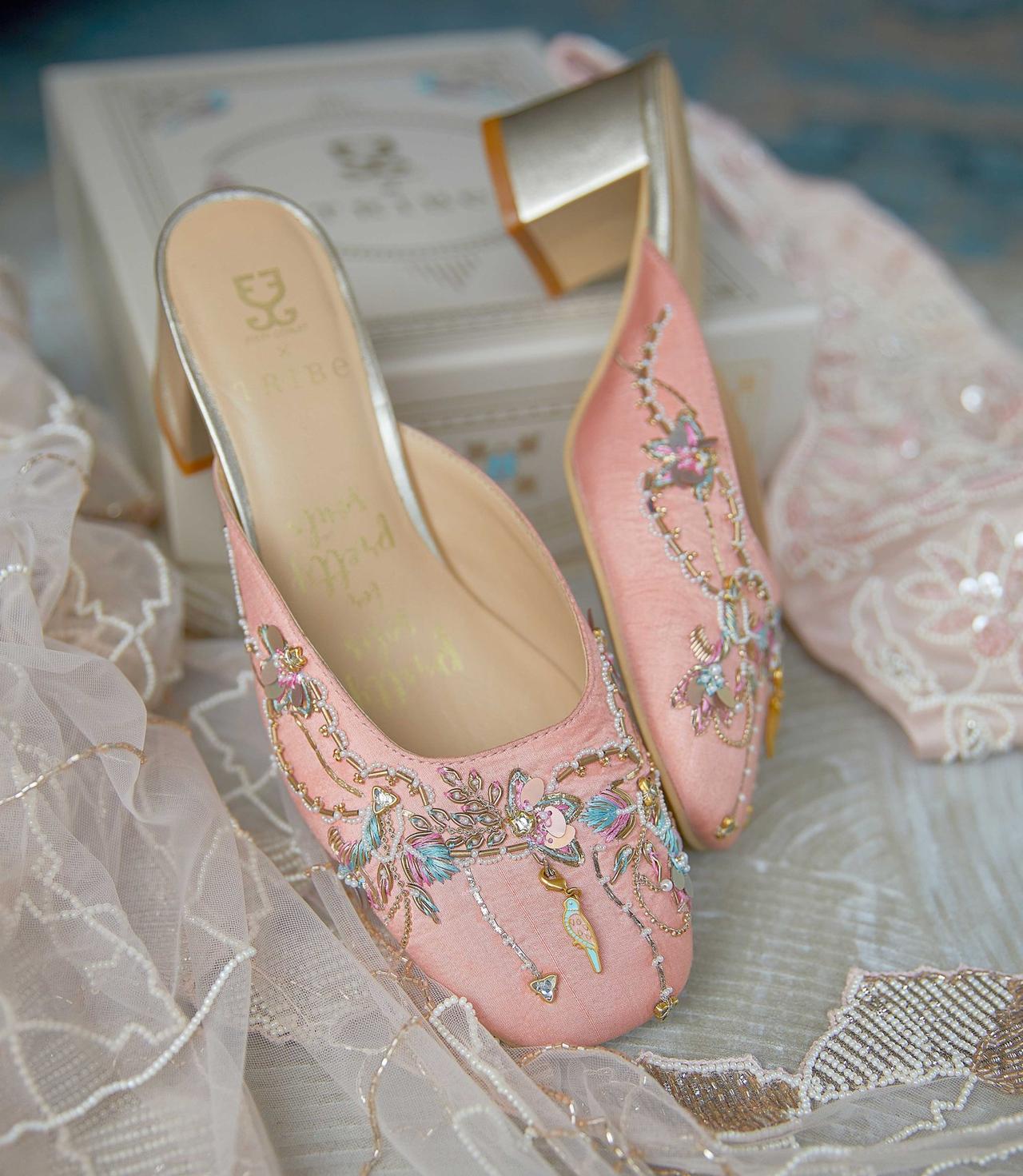 The next favourite Jutti with heels design on our list is this peachy perfect beauty that works for all kinds of Indian as well as western attires. It is finely embroidered with quirky embellishments like birds and butterflies that give it the edge and make it almost irresistible for the millennial to miss out on.
The Subtle Yet Stunning Design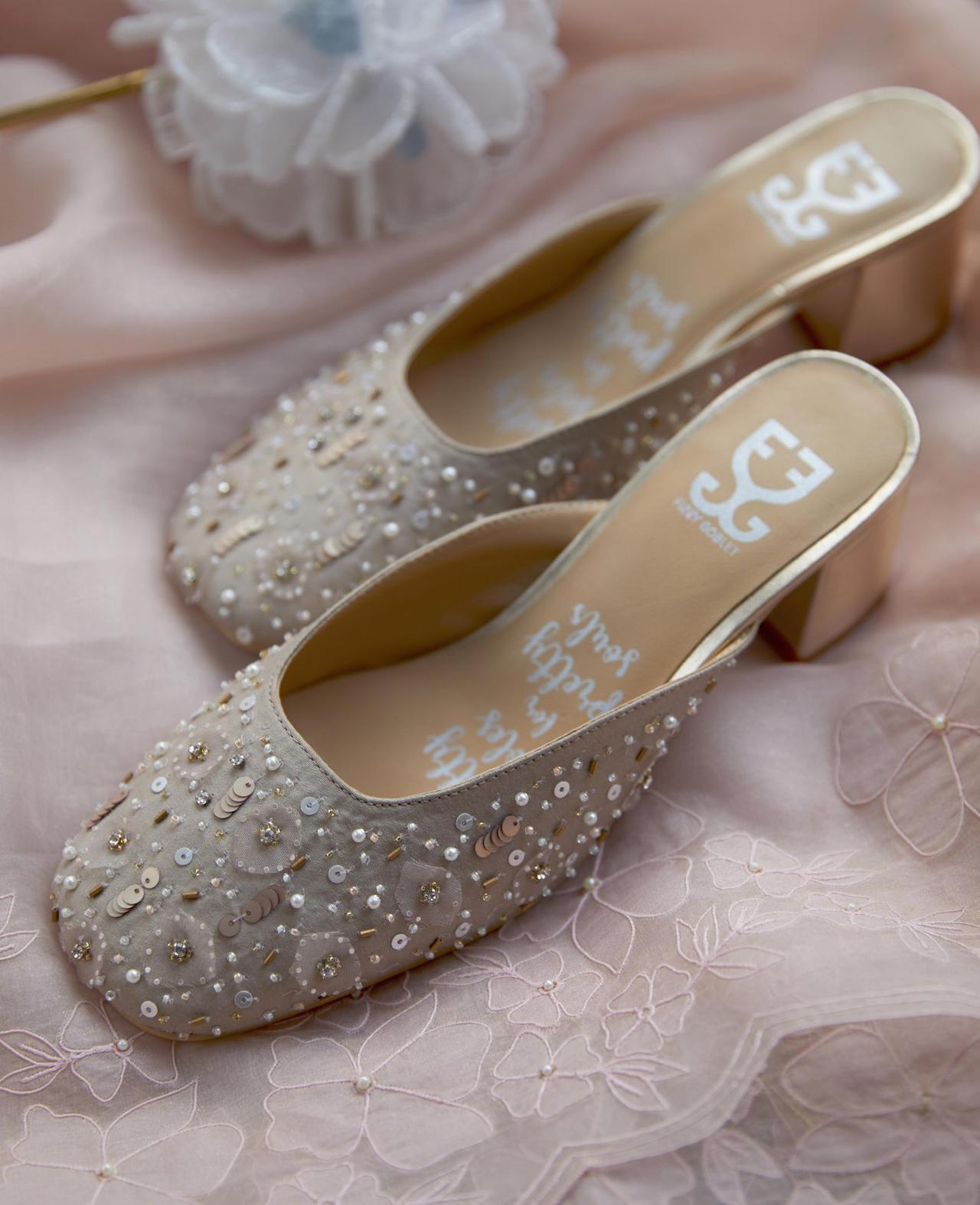 With happy colours being the underlined agenda of Fizzy Goblet's Jutti with heels collection, this is a design that pleasantly surprises the new-age brides and bridesmaids. Its subtle colour and even more subtle embellishments make for a great choice on the bright and beautiful Indian attires as well as the stylish and funky party attires.
The White Beaded Hexagonal Beauty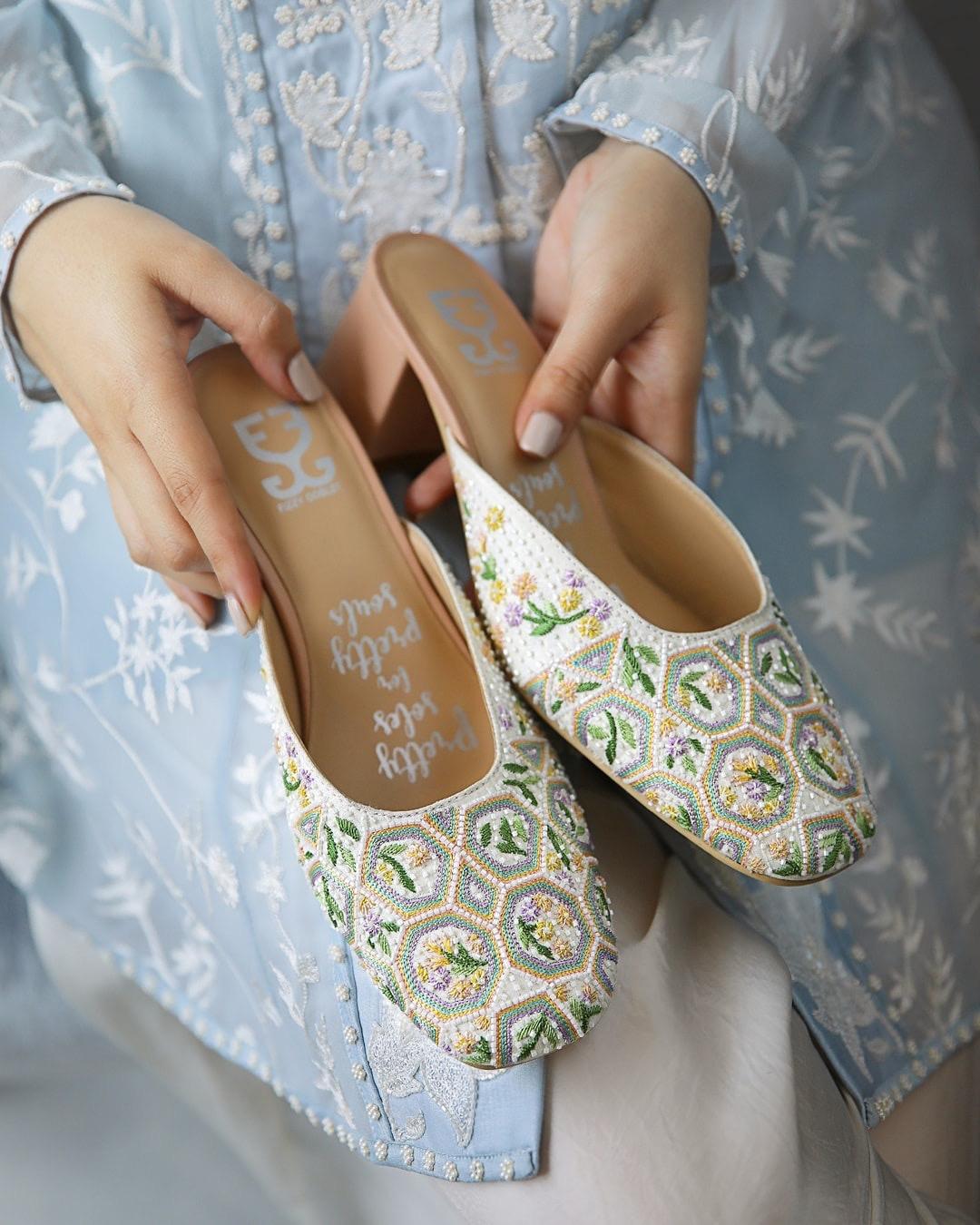 This Jutti with heels design definitely catches your attention almost immediately because of the unique choices of threads and bead colours on the white beauty. What makes this pair of Juttis a must-have is the quirky hexagonal pattern along with the floral design which screams chic like nothing else.
The Feathery Fashionable Design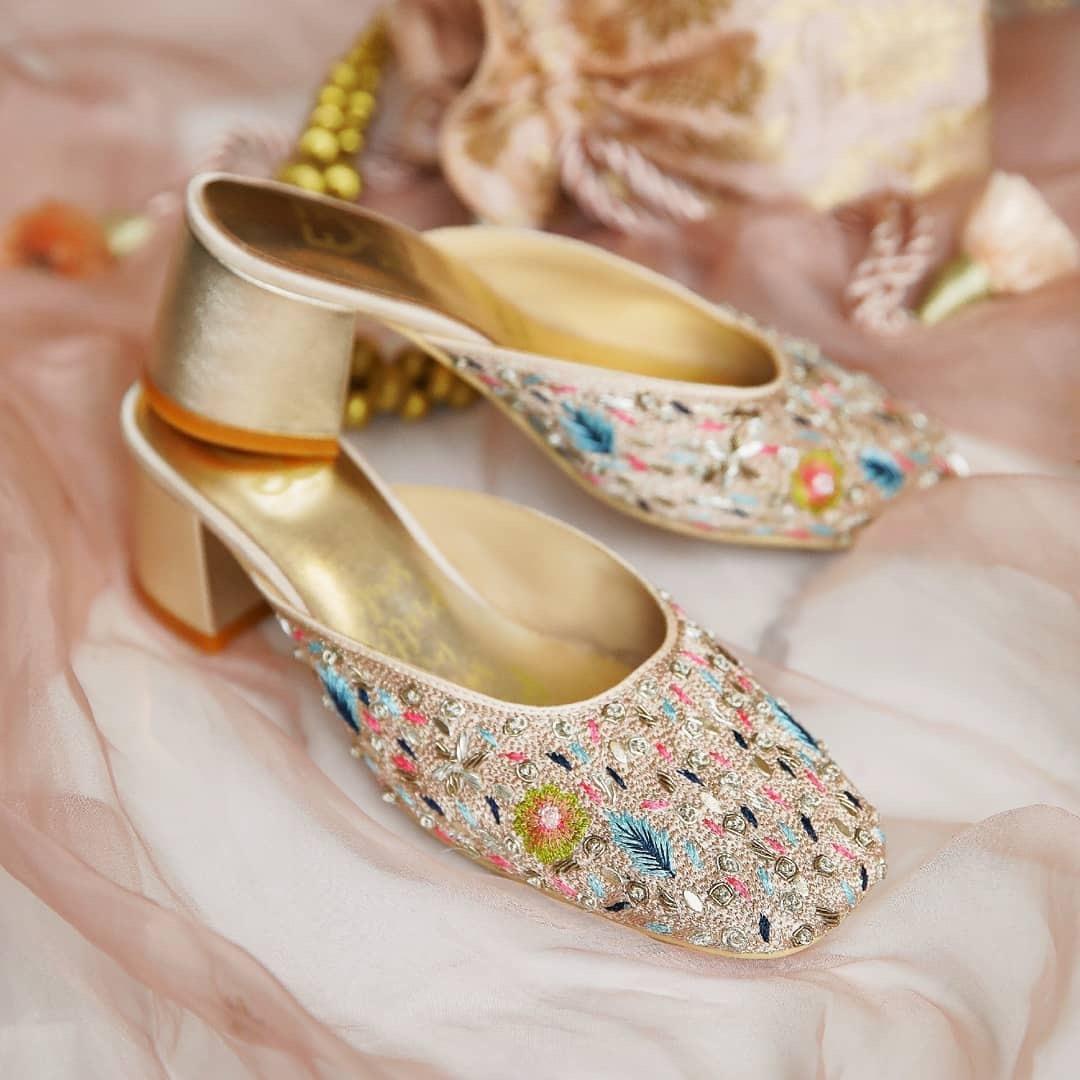 Lastly on our list of Jutti with heels collection are these one-of-a-kind feathery beauties embellished and finely handcrafted to go well with any kind of attire. With a burst of colours on a beige beauty, this one is another trendy choice for brides and bridesmaids this festive season.
So what do you think of this limited edition Jutti with heels collection, Fizzy Heels by Fizzy Goblet? Well, for all the new-age brides and bridesmaids who are in love with the collection, these well-designed heels are not any other footwear but a magical solution to everything you've been looking for. These stylish beauties are going to raise a number of eyebrows while never letting you suffer the pain of discomfort.
The Jutti with heels priced between ₹4290/- and ₹4590/-, is an investment on absolute comfort and style that you can wear, adore, and flaunt almost any and everywhere. All you gotta do is choose a design that is most likely to go with all your outfits and shoo your footwear blues once and for all, this festive season.
All Photos by Fizzy Goblet
Are you a big fan of Jutti with heels? Tell us in comments if you're excited to buy the Jutti with heels collection by Fizzy Goblet.