Wear Hyderabad Bangles With Beautiful Stones to Ace Your Bridal Look - We Tell You Why
Hyderabad bangles have a distinct appearance with different kinds of stones studded on them. These bangles are incredibly popular in the local region and are the most sought-after piece of bridal jewellery.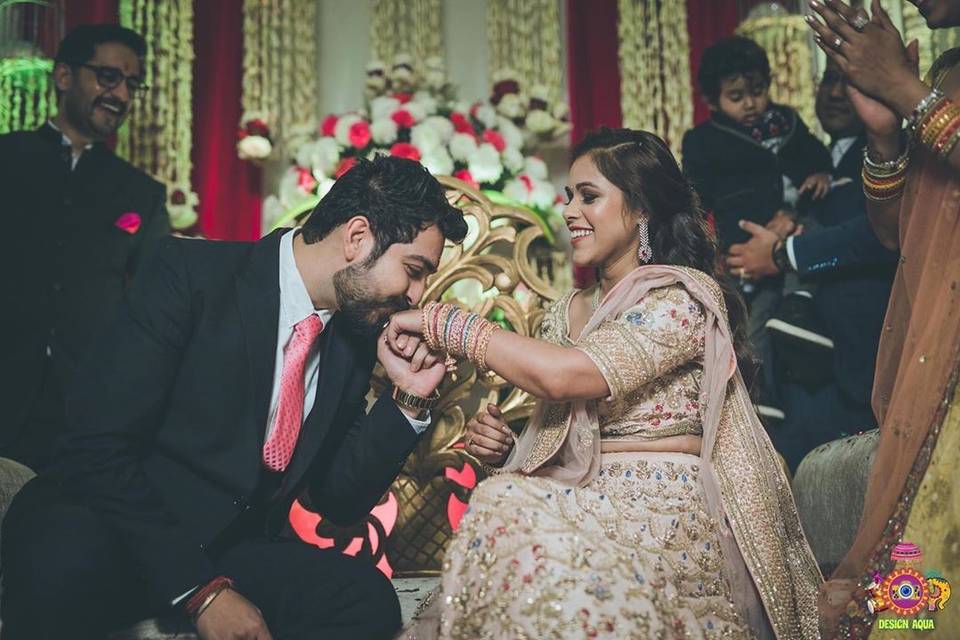 Hyderabad bangles are one of the most popular items when we talk about this historical city of South India. These bangles are so famous that people often buy them as a piece of souvenir while they visit the city. If you go to the most popular monument in the city, Charminar, you can see some of the streets leading up to it flocked by customers and tourists in general. One of those streets must surely be the one with the Laad Bazaar or Chudi Bazaar. Here, you can get some of the finest qualities of Hyderabad bangles that you can possibly get in the city.
So, what exactly makes these Hyderabad bangles so popular is the incredible designs you get with the use of multiple stones. The bangles are made of pure lac, which is a dying art in India. The artisans use stunning stones or mirrors to create patterns on the bangles and thus give the bangles even more character. Jewellers have come up with better ideas regarding methods to incorporate the design of Hyderabad bangles in other ways.
One of the easiest ways is to use semi-precious stones in place of the usual stones. Some jewellers have taken it a notch higher by introducing gold patterns on the bangles or by using diamonds instead of stones. Another take on it is by getting rid of the use of lac and instead of using gold as the base material for the bangles. All such designs offer you a stunning range of Hyderabad bangles to choose from!
1. Tips to get the best bangles!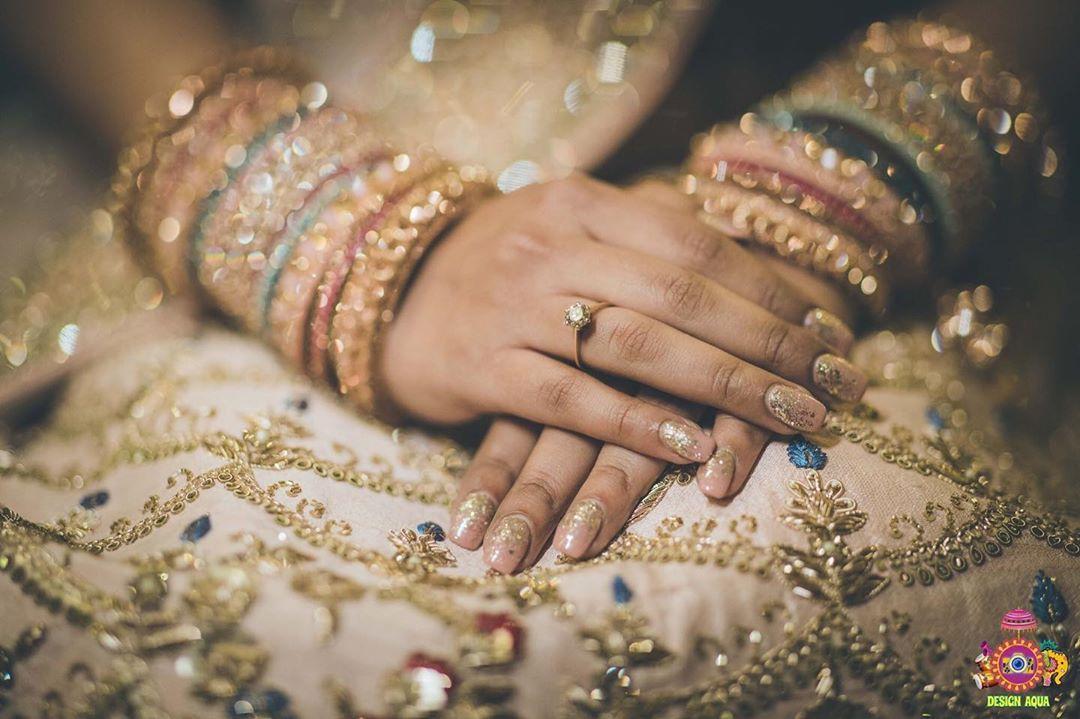 There are certain things you need to keep in mind while buying Hyderabad bangles, especially because they are made of lac. Lac bangles are easily breakable and you do not want a broken bangle if you are spending a lot on it. Moreover, the breaking of marriage bangles is considered ominous in Indian culture. Therefore, make sure that you buy such bangles only when they are of the highest quality. You do not want to compromise on that!
The second thing to keep in mind is the quality of the stones used in the bangles. The price of the bangles usually depends on the stones used in it. Look for the authenticity of the stones before buying them. Apart from these quality tips, you just need to keep in mind a simple style tip that asks you to buy Hyderabad bangles that match with the colours of your attire. Only then will the lac bangles look good. However, if you are opting for bangles with gold as the base then you can pair it with almost any outfit!
2. Use of multiple stones on multiple colours of bangles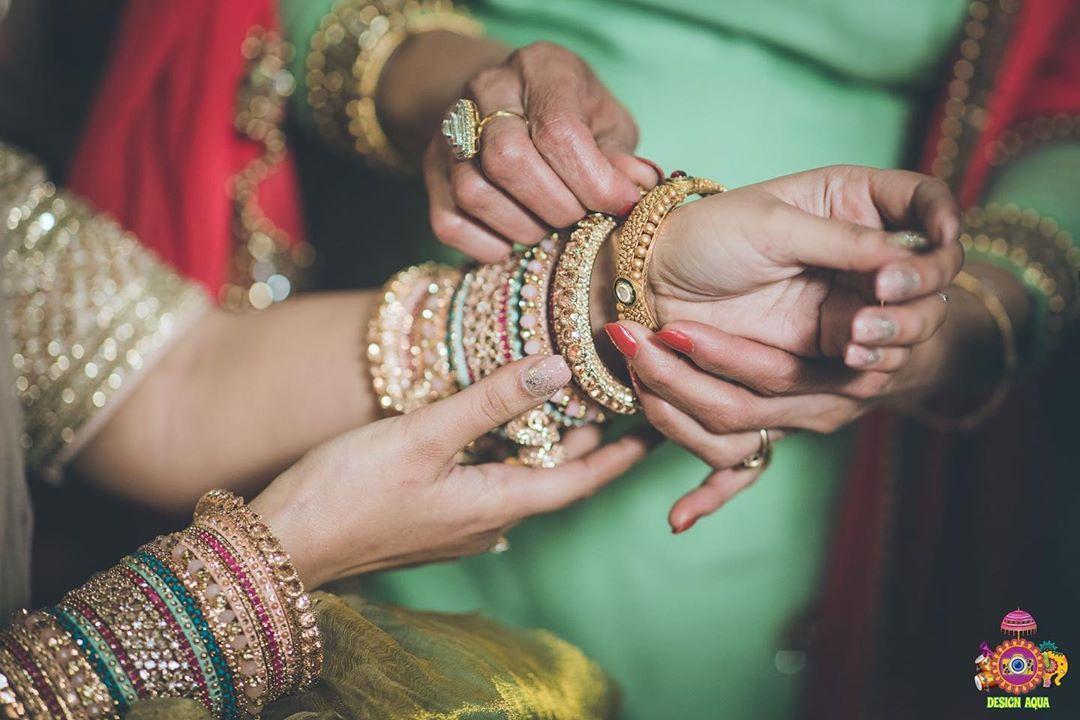 One of the best ways to look good in Hyderabad bangles is by going all in. You may use traditional bangles with similar designs with tiny stones studded on it throughout. Make sure that you use all the colours you have in your outfit to make it look great. Add one or two bangles made of gold as well but with similar design patterns. This all-in approach would surely elevate your look quite a bit!
3. Gold patterns on lac bangles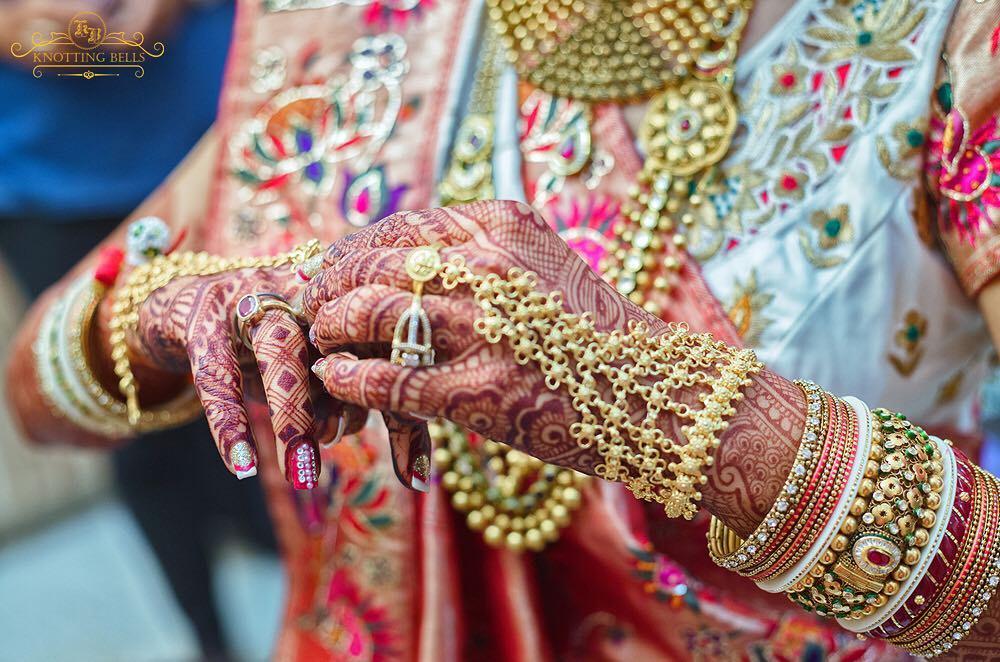 Now, this is an interesting take on Hyderabad bangles, as it uses gold to create patterns on thick lac bangles. However, make sure that you select bangles that have higher durability. Always opt for colours that match your outfit. You can achieve that by using thinner bangles that follow the traditional Hyderabadi design.
4. Gold base with single stone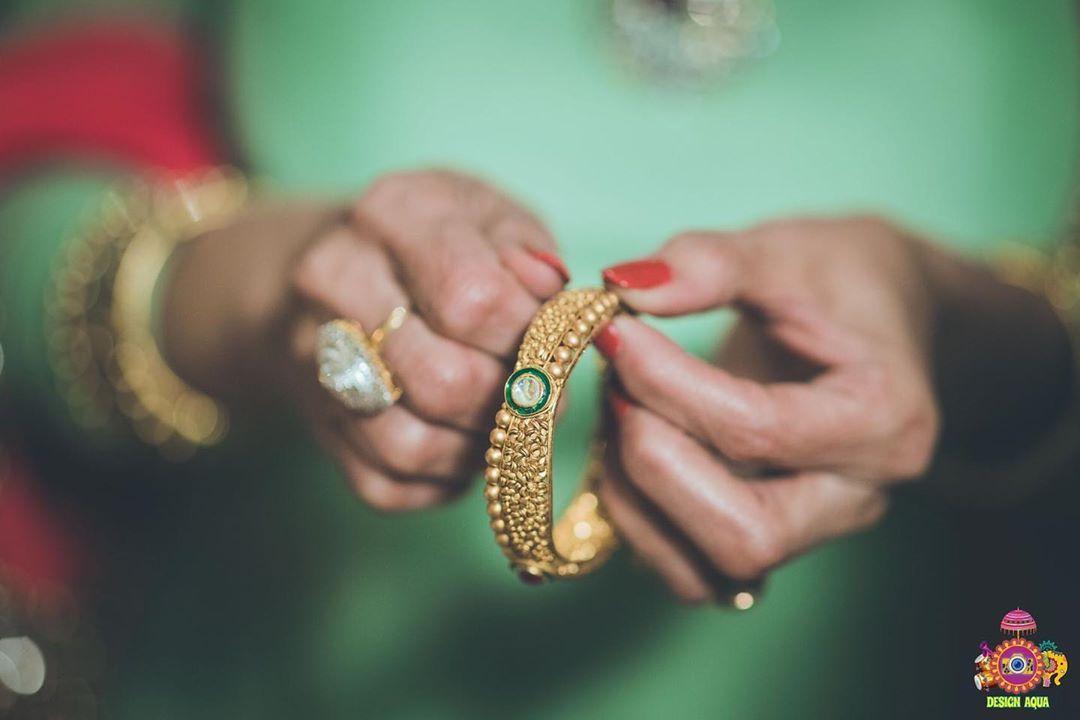 Speaking of bangles with golden base for the accessories, this design with the use of single huge stones makes it look much better than the usual designs. This is perfect for using it as the lead bangle in a set of bangles you are wearing. The use of green stones circling the centre white stone gives a beautiful touch to the bangle. The combined colours of golden, green and white make the bangle look great.
5. Dotted dusk-coloured bangles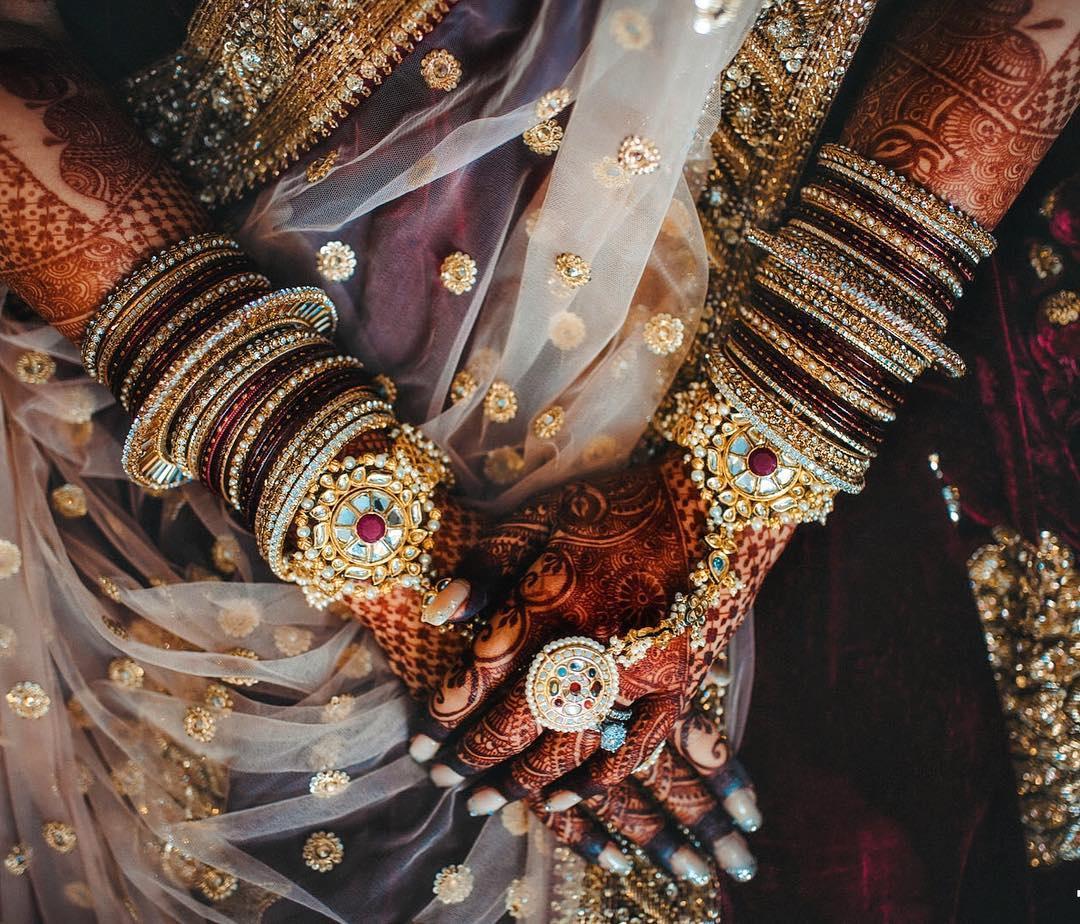 Dusk is a beautiful colour for Indian brides, as most bridal outfits have a similar shade to them. Therefore, dusk coloured Hyderabad bangles are one of the safest options for you. The continuous dots on the bangle gives you the perfect amount of loudness. Pair these bangles with white or ivory coloured bangles to give you the perfect bridal look.
Keep all the tips in mind while buying such bangles and get inspired by these wonderful designs on display to buy beautiful bridal bangles for your wedding. Check out some step-by-step eye makeup tutorials, step-by-step hairstyling tutorial and hairstyling tips, pick a stunning pair of bridal heels & a jewellery set - and you're good to go.
Get in touch with our bangle vendors to buy the best accessories for your bridal look!