9 Beautiful Gujarati Mehndi Design Ideas For Brides To Try Out This Wedding Season
A Gujarati wedding is always a unique thing in itself with its vibrant culture and traditions. Just like you pay attention to the smallest of the details, to have a Gujarati mehndi design too is important for the bride to look her best!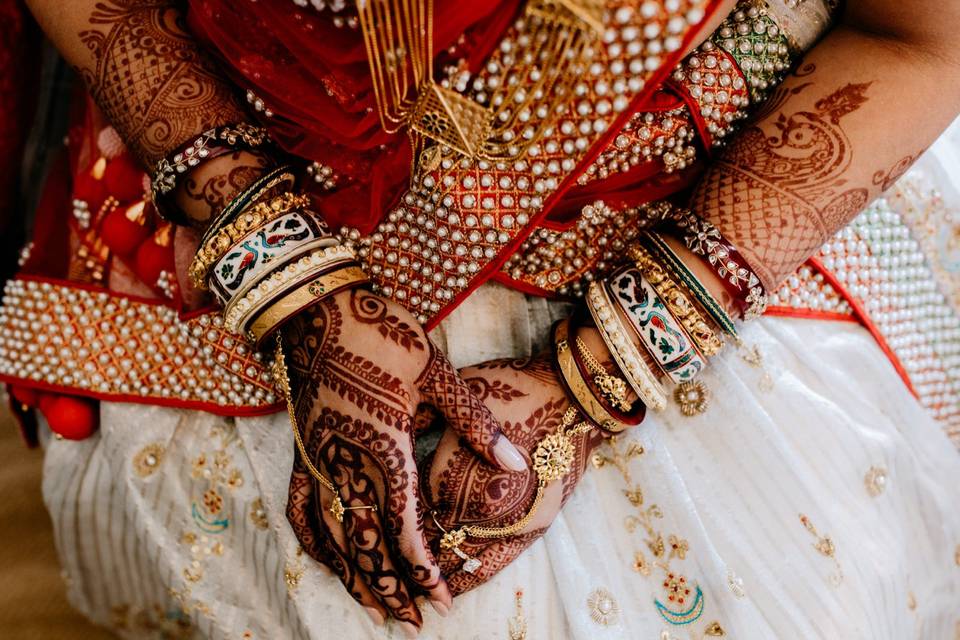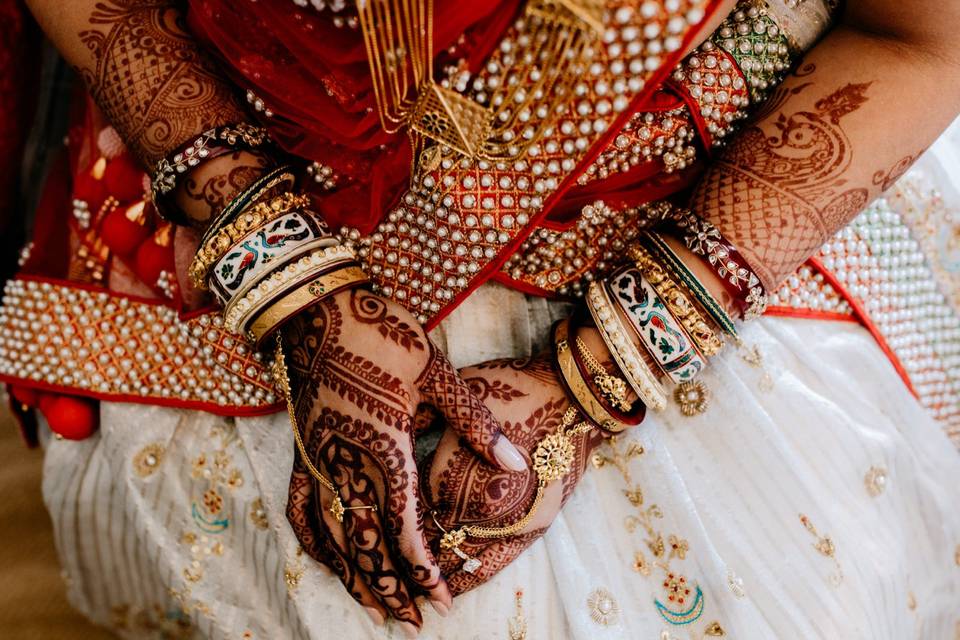 Image Courtesy: Yellow Bird Visuals
Having mehndi on your hands and feet has always been more of a cultural thing in India rather a style statement. The Indian traditions say that the amount of darkness the mehndi gets once it dries up gives an idea to the bride of the love she will get at her new house. Apart from this belief or superstition, whatever you want to call it, the application of mehndi gives a relaxing feel to the bride.
Nevertheless, it has now become a fashion statement as well with all the different styles of mehndi designs available in the market. The traditional Indian designs, simple Arabic designs, line designs, ring designs and designs related to particular cultures are just a few of the incredible amount of designs that leave you spoilt for choice.
Gujarati mehndi design is one of the best designs for those who want intricate and filled mehndi patterns for their hands. Moreover, having this is crucial for a Gujarati bride to complete her look. A Gujarati mehndi design has some of the most traditional motifs with designs of peacocks, petals, flowers and much more. Have a look at some of the best designs we've found!
1. Total symmetry everywhere you look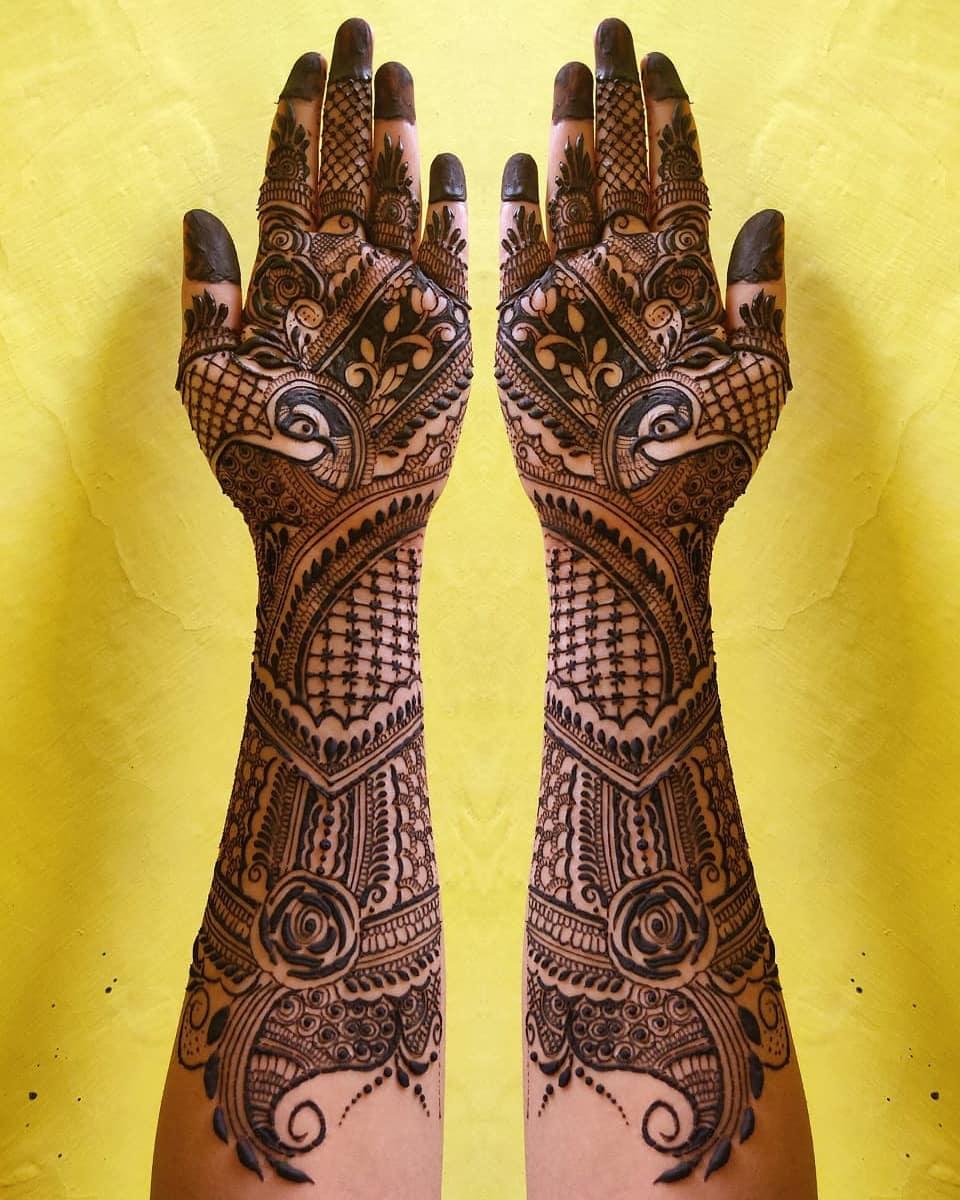 Image Courtesy: Aaru Niru
What stands out in this beautiful Gujarati mehndi design is the incredible symmetry it follows. Having such a design for your wedding would be great. However, make sure that you hire a skilled artist to get perfection in the details.
2. All the classic designs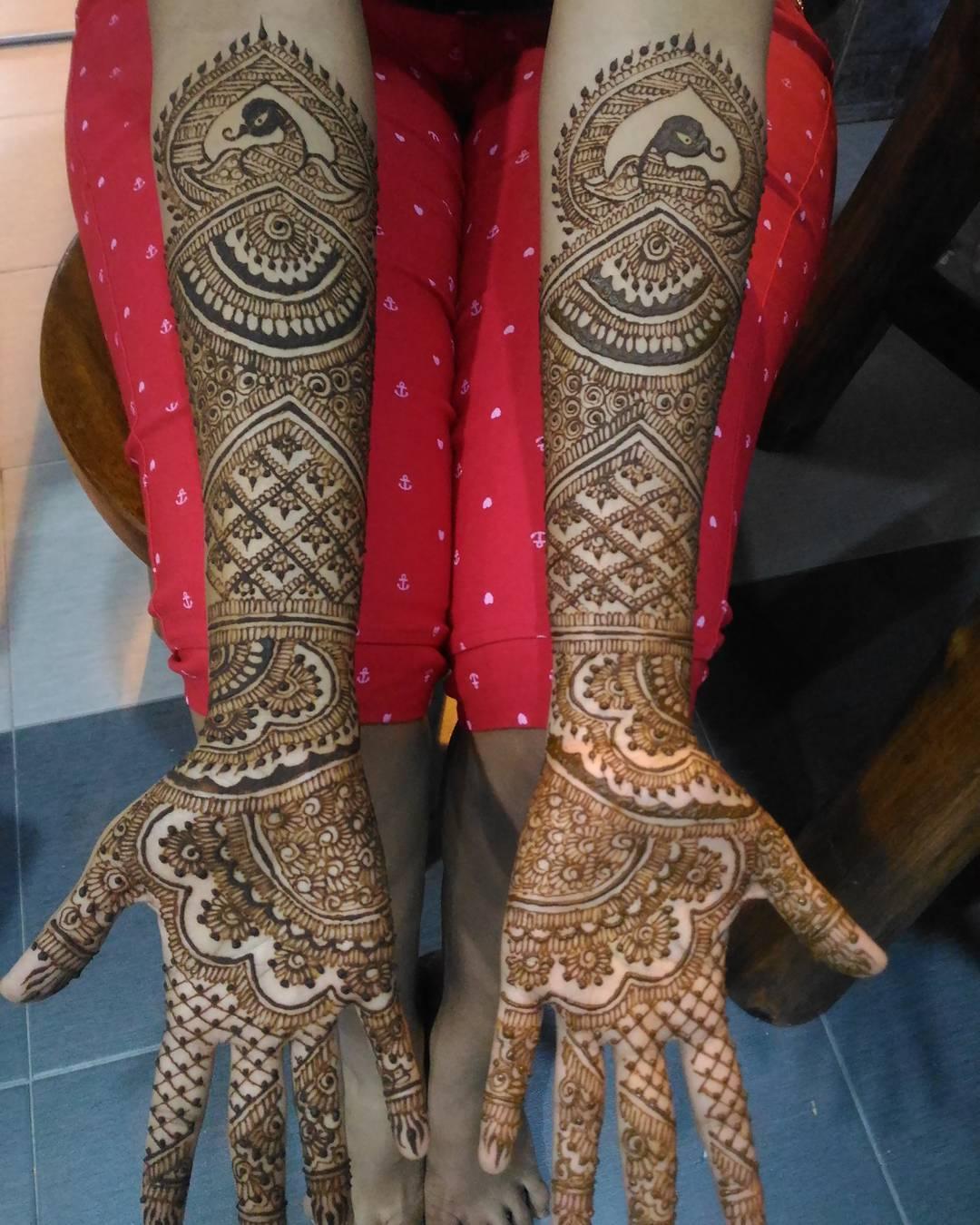 Image Courtesy: Vasu Henna Diary
A classic Gujarati mehndi design can use all the Indian designs in it and that's the beauty of it. Just like in this design where you can see how beautifully the artist has incorporated the classic diagonal lines, the leaf motifs, the beautiful curves, and the use of peacocks at the top. It all adds to the beauty of the design.
3. Intricate motifs but free fingertips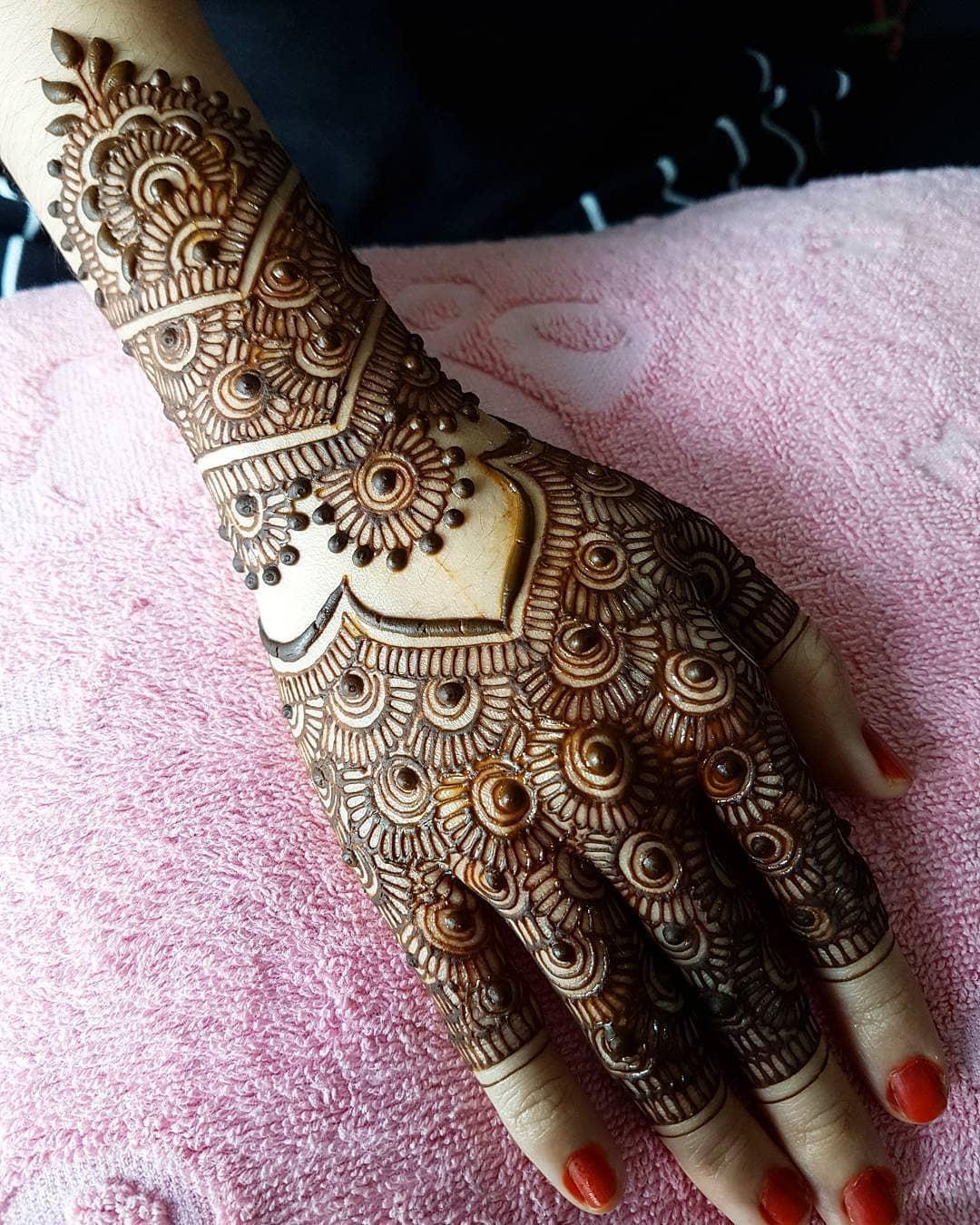 Image Courtesy: The Henna Designs
This design has some really fine use of petal formations that start from the fingers and continue till the wrist. However, the tips of the fingers are free from henna, which is a fresh take on the Gujarati mehndi design. A few angular lines and leaf motifs complete the look.
4. Let the beautiful curves flow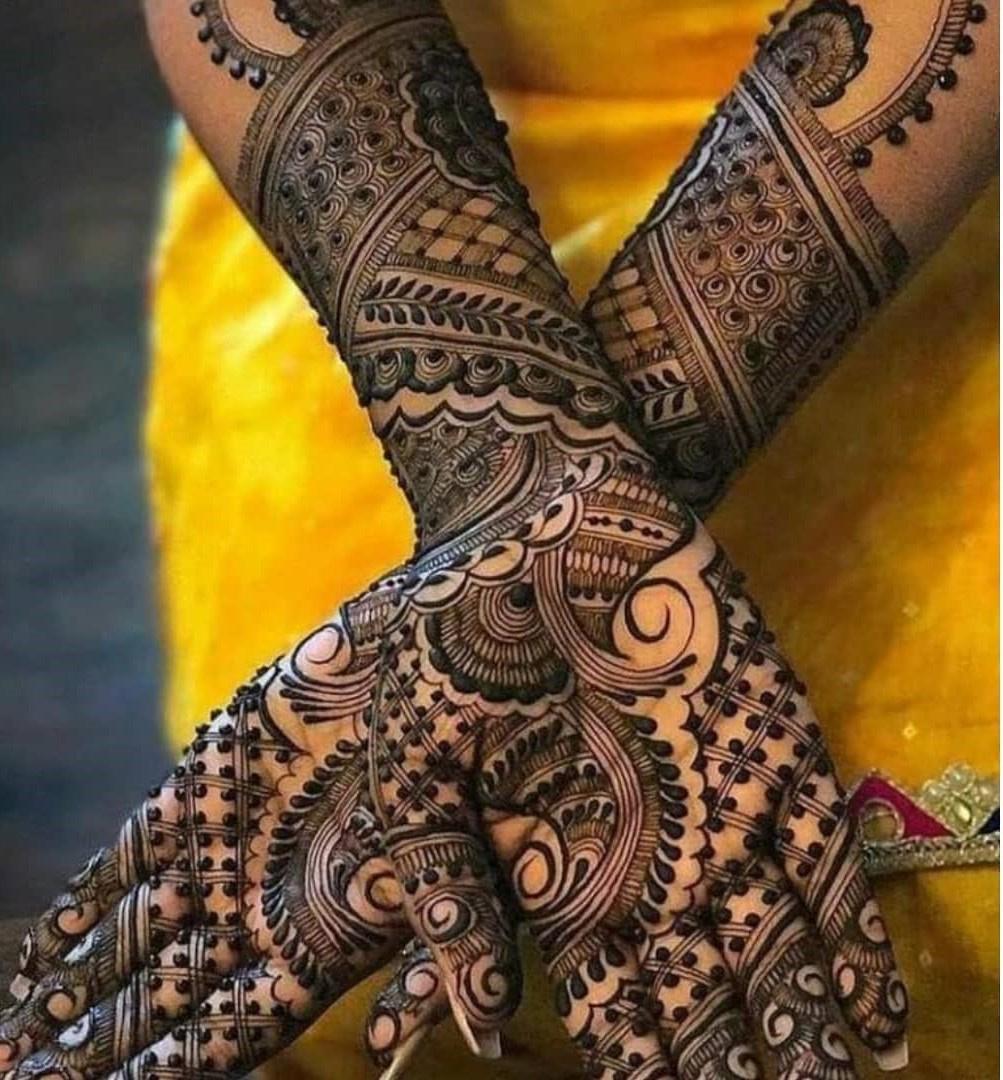 Image Courtesy: Indian Mehndi Designs
The majority of this design has beautiful curves in it, along with some unique diagonal lines that have formations lined up on them. This extremely filled design is surely one of the best traditional designs if that is what you are looking for. It has enough breathing space in it to not make it cluttered.
5. An intricately designed mehndi pattern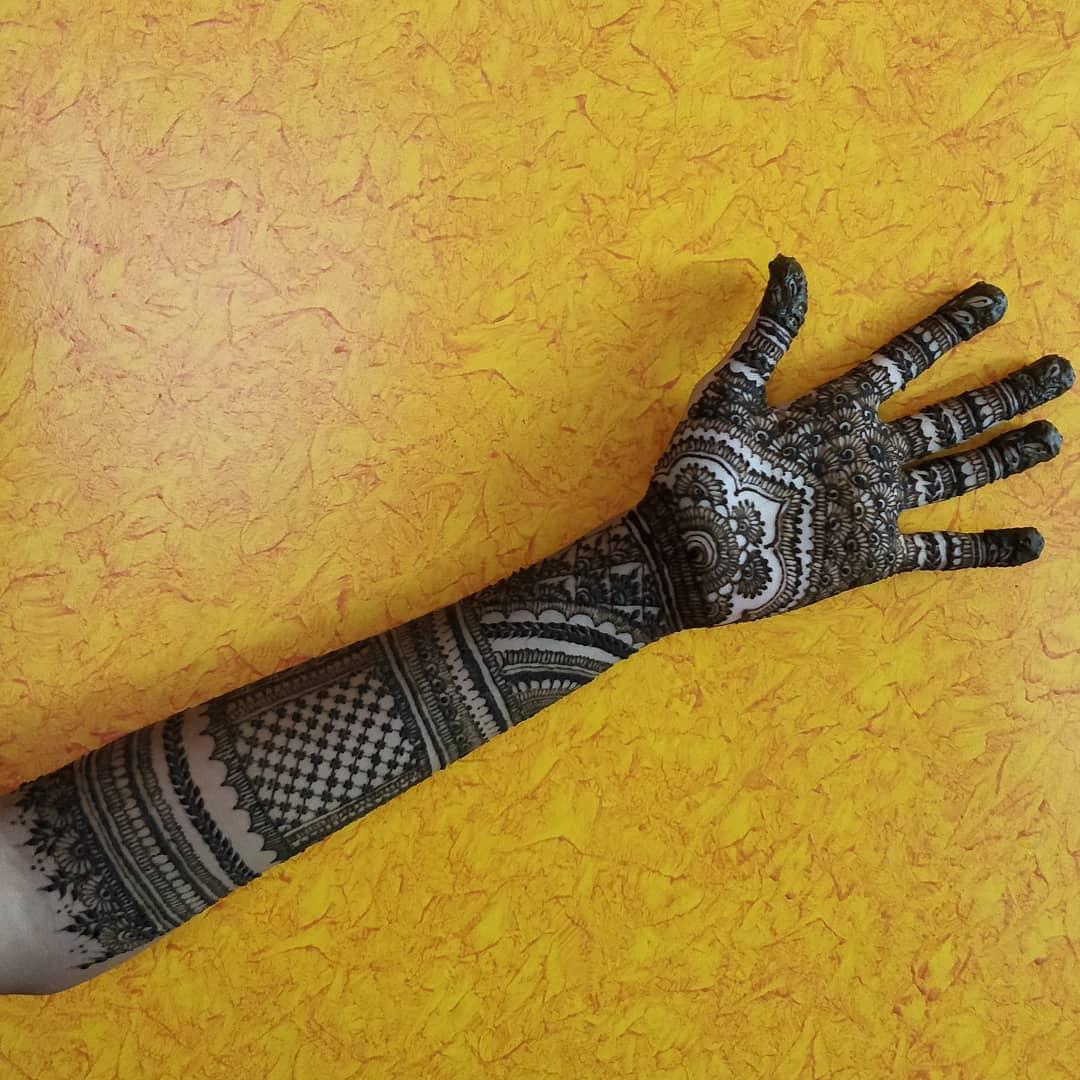 Image Courtesy: Nimehendi
For someone who likes to have her hands filled with mehndi, this Gujarati mehndi design should be ideal. The design goes all the way upto the elbow and every corner of the design has some detailing in it. The designs are so intricate that it looks more like a tattoo than a mehndi design!
6. Cover your arms with this big design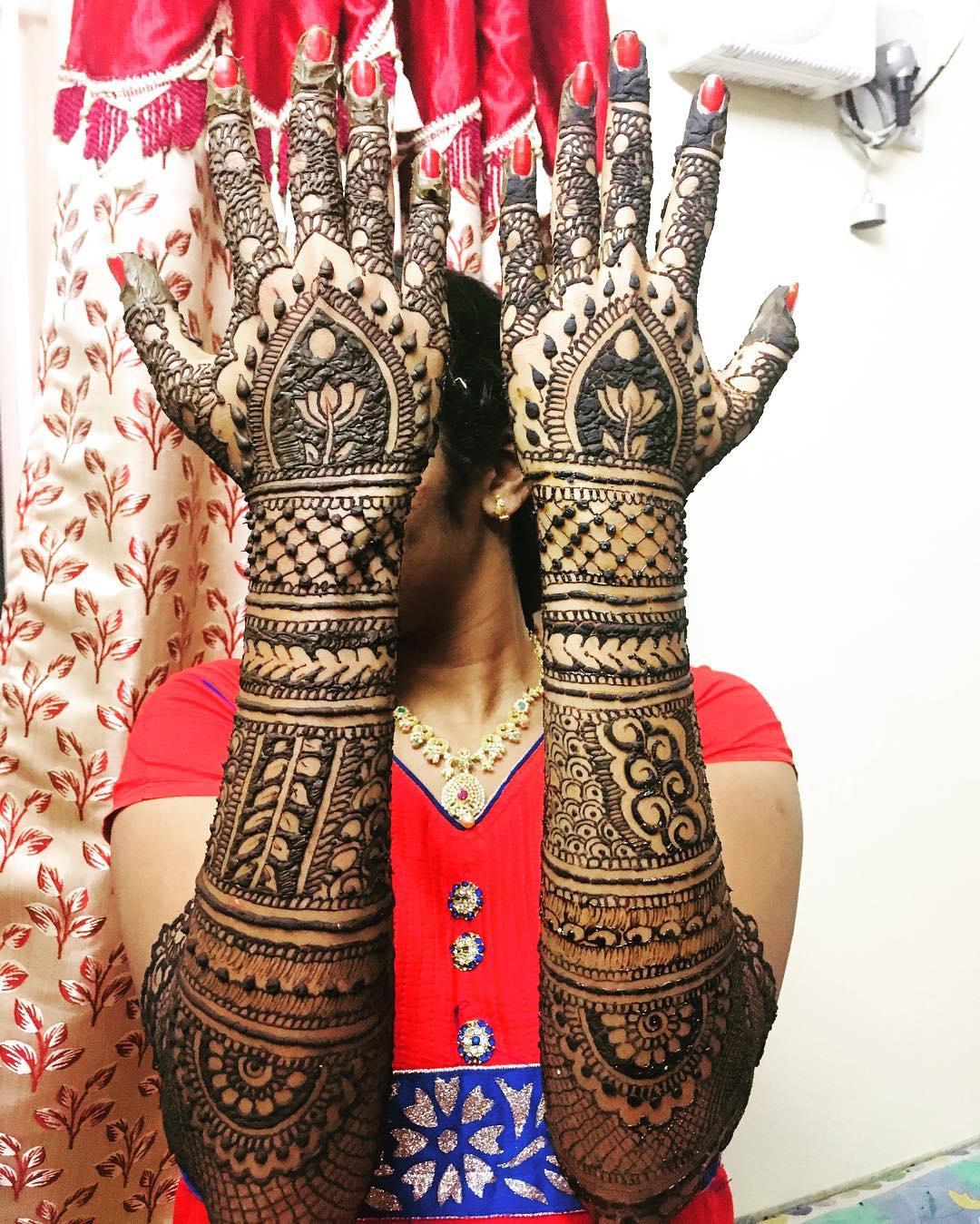 Image Courtesy: Shaheen Mehandi
To cover almost the whole of your arms, you need big designs that have something new every few inches. This design is exactly that as it has 5-6 different patterns that go from one end to another. The beautiful use of the lotus flower on the back of the hand is a clever design.
7. Another classic Indian design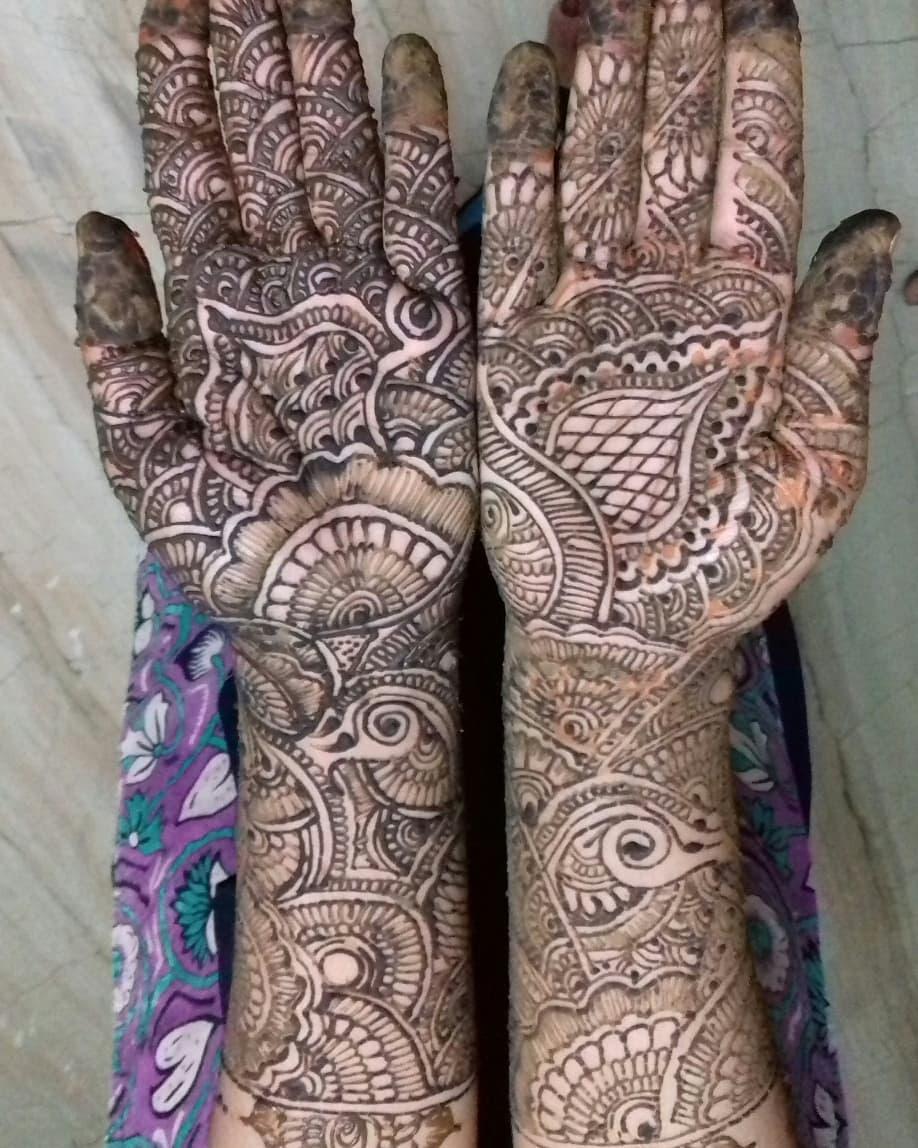 Image Courtesy: Henna Artist Safvana
When it comes to classic Indian mehndi designs, one thing is always a part of the look and that is intricacy. This design has exactly that and it goes a step further by having complex design patterns that change unpredictably as the design moves from one end to the other.
8. Some beautiful peacocks for your feet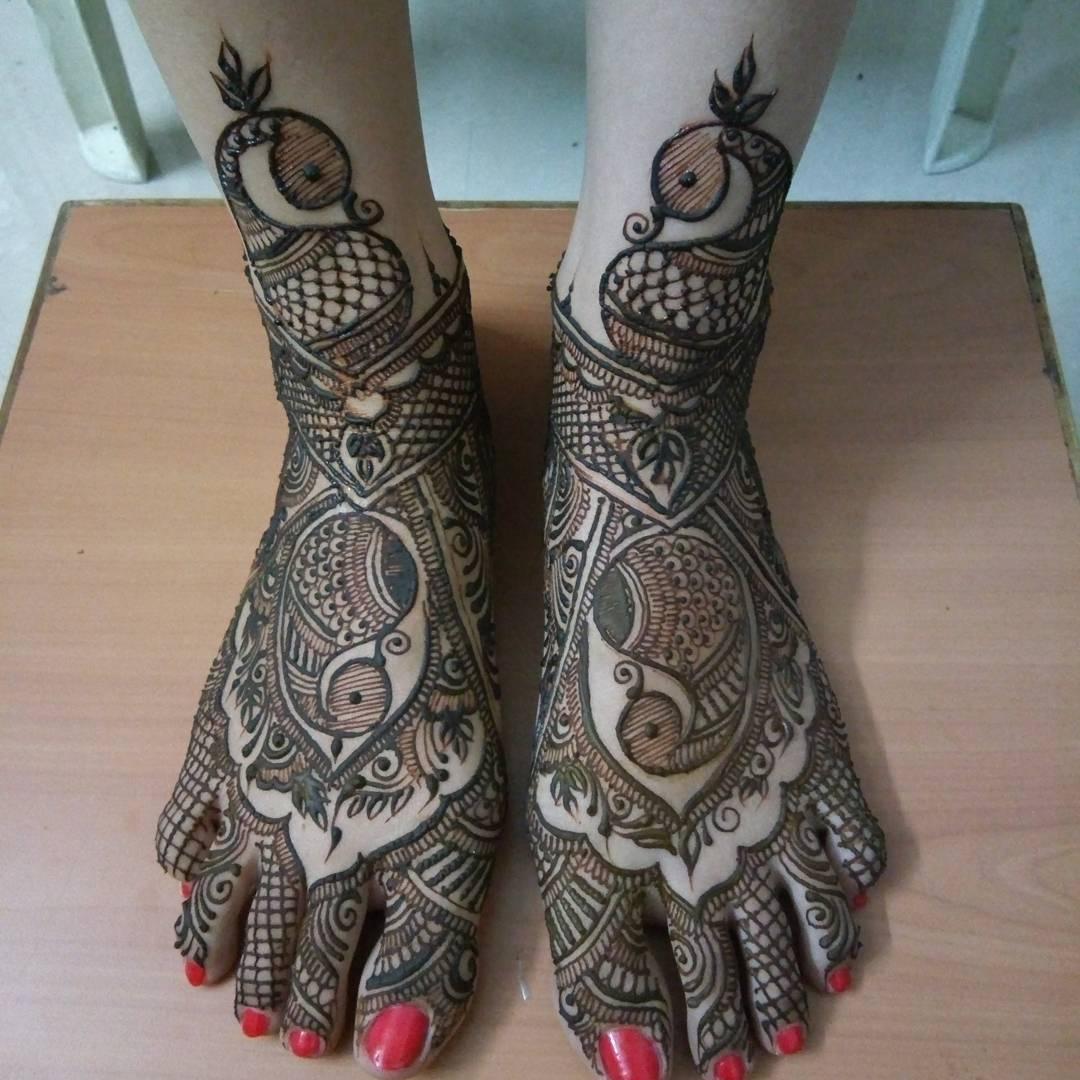 Image Courtesy: Radhe Mehndi Painting
Choosing a design for your feet can be a bit tough. However, this Gujarati mehndi design fits the bill perfectly with the formations of peacocks as the major design and the use of traditional Indian designs all around it. At the ankles, another set of peacock designs complete the look. Bookmarking this as one of our favourite foot mehndi designs.
9. Incredibly intricate design for your feet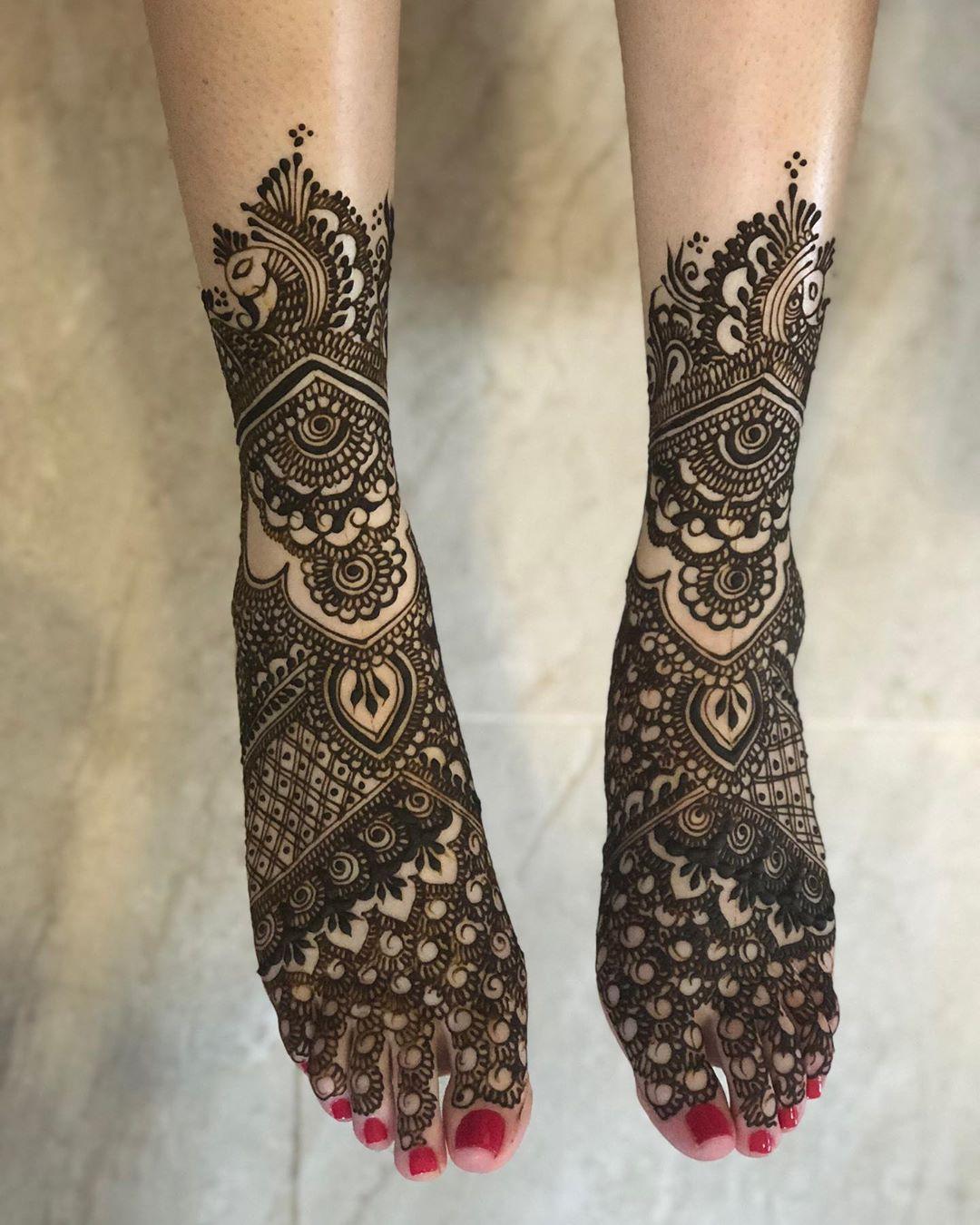 Image Courtesy: Henna Allure
This design is a piece of art in every sense. The use of black henna adds another layer to this design, making it ideal for women who have a fair complexion. The unique thing about this design is that every part of the feet has quite a different pattern. The toes, the feet and the ankles all have completely different patterns from each other!
Since you have gone through some of the best examples of a Gujarati mehndi design, you can either choose something directly from here or mix-and-match with a few designs to create something new for you.
Get in touch with our expert mehndi artists to see some more interesting Gujarati mehndi designs!