Some Thumkas in the Group Dance on Your Sangeet Night to Rock It
Sangeet night is the soul of an Indian wedding. Here's how to plan a rocking group dance performance and dance the night away.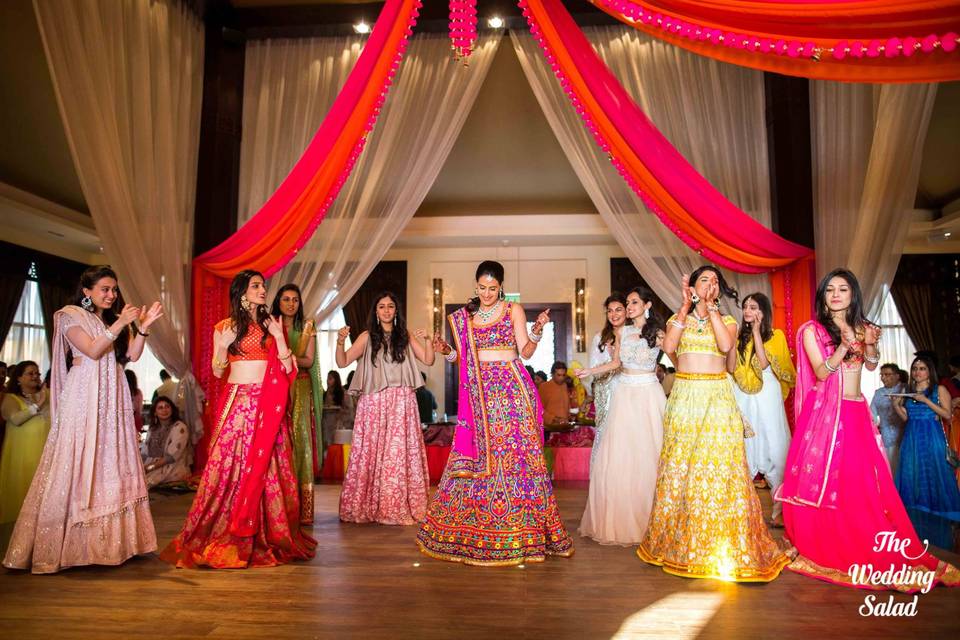 Indian weddings are literally incomplete without a fun-filled sangeet night. Be it a high energy Bhangra dance on dhol beat, a DJ night or a Dandiya Garba - group dance performances on sangeet night are the most sought after family affair. It's a night of dancing joyously and entertaining endlessly with friends and family who matter the most in your lives.
Despite exhaustion, stress and that never-ending list of work yet to be done, practising and rehearsing for a group dance truly feels therapeutic.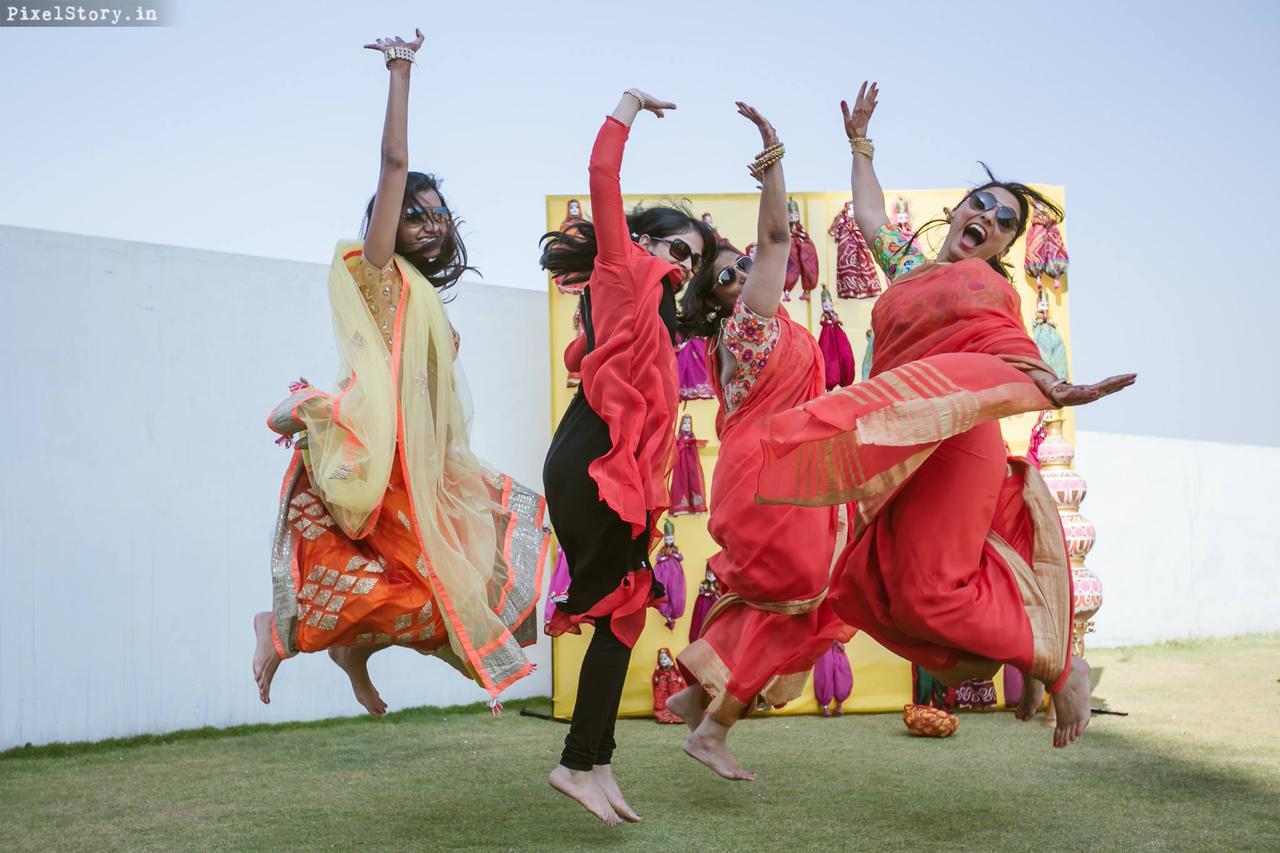 So, have you shortlisted songs to be played for your sangeet night.. will you be able to spare some time to learn some impressive dance moves... and, how about coordinating a group dance performance with your bride tribe to outdo your groom's side?
Well, if all this is adding confusion to your already confused life, take a deep breath and relax! We will give you a few practical tips on how to plan and coordinate your group dance to have an epic sangeet night.
1. With or Without a Choreographer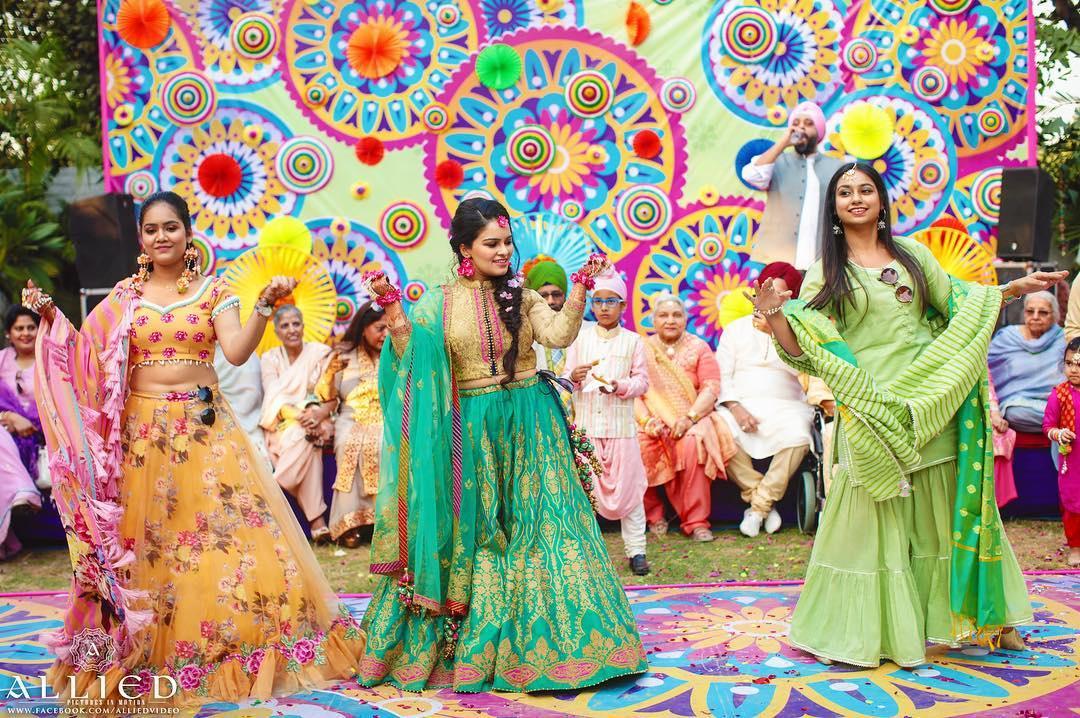 Before you even plan your sangeet night, you need to answer this one question: Do I have a budget to hire a choreographer or are we doing it all by ourselves? Once you have an answer, you can plan things accordingly. It's not necessary to hire a choreographer, however, if you have a budget allocated for one, coordinating a group dance will become easier.
But if you don't plan to hire a choreographer, assign the duty to someone in the family who is good with dance moves and is willing to take some time off to plan your sangeet dance performances.
2. Who Are the Performers?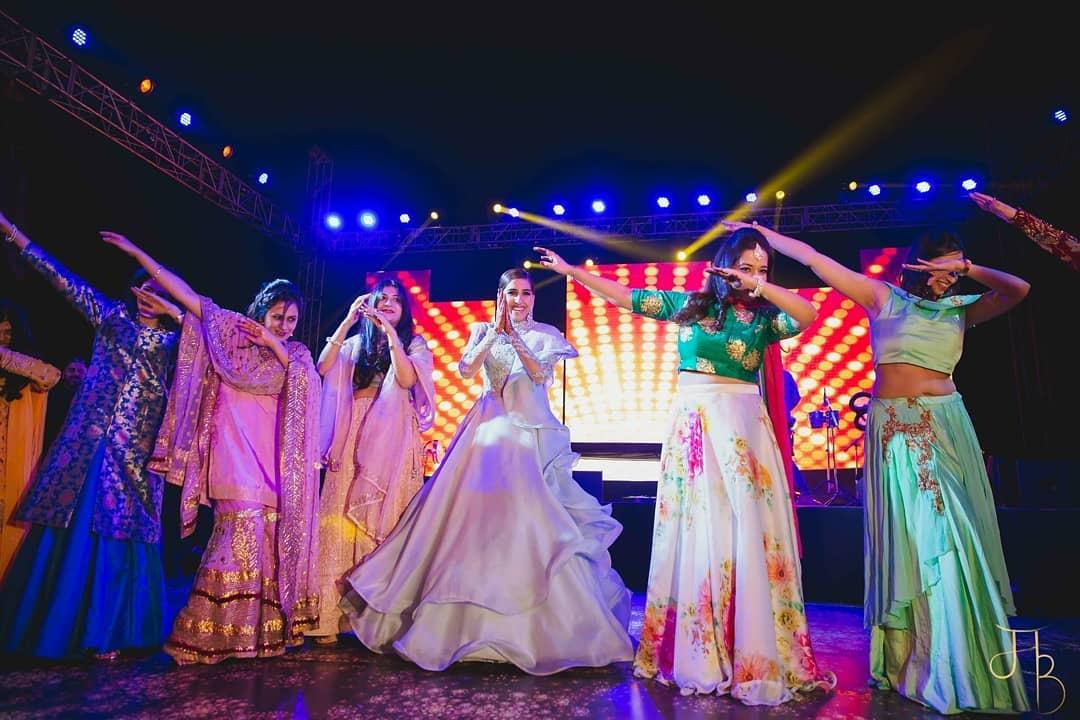 Ruby, Sheila, Jyoti, Meena…invite all the dancing queens from your family and a bunch of close friends to host an eventful sangeet night. Make sure these people are the names you can count on. Once you are sure of the number of people willing to participate, pairing them will be easier. Also, based on that you can plan as many performances and a group dance as well.
3. Choice of Music and Songs
This is the most crucial part of planning your sangeet function. Choice of songs should be such that you and your pals are able to catch the beat and remember those lyrics even if they tend to forget those choreographed steps. Ideally, try to keep a mix of all sorts of songs - old melodies for your parents' age group, peppy songs for youngsters and a romantic number for the couple-to-be.
Besides, you can also plan to have a group dance or a bhangra performance on Punjabi dhol beat. However, the bottom line is to choose the music that's groovy and at the same time is relatable with all age groups.
4. Match the Steps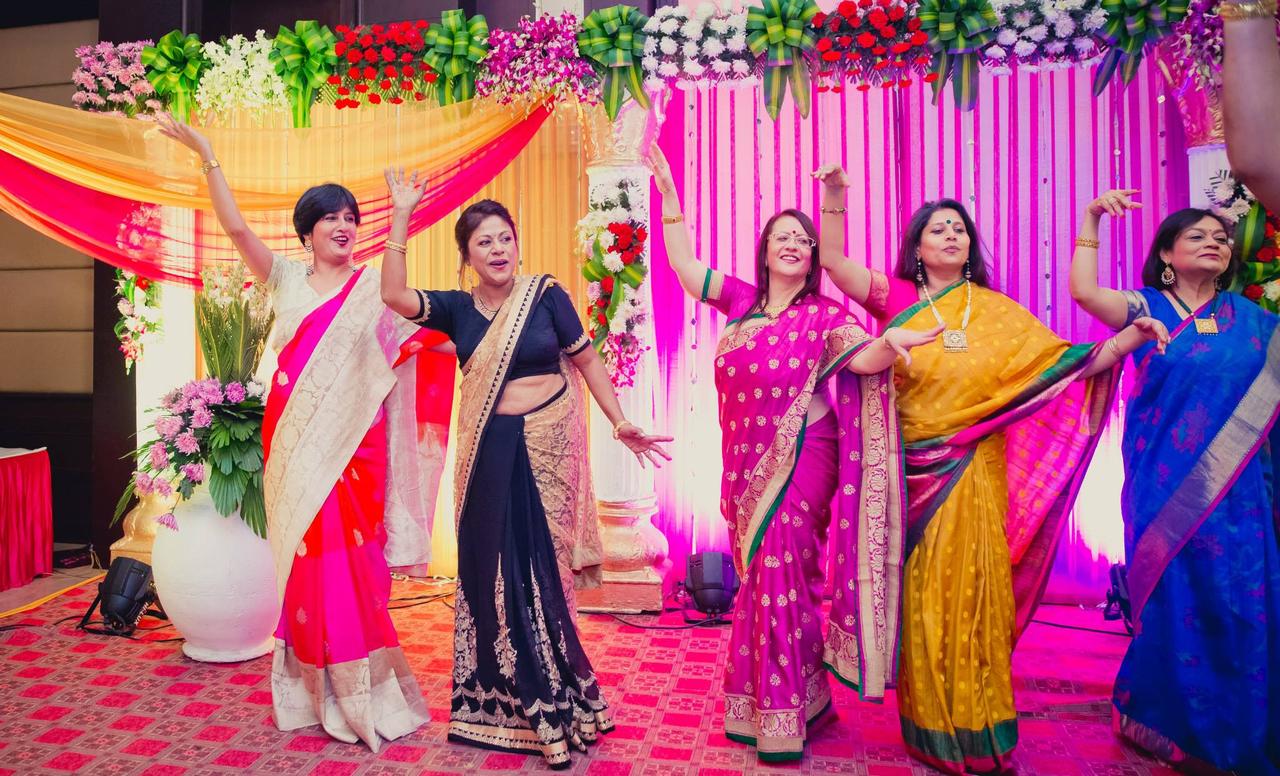 Based on the choice of songs and age groups, match the choreography of your performances. Choose the steps that are easy to follow, especially for a group dance so that everyone can memorise and grasp it.
5. Keep the Venue and Size of Stage into Consideration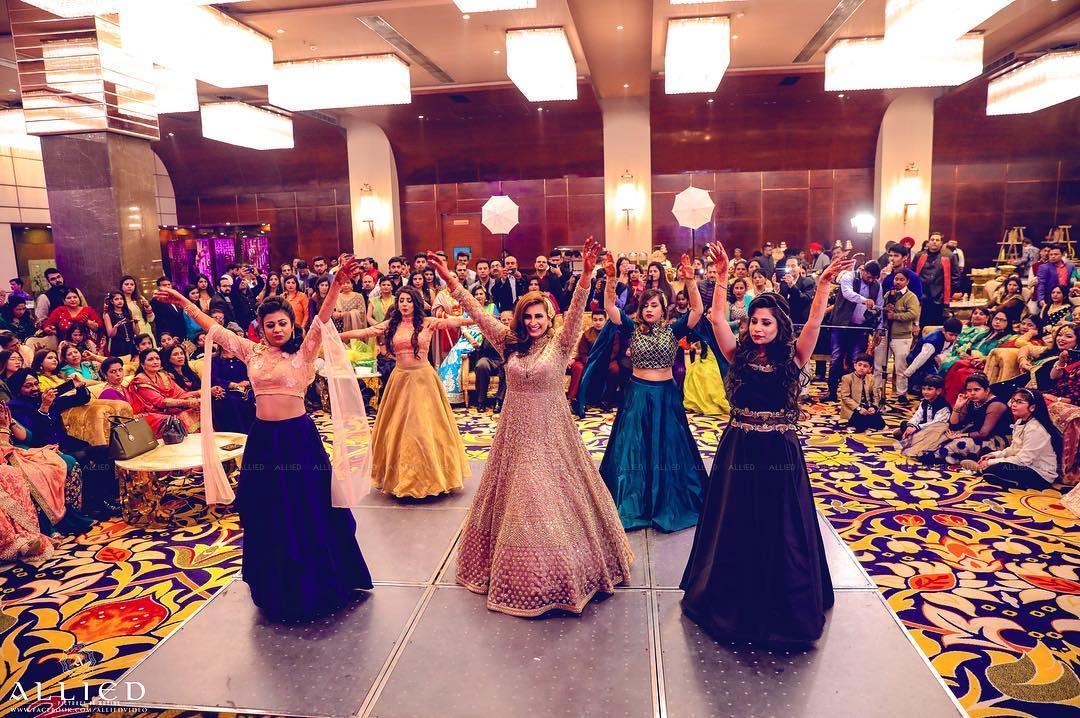 This is often overlooked by many couples but it's very essential to choreograph your dance moves keeping the size of the venue in mind. Based on the type of venue - if its an open lawn, a small banquet or a theatre kind of a setting - you can accommodate people accordingly in a group. If the size of the stage or hall is compact or too small, make shorter groups for dance performances.
But, if the area is big enough, you can fit in your entire family to hit the dance floor together.
6. Couple Dance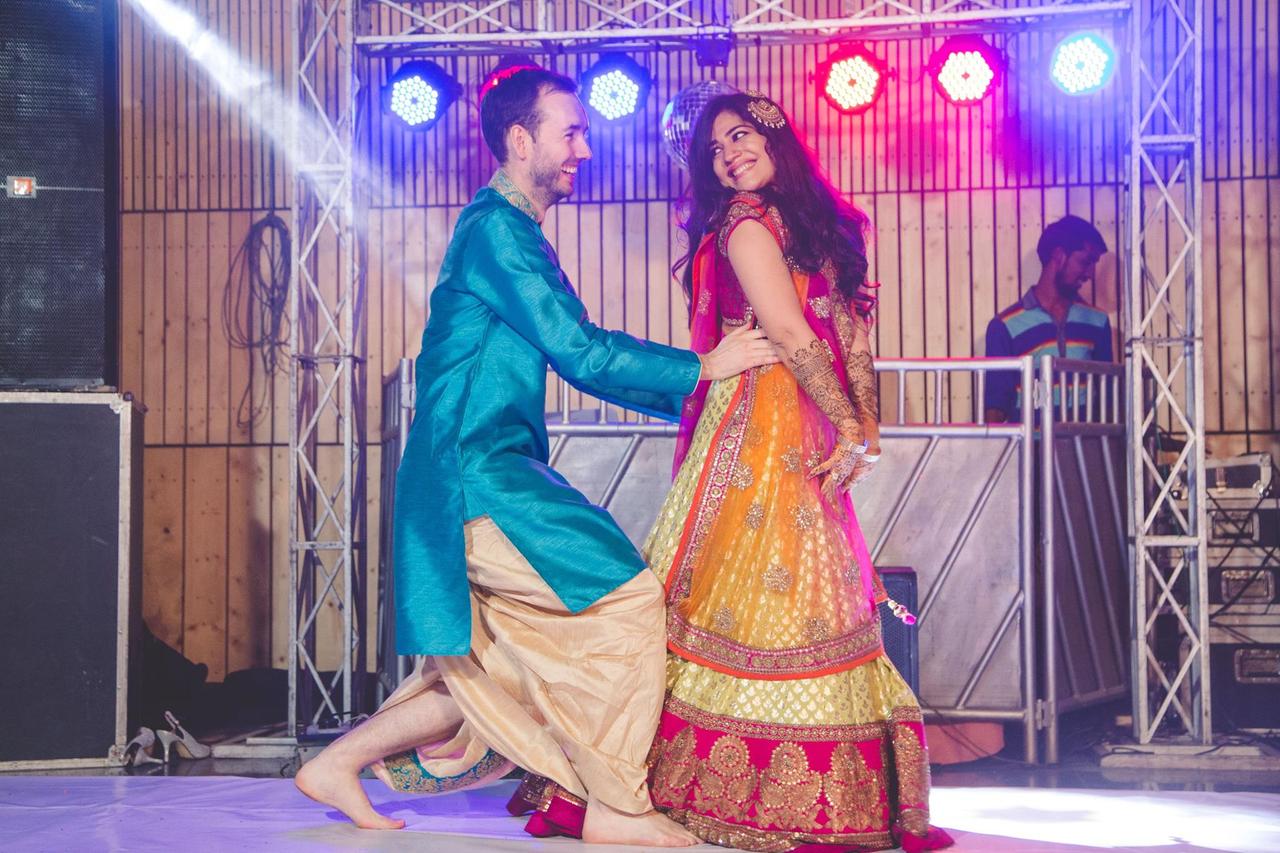 This is the most awaited performance of any sangeet function. Everyone is excited to see the first official dance performance by the couple-to-be - symbolising the beginning of a new journey. Be it a typical Bollywood inspired mushy sequence or a western salsa dance - the idea is to have some fun and dance the night away!
You can choose anything from a medley on Madhuri songs to Sridevi's hit remixed avatars -choose songs that are romantic and will bring out your true emotions through your dance steps.
7. Right Outfits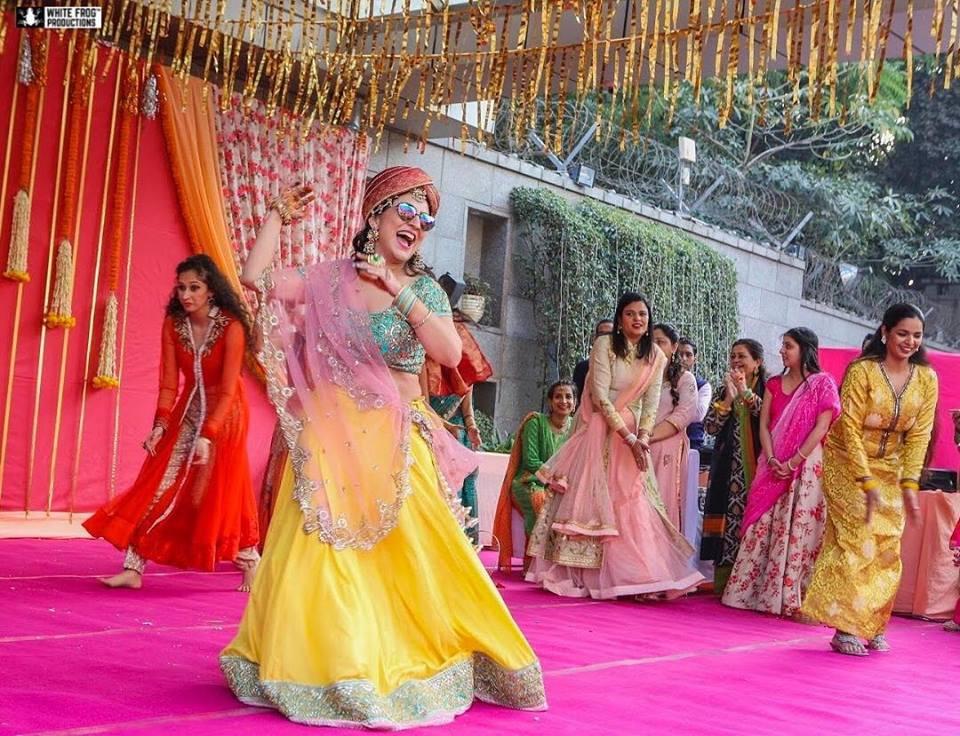 Choice of matching outfits will add more meaning and perfection to your dance performances. While planning outfits, especially for a group dance, try to choose something that's similar or is in coordination with what everyone's wearing - for instance, if its pastels, then let it be same for everyone, or if its a saree, then let all girls drape a saree in a similar style.
Also, double check if you would sport props - be it sunglasses or scarves or just anything to add an element of interest to your dance sequence. Either arrange it for everyone in the group or remind them to carry it.
8. Practice for Perfection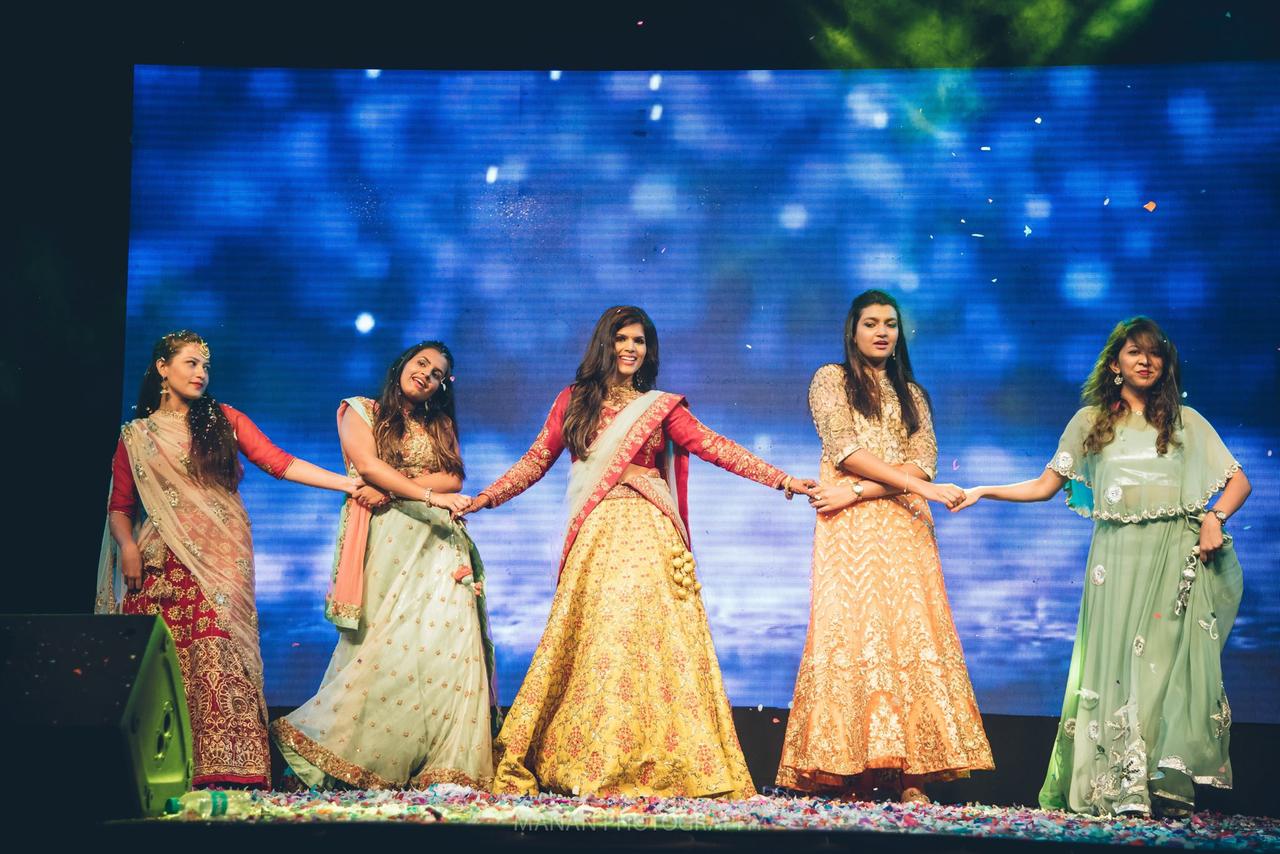 Just a day before the sangeet night, make sure all of you gather to practice your performances one last time. This will not only improve your coordination but will also boost your confidence.
9. Add Some Extra Effects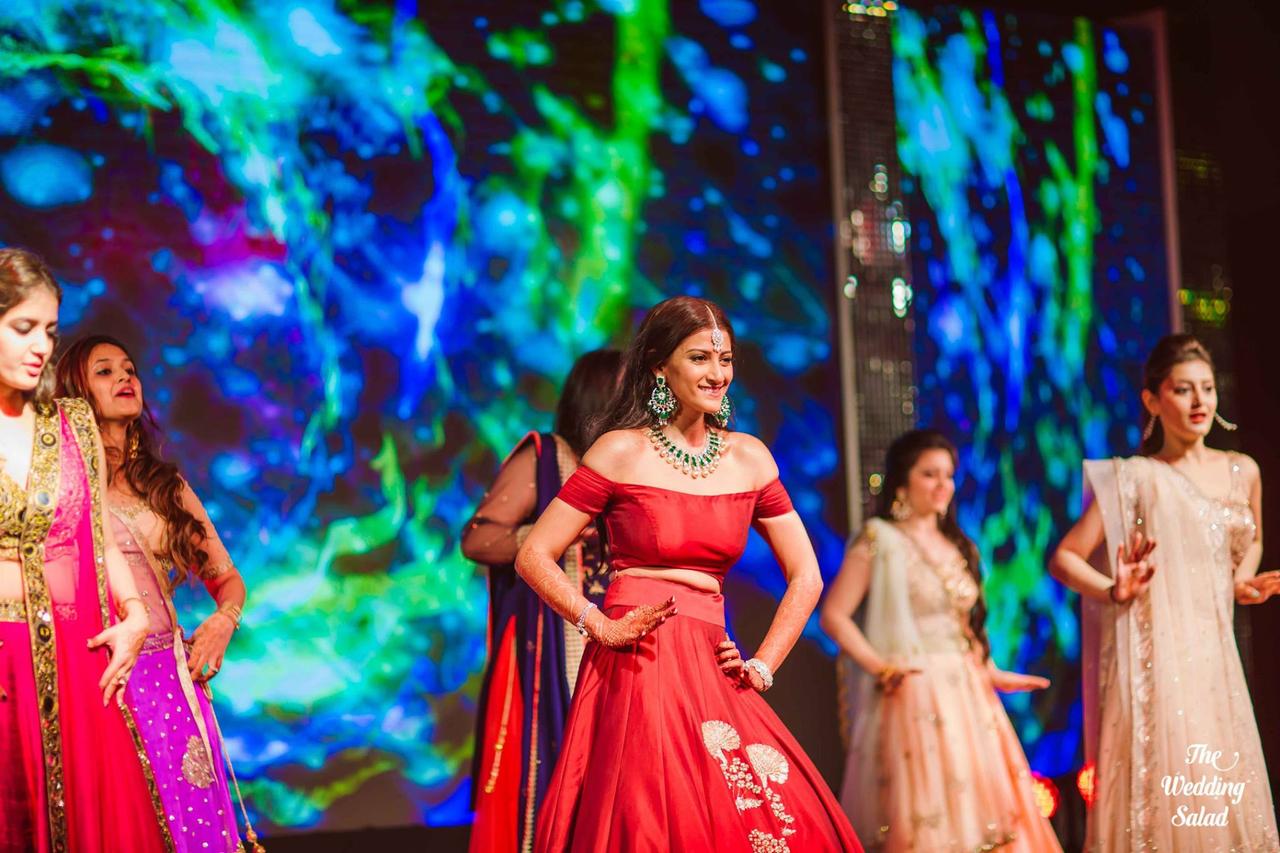 Do you want your sangeet night to be zara hatke .... try anything from an LED screen, Co2 blasters to the disco lights!
These extra effects will surely make your sangeet night a memorable occasion. Finally, let your hair down and dance like no one's watching you. Have a good time and make sure everyone else does it too, especially while performing a group dance.
Do share with us how do you intend to prep up for your Sangeet night in the comments section below.