Gauri Puja For Weddings: Here's Why We Perform The Holy Tradition
Seek divine intervention from the Goddess. Here's why many brides choose to do a Gauri Puja and why you should consider adding the Marathi wedding ritual at your wedding.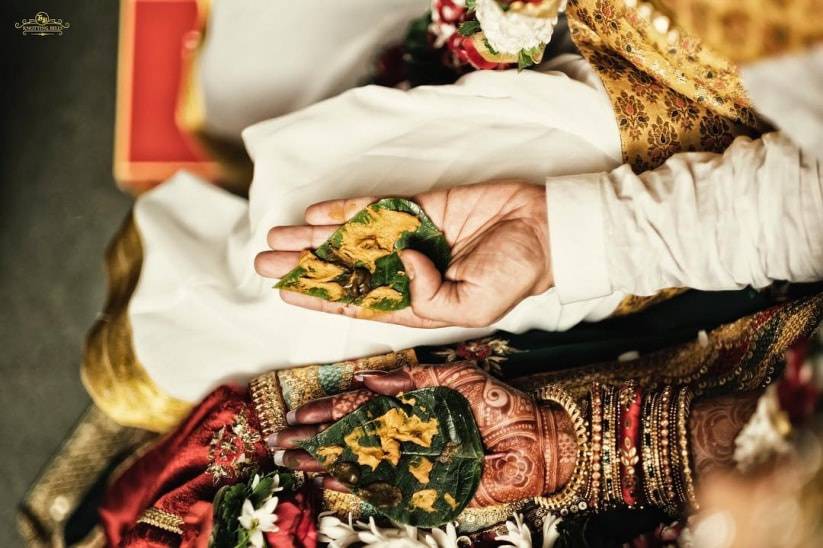 Gauri Puja, also known as Gauri Pujan, is primarily a Maharashtrian wedding ritual during which devotees pray to the Goddess Parvati. Celebrated as a festival in itself, this prayer takes place on the 4th or 5th day of Ganesh Chaturthi, one of the biggest festivals in Maharashtra. However, while it owes its roots to this religious week, Gauri Puja is also a significant part of most Maharashtrian weddings.
What does Gauri Puja signify?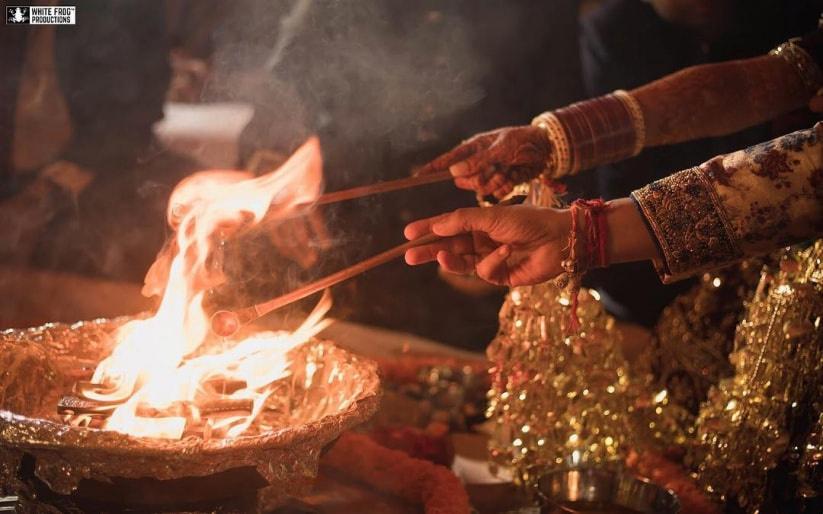 Gauri Puja is considered a woman's festival – with both, married and unmarried women praying to the Goddess Parvati. While married women thank the goddess for their happy marriages and great husbands, unmarried ones pray for the same. This is why this prayer holds a special place in weddings. After all, doesn't every bride want a happy marriage?
How does the Gauri Puja take place?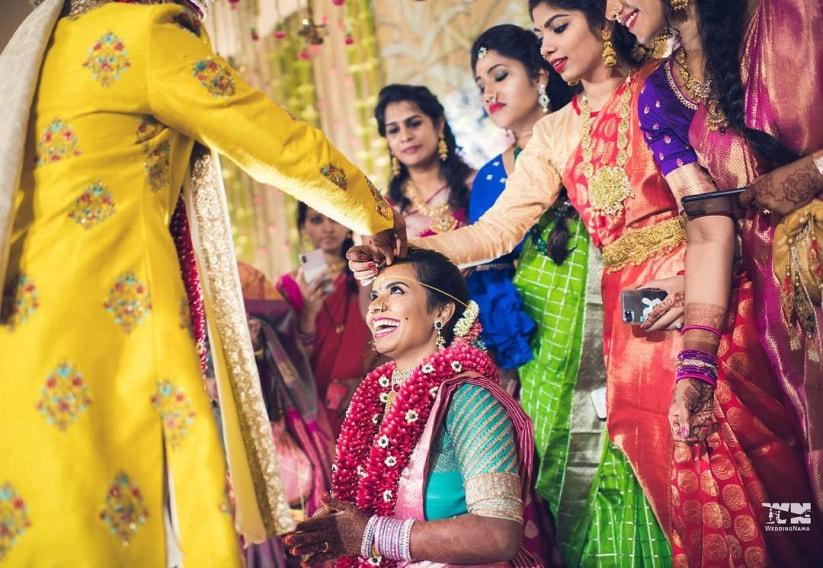 More often than not, devotees go to a temple to pray. However, many people also call their priests home to conduct the prayer along with a Havan.
During weddings, families schedule this prayer anytime during the wedding week. The 'right time' for doing so depends on one's family's beliefs. For instance, some people believe that it's best to have this prayer before any other functions begin in order to ensure an auspicious beginning. Others believe that it's best to have this prayer right before the wedding ceremony, or even during. This decision itself is based on other factors too such as the advice one may receive from an astrologer or family priest, and the beliefs of the spouse's family.
As this is an intimate prayer meeting, the guest list generally includes only the close family. However, it is important to note that men do not participate in this prayer.
During traditional prayers held during the festival, the priest chants the Gauri Shankar Mantra and applies sandalwood paste onto the foreheads of the women. The women then visit each other's home with sweets and coconuts. Of course, this does not happen during a wedding. While the prayer rituals do remain the same, you or your family are not required to go to other people's homes. You can share sweets and coconuts amongst yourselves, and enjoy a relaxed day before the wedding functions start in full swing!
When Gauri Puja takes place during Ganesh Chaturthi, one also conducts a Visarjan. However, when this prayer takes place during a wedding, the Visarjan is optional. Again, this is based on your family's beliefs and there are obviously no right or wrong ways to pray!
Incorporating Gauri Puja for your wedding functions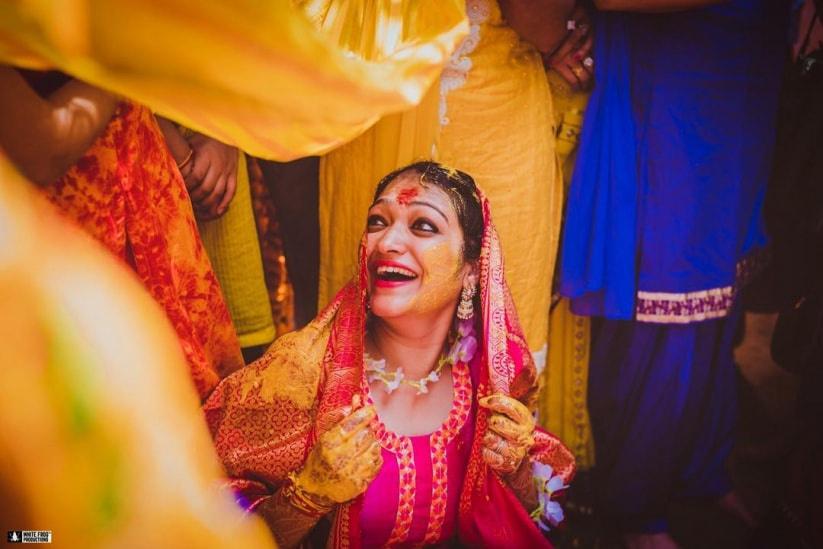 If you want to couple this prayer with any other function, you can certainly do so by ensuring that you've arranged a space for prayer. As Sangeet ceremonies are often about dance, they may not be the right occasion to have this prayer. However, if your family celebrates a separate ladies Sangeet, then you can add this prayer to the function. In fact, you can begin the function by thanking Goddess Parvati, and then move on to the other elements of the Sangeet.
If you are planning to have a separate function just for this prayer, you can make it as festive and bright as all your other functions. No matter what venue you choose, you can easily create a canopy of flowers in your chosen prayer space. As flowers are a big part of most Indian ceremonies and prayers, this form of décor will certainly go a long way in creating the right vibe for the function.
Choosing the right wedding venue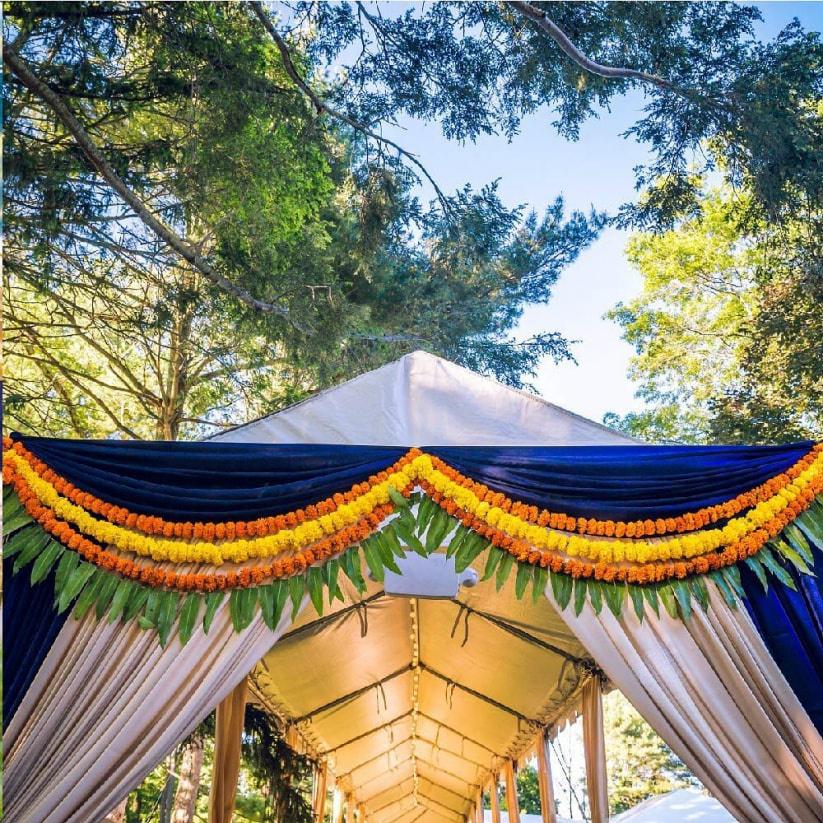 As the Gauri Puja is an intimate prayer meet, you're likely to have a small guest list. With that in mind, you can get away with choosing a small space that holds meaning for you, such as your own lawn or terrace. However, if you do not want to burden yourself with organising a function in your home, you can pick the temple that you visit with your family in order to add more meaning to the ritual. This can save you from the hassles of looking for a priest and hunting down essential items for the prayer such as sandalwood paste, threads, betel leaves and so on.
Things you need to keep in mind
When you decide to organise a Gauri Puja at your wedding, here are a few things that you need to keep in mind -
1. Arrange for the basics
Idols for the Goddess Gauri, her consort Lord Shiva and Ganesh,
The Kalash and Puja Samgri like Haldi, roli, sandalwood paste, incense, betel leaves, Gangajal
Offerings like flowers, mango leaves, incense, fruits, the Panchamrit.
2. Prepare the idols for worship
Remember, the idea of Gauri Puja is all to seek blessings for the upcoming wedding and request the Goddess to take away any negativity or sufferings. Often, such a prayer begins by invoking the Gods with a show of love and respect. Do this with Shringar for the idols - dressing them up in colourful clothes and jewellery.
Make offerings in the same vein, with elements that would please the Goddess - green bangles, the Mangalsutra, Veni and garlands.
3. Invite fellow devotees
Gauri Puja, as it is held for weddings, requires a priest and fellow devotees to raise the fervour and join the celebration. After the Puja, women visit each other's homes and gift their offerings to the Goddess. They also stay awake for the night of Gauri Puja, singing paeans to her. Call them all over, though do note that the event is largely women's only.
Also, arrange for ample Prasad for the devotees you've called over.
Praying to the Goddess Parvati before your wedding can be an auspicious way to start your married life. Gauri Puja is a prayer that allows brides to express their hopes and dreams, and keep their fingers crossed for them to come true!
We offer great wedding planners who can help you hunt down the perfect venues for each and every function you have in mind!