7 Engagement Dress for Women That Will Make Your Day a Little Brighter
Discover the freshest choices in engagement dress for women with our selection of ensembles that make the front line of the fashion game. Read on to find which of these would suit you best.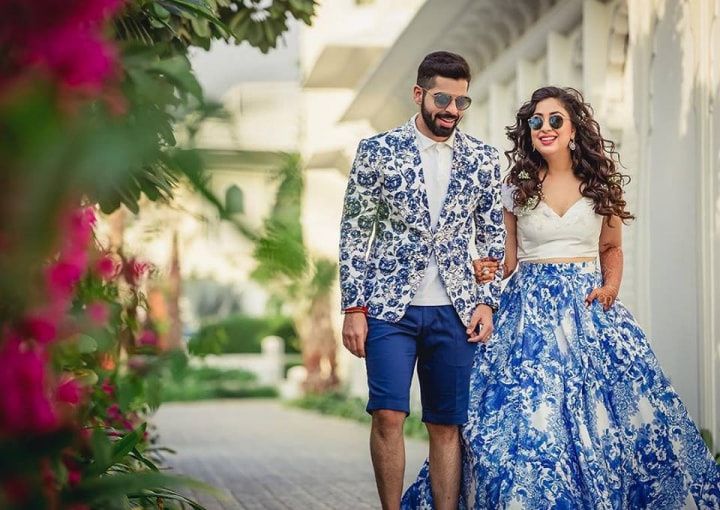 An engagement party is the first formal celebration of a couple's love. It's the occasion where people from both the families come together and get to know the person about to become the newest member of their clan. This first important step towards a new life demands an awe-inspiring celebration. And the first thing that would inspire awe is the look that the couple flaunts at the event. Here, we come with some trendy and chic ideas for an engagement dress for women. Classy, fun, sultry or traditional — we've got it all covered.
1. Irresistible in Ivory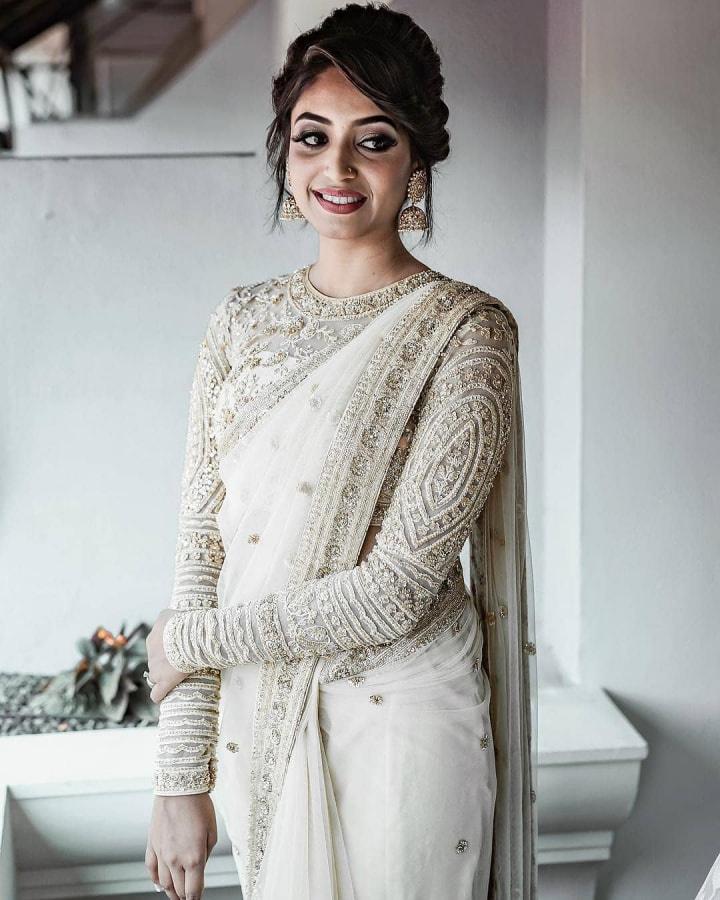 A timeless classic, the elegant sari is always the way to go when confused about choosing an engagement dress for women. Wrap yourself up in luxuriously graceful ivory like this one, and feel all eyes automatically drawn to you as you step into your own engagement party looking like a vision. Pair a simple saree with a heavily embroidered full-sleeved blouse to add a royal touch to your aura. Pick out some heavy silver Jhumkas to complete the look. And you're ready to cast a spell!
2. Beautiful in Beige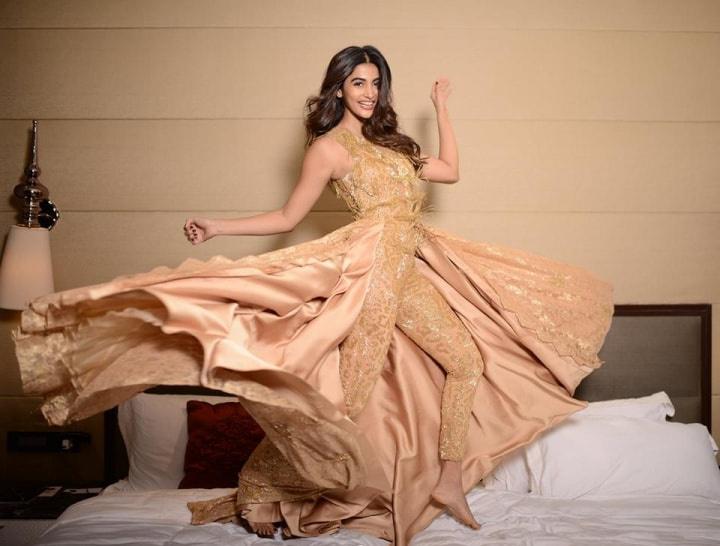 When it comes to choosing an engagement dress for women, beige is an all-time favourite. With the fast-changing fashion trends, this is one colour that has been constant over the years. This beige Indo-western dress with gold embellishments will take your fiancée's breath away. The extra layers make the outfit super bouncy and give it a great silhouette, adding to your overall magnificent presence. What's more, it's super comfortable to wear. So dance away the night all you want. You only get this once!
3. Gorgeous in Gold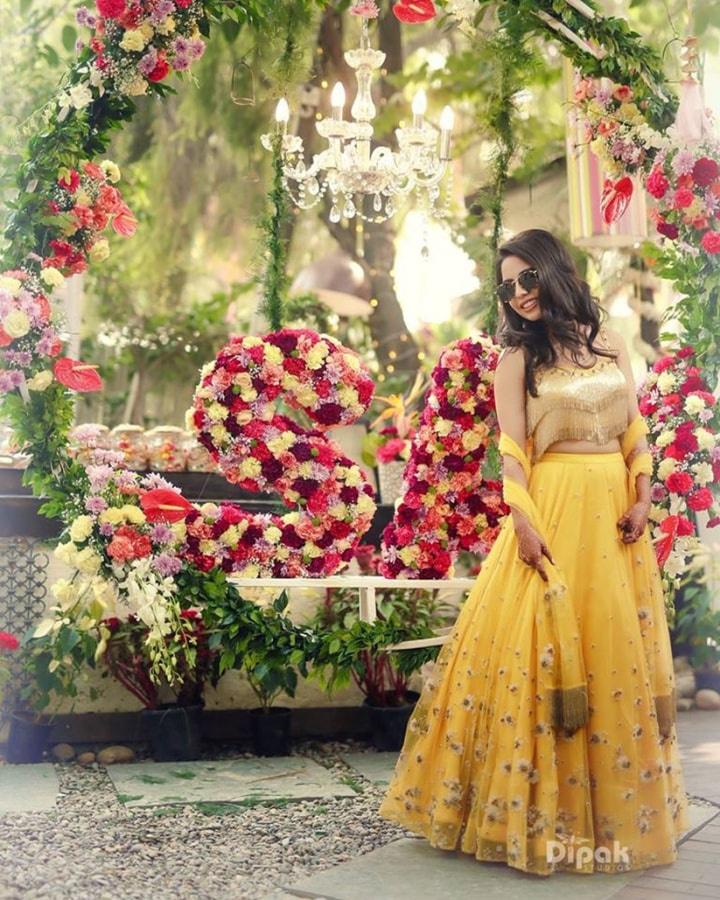 Gold is the colour of celebration. It's the colour of royalty. And so, it should be the colour of choice when searching for an engagement dress for women. A gold blouse is as versatile as blue jeans — it works well with almost everything. Here, we paired a shiny gold layered blouse with a bright yellow lehenga. The freshness of the yellow works especially well with the more traditional gold and gives a modern spin to an old favourite. Topping it off with a pair of sunglasses is the in thing right now — and gives the look a truly badass touch. We can't help but admit, this look will up your fashion game by a mile. Be ready for the hundreds of selfies that are coming your way!
4. Ravishing in Red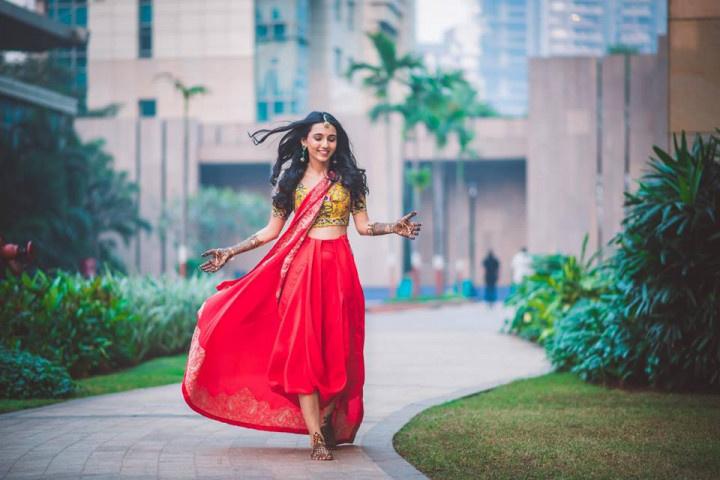 Who says red is just for your wedding day? With changing styles, all the decades-old fashion rules have been thrown out of the window. Today, your personal style is what matters the most when choosing among the many options for an engagement dress for women. You do you, girl!
This stunning crimson saree will capture eyes from all around. The combination of the yellow blouse and the basic jewellery with the saree accentuates the bride's glowing face and adds to her carefree spirit. So, don it on and strut your stuff. It's your day, after all.
5. Youthful in Yellow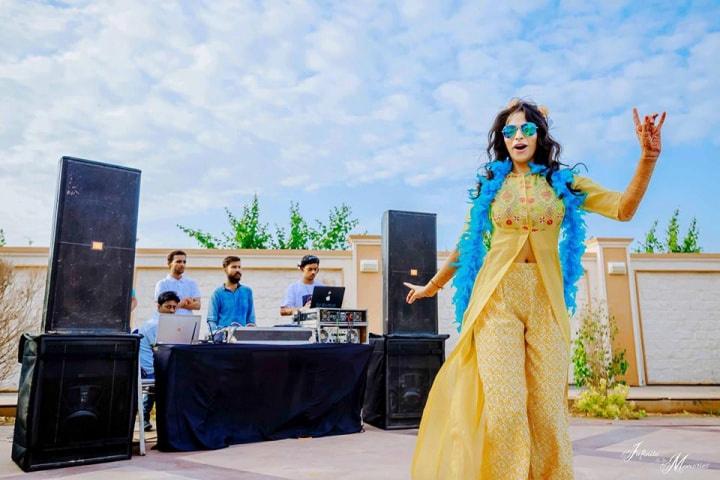 Yellow is the colour of sunshine and happiness. With more and more couples choosing to hold their wedding events in the daytime rather than in an evening setting, this colour has made a splashing entry into the wedding scene, and how! Yellow has become a hot favourite while choosing engagement dress for women. This modern take on a Sharara has left us googly-eyed, especially when adorned by the blue feather boa and the blue shades. Comfortable and stylish, this look has left us wanting to get married just so we could flaunt this look at the engagement party. Get this look, ladies, and steal the show!
6. Groovy in Green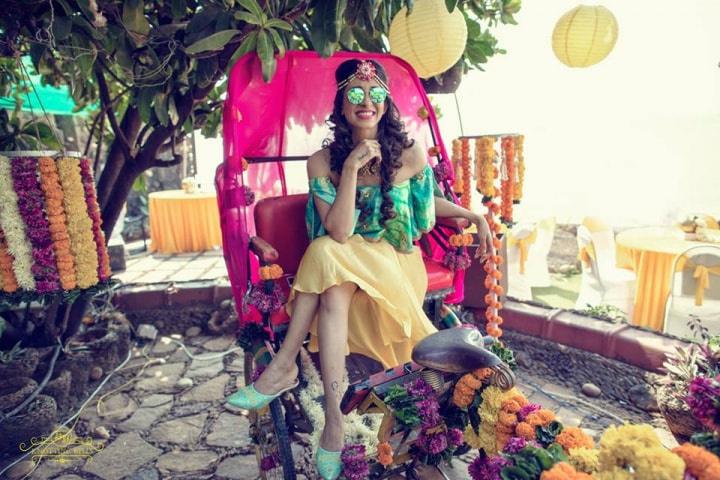 This cheerful bride chilling in the flower-adorned rickshaw defines fun. Today's weddings are becoming more and more about fun, with couples taking things lightly and enjoying the events rather than keeping them sombre and quiet. From Bollywood celebs to your college friends, everyone is into this trend. This flowy green and yellow skirt and blouse combo give the bride exactly what she needs to keep her engagement look fun and breezy. We recommend this look to all the new-age brides who want an engagement party that keeps up with the times!
7. Bold in Blue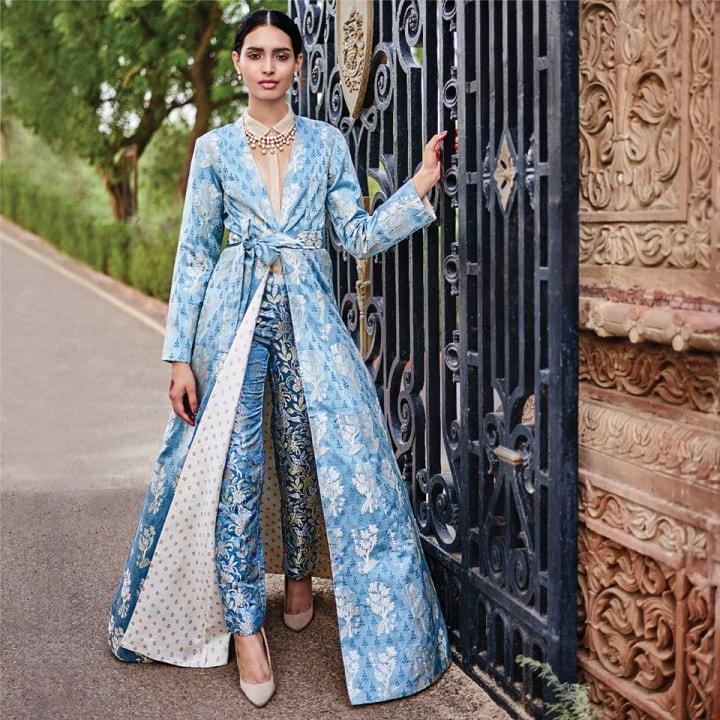 We kept the best for the last. This one is for the ladies who want to stay ahead of the curve. Today, weddings are getting more and more individualistic and reflect the couple and what they stand for. Thus, choosing the engagement dress for women has become a very personal decision, and not something to be taken lightly. This Indo-western ensemble by Anita Dongre spells out power and fearlessness and speaks volumes about the lady that dons it. Because it's her day, and she wants it her way.
After this barrage of styles and colours, we hope you have a better idea about which way to go when looking for an engagement dress for women. The engagement is the first peek you get at the rest of your life, and we know that every little detail has to be perfect. Here's to a life full of laughter and craziness, with the perfect partner at your side!
Which of these will be your first choice as an engagement dress for women? Tell us in the comments below.