Check Out These 10 Designer Suits by Ritu Kumar for a Glam Look
Looking for some designer suit inspiration? Here are some phenomenal designer suits by Ritu Kumar!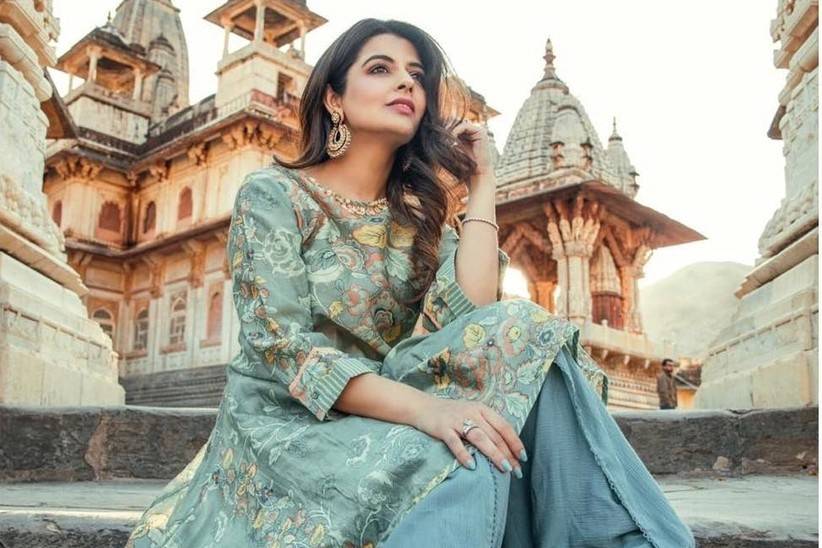 Suits are one of the most versatile forms of clothing. You can give them a casual look or a sophisticated one and also style it according to your personality! But when it comes to designer suits it is indeed a whole new ballgame altogether. Each piece becomes a timeless tale and turns out to be a wardrobe essential. Spruce up your outfit with these 10 designer suits by Ritu Kumar:
Boho Designer Suit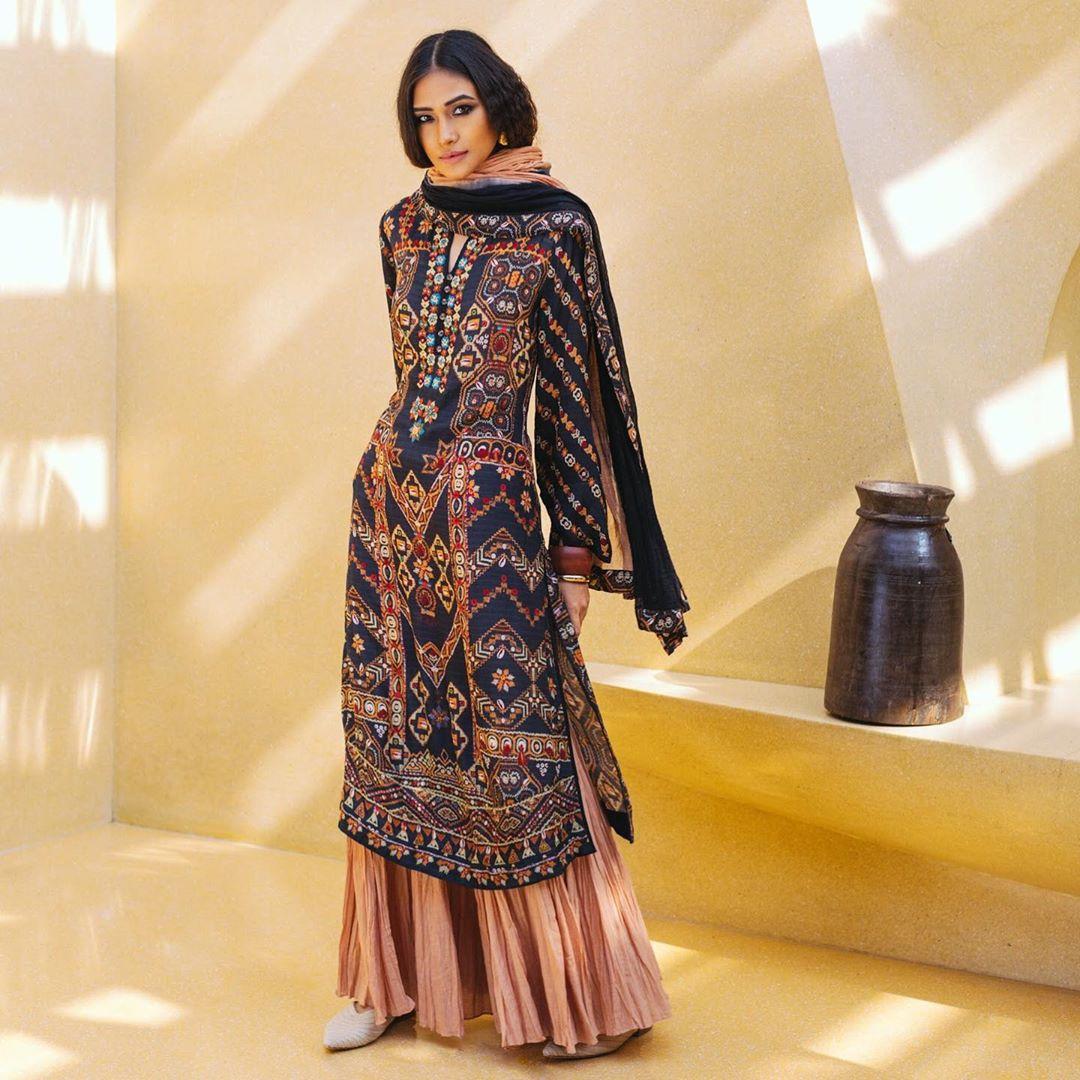 Out of all the designer suits by Ritu Kumar, this one captures the nomadic spirit. It encapsulates the desire to be truly free and every stitch on this has been woven to tell the tale of freedom. From the choice of colours to the choice of fabric, this is a maximal suit that is perfect for those who love expressing their bold and edgy side with their outfit.
Designer Suit in Black and Red Ikat Print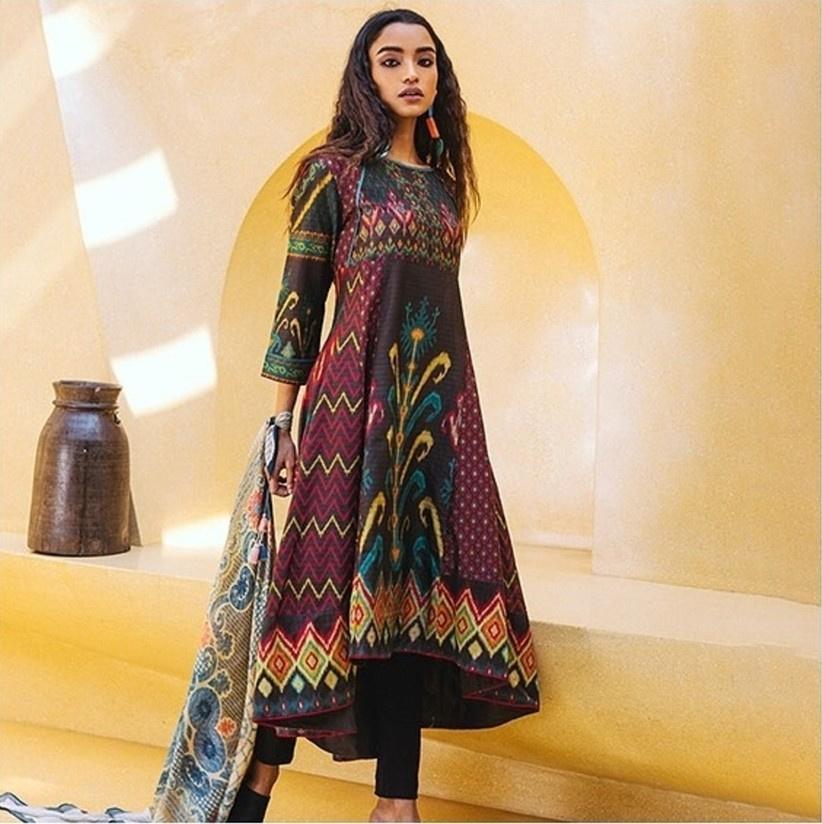 Ikat prints are the most heartwarming out of them all but in this one, the maestro has given it a classic twist. Most prints in the market come in very specific shades. However, as is expected from designer suits by Ritu Kumar, this one comes in a very unusual colour - red and black. The careless floral patterns in the centre gives the suit a casual yet elegant look.
Designer Suit in Bright and Contrasting Hues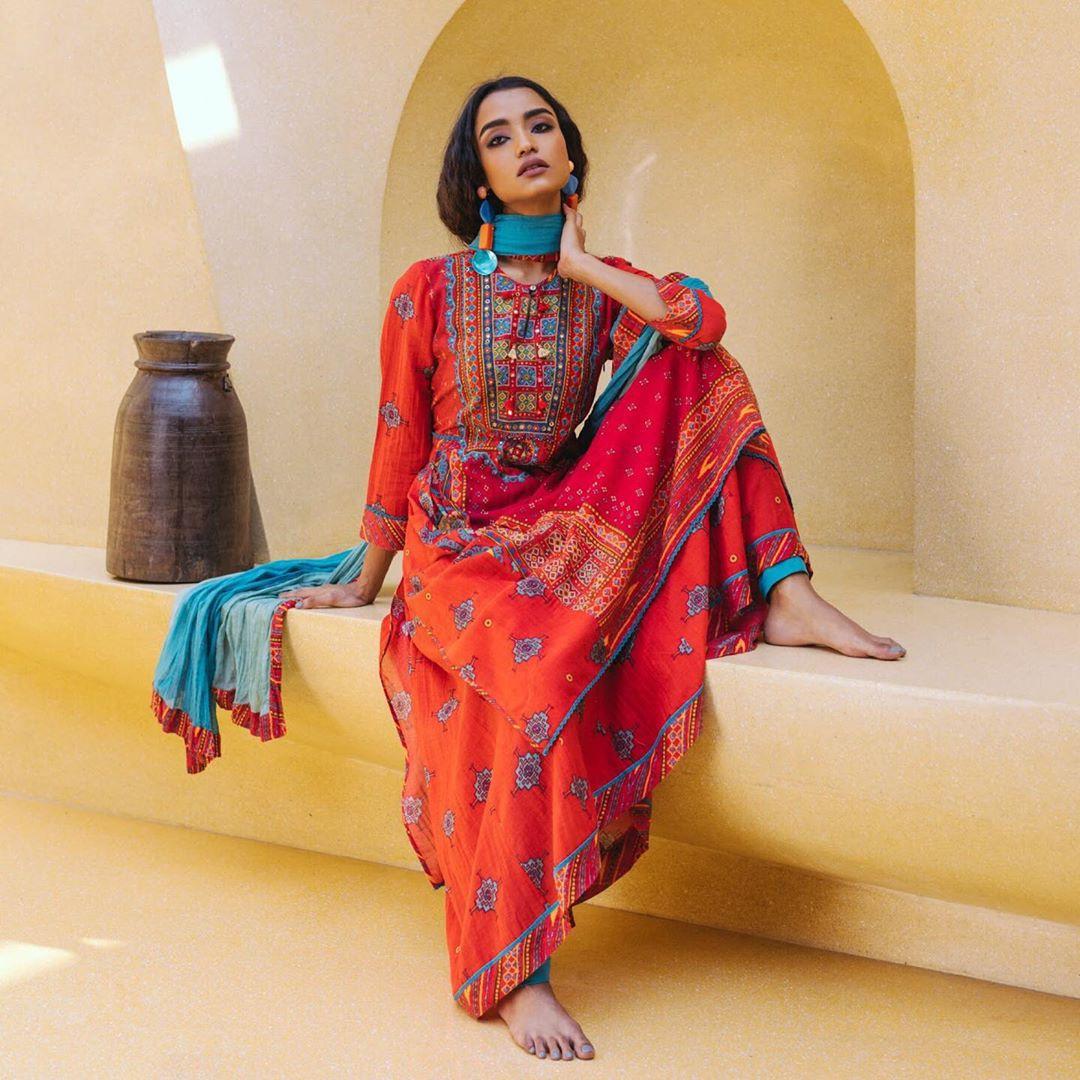 Orange and blue might not sound like the greatest combination in your mind, but when it comes to designer suits by Ritu Kumar, she knows how to turn something ordinary into an art piece. The orange base colour of the suit blends seamlessly well with the blue patterns and borders, making it look like a vibrant spring dream. Drape it off with a blue dupatta and you're sure to turn heads!
Designer Suit in High-low Cut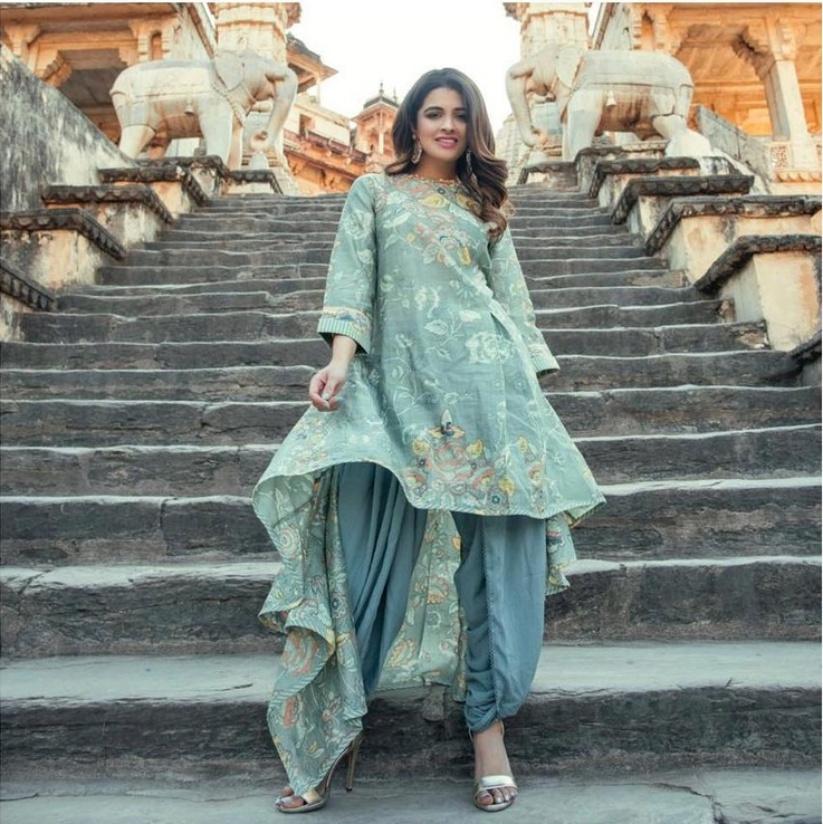 The high-low cut has been 'in' for quite some time now. It gives any outfit a rather playful vibe and in this specific one, the summer-inspired prints on the kurta also make the outfit one of the most sophisticated pieces when it comes to designer suits by Ritu Kumar. The choice of colours is soothing as well giving the outfit a whole new dimension.
Designer Suit in Velvet
Velvet is the fabric of royalty, and designer suits by Ritu Kumar are definitely nothing short of that. The tasteful collar work, the bell sleeves and the high side-cut makes this outfit a timeless piece. You can either pair it up with a contrasting bottom or even go with a brown-coloured one. All in all, this outfit is meant to have a dazzling effect on everyone you cross paths with.
Designer Suit With Asymmetrical Kurta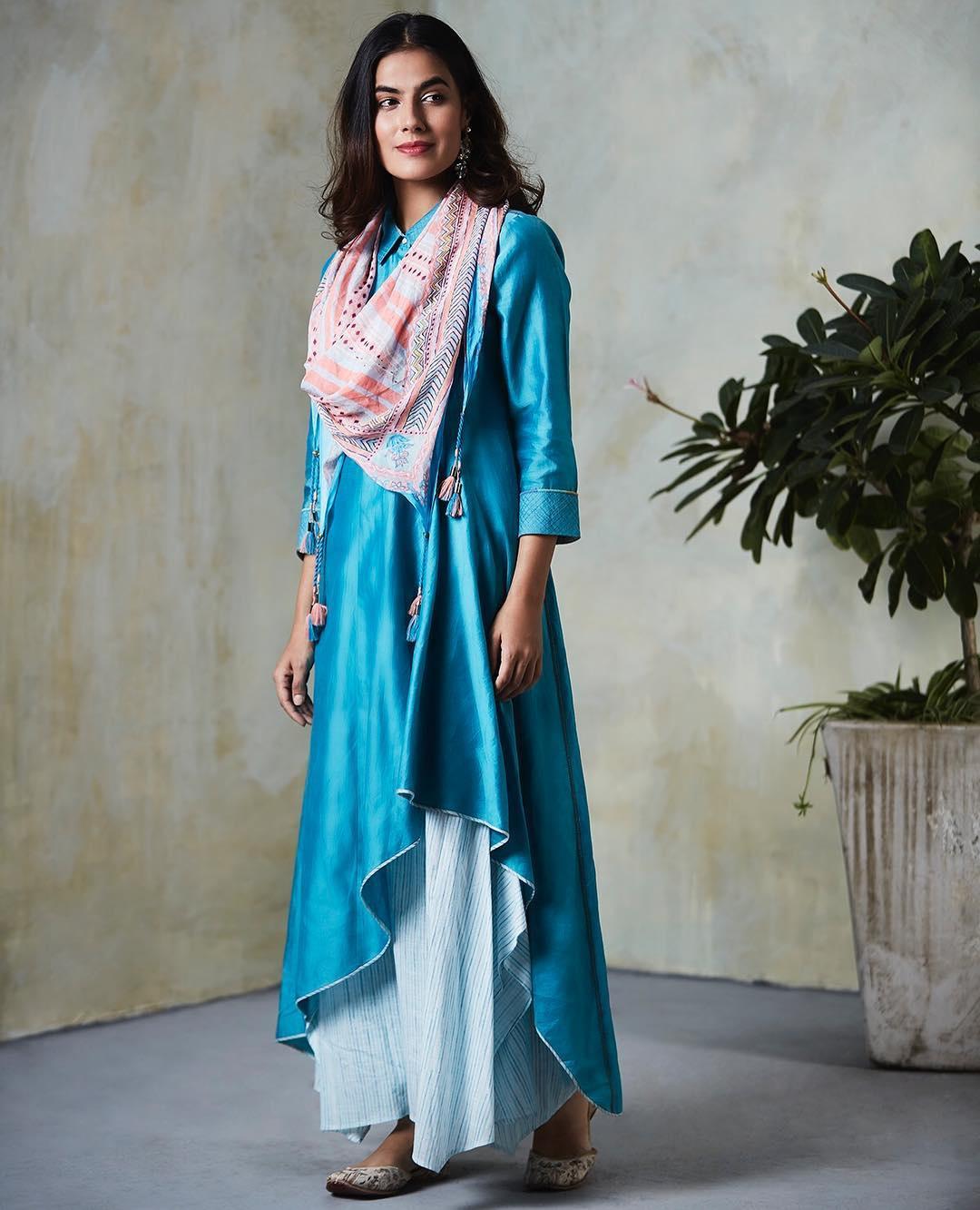 Instead of wearing an extremely long kurta that covers up your stylish pants, you can always go for the asymmetrical kurta which is long enough to make you look classy and short enough on the front to make your pants visible. Out of all the designer suits by Ritu Kumar, this tops our recommendation list because of its smooth fabric, clean lines, no-print minimal and calming vibe.
Designer Suit With Elaborate Collar Work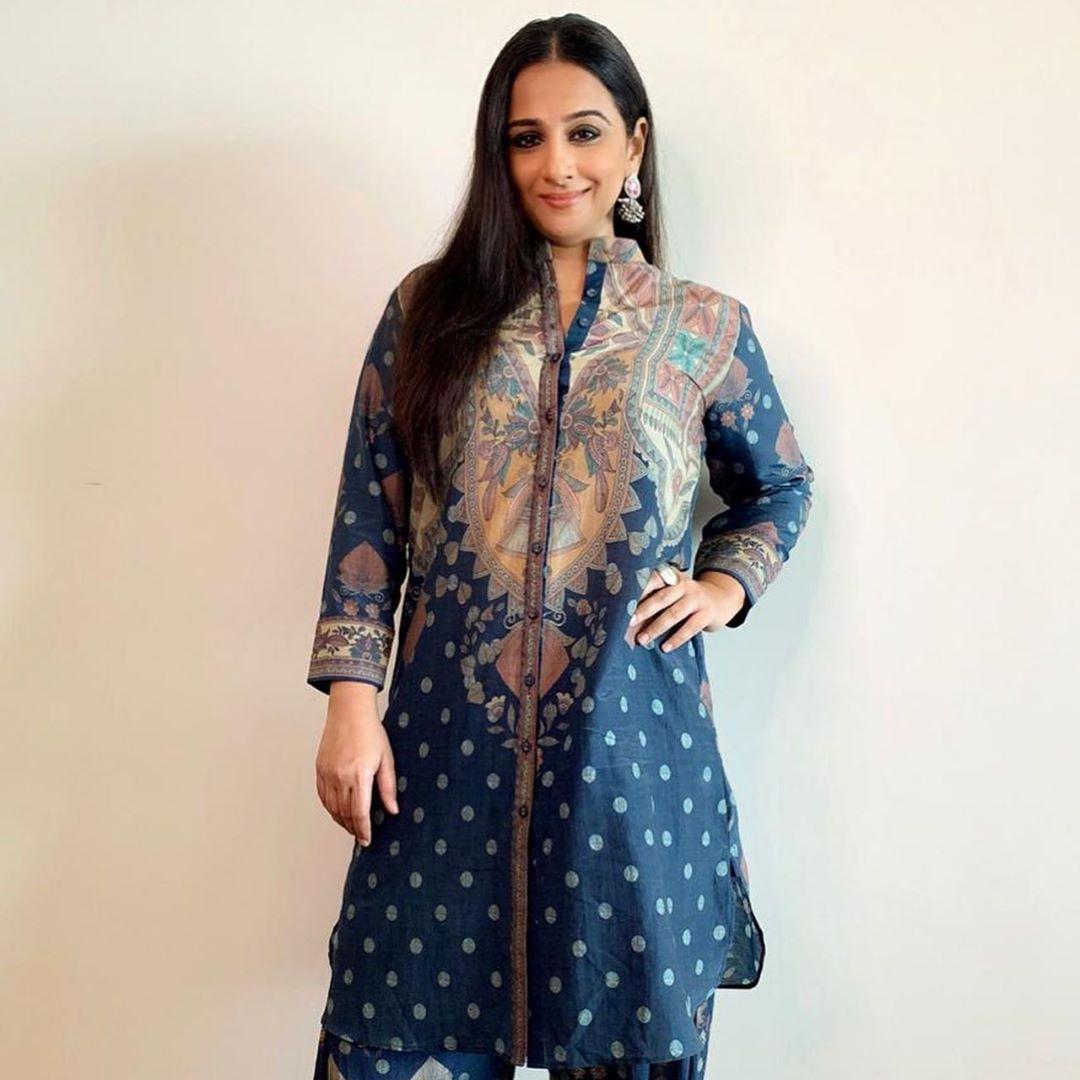 When one looks at the designer suits by Ritu Kumar, one truly learns how to turn something simple into something stunning. This dark blue suit with body-polka prints sweeps the on-looker off their feet with the detailed and exquisite print all around the collar. The use of mild colours and sparse patterns is truly a heart-winning combination.
Designer Suit With Ikat Print Kurta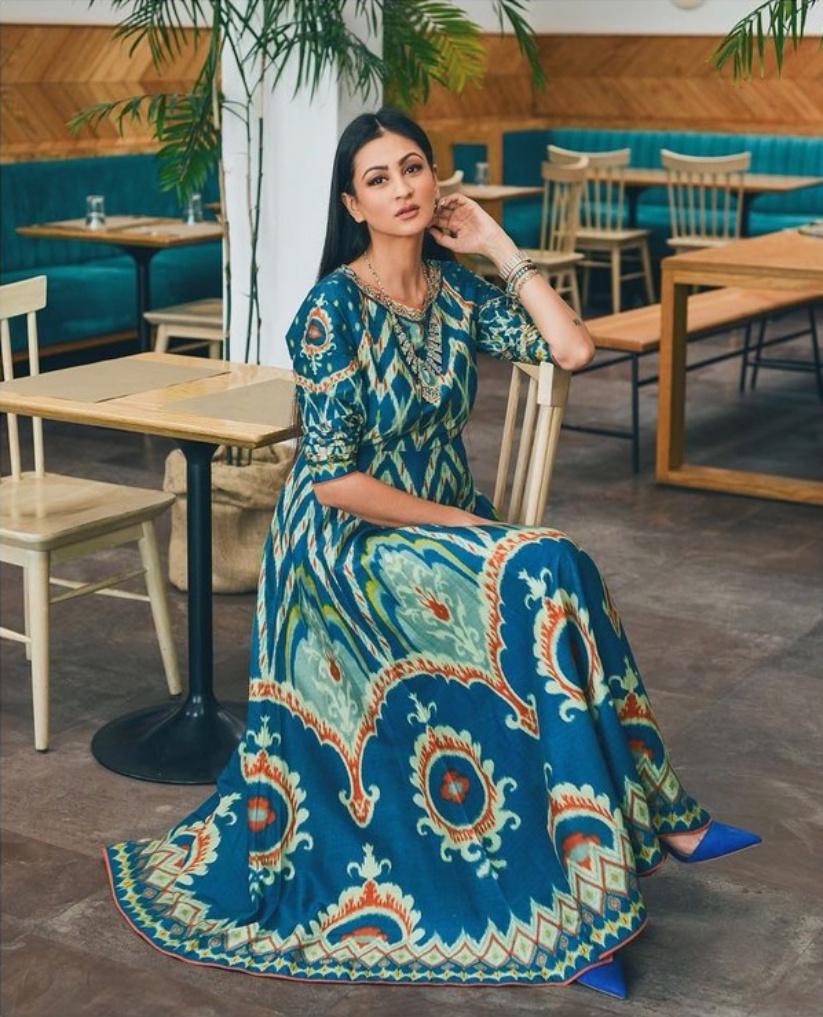 While one half of this outfit is embossed with Ikat prints, the other half has some bold designs. However, the overall look of the suit has been kept calming with the use of serene colours like blue and green to create an outfit that stands out and steals the show.
Designer Suit With Jacket-style Kurta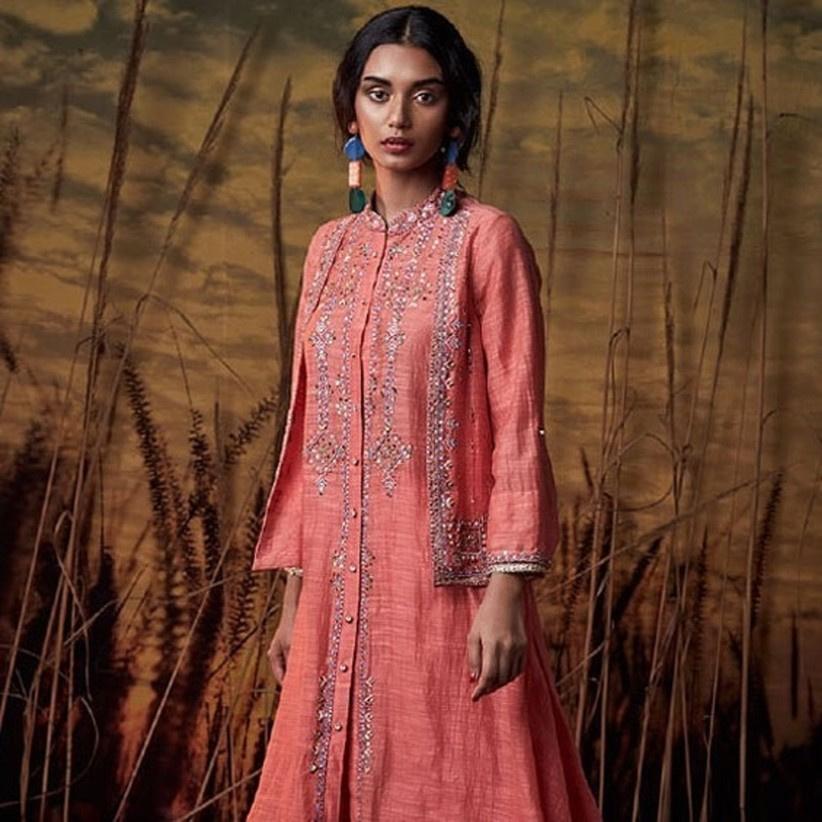 The jacket-style kurta adds a contemporary touch to any outfit. Brownie points to designer suits by Ritu Kumar for being able to create a classic meld of traditional and modern - with the peach colour, the rustic fabric and the white sequin work around the collar and the sleeves, this suit piece conveys the story of when the ethnic world meets the new one.
Designer Suit With Tribal Prints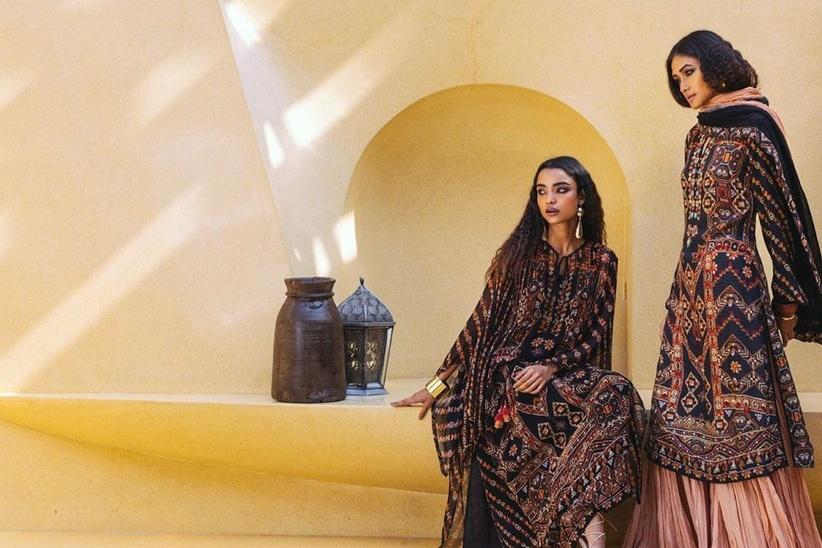 Tribal prints always look offbeat. From bridal sarees to designer suits by Ritu Kumar, these prints have the ability to give an uninhibited and easy-breezy look to almost anything. The use of blue as a colour also turns the outfit into a grand one. Pair it up with trendy tribal jewellery to complete the look and when it comes to choosing the lowers, go ahead with palazzos in contrasting shades.
The best part about designer suits by Ritu Kumar is that you can style them up for almost any occasion. Be it a lunch outing with your squad or a night out with your other half, these suits are sure to make you look stunning and gorgeous.
Love these designers suits by Ritu Kumar? Get them right away!