10 Designer Neck Design Images for a Bride's Look Book
Dazzle your groom on the night of your reception in a stunning outfit. No outfit is complete with a designer neck design, especially the one that you plan to wear for your reception!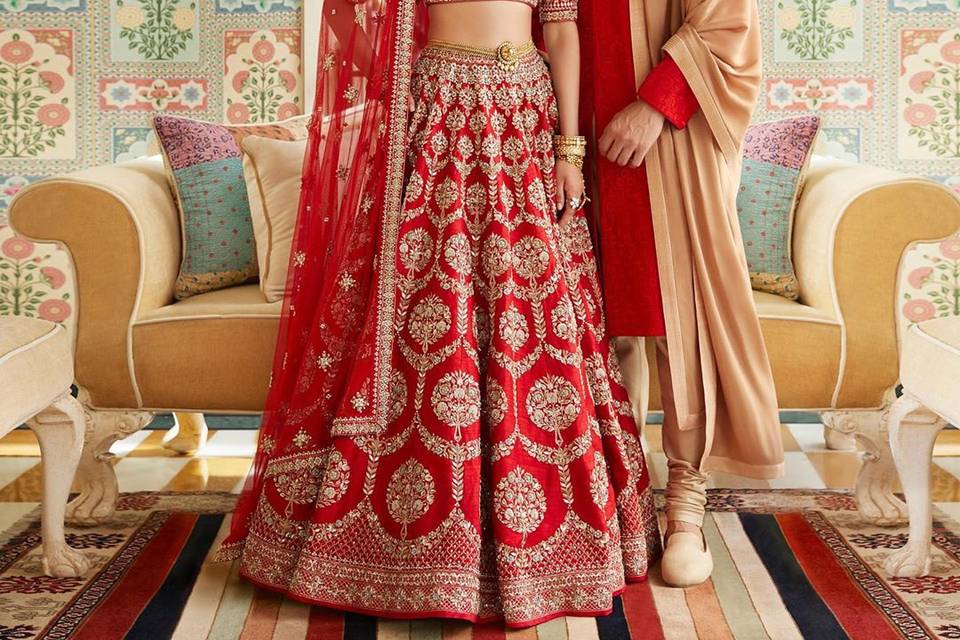 Getting married may be the most magical time, but getting to wear gorgeous and designer outfits can sometimes be the most exciting thing for a bride. While most brides prefer to wear traditional silhouettes for the wedding, whereas the Reception is the ceremony of free reign. A bride has more freedom to be herself without the stress of looking super traditional for the wedding on her head.
The latest trends for Reception outfits include everything from pastel lehengas to fitted gowns and bridal suits. Picking one over another definitely depends on the bride and her budget. No matter what you pick, though, you can elevate any look and make it express your personality by asking your tailor to add neck designs.
Check out these designer neck design images that you can add to your reception look effortlessly!
Jacket Style Blouse With V-neckline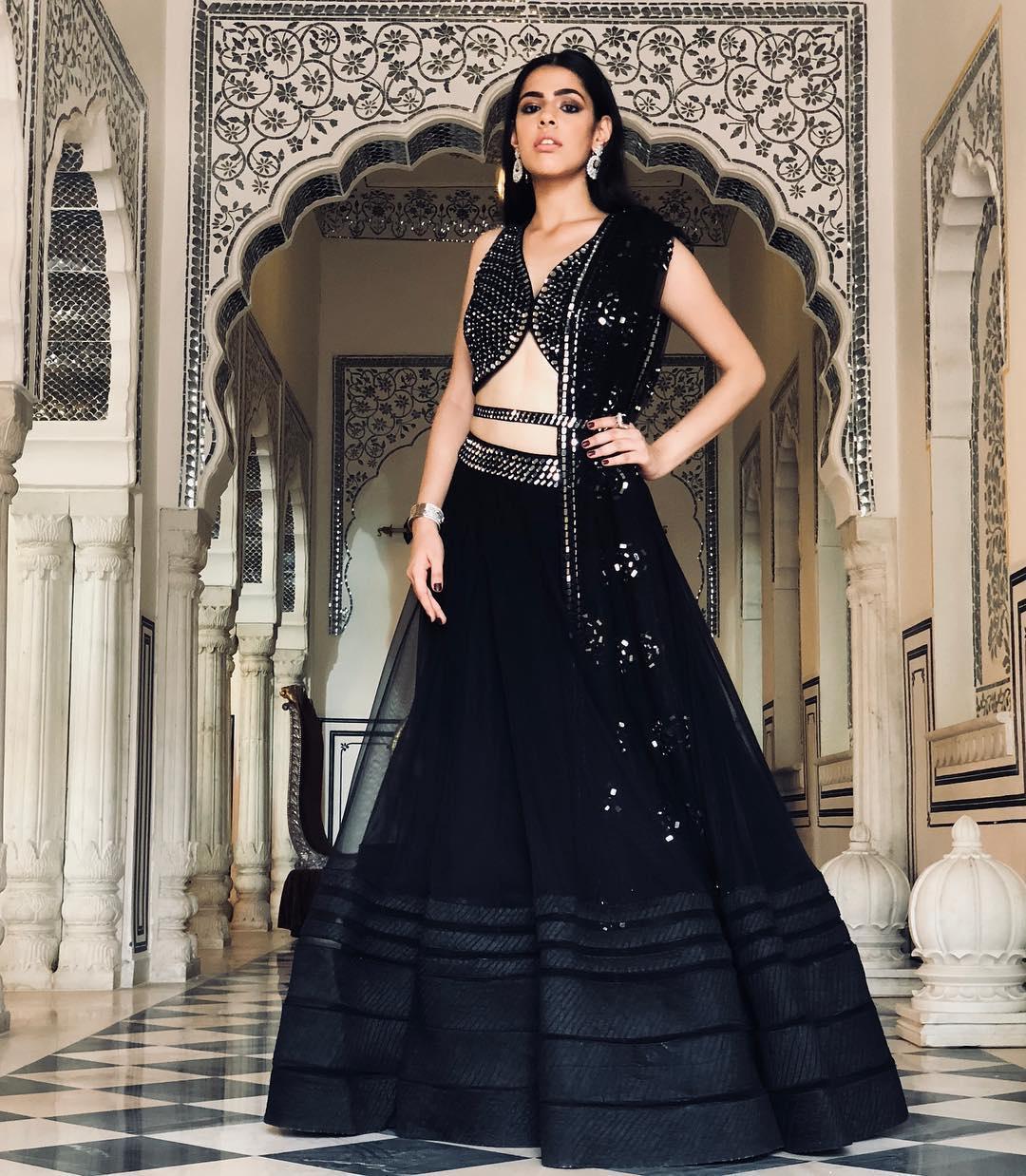 Image Courtesy: Abhinav Mishra
The first designer neck design is a stylish number that is going to make you look sexy without even trying. Receptions are hosted during the night time and dark colours match the occasion perfectly. If you do go ahead with a rich and intense shade, this jacket style blouse will look gorgeous.
Style Tip: Diamonds are a girl's best friend. Whenever you are wearing dark colours with white work, diamond jewellery is the only answer to every jewellery query.
Designer Mirror Work Round Neckline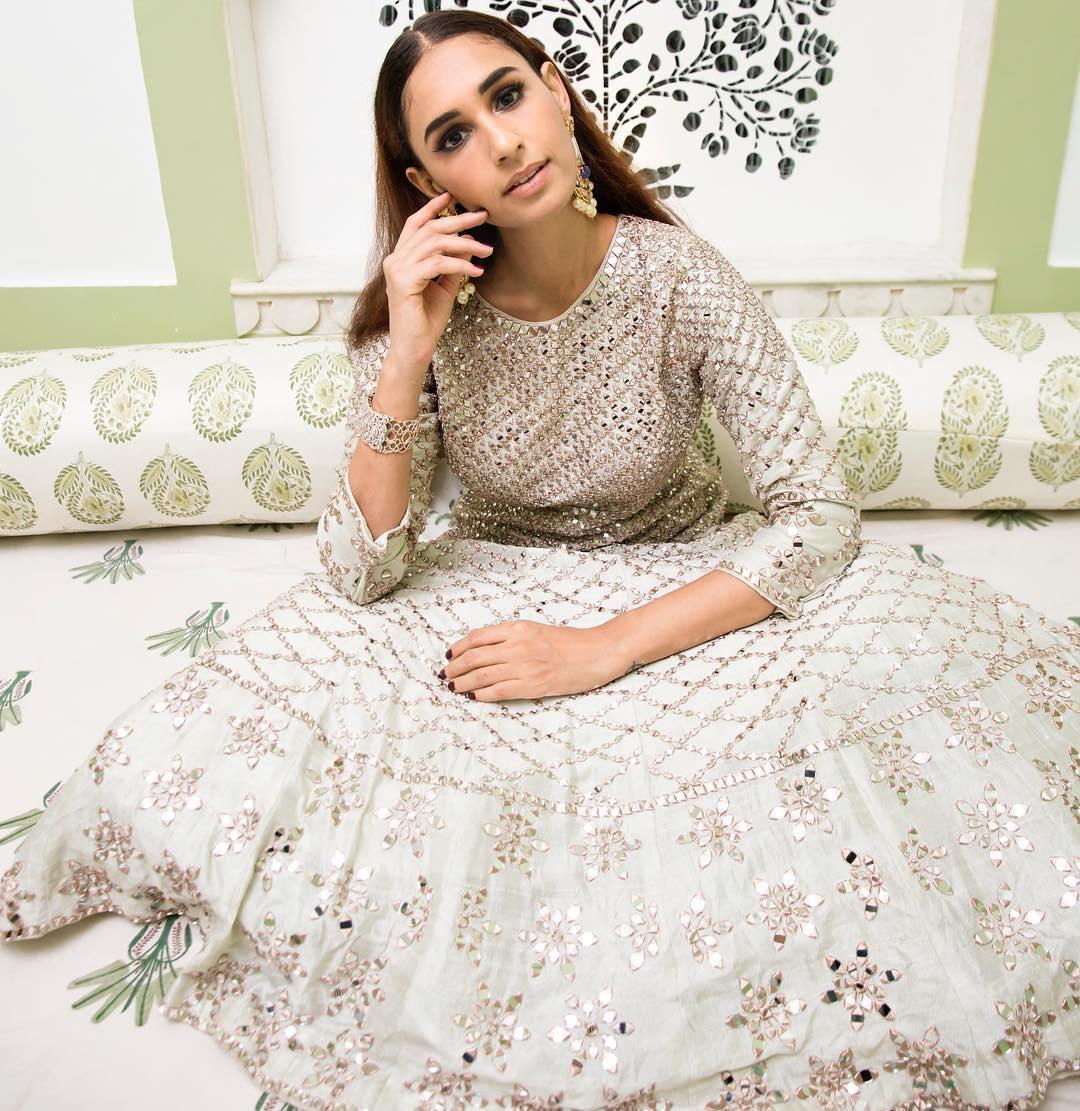 Image Courtesy: Abhinav Mishra
If you are planning to wear an outfit with heavy embroidery, then a round neckline will be the best. Not only will it give your body a defined shape, but you will also not have to wear many accessories.
Style tip: Accessorise this look with a pair of drop earrings and a sleek hairstyle. You can go for a bun as well as half updos tucked behind the ear so that you can show off your earrings and the work on the neckline.
Peplum Blouse With Round Neck, Cut, and Button Detail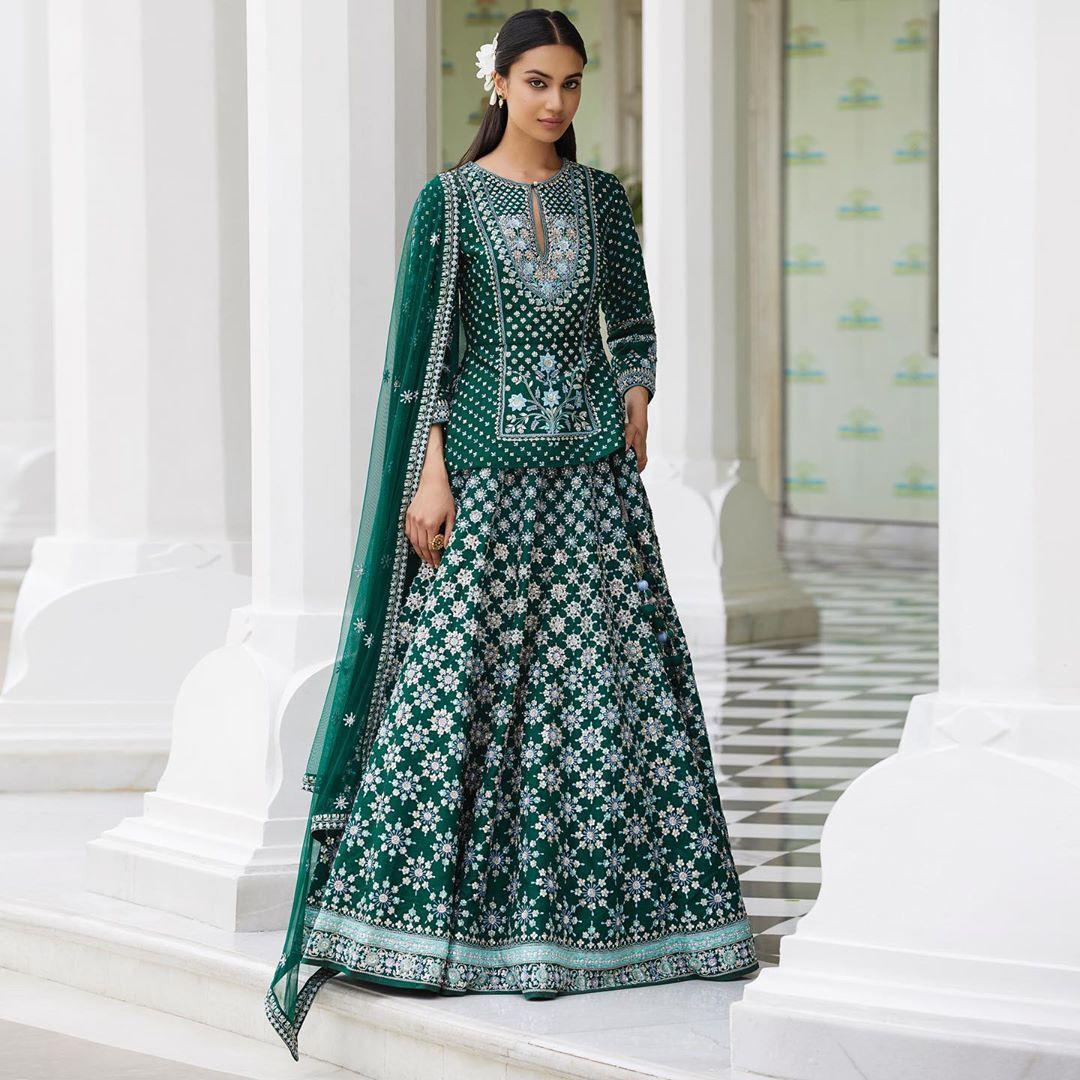 If you want the result of your look to be feminine and soft, this designer neck design with a keyhole in the centre and the button detail is one of the best in this list. You can get it for a blouse and a suit.
Style tip: Carry a matching bridal clutch with this to jazz up your look. The neckline is simple so you need a statement piece to stand out and take centre stage.
Bedazzled Blouse With Sheer Neckline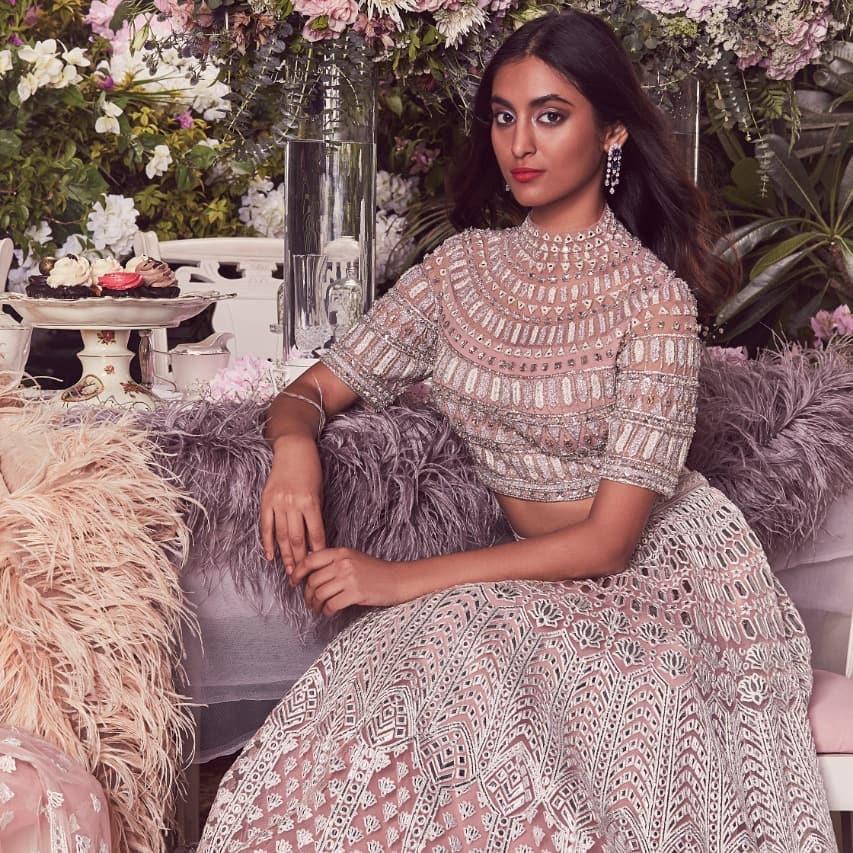 Image Courtesy: Falguni Shane Peacock India
Most brides want to shine on their Reception night and why not! It is their special day and everyone is there to celebrate her new marital status. If you have picked up an outfit similar to the image with all sorts of pizazz and bling, you need to choose a designer neck design that does not take away from the work of the neck. This sheer neckline with all the original work celebrates your look, just as you want it to.
Style tip: While the outfit in the image already had a nude lining, you can do the same for any outfit in any colour (preferably dark!).
Feathered Off-shoulder Neckline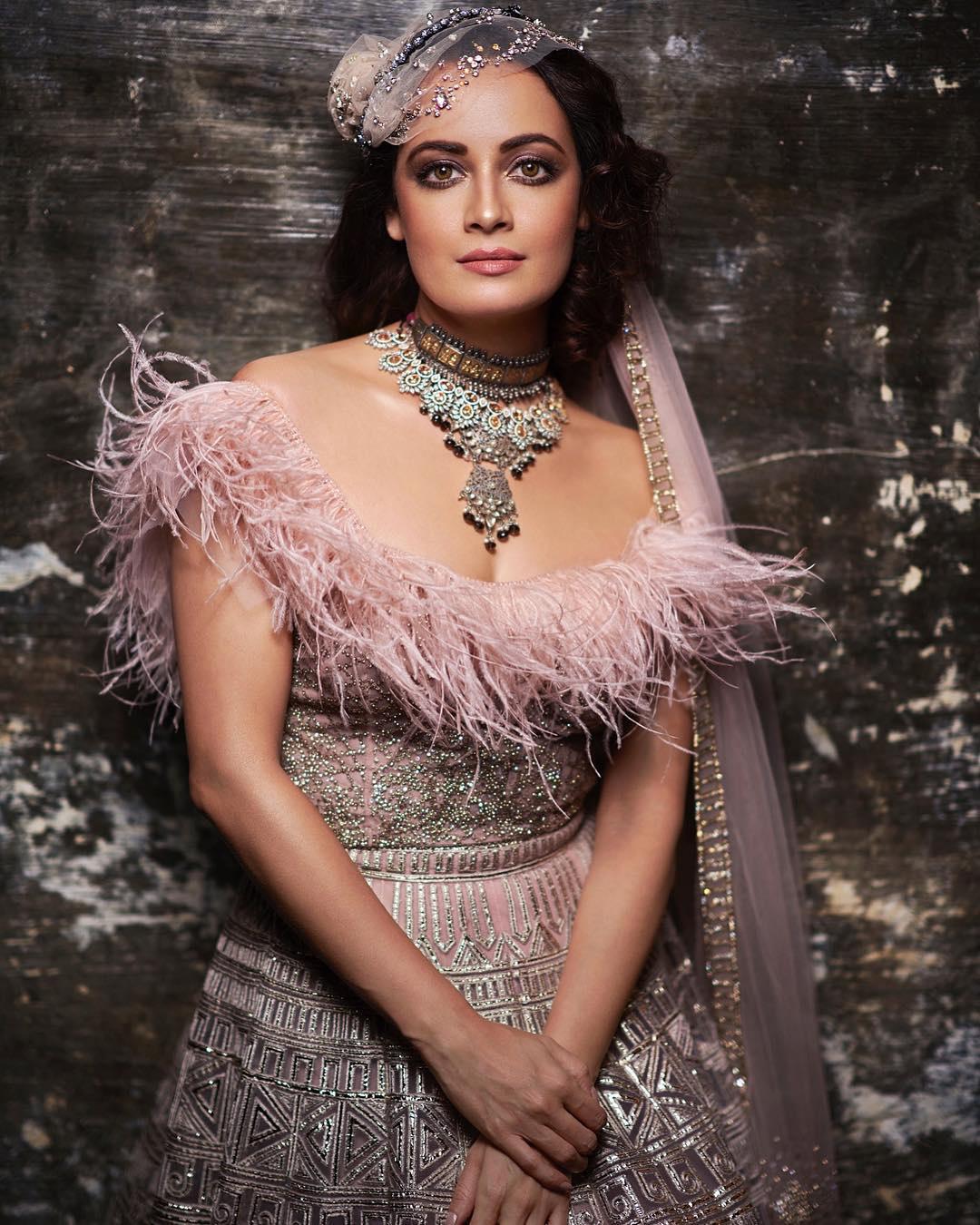 Image Courtesy: Falguni Shane Peacock India
This is the ultimate designer neck design. While this is a trademark Falguni Shane design, you can get this neckline for any outfit by asking your tailor to add them. This is what smart work is! You take inspiration and ideas from everywhere and get them in a range that you can afford.
Style tip: Do not use contrasting feathers in your look. Try to keep them matching so that they do not look gaudy.
Illusion Blouse With a Plunging V-neckline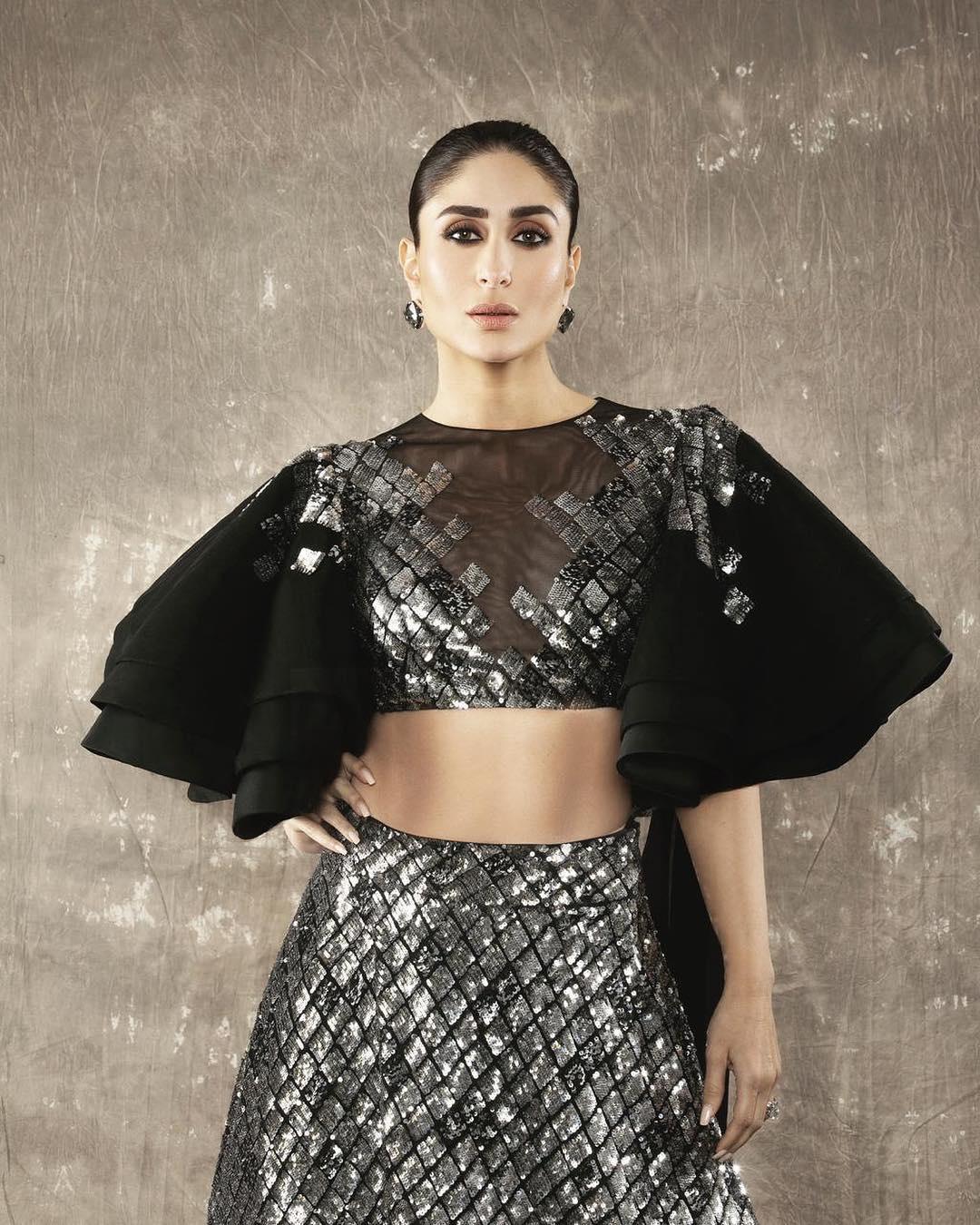 Image Courtesy: Manish Malhotra
We do not need to say much about this neckline. The illusion neck is one of the trending looks for everyone from brides to celebrities.
Style tip: If your look is just as sparkly and bright as the one in the image, keep the styling to a minimum. We would recommend matching studs and a cocktail ring.
Illusion Sweetheart Neckline With Glitter Stripes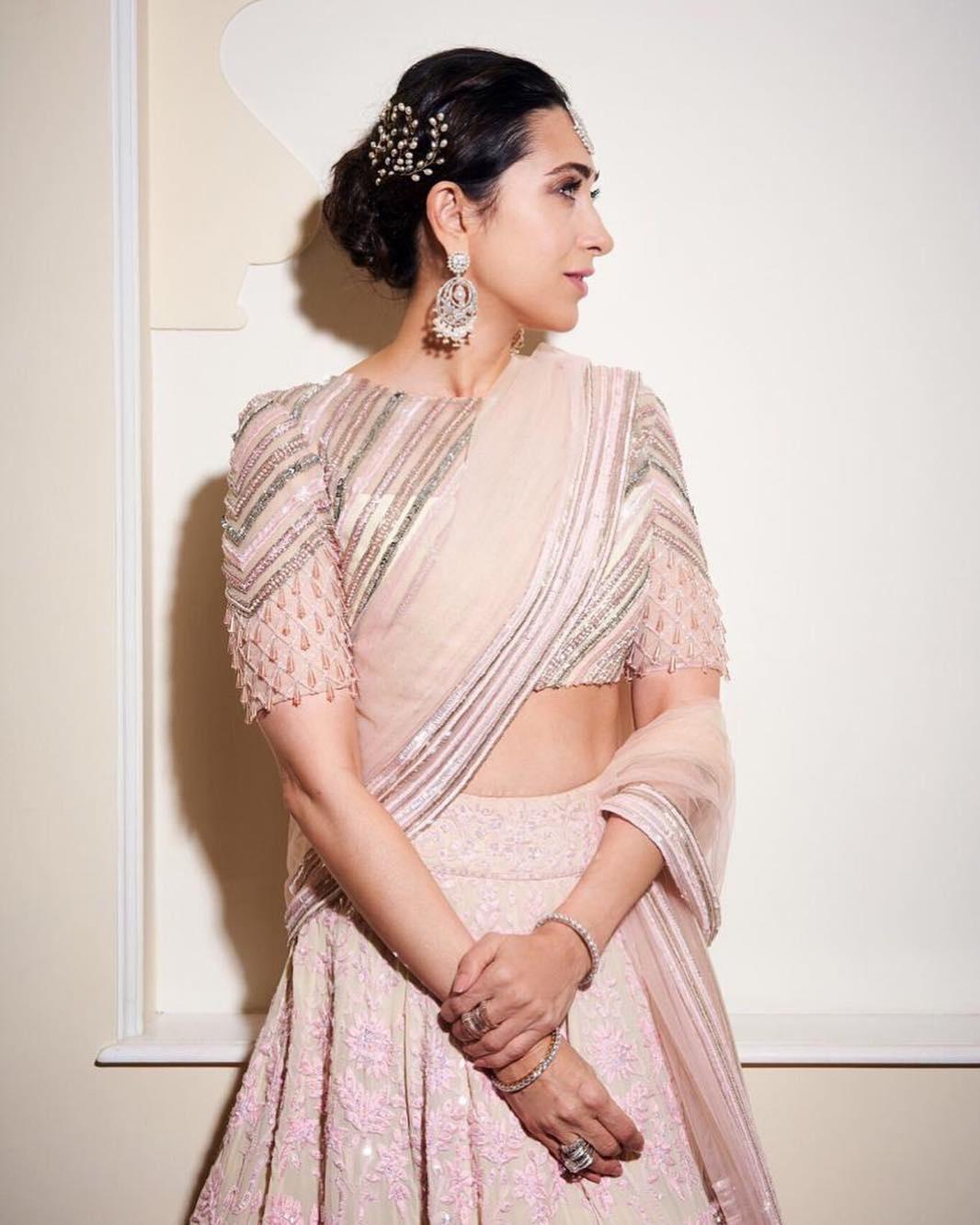 Image Courtesy: Manish Malhotra
While Bebo is a fashion diva, Lolo is not far behind. Her style is best described as classy and elegant. The same goes for this designer neck design.
Style tip: This neck design would stand out even more in dark colours. As the neckline is closed, you can get away with simple drop earrings and no neck jewellery. Your engagement ring will be enough for other jewellery pieces.
Plunging V-neckline Blouse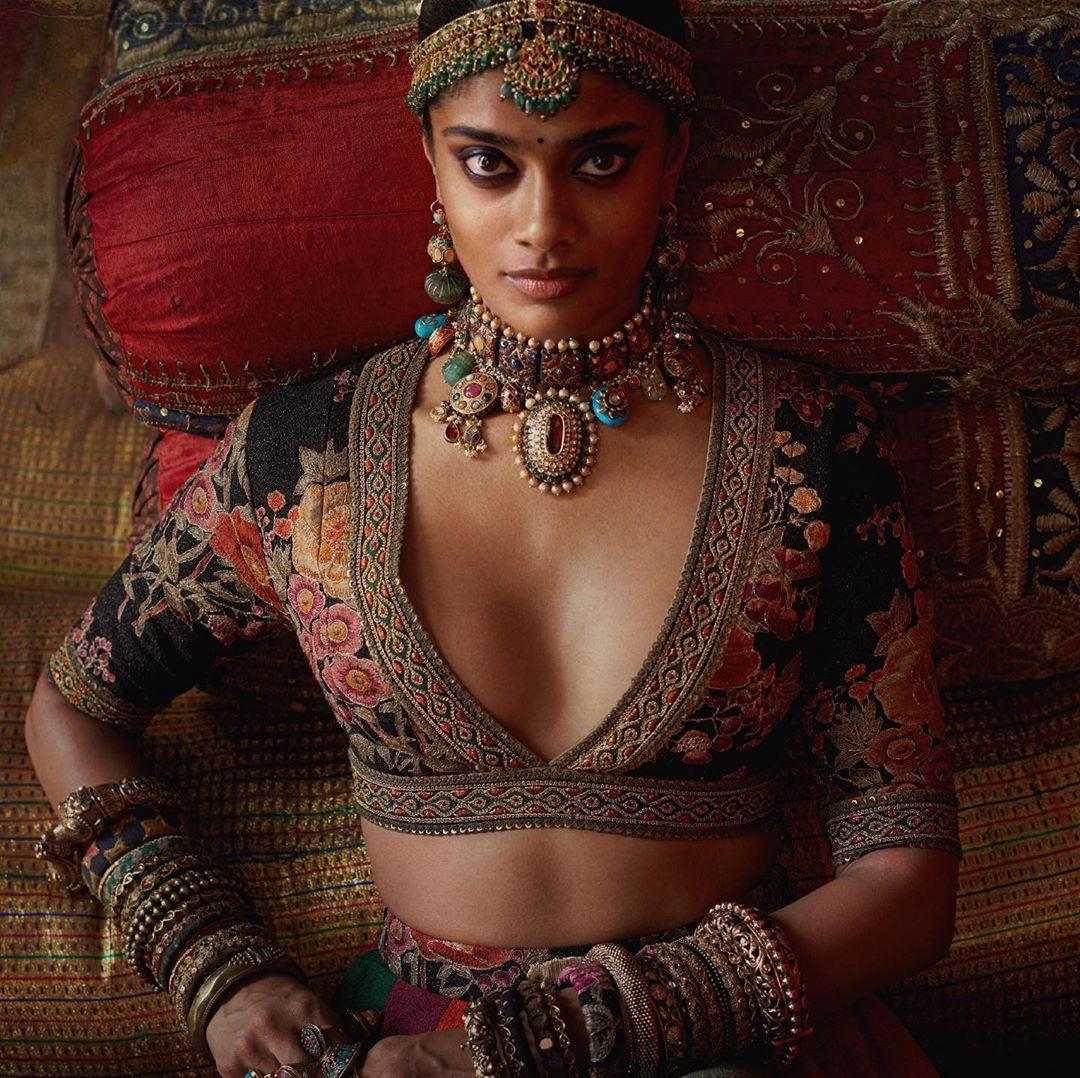 Image Courtesy: Sabyasachi Official
The last designer neck design is perfect for the bride who is very comfortable in her skin. A plunging V-neck is always a risqué choice. Wear it only if you have the confidence to pull it off!
Style tip: a choker necklace and matching pair of earrings are the best accessories for this neckline.
A few simple tweaks to the neckline can transform any outfit from drab and boring to utterly fabulous! Don't you agree? Tell us what you think of our designer neck design images and also your favourite in the comments below!
Check out these stores near you that offer stunning bridal wear!