Designer Kurti Patterns for Unique Classy Looks at the Wedding
When it comes to buying kurtis, the designer kurti patterns are pretty much the first parameter followed by the kurti material. Here are a few patterns to give you a broader idea! Ready to dive?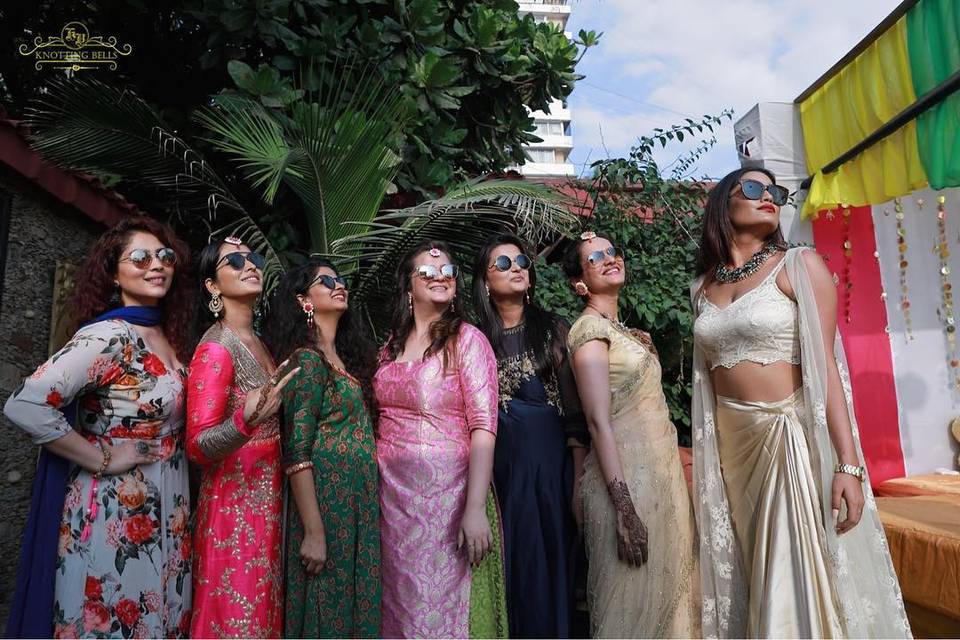 Buying designer Kurtis can be a really daunting task at times when you just fail to be sure after a point. Everything just mixes up and you feel like you are drowning in the textile sea. Let us go through some really classy designer Kurti patterns in order to understand the very basic checklist to be kept in mind before choosing one of your dream Kurtis.
Before we jump on to that, it will be beneficial for you to know that a majority of designer Kurti patterns don't rely on a lot of shimmery embroidered patterns. It is mostly distinguished by prints and the high quality of the fabric chosen. So you will majorly be paying for the comfort of the Kurti or the quirkiness of the chosen pattern.
Here are some of the most diverse patterns chosen for you to take a look on. The variety ranges from tiny polka-like patterns to the ones in pop colours, celebrity-style Kurtis to hardcore ethnic Kurtis, each piece hand-crafted by the talented teams of the respective Indian designers who are gifted in their craft.
Take a quick tour of patterns to curate the best and the classiest look for the wedding season of 2019! Are you ready to explore the celebrity tastes in Kurtis? Let us begin then.
Tiny Floral Polkas for Silk Kurtis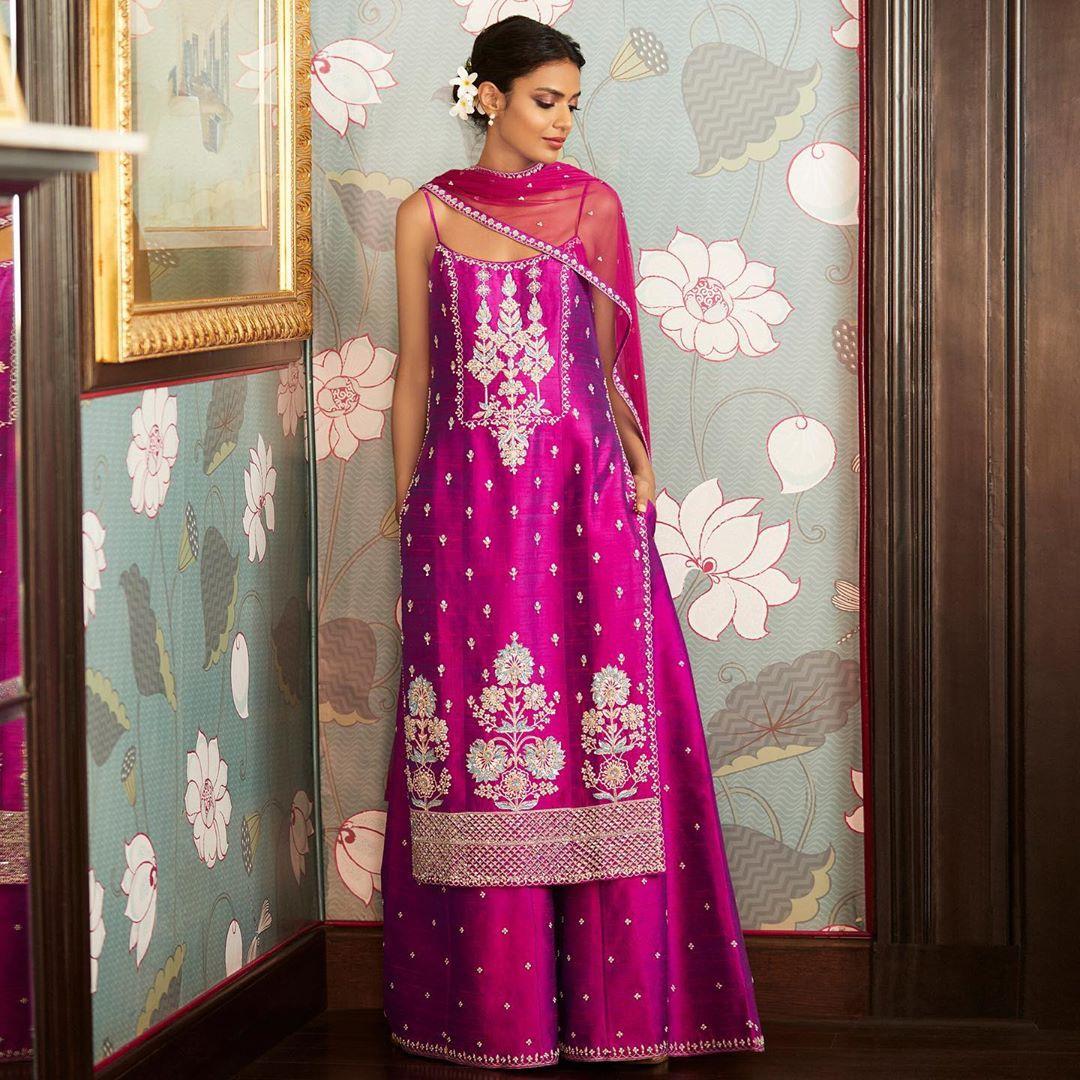 These tiny patterns are quite a favourite one under designer Kurti patterns help in creating a really sophisticated piece of designer Kurti which looks absolutely classy for every wedding function. Such delicate patterns make it a very high-end choice for a Mehndi function or a Haldi function which call for something simple, comfortable yet festive.
The gifted Indian designer Anita Dongre has made a very intelligent choice of a brighter shade of magenta which looks extremely rich in its texture and outlook.
Such choices of contrasting shades of an embroidered or printed pattern is again a very appealing one. You must consider choosing a designer Kurti which uses contrasting colours for its patterns. When going for such minimal designer Kurti patterns, kindly consider choosing such rich fabrics like silk.
Using a single colour for the entire Kurti dress gives it a bright pop full of tradition.
Fierce and Unapologetic Shirt-style Kurti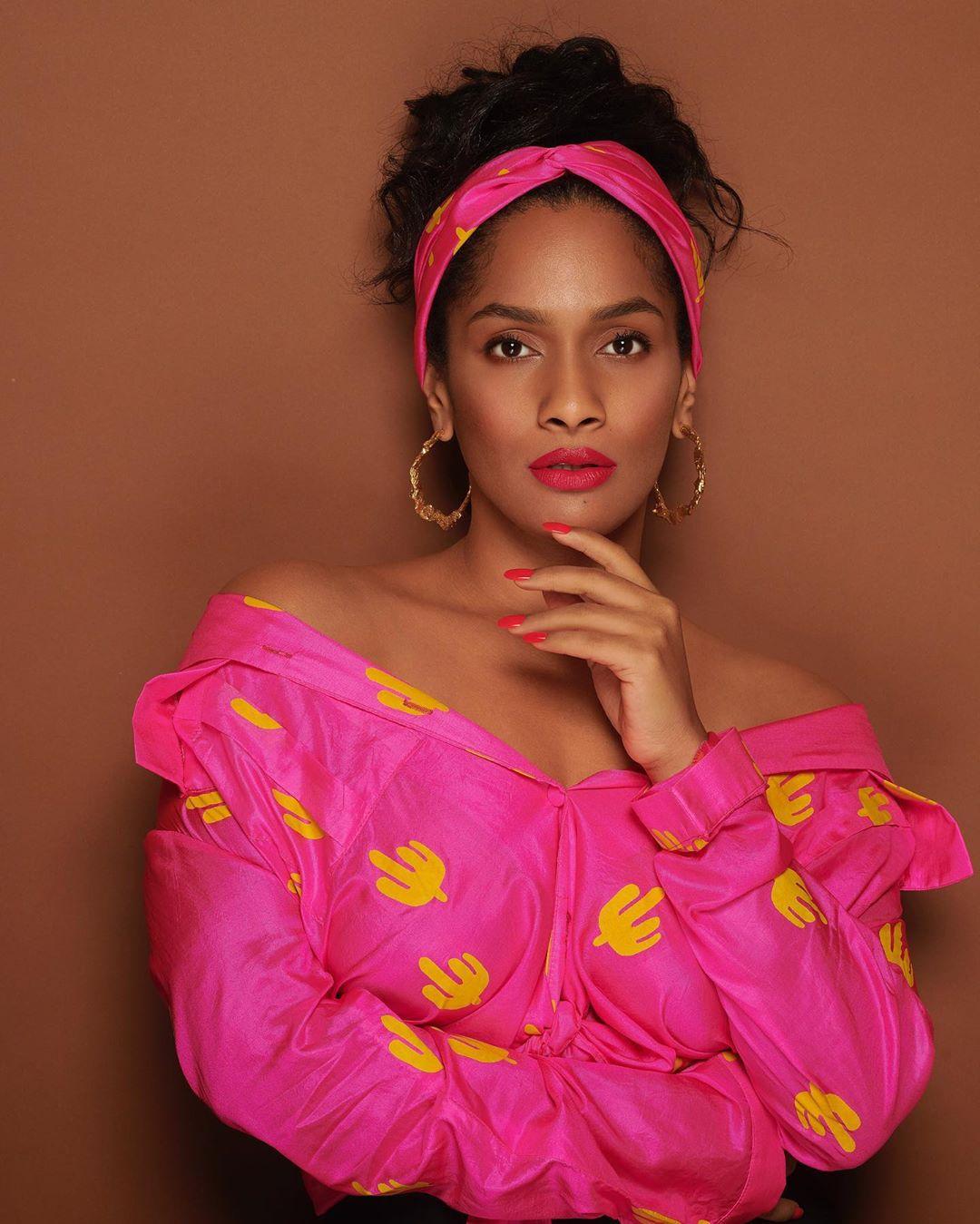 Image Courtesy: House of Masaba
This pattern is hands down the quirkiest of all the listed designer Kurtis. Designed by the fierce designing hub, House of Masaba, this Kurti piece is one to cherish. The celebrated contemporary designer is known for her quirky and trendy prints and patterns which are totally in and poppy.
You can choose from various styles of Kurtis, whether this shirt-style Kurti or a longer one. The designer is open to options.
The cactus print is really poppy in yellow over a rich hot pink base fabric. It is ideal for wedding parties which are more summery and casual. You can team this Kurti up with high heels and a simpler shade of skirt or high-waisted jeggings.
A bandana or hair-band like this one would add that oomph factor. You can totally skip ear jewellery pieces if you like, however, a statement ear-cuff is not going to hurt as well, will it? Are you ready to get heads to turn with such quirky designer Kurti patterns?
Irregular Patterns Clubbed Together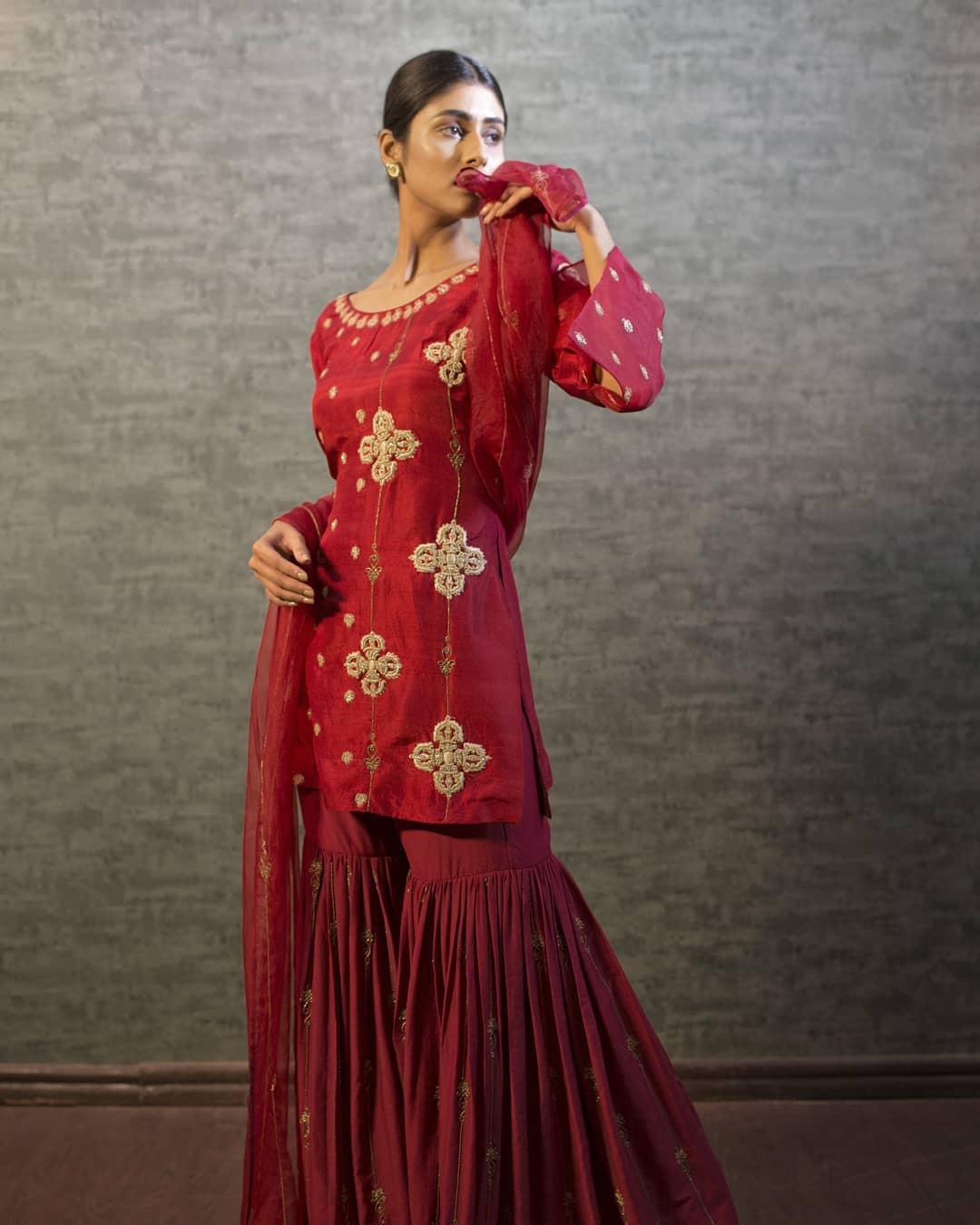 Image Courtesy: Sozenkari Designer
This lovely designer Kurti formed with a collection of irregular patterns is a regal piece of attire for the wedding season of 2019! Half of this designer Kurti is adorned by tiny, zari-like pattern while the other half has been covered with a linear pattern of bigger flowers attached with a string.
Doesn't that look absolutely lovely to you? It is surely among the royal designer Kurti patterns. I can totally picture you flaunting such a balanced mix of designer Kurti patterns at a Sagan function, looking absolutely stunning!
The colours of the base material for such patterns done in gold (whether thread or print) must be deep and rich in texture and quality. The entire outlook has to look balanced and high-class in order to qualify the wedding Kurti as a designer piece. You can make use of Doris at the back neck designs and team it up with gorgeous shararas or beautiful Ghararas.
Dupattas can be optional if you like. Pair the entire look with a magical piece of heavy Jhumkas to add that final punch of tradition to such designer Kurti patterns. Ah! It looks like a dream in my head, what about you?
The Line Pattern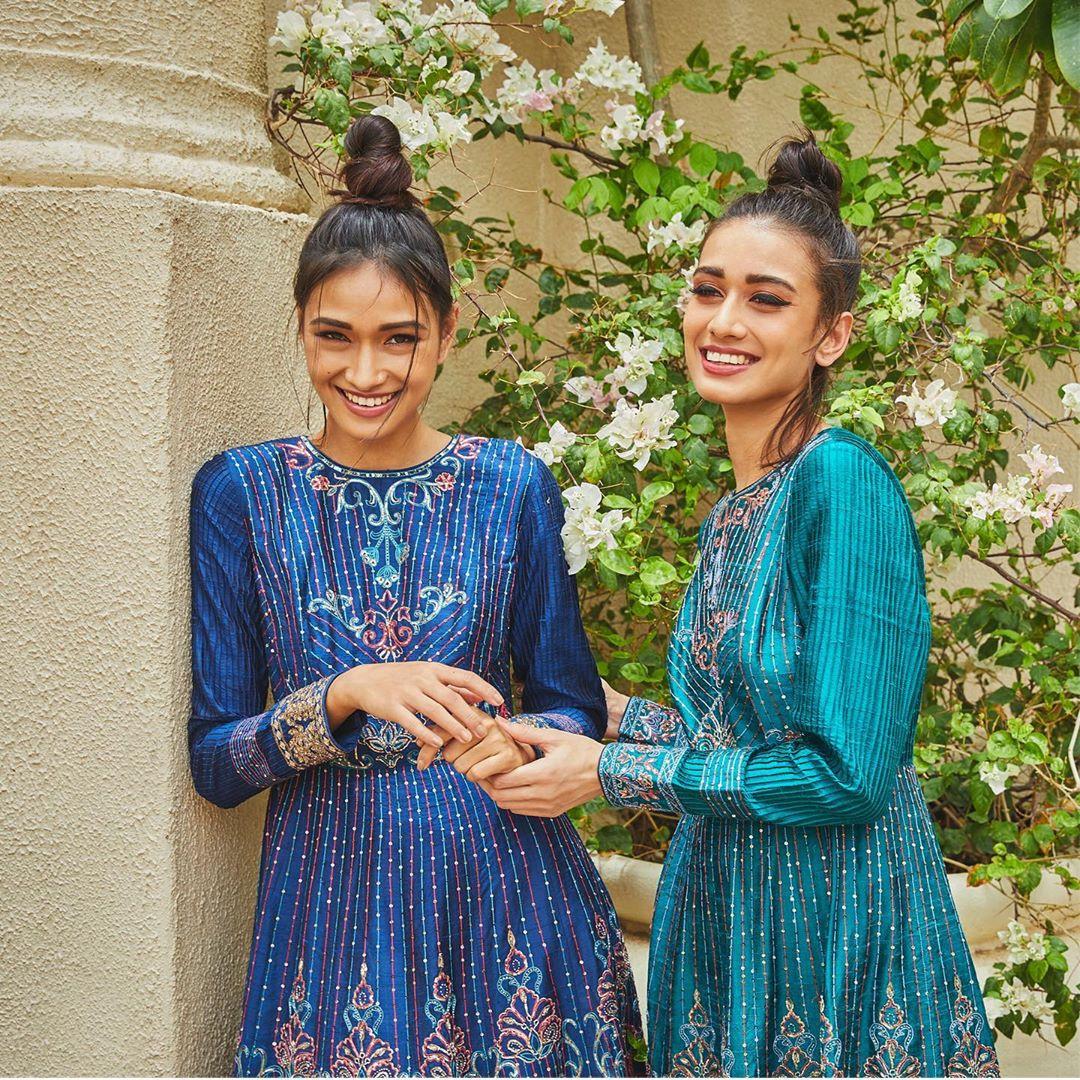 When discussing designer Kurtis, this line pattern is one of the most beautiful takes on mingling tradition with modern taste. What makes this designer Kurti a big hit is the breathtaking combination of the shiny rich base of the Kurti and the fine multi-coloured thread pattern.
The blues and the sea greens look marvellous on the models while the use of thread in various shades of the base colour along with a touch of contrast is quite an intelligent choice to go for.
You can team this marvellous Kurti designed by one of the finest designing teams with high messy buns and jeggings. High heels and studded Punjabi Juttis will both be a great idea for Indian wedding appearances.
Not just this, you can go for studs or long elegant earrings while a low bun with flowers in the hair would just transform you into a traditional diva. Aren't you excited to see your transformed self with such exotic designer Kurti patterns this wedding season? We clearly cannot keep calm here!
A Collection of Elegant Patterns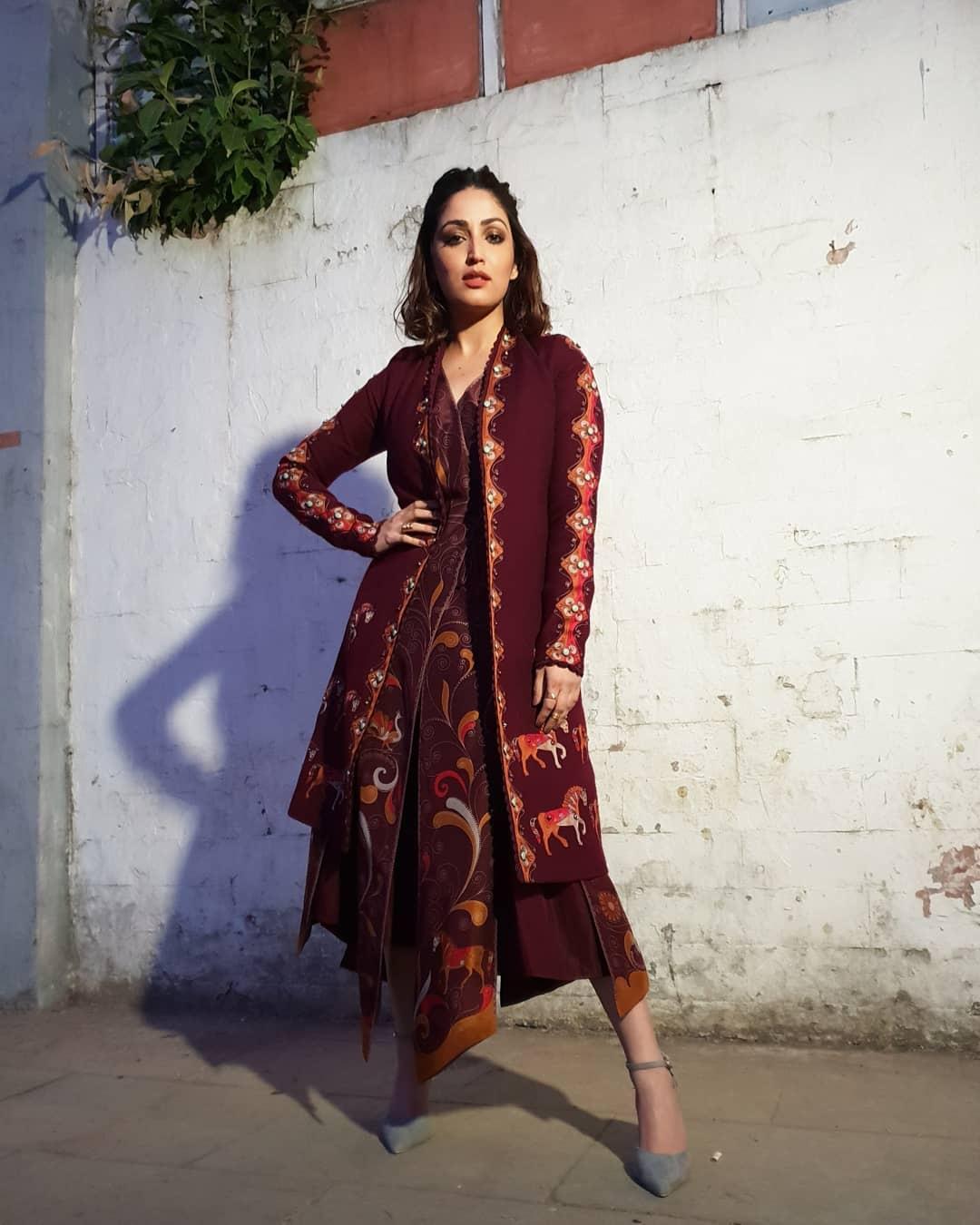 Image Courtesy: Yami Gautam Official Instagram
First things first, actor Yami Gautam looks absolutely stunning in this marvellous piece of designer Kurti-cum-dress. It is full of a noteworthy combo of designer Kurti patterns to take your heart away. As you can closely see, there is a linear pattern of abstract florals in poppy shades of orange which comes blooming with a highly contrasting deep maroon-ish fabric.
Doesn't it look absolutely stylish? When it comes to designer Kurtis, that is what you call an uber-cool choice. Isn't it? Apart from the classic use of contrast in the dress, I would like you to notice the brilliant use of layering.
When it comes to playing with patterns, layering becomes an art which must be mastered. A dense pattern in the inner layer of the outfit is followed by a plainer shrug-like upper with the linear pattern following the shoulder sleeve to the wrist line. The lower part of the shrug, on the other hand, adds another defining pattern to the outfit.
If you take a minute to appreciate the mesmerizing choice of patterns (spread irregularly). The Indie inspiration is quite evident with lovely horses and intricate peacocks and the entire use of mirrors and threads which is minimal yet significant.
Contrasting Florals to the Rescue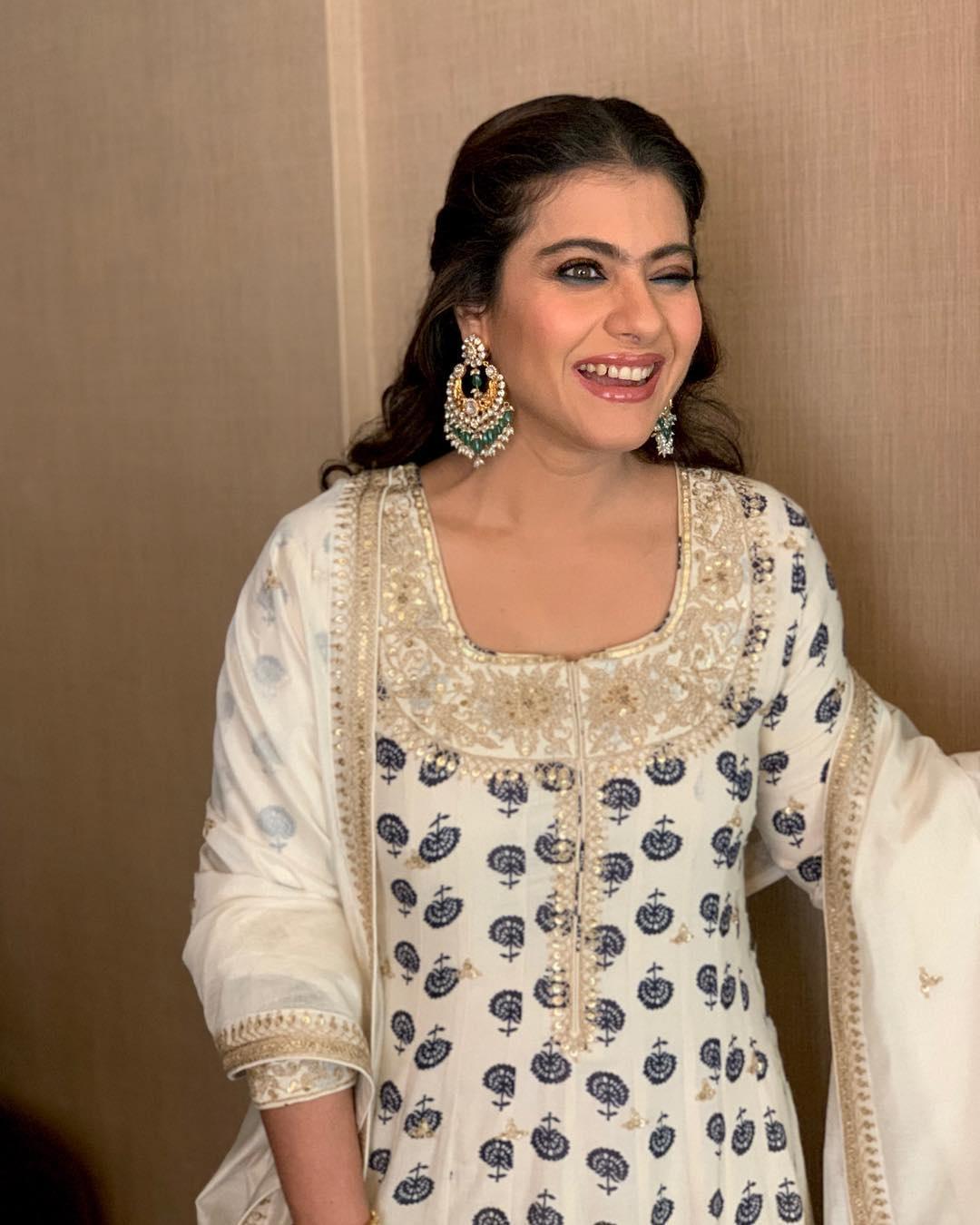 Image Courtesy: Kajol Devgan Official Instagram
Jumping straight to our last pattern under designer Kurti patterns, florals never run out of class and fashion. Female Indian actor Kajol, captured candidly in a jolly moment she seems to be having a great time as she winks (possibly at the other camera). Coming to the pattern, the linear florals in deep blue or black go quite like peanut butter with cinnamon.
Each one helps in cutting the negative aspect of the other on the overall outlook. The cream fabric looks perfectly balanced with dark flowers. The pattern looks more like a geometric flower print which looks neat and clear.
Brighter shades go even better with such light shaded base colours of Kurtis. Designer Kurtis make minimal use of external elements like a golden thread embroidery or lots of beadwork as well in order to make the effort stand out. When choosing out of such designer Kurti patterns, always remember, it is the details of the pattern which matters the most. The shapes can either make it or break it.
Here, the exotic flowers look mesmerizing. Even though a realistic flower would have been a classy choice too but that takes you away from accepting challenges and from experimenting. You have to keep trying and one special day you shall succeed.
So, our lovely list of designer Kurti patterns comes to an end here (for now). With so many lovely celebrities wearing such variety of patterns when it comes to Kurtis, we are sure you would have made your mind till now about what exactly is the dream Kurti pattern you are looking for this wedding season.
Are we right? If you like to keep it totally ethnic (basically dripping the Indian culture and tradition) just the way the world is used to seeing it, you are sorted. If you like to keep it stylish and go that extra mile with experimenting with designer Kurti patterns, there is something for you as well.
If your taste suits none of the above category and all you know is that you like going the Indo-western way, even then you are sorted.
My motive for creating these categories after presenting the list of designer Kurti patterns is to help you distinguish your choices and club them together in order to narrow down your research. We really hope it helps you.
Pro-Tip
When it comes to designer pieces of Kurtis for a wedding function, my go-to tip will be to keep things subtle and let the Kurti speak for itself. Since we are talking about designer pieces which clearly go beyond the casual shopping list as it is definitely an investment you do.
Now, because of the fact that you are investing so much in a designer piece which doesn't have bling or sparkle as much as it has a brand-name and comfort, you should let it speak for itself. Trust us, when you refrain from other elements grabbing all the attention, it will clearly radiate on you.
We are not saying that people will see you with a halo (duh!) but it will definitely be a class-apart outfit. Just keep the jewellery, glitter, excessive hairdos out and then see the magic.
We would like to know your favourite when it comes to designer Kurti patterns, in the comments below.