5 Bridal Wedding Lehenga Styles to Check Out Before Getting Your Bridal Outfit Designed!
If you're planning to have a bespoke bridal wedding lehenga created, you should know what you want before speaking to designers and tailors! Check out these 5 lehengas we've got for you to see!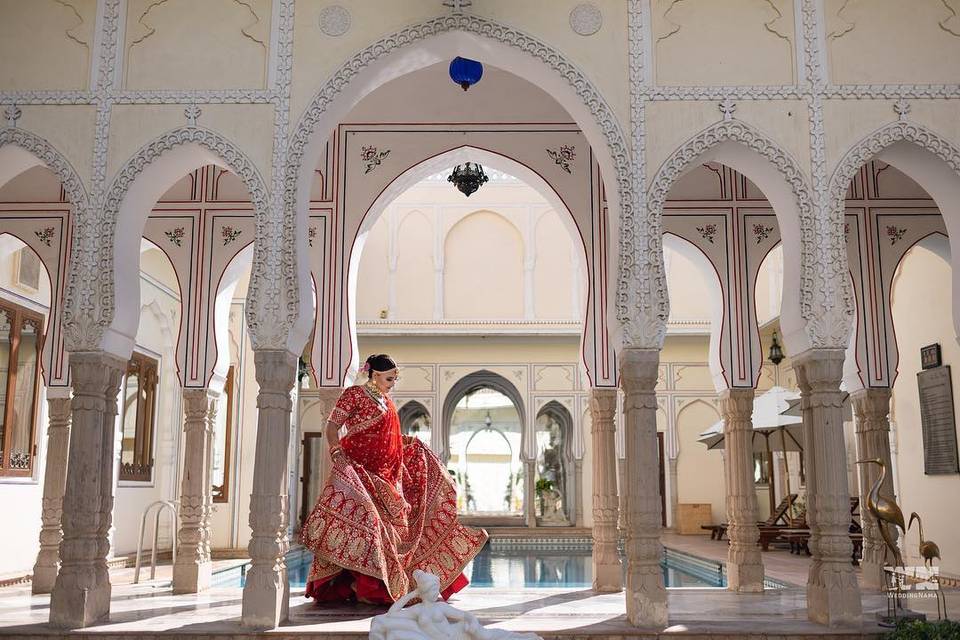 Your match might be made in heaven, but your bridal wedding lehenga will be made on earth by mere mortals, which is why you must scrutinise the garment in every process of its creation! Whether you are getting a bespoke bridal wedding lehenga designed, or are customising an off-the-rack outfit to fit you better, you need to be a part of the ideation process and also ensure you're available for fittings consistently, otherwise, you can face challenges with your fit later on!
If you're planning to have a bespoke bridal wedding lehenga created, then we've got a bunch of red lehenga inspirations for you to check out! These have all been worn by real brides who've had a fantastic experience looking and feeling glamorous in their attire!
1. This elegant beige and red bridal wedding lehenga!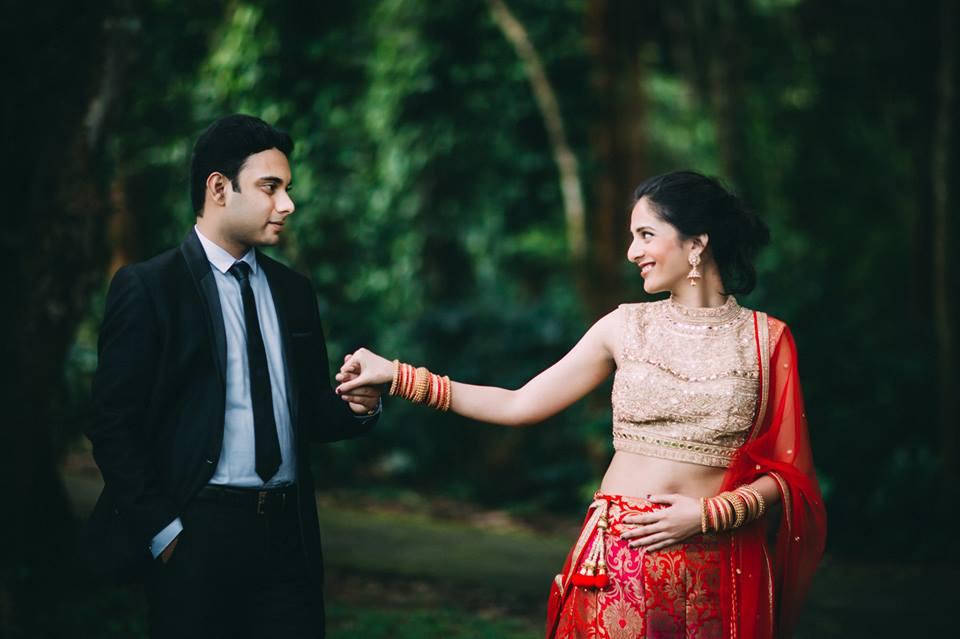 If you want a bridal wedding lehenga that has an extremely elegant look, then going for a scoop-necked design on your blouse can help you achieve that. Speak to your designers about creating similar choli blouse designs along with structured shoulders that will balance out your silhouette. This choli in the picture has beige embroidery work along with light mirror work, a combination that brings bridal splendour along with understated elegance to the look.
The red and gold skirt with hints of deep pink is the perfect partner in crime for this choli. The ensemble is completed with the light dupatta that has a thin gold border, bits of gold sequins scattered here and there!
2. Heavy lehenga saree look perfect for the D-Day!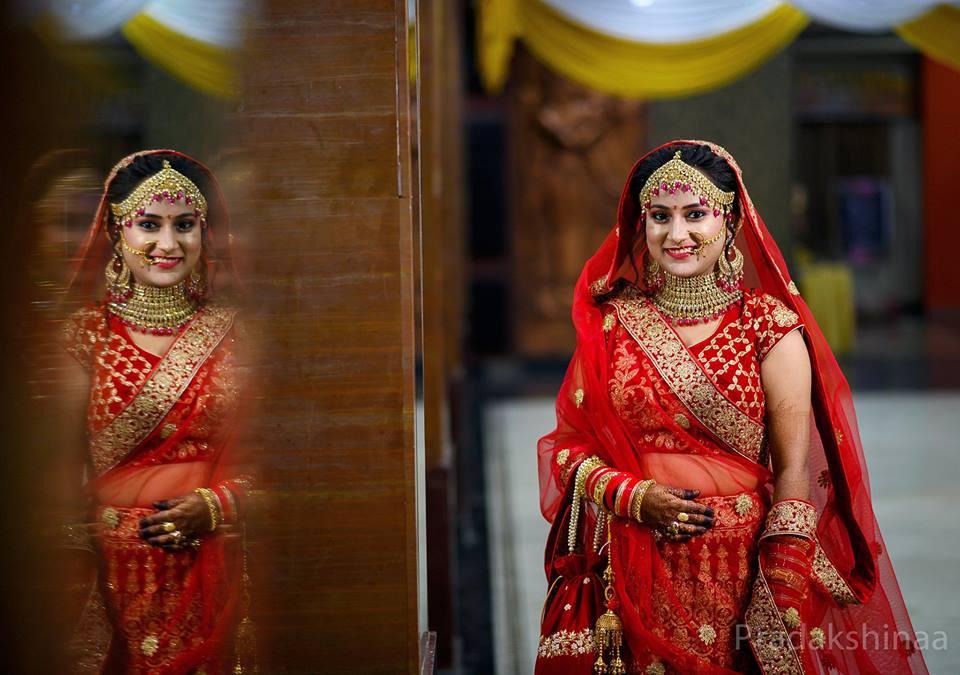 Not every bride is 100% comfortable in a short choli, which is where the lehenga saree look comes into play. By pairing two dupattas with her look, this bride has taken one dupatta and draped it diagonally to create a lehenga saree style and used the second one over her head to get that traditional, demure look.
The dupatta has a heavy border that matches perfectly with the embroidery on her skirt and choli, making this ensemble a well-thought-out one. If you want to get something similar designed, do pay attention to the little details, like the cap sleeves on the blouse and the matching pouch she's carrying with her!
Ask the boutique you're going to about their lehenga saree with price points you're comfortable with before going for a customised look – you never know, your perfect dress may have already been stitched!
3. Colour bridal lehenga with silver Kalire!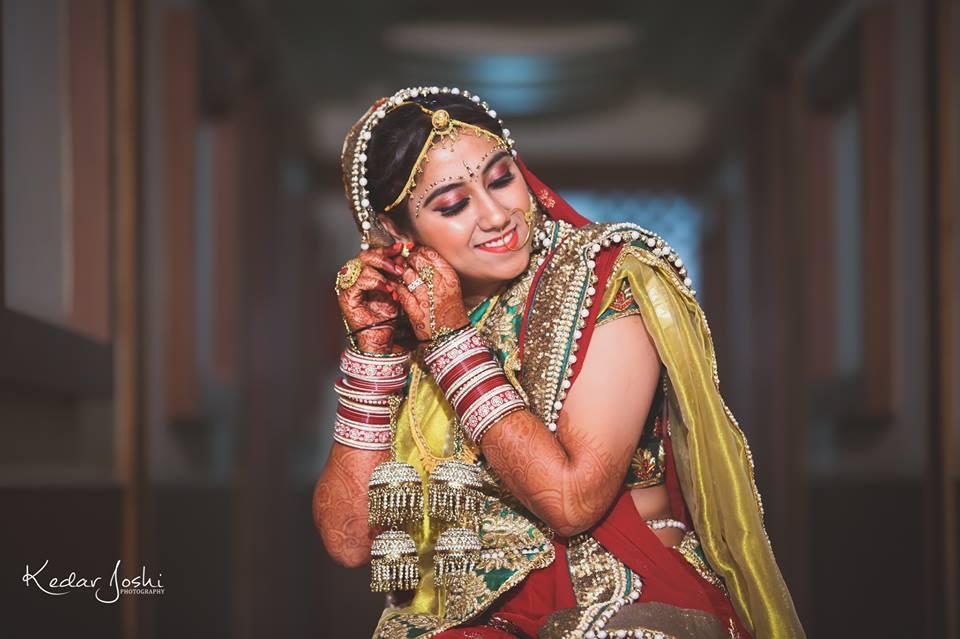 Here's something that you don't see very often – a red bridal wedding lehenga that's paired with a yellow dupatta and green Choli. This highly colourful look may seem a bit out of place if you're not familiar with the Rajasthani culture, but this is quite common in India's largest state! The lehenga has Gota Patti work all over it, making it sparkle and shine beautifully has the bride accepts all blessings bestowed on her.
The silver Kalire look stunning with this combination, showing that this bride knows how to create her ethnic ensemble perfectly! Speak to your designers about other elements like mirror work and embroidery if you want a Rajasthani look!
4. White and red bridal lehenga!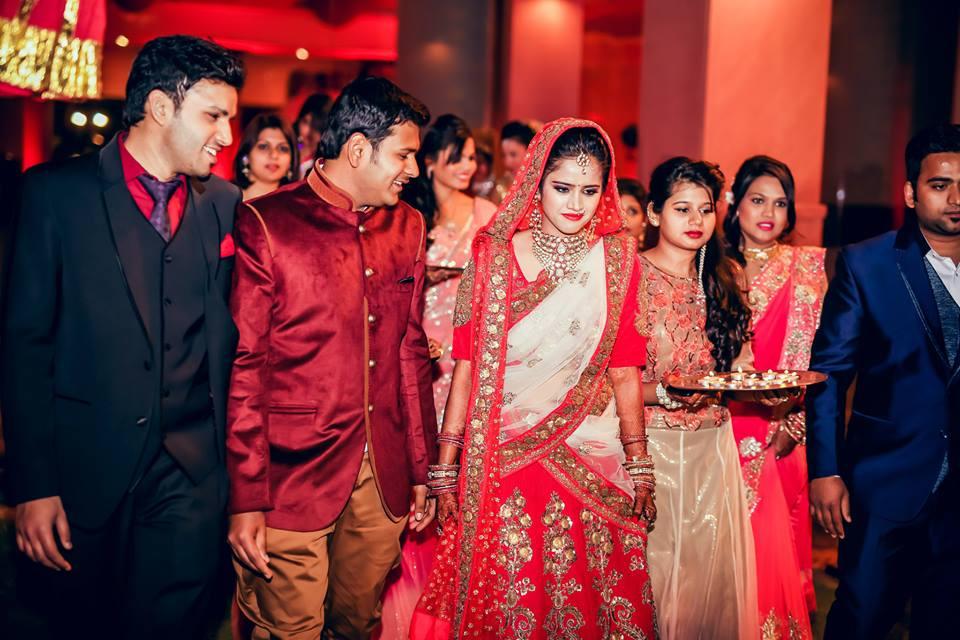 Many brides are loving the double dupatta look and this is something that you can speak to your designers about when getting your bridal wedding lehenga made from scratch. Although many brides pick dupattas that match with their garments, here's a bride that has opted to create a wonderful contrast by using a cream dupatta. This dupatta is draped in the saree style, with the lighter one over her head as she walks out of the venue and into her new life. The skirt of the lehenga has heavy stonework that's also seen in the borders of both the dupattas. This is a great look for brides who want to experiment with colours other than red without deviating too far from the traditional look!
5. Silk Gujarati style lehenga saree for the bride!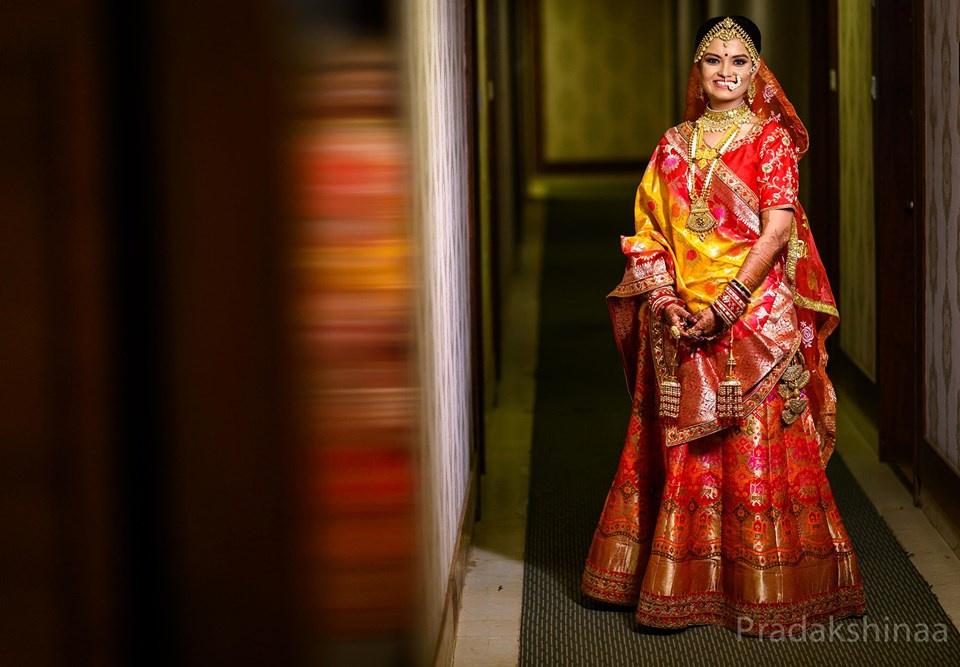 One of the most luxurious fabrics in Indian fashion is silk, and though this fabric is seen most commonly in the form of a Kanjeevaram saree, we think there's more than one way brides should wear it! Here's a bride wearing a Gujarati style yellow and red lehenga with the yellow dupatta draped to create a faux saree. The gold, orange and pink hues on the skirt shine beautifully in the light, and this outfit looks really traditional!
There is a bit of mirror work on the blouse too, which is something that you shouldn't miss if you want to get the traditional Gujarati look while having your bridal wedding lehenga created!
When working with a team of designers to create a bridal wedding lehenga, you must take their inputs during every stage. Don't just prioritise your opinions as they've got a ton of experience and know what works for the modern bride!
Looking for designers and tailors to stitch your garments? Check out all our vendors/designer here!