21 Anarkali Frock Styles You Never Knew Could Turn You Into the Perfect Star Right Away
Wondering what type of Anarkali to wear for a pre-wedding function? Well, you don't have to worry at all! We bring to you this amazing list of 21 Anarkali frock styles you could flaunt. Take a look and decide which one you love the best!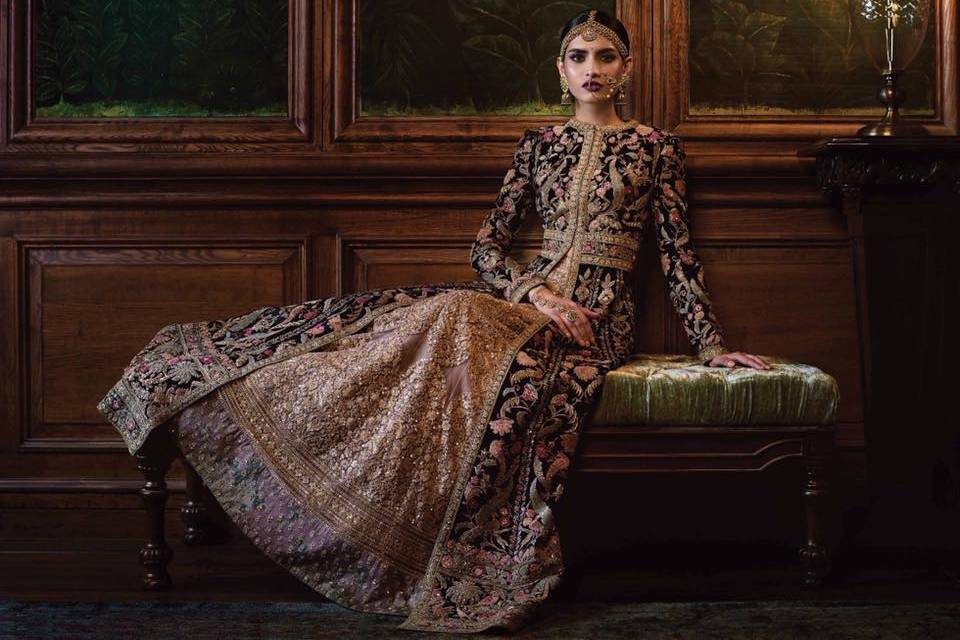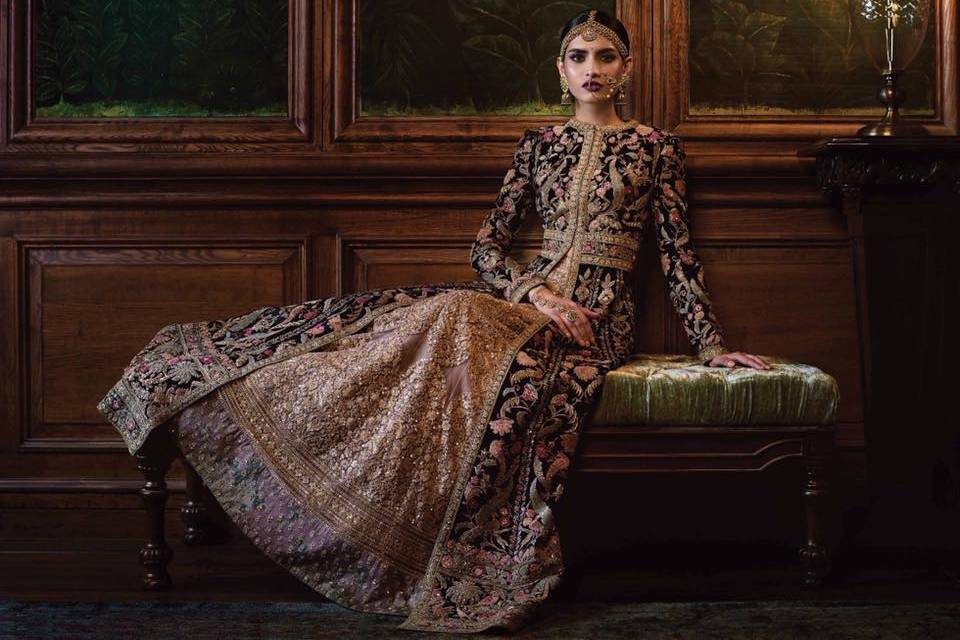 Image Courtesy: Sabyasachi
There is always something extraordinary when it comes to Anarkali frock outfits. It's an outfit that can be worn for any type of celebration. Whether it's your Haldi or Mehndi function, flaunt a stylish Anarkali for the occasion. If you're all confused about the right Anarkali dress to wear, check out these 21 Anarkali dresses to get an idea. Right from Manish Malhotra to Sabyasachi and Rohit Bal, we can never get enough of these designs.
1. The Stylish Blue Hue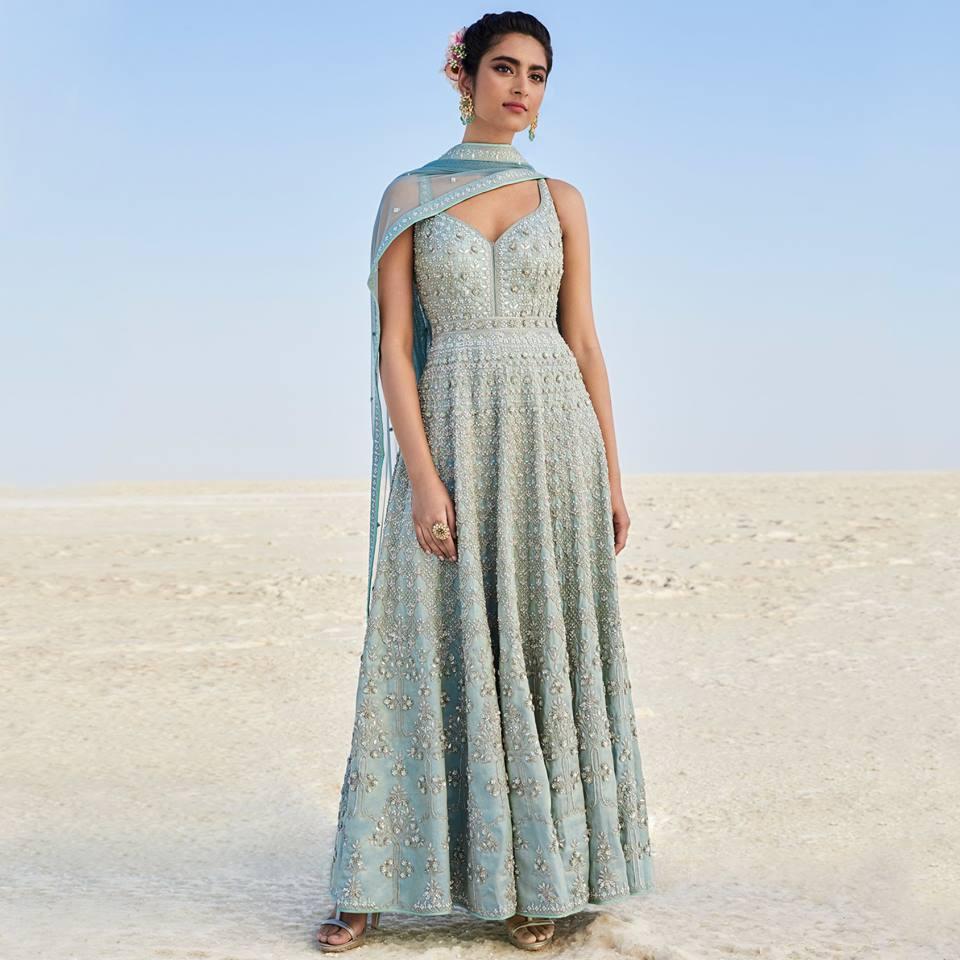 This stylish blue Anarkali frock is simply gorgeous for a grand showcase. The work around the whole piece is so elegant and beautiful, making it superb wear for a pre-wedding function or any grand celebration.
2. Perfect Summer Look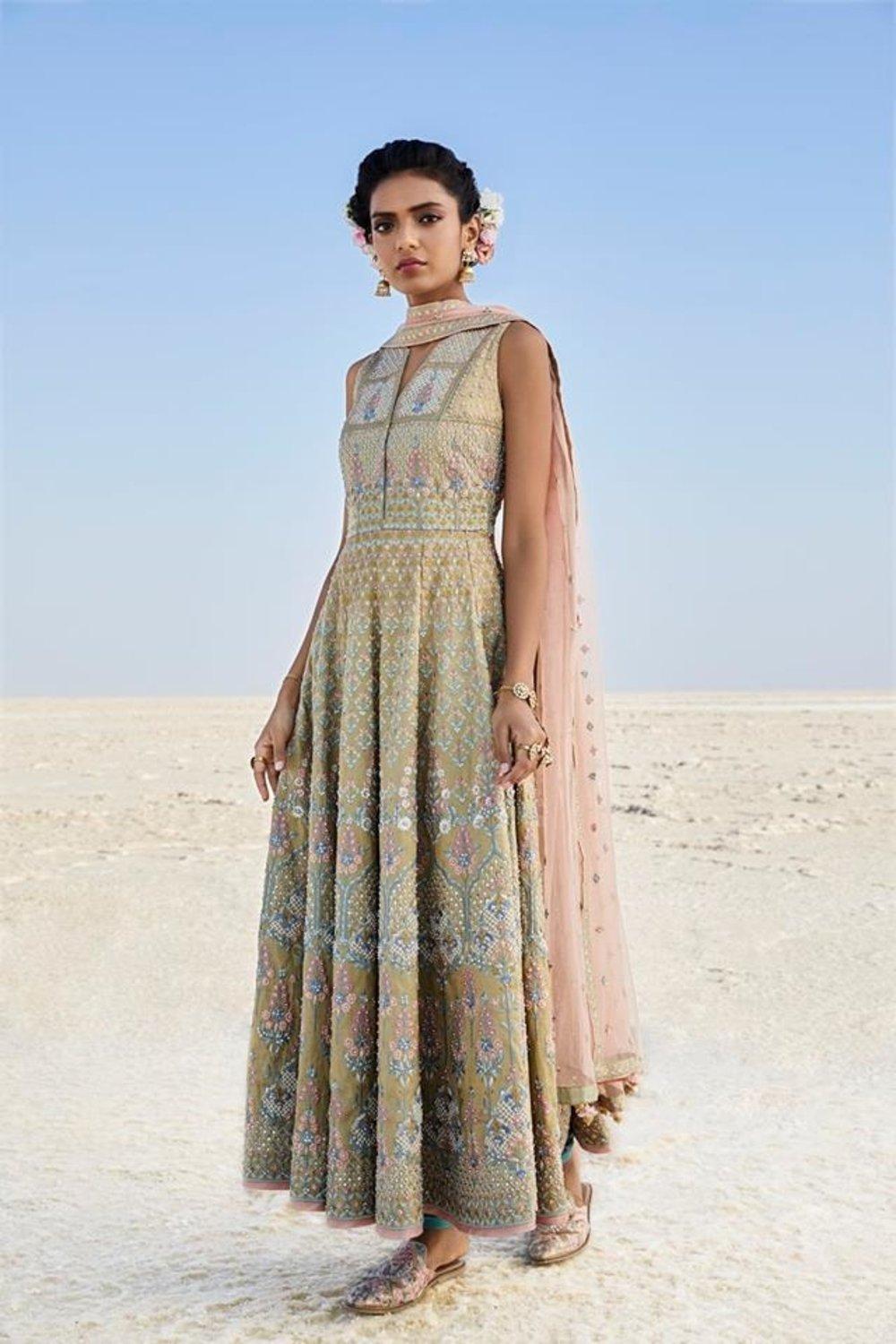 Beige and browns can always give you that grand and stunning look. This Anarkali frock has a gorgeous style of its own that distinguishes it from the rest! Look at the intricate embroidered floral work that's so delicate and heavy at the same time. Team this up with traditional earrings and you're ready to steal the show!
3. Pastel Glory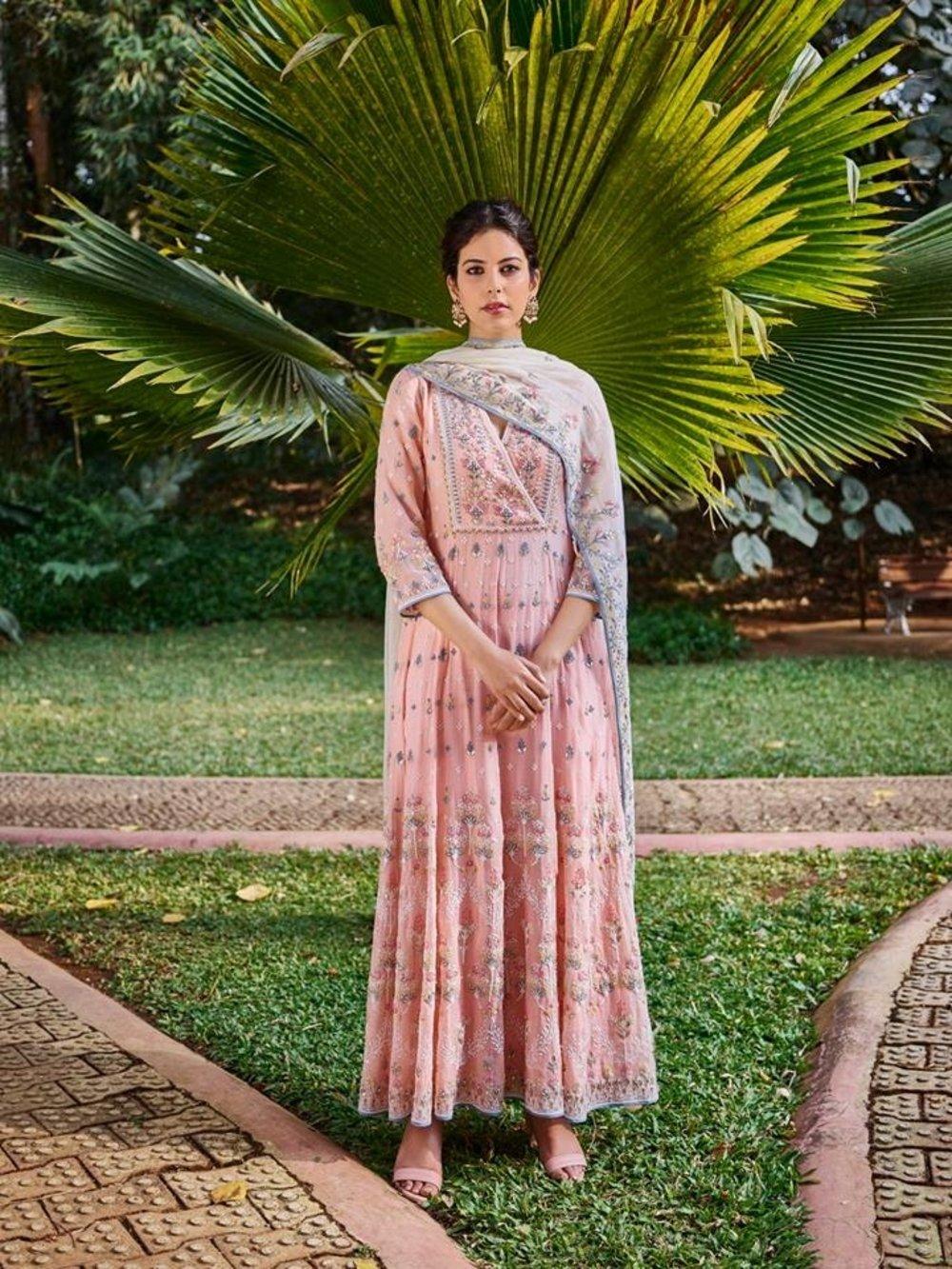 Pastels are definitely trending right now, so don't be afraid to go with pastels for a pre-wedding celebration. There are a number of different pastel shades you could choose from. This beautiful pink pastel Anarkali frock outfit looks so gorgeous and divine. The work on the upper portion of the Anarkali is enough to draw attention to the outfit right away!
4. Traditional like Never Before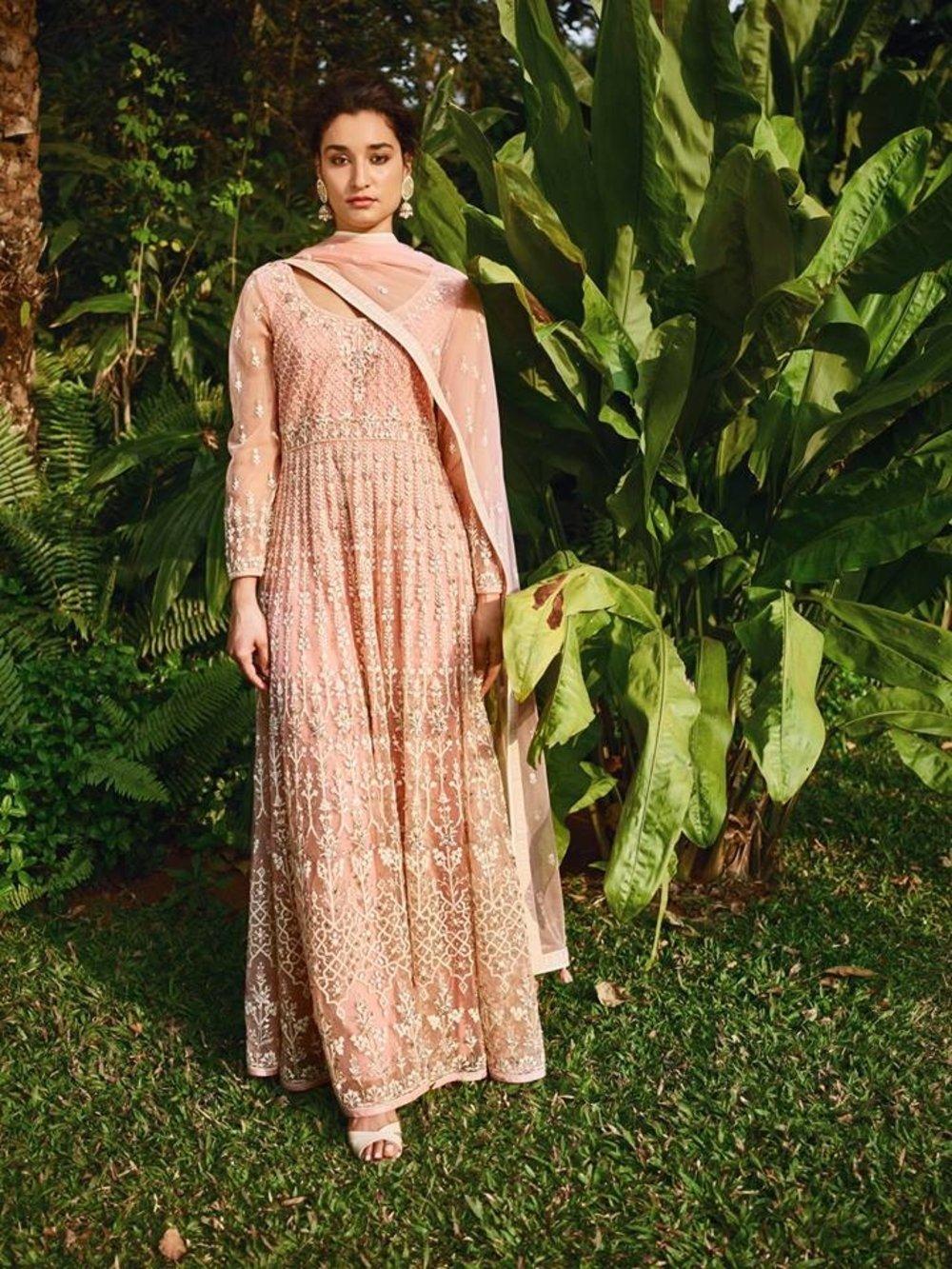 Beautifully hand-embroidered on lovely sheer soft net. What you can find is nature coming alive with pretty motifs of birds, trees, flowers and fireflies, all threaded together. The work on the Anarkali body and lower part is fabulous and unique, while the sleeves have a style of its own. Team this up with traditional jewellery and a pair of gorgeous heels and you could never go wrong!
5. Yellow Splendour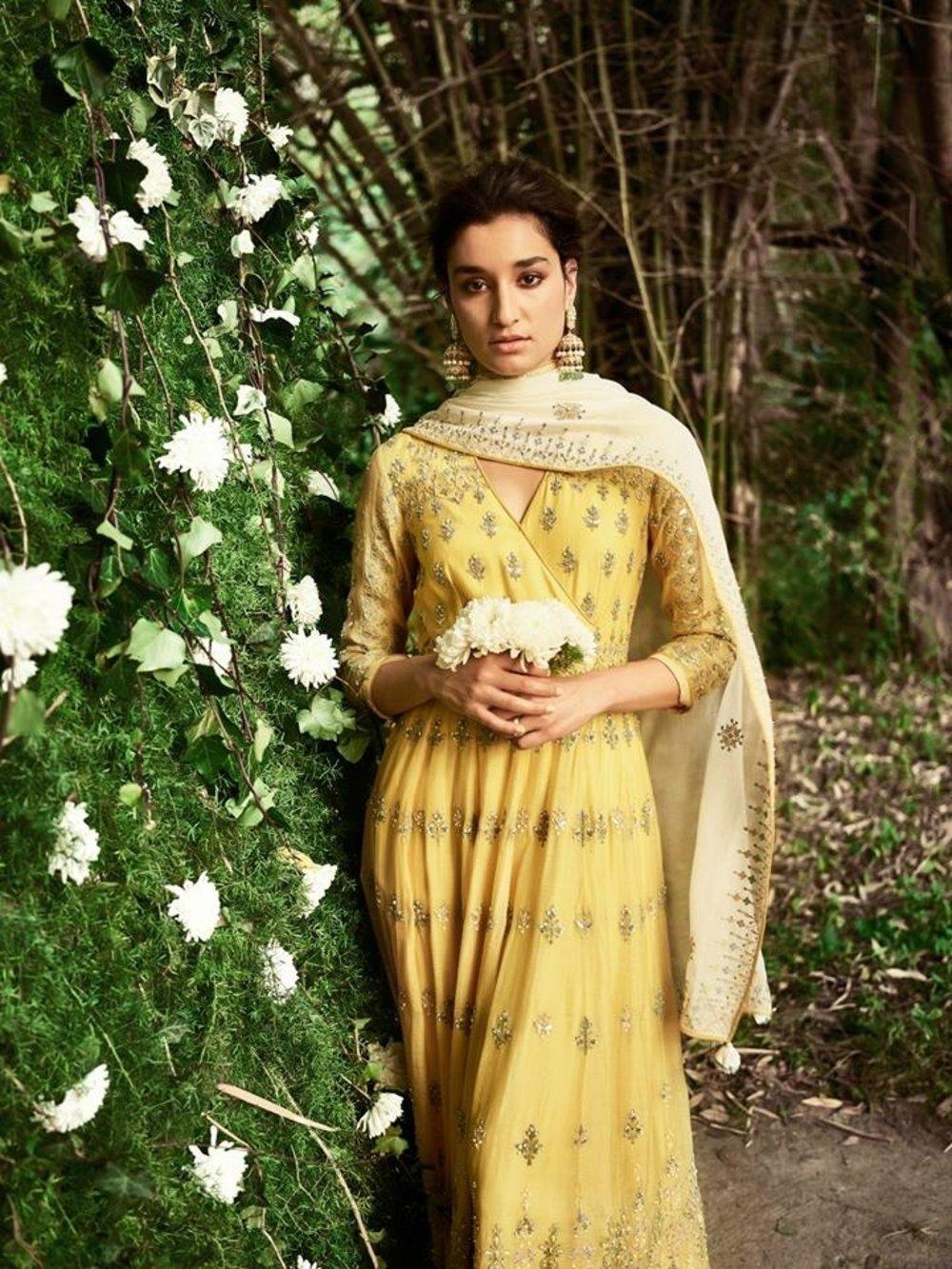 This yellow Anarkali is everything special! Right from the colour to the beautiful design and motifs on the suit, this Anarkali frock is simply gorgeous. Looking to capture some good clicks for your pre-wedding, then going in for an Anarkali frock just like this one would be a good idea.
6. Embroidered Glory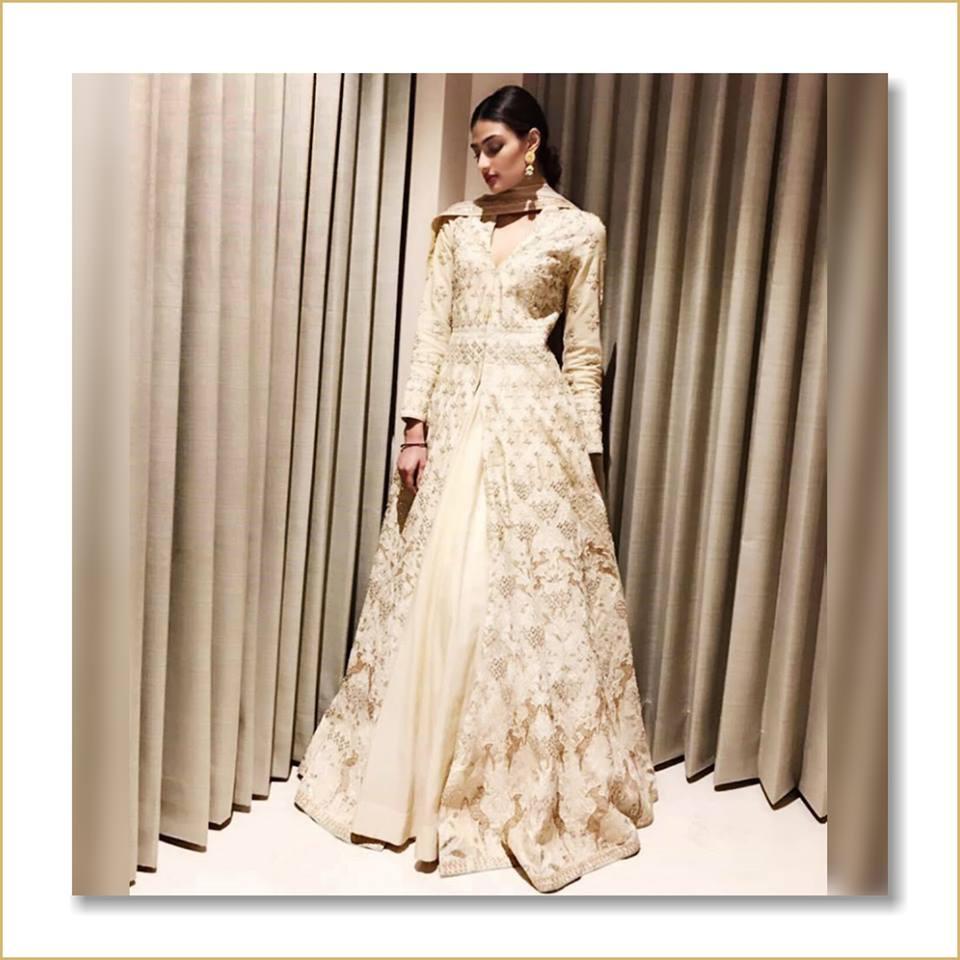 Looking for a stylish heavy Anarkali frock look? Check this one out! Going in for a two shade style would be a good idea for sure. The pattern is so unique and intricately put together. The embroidery work all around to the cut-out style and colour, this gorgeous outfit can be teamed with a pair of beautiful, long traditional earrings for the best results.
7. Everything Beautiful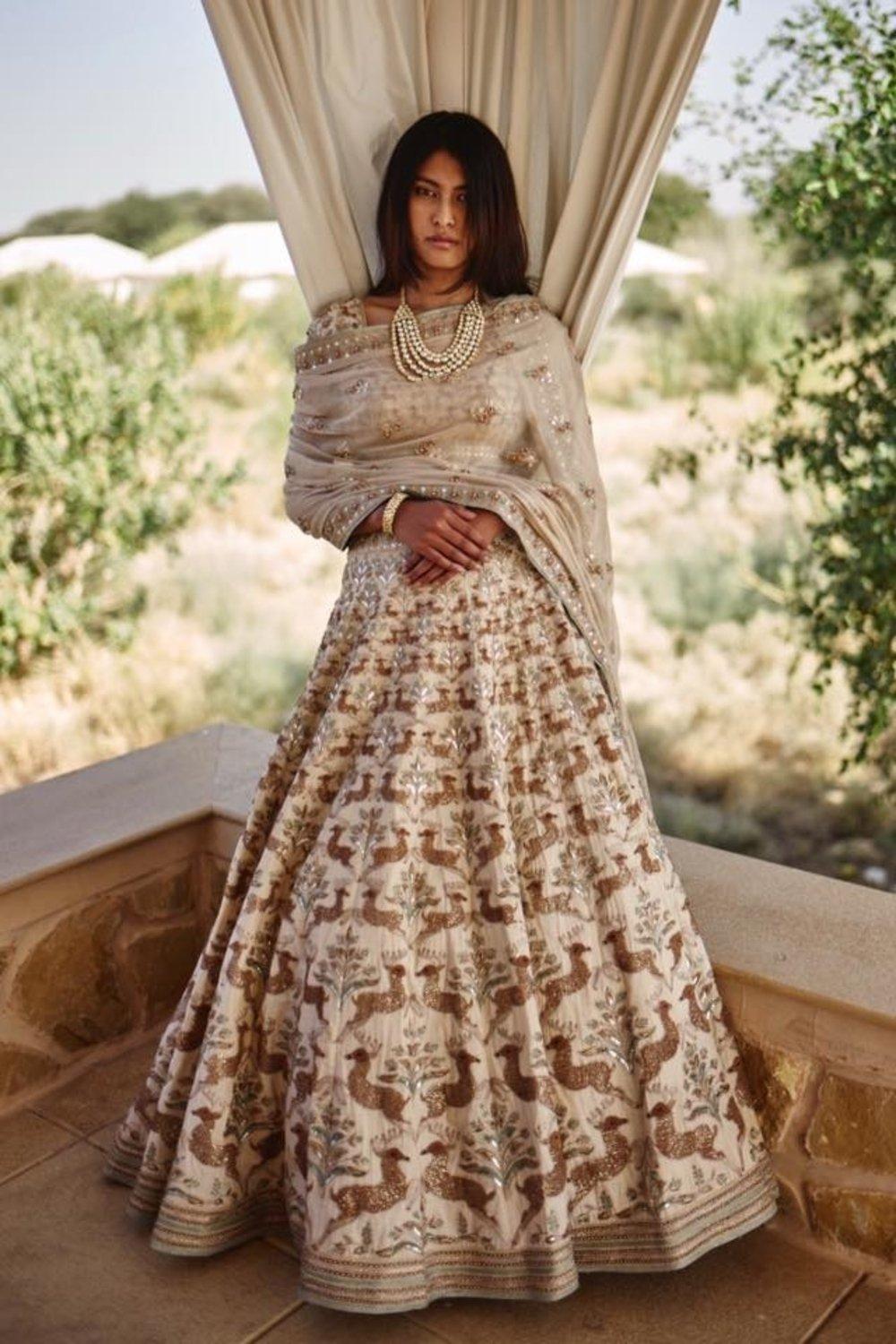 An Anarkali frock just like this one has all the right elements of glamour and style. Flaunt something like this for your pre-wedding celebration or any type of function that requires a stylish and fashionable outfit. Check out the beautiful deer print that looks super fashionable.
8. Silver Shine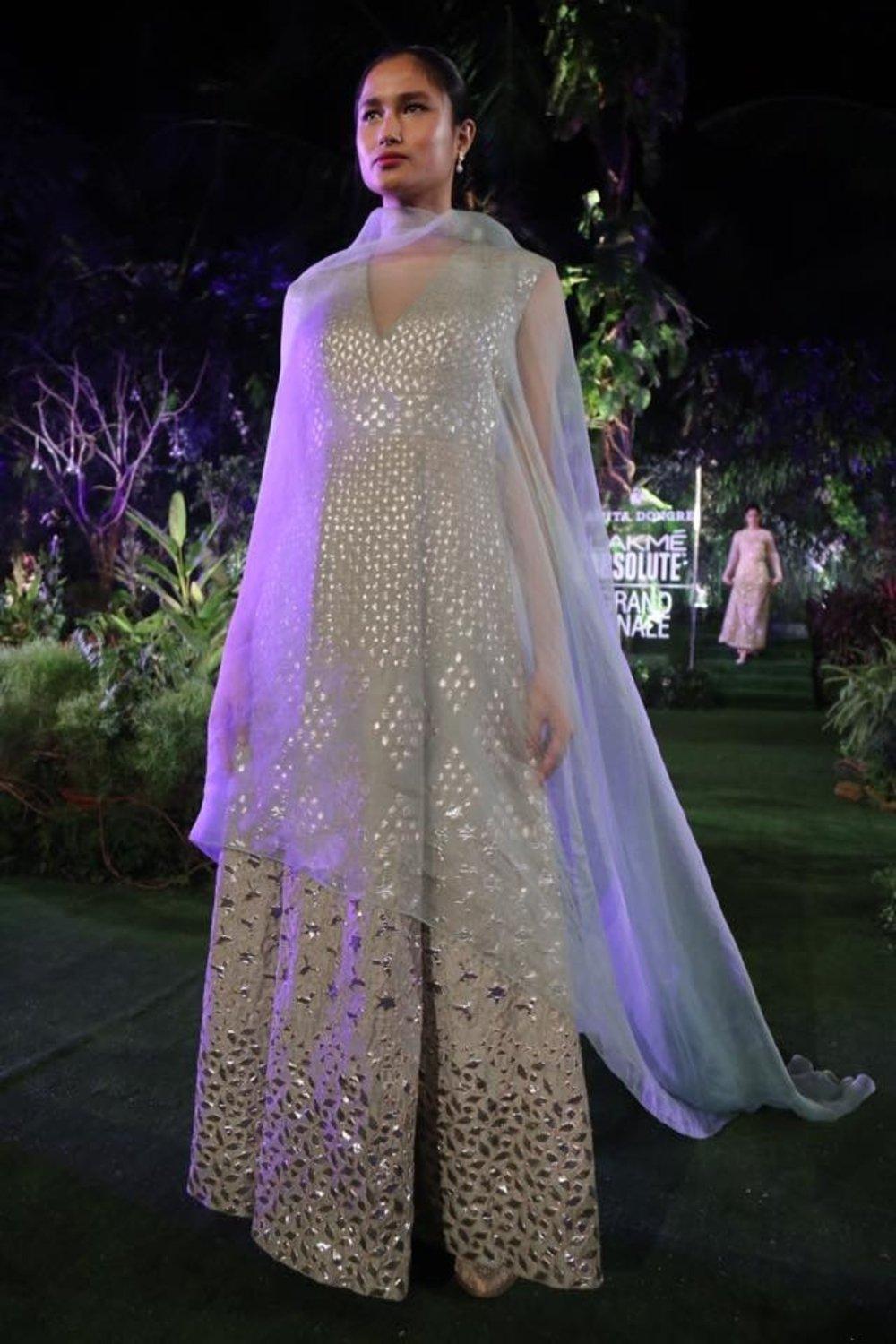 Now, this is called 'absolutely stunning'. Made from all the right materials, you just cannot go wrong when you go in for an Anarkali frock like this. From the mirror work to the border and dupatta, this piece is gorgeous as ever! Pair it with a silver clutch and dangling earrings for the perfect shinning look!
9. Gold Shimmer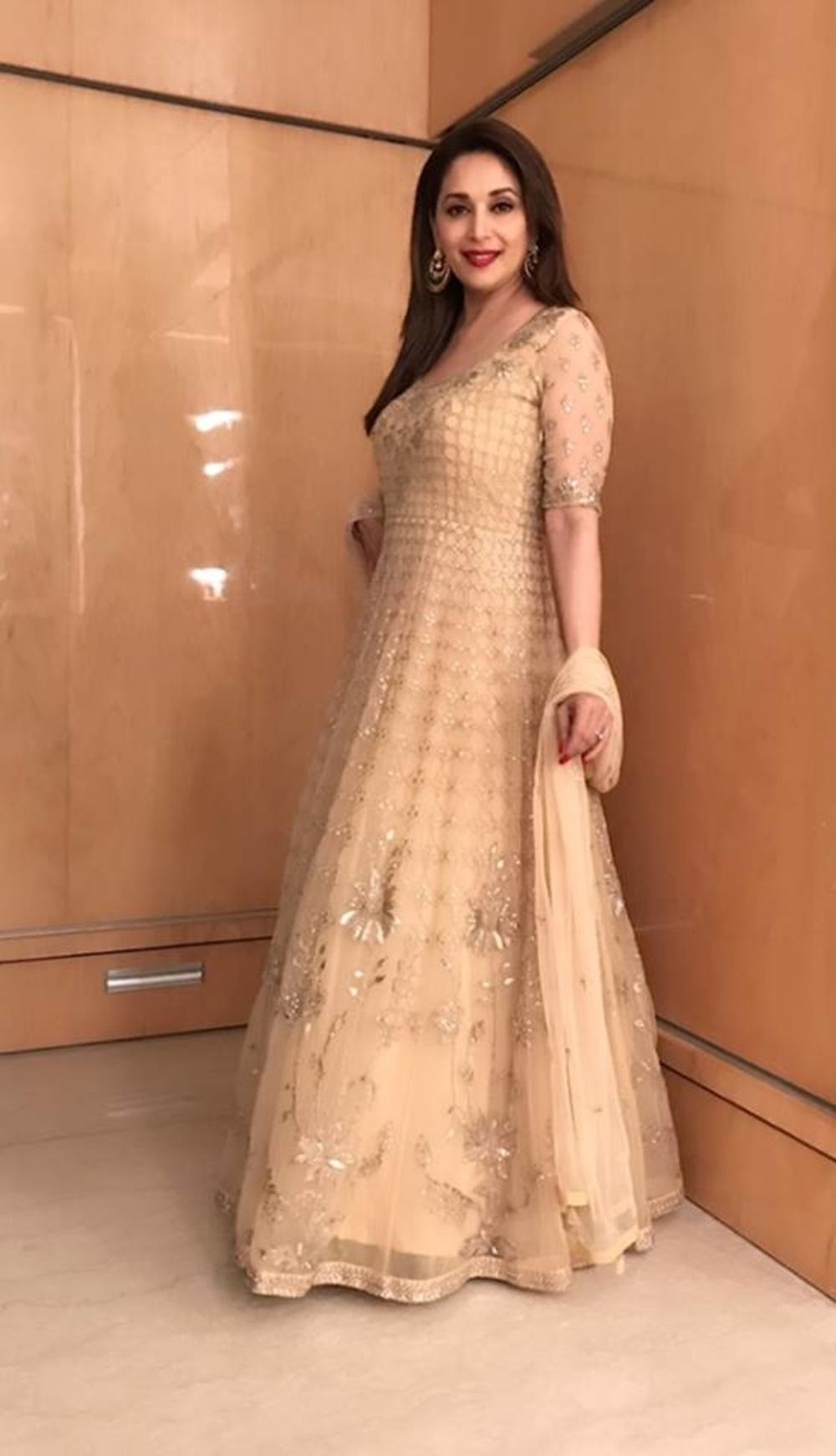 You can be a show stopper in a gold outfit for sure. Gold is a colour that's meant for the big celebrations, right? So, how could a gold Anarkali frock like this not look perfect? Flaunt this Gota Patti Anarkali and look spectacular!
10. Go the Gota Patti Way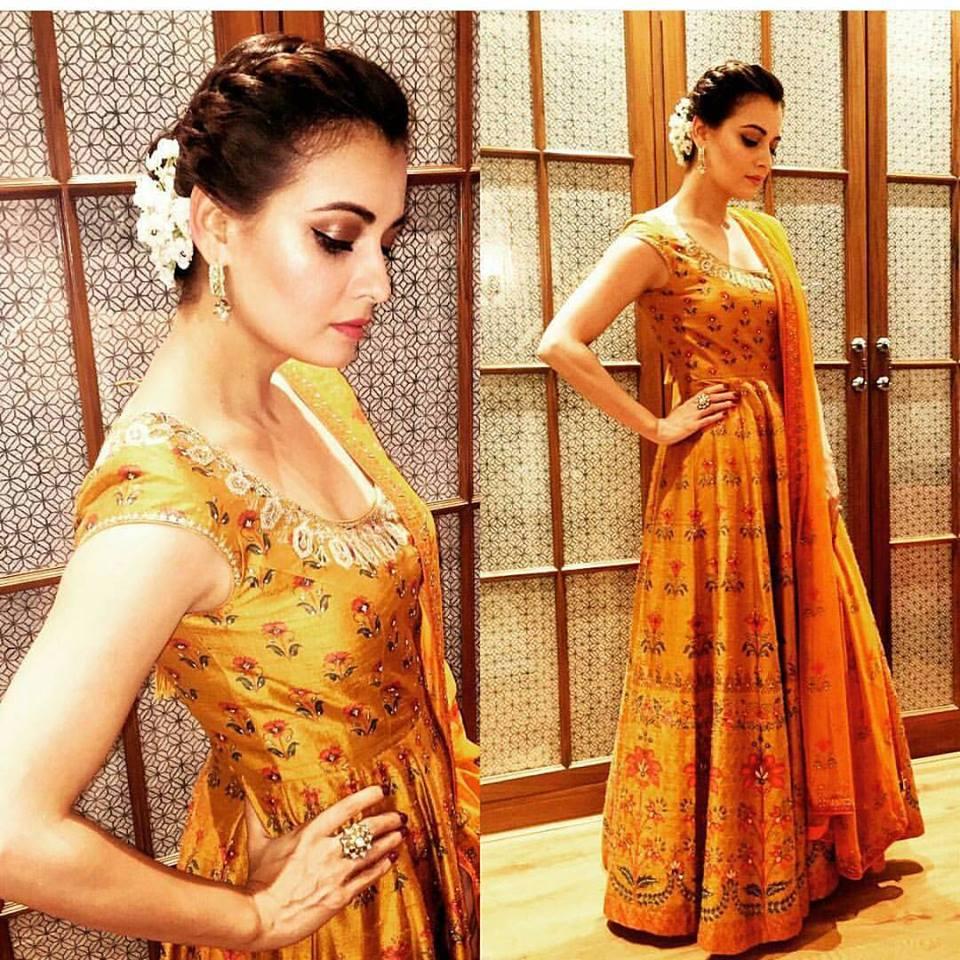 Add a twist to your regular Anarkali frock and go for a design and colour like this. This pattern is totally unique and new. The work all around including the neckline is perfect in every way.
11. Layer It Up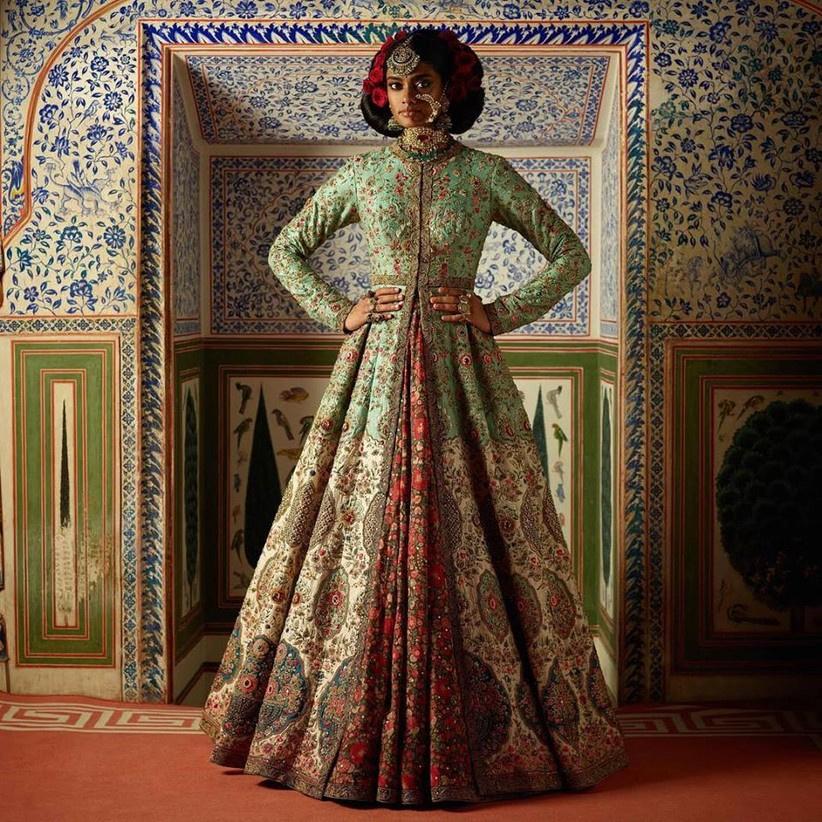 Image Courtesy: Sabyasachi
How gorgeous is this Sabyasachi Anarkali frock design? Layers are such a beautiful style that gives your outfit that sophisticated look. The mix of different fabrics used works so well, making this outfit stand out from the rest. For more Sabyasachi Anarkali styles check this.
12. Jacket Fabulous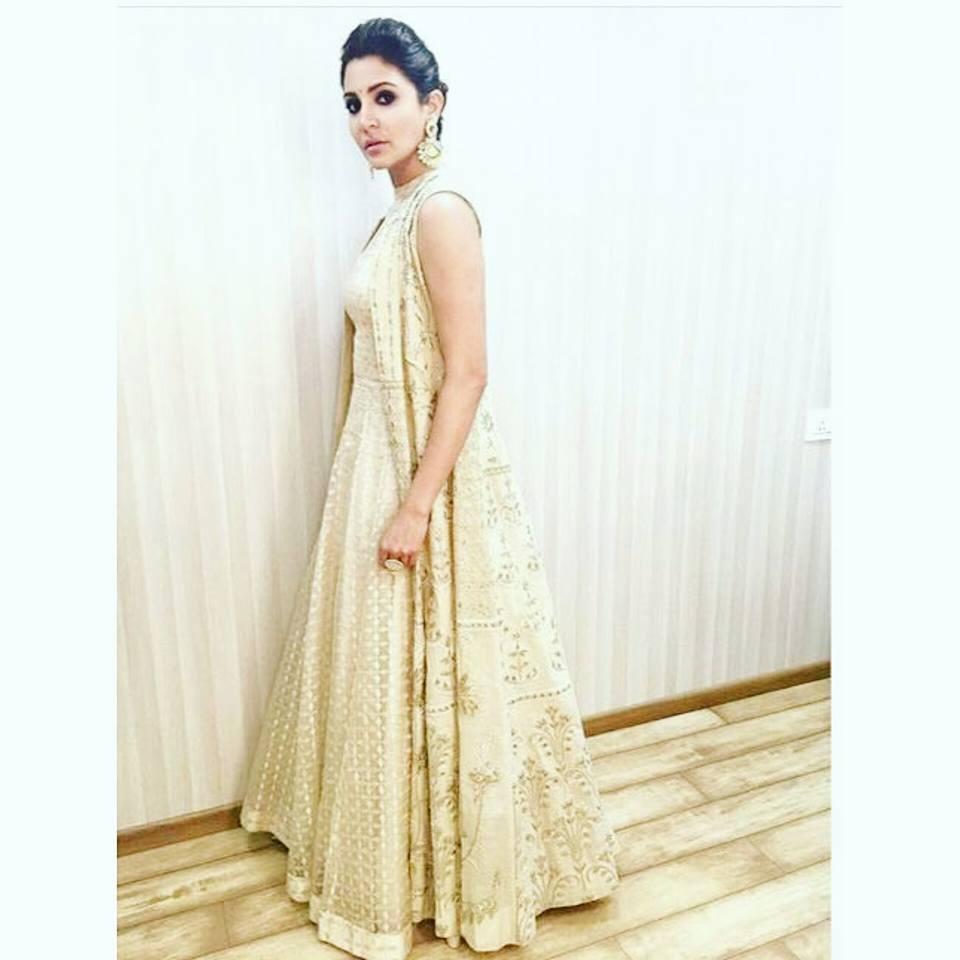 Want to go the jacket way with your Anarkali frock? Check out this super gorgeous Anarkali that has everything amazing for a grand celebration. Team it up with some heavy jewellery and you'll look absolutely stunning.
13. Sequin Embroidery Finish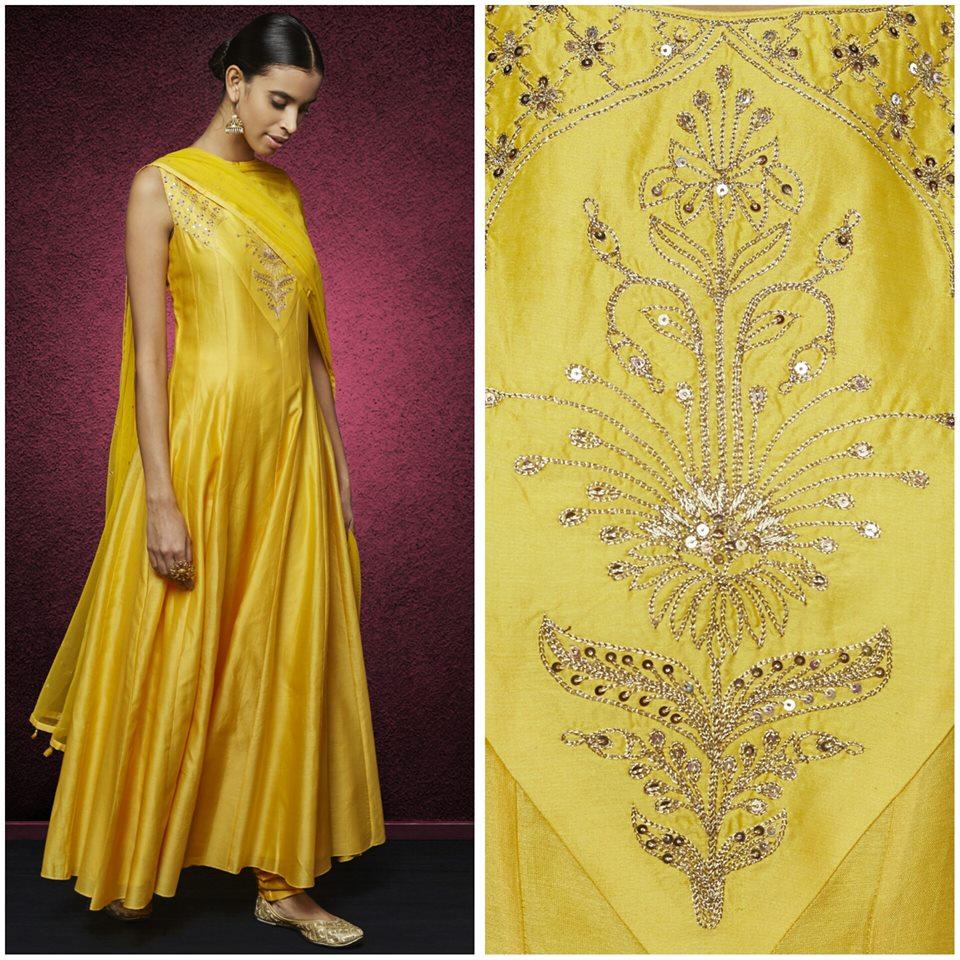 If you're someone who loves sequin embroidery work, then an Anarkali frock in a bright yellow can definitely make heads turn. Here, the Dori and sequin embroidery looks absolutely gorgeous. Make this your wear for any occasion and smile pretty throughout!
14. The Orange Glow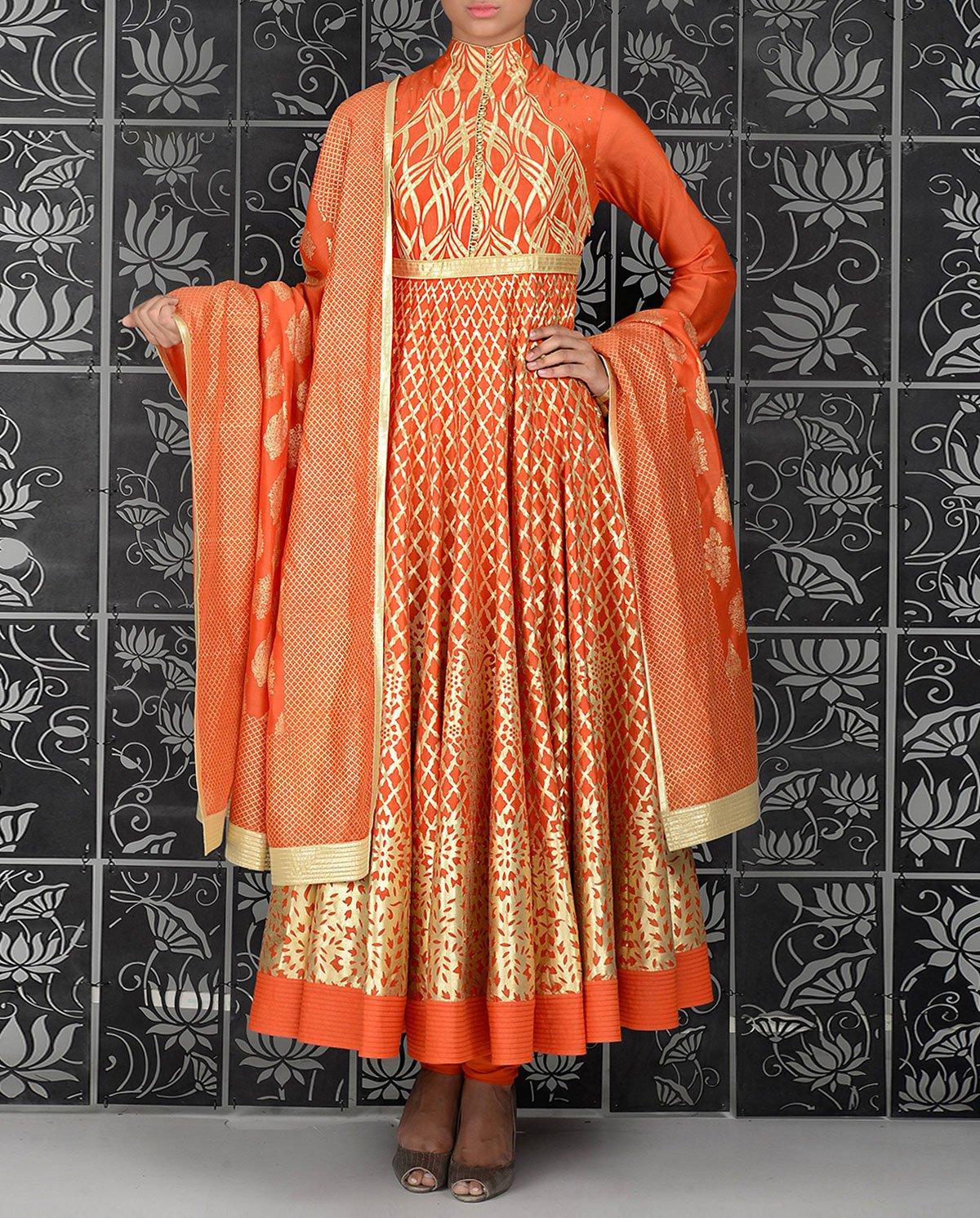 This laser cut appliqued monarch orange Anarkali frock suit is high collared with loop button plackets. Beautiful sequin embellishments adorn the shoulders of this Anarkali. The gorgeous long sleeves and pintucks on the hemline is another feature that makes this Anarkali standout.
15. Black Never Disappoints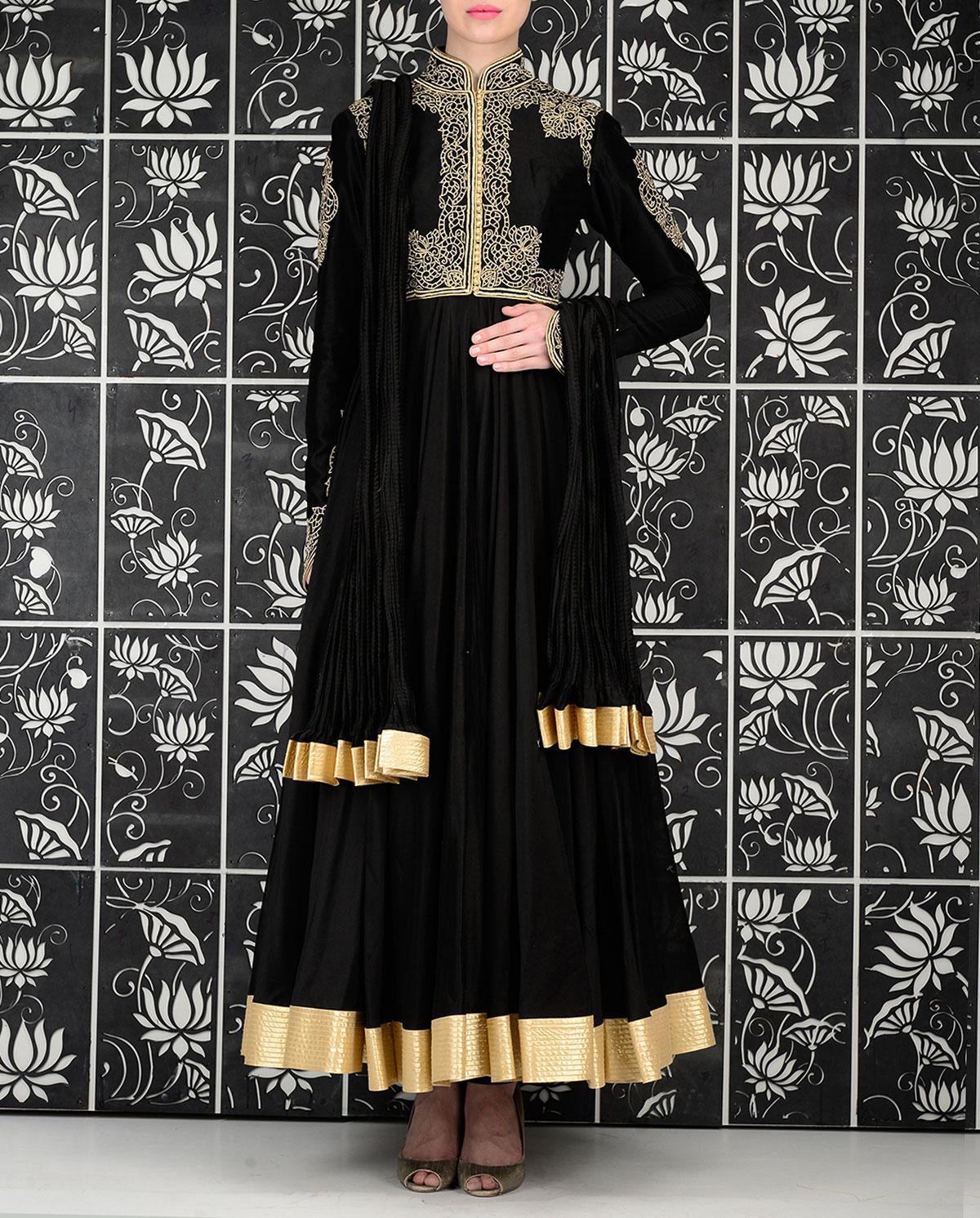 Is black your favourite colour? If yes, check out this black Anarkali frock suit with an embellished waistcoat that is simply splendid. This Anarkali comes with a lovely gold hemline and an applique embellished waistcoat. The mandarin collar style is fashionable and the Anarkali also has a button placket style.
16. Printed Indigo Blue Anarkali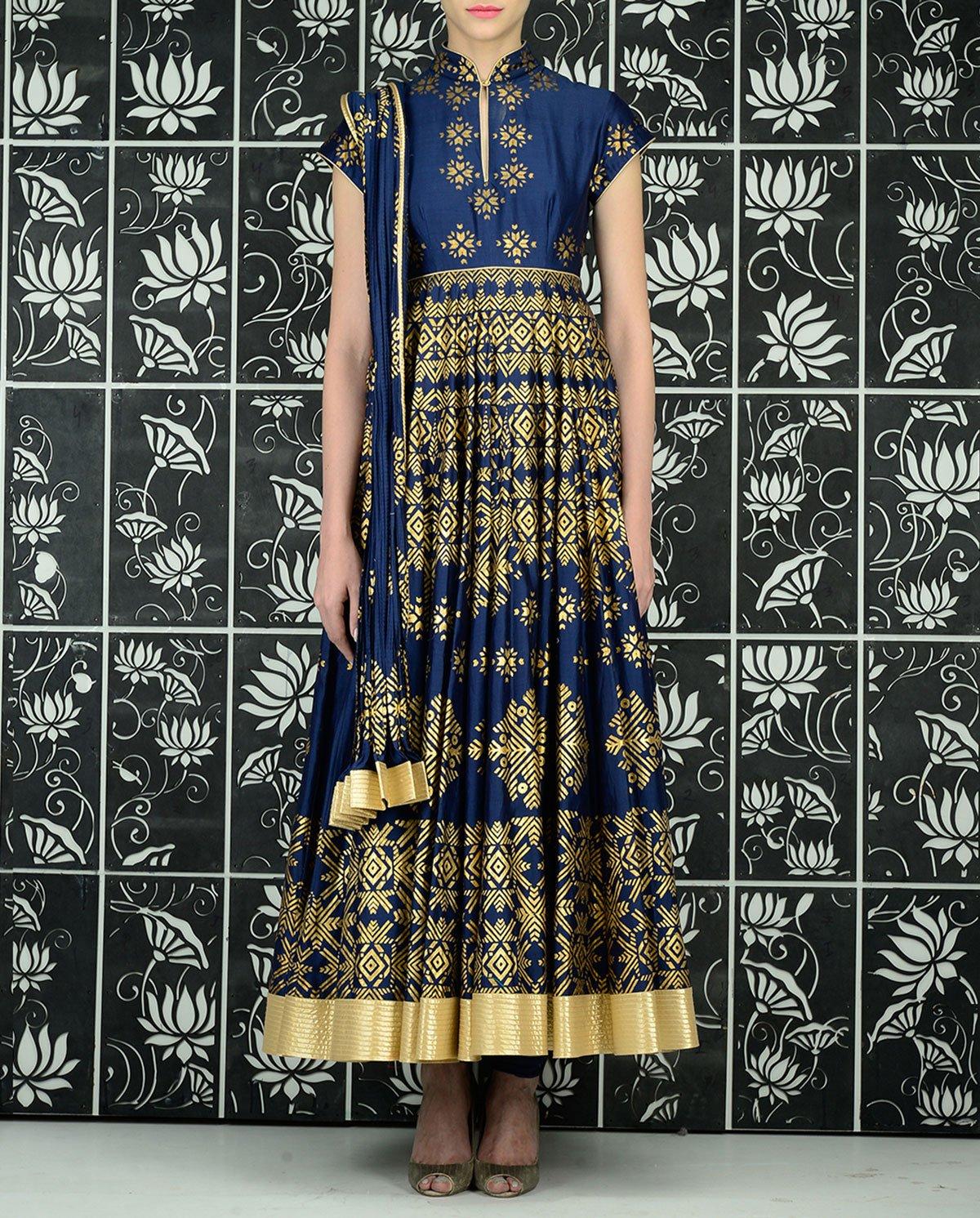 If you thought simple wasn't fashionable, check this simple and elegant printed navy blue Anarkali frock design. If you love to go with the basics, then an Anarkali like this would definitely do the trick! The golden foil prints and the beautiful applique floral design is simply outstanding.
17. Flashy Ruby Red Anarkali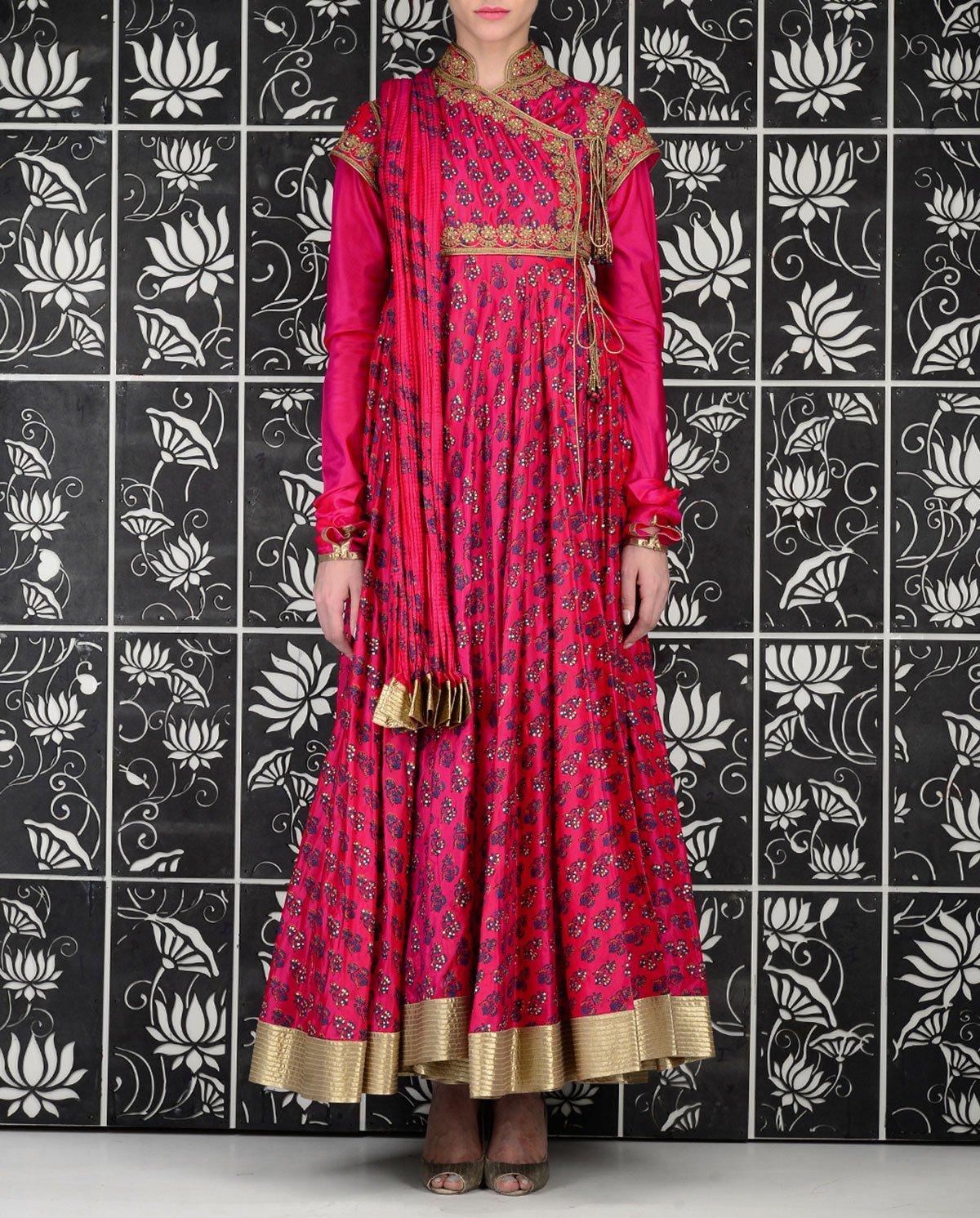 Go with this flashy ruby red Anarkali frock and steal the show. This anarkali comes with block printed floral motifs and gold zari floral motifs that beautifully sit on the empirical line and collar. You can team this up with a classy pair of earrings and shoes and you're all ready to go!
18. White Stunning Glory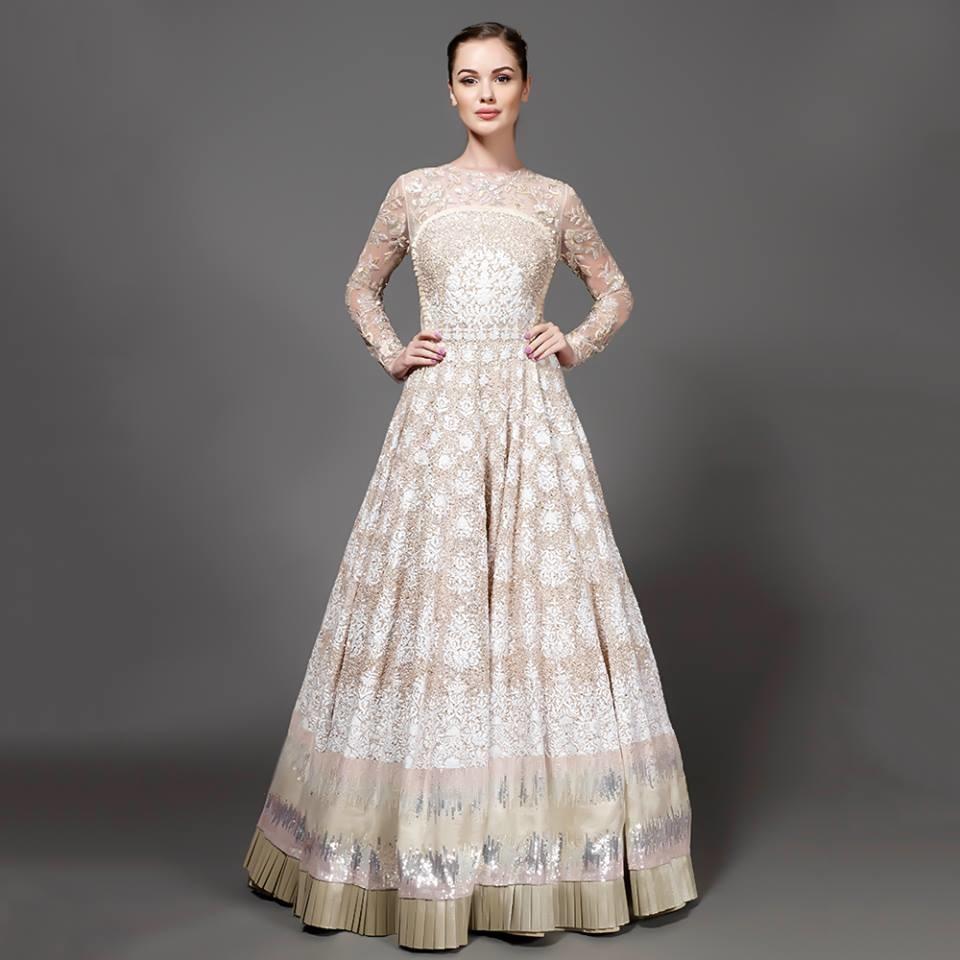 Image Courtesy: Manish Malhotra
If you thought a white Anarkali frock wouldn't do much to help you stand out. Well, check out this stunning white, beige and silver Anarkali by Manish Malhotra. Nothing could be more divine than this for sure.
19. The Exceptional Deep Neck Design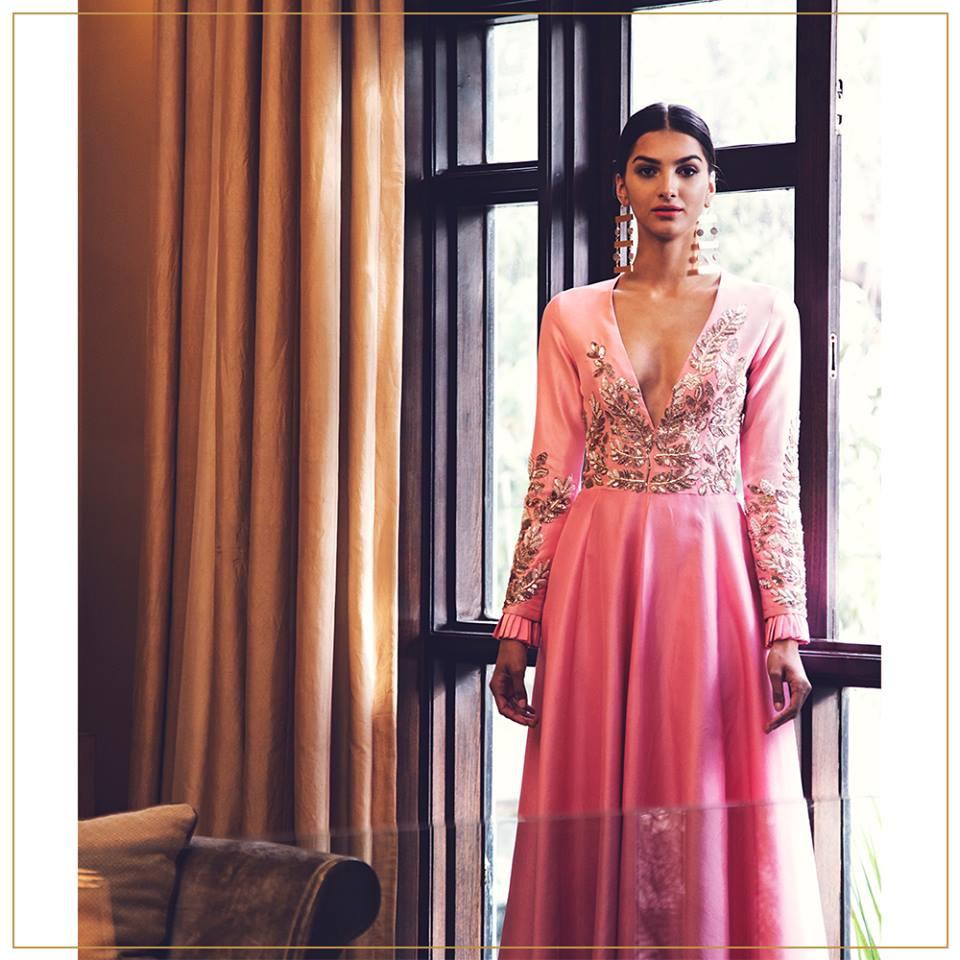 Image Courtesy: Manish Malhotra
Are you in for that bold and sexy look? Choose the exceptional deep neck Anarkali frock to up your style quotient. Pair this up with a lovely clutch and a pair of stunning danglers and you'll definitely shine like a star.
20. The Fabulous Cold-Shoulder Style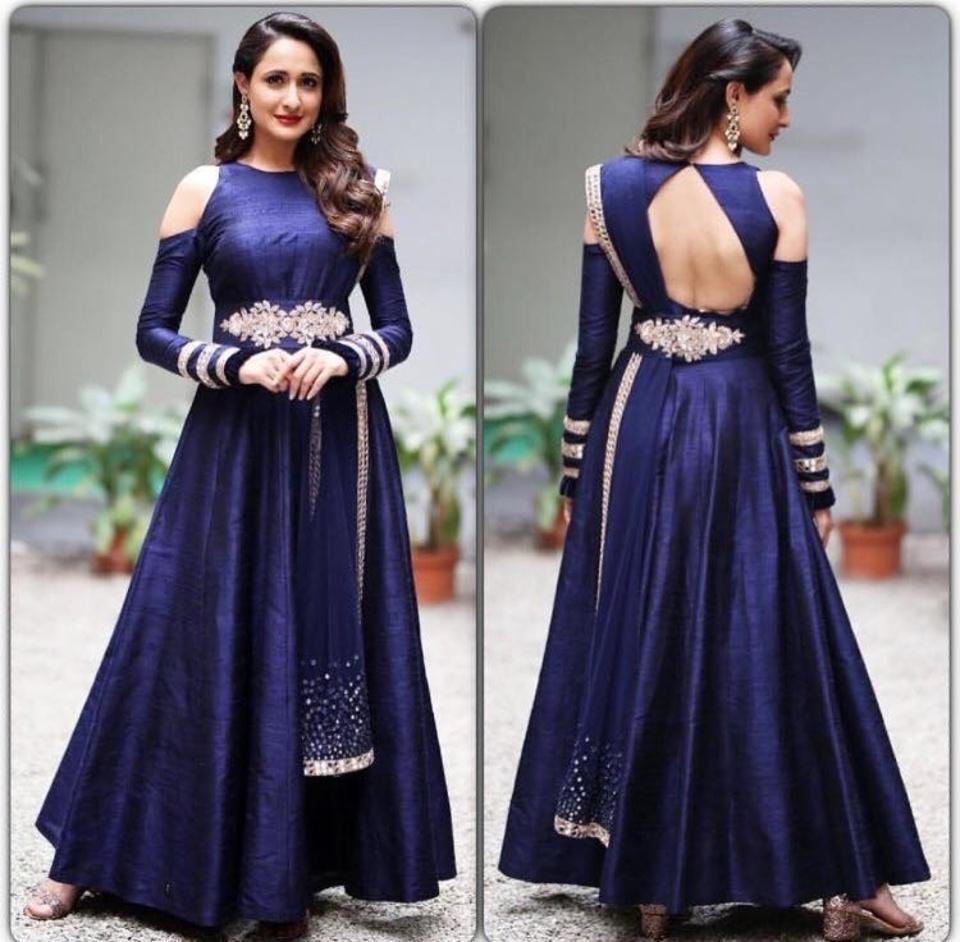 Image Courtesy: Manish Malhotra
Again designed by Manish Malhotra, this cold-shoulder Anarkali frock is made to perfection. The super sexy belt style at the waist just adds on to the beauty of this gorgeous Anarkali.
21. The Floral Embroidery Effect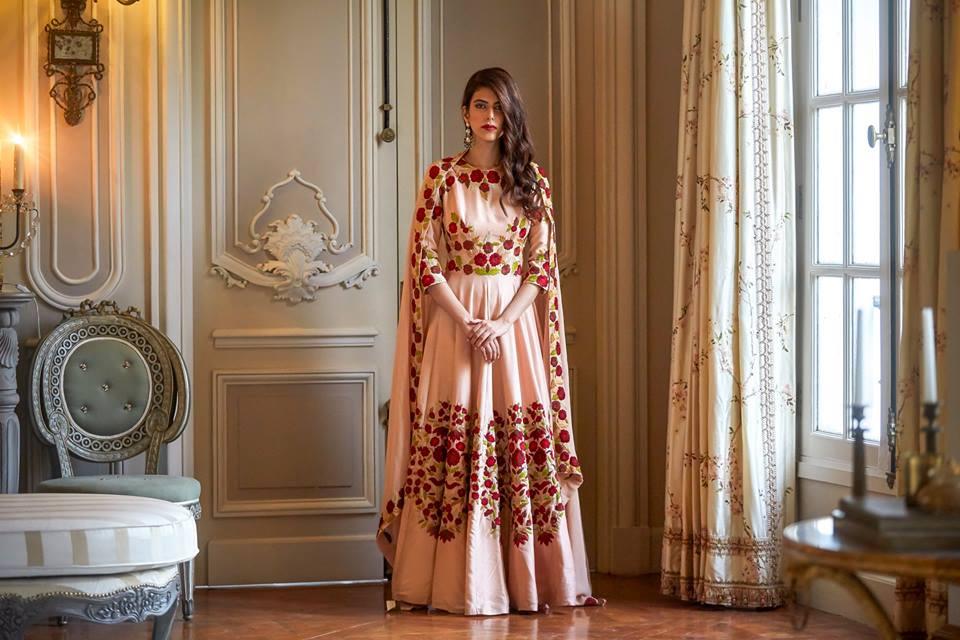 Image Courtesy: Manish Malhotra
If you are someone who doesn't really like too much of embellishments on your outfits, then choose this Anakarli frock from Manish Malhotra. Right from the elegant colour to the floral embroidery, everything seems so perfect!
These 21 Anarkali frock designs are some of the best styles we picked out for you. If you would like to get designs like these for your pre-wedding celebrations, contact our fabulous vendors/designer for the latest in style and fashion.
Which one of these stunning designs would you pick?