#WWIPowerCouple - An Exclusive Heart-to-Heart with Aditya Seal & Anushka Ranjan
In a rendezvous with WeddingWire India, Bollywood's favourite couple Aditya Seal and Anushka Ranjan share the story of their journey from Best Friends to Life Partners. Watch the exclusive interview here!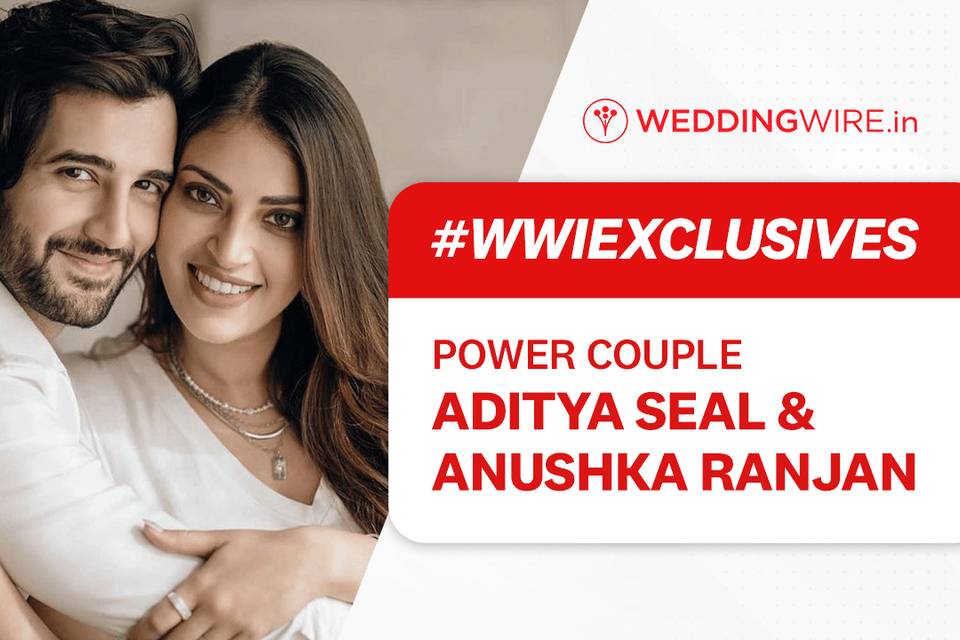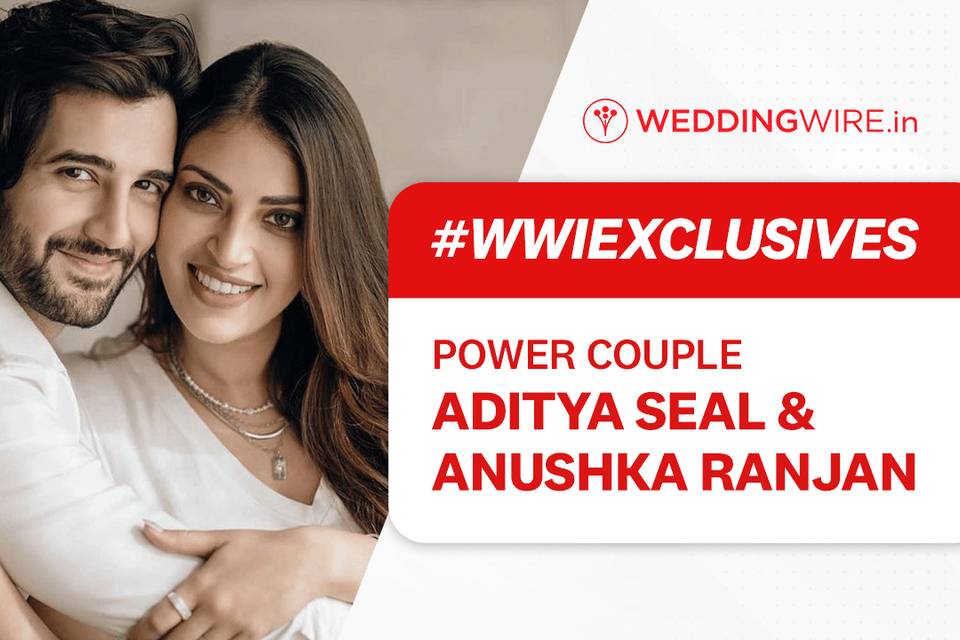 One of the major takeaways from my discussion with Bollywood's sweetheart couple - Aditya Seal & Anushka Ranjan was that - where one of them ends, the other begins, and together they are endless.
Be it conversations, expressions, or romantic gestures - there is an ebb and flow about them that complements each other effortlessly!
Known for her roles in Wedding Pulav and Batti Gul Meter Chalu, Anushka Ranjan met the Tum Bin 2, SOTY 2, Indu ki Jawaani actor, Aditya Seal at her mom's event back in 2017. The couple recently tied the knot in November 2021 and stole our hearts on social media with their awe-inspiring wedding.
Read/watch their heartfelt confessions exclusively on WeddingWire India.
Watch the entire interview here -
Read excerpts of the interview here -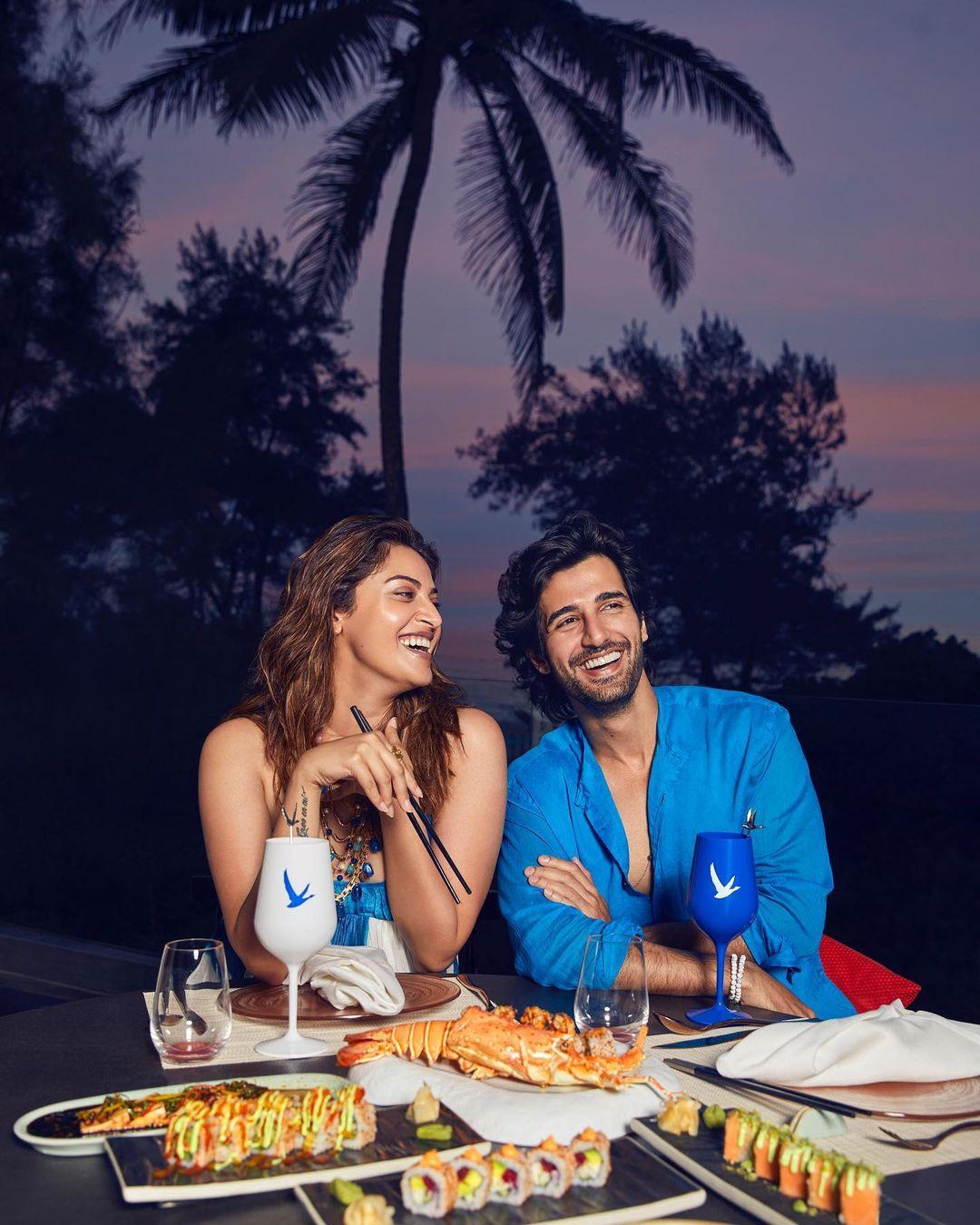 Rumela Sen: How did the two of you meet?
Anushka Ranjan: We met at an event. I had already seen who he was on Instagram before we met. I was immediately attracted to him but I cannot say I fell in love because I didn't know him at all back then and unfortunately, in our times, it is not that easy to fall in love. There was something about him and I thought that 'Seal' was cute and funny. My friends would tease me with memes of Seals and they even added the photo of a seal with a pizza emoticon once. But Aditya and I finally met at an event that was hosted by my mom. I had asked one of my photographer friends to invite any celebrities he has worked with because we would love them to be a part of our charity show. He messaged me, "Aditya Seal has confirmed." I was so excited because I was trying to get to him via other people, thinking if I invite them, through them I can invite him. Turns out, I didn't have to do all the hard work and he had said yes on his own. I feel this was meant to be because if I had not met him that day, I am sure I would have never met him.
Aditya Seal: Our circles are not at all similar. Her friends are poles apart from my friends. I don't know what made me say Yes because it was a Sunday and back then I didn't even think that the event was happening on a Sunday. Our mutual photographer friend, Rahul said that I should attend the event and I said "let's do it." I was so nervous when I met her. She is 5'10 or 11, has a very commanding personality, and is very strong in the way she speaks. I had not done my costume trials earlier so I had reached the event a few hours early. She was sitting with her team and she asked me to try out the outfit. I thought to myself "OMG, I am nervous around this girl for some reason." I thought she was too cool and when she asked for my opinion about the outfit, I had no idea what to say. I said - "If it's good for you, it's good for me". I was very nervous around her so I was keeping my conversations very very short.
RS: Were sparks already flying between the two of you when you were catching up as friends?
Aditya Seal: It was exactly that. Sparks were already flying between the two of us but I was nervous. She speaks a lot (in a good way) and I would end up responding instead of being the one initiating the talking. Her personality is so strong, it made me weak.
Anushka Ranjan: Imagine how difficult that phase was for me. I was trying to break the ice, I was trying to make him comfortable. However, every time we met it was nice, and we kept meeting each other until we started dating.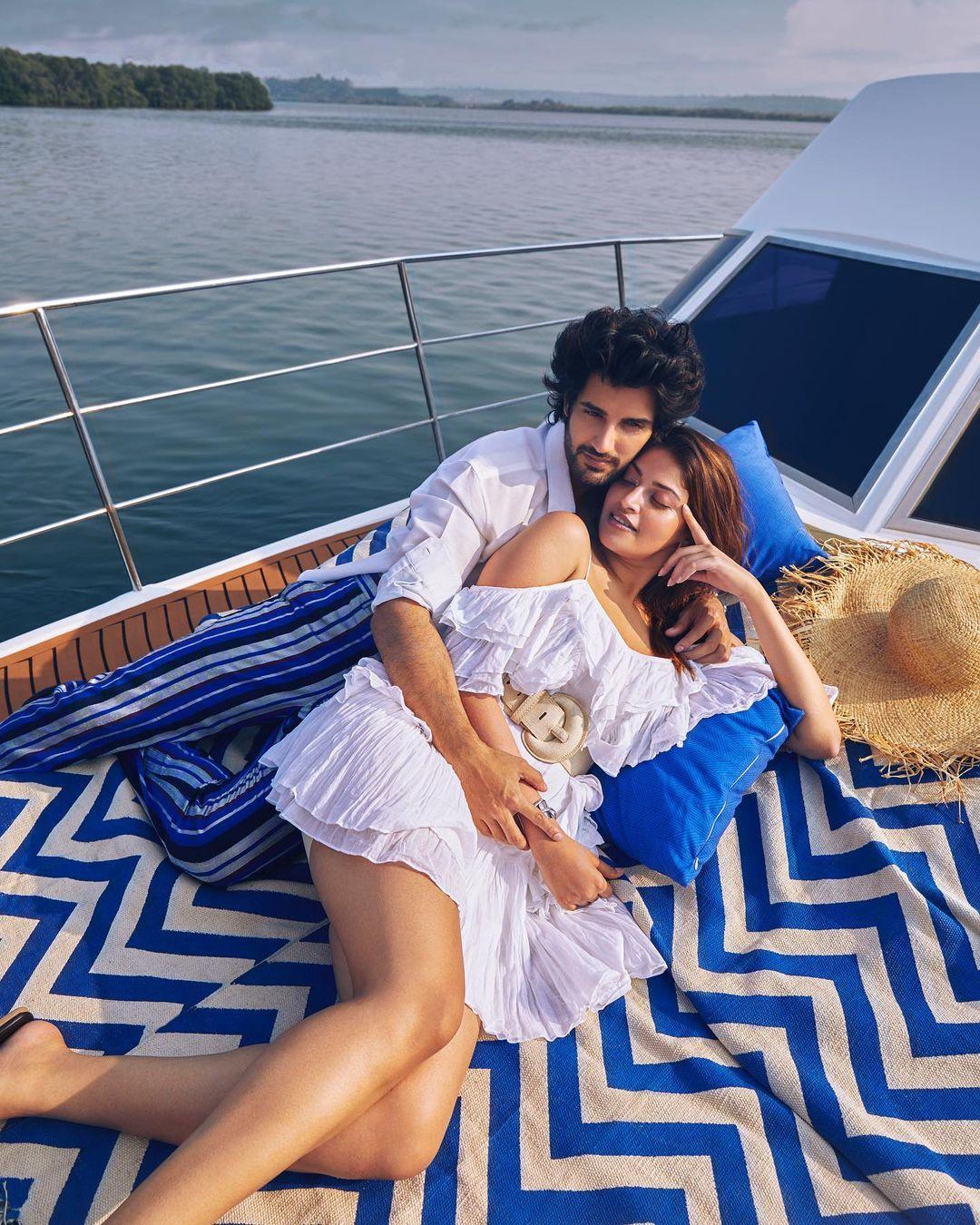 RS: Is it a classic 'Opposites Attract Each Other Story' or do you have similar interests or hobbies?
Anushka Ranjan: We are very different from each other, even for simple things like food preferences. My comfort food is Asian and he prefers Indian. Our likes, dislikes, and lifestyles are so different from each other. We are definitely an 'opposites attract story' but at the core level, we see how we feel for each other. We can sit in a room in silence and it doesn't make us uncomfortable. We took a trip together 3 months into a relationship that too for New Year's and we were not bored, we were not uncomfortable about our eating habits or bathroom habits.
Aditya Seal: I think even though we are very different as to our likes and dislikes, the fact that we are open to trying each other's preferences out, makes our relationship more interesting! For eg: She is very much into Japanese food. I would have never tried Sushi before but now it has become my favorite food.
Also Read - Wedding Bells for Mouni Roy and Suraj Nambiar
RS: Through all of these friendly interactions, when did you know it's Love?
Aditya Seal: Every time that I met her, she kept growing on me. Every time I headed back home after meeting her, I always thought, 'Oh my God this is amazing. I have learned something new.' Every time I met her, the feeling kept growing on me. I don't have the exact moment but when we went for our first trip together, 3 months into the relationship, I was already so sure that I wanted to propose to her during that trip. I didn't do it, because it would be too early, but I already knew it then!
Anushka Ranjan: I have always felt pulled towards him and I had never wanted to get to know somebody this much before I met him. There was a point of time when it was platonic and we were just having nice conversations. I thought 'kuch nahi honewala yaha pe, bas dosti hogayi hai.' Even if it wasn't going anywhere, I knew I would be happy if he is just a part of my life. I didn't want to not know him! I was always a little fearful about being married, but when I started knowing him, I realized if I ever get married, it has to be with him only!
Aditya Seal: I am very black & white and there's no grey! I wanted to date her but she was in this dilemma whether or not to go ahead. And I thought, 'but I am a nice guy who wants to treat you nice and I just want to be there.' I could not understand her at all at that point.
Anushka Ranjan: I didn't want us to go to the next level because there's another level after that when it's over. I thought even if we stay buddies that is fine, because I know I won't be losing him. With age and experience, optimism slips out of the window. But he made me feel safe, and that is the reason why I chose to be in this relationship.
Aditya Seal: I was coming from a place where for 13 years I was in and out of relationships, and I had decided that I won't be dating anybody. But with her, something just went right in my head and I said - 'This one, I am not letting go!' I forced her into a relationship.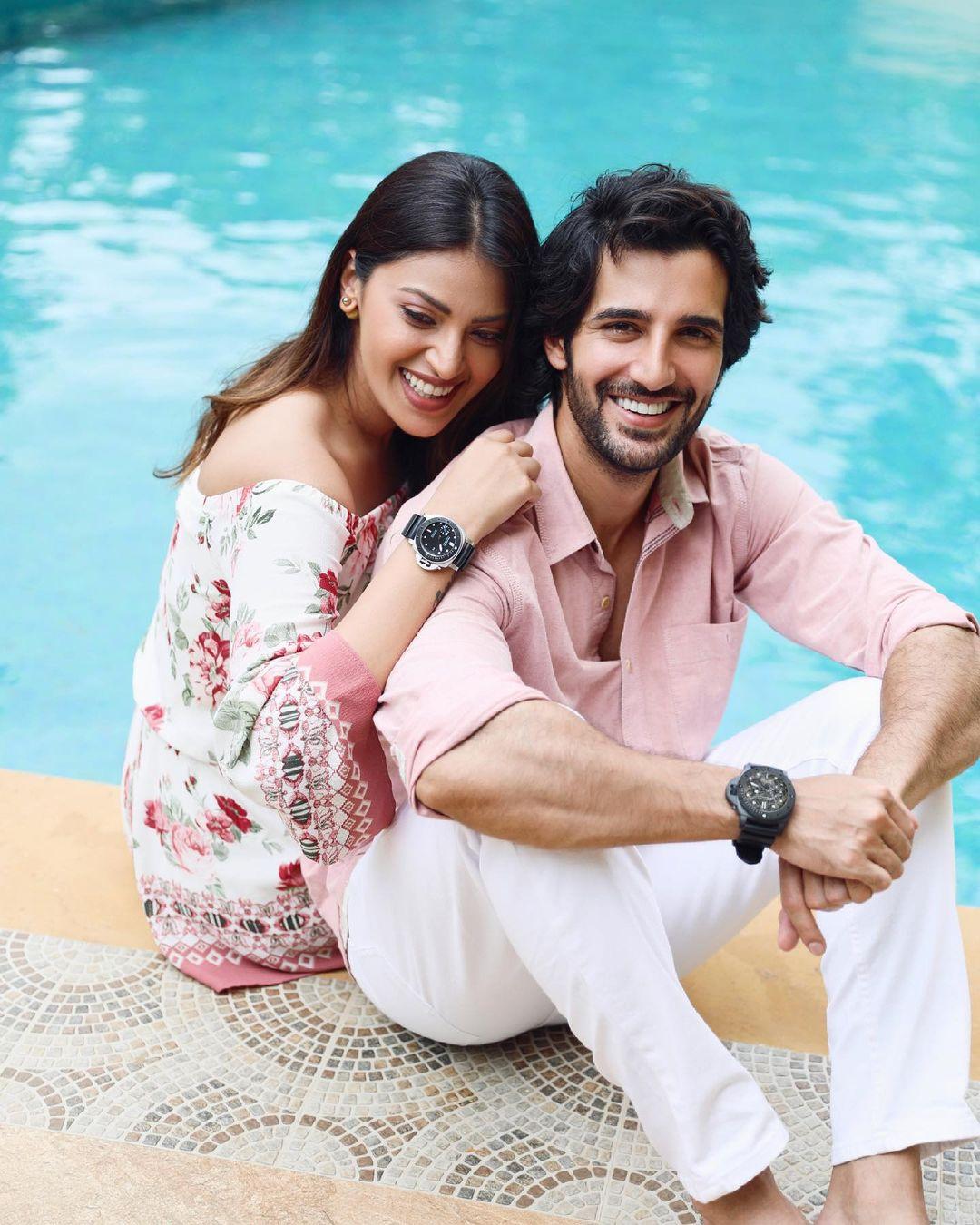 Image Credits: Anushka Ranjan's Instagram
RS: I want to know more about that. How did you force her into a relationship? *grins
Anushka Ranjan: We went out and he kept asking me about being in a relationship and I said, no, I have my insecurities. So we were chatting, and also arguing about it. We came back home and he suddenly sat on me. He sat on me and kept saying 'You will date me.'
Aditya Seal: I literally sat on her and I said, 'You date me now. I am not getting off.'
Anushka Ranjan: Imagine, you are literally crushing a human being. So, it was just as silly and sweet as that and I think the whole relationship has been as silly and sweet as that.
Also Read - Farhan Akhtar to Tie the Knot with Girlfriend Shibani Dandekar
RS: You keep reminding me of that quote 'Pyaar Dosti hai'. I see that equation between the two of you. Were you already in love when you starred in 'Fittrat' together?
Anushka Ranjan: One of the major reasons behind wanting to do that show was that we got an opportunity to work together. We grabbed it and we ran with it, and it made the whole journey more fun. He is my best friend so his presence on the set, or while working random hours, was like a double dhamaka.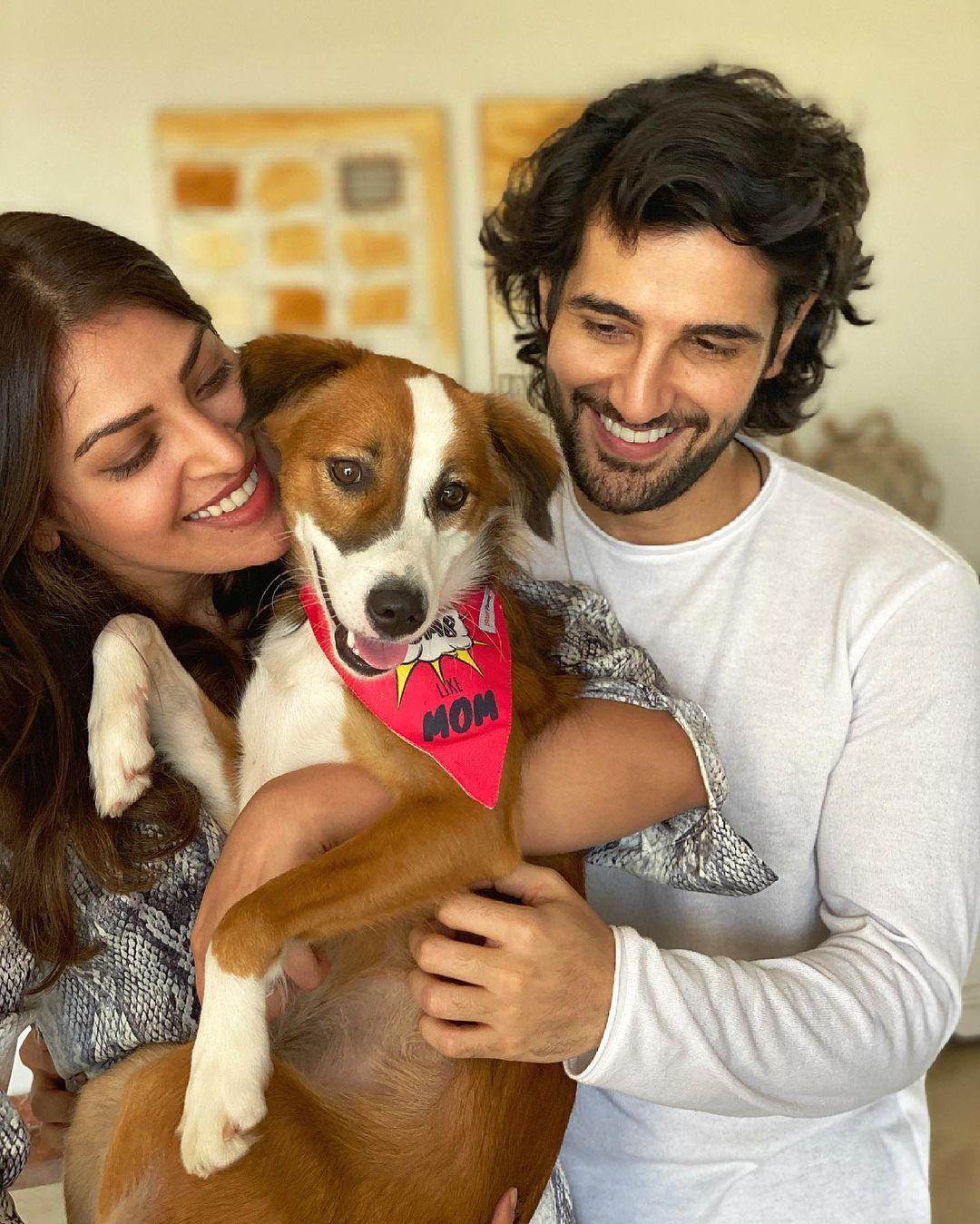 Image Credits: Anushka Ranjan's Instagram
RS: What are some of your favorite things about each other?
Anushka Ranjan: Life is stressful enough and you have to constantly keep earning, working, struggling and I love that he has a silly sense of humor through all of it. It is very cute. And he is such a nice guy, you feel proud when you are with someone whose loved by everyone in a room. My aunts, uncles, friends - everyone has fallen in love with him instantly. His vibration as a human being is such a sweet, nice, and loving one!
Aditya Seal: Everyone she meets instantly gets attracted to her. They see her as a support system and so do I! When she walks into a room, she just owns the room! Her conversations are so interesting and you could be an introvert, extrovert, or traumatized but there's something about her that makes you so comfortable and you open up about your problems. And, this woman is always right!
RS: The craziest things that the two of you have done for each other?
Anushka Ranjan: He sang for me. I literally fainted at that moment. I could not believe my ears and I think that moment makes my wedding, the most memorable for me!
Aditya Seal: There are moments when I am looking for something or I need something, and so many times before I know it she has fixed it already! Also, everything she does has a deeper meaning to it. She bought me a shoe for my birthday and it had some connection to an event we had attended together.
Also Read - Kundali Bhagya Fame Sanjay Gagnani Reveals his Wedding Story
RS: The onset of Covid has been very difficult on Aditya. Losing a father is a huge loss! Throughout this time, how has your love helped you both stay strong?
Aditya Seal: I think she instantly became that support and partner that I wanted. I was in a daze and she was there with me throughout everything, every day. We had plans and we had decided on a lot of things but after the incident, she tried to make everything easier for me. God knows what she did and how she arranged it. One day she said 'Your mom is going to live with us, after the wedding.' That was a big moment for me! She found an apartment for us in the building where she has been living for 17 years.
Anushka Ranjan: Our mothers get along very well! My mom is a very energetic person and has a lot of friends. His mom is quieter and more homely. I knew my mom could take her out and there's a huge group of ladies in this building. Plus, even when we were not married and Adi was out on a shoot for almost a month, I kept popping in to see aunty. We had dinners together, our mothers went on walks together. It's just worked out for us!
Aditya Seal: I think the family has just extended. We meet her sister, mom, and father in the next wing every day. Either we are there, or they are here. It has become a bigger family now!
View this post on Instagram
RS: Any tips for our couples on how they can plan their perfect dream wedding?
Anushka Ranjan: Our wedding guest list was not a very big one! My mehndi had 50-60 guests and there were not more than 200-250 people at the sangeet. And that was nicer because my attention was on everyone. My friends really appreciated that I was constantly checking on them! It was a collaborative thing where I was celebrating the biggest moment of my life with the closest people. A big wedding is not the best idea because you will not even have the time to meet everybody, and you will just constantly keep dressing up! And brides, your hair, makeup, and clothes should be easy to handle. I wore very light outfits like I wore pants on my sangeet night. I knew I was going to dance and run around, and I didn't want a huge lehenga.
Aditya Seal: I think there's a huge balloon around grand weddings. We decided that the people who matter to you, are the only people who should be there. On the sangeet night, we partied with everybody we wanted around, till 5:30 am. We had planned the wedding in an open area, but as soon as the pheras were done, it started pouring. The reception was moved inside the lobby of the hotel and not a single person complained about it.
Anushka Ranjan: We also realized that if we had called 1000 people, they would be uncomfortable and would start complaining. So I would suggest, save your money, buy something good, plan a good trip, buy a good home and just be happy. I have seen weddings where the couple doesn't even hang around at their own wedding but we had a blast!
Also Read - Inside Aditya Seal & Anushka Ranjan's Wedding Story
RS: Throughout the covid phase, weddings have been postponed and it's been a difficult journey for many couples. I really hope that our couples who are listening to this interview are inspired and Love is not canceled no matter what!
Anushka Ranjan: Being in a relationship is not easy! But breaking a relationship for little things is like saying 'my mother irritates me, I want a new mother or my sister is annoying, so I want a new sister.' It doesn't work like that. You can't change relationships because of the silliest and smallest possible reasons. You accept your family constantly when you are born into that, whereas you get to choose your partner.
Readers, we hear you! This is what relationship goals should definitely look like! Their friendship to lovers saga has me awestruck already. What about you? Tell us in the comments section below.