5 Scenic Wedding Venues in Delhi To See Before You Book Your Ultimate Venue
It's time for your first bridal task - looking for wedding venues in Delhi. Check out these scenic options around the capital city, to cross this chore off your list!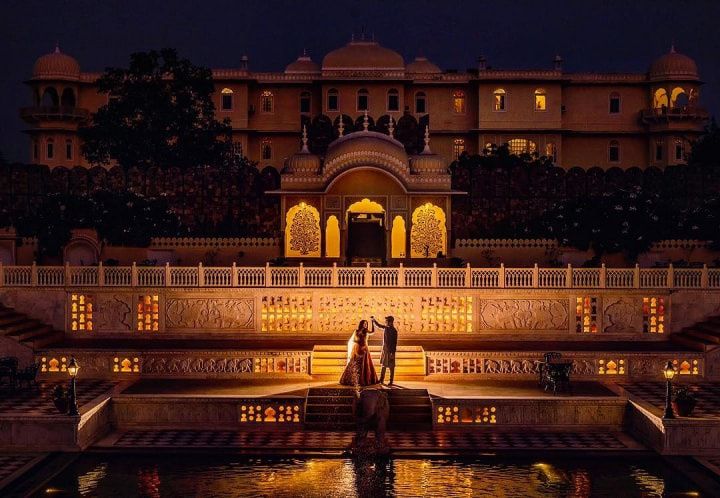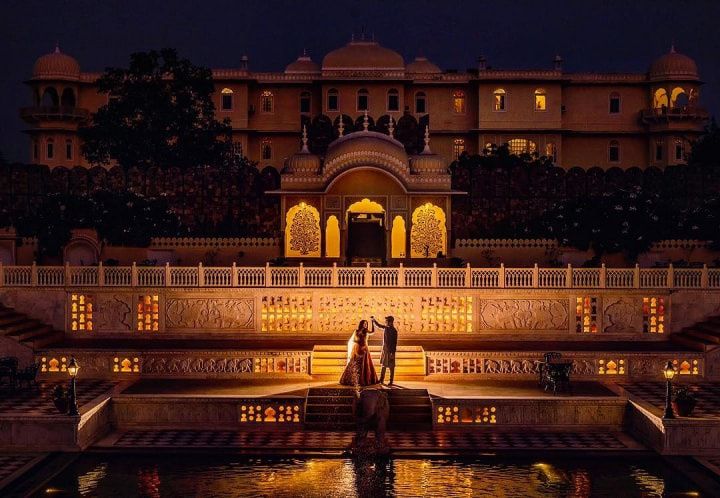 Image courtesy: Anoop Padalkar photography
When you're picking your wedding venue, there are so many options to consider! From fort palaces to stunning hotels, there's no dearth of fabulous wedding venues in Delhi.
Though booking farmhouses is a popular choice amongst brides today, there are many other elegant venues that you can explore too, especially if factors like size and accommodation are a concern. Consider the following spots for your wedding function to add an extra element of style and beauty to your special day:
Neemrana Fort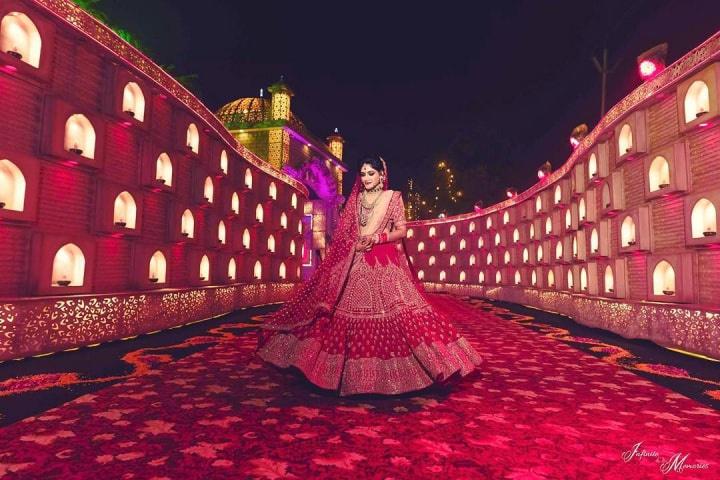 Neemrana fort is a 14-tiered fort spread over 9 pristine, hilly acres. If you want to have your wedding set against a backdrop of royalty and historical architecture, then this is the ideal place to achieve that dream.
Approximately 2 hours away from Delhi, this fort offers accommodation for your guests. However, as there are only 72 rooms here, you may have to consider having a smaller, more intimate wedding.
As a wedding venue in Delhi, the Neemrana fort can serve up to 300 guests. The hotel offers cabs for pick-ups and drops to the airport, so you do not have to worry about out-of-town wedding guests finding it hard to get there.
Tivoli Grand Resort Banquet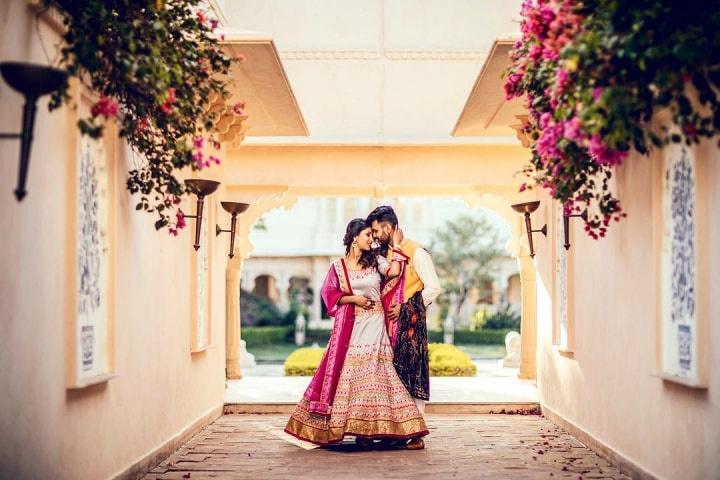 Image courtesy: Anoop Padalkar Photography
Tivoli Grand Resort Banquet is located on GT Karnal Road and is an ideal venue for people looking to have a huge function. The venue's maximum capacity is 2,000 people and it offers different outdoor and indoor venues for multiple functions.
They offer a range of facilities like a bridal room for the bride to get ready, décor, lighting, valet parking and service staff too. The resort also offers accommodation, however, it is quite close to both, Delhi and Gurgaon and your guests from within the city can travel to the resort with ease. The elegant architecture of this resort contributes to making your wedding look scenic and lovely.
The Stellar Gymkhana
The Stellar Gymkhana, located in Greater Noida, offers a mix of what you'd expect from a farmhouse and the services of a resort. It has 12 acres of lush, green lawns, sprawling around a central hotel that offers comfortable accommodations. You can book a room for the bride to get ready in, along with rooms for all your relatives from out of town.
There are three main lawns that hold over 2,500 guests, and a few smaller venues as well. You can pick and choose the lawns as per the functions you have in mind. The Stellar Gymkhana offers additional services like décor, lighting, catering, valet parking, and more. The man-made lake in the property serves as an excellent backdrop for intimate functions.
The Trident, Gurgaon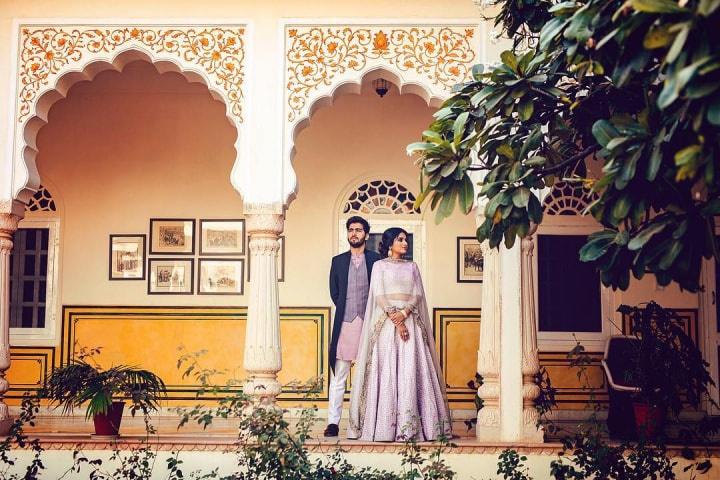 Image courtesy: Anoop Padalkar photography
Located in Gurgaon, the Trident is spread across 7 acres and is a stunning venue to pick for your wedding. The hotel shows off the perfect blend of Moroccan, Rajasthani and Mughal architecture and décor, making it a venue like no other in Delhi.
As this is a hotel, you can expect accommodation, of course. They offer in-house catering as well, along with other services like décor, valet parking, bridal rooms, lighting, and so on. This is a great venue for brides who are looking for upscale spots. The banquet areas can accommodate anywhere from 100-1000 guests. So you must plan your guest list accordingly!
Jaypee Greens Golf and Spa Resorts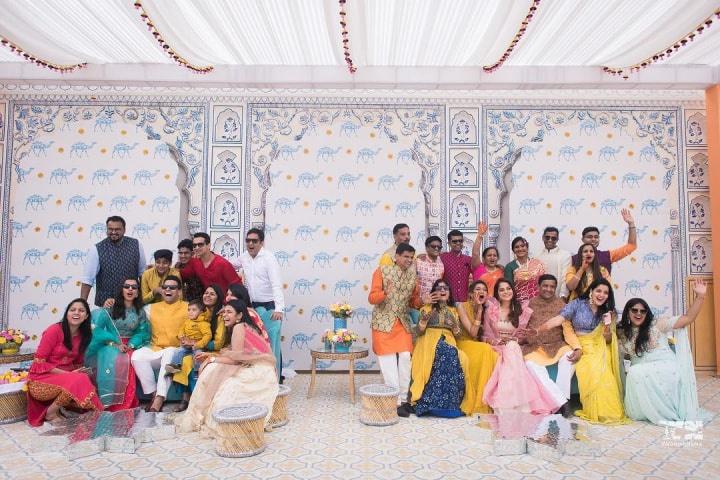 Jaypee Resorts and Spa is another upscale venue to consider. Located in Greater Noida, this venue offers peace and quiet, along with luxurious surroundings. The in-house spa is ideal for brides who want to indulge in cosmetic treatments between functions.
Now that we mention it, a mud pack and a full body massage sound like the ideal way to get over a particularly raucous Sangeet! The resort offers accommodation in the form of 170 rooms. Their banquet halls and lawns can hold 150-1000 people.
As they offer many different banquet halls and lawns, you can have your choice of venues for all functions and mix it up a little. They also offer in-house catering, décor, valet parking, bridal rooms, furniture, lighting and power back-up. With lavish interiors and expansive, lush lawns, what more can you ask for!
The venue you choose helps you narrow down all the other decisions you need to make before the wedding. After all, you can hardly pick the décor or lighting you want unless you know where your function will be held!
When you are looking for great wedding venues in Delhi, keep your options open by exploring as many places as possible. This is because scheduling conflicts may force you to say goodbye to a venue you love. Take a look at all these spots a few months before your wedding. This way, you can sort out the bookings in time.
Get in touch with our wedding planners to sort out all details for your wedding!