Brides of today are going for not only stitched lehengas but also customising their look from scratch. It includes selecting the cloth material for the lehenga or dress, getting it stitched fitted to the last detail of the imagination and picking a perfect dupatta which can make it mar the look. We are here for the last part, to tell you more about the kind of dupatta you can be looking for, beyond just the usual, to create a unique and memorable look.
Save yourself from the hassle with wedding dupatta online shopping and check out the guide below for types of bridal dupatta available online.
1. Phulkari
Phulkari emerged out of Punjabi culture, and its use of vibrant colours and tasselled floss silk is apt to jazz up your wedding look. Moreover, it makes use of intricate embroidery to add to the finesse of the look. Even if you are looking for more modern alternatives and want to go with the latest trends like geometric designs, this is an apt choice for you.
With changing times, phulkari now also incorporates Chanderi silk and stone and mirror work, a perfect look to stand out in your bridal lehenga and you can easily shop for this look on any wedding dupatta online shopping site.
2. Chanderi
If you are looking for a classy look, you might want to consider going for a Chanderi dupatta. Chanderi dupattas not only pep up the colours in your look but also the intricate handwoven detailing adds a certain amount of elegance.
Once again, you can choose from among several options too, and you can go for printed patterns, tie and dye, zari works and a plethora of other options. Also, like other options, this is also easily available on any wedding dupatta online shopping site.
3. Kalamkari
Though this is not usually seen as a wedding material of dressing or as bridal trousseau option, kalamkari is the real hidden gem here. It brings out the ethnic designs and tribal motifs as well as the motifs from traditional art forms. Basically and literally, it is a freehand drawing on your dupatta, and you can go as colourful as you want.
This is best if your lehenga is plain in one colour, you can complement and complete the look with this refreshing dash of all the complementing colours and prints. You can look for this on any wedding dupatta online shopping site too.
4. Pom Pom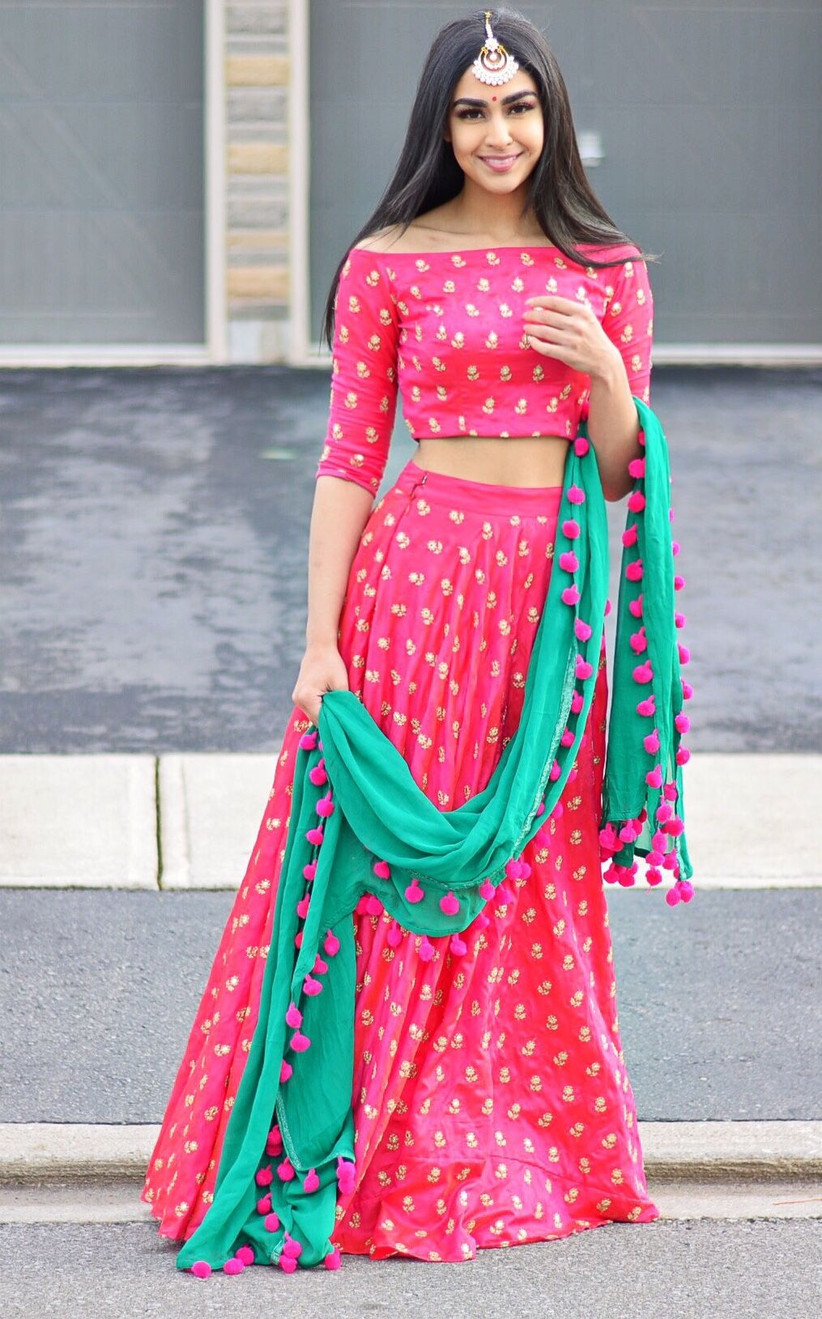 Image courtesy: Pinterest
Once again, if you think you cannot manage a very heavy bridal trousseau and are going for comparatively lesser embellished lehenga or saree, this can add the required amount of drama to it. To add some volume to your outfit, pick a contrasting colour like grey with yellow or green with red and look for chiffon or similar material of clothing with light embellishments for your outfit, fitted with little pom poms all over the sides.
Not only will it immediately perk up the look, but also add a fun, quirky vibe to your outfit. You can find, if not exact, then the nearest complementary option for your look at any wedding dupatta online shopping site and work on the rest to fit it up.
5. Gota Patti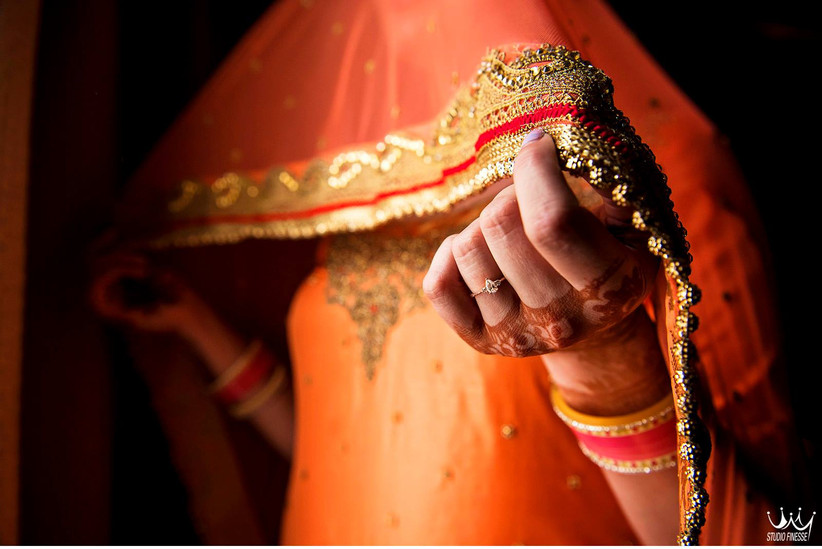 A design with its origin in the Rajasthani culture, Gota Patti work makes use of the applique technique to create patterns, simple and even highly intricate motifs with golden or silver ribbon and lace. It is a perfect match for your bridal trousseau as these are also the usual colours for the bride.
Go for bright colours like magenta with gold or peach with silver, so that the lace stands out to create the right vibe. It will give you that ethnic, royal yet classic look without being too over the top and overwhelmed in colours and bling. You can hunt for this look at any wedding dupatta online shopping site.
6. Banarasi Silk
A universal favourite for over the years, this material is sworn on, by your mothers and grandmothers for a reason. Banarasi silk adds to the bridal look and accentuates the old world charm of embroidery and volume of the look.
You can pair it with a Banarasi silk outfit in a contrasting colour or an outfit with a different material too if that much silk is too much silk for you. It might take a little longer to find this, but there are many good options on various wedding dupatta shopping sites.
7. Ikat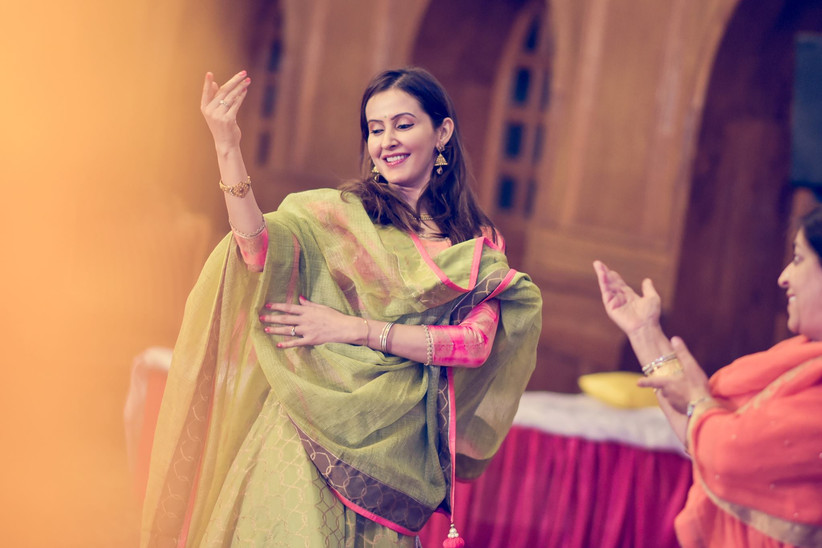 Once again, this one is not a common choice for wedding dresses, and yet ikat is for you if you are done with repeating the traditional silks and gotas. Mashup your traditional outfit with an ikat dupatta. You can go for a silk lehenga and pair it with an ikat dupatta in contrasting shades or even the same colour.
Ikat refers to the kind of dyeing technique, wherein bundles of yarn are wrapped together and dyed to create the designs on the fabric before it is woven. Unique ikat patterns in lively colours can instantly add glam to your look, and you can ace that ethnic yet modern edgy look, best of both worlds! Look for this look at any wedding dupatta online shopping site.
Amp up your bridal look with your favourite choice of dupatta. Do you have more ideas for wedding dupatta online shopping? Help other brides-to-be by commenting your thoughts below.