Adorn These Latest Silver Payal Designs At Your Wedding Like A Pro!
Strut your way into the wedding celebrations wearing these silver payal designs. Brides approved! Fashion Stylists Approved!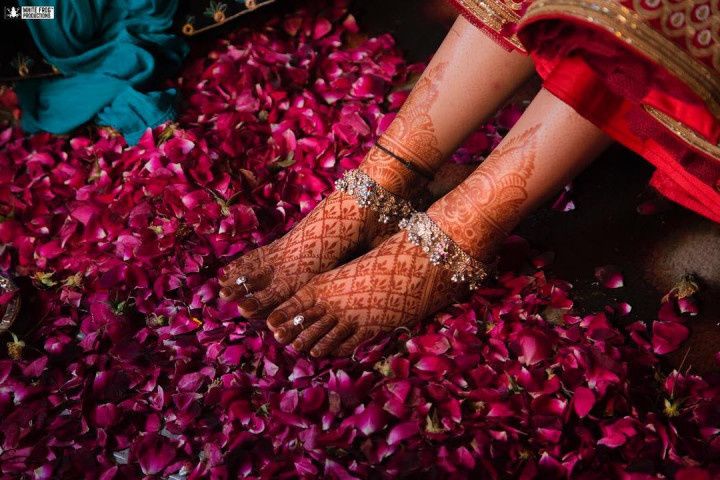 One of the Solah-Shringaars, anklets or Payal (in Hindi) are what beautifies the henna-stained feet of bride-to-be manifolds. Without a pair of payals, the wedding jewellery set remains incomplete. Whether you like single string silver payals or love adorning noise-making trinkets around your ankles, a set of payals is what's a must in your wedding attire. Did you know that adorning tinkling silver payal sets is a way to announce the arrival of a newly wedded bride into her husband's house? We let some of the recent brides show you how it's done in vogue, flawlessly. These silver payal designs are a mix of traditional and modern styles, so take your pick and take notes on how to adorn them for all your wedding functions like a pro!
1. Ankle Cuffs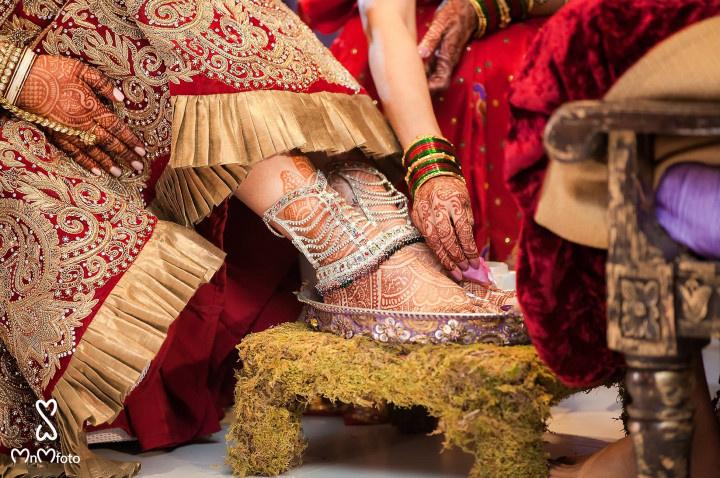 Image Courtesy: MnMfoto Wedding Photography
If statement-making is your personal style, then these ankle cuffs are going to give your friends and family go green with envy! For your Haldi and Shagun ceremonies, this silver payal style will be a perfect aesthetic match, as a lot of photographic focus will be on your feet rather than your overall appearance. Make sure that you match these statements with strapless kitten heels, to keep the overall look clean and focused on the ankle cuffs entirely.
2. Jodhpuri Silver Payal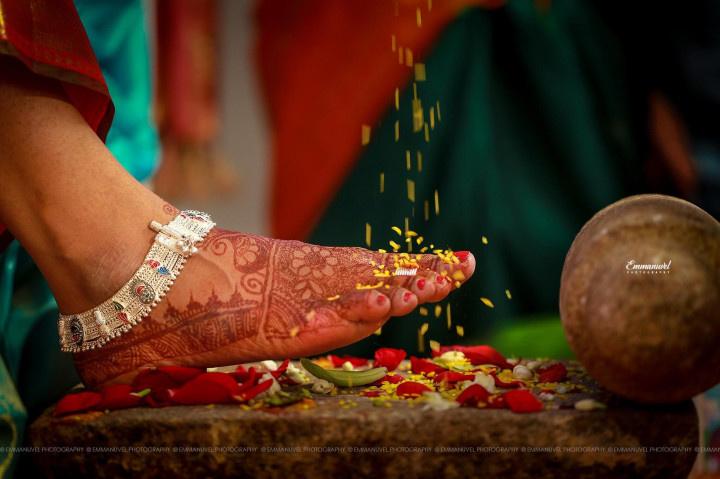 Image Courtesy: Emmanuvel Photography
As the name suggests, Jodhpuri silver payal style comes from the state of Rajasthan and is quite a popular payal style in the eastern states of India. A heavy mesh of silver metal, studded with multi-coloured stones and designs, Jodhpuri silver payal style looks stunning on every bride. Wear it with a saree or even a lehenga, these Jodhpuri payals are a sure spotlight-stealers!
3. Ajmeri Silver Payal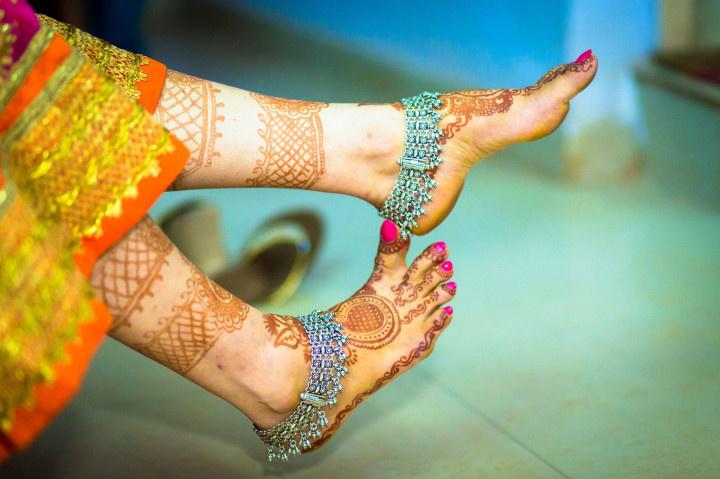 Image Courtesy: Sharath Chandrapatha
Locally also known as Pajeb, Ajmeri silver payal style dates back to centuries of Rajasthan's tribal community. A symbol of being a married woman, the Ajmeri payal is strictly worn by married tribal women of the state. Although these payals are heavier in weight than the regular designs, their intricate detailing sets them apart from other payal styles. If you have a bohemian spirit, then Ajmeri silver payal design is for you. In case you love the style but want to avoid the weight, ask your jeweller to spread out the mesh of strings and keep the weight of the trinkets light as well.
4. Kundan Silver Payal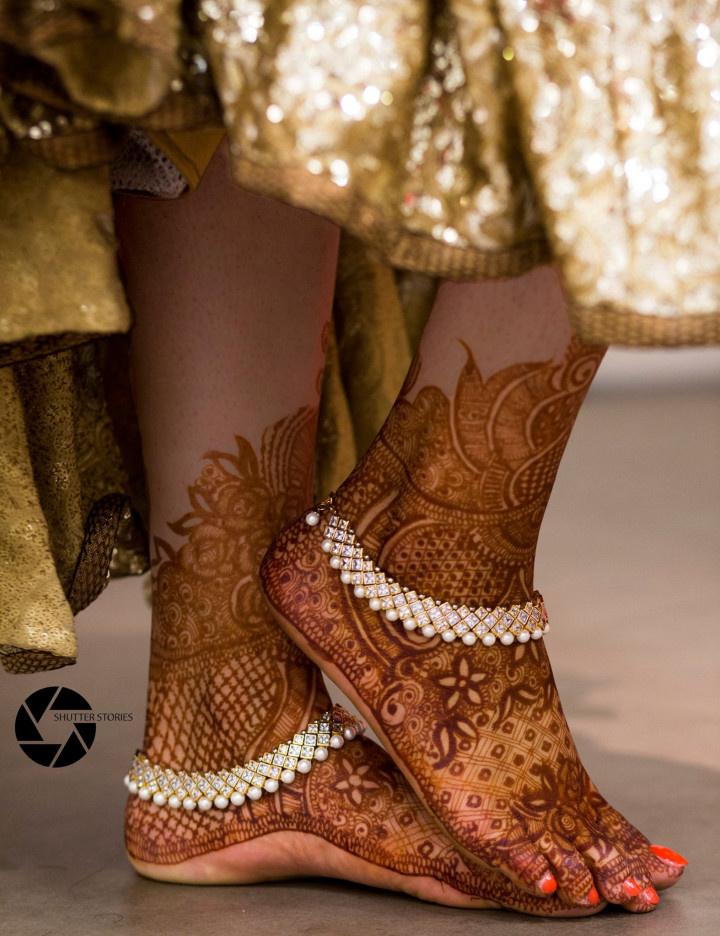 Adding a glamour quotient to the silver payal style, jewellers and jewellery designers now offer an array of Kundan studded silver payal designs. This style is quite a big hit among millennial brides-to-be who often seek Kundan silver payal designs matching their trousseau jewellery sets. Try pairing multi-coloured Kundan stones or pick the hue that complements your trousseau style perfectly. The best part about Kundan silver payal sets is that they can be worn as an anklet, which means it is quite an adaptable design for cocktail parties to the wedding reception alike.
5. Pure Silver Payal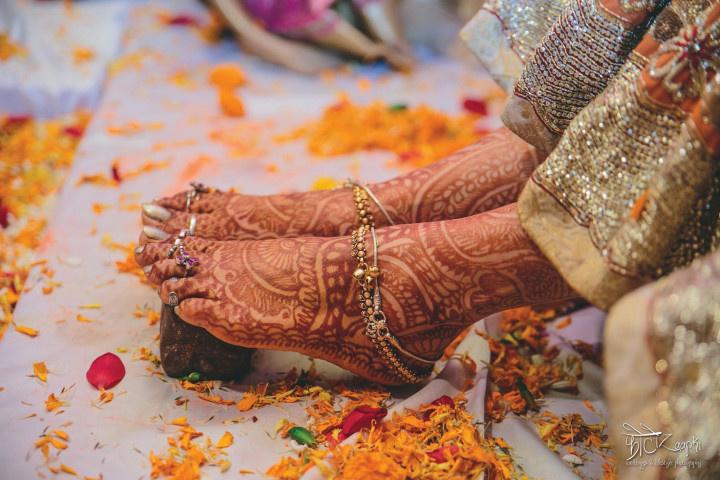 If you are a bride-to-be who believes in keeping things simple yet adheres strongly by the traditions, then pure silver payal designs will be your favourite choice. A strand of solid silver metal, with a limited scope of embellishing, pure silver payal styles are a classic. Just like the Kundan payal style, a pure silver strand wrapped around an ankle too is versatile enough for daily wear. Adorn these with your Sangeet/cocktail dresses, the wedding trousseau or even a pair of jeans while you are on your honeymoon.
This style is fuss-free and its simplicity is what catches the first attention. Such payal styles can be layered up to create a fusion look or can simply be complemented with another style of payals, just like this bride has done it, to add more volume to the accessorisation on your feet. The silver payal designs are more famous among Indians than the gold ones. The reason behind this is that gold is considered to be the metal of the gods and so cannot be worn on the feet as it can be passed on as an insult to the gods themselves.
Depending on your preference, you can opt for payal designs that are traditional and heavy to wear or you can opt for lighter, more refined and more versatile modern designs available in the market. Bridal wedding silver payal sets are often accompanied with toe-rings of the matching style. The silver payal set and the toe-rings are a symbol of being married in Northern India which the bride-to-be doesn't fret from flaunting. In today's times, the trend of gold plated silver payal styles are quite in rage. Silver being a much cheaper metal than gold results in inexpensive payal sets and the gold-plating makes them look pricey and precious at the same time.
Are you a traditional jewellery lover or your style is all about being in the current (trends)? Tell us in the comments below.