Check out These Cool Ways to Make Your Sangeet Dance Video Totally Epic
Dhamakedar music, great dance performances, and lots of memories are the ingredients that make for a fun Sangeet night. Read on to see how you can make your sangeet dance video a big hit.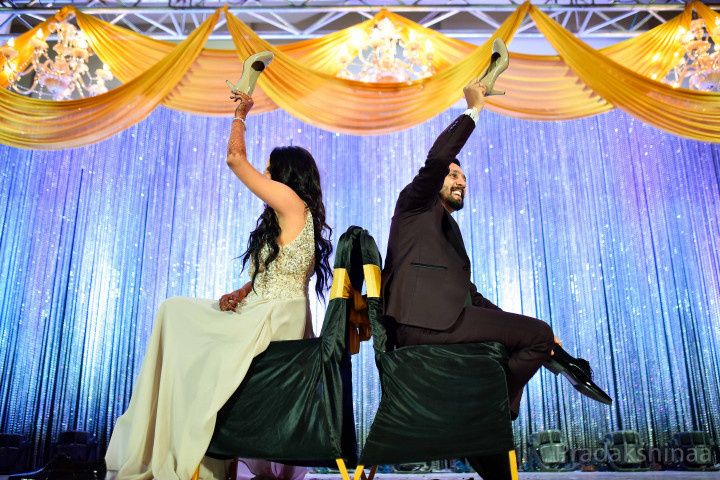 Sangeet night is usually the favourite wedding function for most of the people. And why shouldn't it be, it is a night filled with love, laughter, dance and music. The perfect night to bring everyone together under the roof for a fun event. So, it only seems fitting that you'd want to document every minute of it so you can cherish those memories forever. Read on to see what things you should consider for making your Sangeet dance video a hit.
1. Duration
Keep in mind the duration of your Sangeet Dance Video. You don't want it to be too long or too short. While making a wedding video, include clippings from your sangeet function to put into the wedding trailer. Many millennial couples make a short trailer of their wedding which includes special moments from their wedding functions and is an overview of their life as a couple.
2. Theme
A Sangeet dance video turns out great when you have a uniform theme throughout the function. An excellent theme that would make your sangeet dance video fun would be the 'Saas Bhi Kabhi Bahu Thi' theme. Wherein, you can take the camera along while you introduce your family members before starting the dance performances. This will make your sangeet video unique and fun.
3. Dance Performances
Sangeet Dance performances surely light up the stage on fire. While making your Sangeet Dance video, instead of making a long video of all the performances at your function, make individual video clips of each of the performance. This will make it easier for you to compile them later and also, you can rewatch your favourite performance without the hassle of having to rewind or forward the whole sangeet dance video.
4. Fun Performance
For fun and humorous Sangeet dance performance, you can take inspiration from these dance videos. These dance sequences will surely put your guests in a good mood and have them giggling throughout. Fun dance performances are all the rage in these millennial times. They are fun and also easy to perform so you won't have to burn the midnight oil in learning all the dance moves. Following these dance sequences, even the cousins who don't like to dance can get their groove on and put on a good show. This is bound to make a memorable performance and make you giggle every time you look at your Sangeet dance video.
5. Romantic Couple Dance
If you want to woo everybody will your killer moves as a couple, your first dance should be meticulously choreographed. It is said that your first dance as a couple introduces your style and chemistry to the world. Sounds a bit dramatic, right? Don't worry, wipe that frown off of your face because we got your back. Look at these sangeet dance videos where the couple set the stage on fire with their moves. If your partner isn't too big on dancing, keep the dance steps simple and you take the centre stage. Make the dance sequence revolve around him without letting him feel left out. Another dance performance that your guests will truly enjoy is a face-off between the bride and the groom.
6. Bride and Bridesmaids setting the stage on fire
A Sangeet function isn't complete without a dance performance by the friends of the bride and the groom. We love how captivating the dance sequence is and we couldn't take our eyes off the bride. Planning a dance performance with your besties will surely be the highlight of your sangeet function and it'll be a fun and joyful act. Carefully select the songs for your dance that reflect your style and personality as a group and steal the show. You can make your performance quirky by including songs for your husband, this way he can also be a part of the performance.
7. Family Time
Is it even a Sangeet function if there isn't a family group dance and someone or the other forgets their dance steps? We don't think so! Be sure to include all your family members for a dance performance, be it the elders, the children or your uncles who are too busy drinking. Choreograph a dance sequence that features all of your relatives. And if you're having a combined Sangeet ceremony, a dance-off between the bride's relatives and the groom's relatives is a great way to spruce up the energy of your Sangeet function. Have your own Kabhi Khushi Kabhi Gham moment with a group
8. Emotional Touch
Within all the fun and all the joy, add a touch of emotion to your Sangeet Dance Video. Emotional dance performance for your parents will surely leave them teary-eyed and fill their hearts will love and warmth. We love how this bride paid homage to her parents with a beautiful performance. These sangeet dance videos will surely take you a long way while planning your own Sangeet night. Include all genres of emotions and we're sure it'll be a hit among your guests.
Tell us how you plan to make your Sangeet night a memorable event in the comment section below.