Romantic Caption Ideas To Add To Your Wedding Day Posts
Have the best set of pictures to post from your wedding but always get stuck with the captions? We'll help you come up with a romantic caption for every special moment of your big day.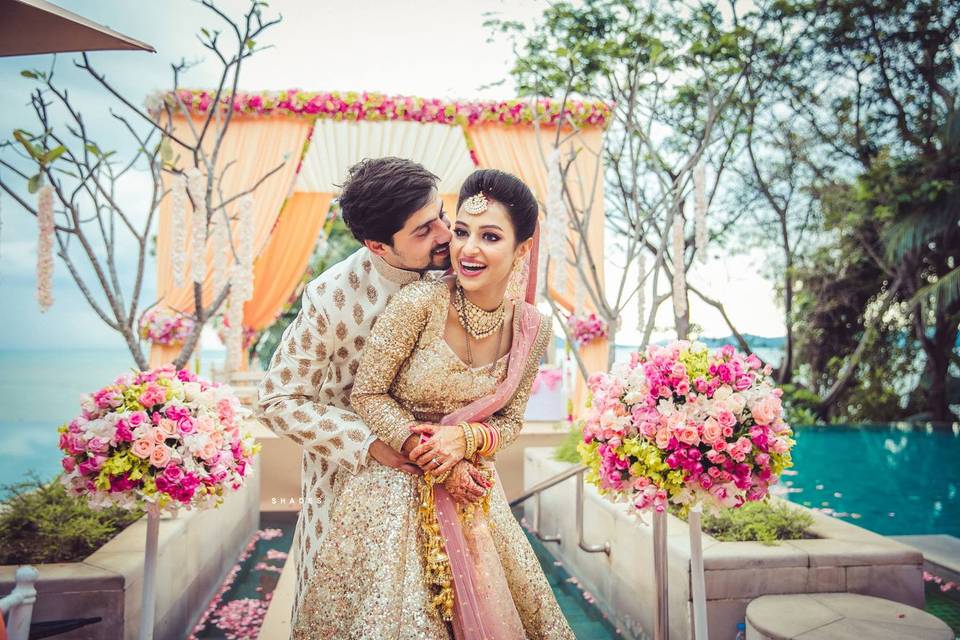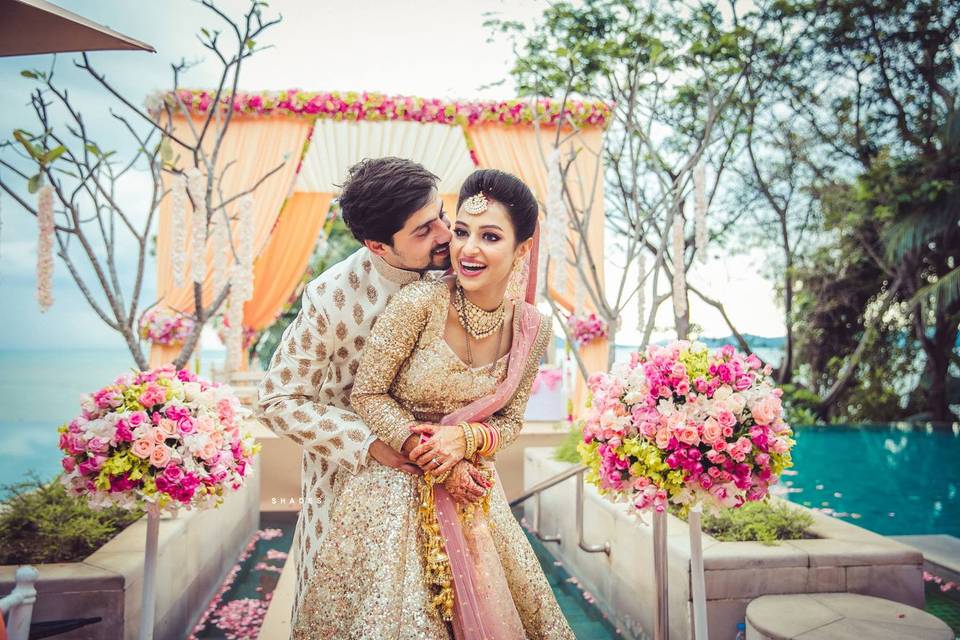 Image Courtesy: Shades Photography
As much as a couple wishes to share the lovely memories of their marriage with their friends and family, the age of social media has made it rather difficult for them to do it. Some are always on the lookout for the perfect picture, while others always get stuck with what caption to put along with it. Well, you don't expect a newly wedded couple to put up a romantic picture without a romantic caption, do you?
While we don't have a solution to the former problem, for the latter we thought why not help you come up with some captions for all the big moments that are captured in almost every wedding function.
So lookout for the moments that you wish to share on your social media, and take a cue from some of this romantic caption collection to dedicate something of your own to your partner. We repeat, take a cue, and don't copy it, because there is nothing more special than a few lines that is a reflection of your unfiltered and uninhibited emotion for your partner.
Let's get started with some of our favourite moments of the Indian wedding.
The Candid Pose From Your First Dance as a Couple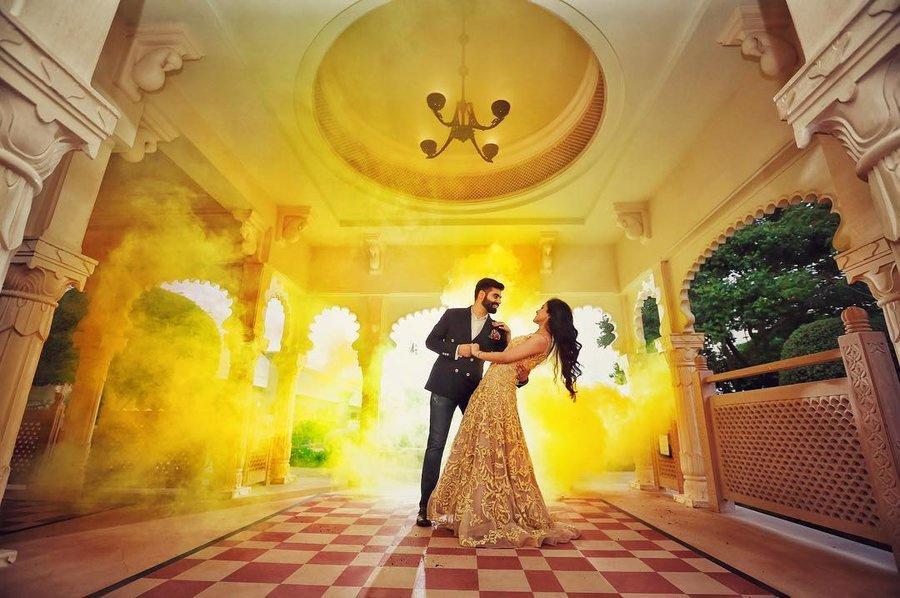 Image Courtesy: Wedding Story's Instagram
'I am ready to dance to your tunes every single day of the rest of my life till you've held me so tight. This is just the beginning of our happily ever after!'
There is something so touching about this moment, as it is the first time when you dance as husband and wife in front of the whole world and when you are also aware that everyone's rating your chemistry based on your dance moves.
We'd say this one calls for an over the top romantic caption because a first dance does not happen too many times in a lifetime.
The Jaimala Shot That Is All Smiles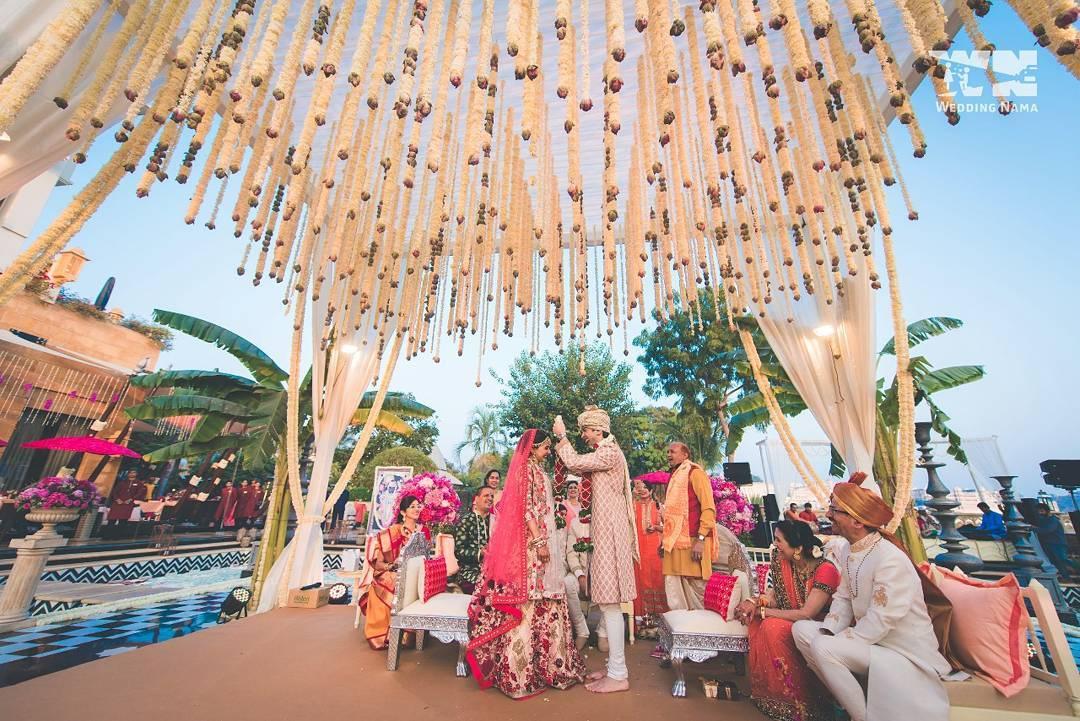 'I finally got to call dibs on the woman that I love the most in this whole wide world.'
Jaimala are our favourite moment of an Indian wedding because it is the time when you can gage the bride and groom's love in their eyes when they look at each other.
Apart from being a special moment, this one is truly a moment that looks best when captured at the perfect time by the camera. If you've got your perfect shot with a very on-point Jaimala theme, then start thinking of a romantic caption to go with it.
The Super Romantic Phera Pictures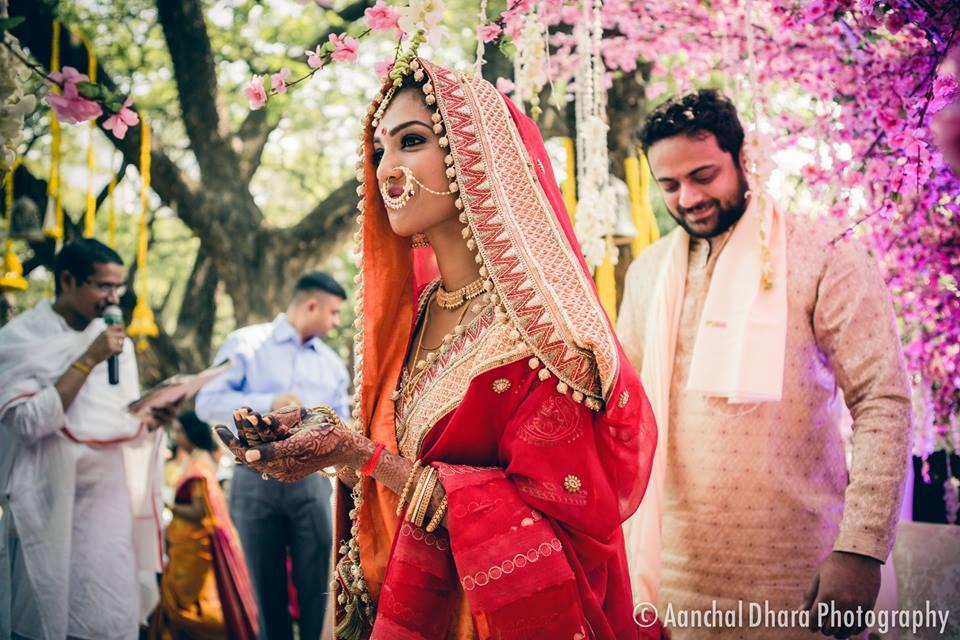 'It doesn't matter if you are walking ahead of me or behind me till we are on the same journey together holding each other's hands forever.'
Well, who doesn't like the Phera pictures? The movement of a bride and groom taking the pheras captured in a picture has so many stories behind it. From what went on in their minds, to the happiness of that you see in people's eyes around them and just the sacredness of the entire ritual gets all of us extremely emotional.
However, when it comes to a romantic caption for this candid wedding photo, it gets really difficult to express anything in words. Well, we've still given it a try for you.
The Super Hit Kiss of Love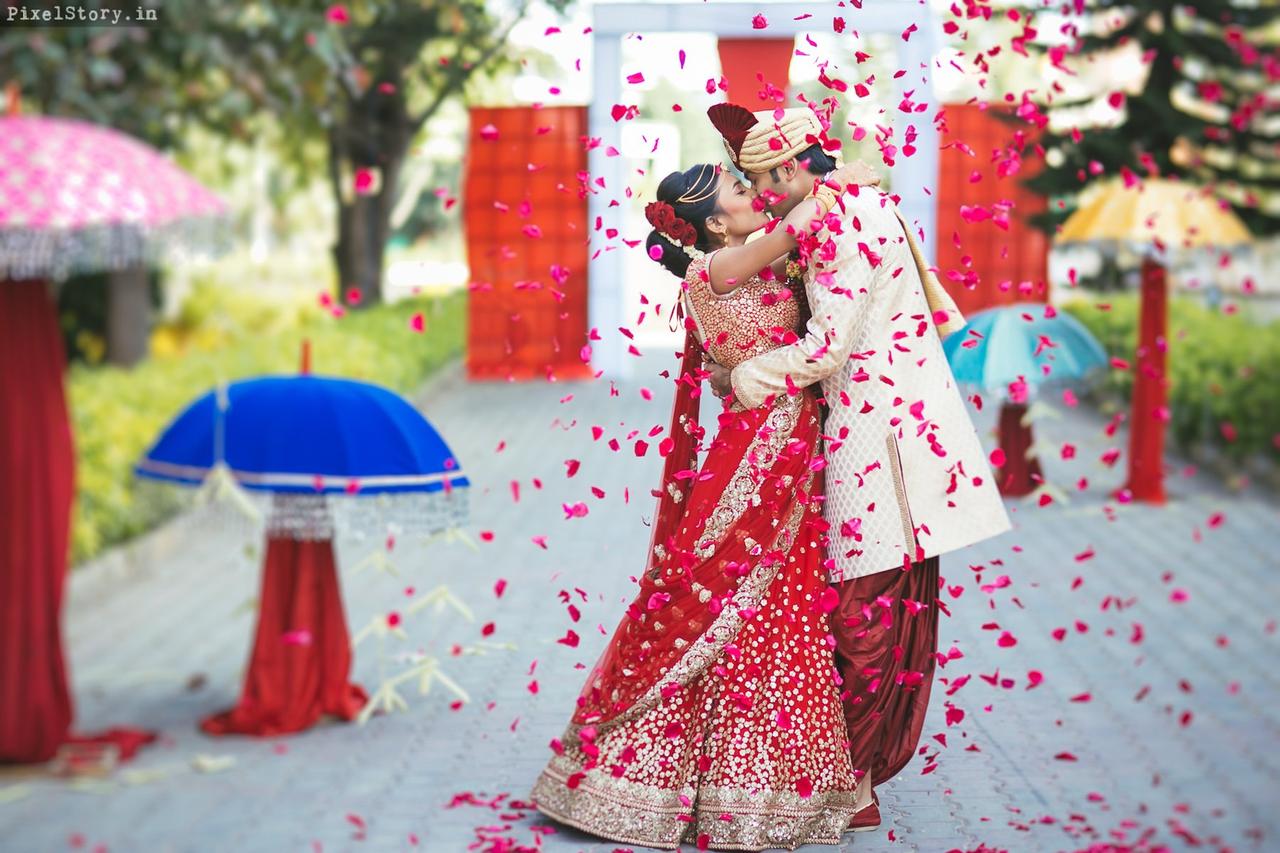 'The moment might have passed, but the eloquent silence of that moment when we both leaned in will stay with me forever. I love you more than you'll ever know!'
We thought we've had enough of the emotional moments, let's look at some of the romantic ones. This one is more like sealing the deal after all the rituals have been performed.
What we love about this picture is that it is probably every couple's first uninhibited kiss of love on the front of the camera with a number of people being live spectators of it as well. What would your romantic caption for your seal the deal moment be?
When He Picked You Up In His Arms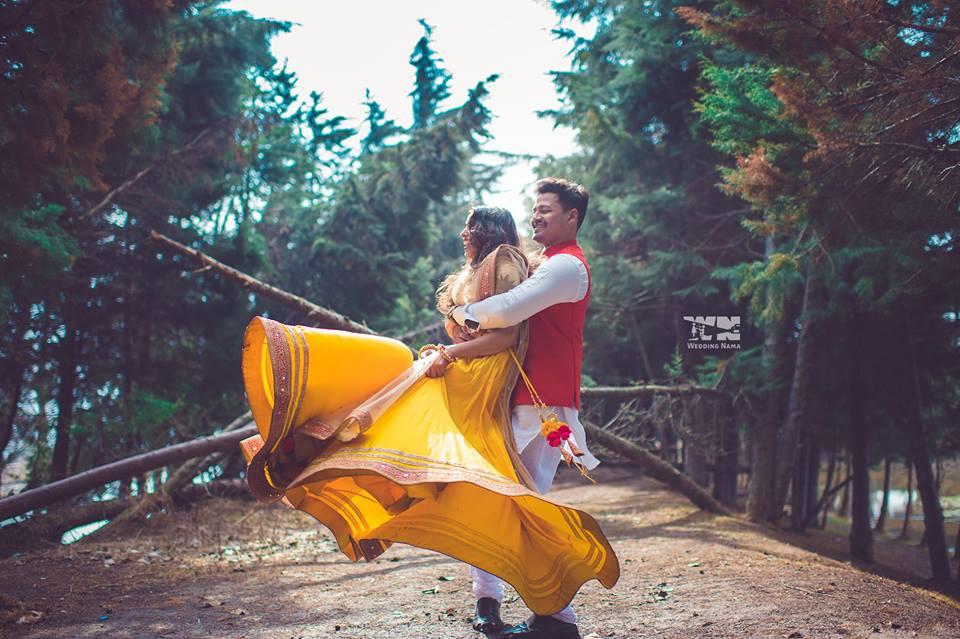 'It isn't your humour that makes me laugh, but it's your lame ideas that crack me up. They re-assure me every single day that if I can love you with all your silliness, then I must truly be head over heels in love with you.'
We absolutely love it when the chemistry starts to show without the photographer having to give cues for the couple poses that might look good. This is one of those moments that may not necessarily work out if dictated by the photographer. It is the chemistry between the bride and the groom that creates magical moments like this one.
If you've managed to create something this beautiful, then the romantic caption must be just as good too. This one is tricky but you could definitely use a funny romantic caption that does justice to the picture.
Goofing around When No One's Watching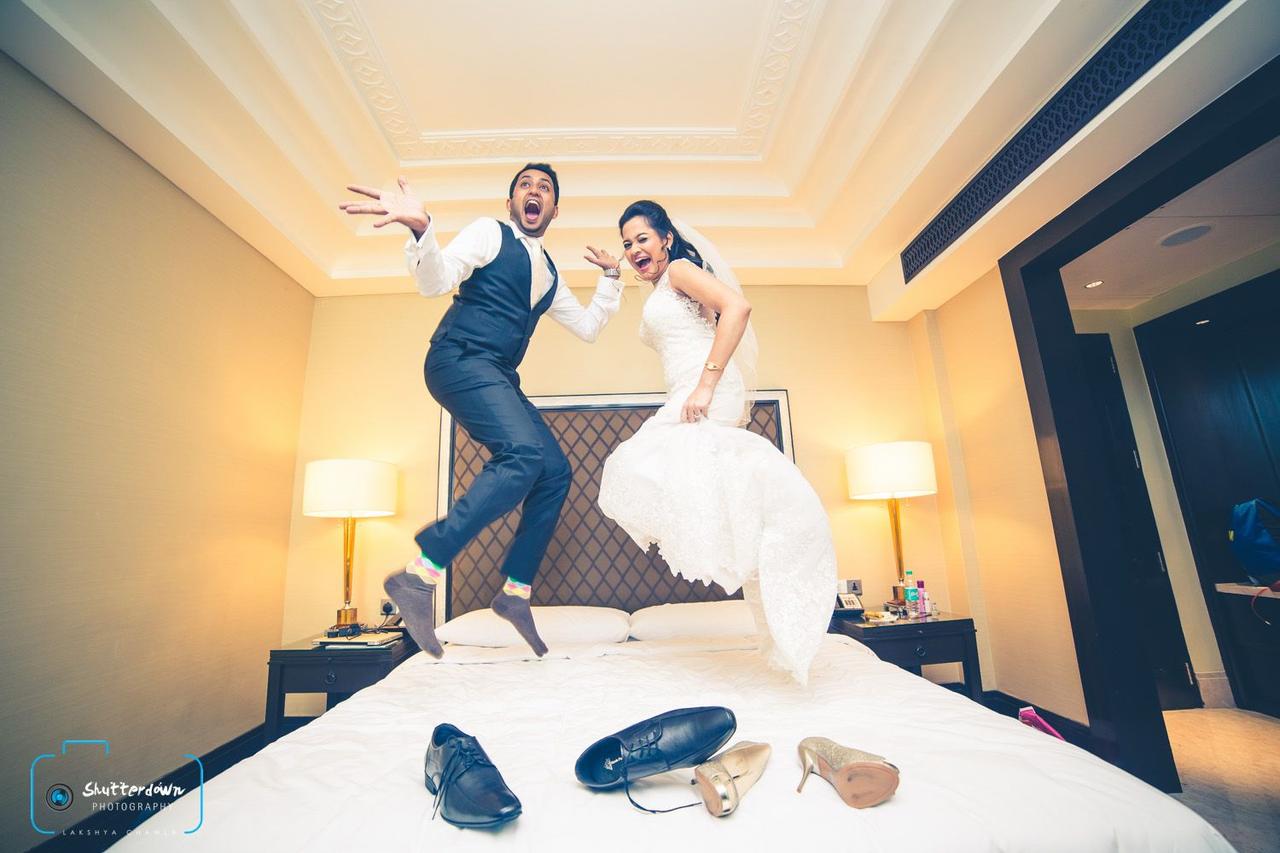 'Goofing around and being silly is one of my favourite things to do with you; but it's only when I found out that you were a bigger goofball that I truly fell in love with you! Cheers to a life full of fooling around embarrassing each other!'
Some of the best candid shots from a wedding are the ones that are taken when the bride and groom are oblivious to the fact that there are cameras around to capture every movement. Those are what we call as the precious ones.
So if you and partner have a candid shot of a goofing around moment amidst the hustle-bustle, then catch on to this one and look for a unique romantic caption as they are the ones that are going to last you memories of a lifetime.
Cheers To A Lifetime of Togetherness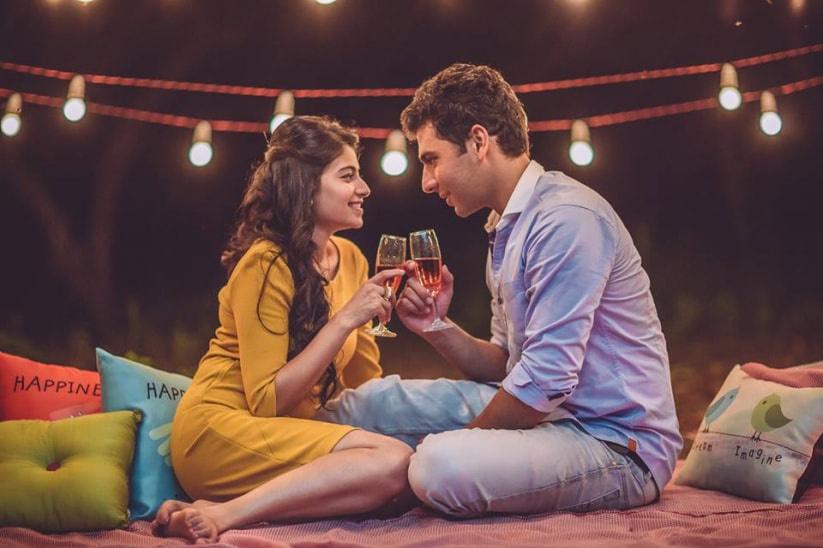 'Celebrating you to celebrating with you, I have had all my wishes come true in this one moment. Congrats, we are officially alcohol buddies for life!'
Your first drink together as husband and wife is always special; it is the start to a new bond and the celebration of successfully taking the plunge of marriage. While there is an apt romantic caption for this one, we want you to think out of the box and come up with something that adds much more to the picture.
It isn't always about the need of a caption, but with pictures that are so close to your heart, it will become an unforgettable moment of your life if you pen down your thoughts along with it.
Sneakily Adoring One Another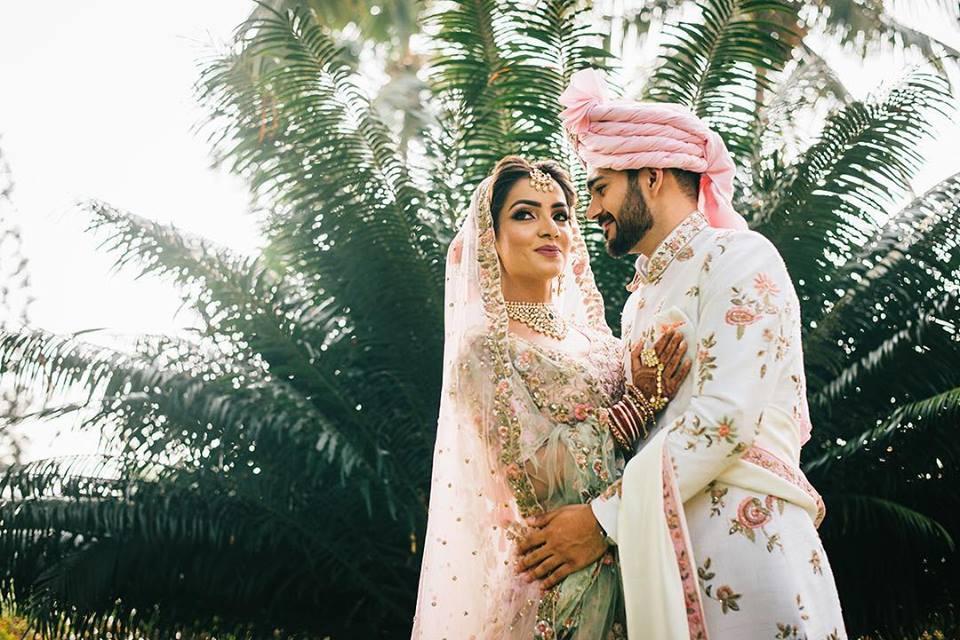 'I know when you're looking at me like that, but I pretend otherwise because I don't ever want that moment to pass. It is in these moments that I realise how much you love me. Thank you for everything, my love!'
MY top favourite moments from any wedding album are the ones where the bride and groom are captured candidly adoring each other while the other is unaware. There is so much love in that one sneaky look that tells you everything that you'd want to know about a couple.
Well, let's get honest they also make for one of the best Facebook covers and Instagram posts but are nothing without a romantic caption that has come straight from your heart. Take a cue from us and think of something of your own.
Do you think our romantic caption did justice to your beautiful picture? Well, you know you can make these captions even better if you write them on your own. No one in this world can emote or express your feelings for your partner better than you, so don't overthink and just right down the first thought that comes to your mind when you go through your wedding pictures. It will mean so much more to your partner if you write it on your own. And if you still freak out or lose confidence, just remember that the social media is always partial towards creative wedding pictures ;)
Which romantic caption did you most relate with? Tell us in comments if you have your own version of our captions.