12 Pink Colour Combination Dresses You Have to Check Out Now!
Look serene in pink colour combination dresses this wedding season. Check out some of these options handpicked just for you. We bet you will dig them as much as we do!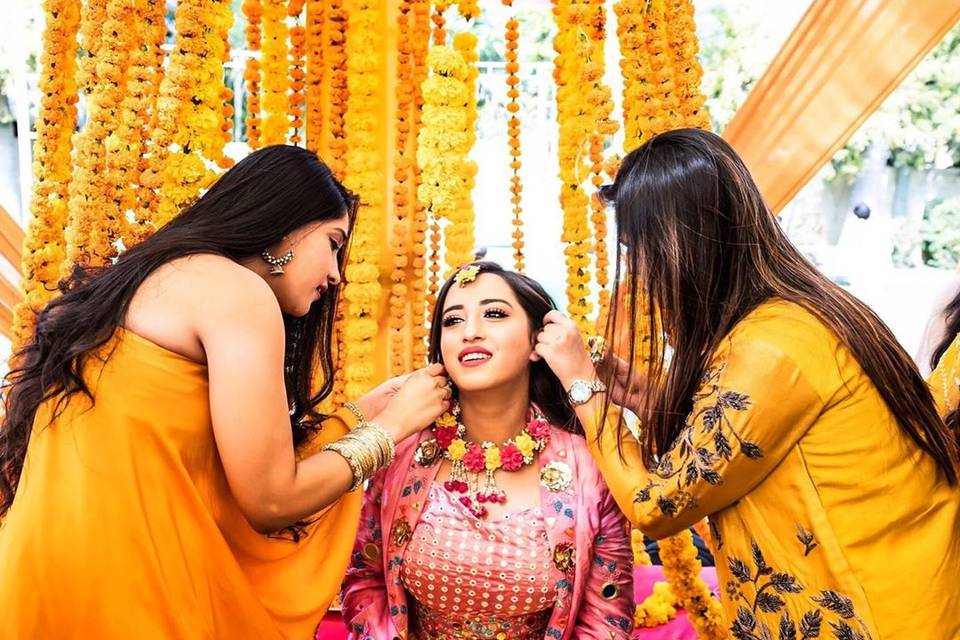 Finding colour combinations that work can be challenging. Pink is one colour that works with so many shades and colours that is it the perfect one to mix and match with all your outfits. It is a beautiful colour with so many dark and light shades from hot pink to blush pink. It looks particularly good with greens, yellows and blues. Red is undoubtedly a personal favourite as any pink can add depth to a red dress.
You have to check out all these pink colour combination dresses to understand what we are talking about. We promise you will not be disappointed!
1. Blush pink with pastel blue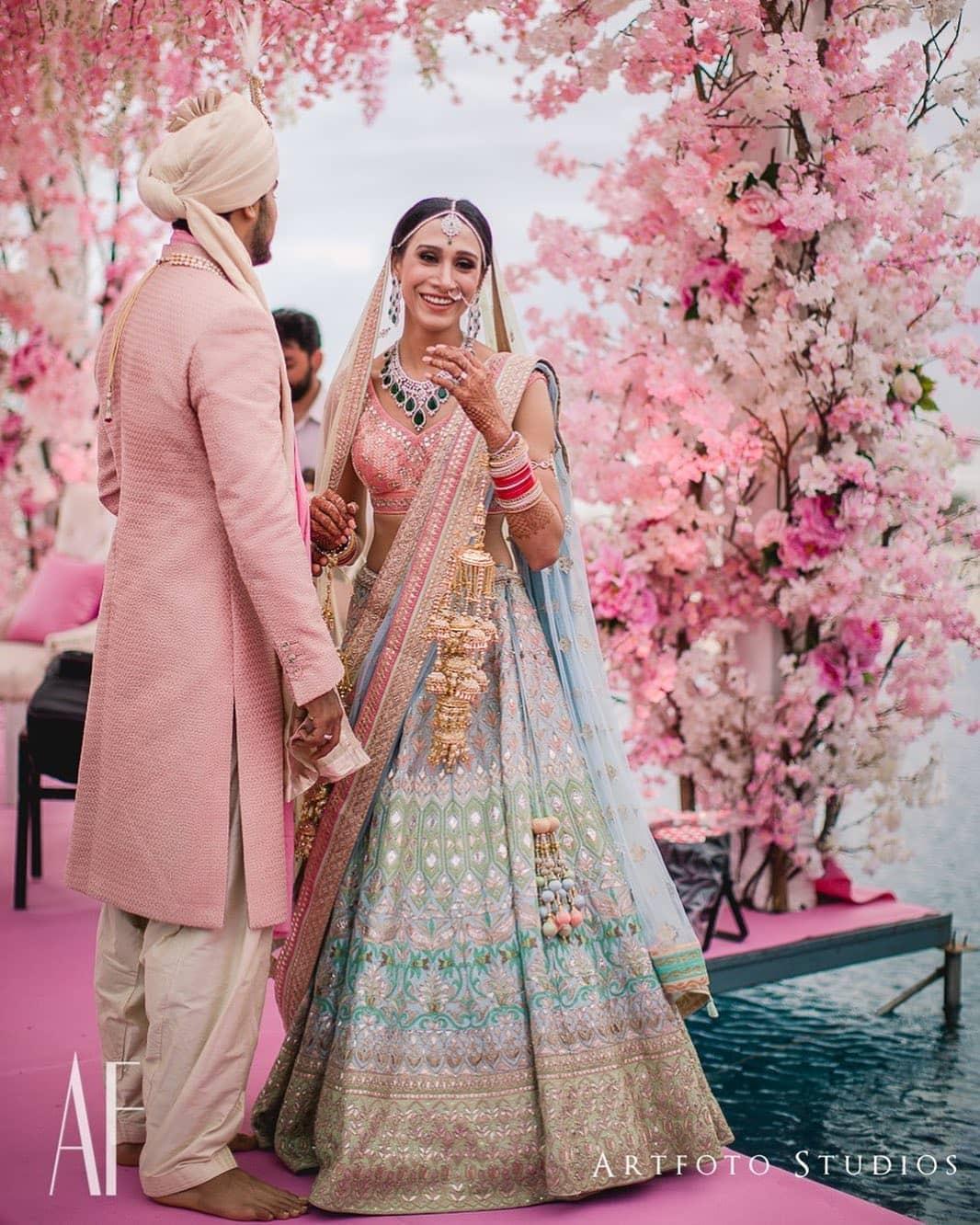 Two pastel colours together are a great combination for Indian dresses. Pastel blue and blush pink are one of our favourite combinations. If you are looking for blush pink colour combination dresses, this one's for you.
2. Turquoise lehenga with pink motifs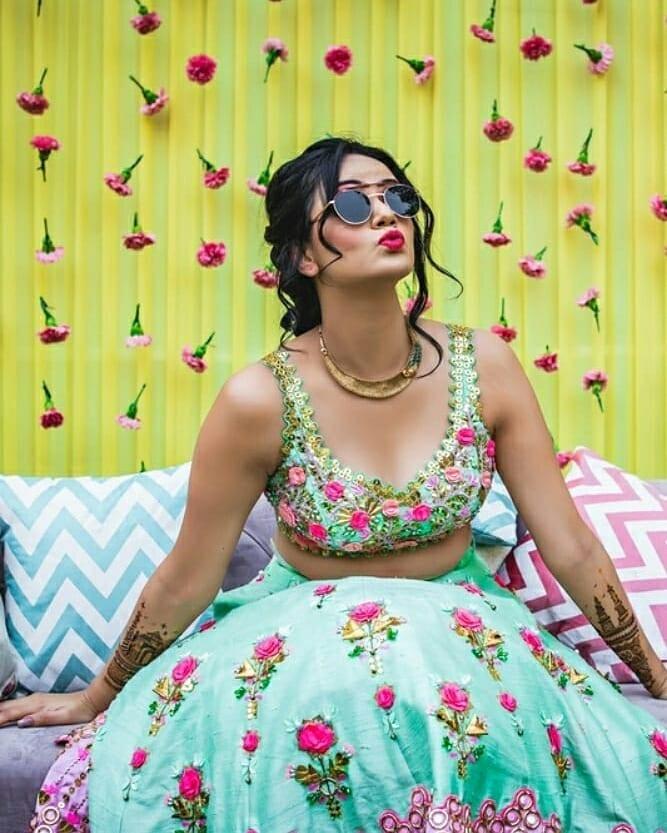 As contemporary women, we thought we'll add some cute pink colour combination dresses with some turquoise for a modern look. The green and pink flower motifs bring out the colour very nicely. It is a nice outfit if you are looking for pink colours combination dresses with a very little pink.
3. 2 hues of pink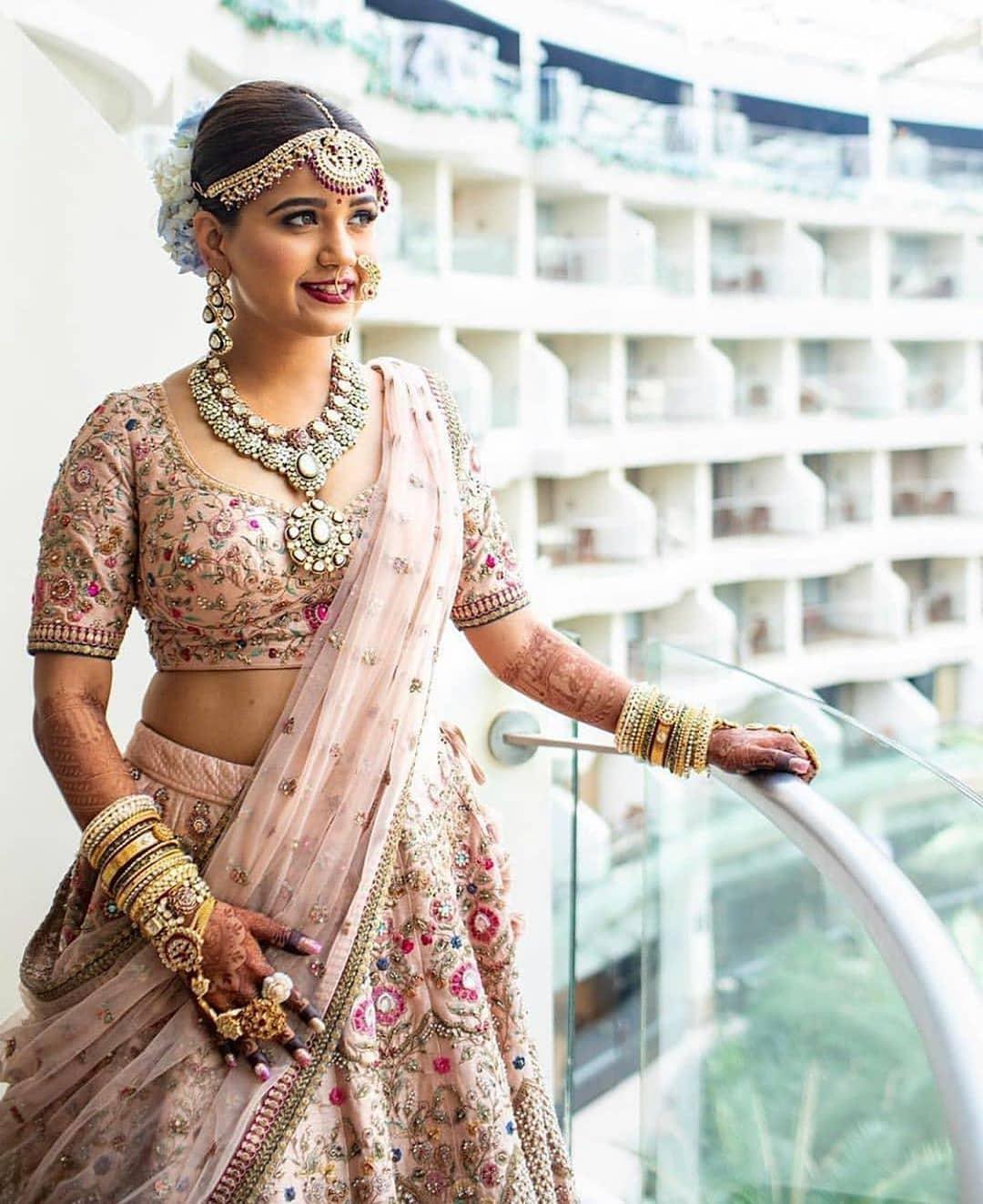 We are in love with this blush pink bridal lehenga with silver and pink embroidery and a matching net dupatta. If you are wearing a light coloured outfit it is best to add some pop of colours to it. This way your outfit will stand out even more.
4. Pink and mint lehenga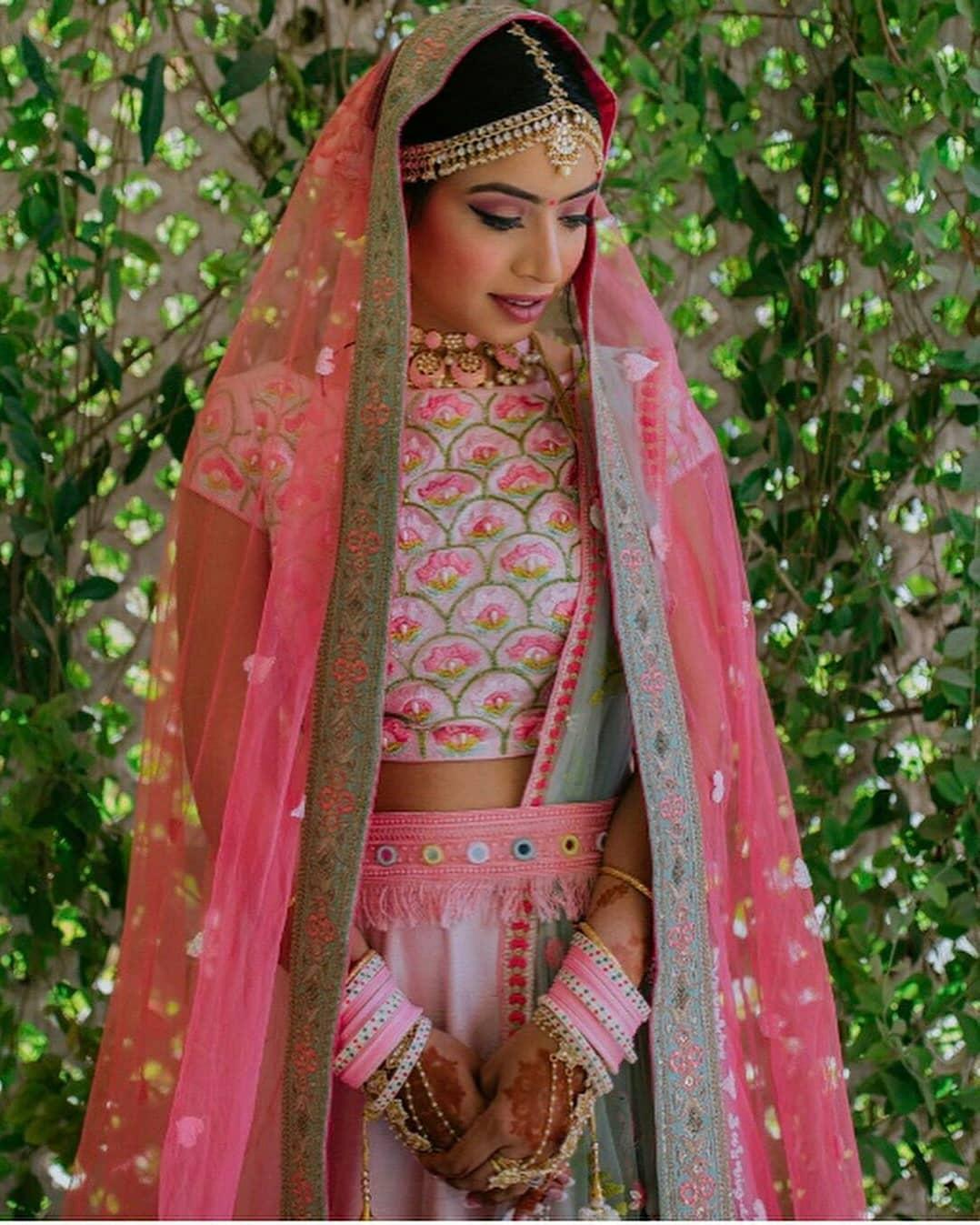 Another great option for pink colour combination dresses is this pink and mint lehenga. We love this modern design with the scallop print on the blouse and colourful mirror on the skirt. You can totally rock this outfit for you Mehndi or wedding just like this bride!
5. Pink and bottle green sharara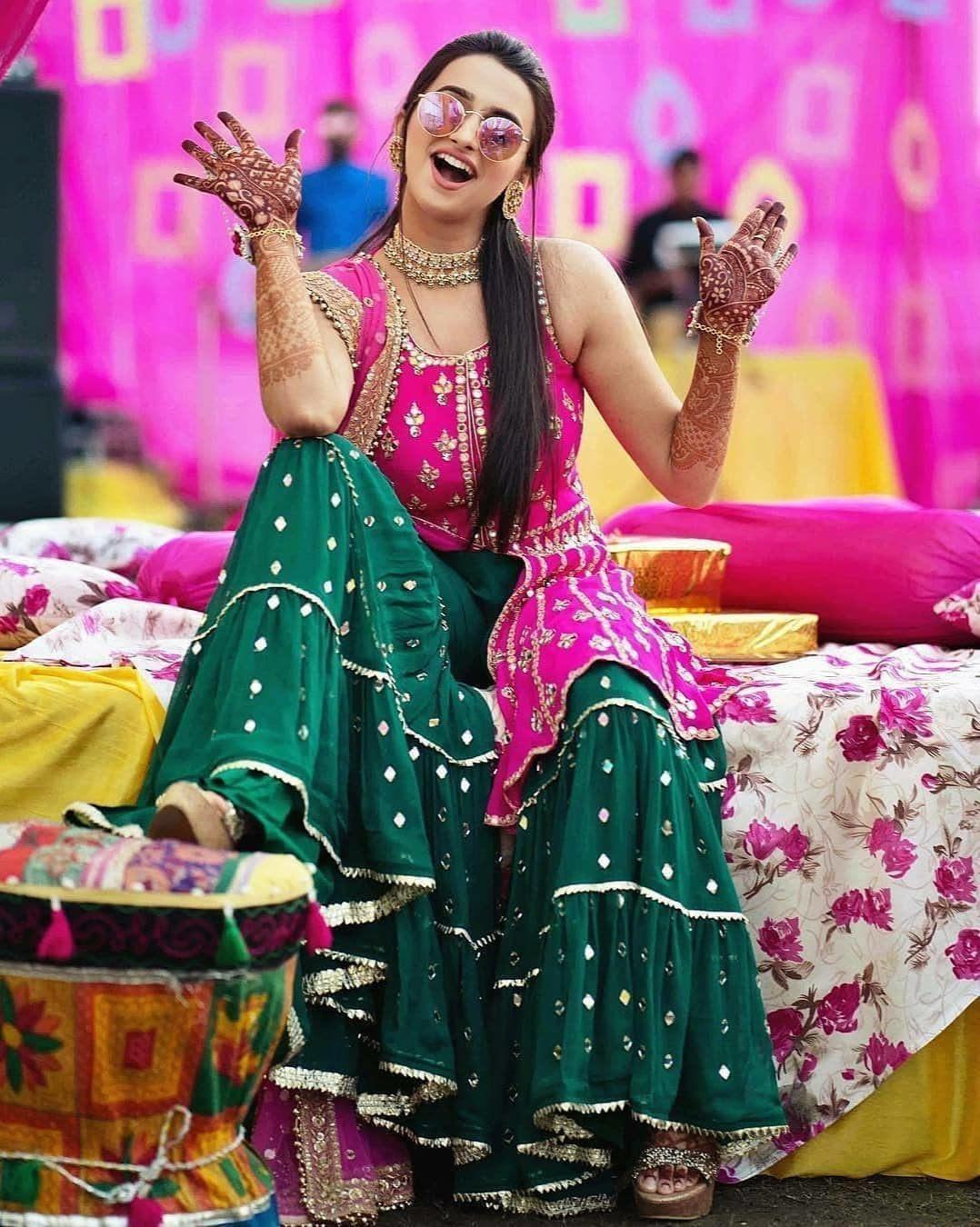 Hot pink colour combination dresses that are so bright and vibrant are hard to find. This is one of our favourites. The Sharara is so fun and we are dying to wear something like this as well. The Gota Patti design and the mirror work stand out really well against the dark colours of the outfit.
6. Break the pink monochrome lehenga with light green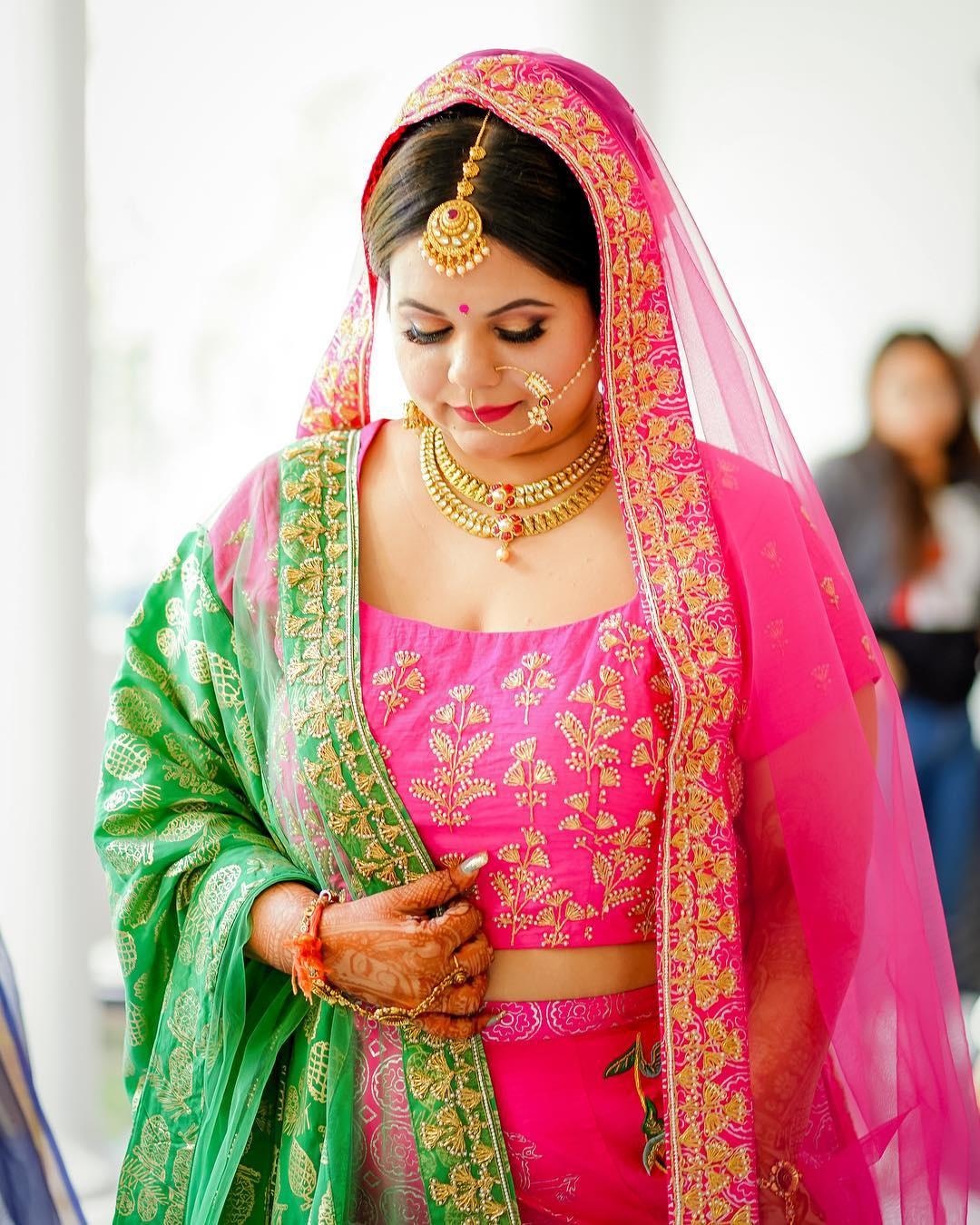 Pink and gold are a great colour combination. A lehenga with only these two colours will look beautiful. However, you can break the monochromatic theme by wearing a contrasting second dupatta on one shoulder. Light green is a vibrant option that will do the job perfectly. You can also use yellow dupatta as well.
7. Lime green lehenga with pink blouse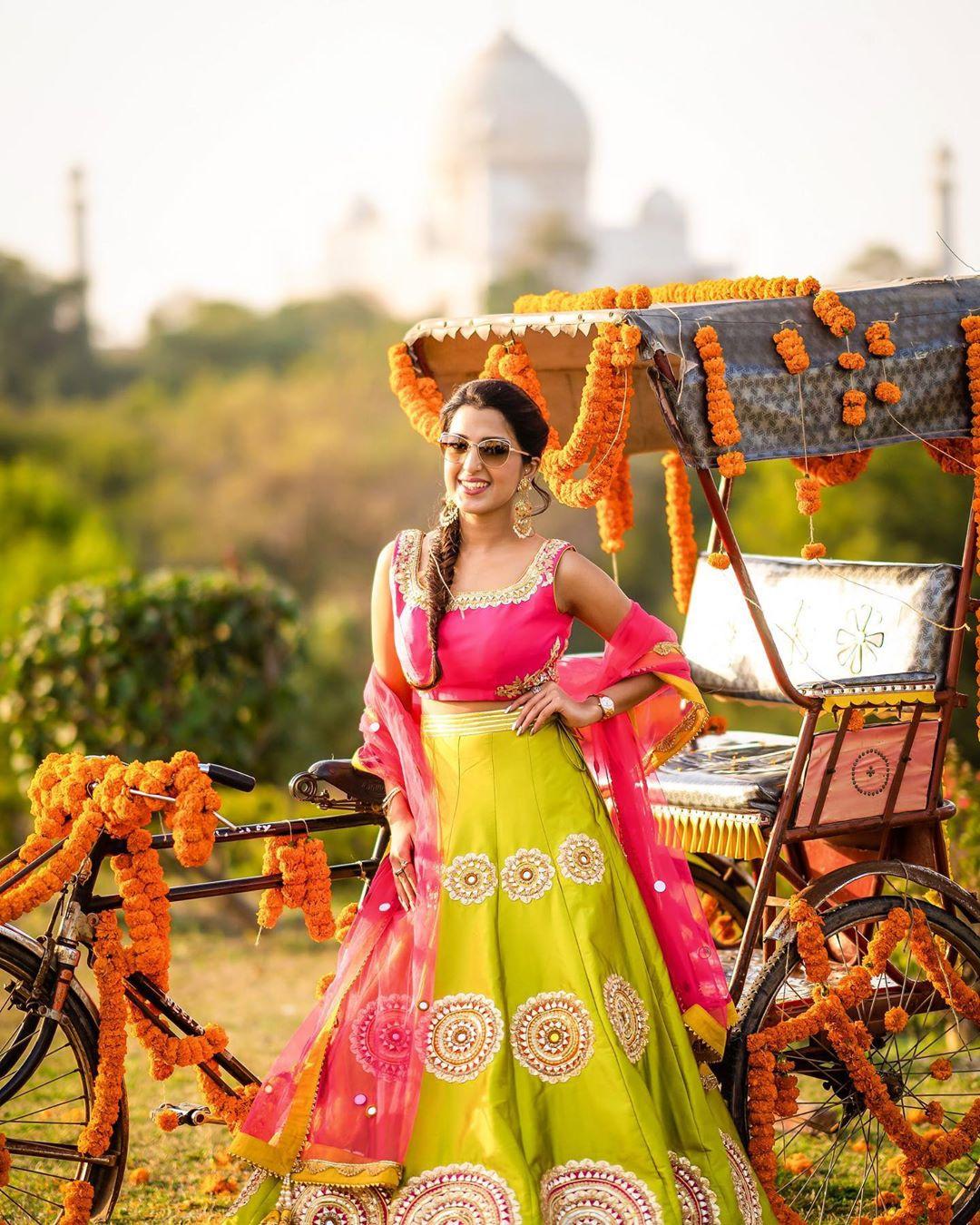 Pink is one colour in which you can find bright hues as well as light pastel shades. But, you need to be very careful about choosing colours that go with such unusual shades. While most colours do, you should always go for bright shades together most of the times just like this lime green and bright pink lehenga.
8. Pink and yellow lehenga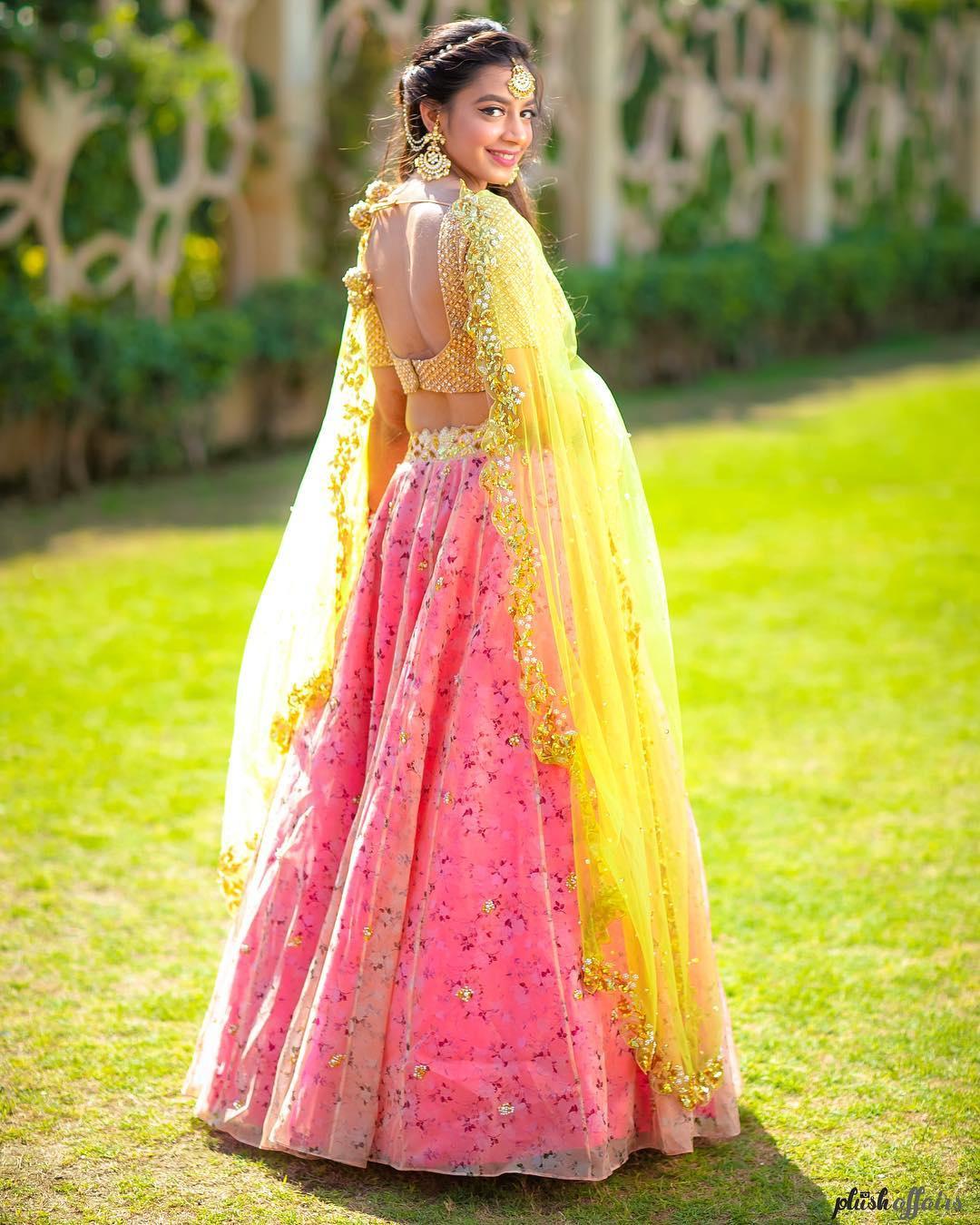 If you are looking for the ultimate pink colour combination dresses that you can wear without thinking twice about it, then this yellow and pink one is just perfect. The colours just compliment each other beautifully and there is something very positive about these shades.
9. Peach Indo-western dress with pink patterns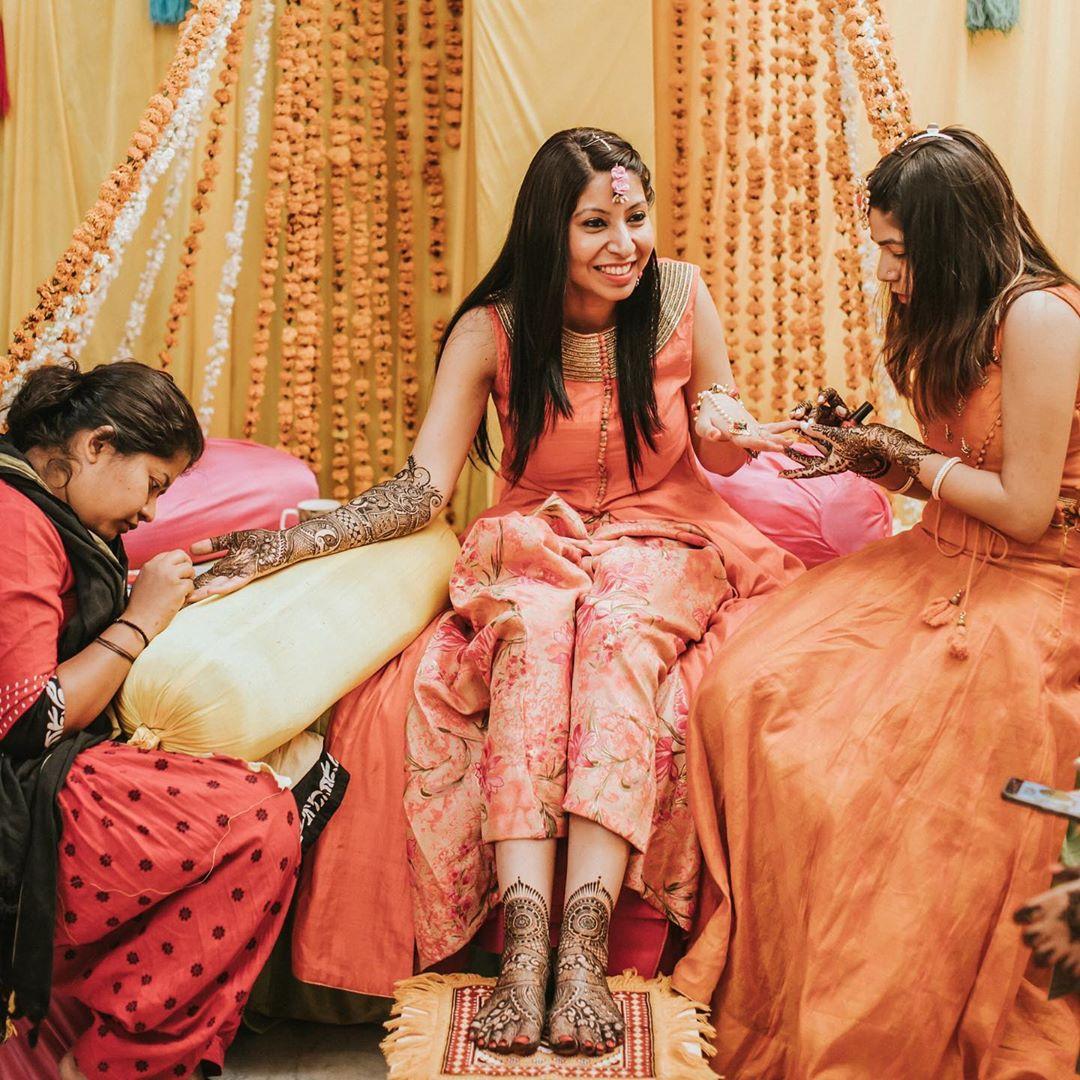 Peach is a member of the pink family but with its own individuality. If you are planning to wear a peach dress you can also look for peach dresses with some pink patterns on it. It gives a depth to the colour and your look.
10. Pink and light lehenga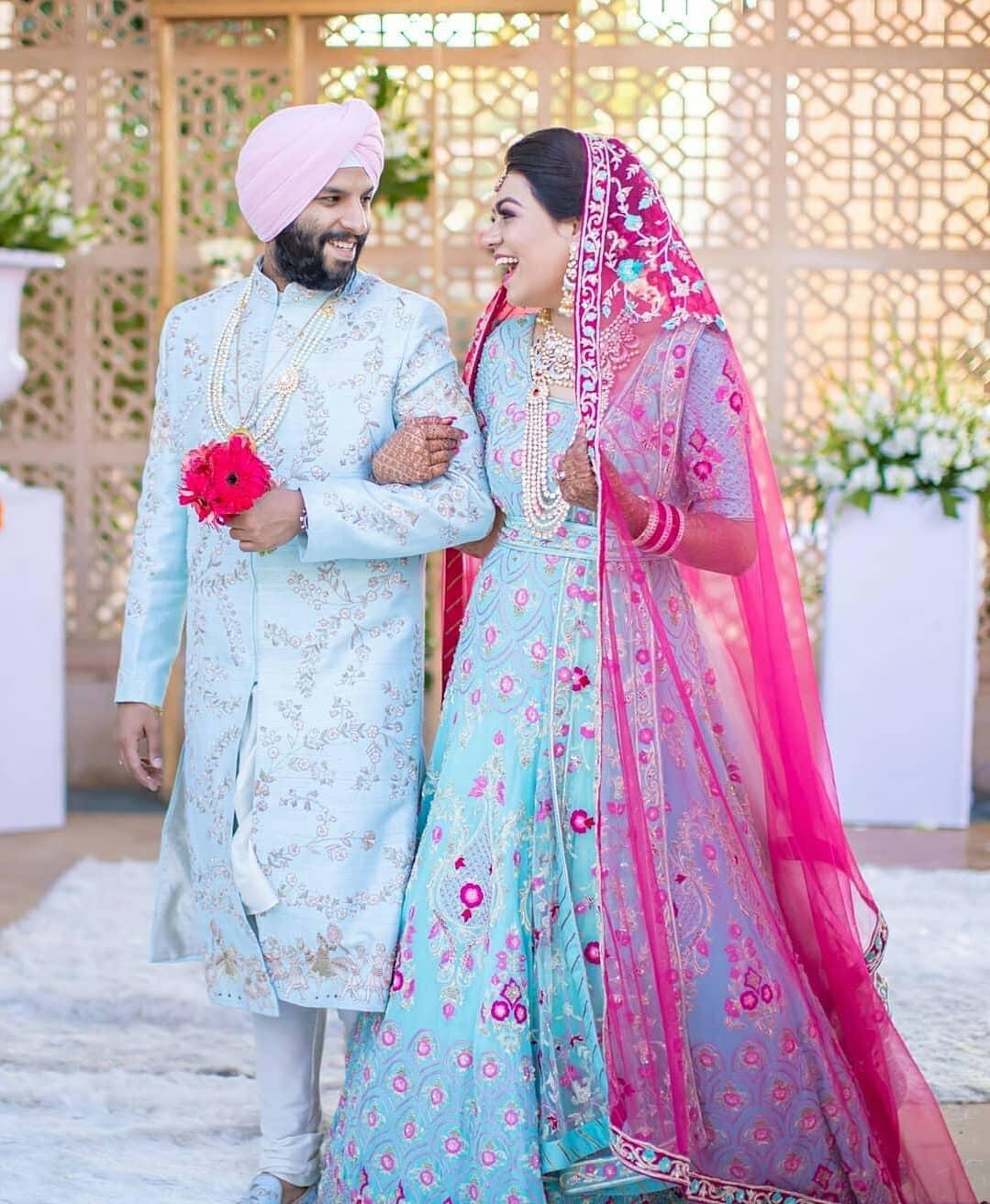 A colour combination that we think is made in heaven is blue and pink. You can pair light blue with bright and light pink hues quite well. Check out the image for some inspiration.
11. Navy blue lehenga with pink borders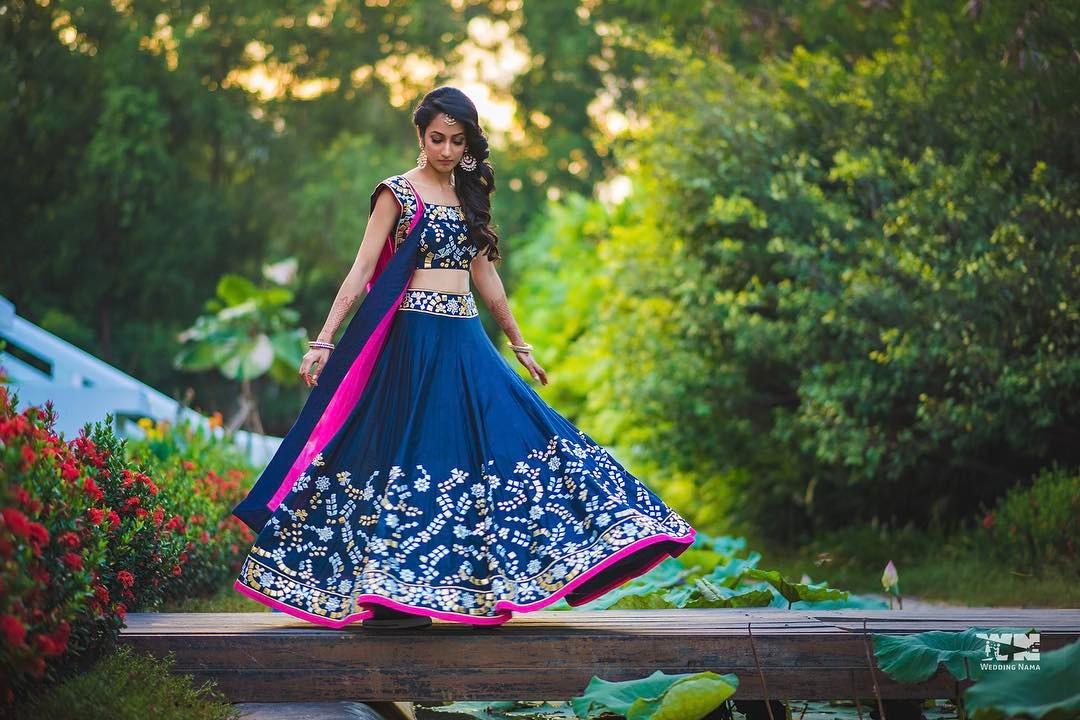 Navy blue and pink is also a great match. You can never go wrong with those two. They were the colours of the year in 2018 and will make for the best pink colour combination dresses.
12. White and pink lehenga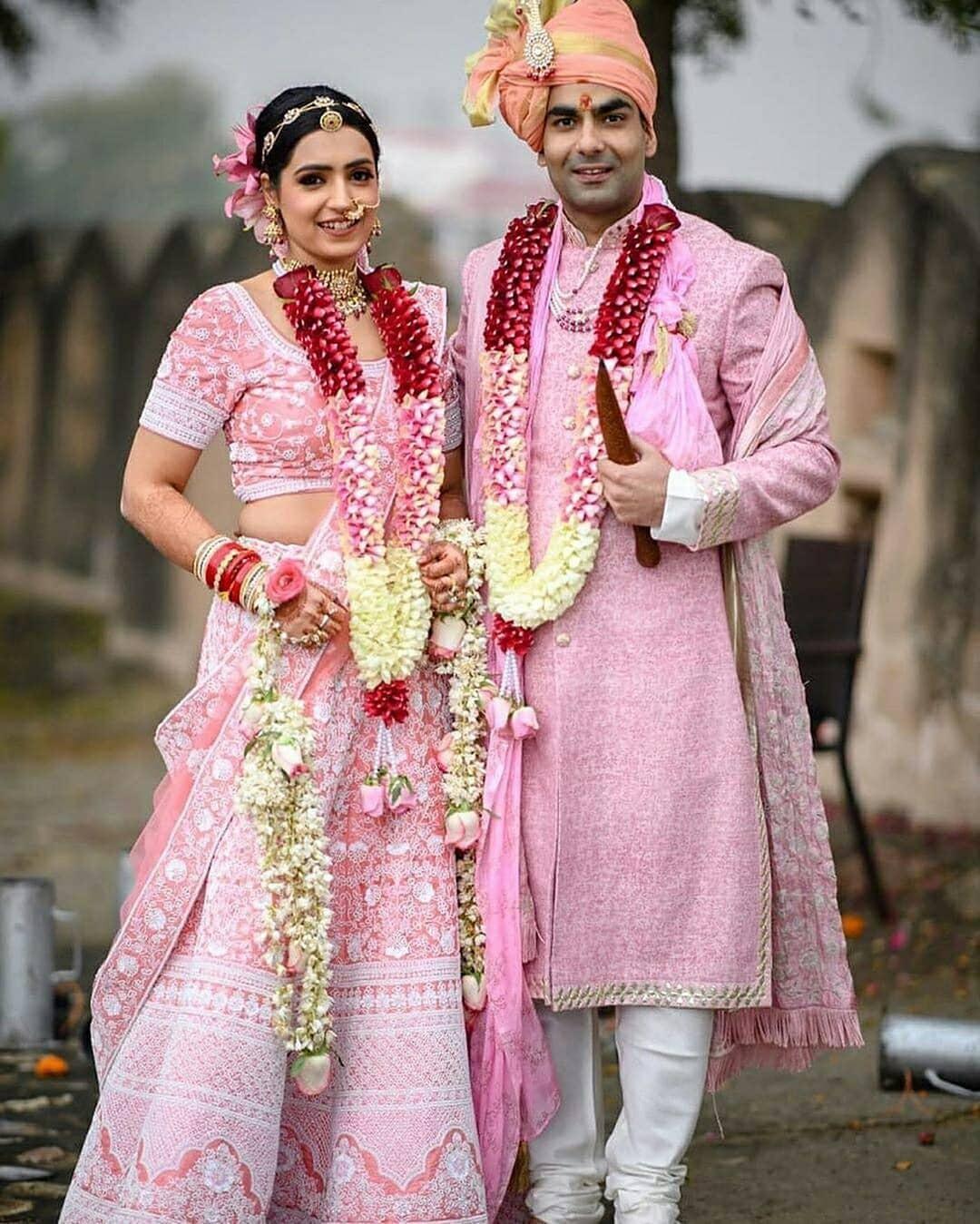 Image Courtesy: Wedding Saga
The trend of having a day ceremony is a huge hit. But keep in mind that you need to wear simple and positive shades for such a ceremony. Pink and white is a brilliant choice for the bride. The proof lies with the breath-taking bride in the photo above. This is our favourite in this pink colour combination dresses list!
Pink is such a versatile colour that adds character to so many different shades. From blues to greens and yellow, you can pick your favourite pink colour combination dresses from this list and look like a diva this wedding season!
Make sure your jewellery matches perfectly. Check out these stores near you that offer stunning bridal jewellery.