Ditch Paper & Go Green With Online Wedding Invitation Card for Your Wedding
Online wedding cards are here to stay & they have more than one advantage! Ditch the extra paper waste & switch to e-invites to be one step closer to planning a sustainable wedding.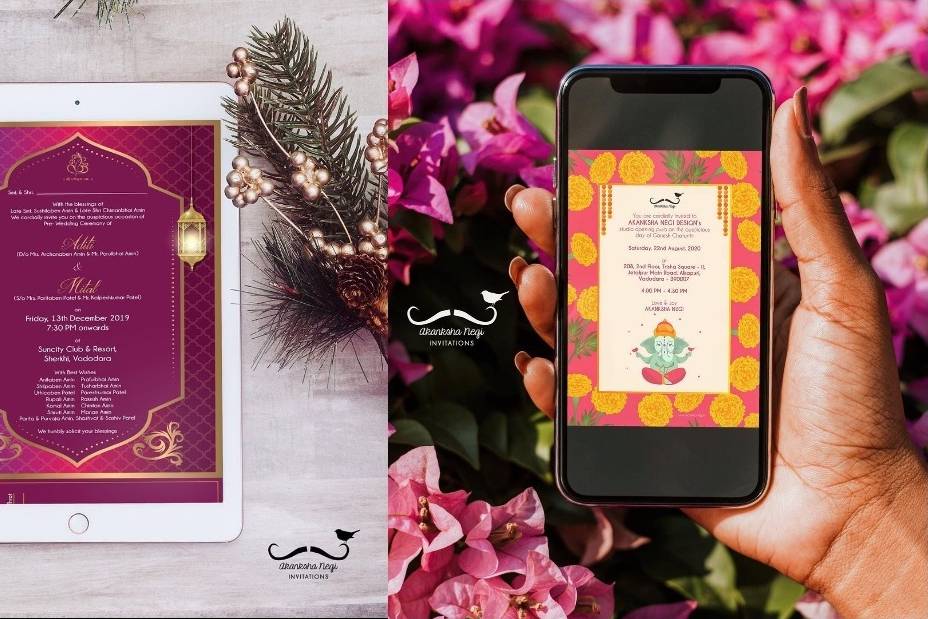 Every time we get an online wedding invitation card, we cannot help but swoon over the modern aesthetic around it. Starting right from the font, the colour schemes, the life-like digital paintings to even personalised caricatures and animations, we love everything about these details that immediately make online wedding invitation cards a top choice when it comes to inviting all the guests.
Now that was just about the design, there are so many other factors which we cannot discount like the fact that it will most definitely be cost-efficient unlike its competitor the traditional card which costs you per card, great for your wedding budget. And not to mention the paper wastage, each of these points make for a serious debate when it comes to making the switch to eco-friendly online wedding invitation cards.
This World Environment Day, let's dive right into the reasons we highly advocate online wedding invitation cards for the greater good of the world.
E-invites are Cost-efficient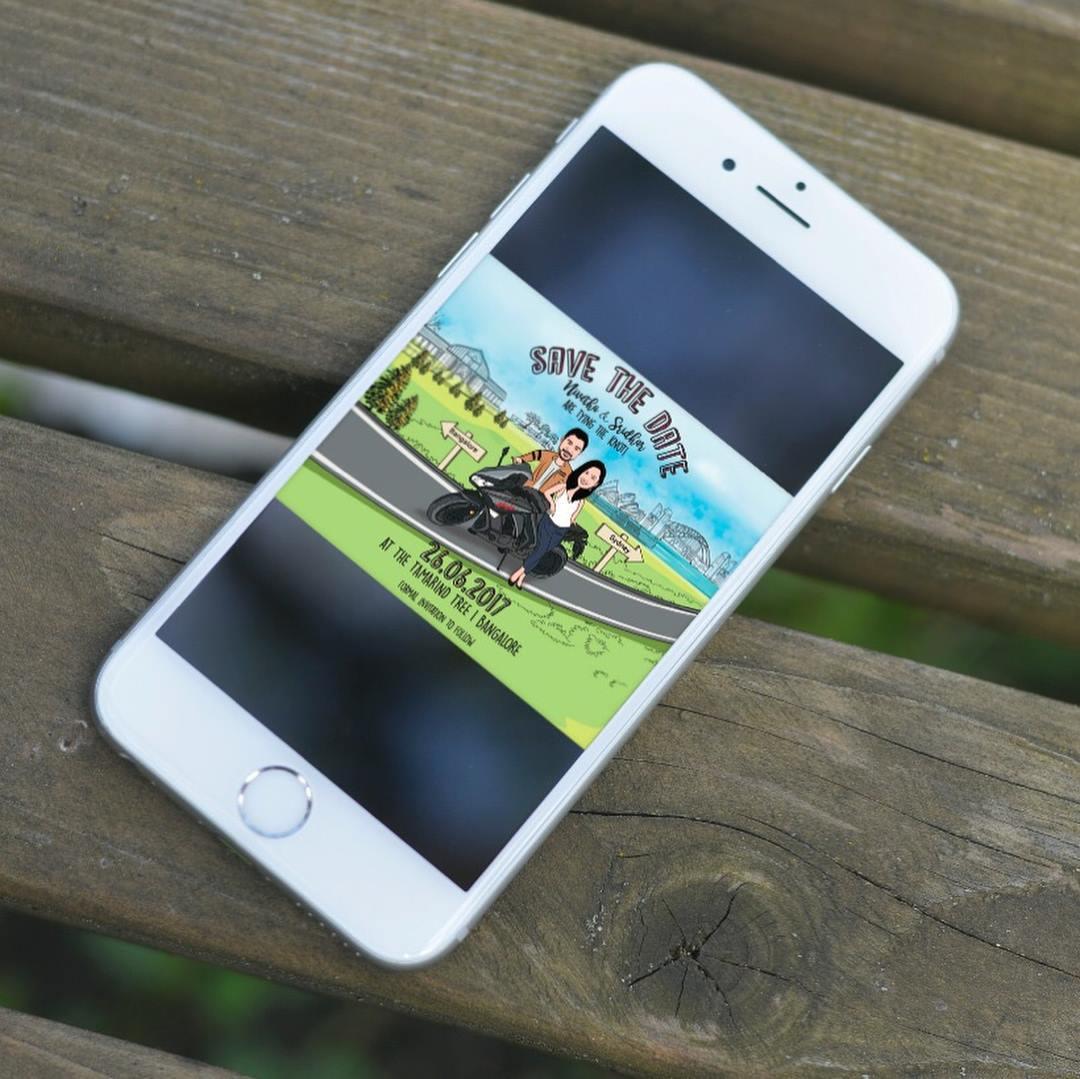 The obvious but understated point that just sells us on the online wedding invitation cards. A traditional card can cost you a bomb with the customisation, the added gifts and not to mention the delivery itself. All these factors added together make up for an expensive affair. But if you get an online wedding invitation card, you may very easily cut down your budget for cards by half and divert the funds for other expenses for the wedding. The one lesson that is crucial for weddings is - cut costs where you can and splurge where you must! There are different forms of online wedding invitation cards which include pictures or even WhatsApp wedding invitation videos depending on which your budget may vary.
Environment-friendly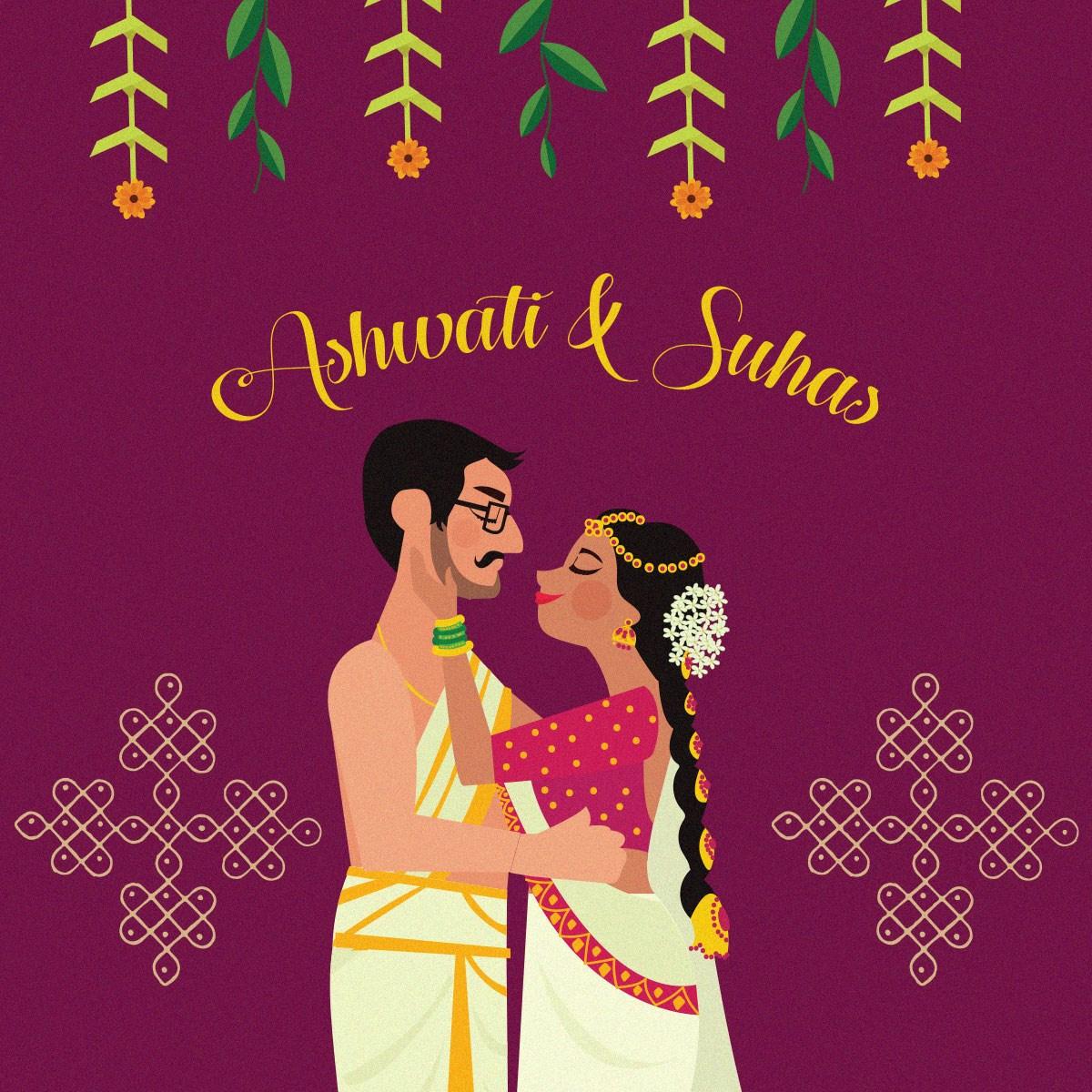 Ok honestly, apart from your parents and you, who will preserve the actual wedding card? Just think about the paper wastage, as much as we hate to part ways from the traditional cards which are forever elegant just consider the paper you save just by choosing online wedding invitation cards. You are making a statement for others too, to ditch the convention card and do their part for the environment. However small of a step it may seem, remember every step counts. Add more quirky elements to your wedding invitation in English, such as Bollywood songs.
But if you cannot part with the idea of a traditional card, we strongly suggest that you send the printed cards to your closest family members while sticking to the online wedding invitation card for others.
The Variety in Designs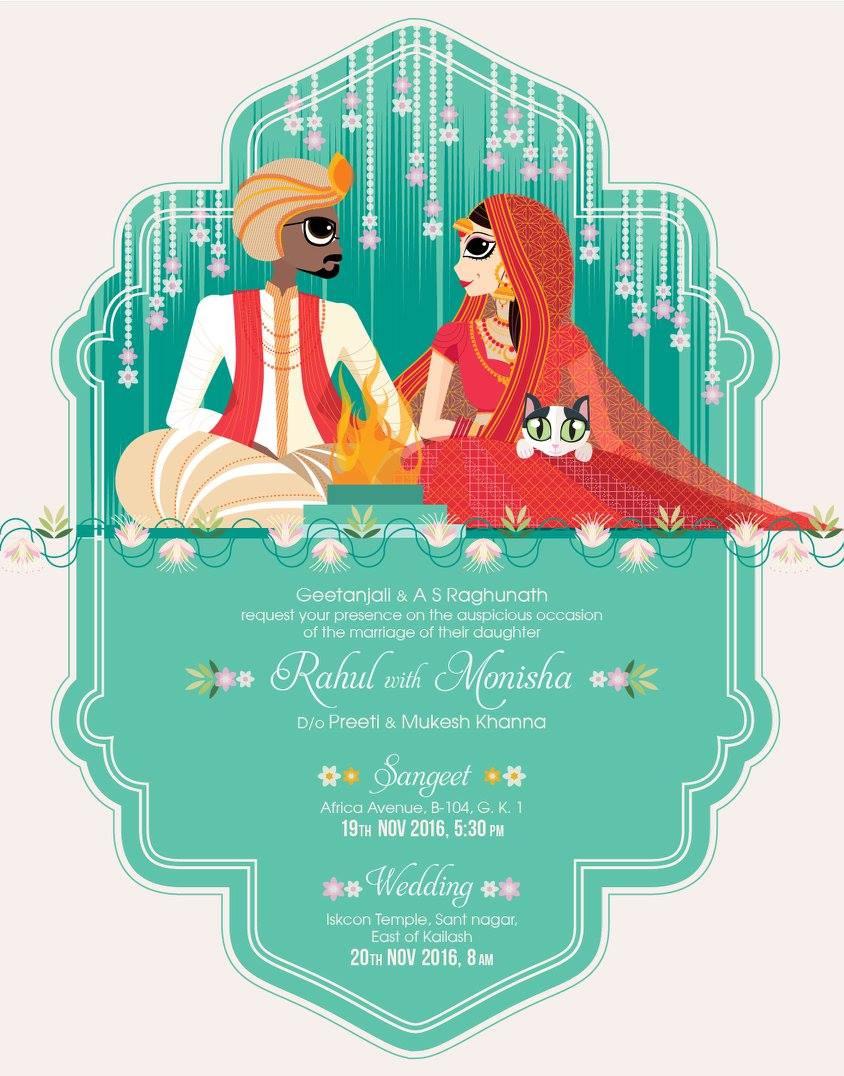 No matter how many times we mention the design, we are never going to do justice to the plethora of designs available for online wedding invitation cards. Every design, every element and every theme you like is customisation and you make the wedding card of your dreams. Be it including pastel colours, cherry blossoms and a calligraphy font or a card reflecting your destination wedding spot. Everything is possible, no colour or design is out of bound. And just looking at some of the amazing online wedding invitation cards samples, we are blown over by the sober, fun and even quirky cards. They are bound to leave a lasting impression. You can also add your favourite Shaadi quotes to the card easily and add your personal touch to the invite.
Owing to the flexibility of online wedding invitation cards offer, you can always can different cards for each function instead of one condensed card. The individual cards will increase a tad bit more expensive but trust us it is worth it! The theme of Each function can be emphasised with other small details making it beyond perfect.
Skipping the hassle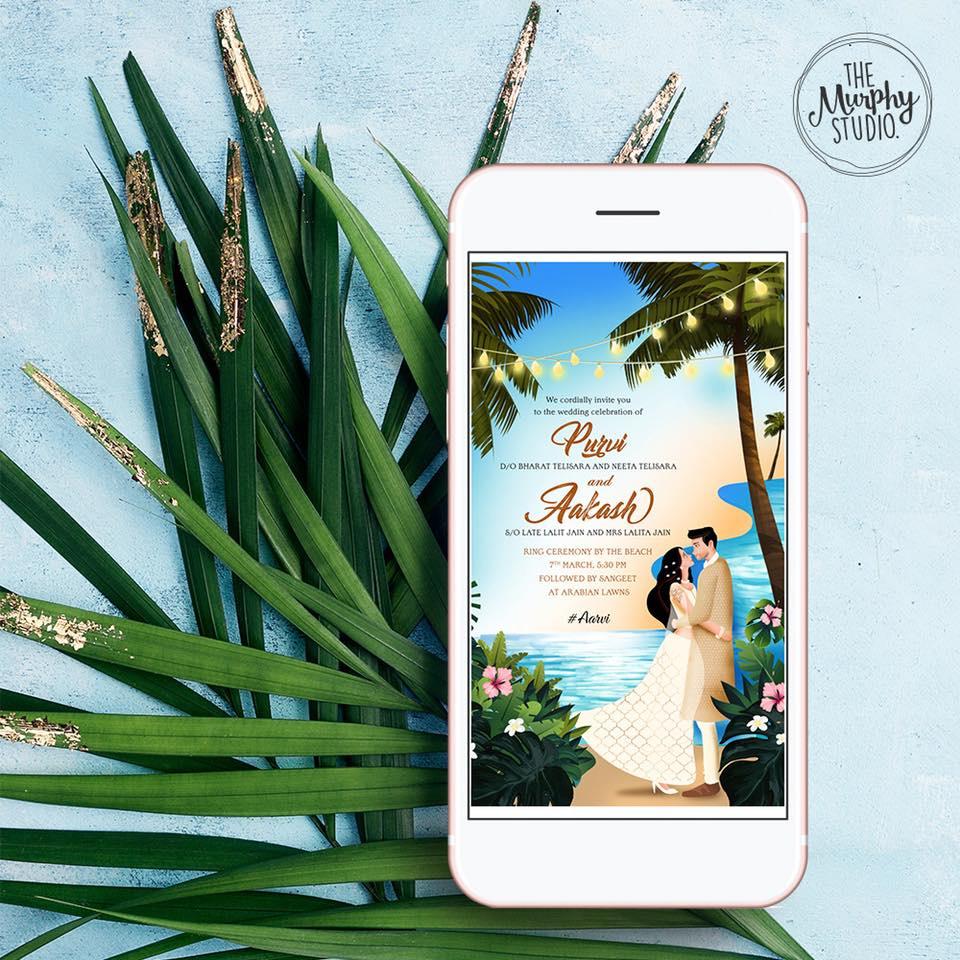 Once the traditional cards are printed comes the hassle of physically delivering each one of them. While many invitation card manufacturers do offer the service of delivering these cards for you. It is still quite a dicey system and an outdated one at that. Once you discuss and have seen the various stages of the card, the final online wedding invitation card is sent to you and that is that. From there on, we know how simple sharing online invitation cards are, especially across all the digital platforms, be it WhatsApp, Facebook or even a simple email. These online wedding invitation cards also make it easy for guests to RSVP and confirm their presence.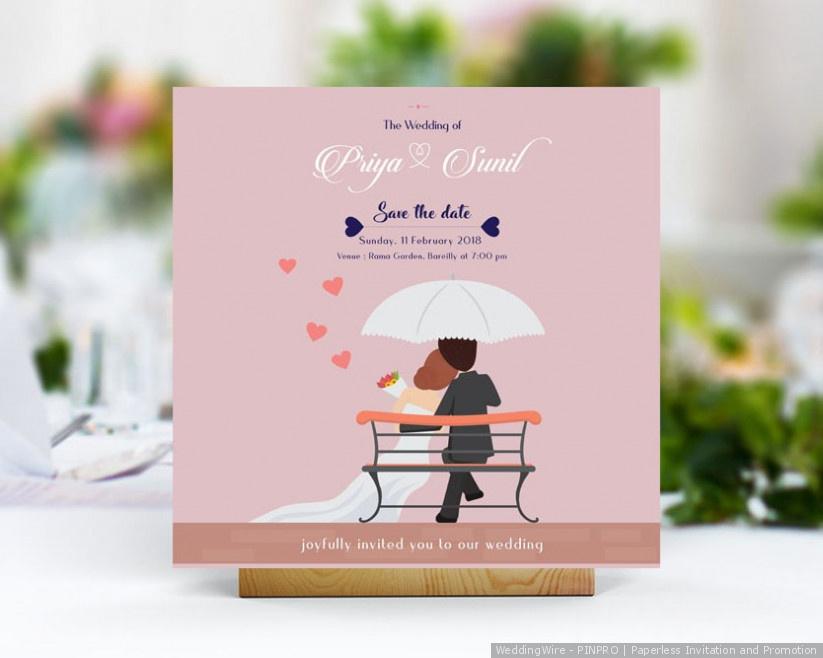 Online wedding invitation cards are often chosen by millennial brides and grooms for a variety of reasons but one factor that stood out for us is just the design part alone. We loved each and every online wedding invitation card as the attention to detail was remarkable. We even came across an innovative card that had embedded the google maps location for the wedding destination to make it easier for the guests to access. How very thoughtful! There are so many more factors to be considered while making a switch.
What do you think about online wedding invitation cards? Do let us know in the comments below.