Choose From Our Fusion New Trend Sarees for This Wedding Season
Here are some fine new trend sarees, consciously chosen to break the monotony of your regular sarees. Have a look!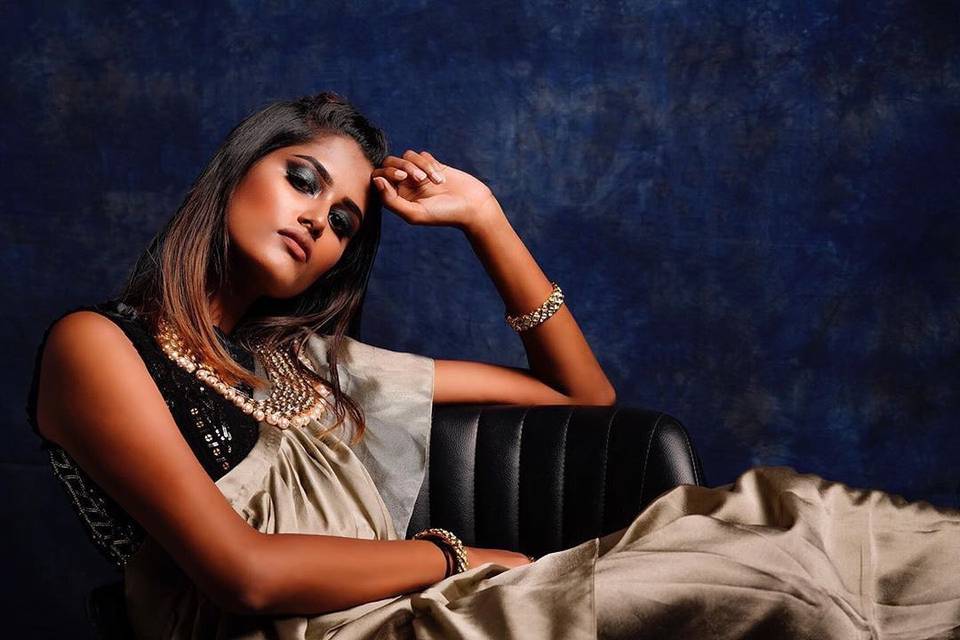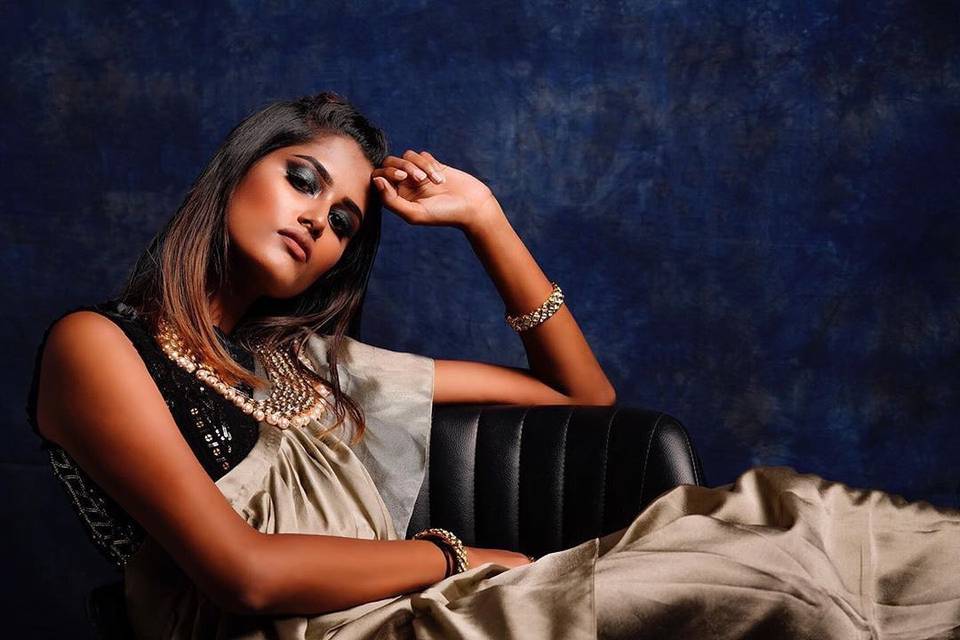 Image Courtesy: Tamara Chennai
Looking for some fresh fashion breeze this wedding season? We totally understand how boring can repeatedly wearing similar styles of clothing can be. Imagine me saying, "I feel you, woman!" Here is an eclectic list of some totally fabulous hand-picked new trend sarees. All the new saree trends including ruffles, belts, and other experiments by top designers have all been packed in this crisp list of new-trend sarees.
The hip wedding season of 2019 is all about trying new voguish saree styles which are a perfect mix of sass and tradition. What do you say? Go through the fab collection below and decide for yourself!
The Sassy Saree Debut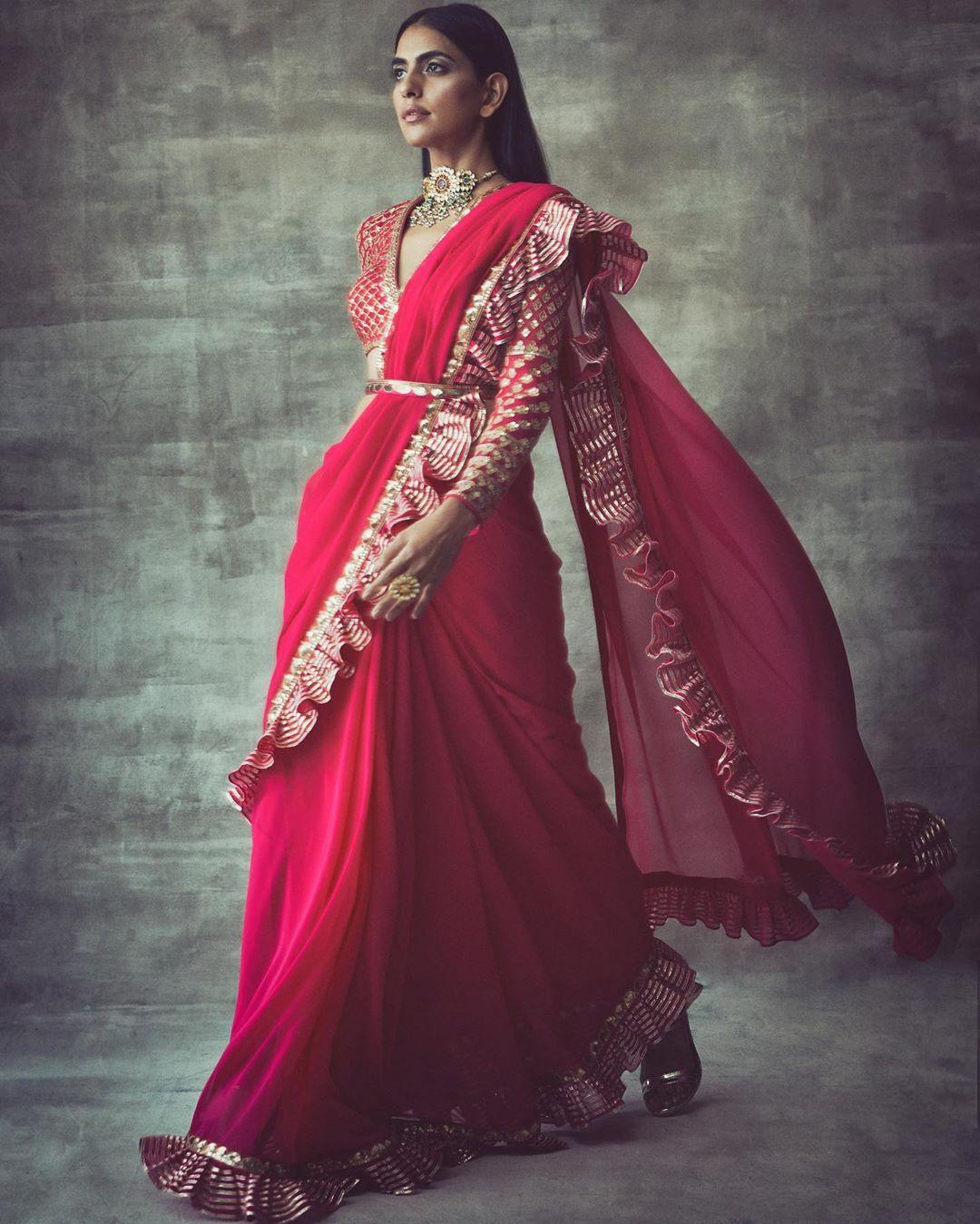 Image Courtesy: Aashni & Co.
Talking about new trend sarees, this debut designer saree beauty is the ultimate queen of sass. The ruffled beauty in the brighter tone of pink looks absolutely wedding-ready with the shiny mix of gold embroidery in the blouse, lovely ruffled stripes on the sides, and the classy lace to combine it all into a unified piece of art.
The deep V-neck blouse, the bright elegant saree, and the classy gold belt in the centre to add the fusion tadka to the traditional look. The entire look will transform you into a stylish diva for the hatke wedding season!
Just DIY-ing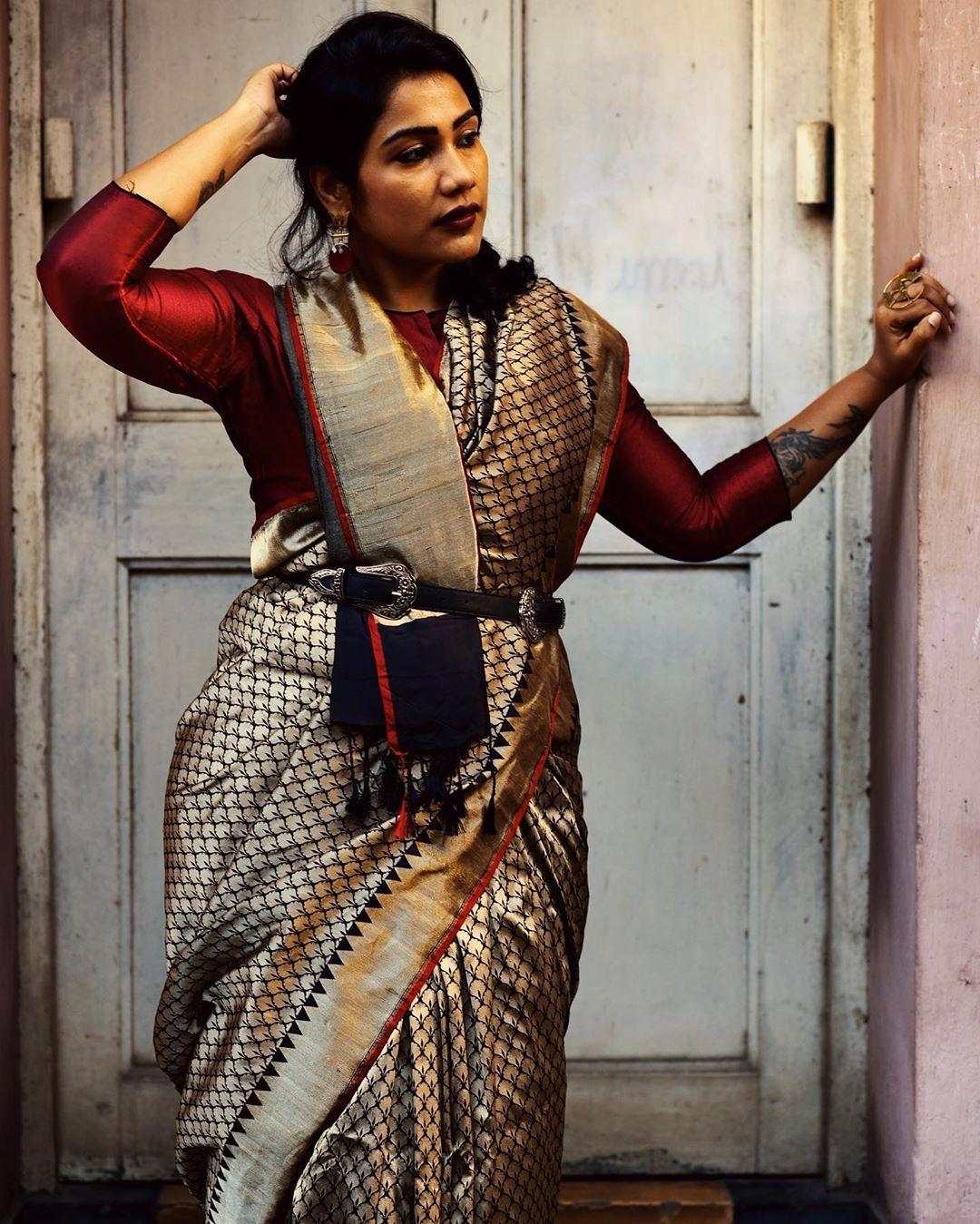 Image Courtesy: The Boho Balika's Instagram
What if we tell you that you can transform your regular but oh so gorgeous Banarasi beauty into one of the new trend sarees? Well, take this dreamy picture with the gorgeous Boho Baalika in it as a visual representation of how well you can do that.
Just experiment with the draping of the pallu and add that extra oomph factor with the statement belt in the middle. It can be a sleek black one or a thick buckled beauty, a North-eastern beaded beauty (which is an absolute bomb by the way) or a contrasting cloth belt.
Just choose the belt which goes best with your bomb personality and you are all set to get heads to turn.
The Shilpa Shetty Charm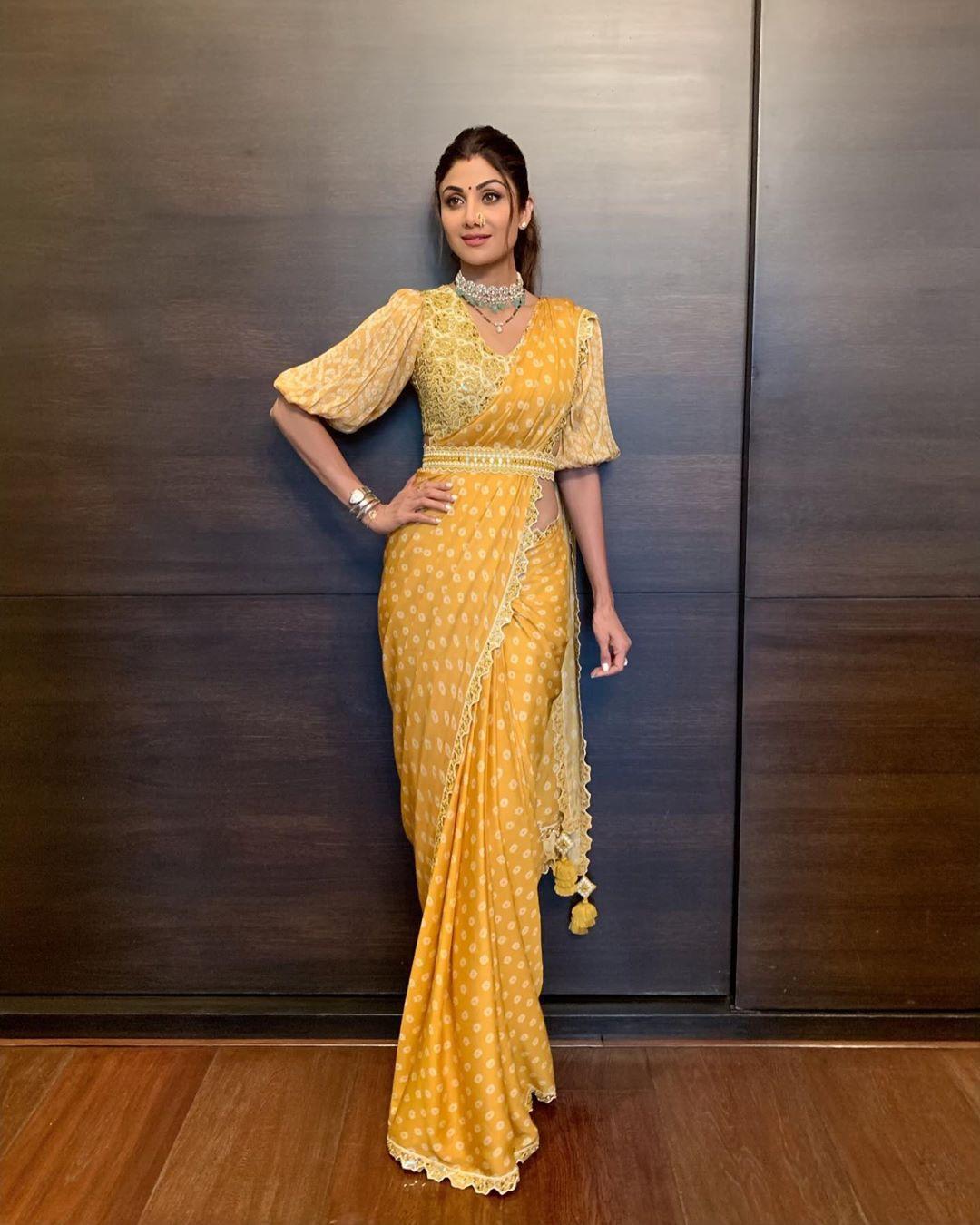 Image Courtesy: Shilpa Shetty's Official Instagram
This designer piece in our list of new trends sarees, adorned by the stunning Shilpa Shetty is this lovely piece featuring the trendy balloon sleeves. It is indeed an elegant piece with a stylish belt on the waist. The belt is indeed the secret ingredient for transforming any traditional saree piece into a fashion-week, ramp ready, fusion wedding look.
Choosing the entire saree along with the blouse and the additional elements (belt here) in a single bright festive colour is a unique choice which is quite trending these days. It presents you as a highly confident diva who can truly carry any colour.
The Bandhani Ruffles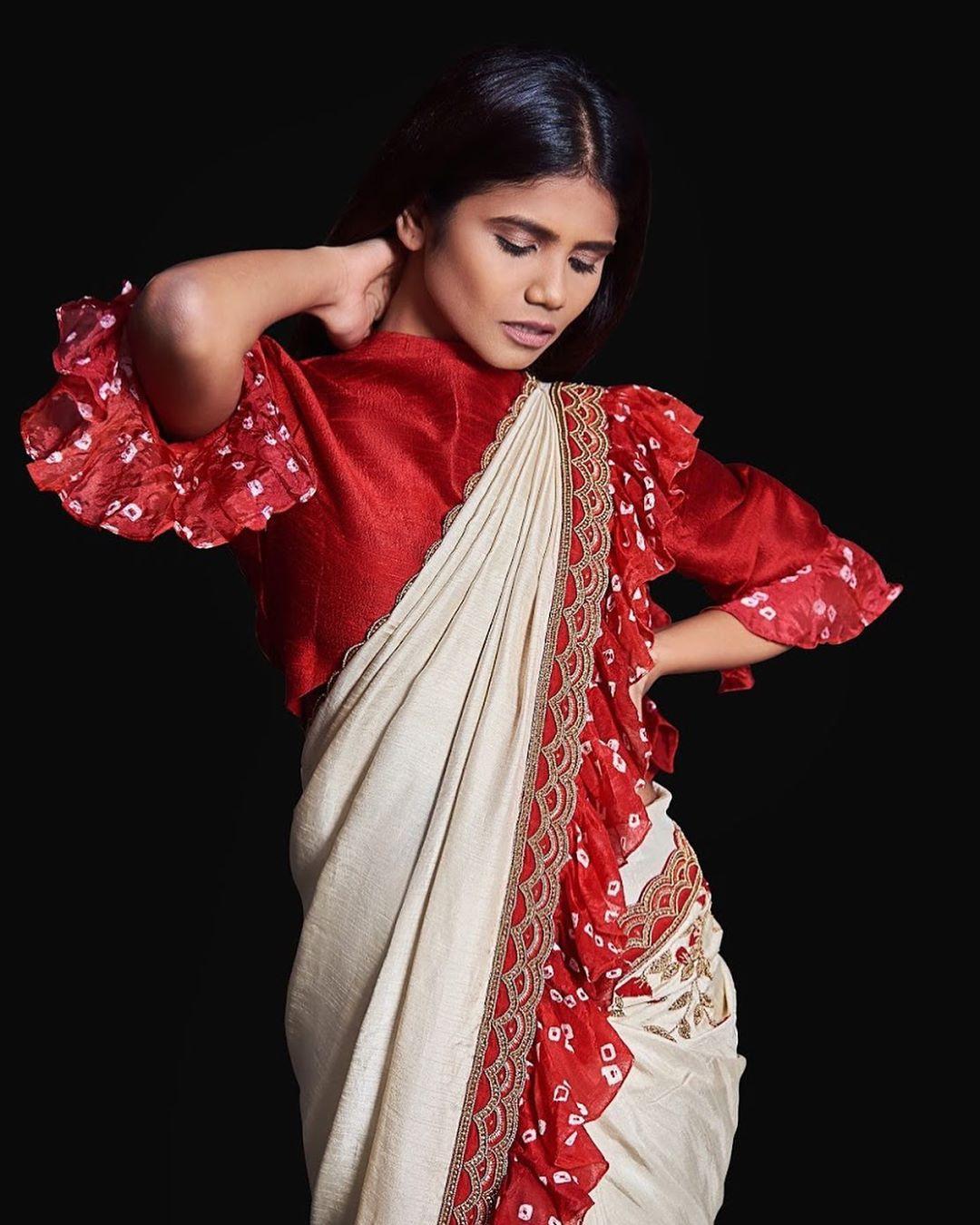 Image Courtesy: HauteChic.in
This hatke piece is definitely a hit in our collection of new-trend sarees. It is a combo of your traditional saree, the trendy ruffles, a tint of bell sleeves, and the traditional Bandhani print.
If this isn't the ultimate wedding package, then tell me what is? The deep red and cream combo is bound to take your breath away! Team it up with thick faux lashes and let your badass Bandhani ruffles in red (or any other colour you wish to try it in) do all the festive talking.
The Pre-stitched Satin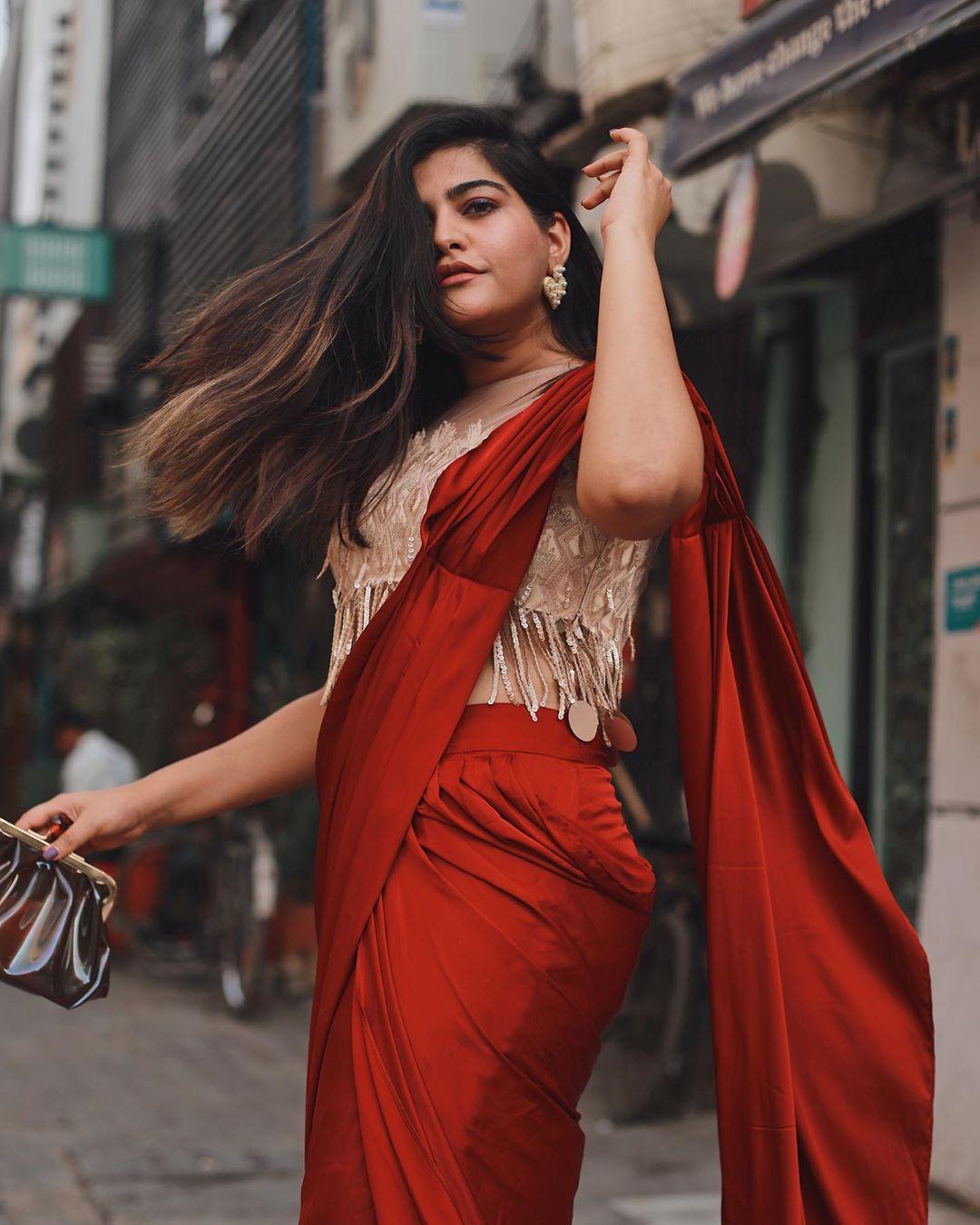 Image Courtesy: That Boho Girl's Instagram
Pre-stitched sarees are the latest entry in the new trend sarees. Considering how easy are they to wear, such pre-stitched beauties can easily be your go-to options for the zillion back to back weddings this wedding season.
Team a single deep colour which is absolutely rich and elegant with a flashy embroidered blouse, just like fashion influencer Kritika looks in this picture. Just go for it and rock the evening.
With all the dreamy saree pictures, listed right above, the gorgeous woman reading this is ready to set benchmarks for stylish wedding looks. Choose the voguish element which can be a statement belt, long danglers, heavy jewellery, a sassy jacket, or a combo of more than one of these elements. Choose the best to define yourself and go for it! Just call your girl gang and go for the ultimate shopping round.
We would recommend you guys to keep a few elements or styles handy in your notes in order to have a slight idea of exactly what you are looking for. Sounds fun, doesn't it?
Do tell us how you wish to mould these new trend sarees in your own style, in the comments below.