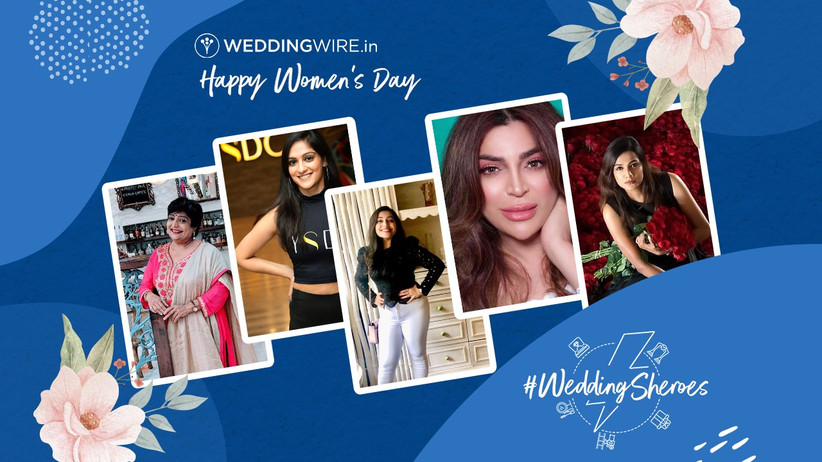 Celebrating the indomitable spirit of women; this Women's Day, we spoke to some of the leading ladies of the Indian wedding industry. There is no dearth of female mentors who have paved the path of success in the Indian wedding space.
In conversation with a few ambitious and inspiring women from the wedding space, WeddingWire India has brought together inspiring narratives that are free from the clutches of patriarchy and documents the journey of these change makers.
Ojas Rajani, Celebrity/Bridal Makeup Artist
Bollywood's favourite Celebrity Make-up and Hair Artist, Ojas Rajani talks about her experience of creating exemplary looks for Bollywood Divas since 25 years and also traversing to the Bridal Makeup realm.
Read the whole interview here -
Q. How did your journey as a Make-up artist begin?
- Not many people know I am a Chartered Accountant by profession. I started my career 25 years ago, but I always wanted to be a makeup artist. I was not allowed because of the family pressures but luckily, I went to America and graduated from the Miami School of Hair and Makeup. When I came back to Bombay, I got the opportunity to work with Urmila Matondkar as her makeup artist in the movie, Rangeela. That's how my journey began!
Q. Who is the Role Model or biggest inspiration in your life?
- My parents have always been my role models. They have taught me to be a hard working human being, and a go getter. They taught me that Sky is the Limit. They have also shown me the values of being a good human being and have gratitude. The higher you rise in life, make sure you say thank you to the Universe. I grew up watching so much Bollywood that I became a Bollywood inspiration. I grew up watching Mumtaz during the 60's and 70's and her makeup was impeccable. Coming to the fashionista Parveen Babbi who is no more with us, and Zeenat Aman - their makeup always looked ahead of time! Luckily I worked with Urmila Matondkar and Aishwarya Rai, who were my biggest lucky draws. Today I am known as Aishwarya Rai's makeup artist because I have always done her makeup for 1000s' of appearances - be it movies, or Cannes film festivals, or the L'oreal campaigns. It's really nice to have such great inspirations.
Q. What do you love the most about being a Bridal/Celebrity Make-up artist?
A - I have already ventured into Bridal makeup while I have been there, done it all for 25 years for 3 generations of actresses from Urmila Matondkar, Aishwarya Rai Bachchan, Deepika Padukone to Alia Bhatt. I am somewhere down the line responsible in India for starting bridal makeup with a shabang being from Bollywood. I remember the time I did makeup for Aishwarya in Jodha Akbar, this was when the bridal market opened up with flair for Bollywood inspired makeup. The best thing about being a Bridal & Celebrity make up artist is that you get to directly interact with so many brides, you get so much love from them, they become family friends. Always remember, you work is all word of mouth
Q. 5 things a woman should remember while pursuing her dreams -
Be a go-getter, be shabang all the time.
Always remember, sky is the limit. Nothing can stop a woman
Women have the power to multitask. Handling home, children and your career - all that power is inbuilt in you.
A woman is soft spoken, caring and very accommodating.The minute you are very accommodating, you are a sure shot winner.
A woman has the power to visualise - be it visualising her role at home, or any career path like interior decoration, makeup, and wedding planning to name a few.
Q. How do you define success?
The word 'success' can have so many definitions. Your success mantra could be being loved and celebrated, or when you are accommodating and giving. It is not about your business being big or small but about achieving a lot with your caliber without any one's favours. Success has so many means and values, you could be successful as a teacher, a yoga instructor, an actor or model or as a mother. My salute to every woman who has found success in their respective field.
Q. Your advice to aspiring young bridal makeup artists?
Always remember, Less is more. Styles, makeup trends and fashion forecasts may change but when doing less is more, because what you see on a person might transcend into a camera very differently. Always keep it minimal, soft and chic. Also, remember to be patient, don't aspire to become an Ojas Rajani in a day because Rome was not built in a day! Keep practising until you are perfect, enjoy what you do, and nothing can stop you from succeeding.
Ambika Gupta, The A-Cube Project
Ambika Gupta, Founder of The A-Cube Project, a luxe Wedding Design and Planning company, shares the story of her becoming. The key designer of Kajal Aggarwal's wedding - the bespoke "Kashmir to Kanyakumari" experience, also opens up about the privilege of being a woman leader in the Indian wedding space.
Read the whole interview here -
Q. How did the journey of The A-Cube Project begin?
A - My company started around 8-9 years ago. It was a restless night when I first asked myself, what do I want to do in life. I was analysing what I am good at and then came the idea! I asked myself "What am I good at, What do I enjoy doing?" And then I realised I love meeting new people, creating new ideas, shopping with other people's money, so A Cube came into culmination. It started with a family member's event and I did the event with a lot of personalisation and a lot of heart. When I uploaded the images of my work at the wedding on the internet, it garnered a lot of attention - which led to word of mouth and there was no looking back after that.
Q. What does it take to be a Woman in Leadership in the wedding industry?
A - It is an absolute privilege to be a woman in leadership in the wedding industry, because we have the tendency to multi-task. We are warm, affectionate and we understand emotions. We can handle a bridezilla and we can also handle a groomzilla. I have never faced a bias in the industry, in fact a lot of things about weddings come naturally to women, so it's a great space to be in.
Q. What do you love the most about being a Wedding Designer & Planner?
A - I love meeting new people and I love being a part of families and their happy moments for a little while. We become like a family when we work with people for so many months, so it's a really beautiful space to be in. I also love creating, I love the travel that comes with it, the hustle, and that last one hour when everything orchestrates into that perfect moment, you see those gleaming family faces in the end.
Q. Your take on Gender Equality in the Indian Wedding space?
A - There is enough space for both men and women in this industry and they are both doing really well. I think they can both handle everything about weddings equally well and I have never faced any inequality in this industry.
Q. 5 things couples must consider while choosing their wedding theme?
A -
Make it your own, your wedding decoration should be something that you can look back at 10 years from now and say, damn! I like that.
If you have a wedding theme, make sure your wedding venue decoration is in sync with your wedding theme.
Talk to your wedding designer, discuss the theme and the expenditure involved and check if these ideas go with your wedding budget.
See what you are wearing at the wedding and check if the colours you are wearing are in sync with the colours of your wedding decor. It works really well for your wedding pictures.
Make sure that every single event of the wedding has a unique story line and is different from each other because you don't want the same pictures and backdrops. Talk, Explore, Save and Pinterest.
Soniya Dembla, Camera Crew
Soniya Dembla from Weddings by Camera Crew, a Destination Wedding Photography and Filming company, opens up about being a female leader in a male dominated world.
Read the whole interview here -
Q. How did the journey of Camera Crew begin?
- Camera Crew is the brainchild of my father Rajesh Dembla. He started in 2008 with something as simple as shooting a family wedding. He loved the idea of being an integral part of couples' love stories. Soon we became one of the premium companies to offer wedding photography and filming services. Over the years, he saw my growing interest and passion towards photography and thought I was the right person to take it forward. Like they say, behind every successful woman, is a father who showed endless support and belief in their daughters.
Q. What does it take to be a Woman in Leadership in the wedding industry?
- Being a leader is challenging, be it a man or a woman. But being a young business woman in a male dominated world comes with an added challenge. In my day to day work, I deal with cinematographers, editors and some of them have decades of experience. Instead of being intimidated by this experience, I try to learn from them and at the same time, add the freshness of my thoughts and understanding of my clients. I believe the strength of my working style is to be able to apply my ideas to the expertise of my team.
Q. What is your definition of success?
- Success is happy clients and as long as you and the company are growing as well, that is ultimate success. I am proud of the fact that most of our clients are people who attend weddings that are shot by Camera Crew. They fall in love with our work so much, that when the time comes for them to plan their weddings, they reach out to us.
Q. What do you love the most about being a Wedding Photographer?
- I love meeting new people, knowing their story and being able to look at their love a little differently every time. We understand the extraordinary power of these wedding moments and being able to capture these moments, which will become someone's prized possession - is a blessing in disguise. The reactions that we get from our clients is what truly keeps me going.
Q. 5 must-have elements in wedding photography?
- Wedding Photography is not about elements, it is about emotions. Thousands of emotions that run through the minds of brides, grooms, and their families and it is important that you put yourselves in their shoes to understand how they would like to look back at their wedding day.
Q. Your message to young women who aspire to become wedding photographers?
- If shooting a wedding is something that excites you, I would say go for it. There is no such thing that a woman can't do. Keep learning from your mistakes, keep growing, sky is the limit.
Kamna Arora, YSDC Wedding Choreography
Famous wedding choreographer Kamna Arora, Co-Founder of YSDC Wedding Choreography, shares the story of her Becoming. The young and passionate dancer and entrepreneur, also highlights the stereotypes attached of being a woman entrepreneur.
Read the whole interview here -
Q. How did the journey of your brand 'YSDC WEDDING CHOREOGRAPHY' begin?
- I always knew that I wanted to be a dancer and consequently a part of the wedding industry. It began at my home when my brother was getting married and I started teaching my friends and family. I realised I love being a part of these celebrations and I love teaching people. Eventually I got very lucky, I found a business partner in my best friend - Utsav who always backed my idea. This gave birth to YSDC wedding choreography.
Q. What does it take to be a Woman in Leadership in the wedding industry?
- So many women are taking up leadership roles in the wedding industry and they are doing wonders, be it planners, decorators or choreographers. I think you just have to be confident, and know how to voice your opinions openly. You can't shy away from making your voice heard even if you are in a room full of 100 men. You will see me being as loud and assertive as and when required. Wedding industry or not, man or woman, we are all doing our jobs and it is all supposed to be the same.
Q. 5 ways to make bridal performances different for each bride?
Know the bride's personality and then curate the choreography accordingly.
You don't have to follow the conventional path, you can also choose unconventional songs for the bride.
You can add an element to the choreography as per the bride's personality which can make it visually appealing.
Each bride will have a certain danceability so you must choose accordingly. Keeping it simple but effective is also a good mantra to follow.
Most importantly, every bride has a different choice. Let her do what she wants to do.
Q. What do you love the most about being a Wedding Choreographer?
- I love meeting new people. As a choreographer and also an entrepreneur, my life is mostly consumed with work. But when I am teaching dance at a wedding, it sometimes doesn't feel like work. You are a part of a family and their celebration, it doesn't get better than that.
Q. Do you think there is still any stereotype attached for being a women entrepreneur?
- There are stereotypes but with time, I see the thought process changing and the stereotypes fading away because more and more women are taking on leadership roles. I see a lot of women around me who are struggling with the working hours, traveling, choosing between your responsibilities at home and rushing to work. As women, your decisions are also questioned a lot of times. I feel it is upto us women, if you want to do something, you have to take a stand for it.
Q. Who are the women in your life who supported your journey? Any role model?
- I have been very lucky to have a supportive family. The best thing that they have done for me is just 'letting me be' and allow me to frame my life the way I want. I am 30 and unmarried and no one questions that yet, so I am lucky at that end. My team has a lot of girls who are more hardworking than me, so I take inspiration from them.
Q. Your advice to aspiring women wedding choreographers out there.
- I have a very simple mantra - just go for it. Dance is a career and wedding choreographers are professionals. This is something we all have to remember, don't let anyone tell you otherwise. If you have a goal, just walk towards it with passion, patience and perseverance and honestly, there's nothing that can stop you.
Veena Nagda, Celebrity Mehndi Artist
From Shilpa Shetty to Natasha Dalal, Veena Nagda has wrapped the hands of many Bollywood beauties in her beautiful mehndi designs for movies as well as wedding mehndi. In a conversation with WeddingWire India, she talks about her inspirations and the evolving trends in Bridal Mehndi design.
Read the whole interview here-
Q. You are known as the Bollywood Mehndi queen, how did your journey begin?
- I started applying Mehndi at a young age and now it is so good to complete 41 years in this industry. I am SSC passed out but during that time, girls were not allowed to stop to follow their choice of profession! Just after this my career in mehndi started.
Q. What do you love the most about being a Mehndi artist?
- In my life only two things are important, my mehndi and my two kids. I have achieved all the success in my life because of the mehndi only. We often say that a bride will be happy if her mehndi darkens - so mehndi plays an important role in everyone's life. Mehndi has made my identity and I'm thankful for this talent of mehndi designing, because of it I was able to brighten my child's life and career.
Q. From the 90's to Now, how have bridal mehndi designs changed?
- This trend of applying mehndi will never grow old, it is always here to stay! The old trend always comes back. During the 90s, small mehndi designs were in the trend. For instance - small petals on mehndi and then came the Arabic mehndi and broad mehndi design trends and then came the lure for lotus designs. Thanks to Shilpa Shetty, for inspiring my lotus mehndi trend with cutwork. I applied the same trend in Sonam Kapoor and Deepika Padukone's wedding. Right now, we are seeing a huge comeback of the old mehndi designs. I have recently applied mehndi on Kajal Aggarwal's hand. Yes, Shilpa jI, Deepika went for the same 90's design as henna design trends never fade with time. Even Nidhi Dutta, Natasha Dalal went ahead with old mehndi design trends. Natasha Dalal wanted the traditional design with flowers and wide spaces! Thereby, everyone still loves the old traditional design trends.
Q. Who is the biggest inspiration in your life?
- I am thankful to all the people who have helped me in my journey. Priya Sippi helped me to enter the Bollywood world. I'm so glad to be associated with Karan Johar's movies from the last 20 to 21 years.
Q. 5 things young Mehndi artists must remember in their initial journey? Your advice to aspiring mehndi artists?
- Firstly, I would recommend you all to use a fresh mehndi powder as good mehndi should not only be for the bride but for every member of the family. Also, never use a stale mehndi- always use fresh mehndi and apply it on the same date. Further, no matter what price the client is giving, make sure you apply a good henna design as in this industry - good will and your work matters. If your work will be good then the clients will call you no matter where you are located. Also, make sure to apply chemical free-mehndi. Our main aim in life is to make others happy, so make sure that you are in a happy frame of mind before you apply mehndi to the bride. Those happy vibes will make the mehndi dark and beautiful. Plus, this will give positivity to the bride.
We would love to hear stories of #Sheroes and WonderWomen who inspired your journey. Head to the our community discussion - Who is the Wonder Woman of your life? and share your stories with us.
- Veena Nagda's interview by Meha Khera.