Worried About How to Change Name in Pan Card? Keep the Stress at Bay on Your D-day With This Easy-to-follow Guide
Do you need to change your name in your PAN card after getting hitched but are worried about the potential hassles? Look no further, here's a complete guide on how to change name in PAN card.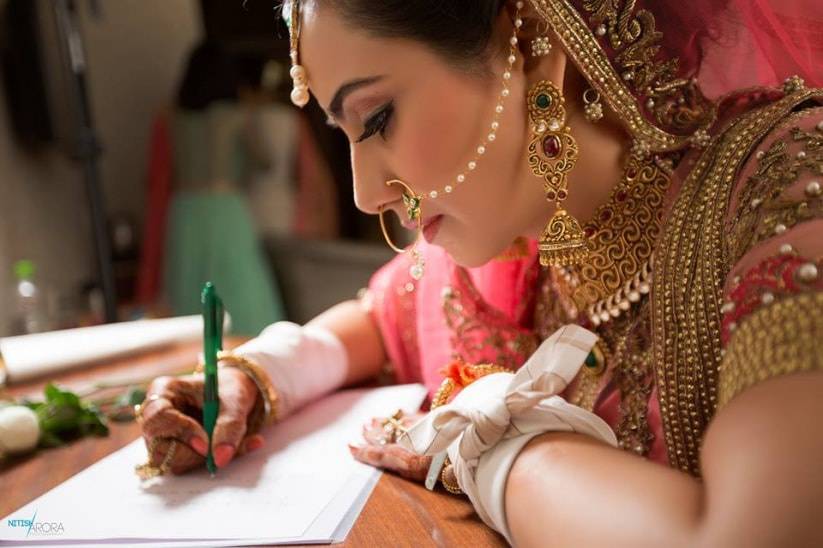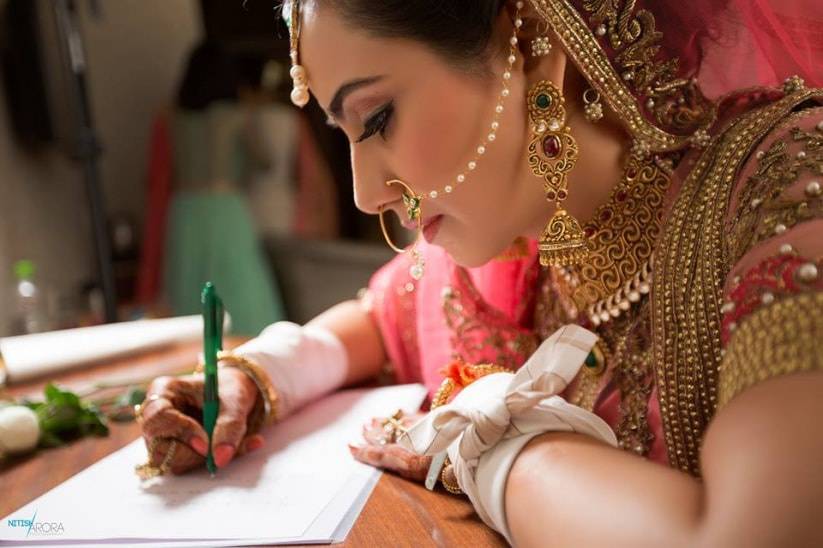 PAN card is an extremely important proof of identity that is necessary to file income tax returns and to conduct large banking transactions among a whole host of other things and you might be stressing about how to change name in PAN card. If we go about three decades back, then the brides would naturally change their surnames according to their groom's but now three decades later with the commendable growth of modernism and the faded strains of the society, the bride can choose for herself if she wants her name to remain the same as her father's or take after her significant other's name.
The wedding is a traditional event and on this occasion despite all the joyous celebrations that they will involve, there are quite many legal tasks that need to be completed too. Be it the signature at the registrar's office to register yourself as man and wife under the Indian government or be it the name change and so on, you will need to know exactly how to change name in PAN card. After marriage, if you wish to change your surname, you will need that change to be reflected on your PAN card as well. If you are concerned about hassles and government red-tape that come with the territory we are here to smooth out your anxieties on how to change name in PAN card.
Here's a guide on how to change name in PAN card. Follow the steps and find yourself stress-free.
1. How to begin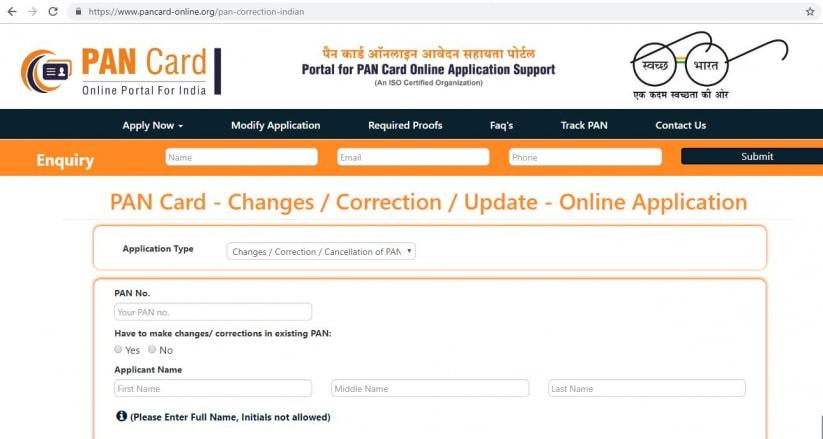 Photo Courtesy: PAN Card Online Portal
The initial process for how to change name in PAN card is an online one. The first step is to go to the Tax Information Network (TIN) or National Securities Depository Limited (NSDL) website. Proceed to fill the application form and submit. Make sure that the relevant details are correctly filled in. In the left-hand side of the form, mark the details that need to be changed. The last name has to be your newly owned surname (congratulations!).
2. Acknowledgement form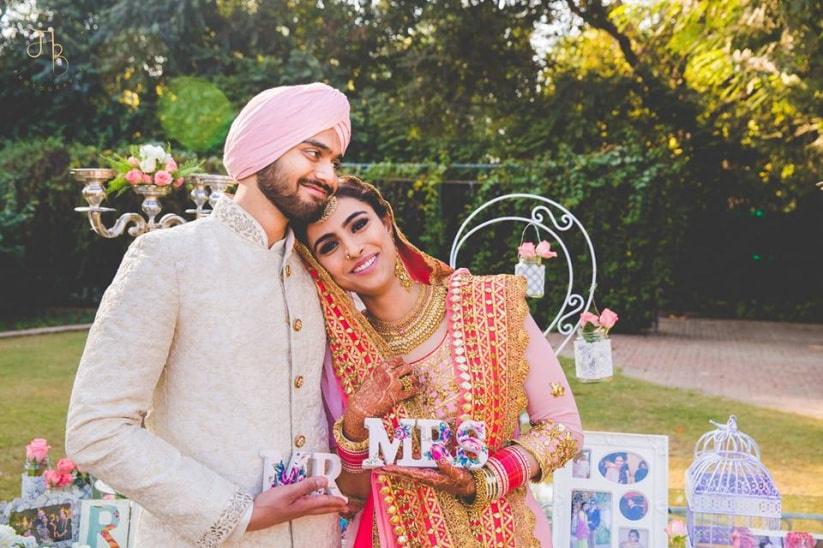 Once the form fill-up is completed an acknowledgement form will be issued. This will consist of a PAN acknowledgement number with your PAN details and the specific name change request. This acknowledgement form will need to be affixed with your self-attested photograph, demand draft, proof of existing PAN card, proof of date of birth, identity proof, and address proof. The acknowledgement form along with the supporting documents will then have to be mailed to NSDL e-Governance Infrastructure Limited, 5th floor, Mantri Sterling, Plot No. 341, Survey No. 997/8, Model Colony, Near Deep Bungalow Chowk, Pune - 411016. On the overleaf of the envelope make sure that you write or print 'APPLICATION FOR PAN CHANGE REQUEST - N-Acknowledgment Number'. When you think of how to change the name in PAN card, it might give you a little frown because wherever the government steps in we tend to worry more, but this is conveniently simple.
Also, note that the acknowledgement form is to be mailed to NSDL within 15 days of filling and submitting the online application form. Once the application for the name change has been processed, you will be issued a new PAN card with the changed name but the Permanent Account Number (a 10-digit alphanumeric code) will remain the same.
3. Fee involved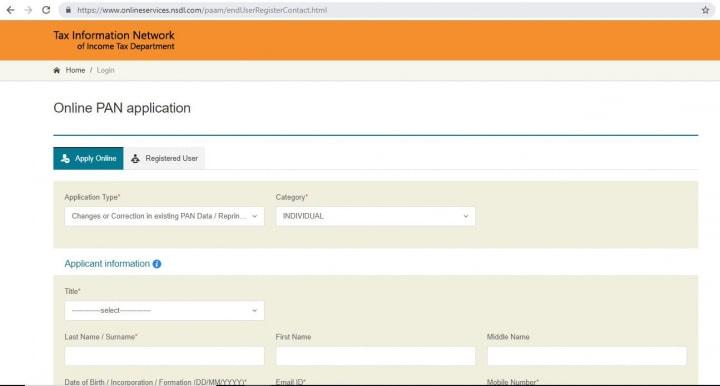 Photo Courtesy: Tax Information Network
The fee for PAN card name change is a nominal ₹110 for mailing addresses within Indian territory and ₹1,020 for contact addresses overseas. This holds true for Indian and non-Indian citizens as well as Overseas Citizens of India. To facilitate ease of access for communications outside India, the authorities have made sure that fee payment may be made via credit card, debit card or Demand Draft payable at Mumbai and drawn in favour of 'NSDL - PAN'. When we are talking about how to change name in PAN card, you can also opt for only an e-PAN card, the fee is ₹66 only.
4. Documents Required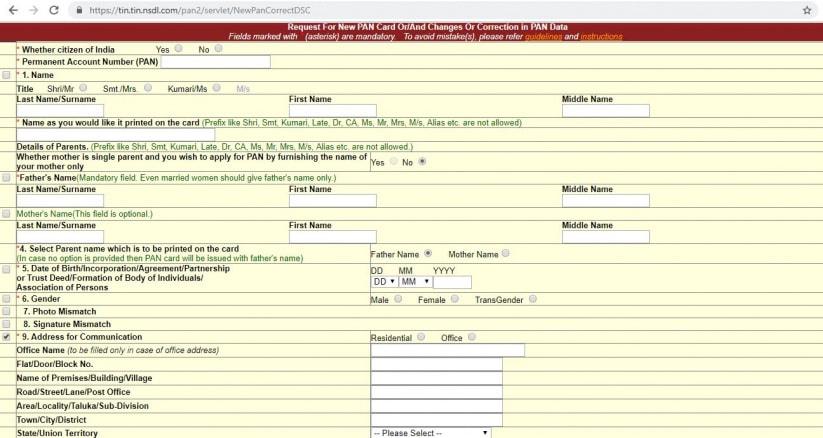 Photo Courtesy: National Securities Depository Limited
"How to change name in PAN card" is something that strikes the bride immediately when the marriage dates are fixed, and there is a whole range of documents that can be used to facilitate this name change.
For proof of identity, address and date of birth any of the following documents can be submitted:
I. Copy of:
Aadhaar Card issued by the Unique Identification Authority of India; or
Elector's photo identity card; or
Driving License; or
Passport; or
Ration card having a photograph of the applicant; or
Arm's license; or
Photo identity card issued by the Central Government or the State Government or
Public Sector Undertaking; or
Pensioner card having a photograph of the applicant; or
Central Government Health Service Scheme Card or Ex-Servicemen Contributory Health Scheme photo card; or
II. Certificate of identity in Original signed by a Member of Parliament or Member of Legislative Assembly or Municipal Councilor or a Gazetted officer, as the case may be (in the prescribed format); or
III. Bank certificate in Original on letterhead from the branch(along with name and stamp of the issuing officer) containing a duly attested photograph and bank account number of the applicant (in the prescribed format)
In addition to the above documents, some additional documents are also deemed valid to facilitate name change for ladies after marriage. Any of these documents will do - marriage certificate, marriage invitation card, the publication of 'name-change' in the Gazette, a copy of passport showing husband's name (or vice versa). It is to be noted that apart from your old PAN no other document is deemed acceptable as proof of issuance of PAN. If proof is not provided then the application form shall be accepted on a 'good effort basis'. For non-resident Indians, additional documentation including their passports of their home countries can be deemed necessary. It is indeed a few complicated steps when you answer the "how to change name in PAN card", but then it is no rocket science and the Internet has made it all a smooth ride where you just type how to change name in PAN card on your search engine and boom! You have all the results right in front of you just one click away.
If you're thinking about all the official requirements that need to be met to be the Missus and planning to ruin your mehndi ceremony with thoughts of your to-do list as the newlywed bride, then hop and skip to the fun that awaits you because this guide has got it all sorted for your post-wedding shenanigans. Also, you will have the officials to help you around if you go for the offline methods of registering for a new name and they will tell you how to change your name in PAN card.
With this comprehensive guide, we hope that your queries on how to change name in PAN card have been resolved and your anxieties abated!
If you find this article useful or want to share your experiences with PAN card name change share and comment below.