Holi - The Essence of Holi Festival in India 2022
Let us deep dive and understand the quintessence of Holi and ethos jotted with its glory in India and the world. Read here to know more-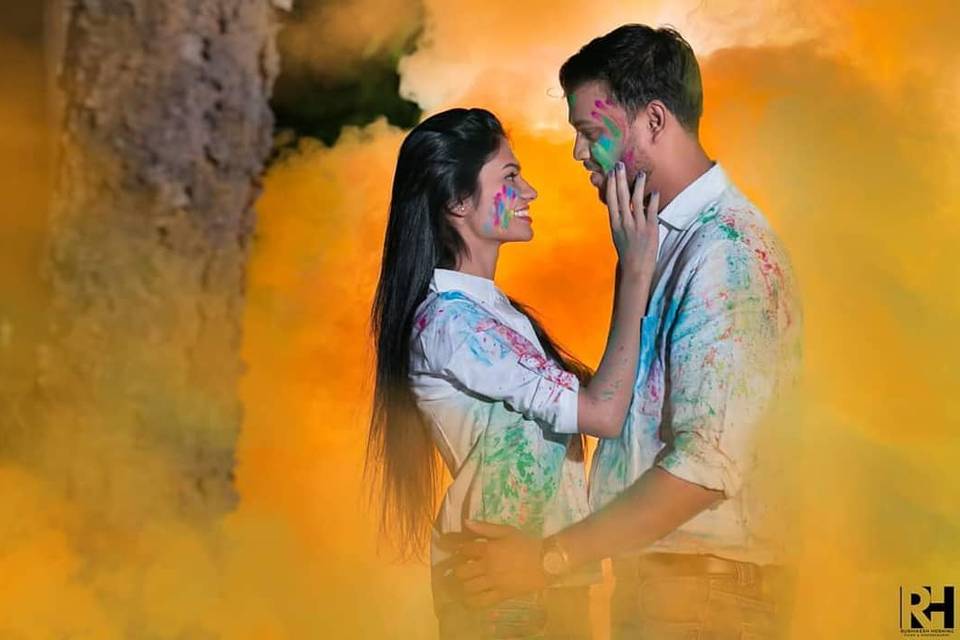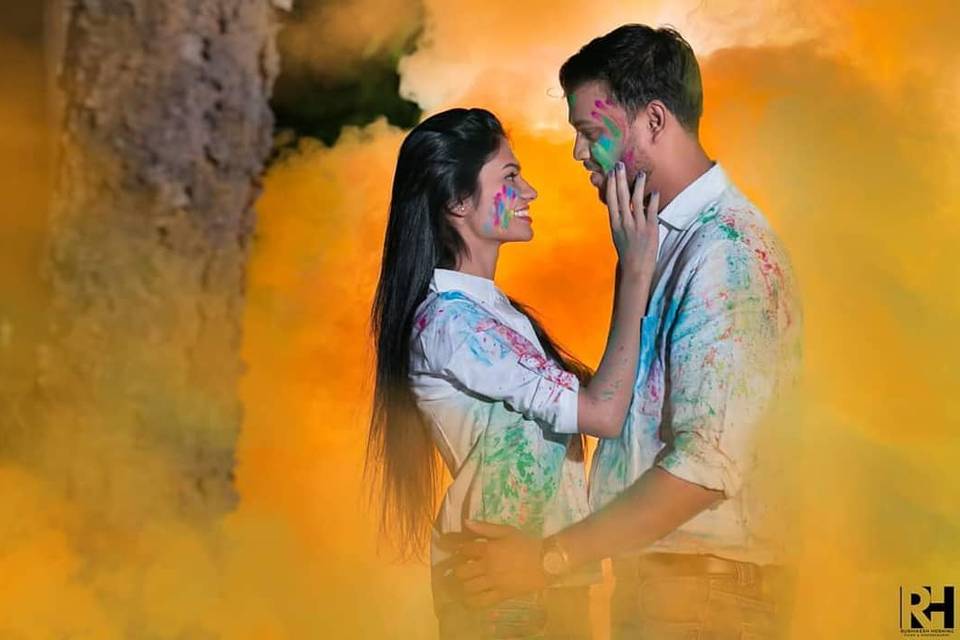 Image Credits- Rushikesh Hoshing Photography
When you hear Holi, the first thing that comes to mind is colors and then you think of togetherness and gaiety. Apart from this, there are various aspects of Holi which remind us of so many important aspects. Ranging from socio-cultural to spiritual, there are so many reasons why we must heartily rejoice in the festival and cherish the reasons for its celebration. Let us deep dive and understand the quintessence of Holi and ethos jotted with its glory in India and the world.
Image Credits - Pinterest
The festival of Holi is now getting popular around the world. People overseas are getting allured with the colors and are happily playing Holi with their friends and family. Also, another trend that is introduced in India is Holi Pre-wedding functions. Here the couple instead of holding lavish pre-wedding and post-wedding ceremonies go for Holi function where they rejoice amid colors, bhang, and togetherness. After this, another concept that is taking Indian couples by storm is Holi pre-wedding shoots. The vibrancy that is involved in Holi pre-wedding shoots makes the pictures come out in a gleeful, chirpy, and playful mode.

Why Holi is Celebrated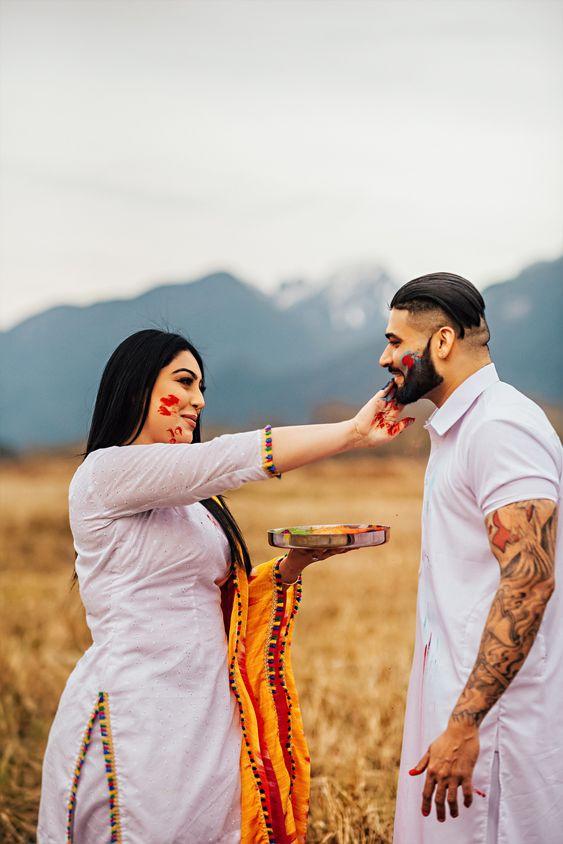 Image Credits - Pinterest
India is the Land of God and Goddesses and Holi represent the narratives from the spiritual context. Here are some mythological connotations related to Holi. Foremost is the legend of Prahlad and Hiranyakshyap. Hiranyakshyap considered himself a God and wanted everybody to worship him. However, his son, Prahlad began to worship Lord Vishnu. To get rid of his son, Hiranyakshyap asked his sister, Holika to enter fire with Prahlad. Prahlad was saved due to his pure devotion to the lord while Holika paid a price for her evil desire. From this started the tradition of burning Holika or the 'Holika Dahan comes mainly from this legend. Also, Holi celebrates the legend of Radha and Krishna as Lord Krishna took in applying color on Radha and other gopis. Mythology also shares that Holi is the celebration of the death of Ogress Pootana who tried to kill toddler Krishna by feeding poisonous milk. People in the south celebrate the sacrifice of Lord of Passion Kaamadeva who risked his life to revoke Lord Shiva from meditation and save the world. Besides, Holi rejoices when people are expecting a good harvest. Some newly married ladies apply henna on their hands. They go for trending mehndi designs for the same.
When is Holi Festival Celebrated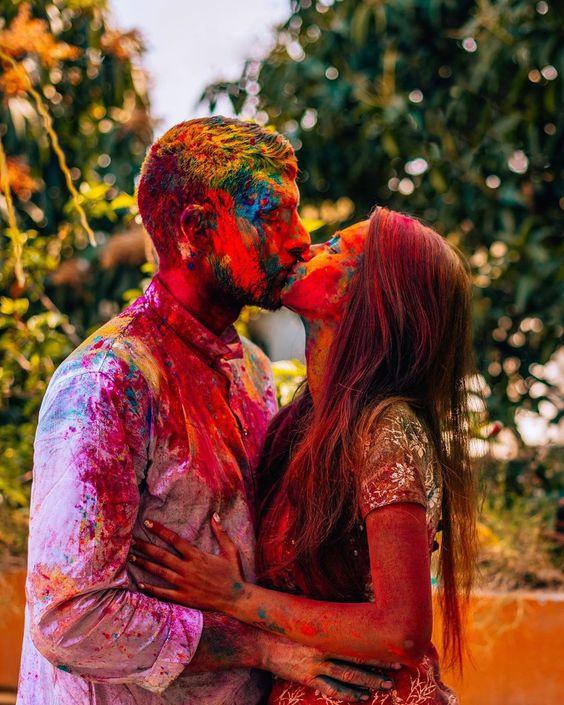 Image Credits - Pinterest
As per the Hindu Calendar- the festival of colors is celebrated on Vasant Panchami Day. In Mathura Vrindavan – this festival is for almost 40 days. The celebration continues till Phal gun Month. However, on the day of Phalgun Purnima, Holi is celebrated across the country.
Holi 2022 Date in Indian Calendar
The auspicious date of Holi is based on the Lunar Calendar and is different in India. On full moonlight day, Holi is celebrated through bonfire- as it denotes the burning of evil spirit. This particular occasion is known as Holi Dehan. However, these are the dates for the Holi celebrations. Here are the Holi Dates for the next consecutive years for your easy reference. In 2022, Holi is on March 18 and Dehan is on 17th March. In 2023, Holi will be celebrated on 8th March and Dehan will be on 7th March.
Social and Positive Essence of Holi day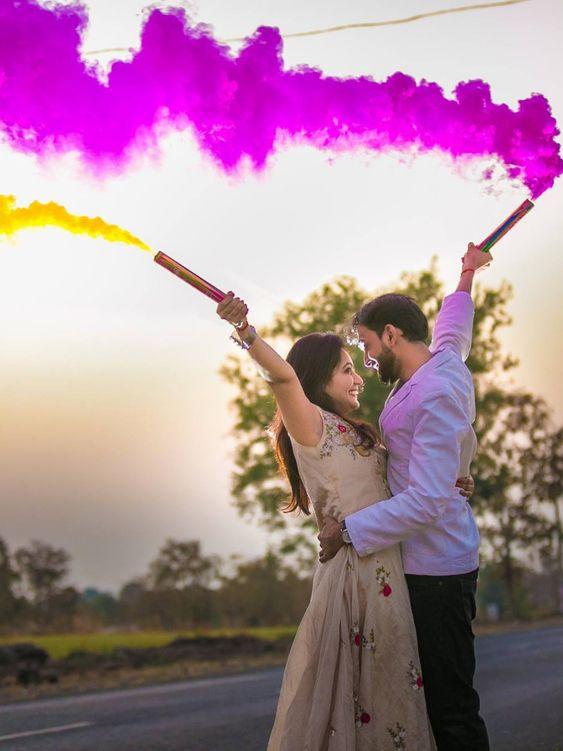 Image Credits - Pinterest
Holi brings friends and family together and strengthens their bond. Besides, this day celebrates the essence of brotherhood. In the evening after the celebration, the populace in Indian families visit friends and relatives and this strengthens the emotional bonds. People also declutter their houses on Holi which generates positive energies around us. This decluttering leads to so much cleanliness and freshness and thereby - it proffers happiness all around.
Feast of Delicious dishes in Holi Festival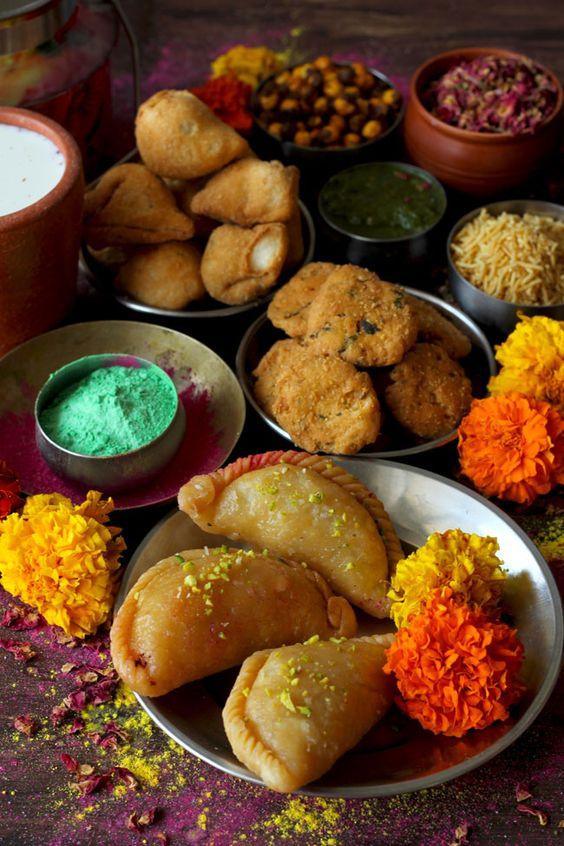 Image Credits - Pinterest
As all of you know the festival of Holi is celebrated by rejoicing together with family and friends and merriment is incomplete without good food. In India, Gujiya, Bhang, Rasgulla, and other sweet delicacies are popular. Even salty delicacies like namak para and other dishes are popular here. However the most celebrated sweet dessert is a traditional fried pastry called Gujiya, These Gujiya are filled with a sweet mixture of khoya, coconut, and dry fruits. These recipes are followed since time immemorial.
Holi Festival Fashion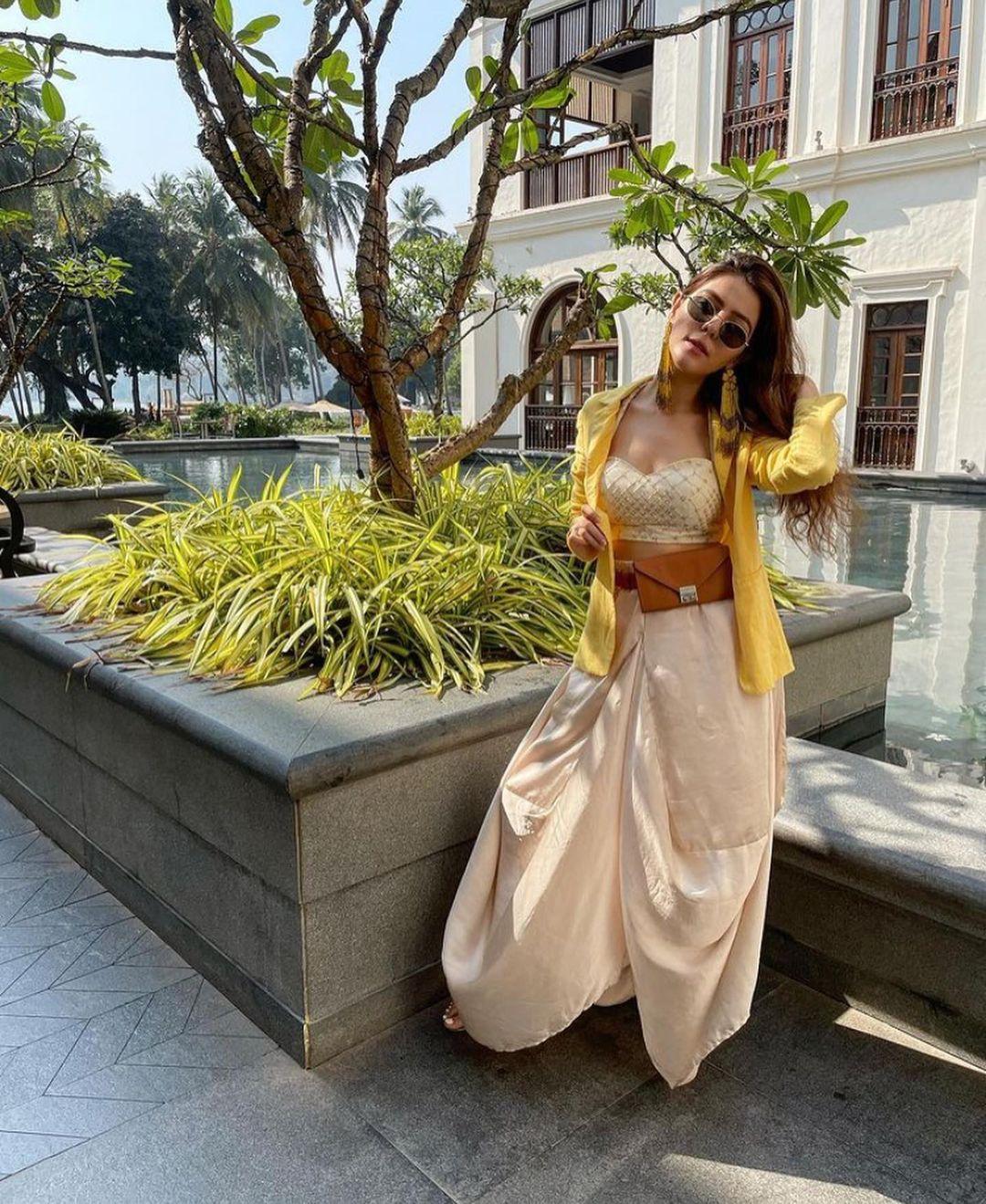 Image Credits - Alaya by Stage 3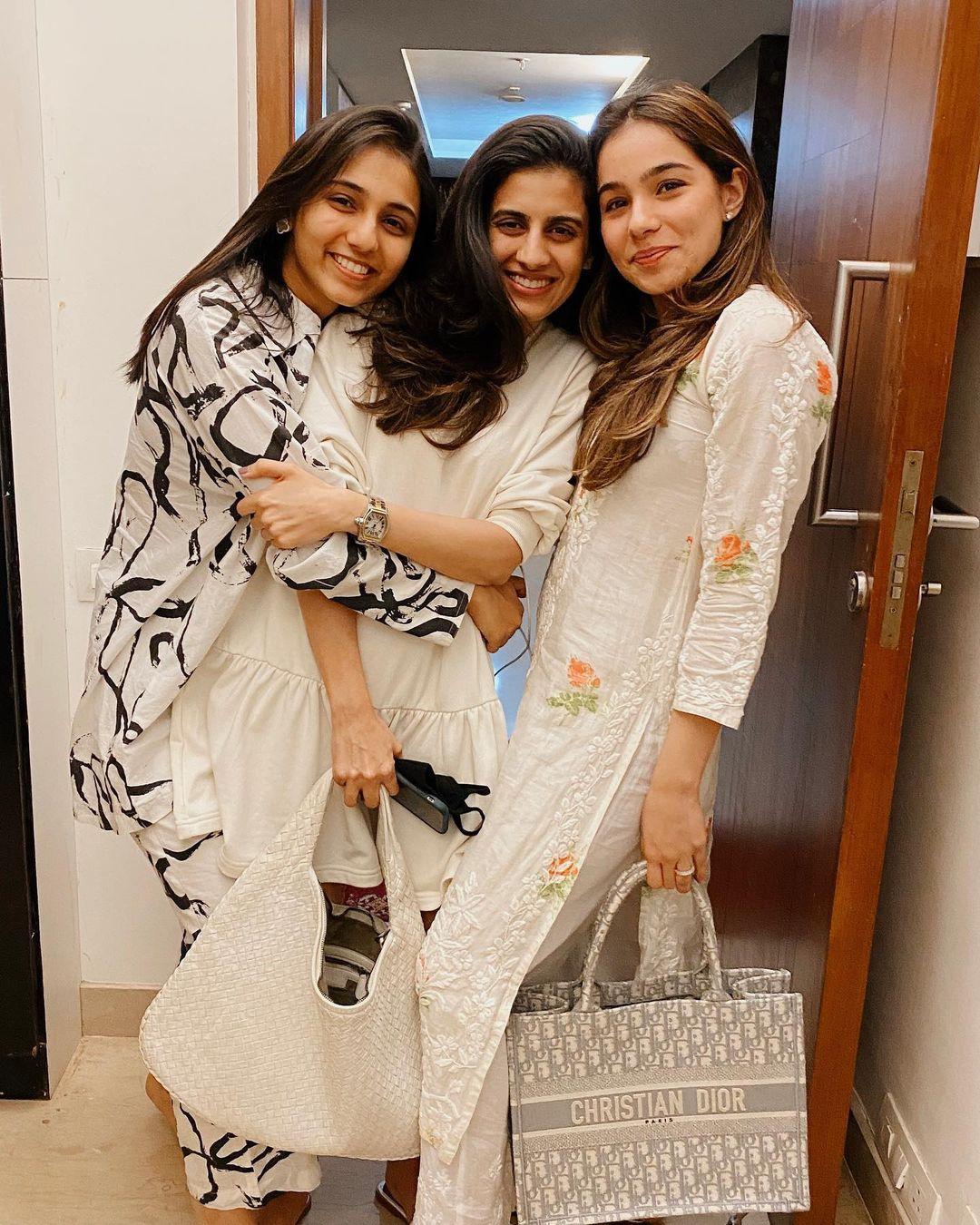 Image Credits - Masoom Tiniawala
Millennials try out experimenting with fashion in the shades of white and white accessories. And blue. They try on stylish outfits and put their best foot forward to make that outfit trailblazing wear. We have sartorial inspiration in white and bold colors for all. Check these pictures and bookmarks for the upcoming festivity. Tie and dye and personalized Holi T-shirts are also trending nowadays. Populace pair it up with blue shorts and shredded jeans. Moreover, white cotton dresses and suits are again in rage for all good reasons. In Holi, being dirty can be beautiful too.
Read More - The Ultimate Pre & Post Holi Skincare Straight From the Kitchen
Celebrating Holi Images in Vrindavan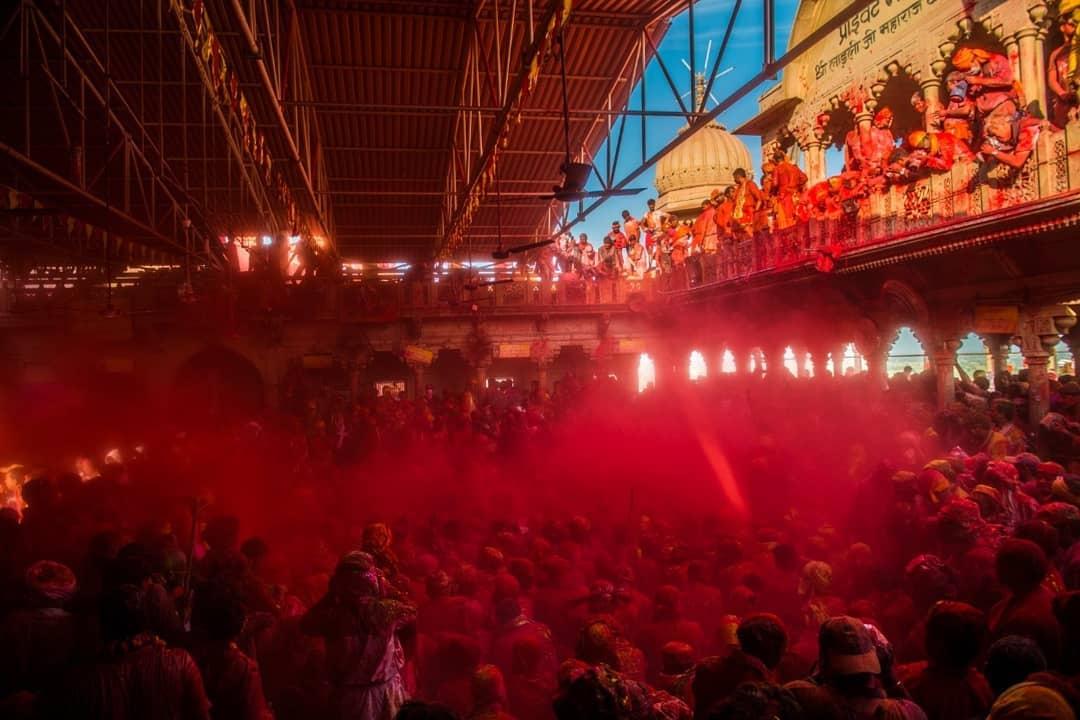 Image Credits - Aman Chotani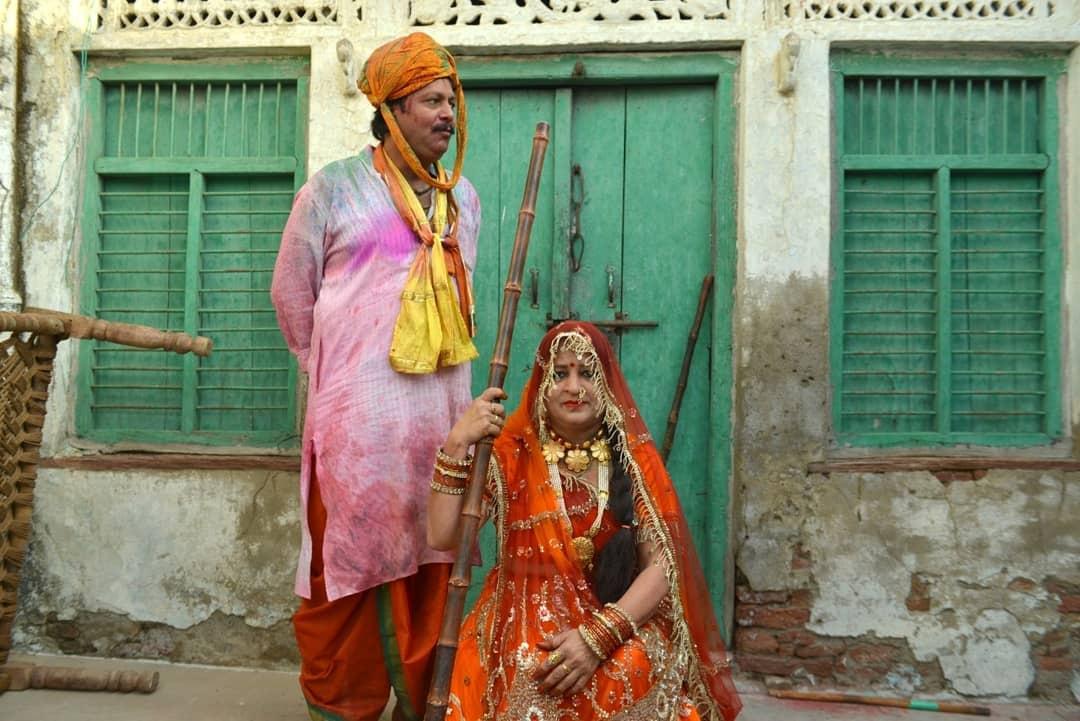 Image Credits - Aman Chotani
Following Lord Krishna and Lord Radha's footsteps, Holi is celebrated on large scale in Mathura and Vrindavan. There are three types of Holi in Vrindavan, first is called Lathmaar Holi-where Holi is played with the sticks. The second is Phoolwali Holi where Holi is played with flowers. The third one is played with colors and bhaang. (adulterated water akin to Alcohol). So, here we have cherry-picked some Holi images - which will decipher how Holi is celebrated in Vrindavan. You will be lured to play Holi in such a vibrant place.
Holi Quotes In English - Holi Family and Friends
Holi is an occasion to celebrate with friends and family. Therefore, it is important to express the love you carry for them in the right words. Here are some quotes that you can say or jot down to express your love for each other at the Holi festival.
This Holi, may God give you all the colors of life, colors of joy, colors of happiness and colors of peace, and colors of contentment!

Burn your pride, expectations, and greed in the fire of Holi. Wish you a very Happy Holi 2021.

Surrender your worries in the holy fire and get drenched in the colors of this festival. Happy Holi

May God give you all the colors of Life.

It is a day to express love through colors, make sure you meet your loved ones to celebrate your love with them.

Holi is a special time of the year to remember those who are near to our hearts with splashing colors!
Let's celebrate Holi with love and flowers this year. Happy Holi.
Wishing you and your family a fabulous and fantabulous Holi. May the festival bring happiness and colors to your and your family's life. Happy Holi 2021.
This Holi, I pray to God that your life is filled with vibrant colors and positivity. Happy Holi!

Holi 2021 is just to unwind, de-stress and value the bonds whilst having sweets and thandai. Happy Holi 2021.

A pure and caring relationship doesn't have to speak loud, so I am sending you out a box of lovely

colors and delicious sweets. Wish you a very Happy Holi my adorable wife.
Holi Festival For the Newlyweds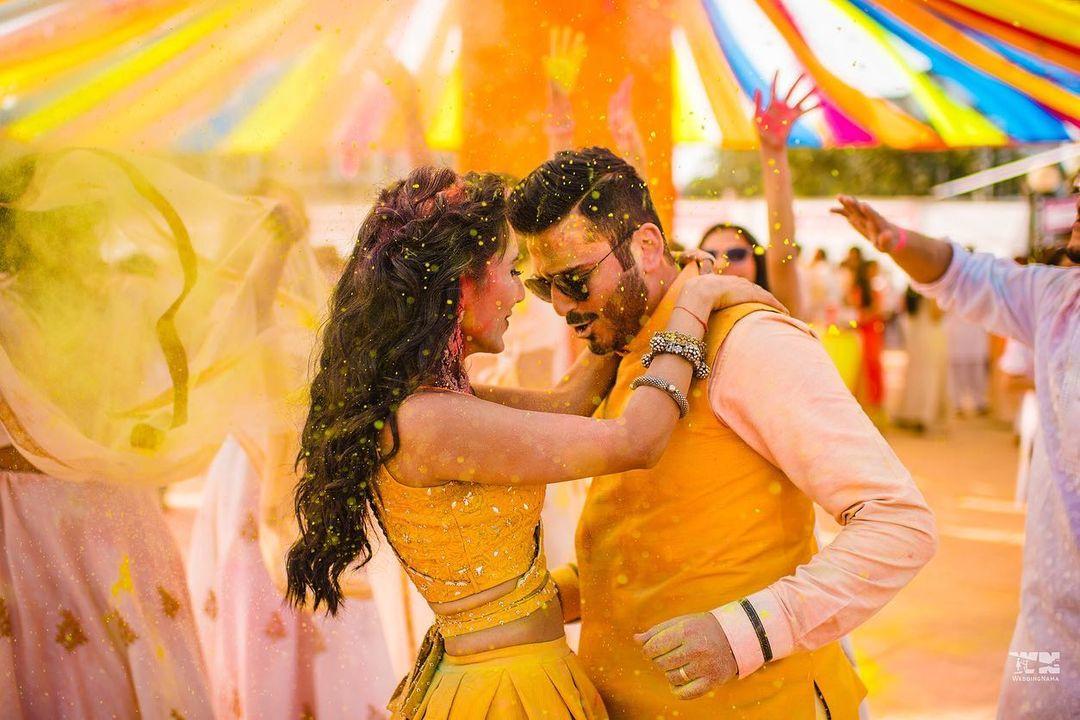 Image Credits - WeddingNama
If it is your first Holi then the families in North India have a getting family together. They exchange gifts and dress up in heavy outfits. The in-laws from both sides meet each other. They shower blessings to the newly married couples in the form of gifts, cash, and enriching food items. With the dose of bhang and delicious feast, everyone bonds well on the Holi festival. The colors are used in abundance on this day- as colors represent happiness and love.
Read More - 10 Evergreen Holi Songs to Have a Euphoric Celebration as Newlyweds
Isn't Holi an amazing festival? You can book your banquet hall for your first Holi function with our vendors too. Just download our App or go through the website to enquire about the venue vendors.
Most Read Articles
Mehndi Design | Proposal Lines | Romantic Bollywood Songs | Simple Finger Mehndi Design | Arabic Mehndi Design | Propose Day Quotes for Boyfriend | Wedding Anniversary Wishes for Sister | Change Aadhar Card Name after Marriage | Tamil Wedding Calendar | Simple Mehndi Design | Pre Wedding Quotes | Engagement Anniversary Wishes | Funny Wedding Wishes for Bestfriend | Blouse Design | Rangoli Design | First Night Tips for Bride | Wedding Anniversary Wishes