Drool-worthy Gold Sets for Brides You've Got to Get Your Hands on!
When you're all decked up in your bridal finery, the only thing you need to complete your look is a beautiful gold set. Check out these 10 drool-worthy sets that we know you'll be itching to get your hands on!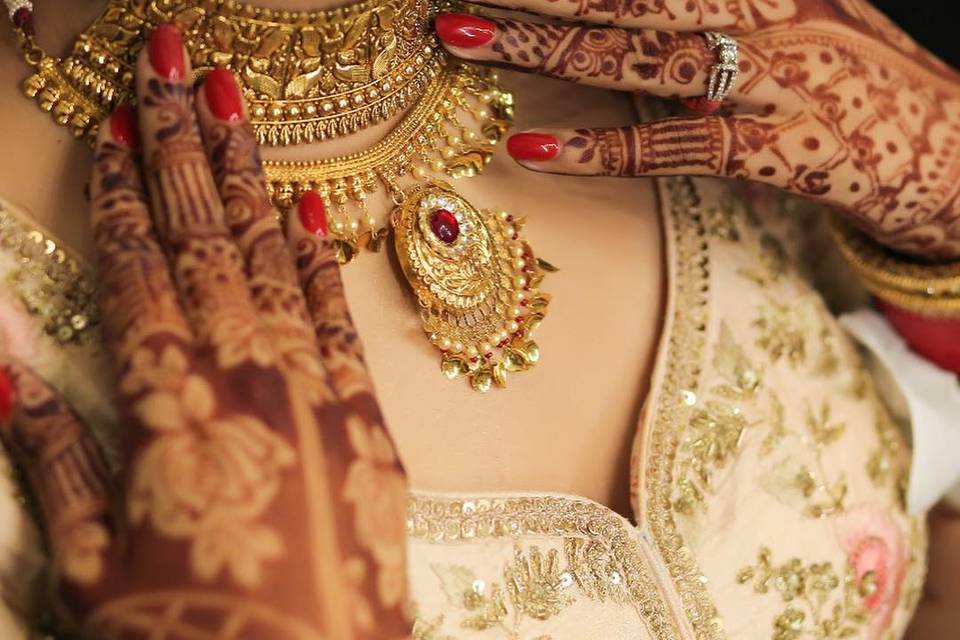 Even wedding fashion evolving each season, there are certain elements of the bridal look that stay the same. Of the many quintessential bridal markers, the most noticeable one is the heavy gold set that the bride wears on her big day. We promise every single relative and friend will be eyeing your bridal set while blessing you, secretly wondering where you got it from! So, why not give them something to truly drool over?
Check out these 10 gold set designs we think you should base your bridal look on:
A traditional set with coin detailing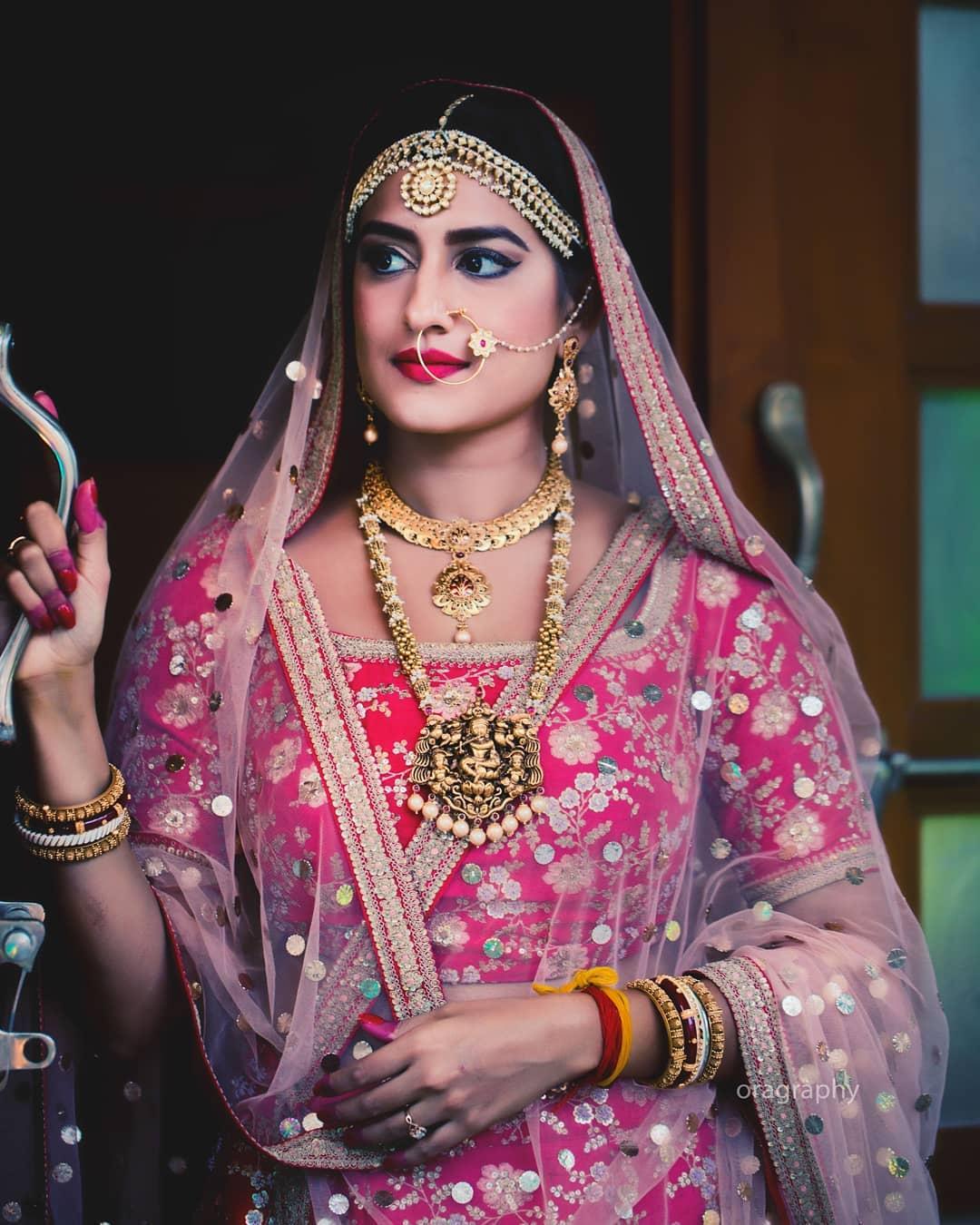 Coins and temple jewellery almost go hand in hand. If you can get your hands on a gold set that's made with this work and has lovely bangles to match, then nothing like it!
Why is this drool-worthy?
This statement gold set has a very traditional vibe and great craftsmanship that's apparent even through a picture. Imagine how stunning it will be in real life.
An Oversized set with an eye-catching necklace!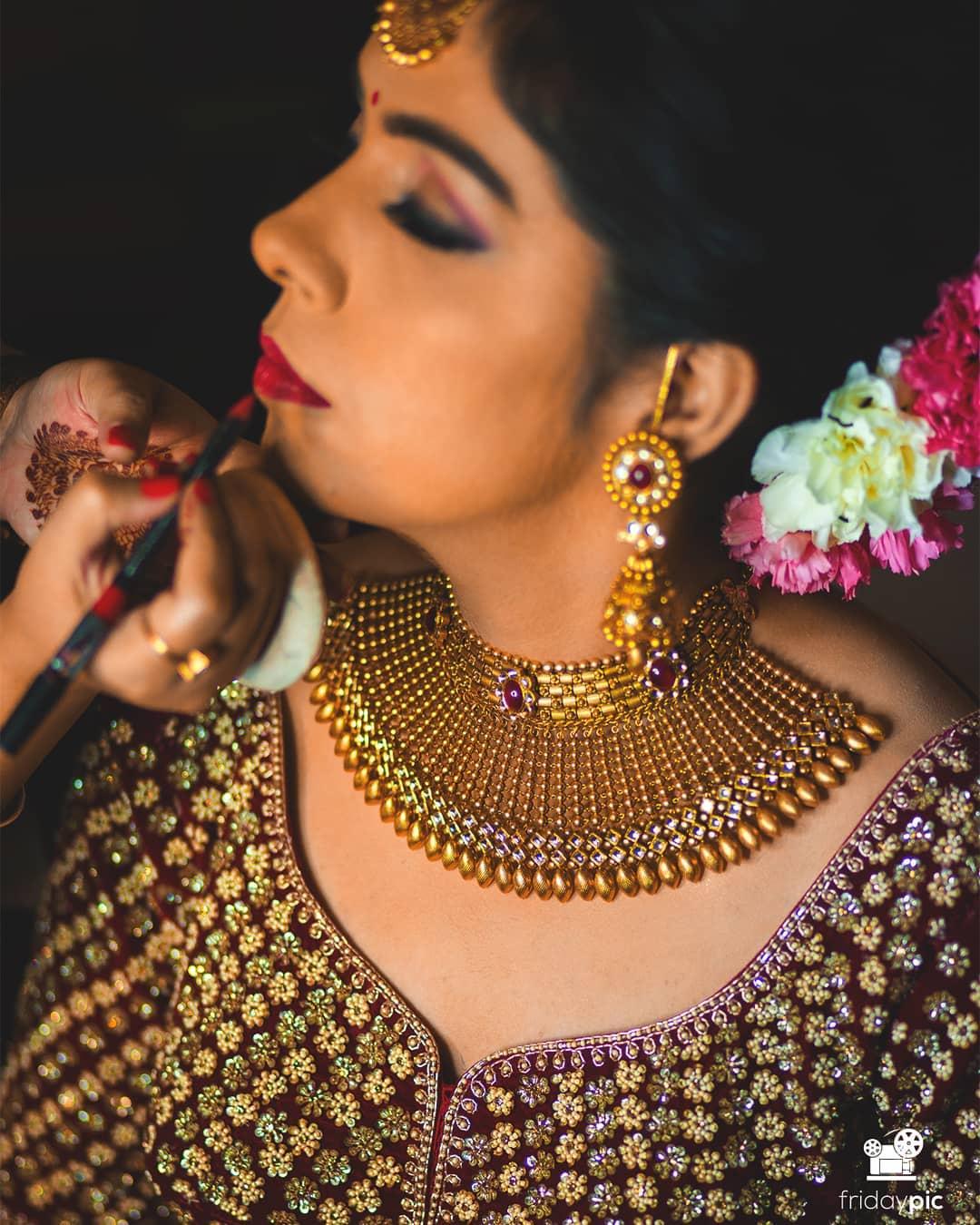 Not every bride wants to layer necklaces, but often, they think they don't have a choice because the bridal look demands some next-level bling! Instead of wearing two-three necklaces, wear a giant one that has multiple layers!
Why is this drool-worthy?
Your guests will spot this necklace a mile away (perhaps even from outer space)–it's so huge!
An exquisite set with a choker style necklace!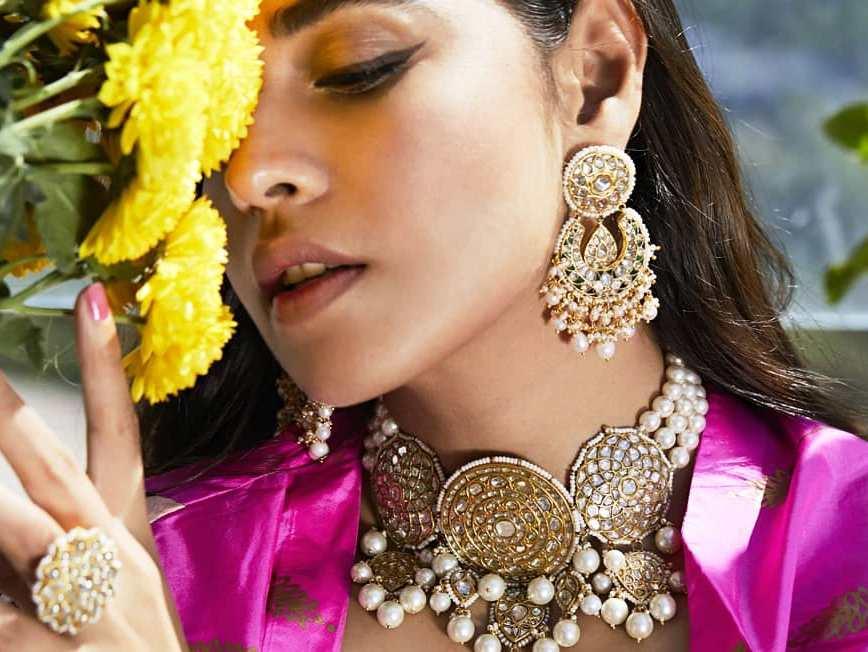 Image Courtesy: Tyaani
This gold set comes with a beautiful necklace that'll sit perfectly on your collarbone. The matching earrings are to die for!
Why is this drool-worthy?
The choker style necklace is one of the most versatile ornaments in the market. They tend to make your neck appear longer and can be paired with both, plunging necklines and simple blouses!
A lovely set with hints of red & green
Precious stones can make any jewellery set look super elegant, which is why they are always a great choice. This statement gold set with red & green gemstones makes it such a desirable option for brides
Why is this drool-worthy?
If you're planning to wear a trendy pastel lehenga, a gold set like this would beautifully off-set colours like pale pink, powder blue, and mint green. We can even see this being a huge hit with an ivory lehenga!
Unique South Indian gold set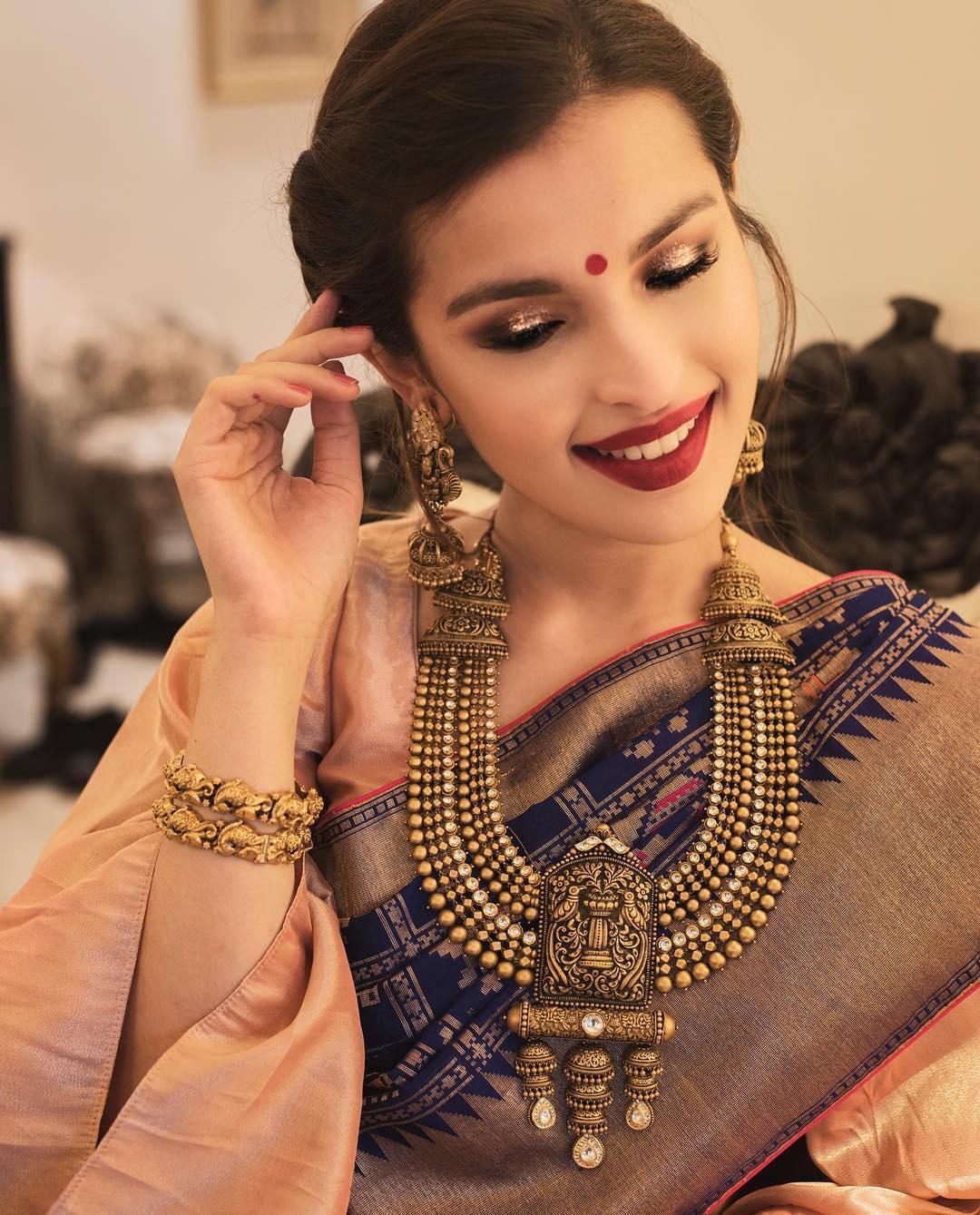 Image Courtesy: Avama Jewellers
This gold set is truly the most unique South Indian style jewellery we've ever come across. Paired with gorgeous chunky bangles and matching earrings makes this one a true masterpiece.
Why is this drool-worthy?
This set is all you need to nail the bridal look. The necklace adds a much-needed modern touch to your traditional South Indian attire that'll make your bridal look even more noticeable!
Modern spin for the good old gold set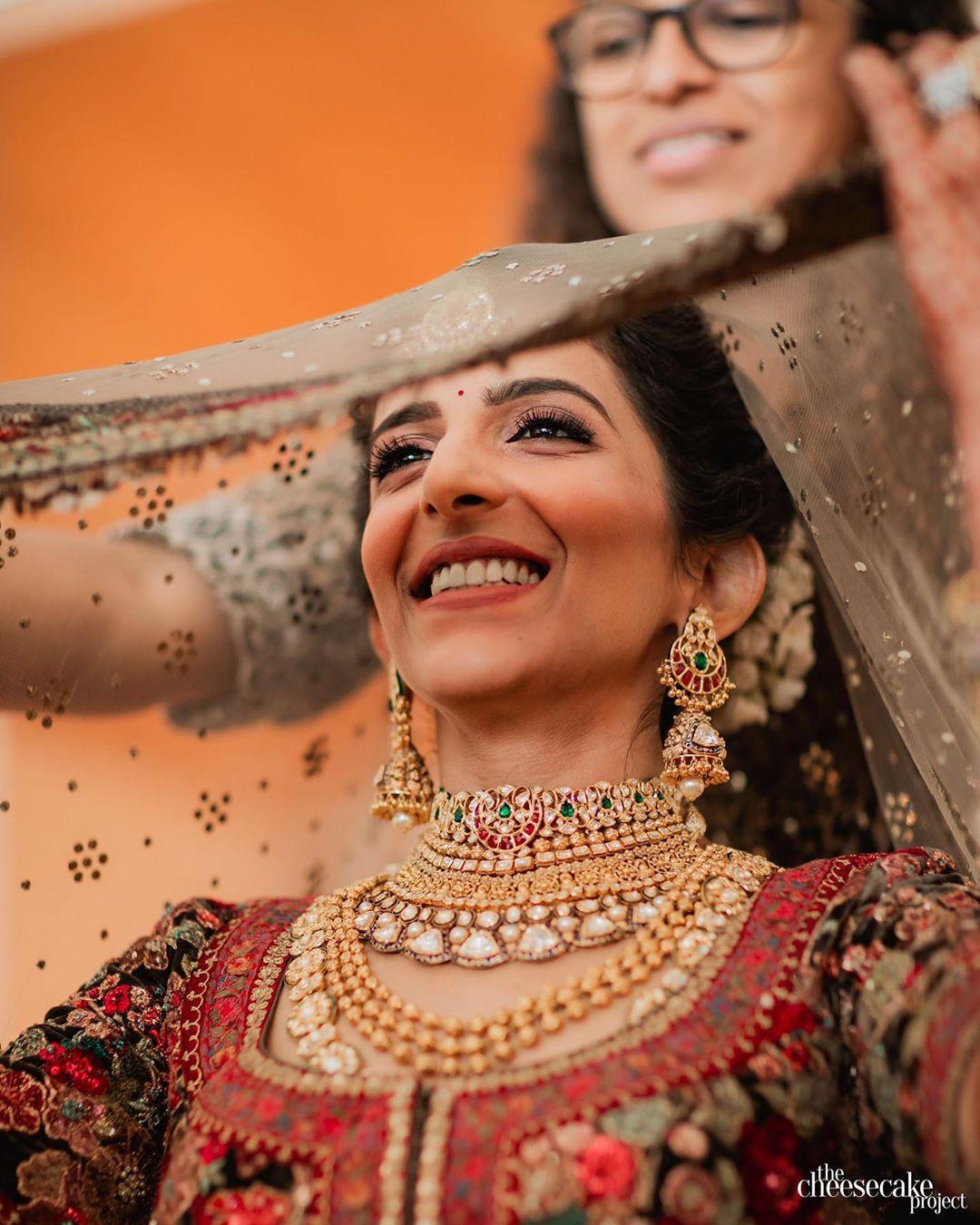 Such stunning sets are a must-have for your bridal trousseau since nothing really beats the whole gold-on-gold look! Hints of Meenakari and Polki work on this gold set makes this set just ideal to complete your wedding look.
Why is this drool-worthy?
This is another set with a contemporary vibe and we can picture it going very well with beige, ivory, green, and pastel lehengas.
A Rani Haar set with Lakshmi motifs
Image Courtesy: Whiteramp Photography
A Rani Haar has the power to wow all your guests just based on the fact that such necklaces are H-U-G-E. This set has a long necklace as well as a matching choker, earrings, and Matha Patti
Why is this drool-worthy?
The sheer grandeur of this set will elevate your look no matter what you wear it with!
Kundan & emerald gold set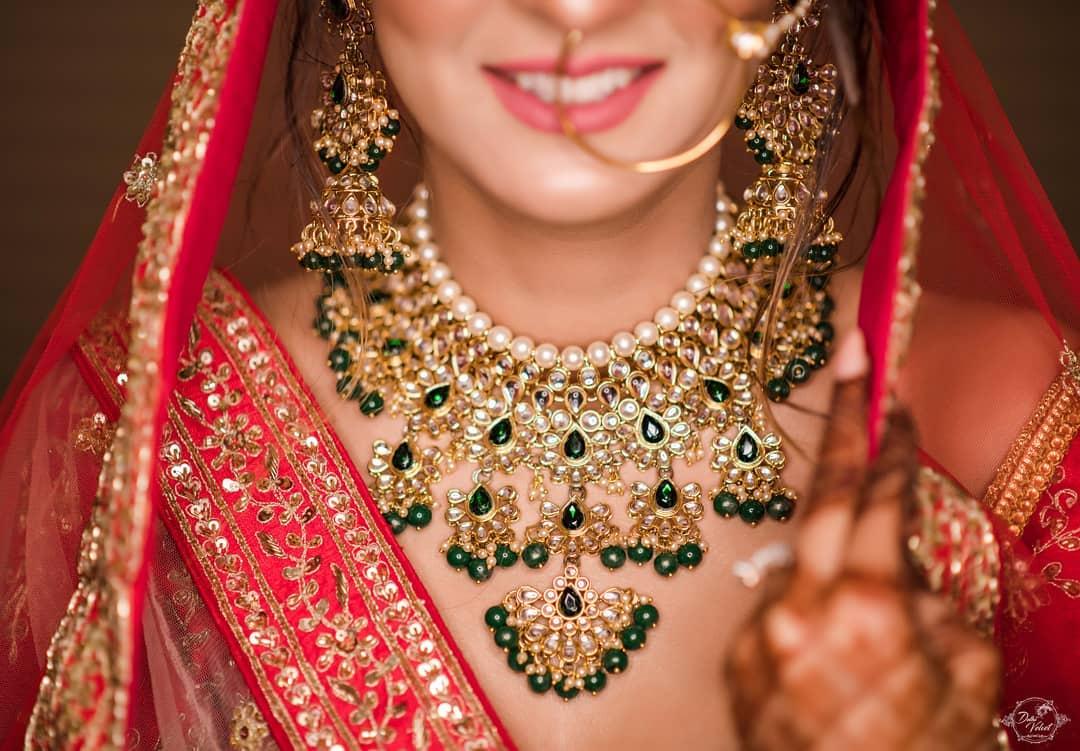 How delicate is this set with pearls and emerald detailing?! With being traditional and big this set has all the potential to modernise your wedding look. The matching jhumkas elevate the whole look to a whole new level.
Why is this drool-worthy?
This set exudes a highly regal vibe. The design and minimal stonework along with the flat bangles make it absolutely irresistible!
Long set with temple jewellery pieces!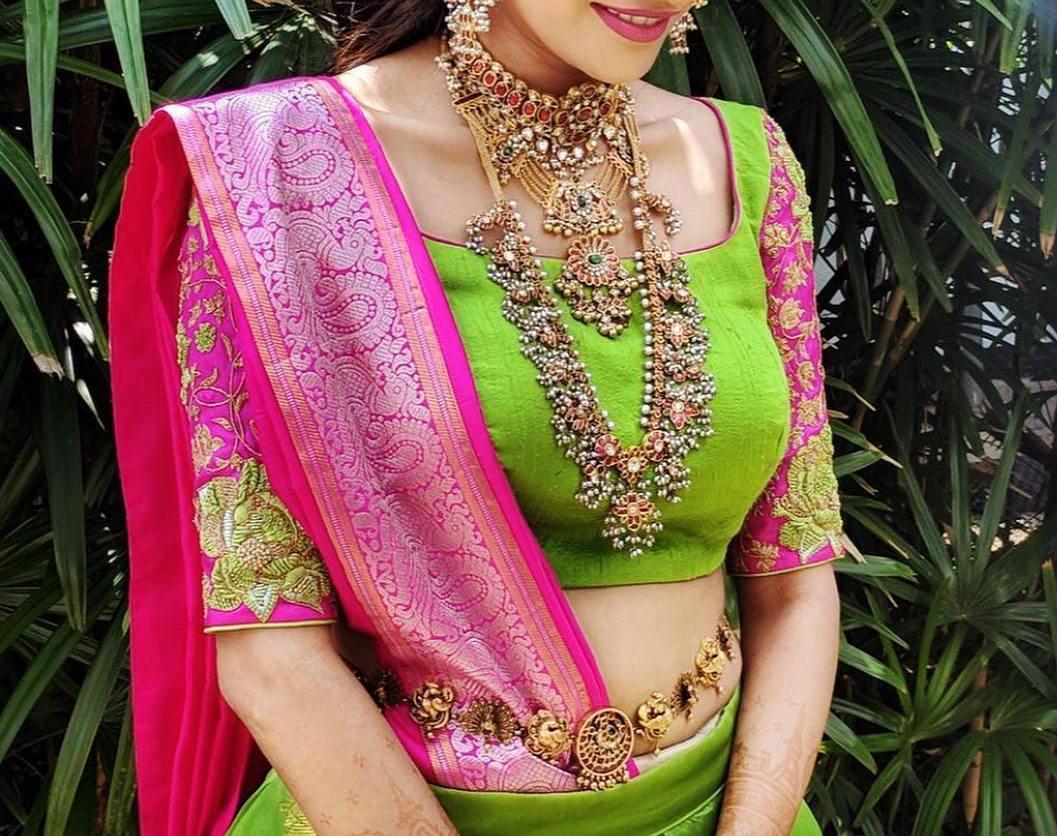 When it comes to the gold set, temple jewellery rules the roost and its easy to see why. Get yourself a similar set and flaunt it at your morning wedding!
Why is this drool-worthy?
Though the two necklaces look distinctly different, they both have the same design elements, which helps tie them together as a part of the same set.
A lighter gold set!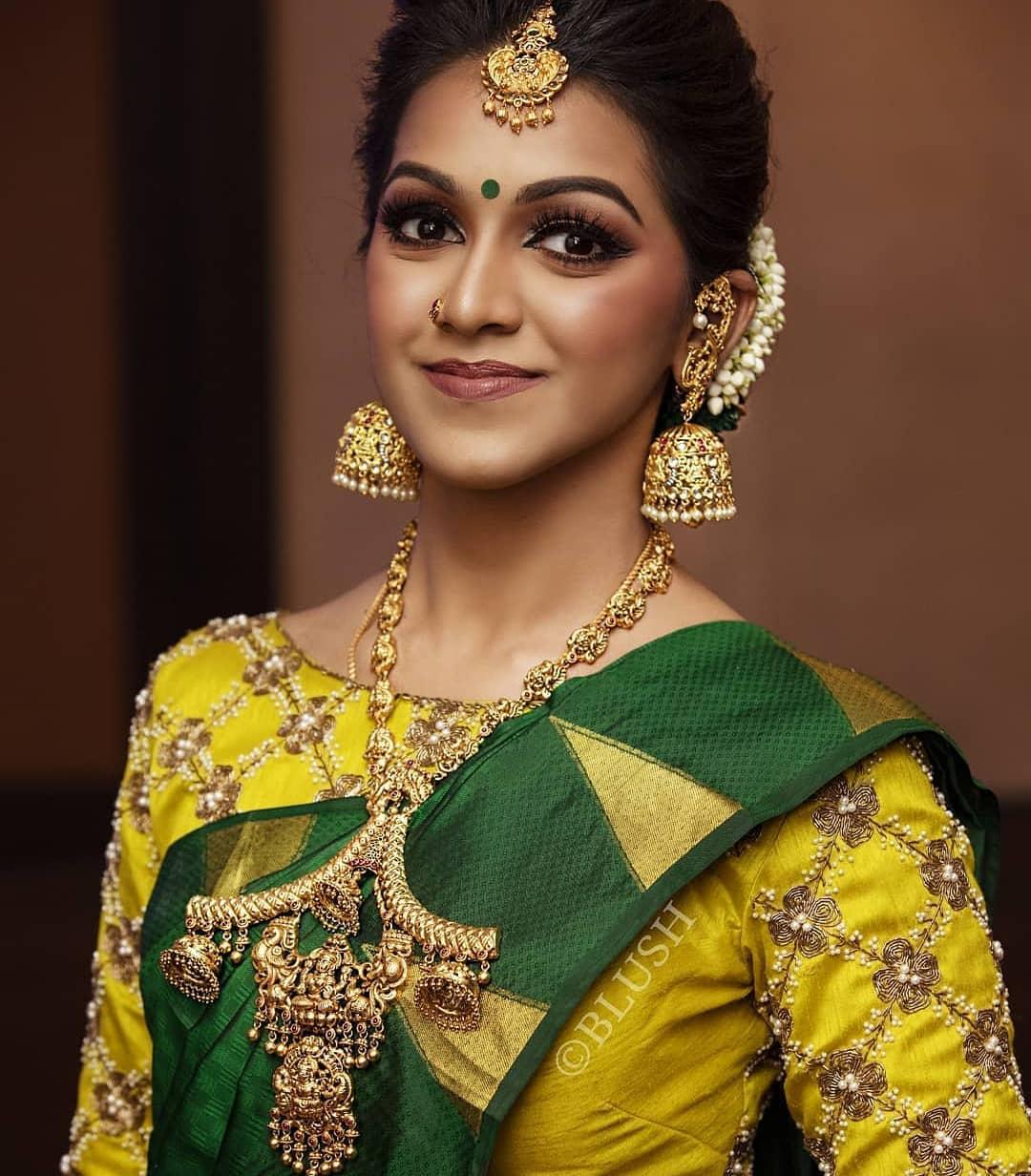 This set is ideal for the Sangeet, an occasion when you'll be dressed to the nines, but not as decked out as you would be on the wedding day itself.
Why is this drool-worthy?
The Maang Tikka along with the longer chain-like necklaces have a contemporary vibe, which means you can pair this with a modern ensemble like a Jalabiya, Sharara, and even a velvet gown.
No matter what you plan to wear this wedding season, these sets would be the ideal match for any outfit! So, get your hands on them and prepare to amaze all your guests!
Check out these bridal jewellery stores near you!