5 Elegant Wedding Looks for Each Wedding Function to Look Like a Dream
Discover the trendy ways of getting an elegant look on each of your wedding function. Be it your engagement, Haldi, Sangeet, wedding or the reception day, the bride-to-be needs to stand out in her make-up, jewellery, and attire.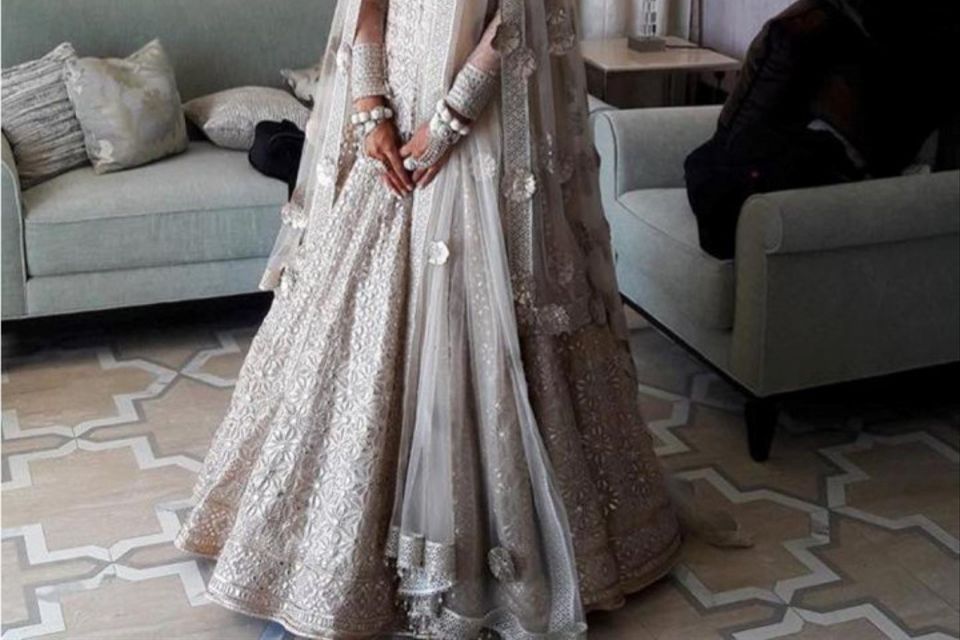 A wedding is one of those rarely precious times in your life which frames the most significant happenings and their subsequent memories. Naturally, every bride wants to look, feel and be at her best for that occasion of which she herself is the focus. Flaunting her elegant looks at the wedding is a dream of every bride-to-be.
But as it happens, the wedding day is not the only day which makes the entire occasion. There are a number of functions associated with the main wedding ceremony which are equally important events of the entire wedding and without which, the overall celebrations remain incomplete. These are traditional functions of engagement or Sagai, Haldi, Sangeet and Reception. So the bride's trousseau makes a long list: perfect makeup, hairdo and attire to make her nail it all with her impeccable looks on all of these days which string her wedding program together.
The Three Tricky Things
Three things that every bride-to-be is commonly finicky with are apparel, hairdo and makeup. These are the three basic areas focusing on which the bridal paraphernalia is made up. With the date coming closer, your reveries of standing out with an elegant look in each of your wedding functions become more vivid and intense.
Thanks to the grace of fast-moving fashion technology and its ever innovative trends, today when it comes to a wedding makeover, we stand with a wide variety of overwhelming options to make a bride look picture perfect on her engagement, Haldi, Sangeet, wedding and reception parties.
Check out the latest trending bridal look options for each function which can make every bride-to-be shine in her fullest elegance and splendour: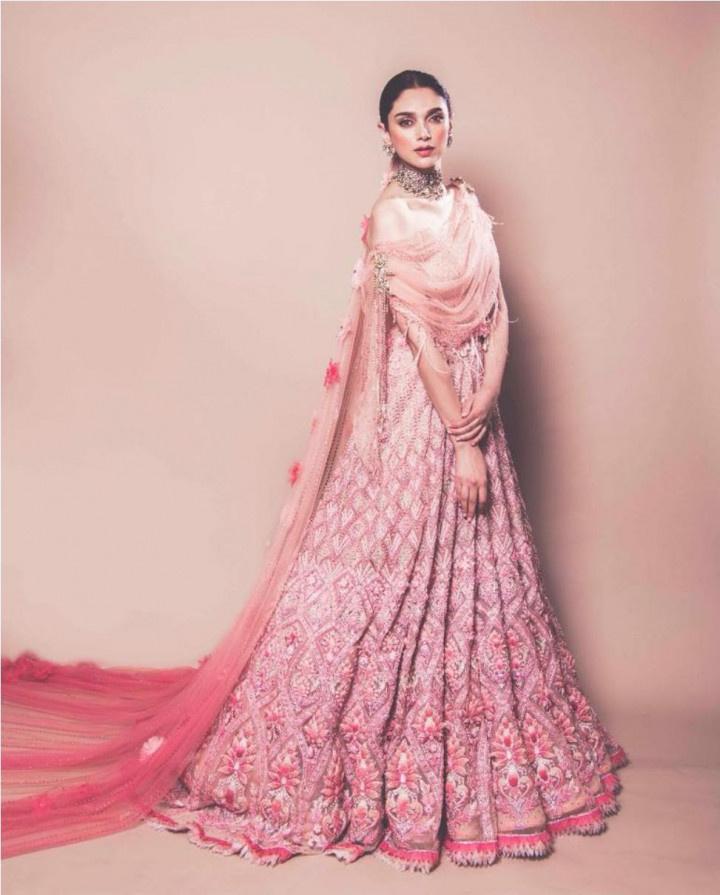 1. Bring Elegance in your Engagement Ceremony:
Your engagement day is no less important than your wedding day. Here are the tips which shall embolden you to try something different and new with your looks on the day of your engagement.
A stunning 'zari' work lehenga or an ornate creamy pink sari can be your master pick for the occasion. To enhance your elegant look with impeccable makeup, you might try out an accentuated look of the eyes with a bold eye makeup coupled with peach-natural facial makeup which will complement your outfit. As engagement is the perfect occasion to look chic and classy, you might also consider getting an HD makeup base, heavy contouring and smoky eyes to sport a dashing, flawless look.
2. Mesmerise your Guest with your Mehndi and Sangeet Looks:
The rituals of Mehndi and Sangeet in Indian weddings call for a distinct get up of the would-be-bride, and it might be fair to assume that no girl would choose to look ordinary for this occasion. Mehndi and Sangeet are those pre-wedding events which music and full-on enjoyment.
This time, you can go for a heavily embellished designer lehenga featuring some mustard or light green colour for the ceremonies of Sangeet and Mehndi. The outfit is best paired with jewellery designed in the Rajputana style; the recommendable sort may be a choker, dangling earrings and a magnificent Maang Tikka. The best hairdo option with this get up will be to pull back your hair in a simple bun and you shall see you couldn't look more outstanding.
3. Be the Heroine of the Haldi Ceremony: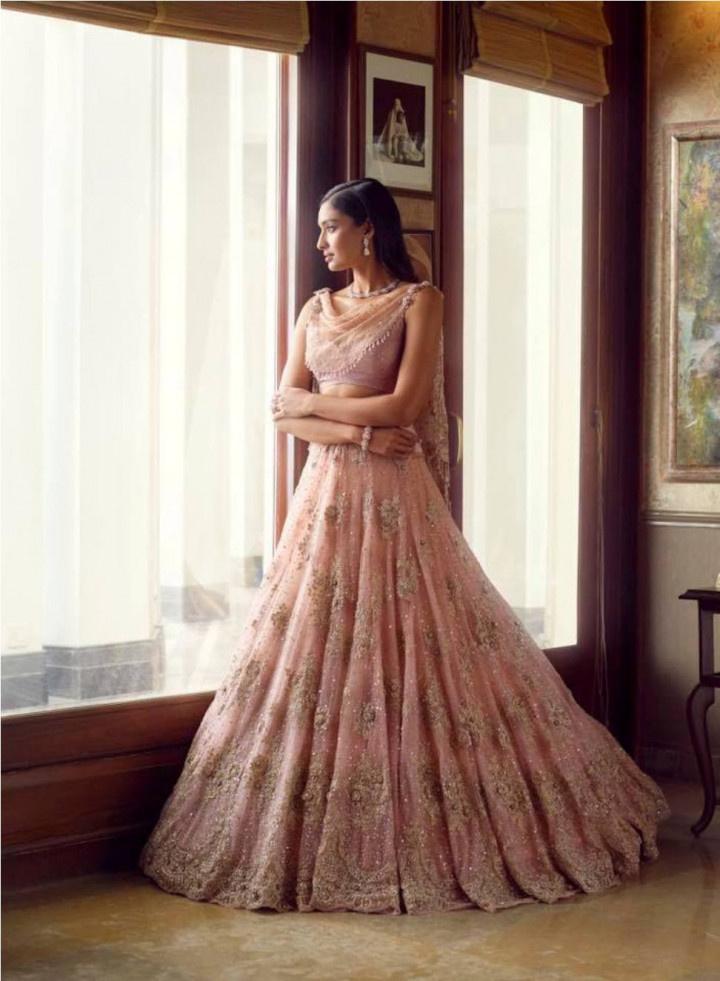 The Haldi ceremony holds huge significance amidst all the other events of a wedding and especially for the bride-to-be. To be more precise, this event marks the beginning of a wedding ceremony and it is obvious that every bride would set it as a priority to look picture perfect for the avalanche of pictures to be clicked.
For a Haldi ceremony, we recommend a subtle and semi-natural makeup combined with a dusty rose pink sari or lehenga to create the magic. To pose smartly and confidently throughout a candid photo shoot, team up your outfit with silver-toned jewellery and either tie your hair in a bun or leave it free-flowing in loose curls. For Bengali weddings and the bright Bong bride, a light yellow and red sari teamed up with light gold ornaments can do wonders.
4. The Big Fat Wedding Day:
Here is the day in the spotlight! The Wedding Day is one of the most momentous days in a girl's life as it marks the onset of a new journey of togetherness. A surge of excitement coupled with nervousness naturally flows in the mind and heart of the bride especially with regard to her makeup, hairstyle, and attire.
For a bride to get a spectacularly elegant look, it is recommended that she chooses her outfit which complements her personality. The right choice of wedding dress and makeup is of crucial importance as every moment of this day will be captured and documented to create future memories. Proper and precise planning is required for a cohesive working of the bride's makeup, coiffure, an outfit which will render an aesthetic boost to her countenance.
A bright red or onion coloured lehenga featuring heavy golden base embroidery work or 'jari' work is best for fabulous bridal wear. A heavy work Banarasi sari can also make you look stunning. Consult your makeup artist for the eye and facial makeup that will go with your facial structure, complexion, and dressing of the day. A bun of braids can brilliantly complement your ravishing bridal look.
5. Rock your Reception Party:
The pretty bride can enhance her elegant look to the next level by donning a beautiful designer sari or lehenga featuring ivory and gold-toned colour combination for the reception night.
Walk amidst the crowd of guests in your distinct countenance as you sport the heavy Kundan jewellery complemented by a dewy base makeup. You can style your hair pulled back into a simple bun, or just leave it open in dangling curls to look ceaselessly flamboyant throughout the photo sessions with guests, family, and friends and last but not the least, your special one.
Tell us how you like our fashion tips for your wedding functions. Does it add that aesthetic brilliance to your special moments?