7 Hep & Happening Couple Entry Ideas for That Unforgettable Start
You've always wished for a perfect dreamy entrance with your Mr Perfect! Haven't you? Check out these couple entry ideas to turn that dream into reality!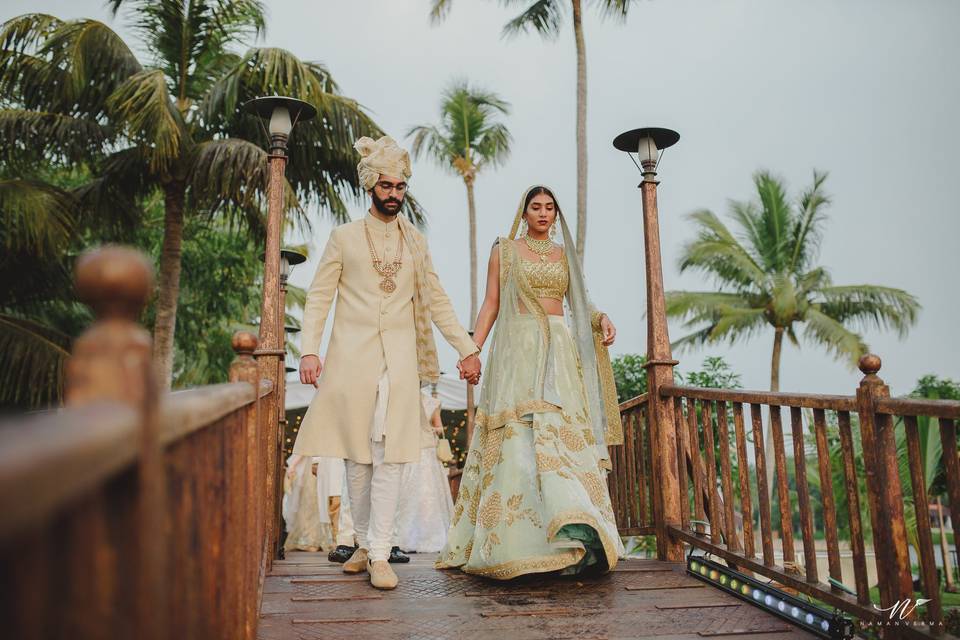 When it's the matter of their wedding, brides and grooms always wish to go that extra mile to give their wedding a touch of remembrance and make it an extraordinary affair. They are always on the lookout for out of the box ideas that can make everybody's jaw's drop!
While people still opt for solo entries, these Y-gen millennial couples who believe in taking everything a notch higher, opt for couple entry to ace their wedding entry game.
Have you decided to walk down the aisle together? If you are struggling to figure out how to get all the eyes glued on you while you make your grand entry, here are some quirky and unconventional couple entry ideas you can gauge inspiration from:
A Striking Smoke-Bomb Entry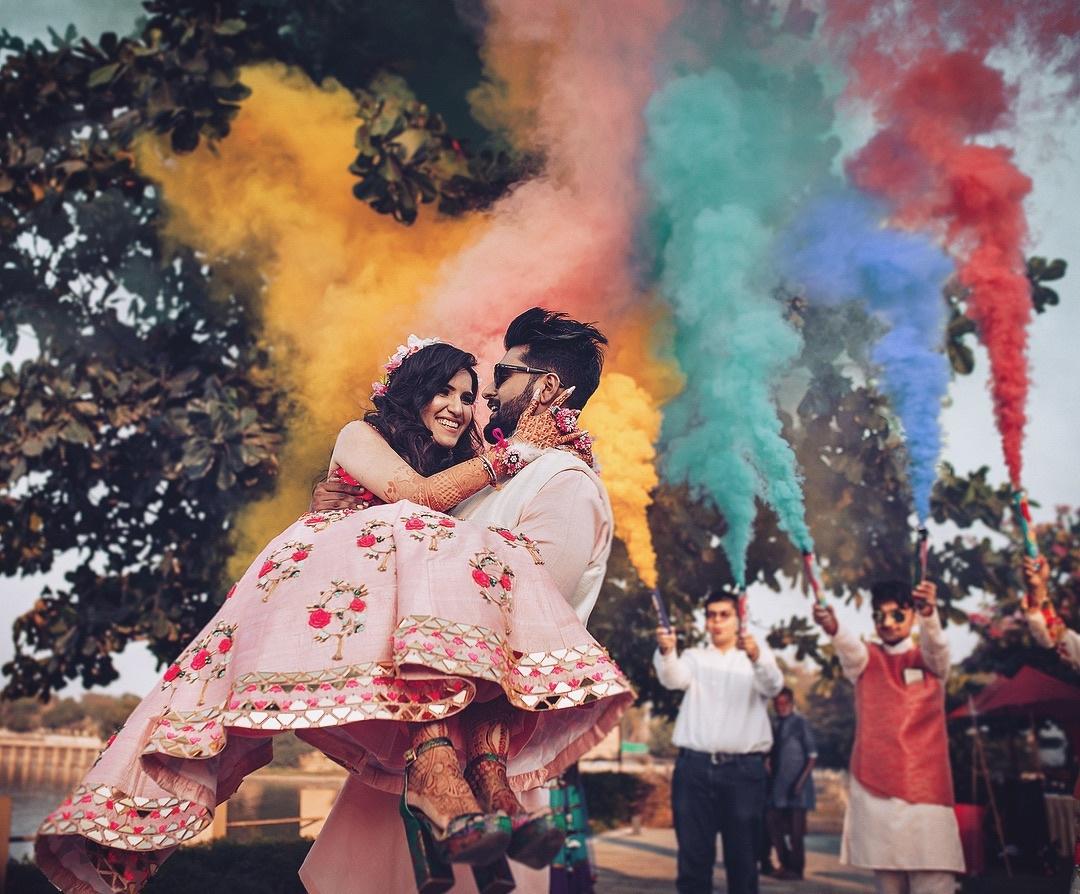 Image Courtesy: Shades Photography India
Just how colours add life to a painting, they can add life to your wedding entry and paint it picture perfect! All you gotta do is get those smoke bombs out and flowing while you make your way into the hallway! This colourfully striking entry idea will surely fill the hearts of your guests with vibrant colours of happiness.
A Rocking Rickshaw Ride Entry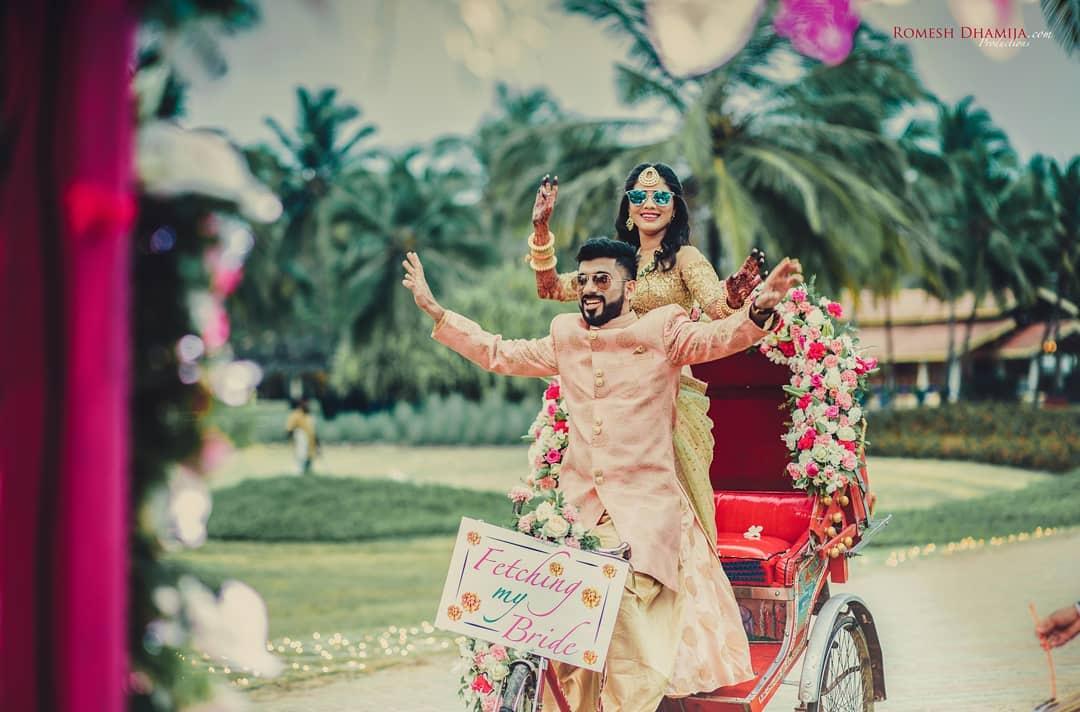 Rock them with this desi entry! Give your beautiful bride a ride in that beautifully decorated Rickshaw till that wedding stage! Chuck all those magnificent, over the top ideas and go rustic with this rocking rickshaw entry. We guarantee, if anything, this will be one of those things from your wedding that none of your guests will forget in this lifetime!
A Heavenly Hand in Hand Entry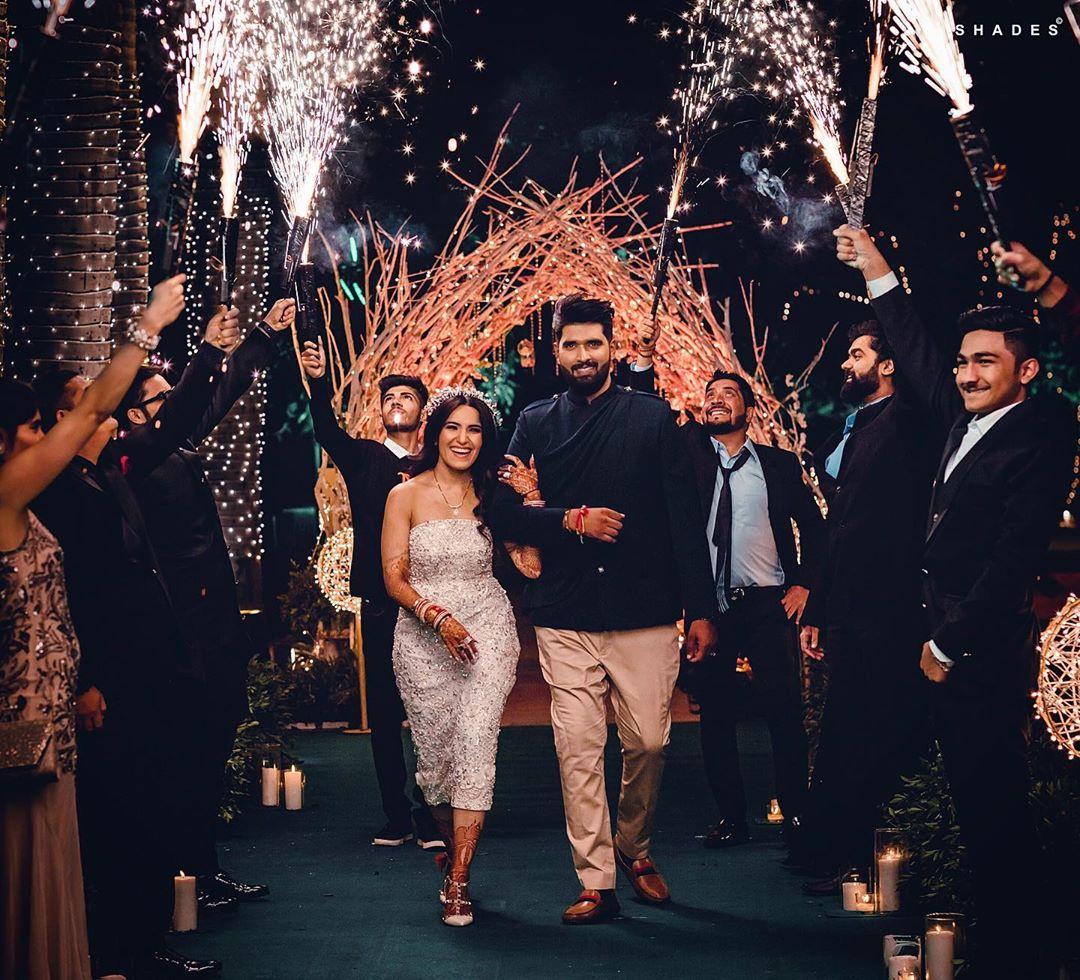 Image Courtesy: Shades Photography India
Nothing! We repeat nothing can beat simplicity and honesty in any walk of life! Even if it's a walk towards the beginning of a new phase of your life! When there is love, it shows and there is nothing more magical. So ditch all those fancy ideas flowing all over and choose to go all raw and real (cuz real is magical). Enter hand in hand with the love of your life and experience serenity with every step that you take together.
A Dreamy Dazzling Entry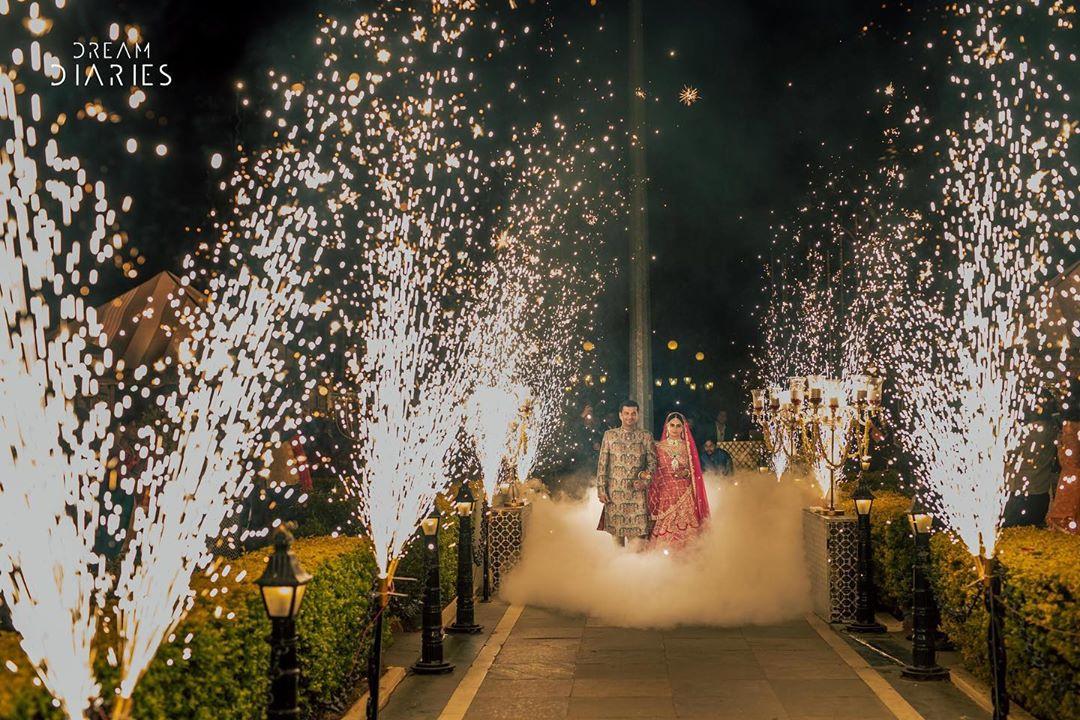 Image Courtesy: Dream Diaries
Okay, who doesn't like sparkles and lights and fireworks happening all over the place? Look at this picture! Doesn't it look dreamy to you? This isn't any less of a royal entry. Make a grand entry like this by walking down the aisle with your King/Queen by your side when the cold pyros and cryogenic smoke pave the way for you.
A Dancing Deewane Entry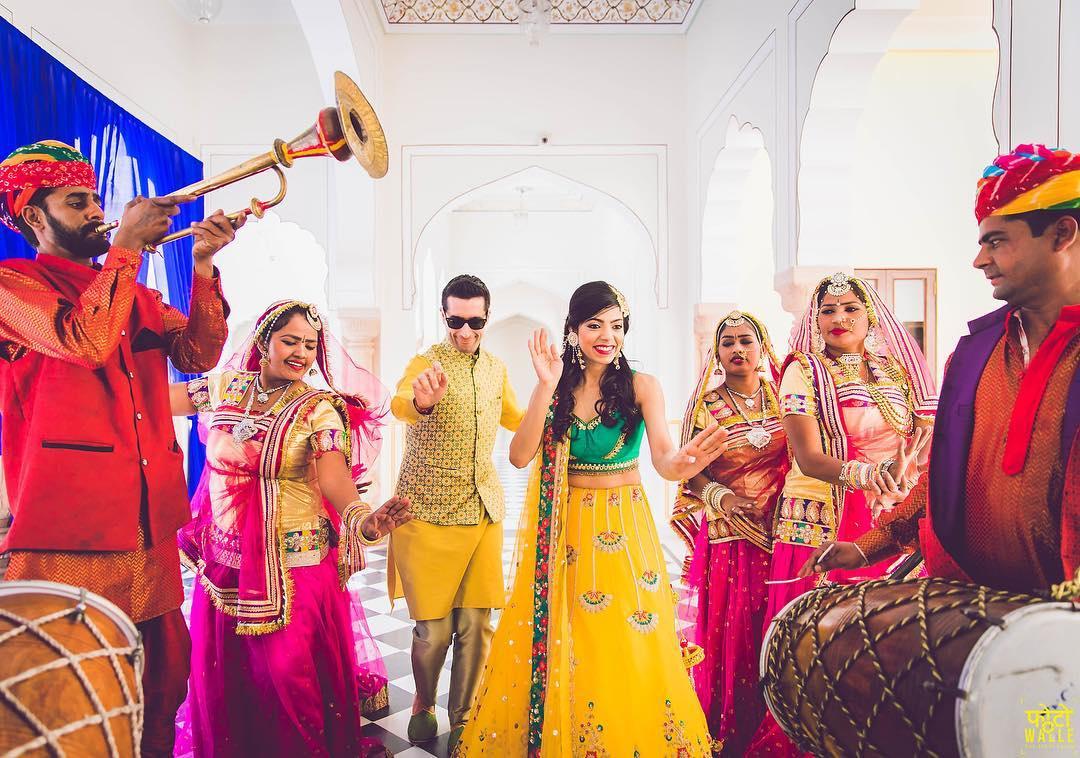 Dance is that powerful communicative form that expresses everything on its own without actually requiring one to express! One exhibits joy and happiness when they shake their legs as it's said to release endorphins. It can be a great waiver of any nervousness or anxiety that you may have before you make your big move. So, why walk when you can dance? Own the space while you dance your way on a Bollywood number that hits everybody right in the feels.
A Mesmerising Shikara Entry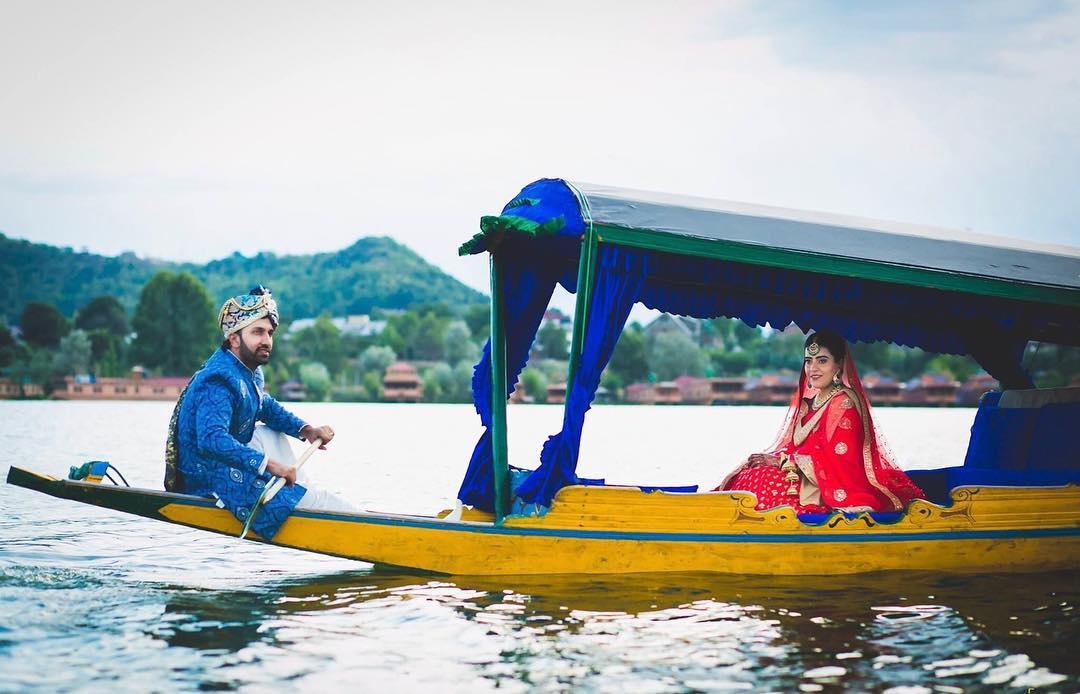 Ever imagined you'd be entering your wedding with your mister seated in a mesmerising shikhara? The idea of the houseboats has been romanticised since Bollywood started showing off blooming romantic songs in their movies seated in a shikhara. Boat entry is often seen in a Butta wedding where the ritual prohibits the bride from stepping on the ground.
Even if not a Butta wedding entrance, taking your bride straight to the mandap to take your vows for a happily ever after, and entering the wedding in a boat is just too dreamy and perfect!
A Fancy- Schmancy Floral Entry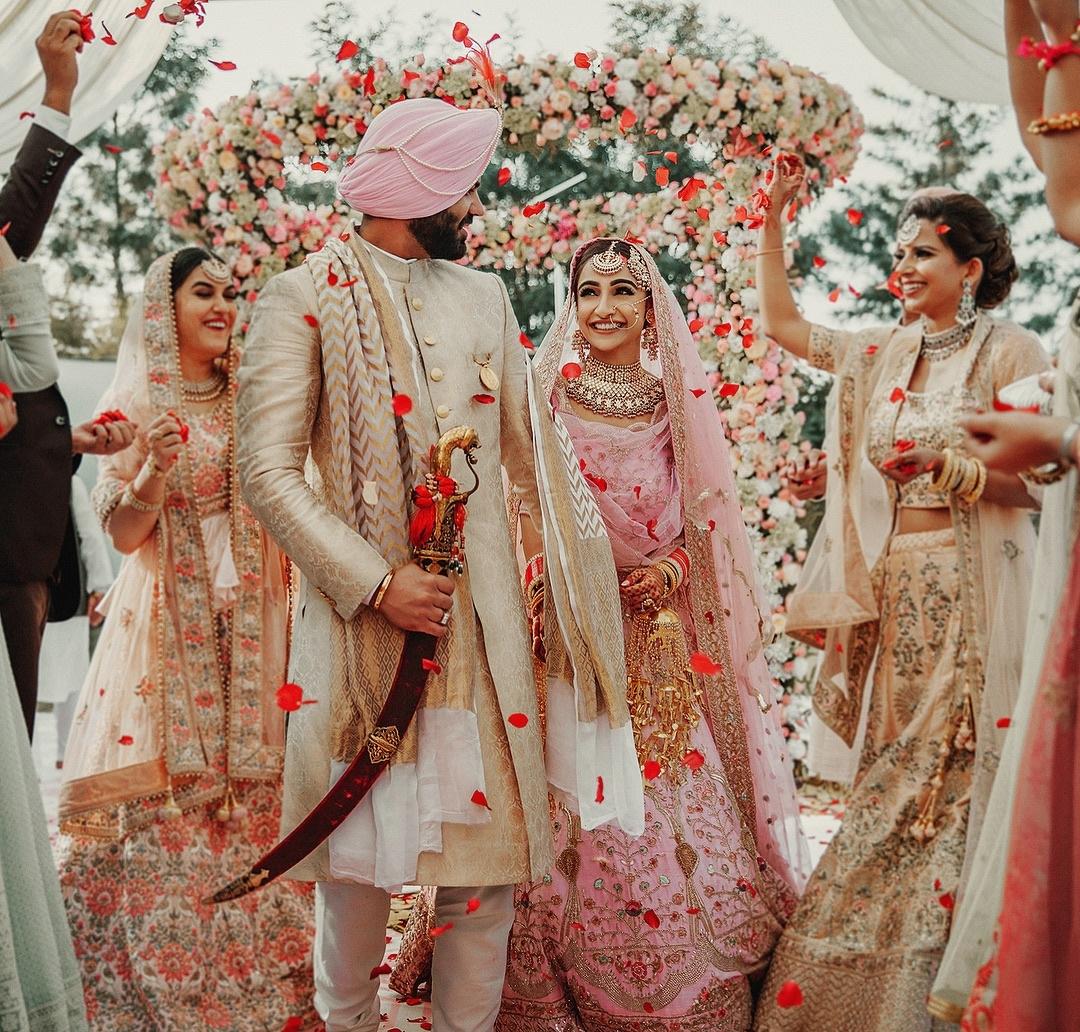 Image Courtesy: Shades Photography India
You can never go wrong with florals, we assure you that! While the bride is all dolled up and the groom sets out to look their best, we suggest giving your entry the same exquisite touch by opting for a gorgeous Phoolon Ki Chaadar to walk under. Not just that, you can also opt for a beautiful umbrella decorated with some alluring floral decorations to walk under to amp up your couple entry game.
These were some of the most unique ideas that will make sure that nothing and no-one else steals the show and you two together emerge out as the ultimate showstoppers of the dream wedding that you have forever wanted!
Tell us in the comments below which of these quirky couple entry ideas would you pick for your big day. Get in touch with the best photographers in the city to capture these priceless moments of your wedding!
-Written by Gargi Rastogi