Working on Your Barat Dance Playlist? Add These 10 Songs Now
Looking for up-tempo songs to add to your playlist for Barat dance? We share these 10 awesome numbers that you cannot go wrong with. Have a browse!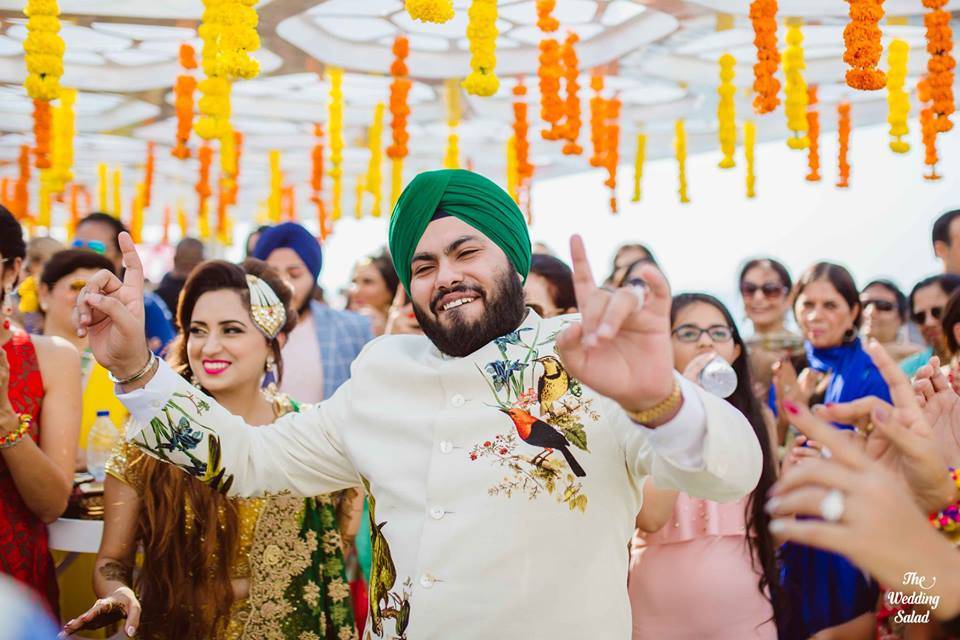 Dancing in a Barat and being a Barati has its many fun and laughs. Is your friend soon going to mount the Ghodi and take his grand Shaadi Ka procession? If so, it's time for you to start preparing.
Yes, it's Barat dance numbers that you should be thinking about. Barat dance numbers need to be peppy so that every Baratis can groove and shake their legs. Here is a list of the must-have songs in the playlist for Barat dance. Do check them out!
1. Tenu Leke Main Jaawan From Movie-Salaam-E-Ishq
Though the movie Salaam-E-Ishq released way back in 2007, it is still ruling the charts as far as dancing on Barat is concerned. It's a fun number that is easy to dance to. All Barat's, including your Chachas-Chachis, and Mama-Mamis will have no qualms about shaking their legs on this peppy number.
2. Kaala Chashma From MovieBaar Baar Dekho
Featuring the gorgeous Katrina Kaif and the hunk Siddharth Malhotra, this song is perhaps one of the most played in every Indian Barat. Do you know why people so very much like to dance on this song?
Well, it's anything but boring. It's full of sway and looks cool on everyone, irrespective of age. Most modern-day grooms prefer to make their entry, dancing to this number.
3. Azeemo Shaan Shehenshah from Movie-Jodha Akbar
Want to make your entry like emperor Akbar? Well, here is a very grand song from the movie Jodha Akbar that will set the tone for the rest of the Barat beats! This song sounds regal from its very lyrics as well as its drum beats. Choose it if you love to make a grand entry along with your gang. A very popular Barat dance number, it must be on your list.
4. Ainvayi Ainvayi From Movie-Band Baaja Baraat
What a number to dance on! The song is from the hit movie Band Baaja Baraat and is one of the most popular Barat songs. Sung by Salim Merchant for actor Ranvir Kapoor, and Sunidhi Chauhan for Anushka Sharma, this song gets you ready to put on your dancing shoes. You don't need to force any of your Barat members to dance. People will start to groove the moment it plays!
5. Mehndi Laga Ke Rakhna From Movie DDLJ
An oldie, this number from the cult movie DDLJ is still being played in Barats. A song that takes you back to the swinging '90s is this number. It fills you with happiness and fits every Barat. Pick this song in your playlist if you wish to make your Baratis enjoy the procession to the hilt.
6. Sadi Gali From Movie Tanu Weds Manu
Sung by Lehmber Hussainpuri, this song made Kangana Ranaut a star and the movie a blockbuster. Would you like to include it in your Barat dance? The foot tapping number will just make everybody forget their age and swoon to its energetic Punjabi lyrics and beats. Since its release, the song has dominated every Barat. It's exciting and fun to shake a leg or two on this song!
7. Zingaat From Movie Dhadhak
A high energy song from the Marathi cult movie Sairat, this song was adopted for the Hindi version Dhadhak. Ever since it was released, the song captured the hearts of the young and the old alike. And Barat too were not untouched by the Zingaat sensation. Play this number in your Barat and see the uncles, grandmas and kiddos groove to the beats like crazy. This high octane dance number will make your Baratis never want to stop shaking.
8. Swag Se Swagat From Movie Tiger Zinda Hai
Play the famous song from Tiger Zinda Hai and sway like Katrina and Salman. It's a perfect way to make an entry along with the groomsmen. It's stylish and has a distinct appeal to it. Show off your swag dance to its peppy beats.
9. Bhootni Ke From Movie Singh is Kinng
A Daler Mehndi sang this foot tapping high octane number and made history as they say. Do have this Barat dance number for your friends who would thank you later for giving them the fun of a lifetime. It's a Barat song meant especially for the brothers and cousins of a groom. Why must he have all the fun, what say?
10. Sapne Mein Milti Hai From Movie Satya
Very old, yet, much loved, this song is, and will always be loved for its super peppy beats and feel good vibes. Have this Barat dance number ready for all Baratis to shake their legs like never before.
Since a Barat is all about having fun, choose such songs that bring energy and liveliness to the atmosphere. If you do have more Barat dance numbers that you think are being played in weddings these days, do ping back and share.
Which song would you like to add to your playlist for a Barat dance? Let us know through comments.