An Enchanting Wedding Story of Stuti Desai and Harshwardhan
Stuti Desai and Harshwardhan tied the knot in an enchanting wedding ceremony. The wedding was like a floral escape in the middle of the woods. Read to know more.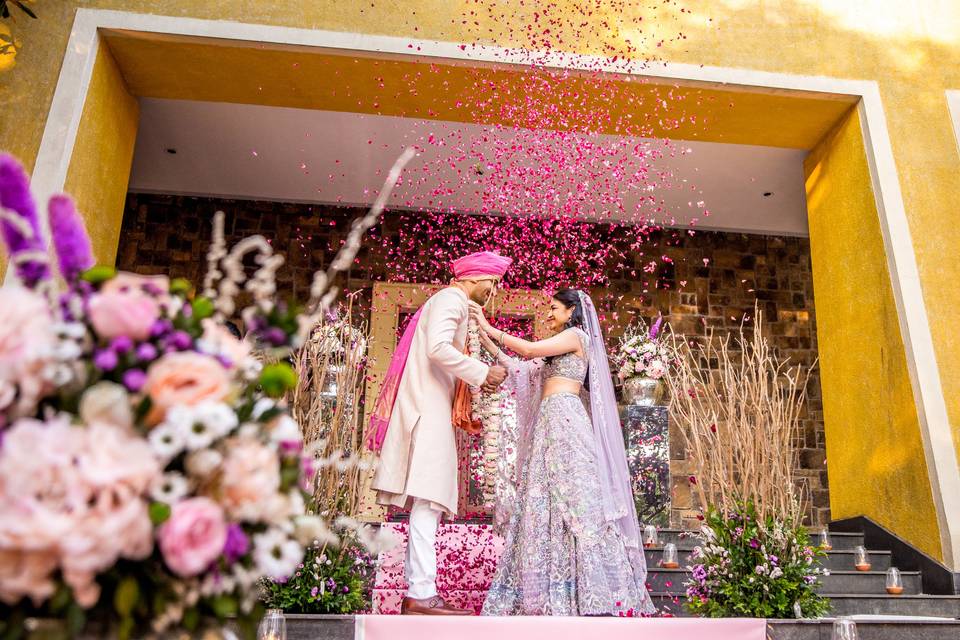 The childhood sweethearts, Stuti Desai and Harshwardhan got married amidst a pandemic and their love story is a page straight out of a fairytale. The bride, Stuti is the Co-Founder of FancyPants Apparels LLP and she certainly looked angelic in the mesmerizing outfit. The groom complemented her in his dapper outfit. The wedding was at Le Meriden, Mahabaleshwar, among nature, trees and a cool breeze. The bride Stuti lived her dreams with her stunning outfit and the mesmerizing wedding venue and decor further satiated her quest for a surreal wedding. Now let's delve into the deets of their wedding day which was weaved seamlessly together by Aashna Saran, Founder of Aash Studio.
Their Meet-Cute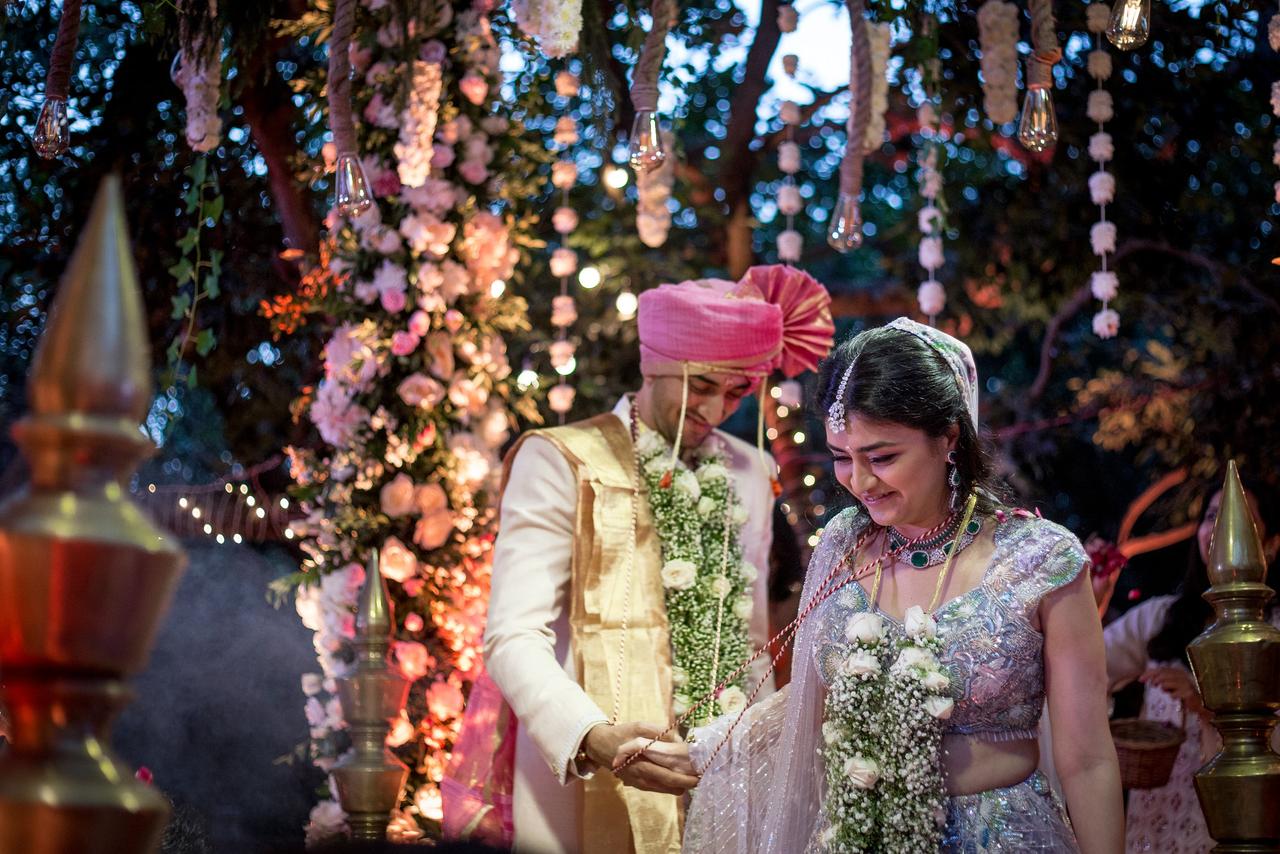 Their love story started off as a crush-struck story in boarding school that turned into a cinematic teenage love story on a secluded hilltop only to part ways to find each other again and fall all over in love, but this time, it was the forever kind! Their whirlwind romance sparkled with the yellow diamond proposal and so their journey began.

About The Wedding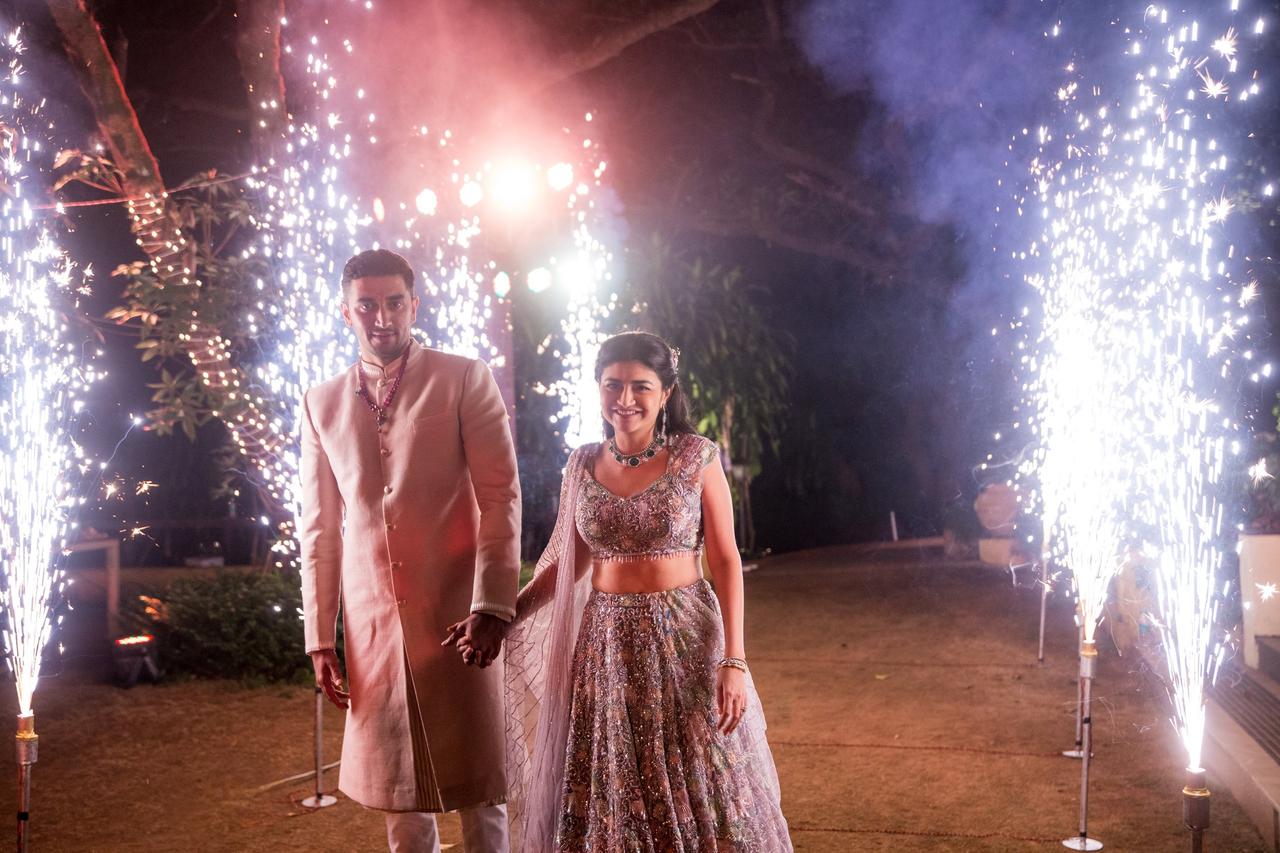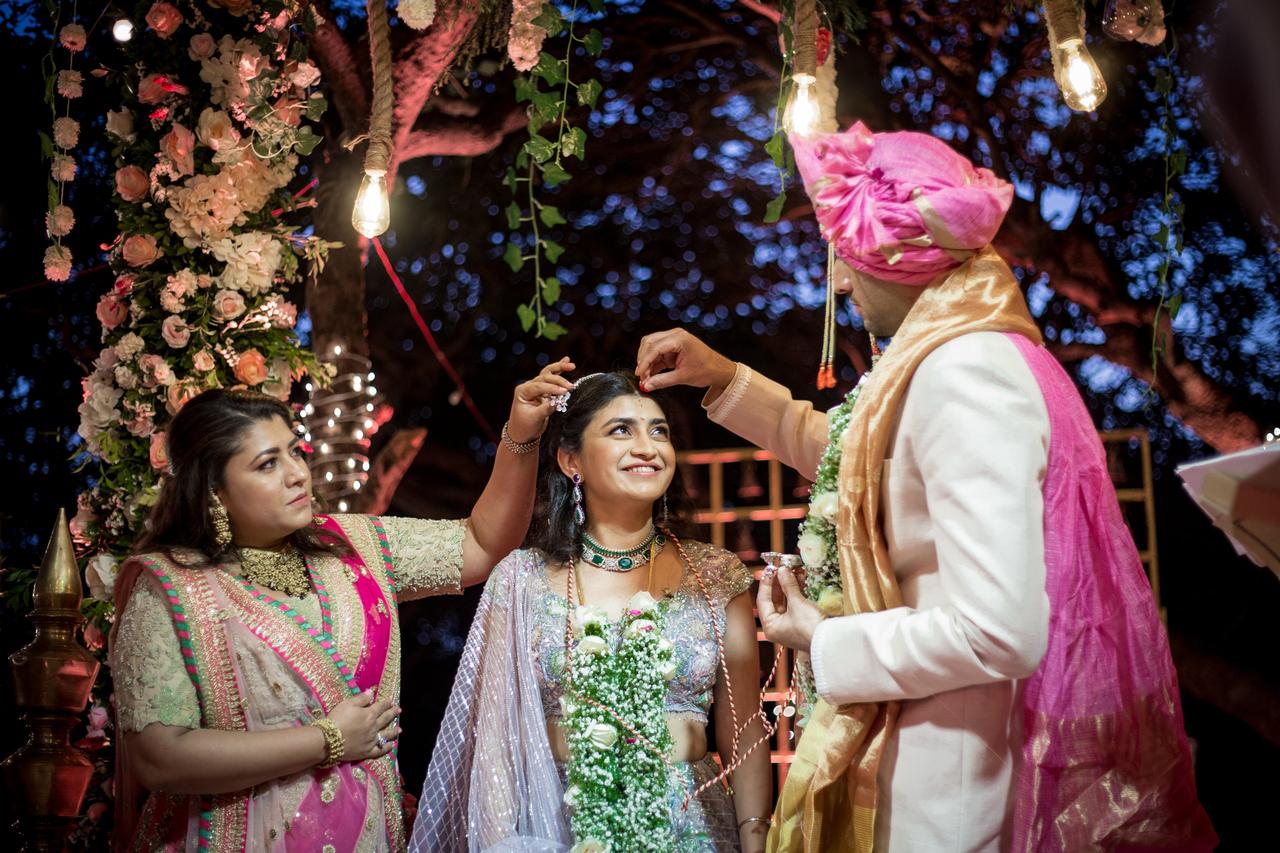 Harsh and Stuti's wedding was like a floral escape in the middle of the woods. Stuti wore a custom Kresha Bajaj's love story lehenga which was inspired by their love story over the years.
The Scintillating Sundowner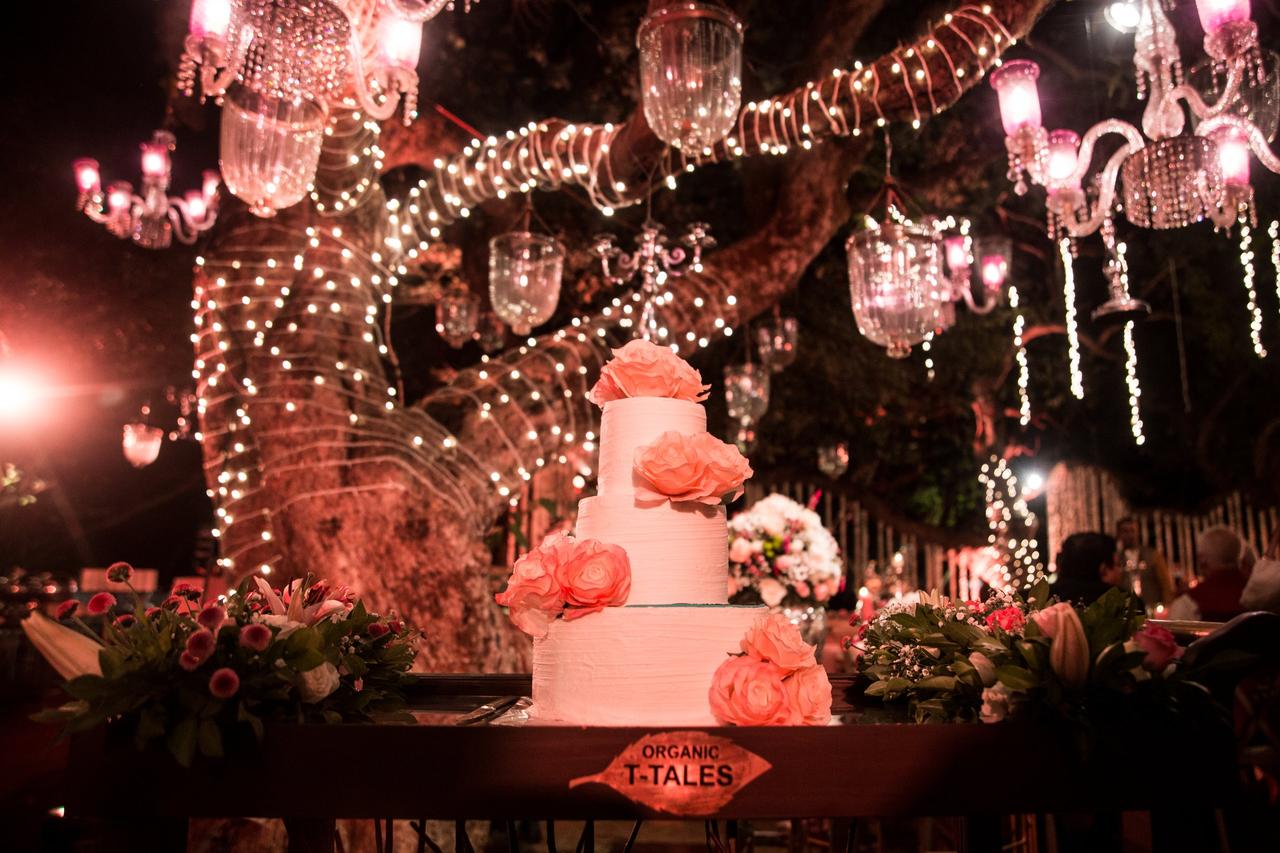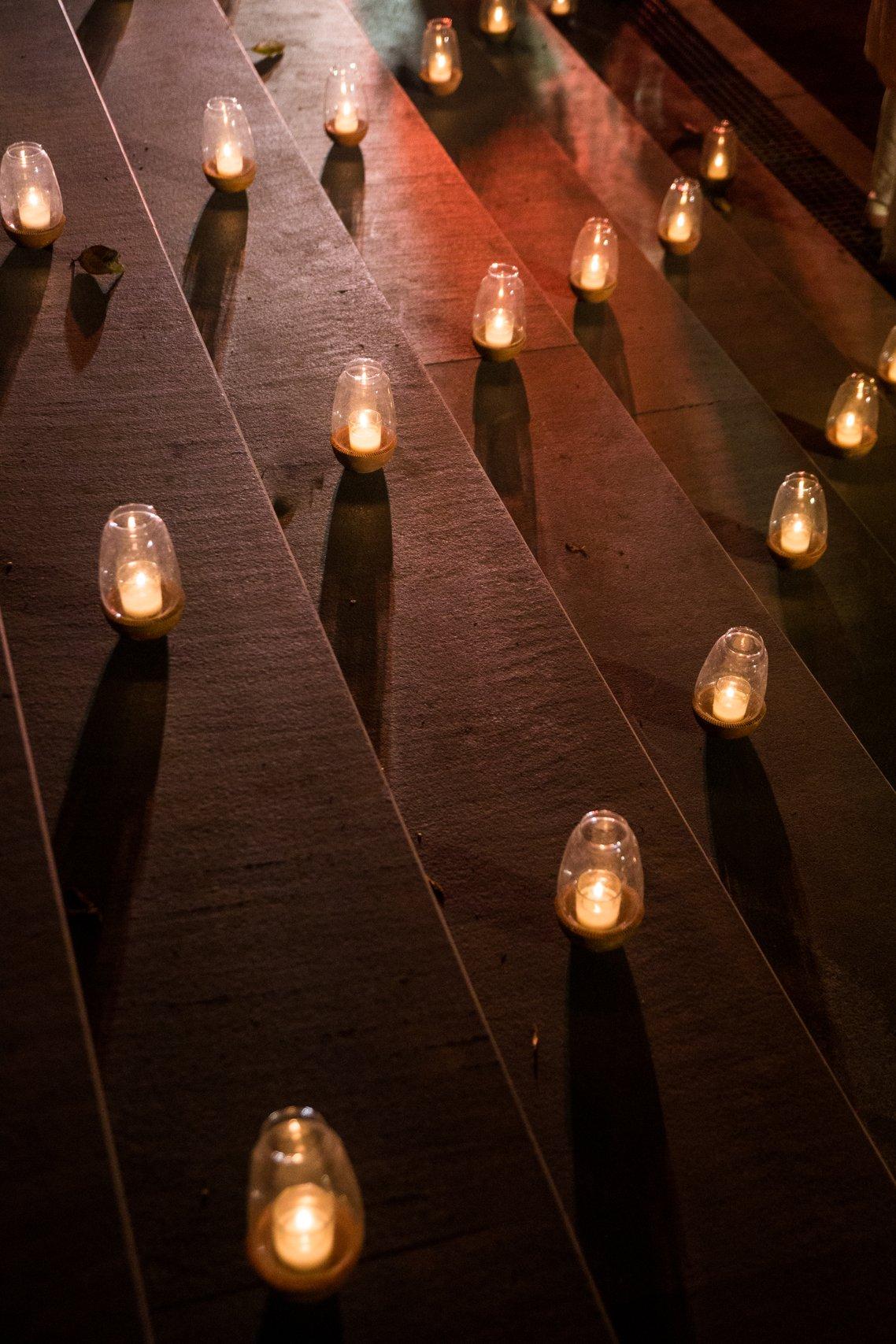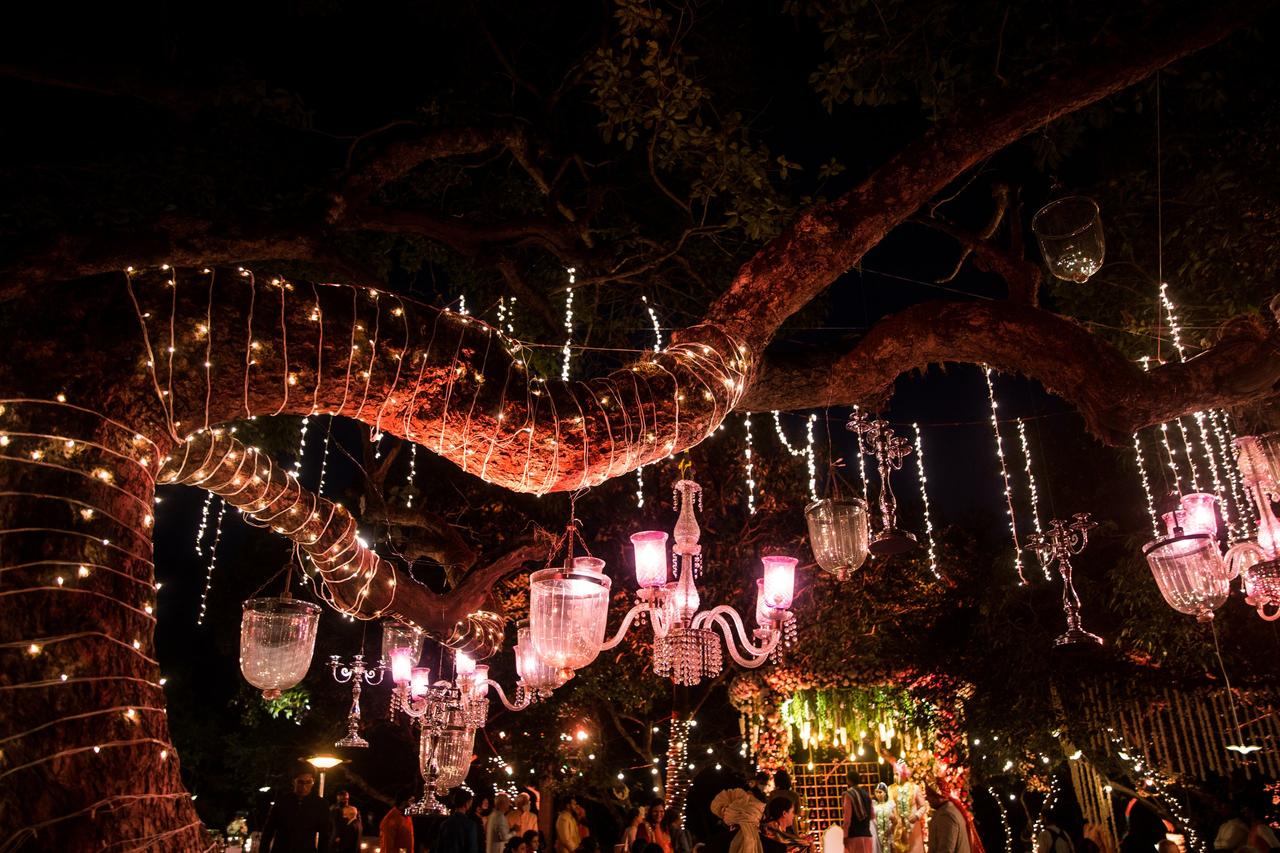 The sundowner they had for close friends was all about capturing the quirky side of Harshwardhan and Stuti. It was 'whimsical love' themed sundowner in the heart of the forest. The team at Aash Studio used pops of neon pink, orange and yellow, over the top quirky elements , a stand out bar, giraffes that stood tall and dreamy lights to keep the party going after sunset. Her super fun neon palette inspired makeup look was put together by the renowned family make-up artist Priya Todarwal.
The Wedding Décor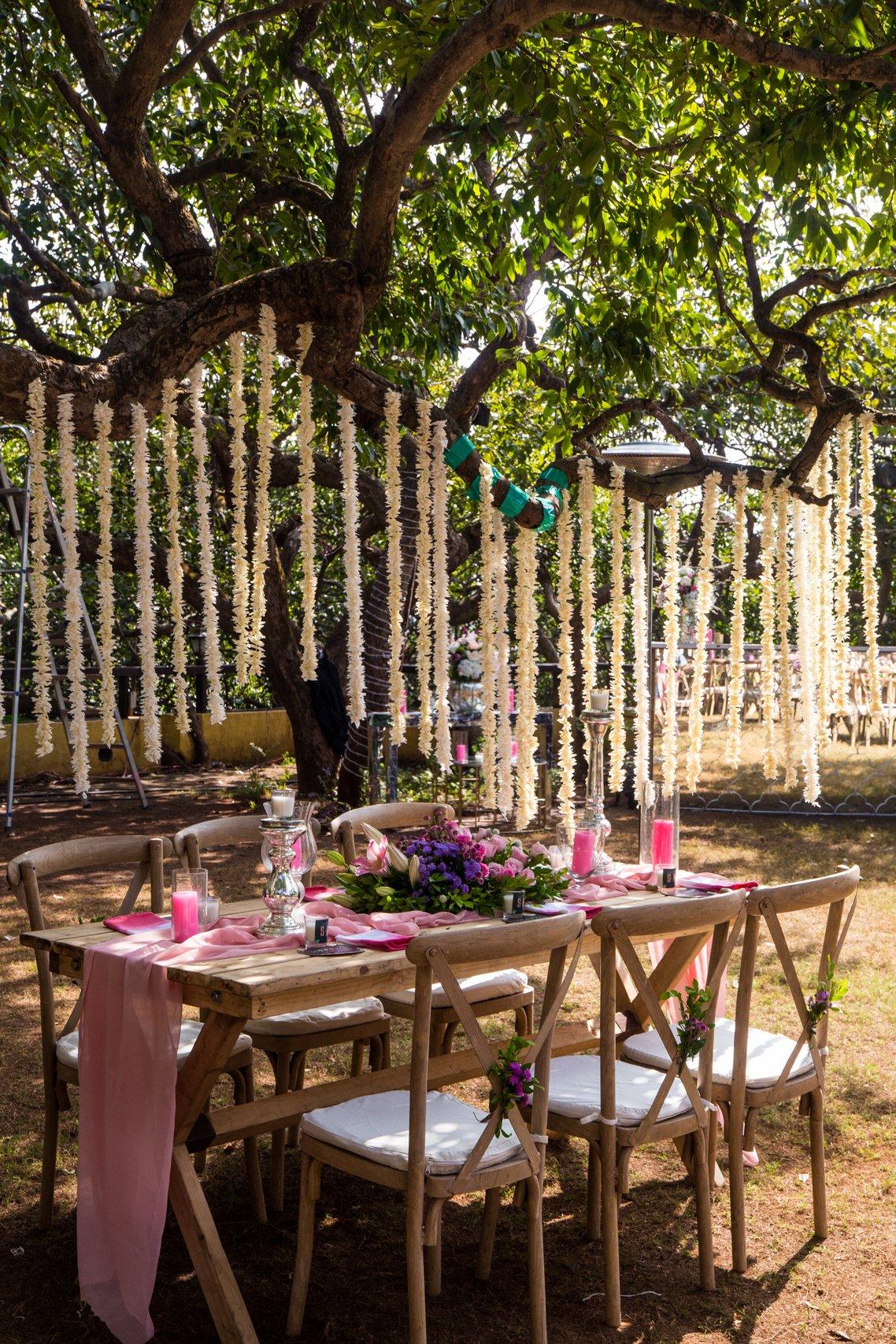 The wedding décor was magical with pink chandeliers, a beautiful mandap inspired by the forest , filled with greens and flowers , filament bulbs filled the ceiling, all the trees had strings of Rajnigandha flowers, long wooden tables, rustic cross back chairs with flowers, no detail was left unturned the dinner Tables had the couples favourite Shakespeare quote, candles customised with their logo, florals centrepieces in ombré. Let's take a look at the pictures from the décor and the wedding day!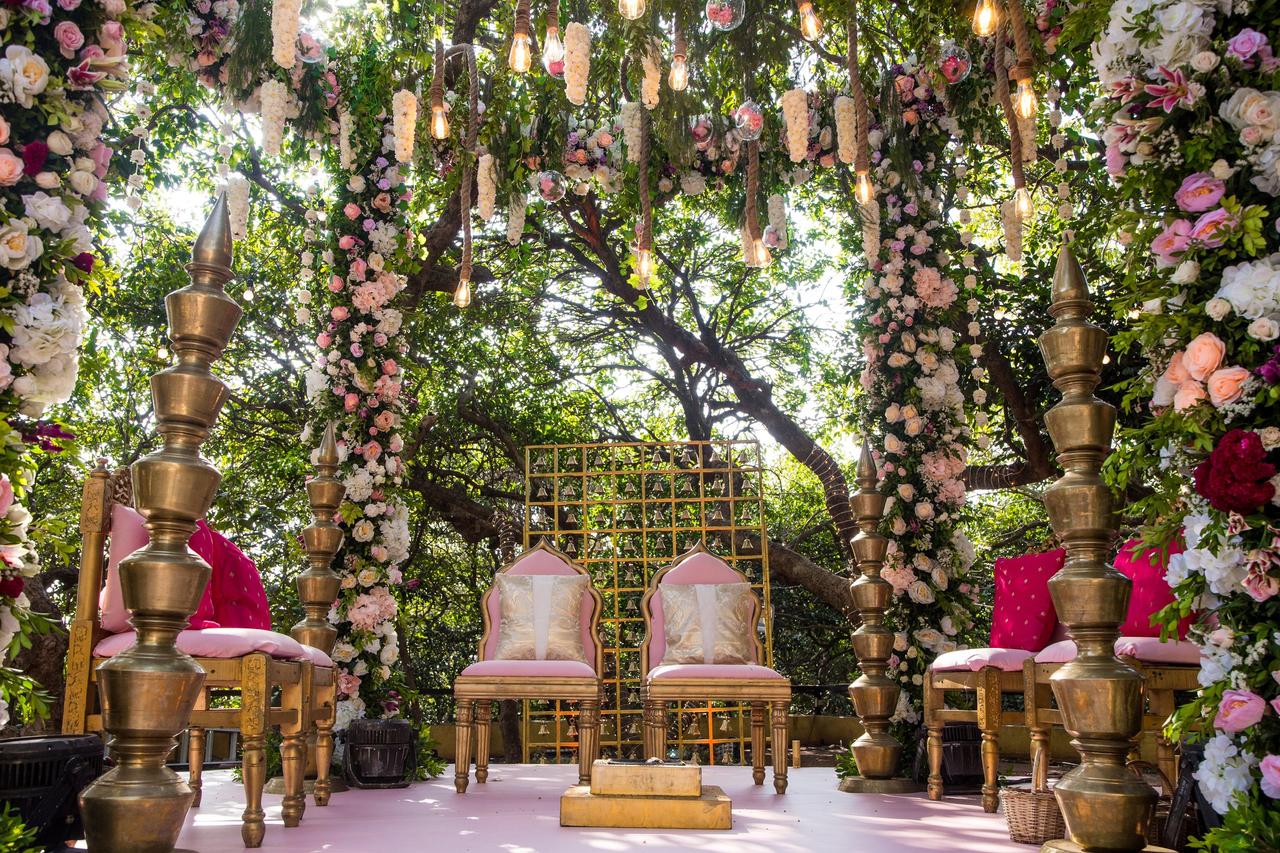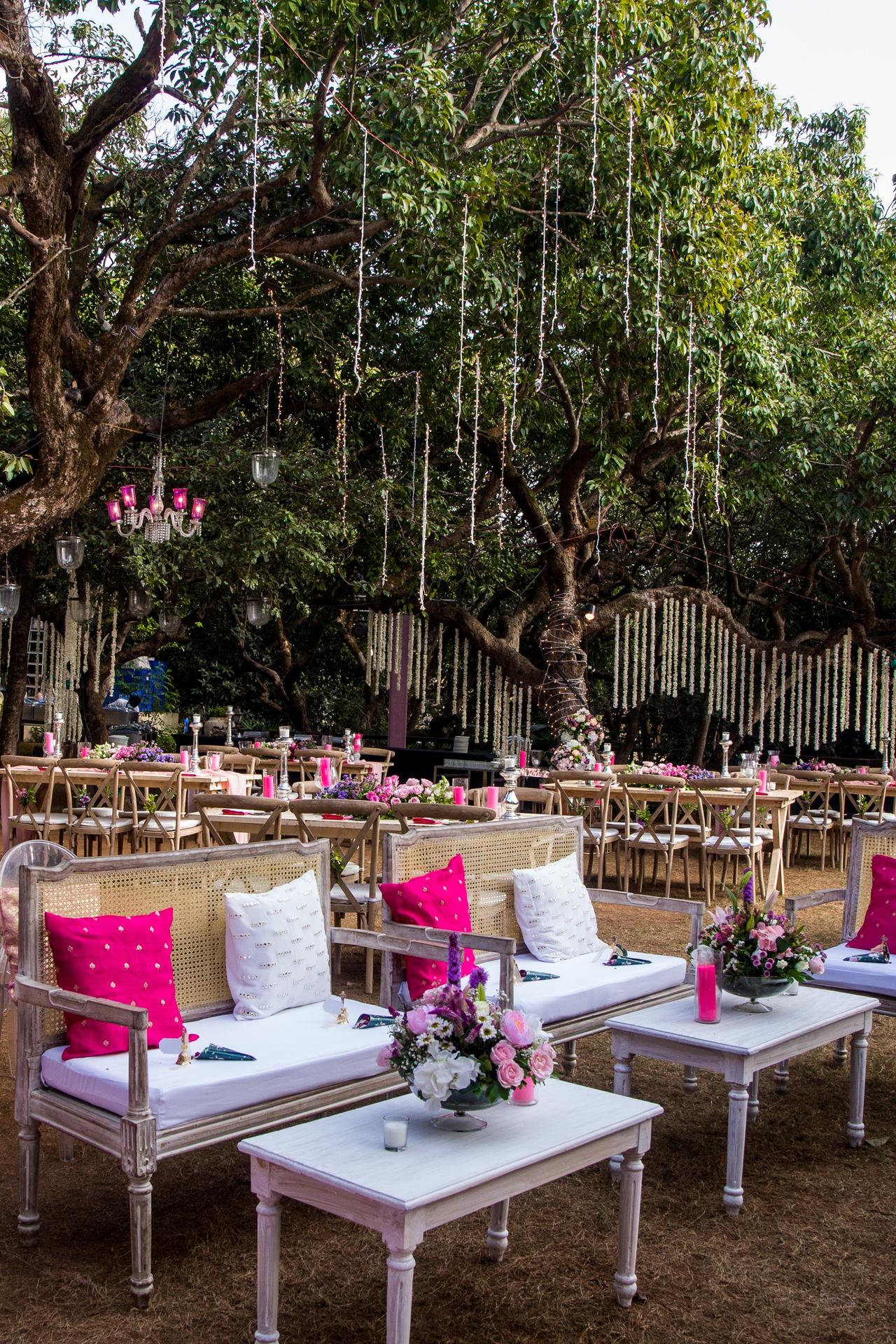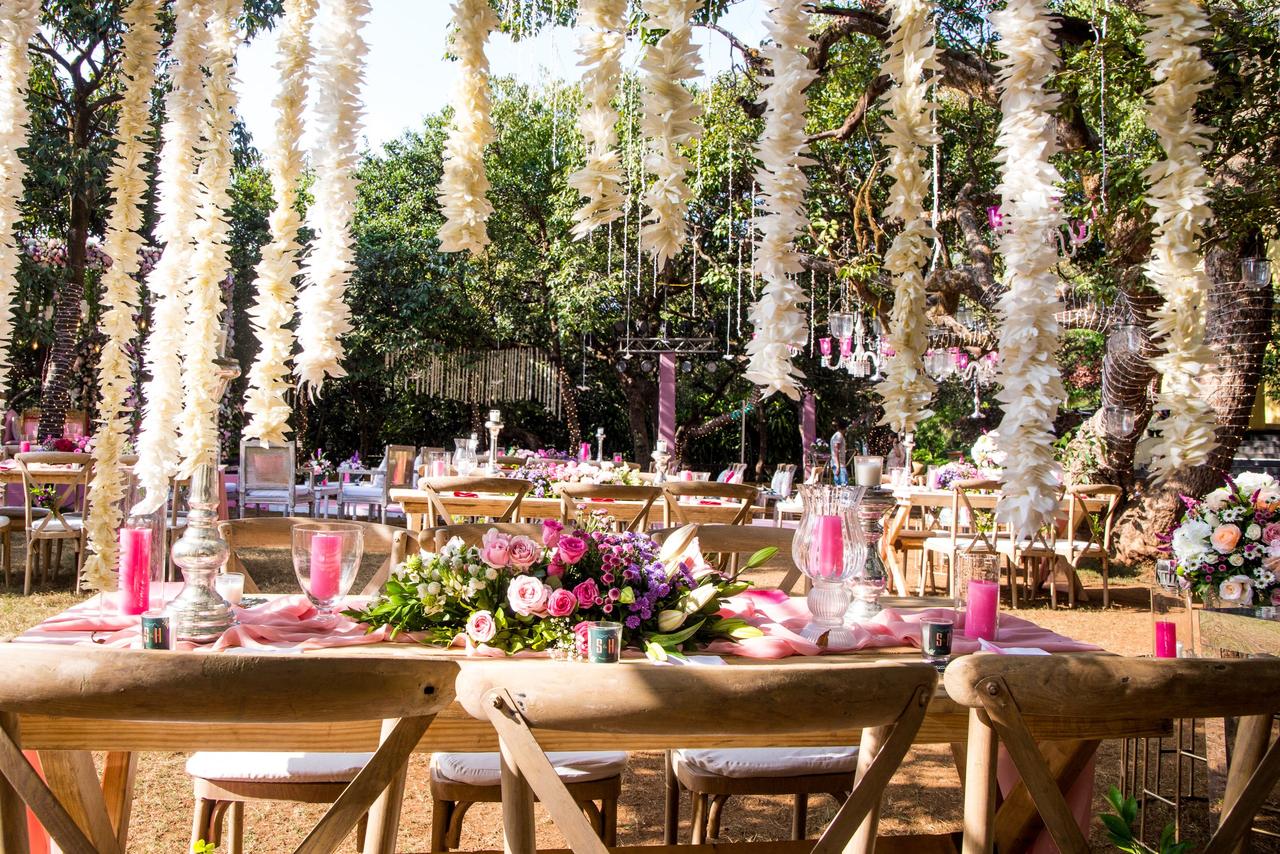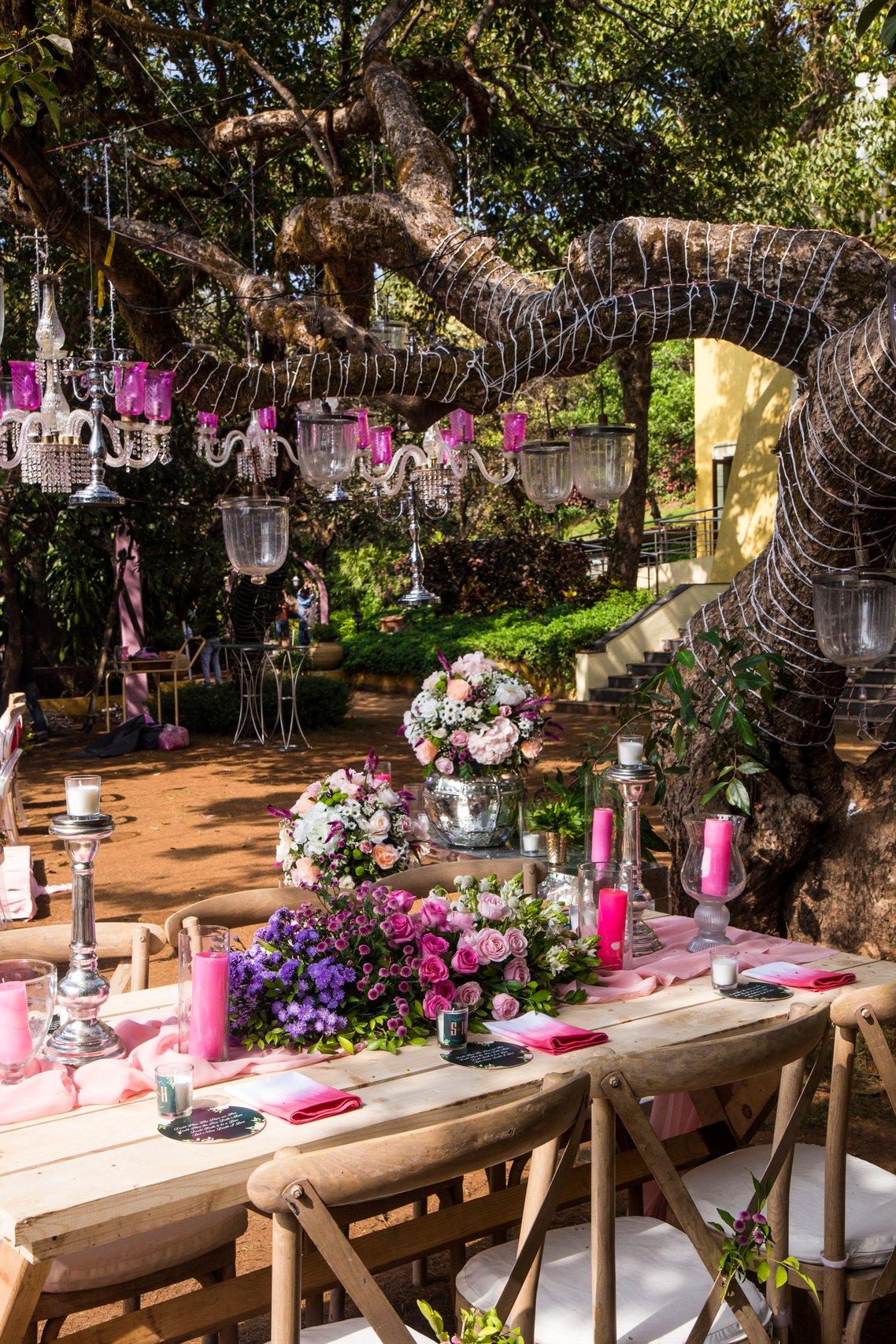 If you are planning to host a ceremony then the professional planners can make your wedding planning easy! In meanwhile, do let us know about your views about this enchanting wedding in the comment box below-
Dream Team
Decor & Planning: Aash Studio
Designers: Rahul Mishra & Kresha Bajaj
Jewellery: House of Rose
MUA: Priya Todarwal
All Images Sourced from Aash Studio