12 Indian Wedding Gifts and Ideas That Will Win the Heart of a Modern Bride on Her D-Day
Looking for inspiration for Indian wedding gift ideas for a modern bride? Fret not because we have curated just the perfect list for all kinds of gifts you can think of. Read on to learn more.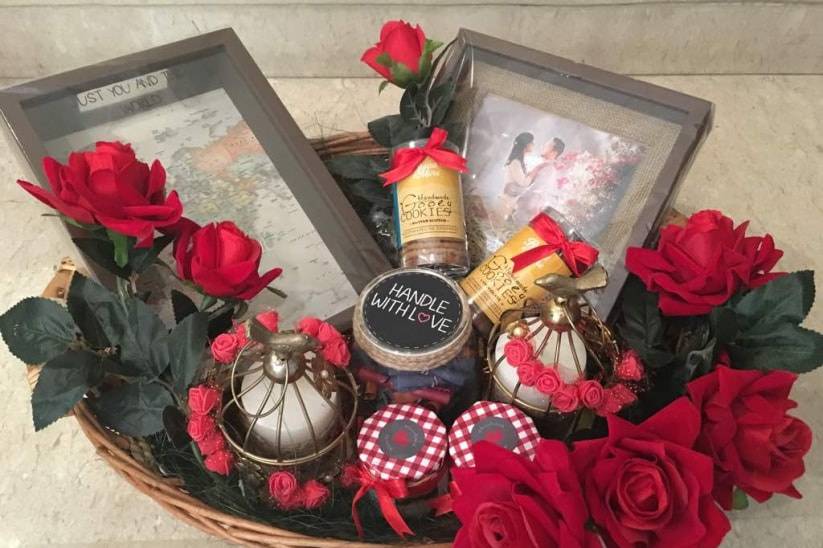 The struggle to finalise wedding gifts for a modern bride can be tricky. With changing times, the prevalence and utility of certain things has receded and other things have come to fore. Keeping this in mind, a certain amount of thought should be put into deciding Indian wedding gift ideas for the modern bride.
Gifts are the most simple ways to express your love and appreciation for someone and the wedding is a perfect opportunity where your cousins and friends, as well as other family members, come over from different parts of the world come together to bless your big day and shower their grace on you. It isn't however easy to pick the right gift that serves all the reasons and purposes of the gifting traditions in weddings for the bride. It may or may not be burning a hole in the pocket, but to portray the emotions and express it right with the gifts, you need to choose the one that fits perfectly for the occasion.
But like always, we are here for the rescue. We present to you a list of Indian wedding gift ideas from traditional ones to some priceless experiences. It has it all! Read on to find your inspiration.
Ethnic Goods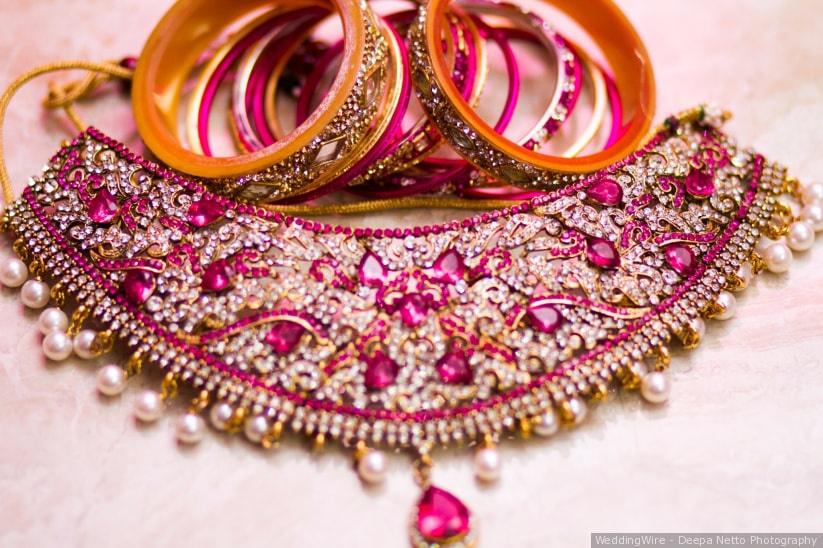 You can't just walk in a wedding and not see ethnic gifts. Despite of the changing times and prevalence of modernity, some gifts remain evergreen. Listed below are a few examples for Indian wedding gift ideas for ethnic goods:
1. Saree/Suit
This is one of the most practical ethnic wedding gifts among the good ones can gift a bride. These can be used on all occasions and otherwise as well. The newlywed bride is expected to make various social appearances after the big day, and she will be thrilled to flaunt the saree or suit you have gifted her on one of these.
2. Jewellery
A jewellery set is a traditional, beautiful and one of the most fashionable wedding gifts for a bride. These stay for generations and beyond, and can also be kept as an heirloom piece. She might choose to adorn it on her D-day itself and add to the wow factor or treasure it in her wardrobe to flaunt it any occasion later.
3. Bangle set
Since tradition asks newly wedded brides to wear bangles for a considerable period of time, gifting a bangle set would be a practical thing to do. She will be able to wear it not only as a newlywed but also with ethnic attires later and all thanks to the wave of the Indo-western trend entering the realm in masses, she can even flaunt them with a western outfit casually.
Ceremonial Ideas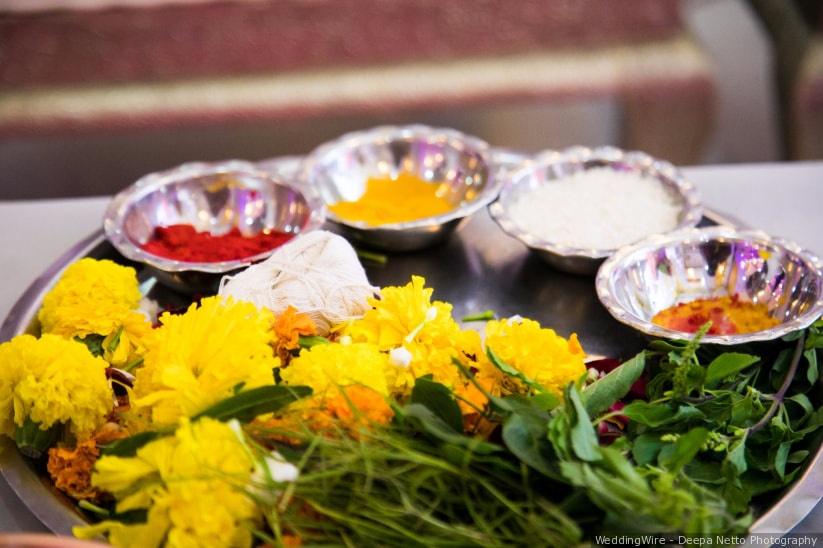 Ceremonies are an extremely important part of Indian weddings. They actually provide the basis to the whole event and keep it culturally rich and fun-filled. Giving the modern bride gifts related to various ceremonies that take place will keep her well acquainted with her culture. Some of these gifts could also work as heirloom pieces for her future family. Some of the Indian wedding gift ideas for ceremony events are:
1. Sindoor Box
Sindoor boxes come under essentials for an Indian bride. Although liquid Sindoor is the new thing, ceremonies hold on to the traditions and therefore this could be a nice gift for the bride.
2. Ring box platter
Fancy ring box platter has their own aesthetic appeal as well as significance. You can gift a silver or a golden platter to mark the auspiciousness of the event. It is a subtle yet beautiful gift.
3. Silver Utensils for Pooja
Pooja thali is one of the important things to be kept in a house. These can be used for Pooja during the Wedding and after that can be kept for using it in the house pooja later on.
Wedding Gifts for Everyday Use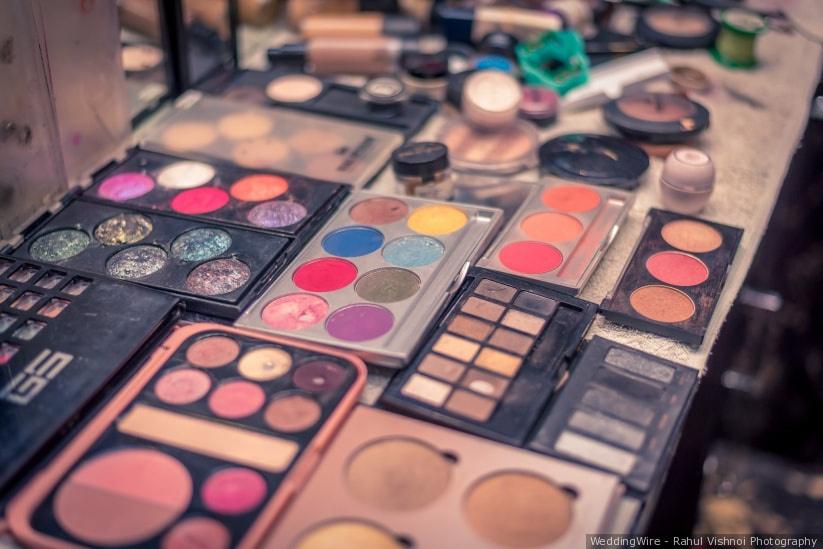 Practical and useful items are the most looked forward wedding gifts. Indian wedding gift ideas for practical items are highly appreciable and have the highest utility. These are the winning ideas for a modern bride. Listed below are certain practical items you can take inspiration from:
1. Kitchen appliances
This gift is as practical as it can get. When a couple moves in a house to live like a family something as basic as kitchen appliances become in need. This is a go-to gift and nowadays with developing technologies, is a fancy option too.
2. Makeup
It is never a bad idea to gift makeup to a bride. These are useful, trendy and pretty exciting for a modern bride!
3. Television set
Television sets work best for everyone. It is very useful and perfect when it comes to a modern bride who would soon be setting up the house of her dreams her husband.
Enriching Experiences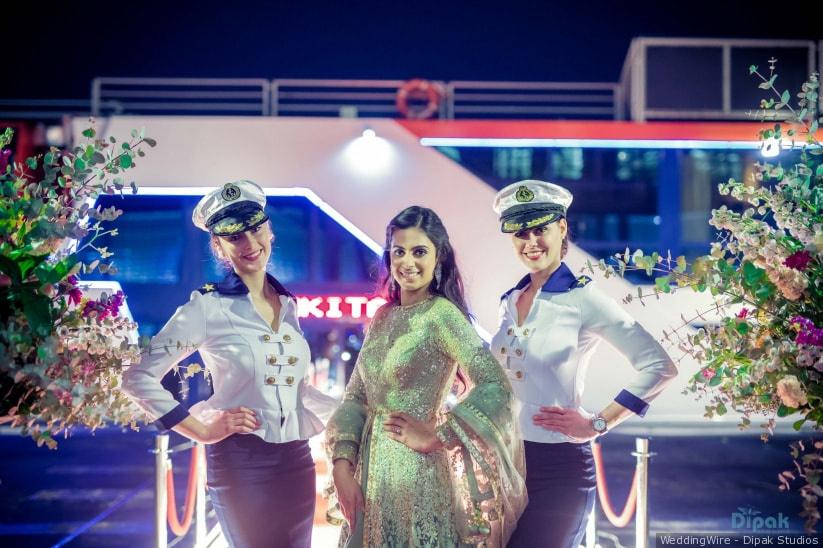 Sometimes gifts are not just about objects and things but also about cherishable experiences that you can provide to the couple. These often remain as the most remembered wedding memoirs. For a modern bride, gifting experiences can be one of the super hit Indian wedding gift ideas. Check out some of the examples that we have for you:
1. Honeymoon tickets
The honeymoon is one of the most looked forward events for a married couple as they go out and celebrate their love and bond. Buying honeymoon tickets for the couple to pretty places can be a wise thing to do. Such a gift should be preferably given by the parents of either of the two.
2. Throwing a bachelorette party
Bachelorette parties have now become more like a custom. Throwing the would-be bride a spectacular bachelorette would add onto the memories she will take with her in the journey of life. This is a great way to get into the party mode before the wedding festivities begin.
3. Cruise party with both families
Cruise parties are fun, and nothing can be better than being accompanied by your birth and your new family to the most exotic party of them all.
Adding up the cash
Maintaining a "Bucket List" and wedding registry has become the new cool. As a gift, rather than giving away separate envelopes, close relatives can pool all the money and give it as one single envelope. You can also give this money as a cheque or a bank transfer. This is easier for you as well as the couple who will be able to budget their requirements for their bucket list accordingly.
These are some of the Indian wedding gift ideas to help you get a hang of the requirement of a modern bride. All you have to do now is go shopping! In the millennial era, there are a plethora of Indian wedding gift ideas that might become overwhelming. From materialistic gifts to investing in an experiential gift, the choices are never ending and it will tend to become confusing. Therefore, always take into consideration what your friend loves most. If he/she is more of an adventurous person then you can come up with a hike, perhaps a weekend getaway to burn off some steam. So, we suggest you maintain a bucket list and start including the things you both love to do together. And, which that resonates the most with you will become one of your Indian wedding gift ideas.
Give us your feedback in the comments section below and which one of these Indian wedding gift ideas would you chose to surprise your best friend?