7 Simple Saree Draping Styles the Bride Must Look at to Flaunt the Glam While Walking Down the Aisle on Her D-day
The graceful drape is a woman's eternal friend and there are more ways to do it than just an odd handful. As a bride-to-be, take the time to master some of these gorgeous, yet simple saree draping styles that are popular across the country.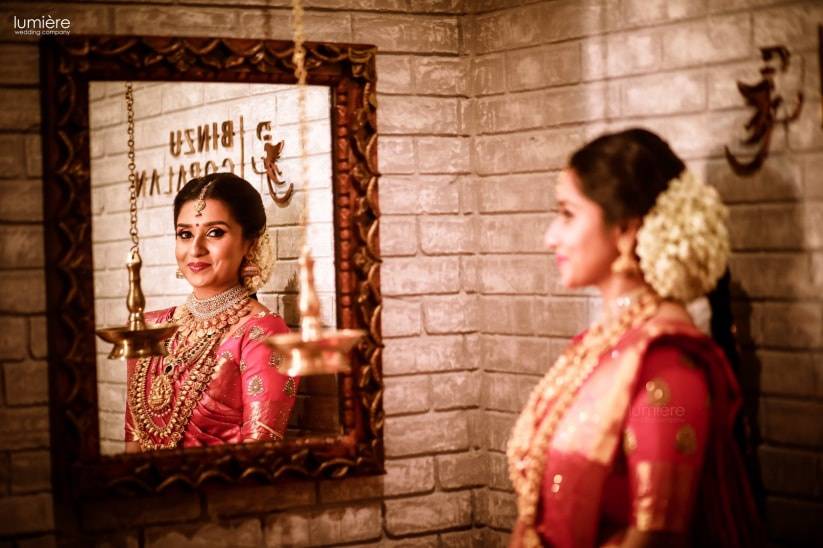 Elegant, flattering and supremely stylish - a saree has been a universal favourite for Indian women across the ages. Thanks to our diversified cultural expanse, the number and fashion of saree drapes are expansive! From Maharashtra's dhoti-style Paithani to a contemporary fusion style of saree draping, a simple saree can be used to adorn brides in endless possible drapes. The 7 yards is for you to spin your imagination around and you will be impressed by the very many varieties available already, for you to be inspired to choose the right style of simple saree draping for your big day.
Popular simple saree drapes:
Let us take you to a beautiful and yet simple saree tour for some easy yet gorgeous draping styles that will adorn you in elegance and make the heads in the room turn in appreciation.
1. Mekhela Chador drape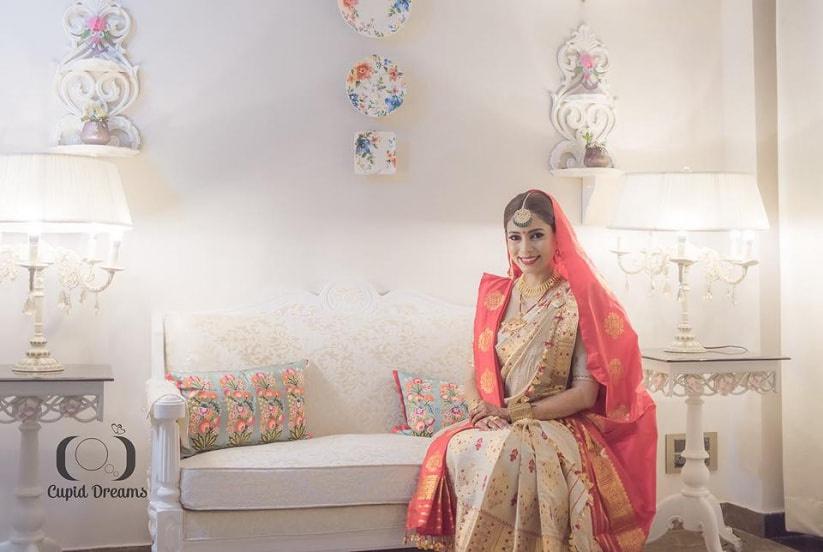 Divinely graceful, the Mekhela Chador is a three-piece saree, typically worn by Assamese brides and on almost all festive occasions. A Mekhela is a skirt with a fewer number of front pleats, worn with a blouse. The Chador is an extension that is draped around like a pallu. This simple saree draping style has caught in the public imagination for its exquisite handloom work on the rich Assam silk fabric. The colours available in the Mekhela chador drapes are commendable.
Ideal jewellery pairing: Red, green and black stone on gold jewellery. If you're looking for authentic bridal jewellery options, go with Golpata, Kopo phool, Jethinejia, Japi and a Keru set.
2. Aat-Poure (The Bengali drape)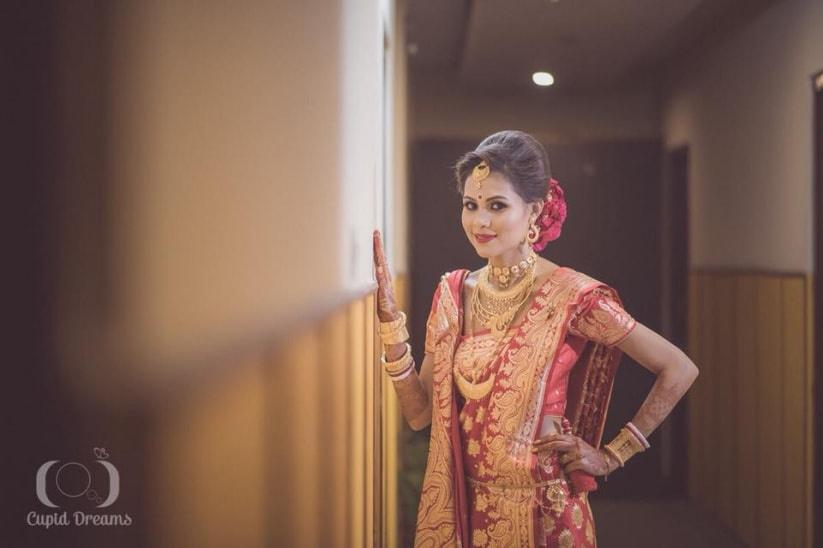 Who can forget Aishwarya and Madhuri rocking those red and white sarees as energetically matched steps to 'Dola re dola re' in Devdas? A typical Aat-Poure drape has become a rage since then, thanks to Mr Bhansaali!
An ethnic Bong style simple saree drape usually have a set of box pleats in the front and the pallu is draped over both the shoulders, from back to front. You can go for the most popular Benarasi silk saree with heavy zari work or you can choose any other broad bordered silk sari for this particular drape.
Ideal jewellery pairing: Gold jewellery including long necklace, choker, large Jhumkas or Kaan pasha (ear cuffs), thick gold bangles (Kada) and gold matha patti. Shakha-Pola bangles made of a conch shell and red stone are also quite in fashion with a Bong drape saree.
3. Classic pleated drape (Belted)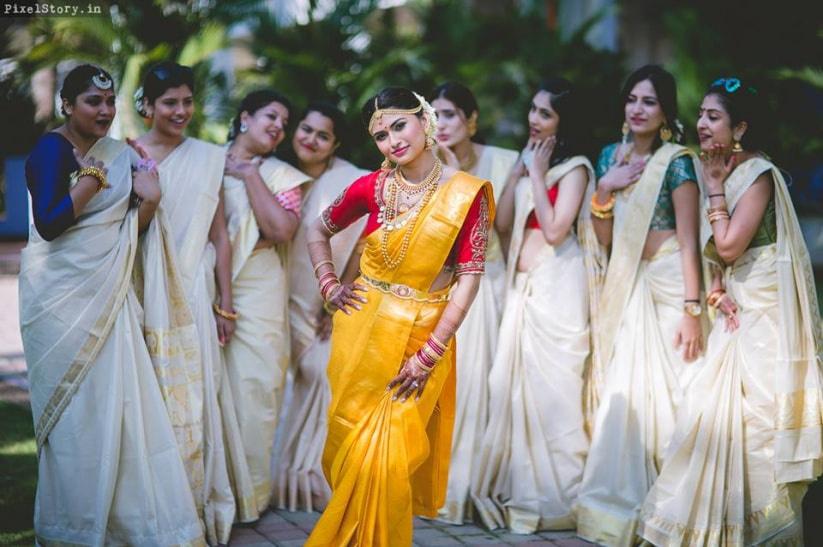 A classic pleated saree with a pallu at the back is possibly the most popular choice when it comes to simple saree drapes. This is the kind of drape, which has two sets of pleats - one down the front and one with the pallu. Both sets are pinned to perfection. Ideally, a Kanjeevaram or Bangalore silk saree would look best for this kind of drape.
Ideal jewellery pairing: Gold chains, necklace or chokers (with Kanjeevaram) or Kundan jewellery with any other saree. Gold earrings and mixed coloured bangles matching with saree. You can go for a Kamarbandh or a golden belt for a more flattering look.
4. Nauvari or Paithani dhoti style drape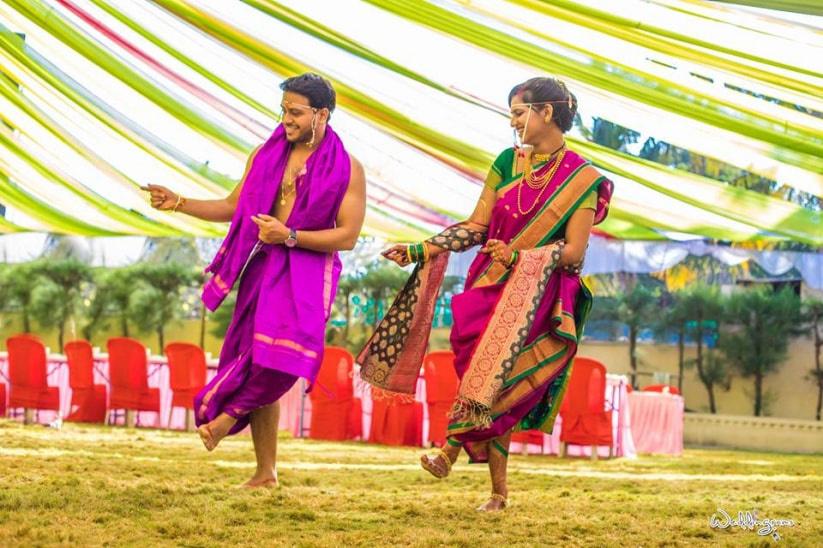 Loads of character and strong personality beams out when you see a woman draped in a Nauvari or Paithani. The origin of the dhoti style was for the leg movement and comfort while working. In this particular simple saree drape, the upper part is worn like a normal saree whereas the lower part of the saree is draped like a dhoti. A vibrant exhibit of a Nauvari or Paithani saree in dhoti style can be witnessed in Maharashtra's Lavani folk dances and Marathi wedding.
Ideal jewellery pairing: Gold Tushi choker, Gold bridal Nath embellished with ruby emerald and pearls, Kohlapuri Saaz, Marathi red Chura and red and green bangles.
5. Loose Pallu style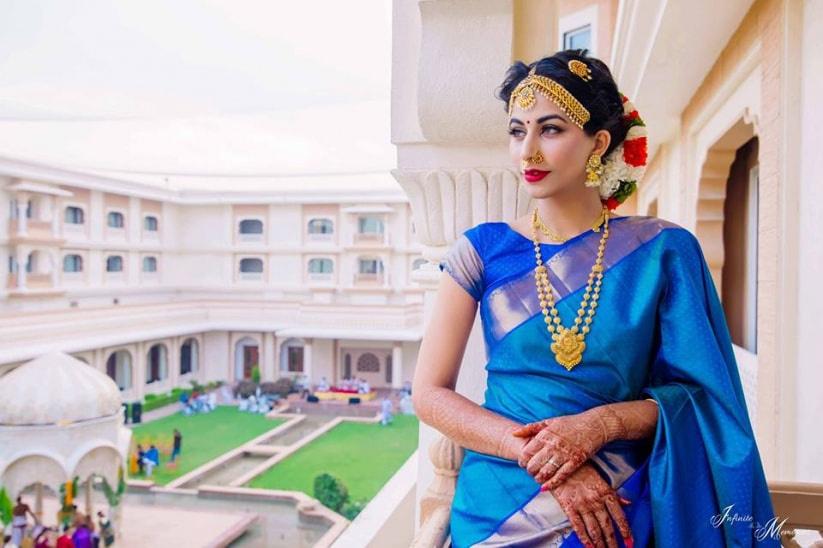 The best thing about donning a loose pallu is it goes with almost every kind of saree. Whether it's your pre-wedding shoot in chiffon or a playful Haldi ceremony, you can pull off a loose pallu in a simple saree with some smart and fun accessories. Even if it's an engagement or a simple day wedding, a loose pallu always works.
Ideal jewellery pairing:
Depending on the saree fabric and design: Gold jewellery with silk in solid colours, Pearls or oxidised gold or silver with chiffon and georgette; Just large Kundan or silver earrings and bangles with handloom, khadi silk or cotton silk sarees.
6. The Coorgi style drape

A Coorgi or a Kodagu drape is a unique style followed in some parts of Karnataka since ages. Originally only a cotton saree was used as a Coorgi saree, but the look is now elevated with Kanjeevaram silk fabrics. A simple saree drape that looks absolutely exotic, a Kodaga saree is paired up with a blouse or a jacket and has pleats at the back. The pallu is brought below the left shoulder and tied in a firm knot over the right shoulder.
Ideal jewellery pairing: Gold jewellery with beads.
7. Traditional saree with contemporary drape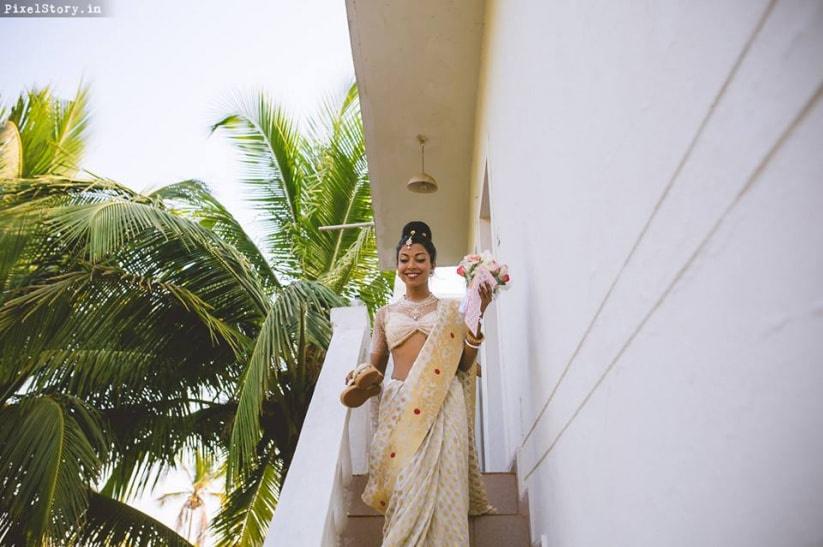 This is an easy one! Just choose any traditional simple saree that you love and drape it in a fusion style. For example, you can team up an Assam silk or a south cotton silk saree with a contemporary blouse design and drape your saree with a pallu that is long from the front showcasing your blouse design. Make fewer plaits and keep your attire edgy and comfy.
Ideal jewellery pairing: Silver or oxidised jewellery, pearls designer jewellery.
Try out different drape patterns, blouse neck designs, hairstyles and accessories with your chosen simple saree. You can also play with quirky ideas for draping a dupatta saree if you don't want to those nine yards! Keep your comfort first. But don't be afraid to experiment. Remember, some of the best looking designs have been discovered only because some bride was bold enough to try it! Make your own trend and dazzle everyone with your panache!
Take a look at our list of saree and lehenga vendors and give them a call right now and get them framed for the perfect memory!