From Tradition to Fashion! Know All About the "What" "Who" and "How" of Sehra Bandi Tradition and Sport Your Head Dress
A traditional practice prominent mostly in North India, Sehra Bandi is a beautiful and emotional custom that involves preparing and decking up the groom for the wedding. Read on to know more about the origin & significance of this tradition.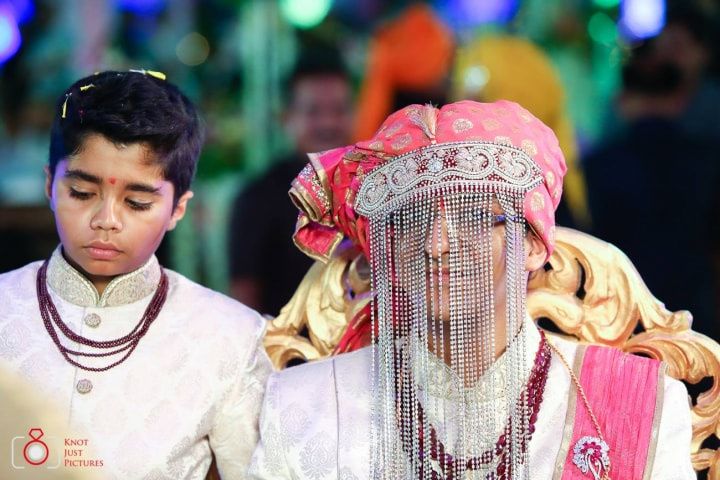 A Sehra or the headdress a groom sports is not just a piece of adornment. The tying of a Sehra or commonly known as the "Sehra Bandi" especially in Punjabi weddings, involves a whole process of prepping the groom for his new journey to marital life. There are certain other Indian wedding customs which are similar to this in other Indian communities. For example, "Nikasi" in a Marwari wedding as well as in Rajput wedding follow the same ritual but under a different name. So what exactly is this Sehra tradition? Who performs it, when and how? If you want to know more about this wedding custom, keep reading!
1. WHAT is Sehra Bandi after all?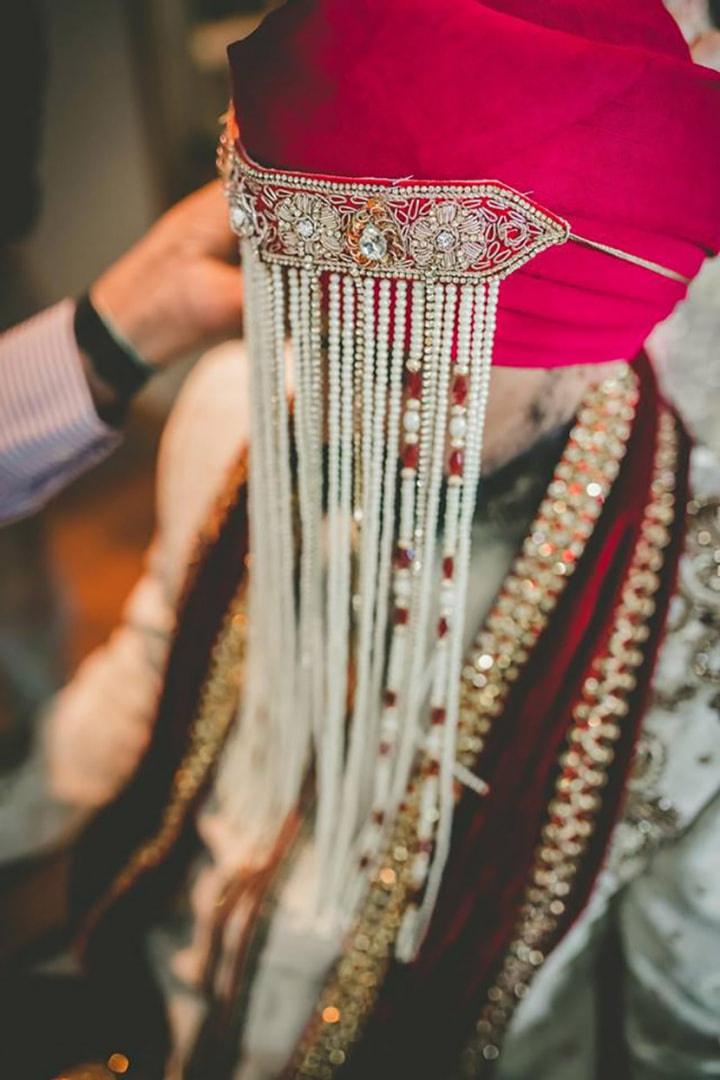 In simple words, a "Sehra" is a floral headgear made of tiny garlands, and "Bandi" is tying. Hence the act of tying this floral accessory around the groom's head right before he leaves to tie the knot is called "Sehra Bandi". Traditionally a Sehra used to be made of little strands of floral garlands. With time, flowers have been replaced with pearl strings. The Sehra is attached to the groom's Pagdi or turban only after it's touched and blessed by all the family members. Things you need for this custom are mainly as follows:
2. WHO performs the Sehra Bandi?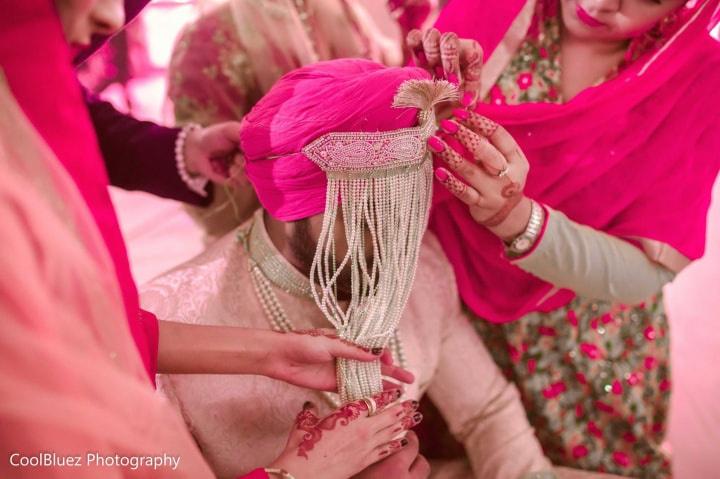 Typically the groom's mother, sisters, female cousins, Bhabhi or sister-in-law are the essential performers of Sehra Bandi. In the case of multiple sisters or female relatives, each woman takes a turn to perform the ritual one by one. While carrying out this whole custom, all the women sing traditional wedding songs. Usually, women in the family perform the ritual in a hierarchical order based on the relation with the groom. For example, it begins with the groom's mother, the oldest sister, younger sister, oldest sister-in-law and so on.
3. HOW is a Sehra Bandi performed?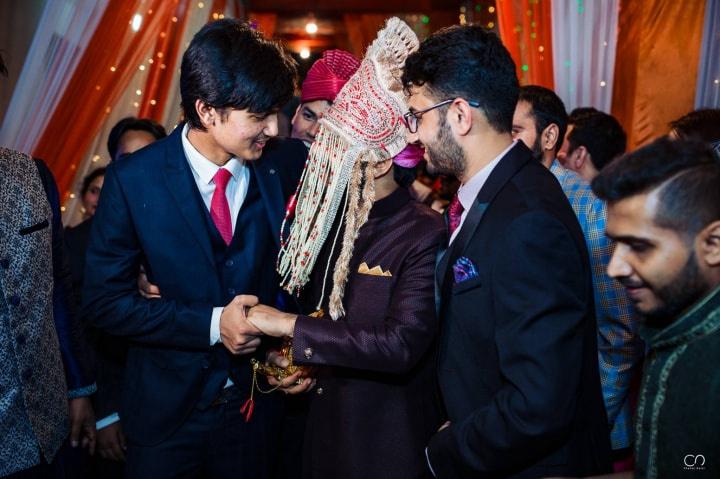 Now let's get to the interesting part: the "How to"? Here are the quick step-by-step guide to the Sehra Bandi ritual:
Early in the morning of the wedding day, all the women in the family start preparing for the ritual. When the groom is completely dressed and ready to leave for the wedding mandap, mother of the groom places a whole coconut in a Palla or a piece of cloth on his lap.
Groom's parents and older relatives then bless him with Shagun money or traditional gifts and feed him, sweets.
The sisters-in-law of the groom then apply Surma or Kajal on his eye or draw a tiny mark near the corner of his eye. The significance of applying Kajal or kohl is, it is believed to ward off the evil. During the Surma ceremony, all the ladies sing Kajal related songs. Once it's done, the groom's mother gifts every sister-in-law Shagun money for warding off evil forces.
Finally, the groom's sister then ties the actual Sehra on a pink turban that the groom is wearing. In case of more than one sister, they all perform the tying of Sehra ceremony together and proceed with the Baraat. Everyone sings Sehra associated songs during the whole ritual.
Once the sister has tied the Sehra, other guests/relatives too bless the groom with more Shagun or token money.
When the groom leaves the house, the sisters hold the Palla and follow him till the wedding car or Ghodi.
4. Sehra- A Fashion statement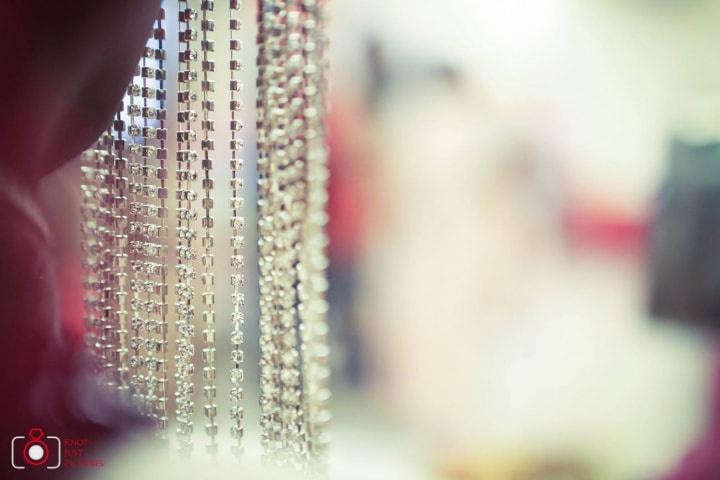 Just like in every other wedding tradition, fashion has found its way in the Sehra Bandi too. Now a Sehra doesn't just mean strings of flowers. Grooms are opting for various kinds, materials and designs of Sehra to flaunt on their big day. Here are a few options to consider while you stylise your headdress proudly:
Fresh floral Sehra: A traditional floral Sehra is a classic that's actually always in style. Make sure to speak to your florist about the freshness as well as longevity of the flowers for Sehra.
Bejewelled Sehra: Grooms are increasingly going for fancy jewels, stones and pearls to adorn their Sehra with, instead of flowers. Choose your own piece of bling to deck up the elegant Sehra.
Economical Sehra: Many grooms opt for synthetic flowers, golden ribbons, feathers and beads as a part of their Sehra embellishments. They're easy on the pocket and look just as graceful.
Apart from India, Sehra Bandi is also predominantly performed in Pakistan and Bangladesh and hence has a global significance. While choosing your Sehra, make sure you select the material that suits your skin. If you're allergic to pollen or strong fragrance, avoid floral Sehra as it may cause irritation, being so close to your face. Also, check for your skin tolerance of metals if you're opting for artificial metallic beads. being a groom you will have to keep wearing your Sehra for a significant duration of time and therefore it's very important that you choose a comfortable one that is easy to carry and yet looks beautiful. You don't want to look claustrophobic and all flushed when you show your face to the huge bride team!
Do you know about any other regional wedding tradition that's similar to Sehra Bandi? Please share with us in the comment section below.