Meet Your Potential Hubby in a Printed Suit for the Perfect First
Check out this collection of gorgeous printed suit images that are perfect for the first meeting with your potential future husband, arranged by your parents!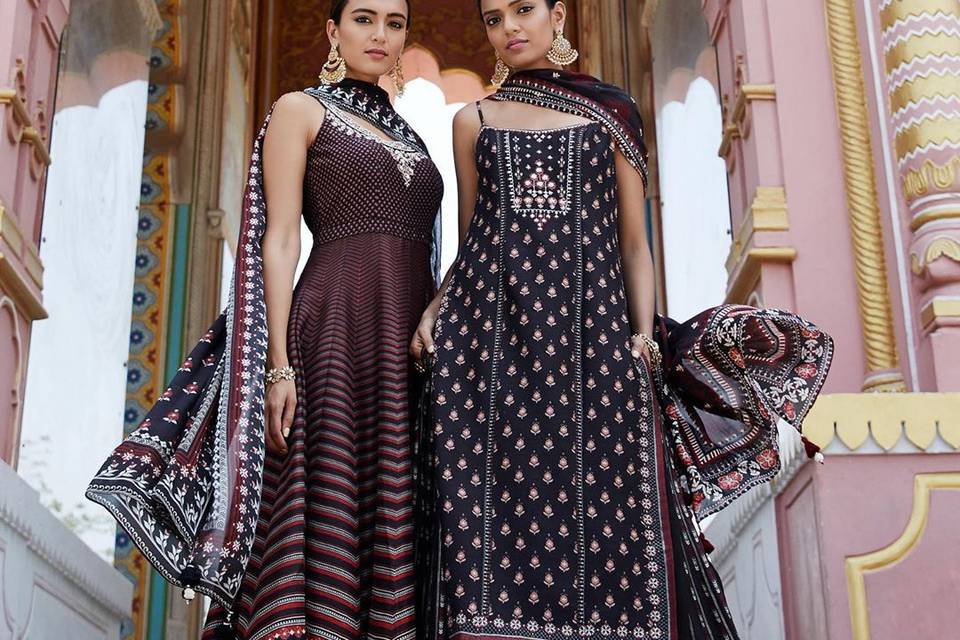 "In-laws" - a word that often sparks questions on our minds like how to speak, what to talk about, how to behave and what to wear before you even go to meet them, even if it is an arranged marriage! Your mom will probably say wear a saree, your sister will say go in jeans and your brother will say "go in a sack, it will not matter as you will anyways be rejected"!
Everyone has a different perspective and you need to make a decision in which you will be the most comfortable. Your outfit says a lot about you so you need to decide what part of your personality you want to show to the person sitting opposite you.
We think a printed suit is a great option. It is ethnic but the print will help keep it casual. It is the perfect balance between a saree and denim. If the idea of wearing a printed suit sits well with you, scroll down and check out 7 suit options that are both simple and stylish!
A red palazzo suit with bandhani print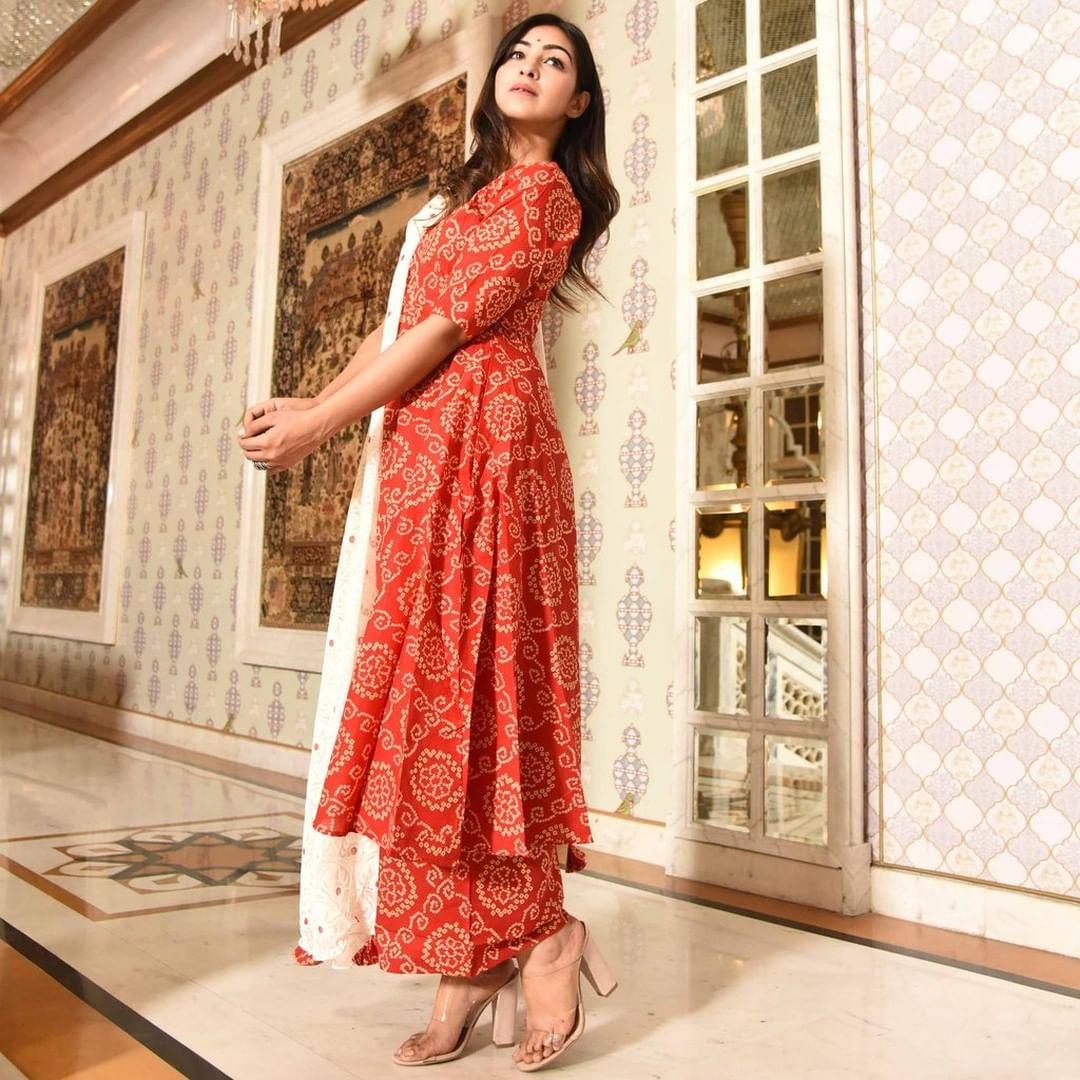 Image Courtesy: Bunaai
The first is a red palazzo suit with a traditional Bandhani print on the Anarkali and bottoms. You can wear it to a coffee date and even a dinner one. The bright colour is matched with white dupatta, which gives a visual break from the colour. It is smart and simple, which is what most girls go for!
Styling tip: When you are styling your printed suit look, a bindi and watch are all you need to complete your look! `
Blue palazzo suit with pink & green floral print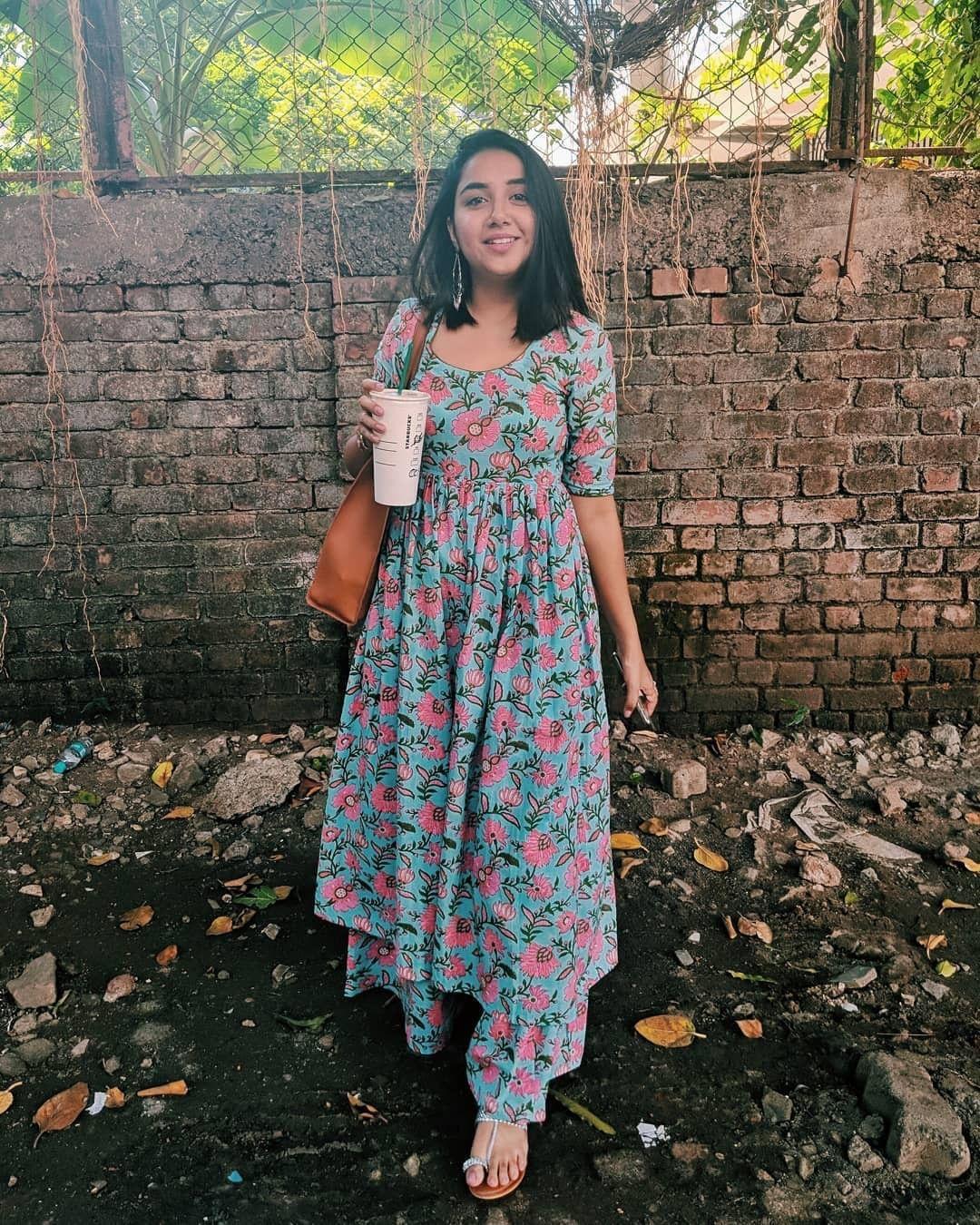 Image Courtesy: Bunaai
If you have a bubbly personality and want to express it with your outfit, this blue printed suit with the pink floral pattern is one of the best for the same. It is bright but not too loud. It is an understated piece that is perfect for a first date with your father or brother sitting two tables over (but a date nonetheless)!
Dark bottle green suit with a front slit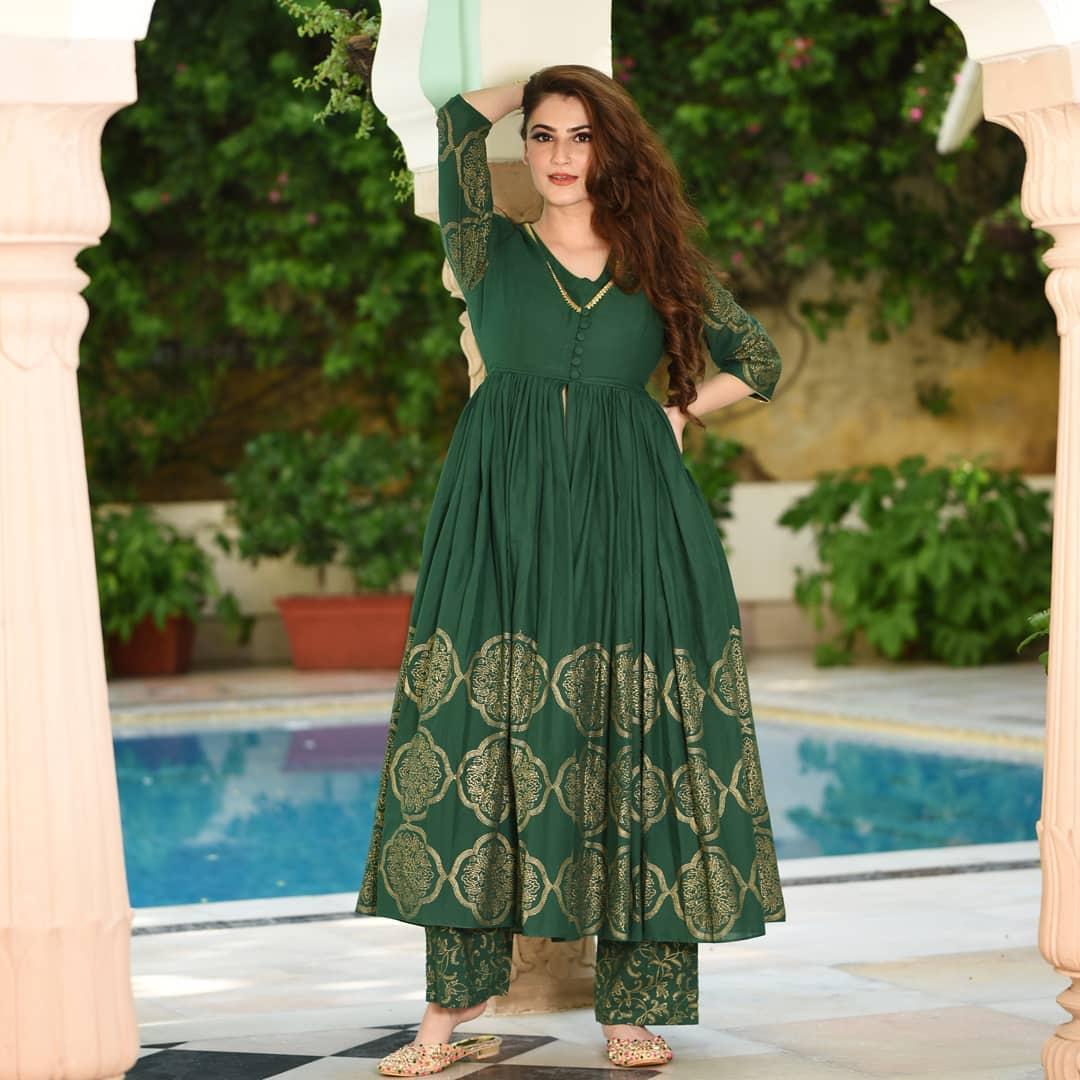 Image Courtesy: Bunaai
We are crushing over this dark and intense green suit with golden print for a dinner date. The front slit will definitely show your outgoing and confident nature to your maybe husband.
Styling tip: You obviously know your date's height from his biodata. Choose your shoes accordingly so that you do not bruise his ego with your height on the first meeting itself!
Printed sharara set with short peplum kurta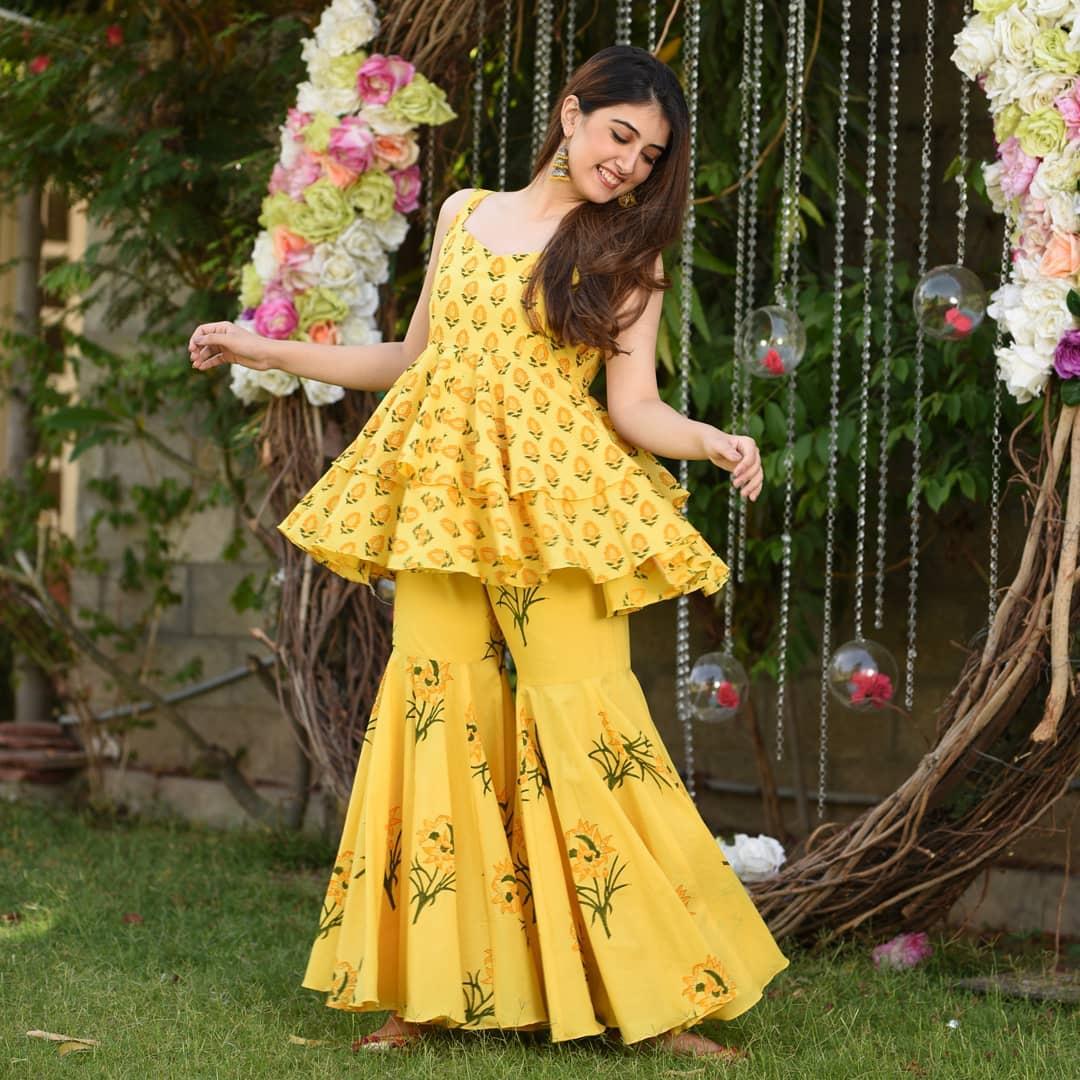 Image Courtesy: Bunaai
This is quite a stylish printed suit, exactly what a fashion diva will choose! The sleeves, right off the bat, tell us that you are comfortable in your skin and do not shy away from wearing anything you want.
Styling tip: Pair oxidised Jhumkis with yellow enamel or stones with this yellow and green suit!
White peplum kurta with lace details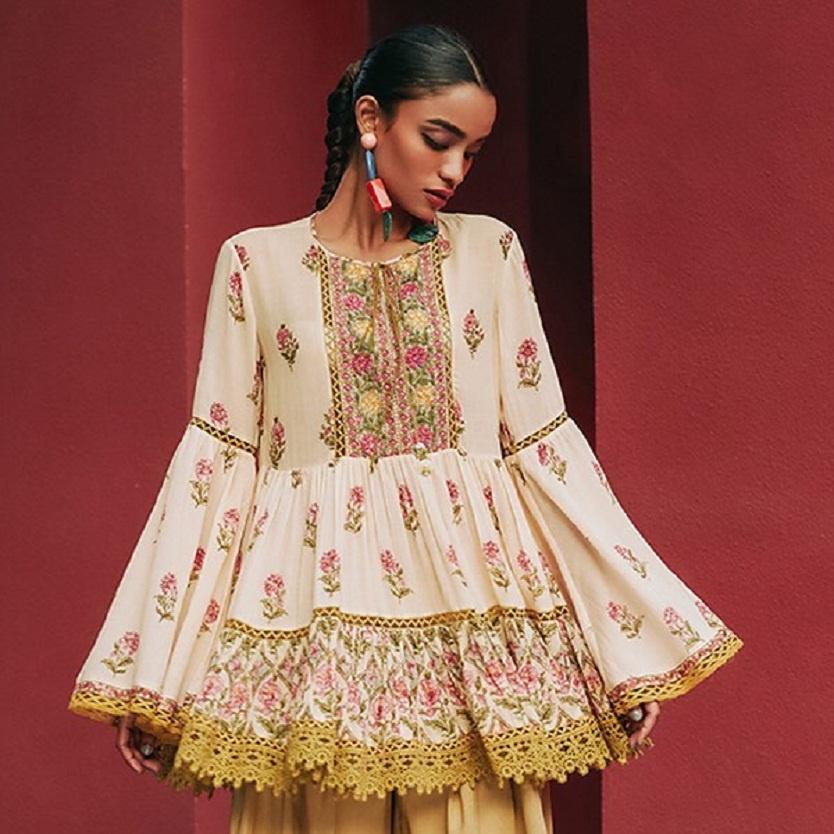 This image shows the perfect boho Kurta for a first date if boho chic is how you name your style. The peplum Kurta is smart. The pink and green vine print and the golden lace adds a boho factor you need in your outfits. You can pair your denim, palazzos or ankle-length pants with this kurta to make it a complete set.
Navy blue & pink suit with abstract print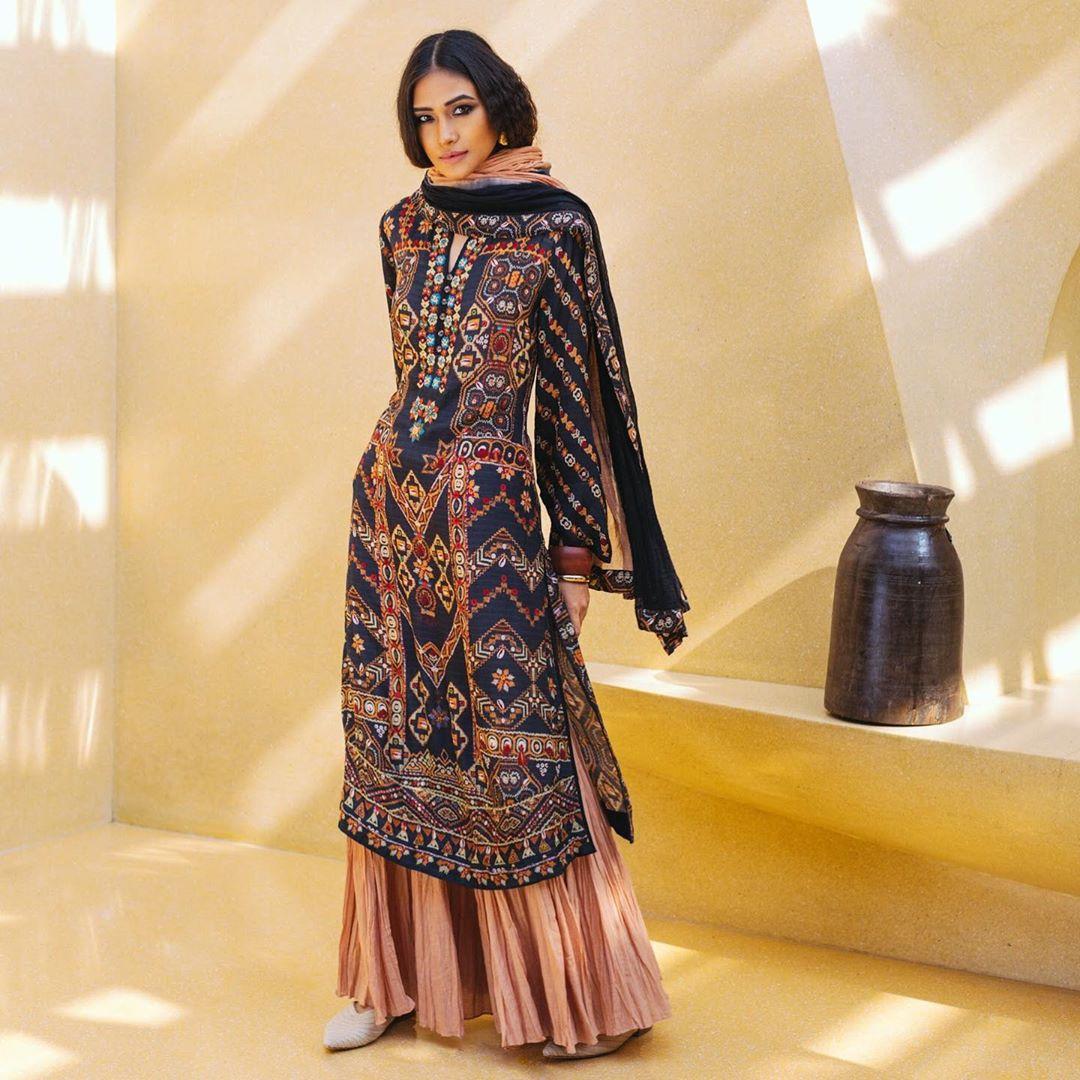 If you are looking for a heavy printed suit to maybe placate your mother or to express how much you love dressing up, you need to check out this navy blue suit paired with pink ruched Sharara bottoms and ombre dupatta. Also, we love the abstract print on the straight kurta!
Styling tip: As the neckline is high, do not wear drop earrings. Go with statement studs with a pulled back hairstyle or at least leave your hair tucked in behind the ears if you want to keep them open!
Loose-fitting black & red printed kurta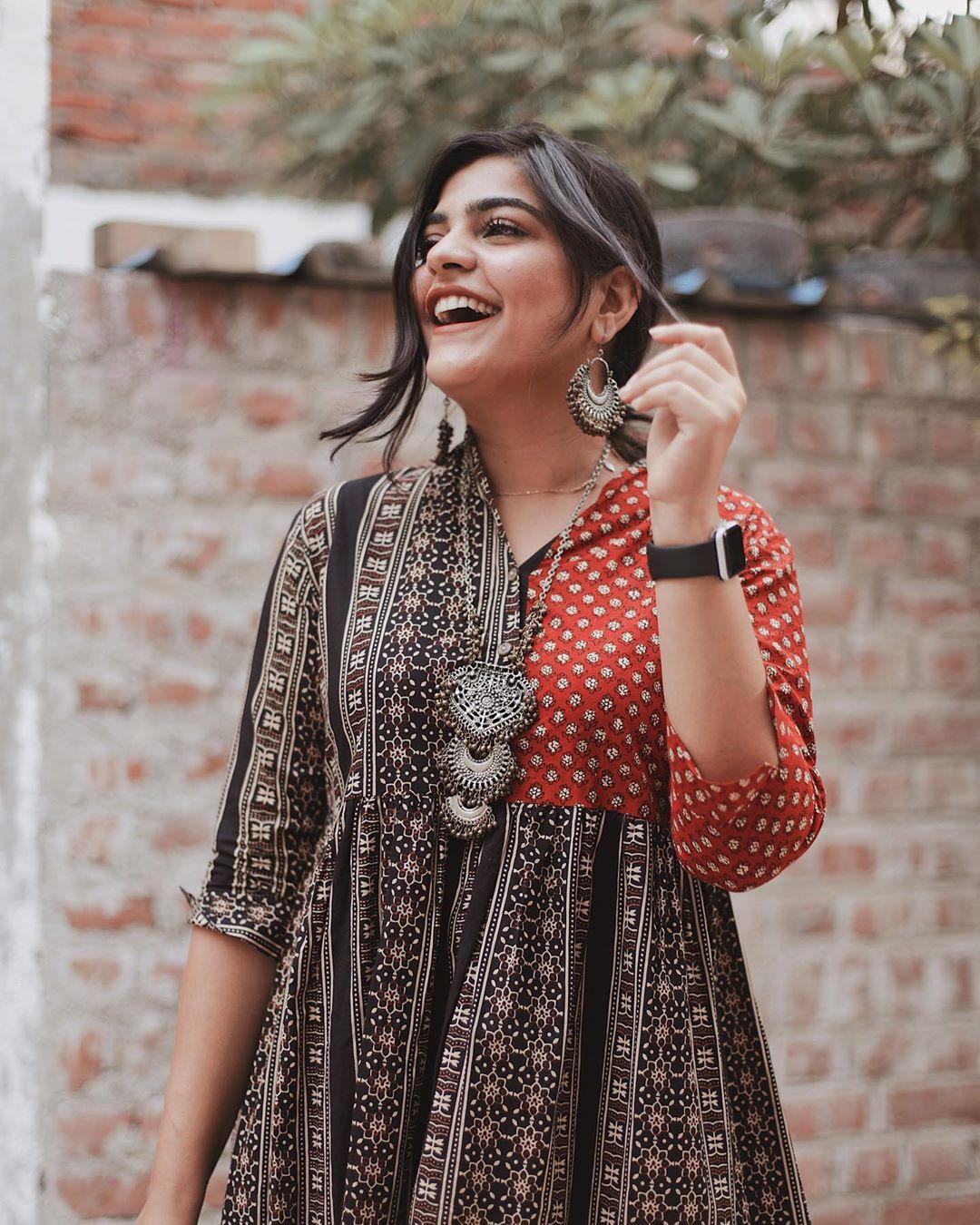 Image Courtesy: That Boho Girl's Instagram
To end on a high note, we have another boho printed suit that any girl can puff off. The secret lies in the styling. If you go with oxidised jewellery and folded sleeves, you have the perfect boho-chic look. You can also keep it simple and traditional by wearing Jhumkis (not oxidised) and a simple net dupatta with Punjabi Juttis.
Meeting someone for the first time and deciding whether you want to spend the rest of your life with him is scary. We know it is a lot of pressure but at least you got your printed suit look right. Even if the date does not go as well as you hoped, you at least have some new selfies to post on Instagram, so maybe dressing up was worth it!
Make sure that you wear the perfect accessories with your suit! Check out these jewellery stores near you!