4 Lancha Pattern Ideas You Won't Be Able to Take Your Eyes Off From!
A lancha is one of the most popular outfits in recent times! If you want an interesting silhouette that makes you look great, pick the right lancha pattern and walk into any function knowing you'll look the best!
With brides continually on the lookout for trendy designs and funky silhouettes, an old outfit called lancha has now come back into fashion. The lancha is a garment with a kurti-like blouse paired with a skirt. In many ways, it's the lehenga choli's conservative cousin. The kurti's length can either stop at the waist, or it falls below it, extending all the way till the ankle at times. Both brides and guests are seen wearing this garment during weddings as it is a very dressy outfit. It comes with a dupatta that often matches the lancha pattern, making this very similar to its predecessor.
Choose the right lancha pattern and this outfit will never let you down! The following are a few designs that you should check out for inspiration!
1. Grey and silver lancha with sequins!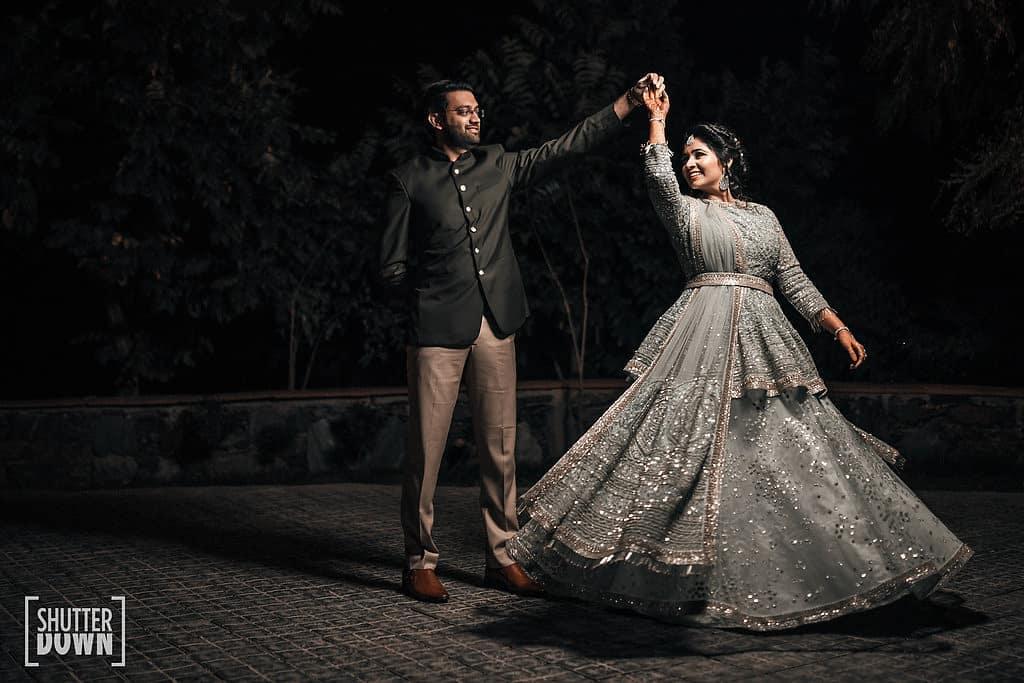 This gorgeous lancha pattern is one that will catch the light when you dance, making sure that all eyes are on you. With a medium length kurti that's cinched in at the waist with a silver belt, the bride has done a great job of accentuating her figure. She's even gone ahead and secured her dupatta with the belt, ensuring that it doesn't slip and slide as she dances. The thick silver borders paired with the light sequin work make this a garment that is perfect for your Sangeet.
Styling tips that work with this lancha pattern:
As the predominant hue in this is silver, be sure to get intricate silver jewellery from Dariba Kalan! Not only will it look great, but it will also mark you as different when compared to all the other women wearing gold jewellery!
2. Peach and gold lancha with a pink dupatta!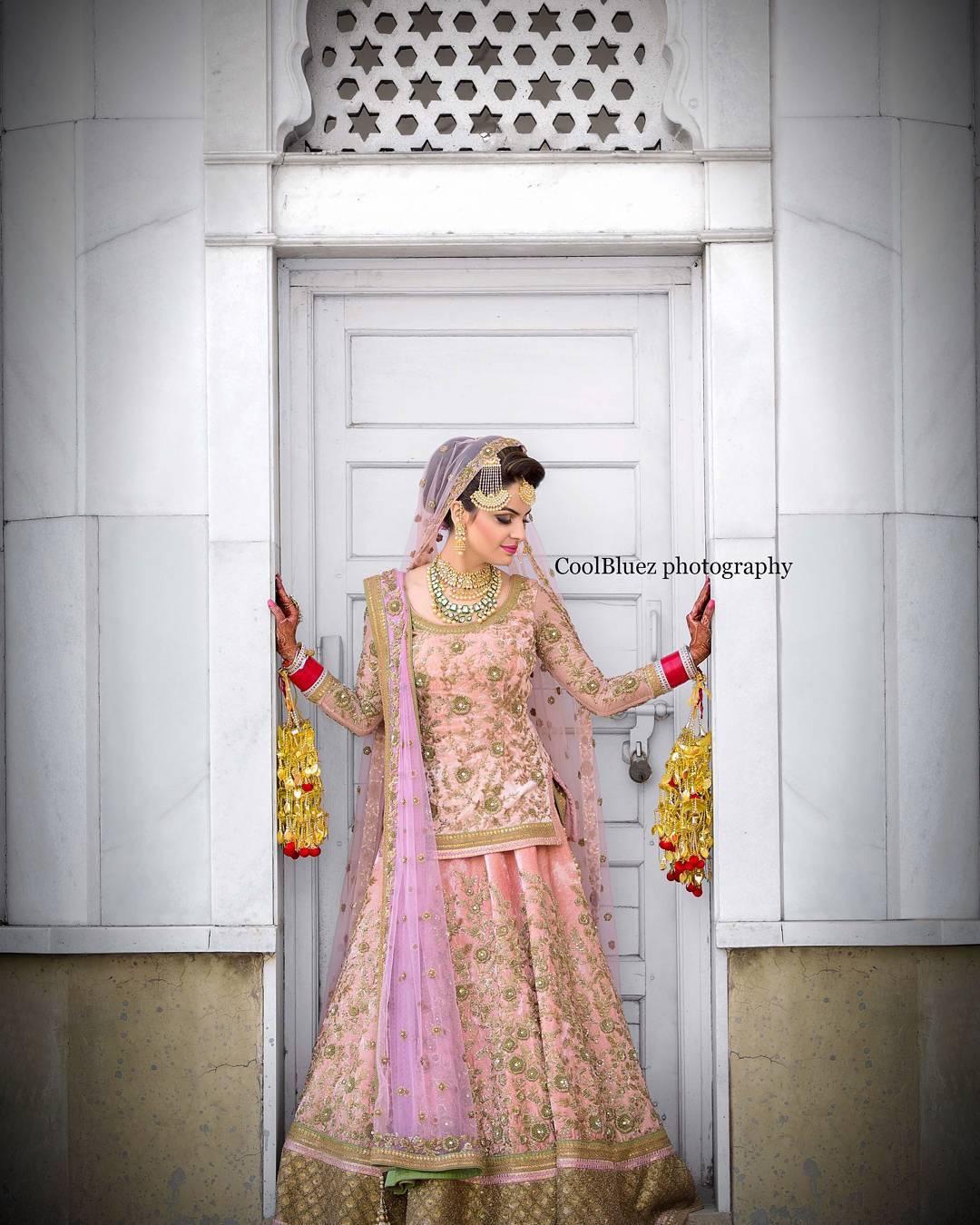 Peach, being one of the colours of the season, makes an appearance here as well! With a short length kurti that extends just below the waist and a skirt that flares out from below, this is a great bridal outfit, especially if you are getting married in a Gurudwara and want a subtle look that is appropriate for the Holy place. The neckline and hemline of the kurti both have a thick gold pattern that helps create a separation between the kurti and skirt. This is because the lancha pattern is the same throughout.
Styling tips that work with this lancha pattern:
Like this bride, you can go for a double dupatta look even with a lancha. You can also create a side braid by making a fishtail braid, and secure its end with a hair-tie that has a golden tassel to match your Kalire!
3. Colour blocking with a heavy lancha pattern!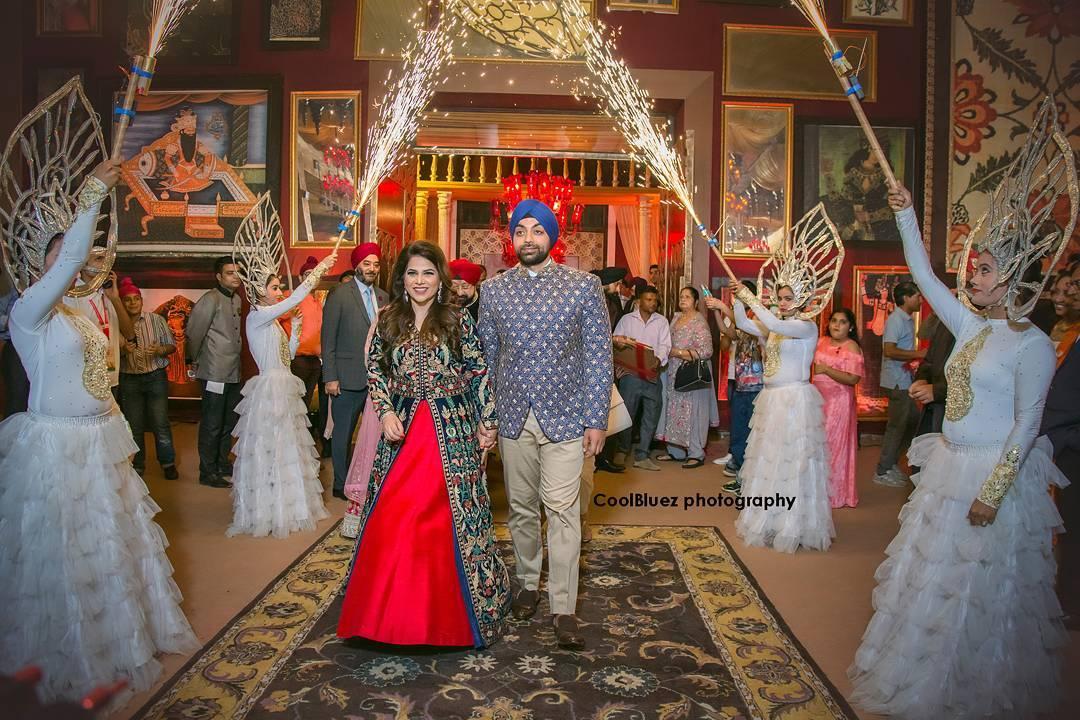 Colour blocking is a great fashion tool that can help you create unique ensembles with different garments. One of the most popular combinations when it comes to this style is red and deep blue, and you can achieve this with your lancha quite easily.
This bride has donned a heavily embroidered kurti that has green, gold and red patterns all over it. The embroidery work is quite intricate, making it a great outfit for a bride. The bright red skirt pairs beautifully with this and the fact that it's a plain one make it a really great partner for this kurti.
Styling tips that work with this lancha pattern:
When you are wearing something that is so rigidly structured, you should certainly show it off as we can bet your shoulders will look great in it. Either rock your hair in a top knot or straighten it as much as you can to make sure the shoulders are in the spotlight!
4. Pink, Blue and gold lancha for guests!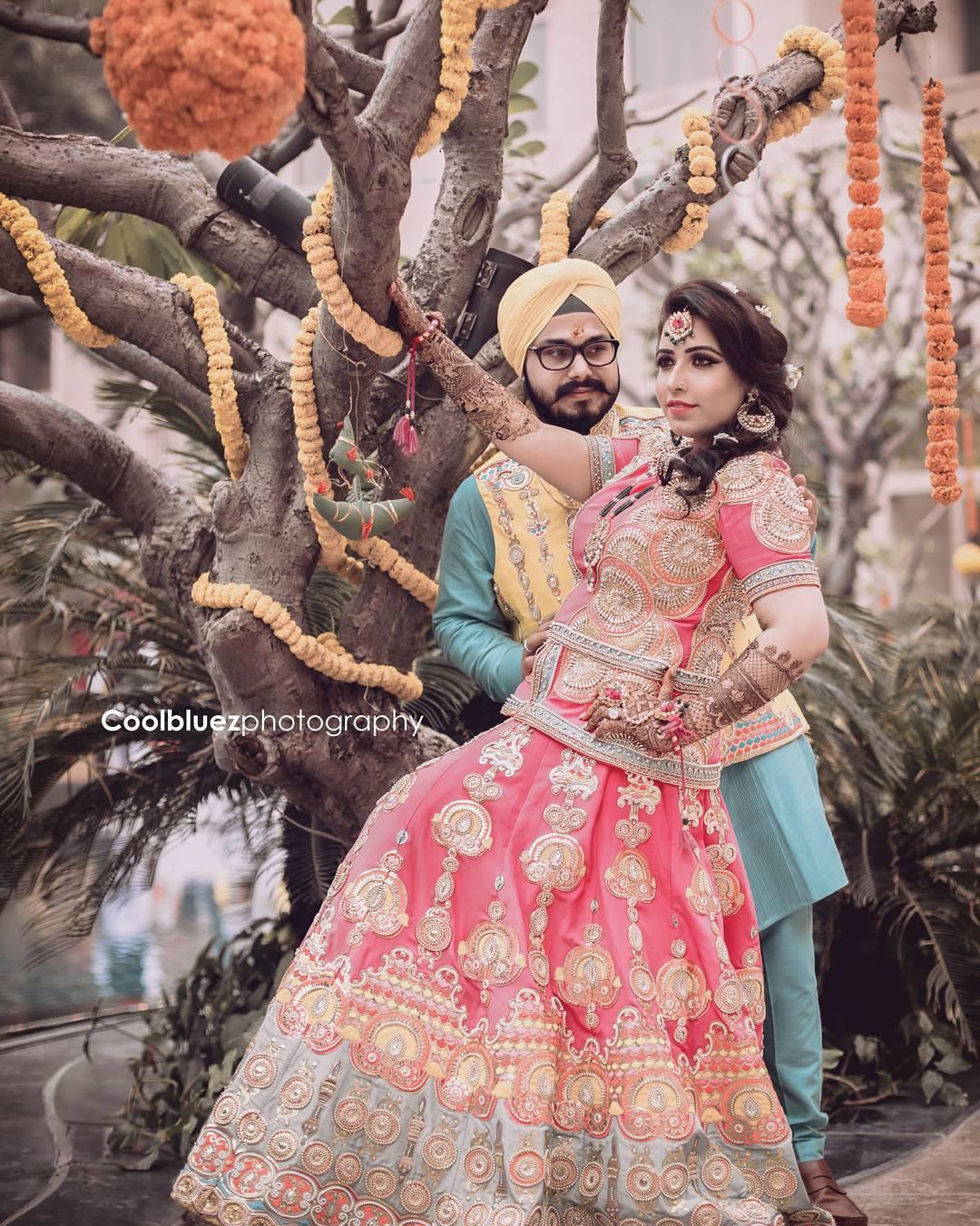 With a medium length, heavy pink kurti that's covered in embroideries, the pink coloured lehenga skirt and the powder blue border pair together perfectly to great an ensemble that every guest can feel glamorous in. Due to its pastel shades, this is an outfit that is perfect for day events like the Mehndi ceremony. The gold embroidery with pink base colours adds a lot of character to the outfit, while the blue fabric brings everything together in a great way! This can even be a great addition to a bride's collection of heavy trousseau garments if she has to attend a lot of functions in the future.
Styling tips that work with this lancha pattern:
With this type of outfit, you should explore a few heavy Kangan designs to wear because otherwise, your arms may just look a little too bare!
A lancha is an outfit that can make you look much taller than you are, due to the way the long kurti hugs your figure. So, wearing it can be a great idea if you want to elongate your legs and look amazing in all your pictures!
Not sure where you can buy this outfit? Check out our designer boutiques that offer the same!