6 Jacket Blouse Design Inspirations Which Happen to Be One of Rohit Bal's Most Exquisite Silhouettes!
The jacket blouse design creates a silhouette like no other garment available in the Indian market. This Indo-western ensemble by Rohit Bal is perfect for brides who love defying tradition and redefining their role in society!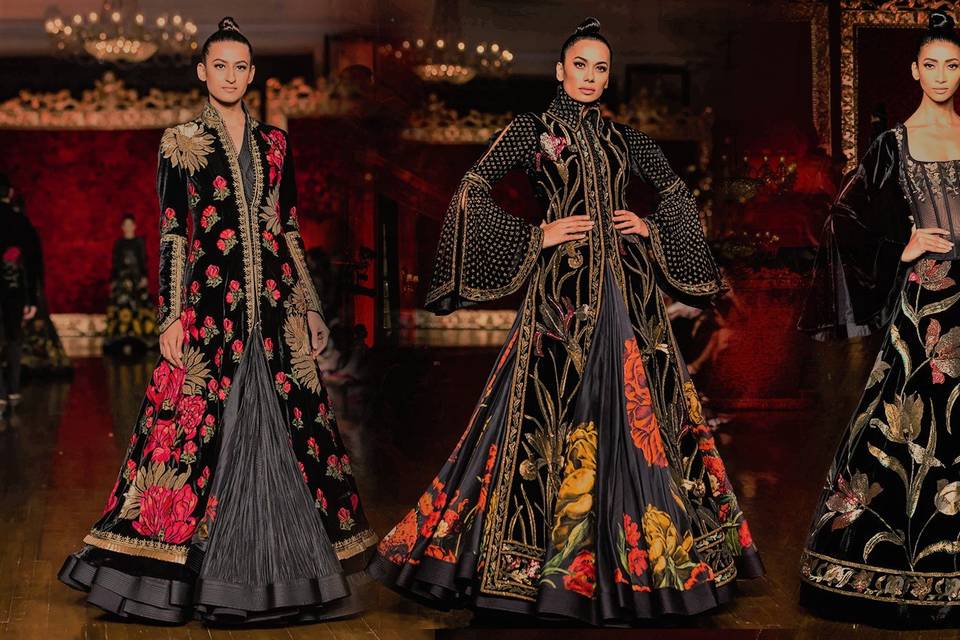 One of India's premium designers, Rohit Bal continually challenges the notion of what a traditional silhouette looks like. From elegant Jalabiyas with heavily embroidered jackets to the popular jacket blouse design (wherein the blouse mimics the look and silhouette of an Indo-western jacket), this designer's aesthetic remains light years ahead of his competitors. Each handcrafted piece takes hours of painstaking work, resulting in a garment that's worthy of the Indian bride.
On the biggest day of your life, it is essential that you look your best in a garment that captures your quirks, sense of style, and love for opulence. Wearing a jacket blouse design with an equally exquisite lehenga skirt is certainly one of the best ways to ensure the same! With this look, you can do away with the dupatta entirely, or have a separate one designed to wear on your head during the wedding rituals. As the jacket blouse design is one that covers your torso, neck and arms, your bridal jewellery should include statement earrings and rings. Of course, you can pair a heavy necklace over the blouse too – there are no rules when it comes to self-expression!
Let's take a look at a few examples of this highly sought-after jacket blouse design!
1. Ochre Quilted Jacket with Wine Red Lehenga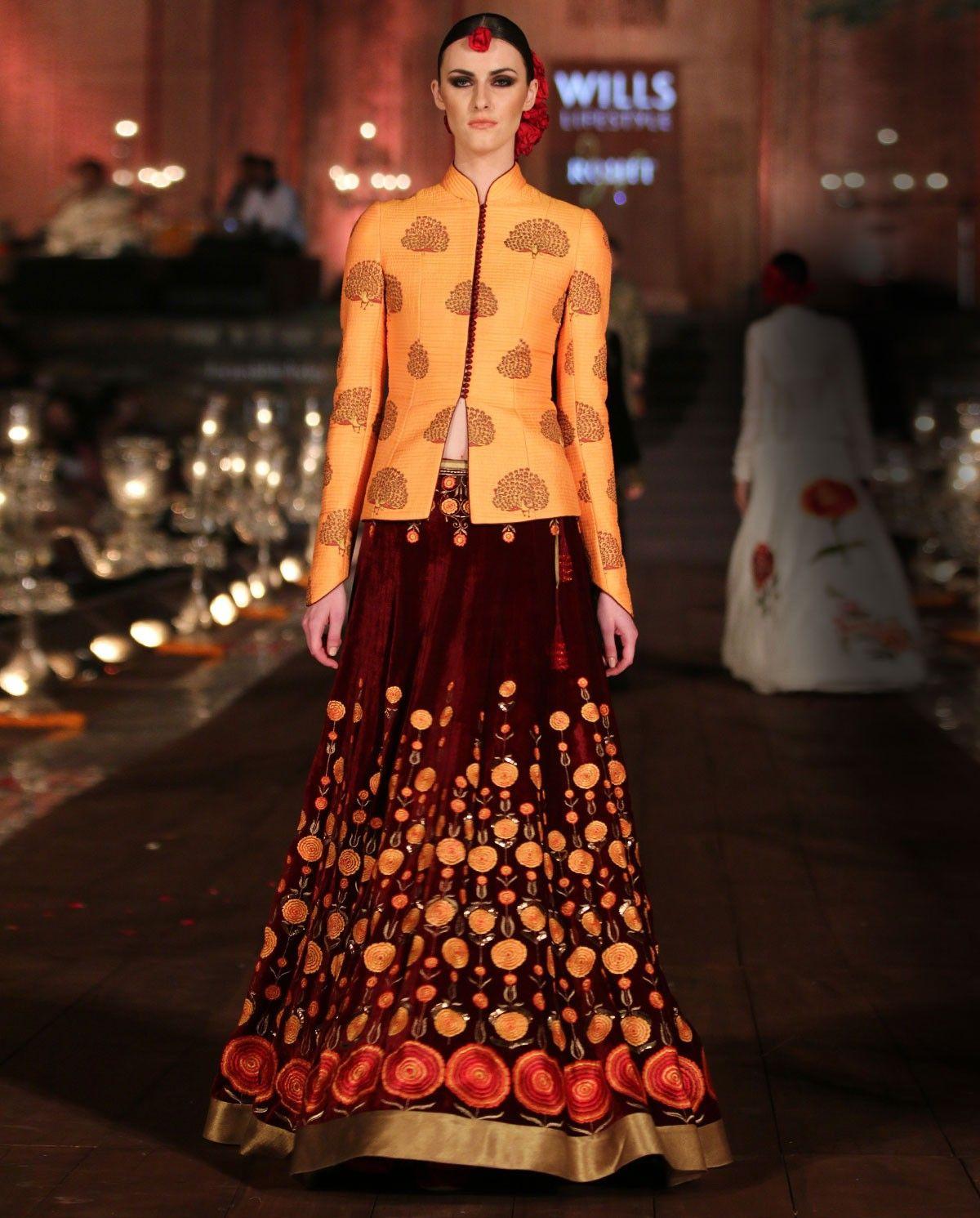 Here's a colour combination that you don't see everywhere! The ochre yellow quilted jacket has peacock motifs embroidered all over, with buttonholes and a bared midriff. This colour will surely bring out the colour of your mehndi, highlighting every element of your entire bridal look all at once. The red velvet lehenga adds a layer of opulence to this ensemble, with ochre peacocks and burnt orange flowers completing the look.
This look is ideal for your Sangeet, however, you can also wear it as a bridal garment on the wedding day, if you want to steer away from the traditional bridal look.
2. Velvet jacket blouse design with ivory lehenga!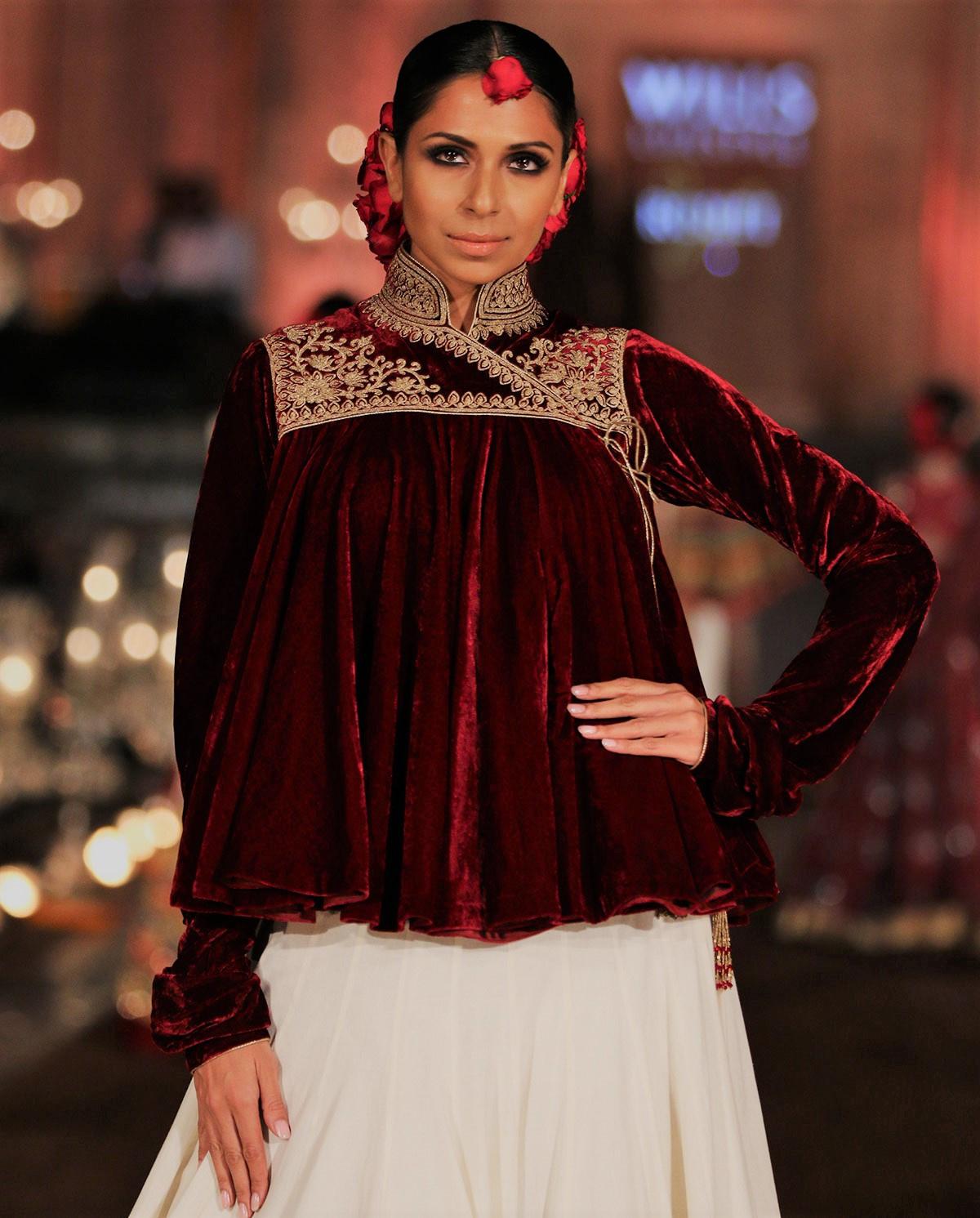 This look absolutely screams opulence. With the velvet jacket blouse design that overlaps in the front and the high, embroidered neck, this piece will make sure that all eyes will be on you, no matter whose wedding you attend! Though it has been paired with an ivory lehenga, you can also pair it with a red one if you are the bride and not a guest! The loose, pleated silhouette of the garment creates a sense of movement even when you're standing still, making this a visual masterpiece.
To bring more attention to the gold embroidery on this jacket blouse design, make sure you wear statement south Indian earrings!
3. Long sleeved jacket blouse with embroidered lehenga!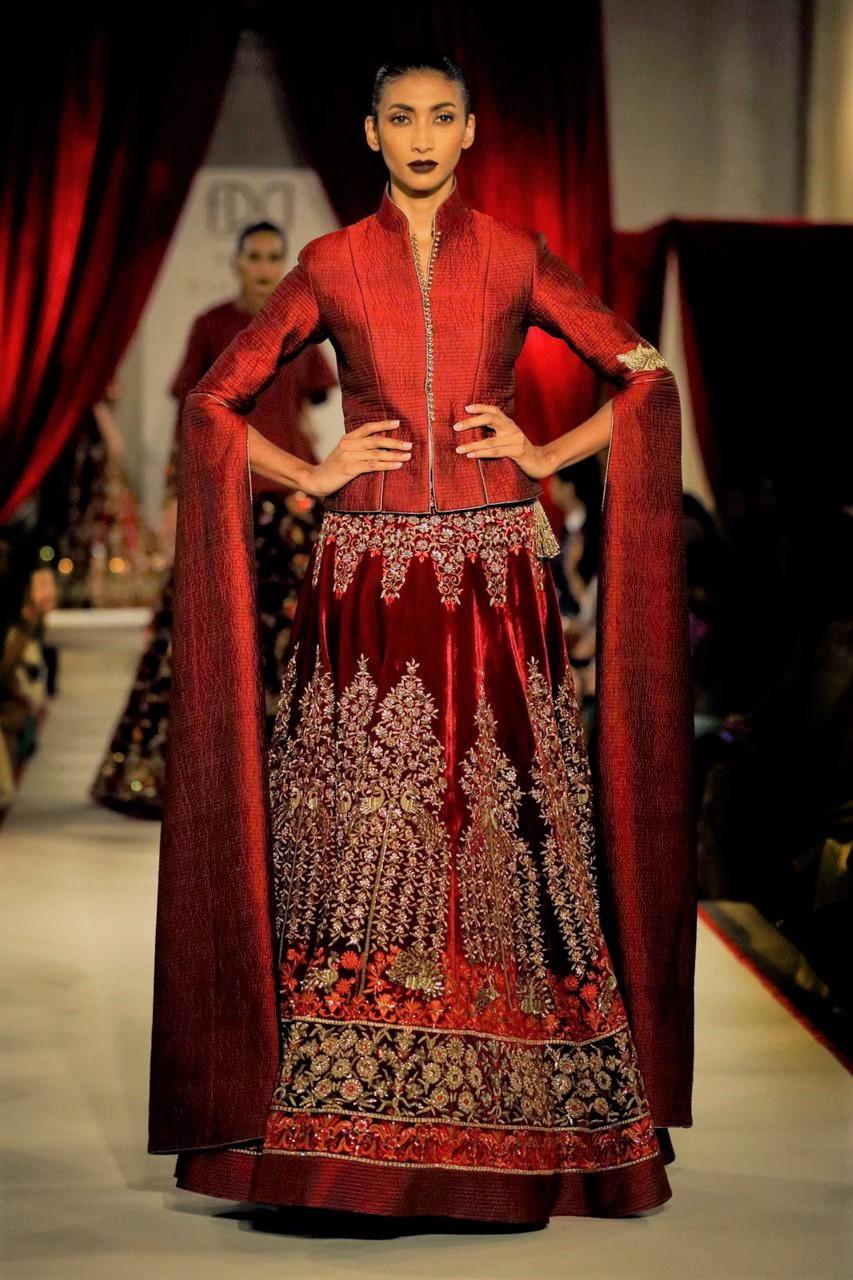 This ensemble can be the perfect bridal look for women who hate conformity. After all, nothing says 'think outside the box' quite like sleeves that trail to the floor! The richly embroidered lehenga has all the makings of a bridal garment without coming across as an overtly blingy piece, a huge plus for brides who value the understated elegant look over the louder Bollywood style!
We recommend that you keep your hair up with this outfit because the sleeves are the hero of the whole look!
4. Bridal ensemble with a peplum blouse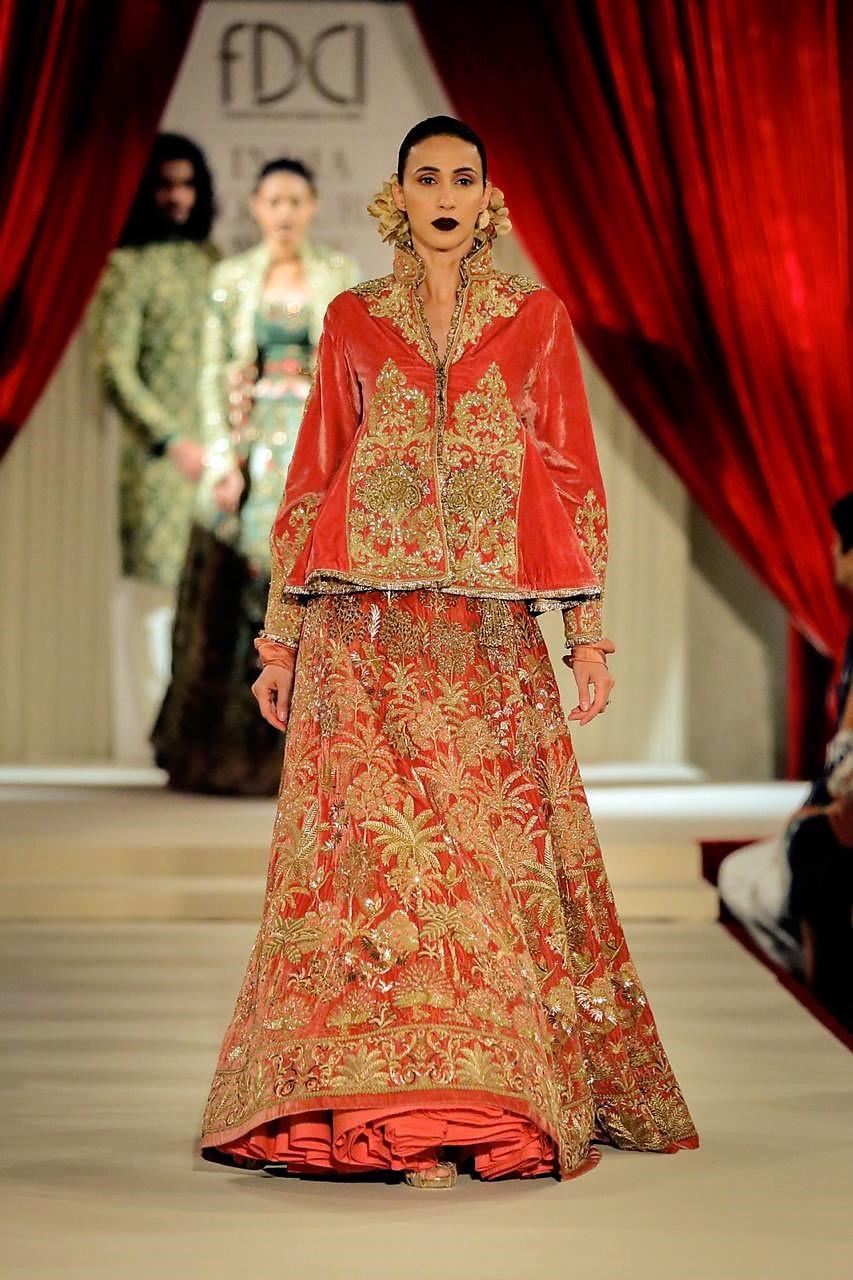 Another look that can be sported by the bride on her wedding day, this jacket blouse design has the peplum effect, which is perfect for petite women who want to create the illusion of curves. The slightly looser look of the sleeves also add to this effect, however, you can always choose to have their team alter the same if you feel like you're swimming in this! We're totally crushing on the deep peach lining of the lehenga, a move that shows how important attention to detail can be!
This peachy-red is the closest you'll get to the colours of commonly trending lehengas, as this designer absolutely abhors following transient trends. The focus, instead, is on creating timeless pieces.
5. Long embroidered jackets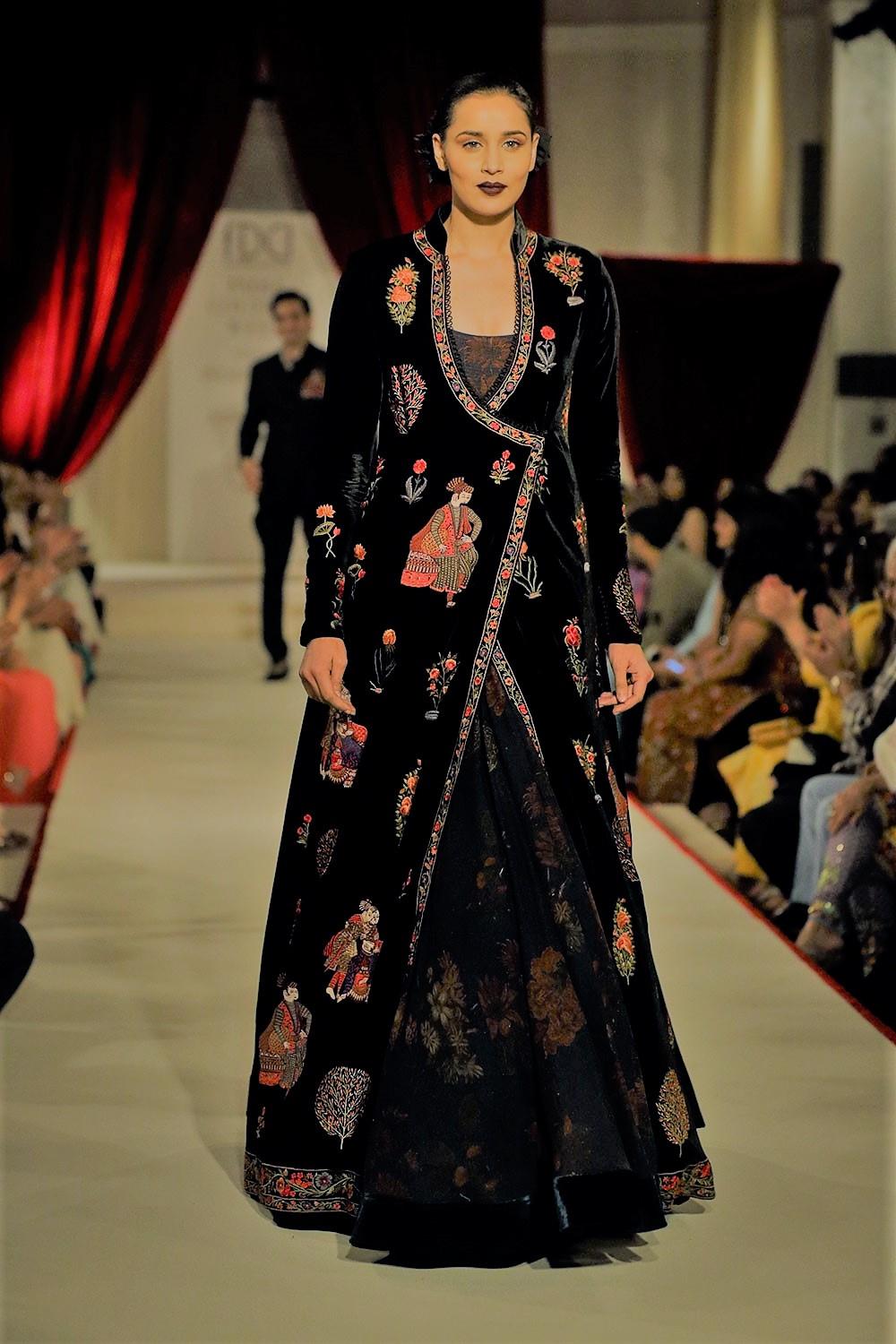 Rohit Bal is known for his Jalabiyas that come with long embroidered jackets so gorgeous that you'll never want to take them off. Here's an example of the same if you're exploring options other than the jacket blouse design. The Jalabiyas are often made of lighter fabrics and have a loose silhouette that's tightened into shape by the jacket that accompanies it. If you want all eyes on you during your Sangeet, then this is the outfit you must pick!
6. Short Ivory Shrug
Though not strictly a jacket blouse design, this is an option for brides who want that jacket look, but also don't want to limit themselves to just that idea. Pairing a shrug over your Anarkali or lehenga can help you create a stunning silhouette, while still giving you the flexibility of a more traditional jacket.
These amazing couture looks will certainly ensure that you look fantastic during every function of your wedding!
Get in touch with our makeup artists for the perfect look to go along with your garments!