6 Zabardast Dulhan Dance Ideas To Get Calls For An Encore On Your Sangeet Dance Night
Do you know that you're going to be the centre of attention at your Sangeet? Dulhan dance is what the guests await the most and we need to make sure you have a power packed performance planned for this day. Here are some Zabardast ideas for you.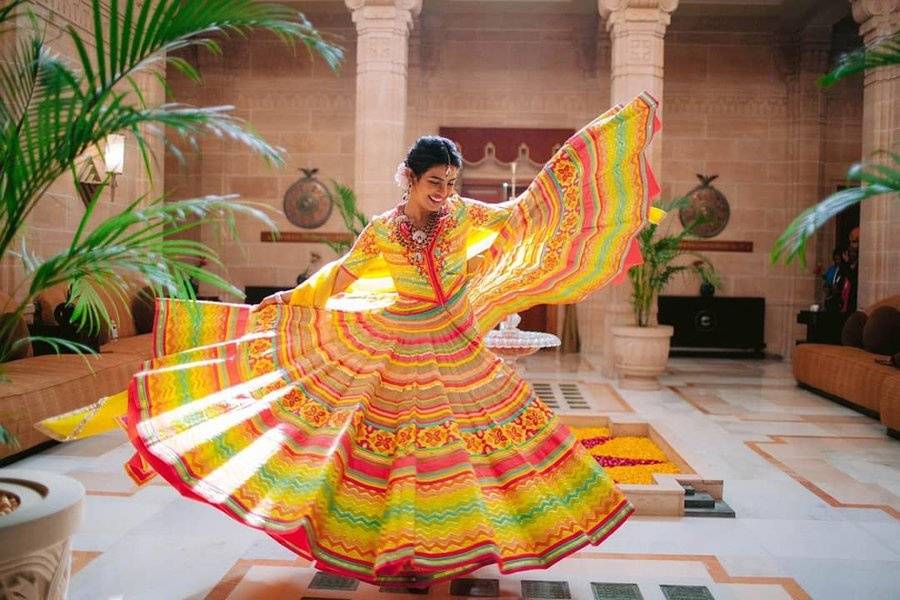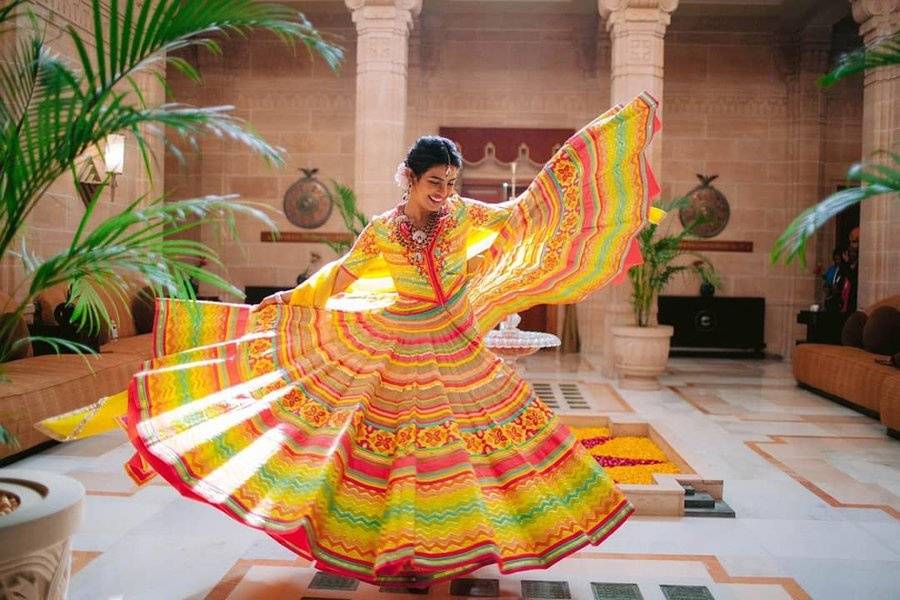 Image courtesy: Joseph Radhik
The bride and groom are the stars at their wedding, it's no big deal. It is their day and they've got to be the centre of attention. But a little secret here is that the bride is a slightly bigger star at her Sangeet than her groom. That's because all the Baaratis are only waiting to get a Jhalak of what you're going to perform and how well you do it. Let's face it the charm of a bride dancing for the first time is something else.
Zabardast Dulhan Dance Ideas You Should Prep Up
With so many eyeballs on you, we don't want you to lose your confidence. We've come up with a list of drool-worthy ideas of Dulhan dance that totally took the Baaratis by surprise.
1. The bride's favourite- Ghoomar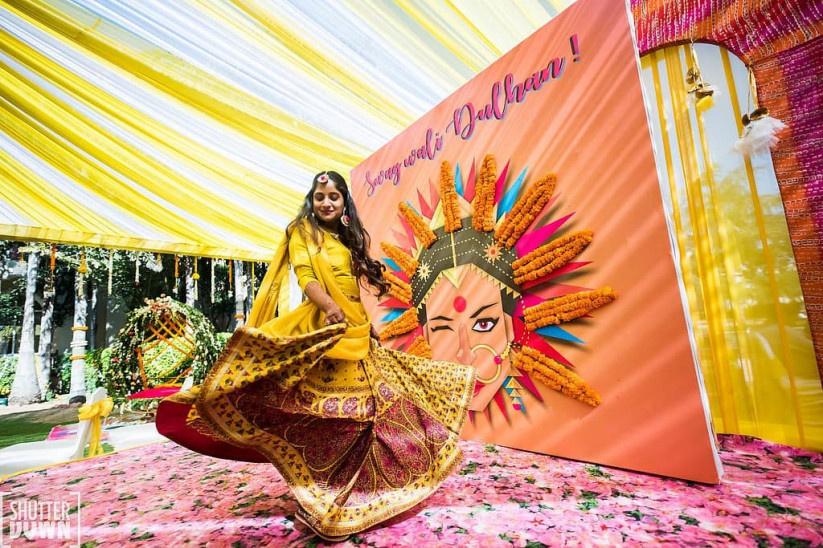 From the time Deepika Padukone has outshined with the traditional Rajasthani Ghoomar In Padmavati, it has been every bride's favourite track. The best part about attempting a song as beautiful as this one is that all the delicate Ghoomar moves make a bride look even more elegant.
However, let's face the truth - this Rajasthani folk dance requires you to practice your latka jhatakas very well. You cannot get away with doing a average job at this one. Therefore, this Dulhan dance is for brides who have the forte to perform Indian dance forms with much ease.
2. Giving it a classical touch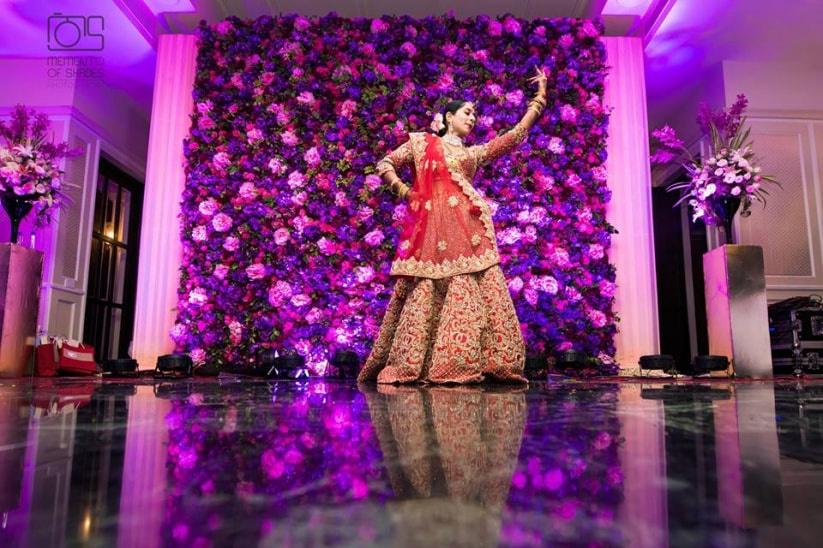 While everyone loves the Bollywood numbers, it is really refreshing to see brides attempt classical numbers at their Sangeet dance. Kathak has been one of the most attempted classical Dulhan dance that has not only been loved and appreciated but also lead to them setting a trend within their circle.
If you've learned any classical dance form ever, you must attempt it for your big night. We'd personally love our brides to flaunt their versatility as a dancer and shock the baaratis with your 'ada'.
3. A Notorious Number with the Bridesmaids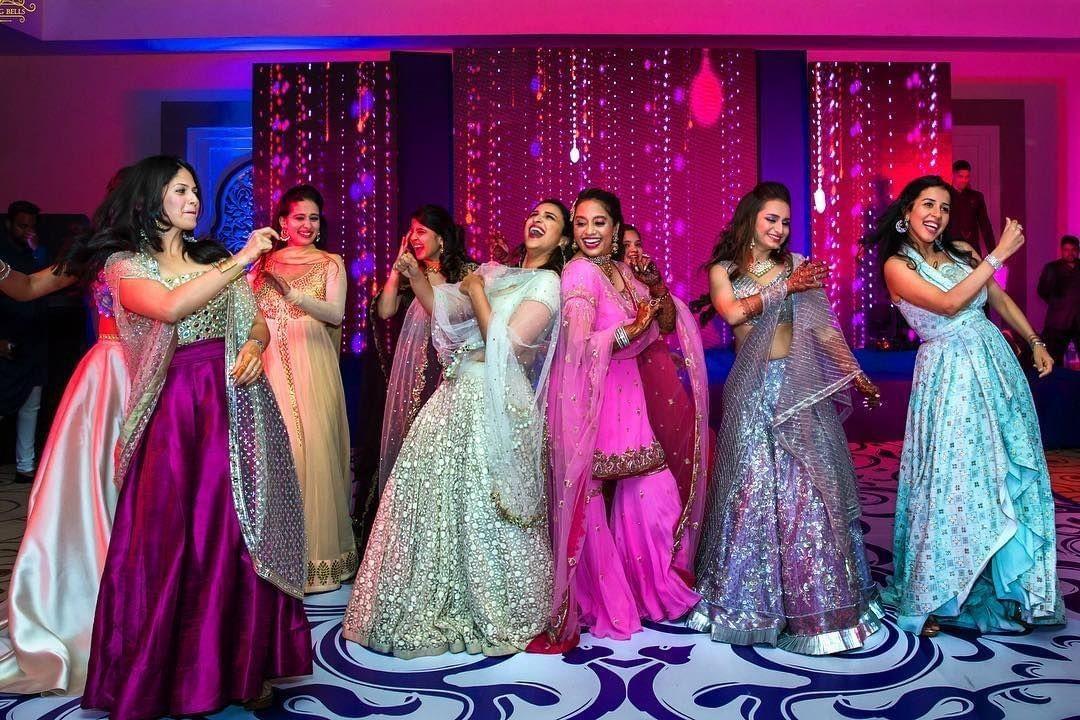 While we'd love the Dulhan dance to be a solo performance, sometimes the bridesmaids add the element of fun that makes it quirky and eccentric. If you're putting the bride with her bridesmaids, the song ought to be something that's fun, light and catchy.
Our favourite pick from all the famous Bollywood numbers is either 'Girls like to Swing' from the movie Dil Dhadakne Do or 'Gulaabo' from the movie Shandaar. Ladies, with the groomsmen waiting with their bated breath, we are sure you'll make it worth their while ;)
4. One with a Dhamaakedar Entry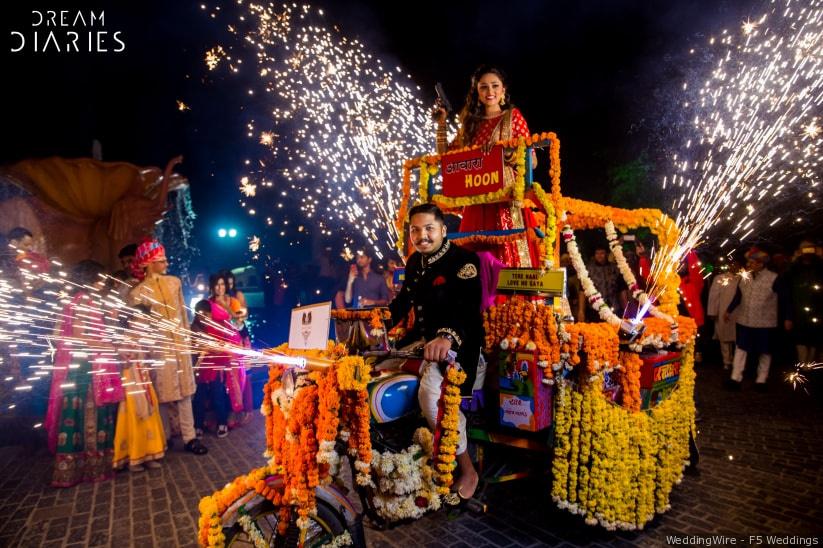 Dulhan dance is one of the most awaited numbers for a ladies Sangeet dance night. It must also have a bridal entry that justifies the wait of the guests. So brides wanting to do it with a little drama and style must plan it with a great entry. Maybe a carriage or a bike whatever you think suits the theme of your performance.
Start it with a bang that takes gets all the Baaratis thinking of how they could ever top this one. If possible, keep this as surprises for your groom-to-be as well; it will be a reaction worth capturing when he sees you make that grand entry. We can already hear the title track from the movie Shandaar playing in the background.
5. The Hilarious Mime Dance with Your Girls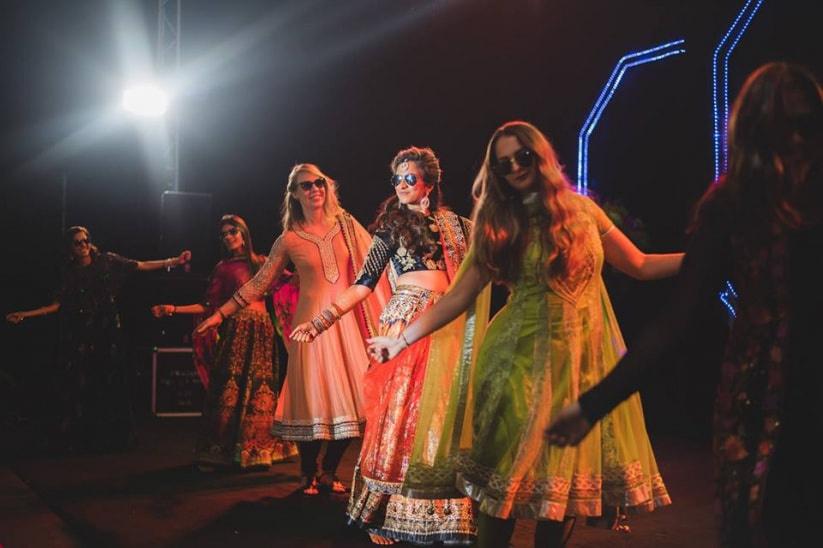 Heard of mime dance before? It is the one that involves acting out a song word by word through hand movements, without mouthing the song or using your face to express. Mime dances are hilarious when done on old Bollywood songs and are usually one that is attempted by the boys. While we always believe in making our brides do something different, this Dulhan dance is sure to be a head turner.
Make this as funny as you can and pick up on a song that makes for a great mime dance performance. On the top of our mind is that old song 'Mere Piya Gaye Ranoon' from the movie Patanga or 'Leke Pahla Pahla Pyaar' from the movie C.I.D.
6. One with the Back Dancers and Props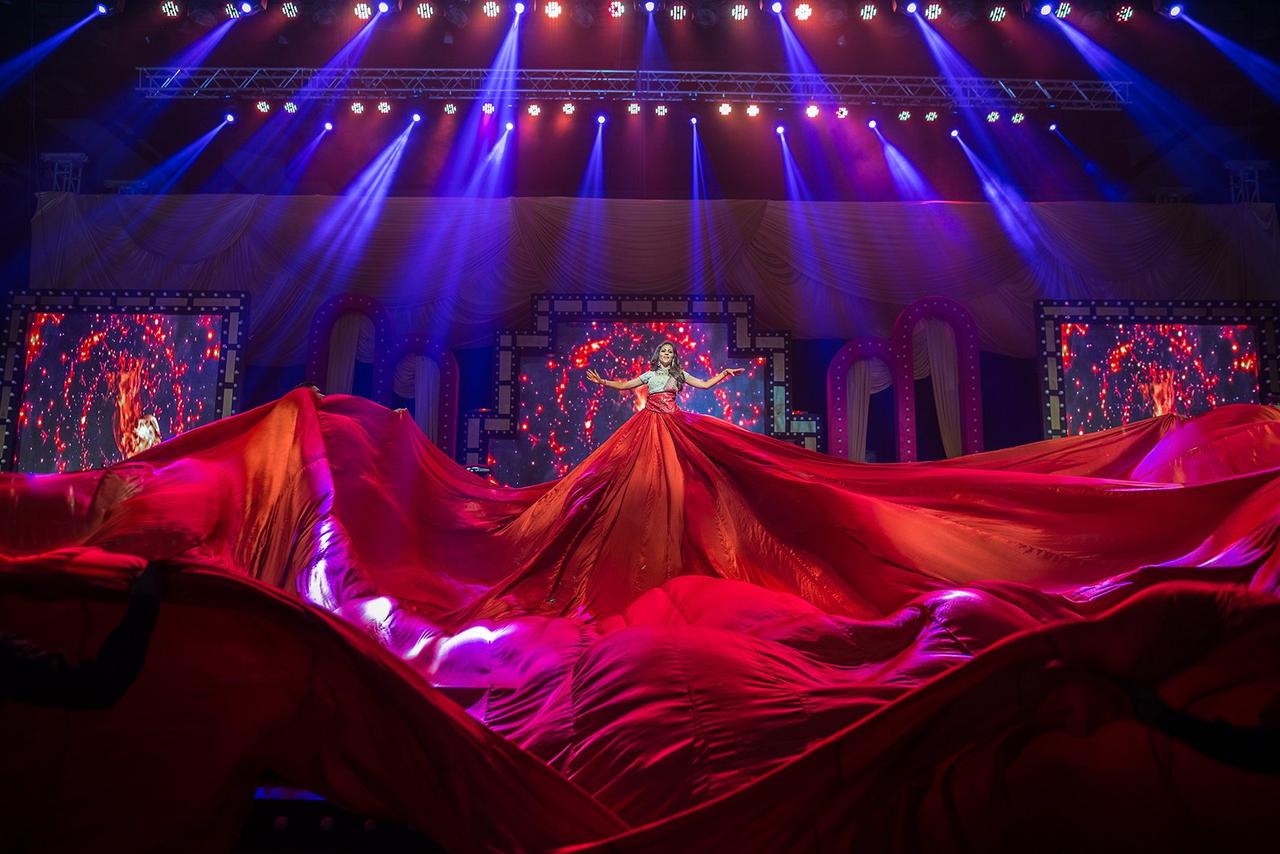 While the bride definitely is the star of the evening, it will be nicer if she's made to feel like one too. For those of you that found the dhaamaakedar entry idea not enough, let's make this dance into a full-on stage performance. Ever looked at stars performing at the award shows and thought you'd want to do it.
Well ladies, this is your time. Make your Dulhan dance a little extra with back dancers, and props that you've only seen on the T.V. Make sure that your performance is as grand as you want and one that you groom will never be able to match up to.
Dulhan dances are not about competition but just about our brides expressing their happiness and joy through their performance. So isn't it fair for it to be as quirky, loud, grand, or classical as they want it to be? It is their night and is surely one that will never come back (in most cases: p)
Liked any of our dulhan dance ideas? Well, we are sure there are many other cool ideas that you know of, aren't there? Tell us in comments.