Designer Jutti Styling Tips That Work for Men and Women Both!
When you're planning your ensemble, don't forget to pick your shoes wisely. A designer jutti can be a great accompaniment to your look. Find out about the different styles and how you can wear them!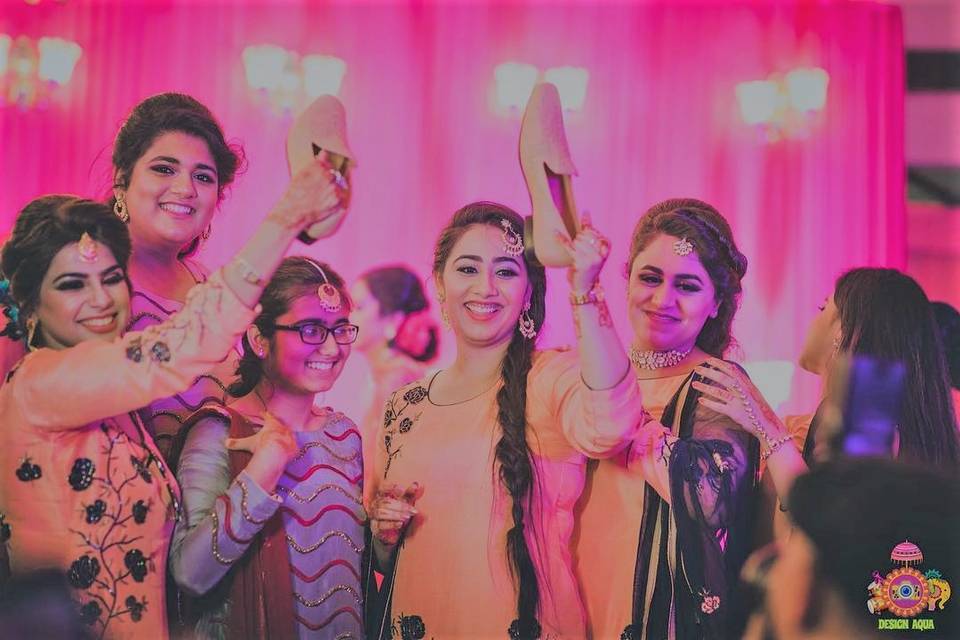 Your shoes are what make or break the entire ensemble, which is why it is crucial to pay attention to them. Don't just slip on any old pair when you're headed out! Put your footwear under the same level of scrutiny that you would put your lehenga or sherwani under! A pretty easy way to make sure that the shoes are perfect is by wearing a designer jutti. This is because a designer jutti is usually made of high-quality materials that automatically lend a well-crafted look to the shoes. Moreover, such shoes are far sturdier than their roadside counterparts! If you plan to dance all night at a friend's Sangeet, you can't have your footwear failing you right when your favourite song starts, right?
If you're not sure how to pair the right shoes with your garment, we've got some designer jutti styling tips that you should check out. Keep reading to see some great examples of these shoes for men and women, as well as how you should style them!
1. Golden designer jutti with a ton of shimmer!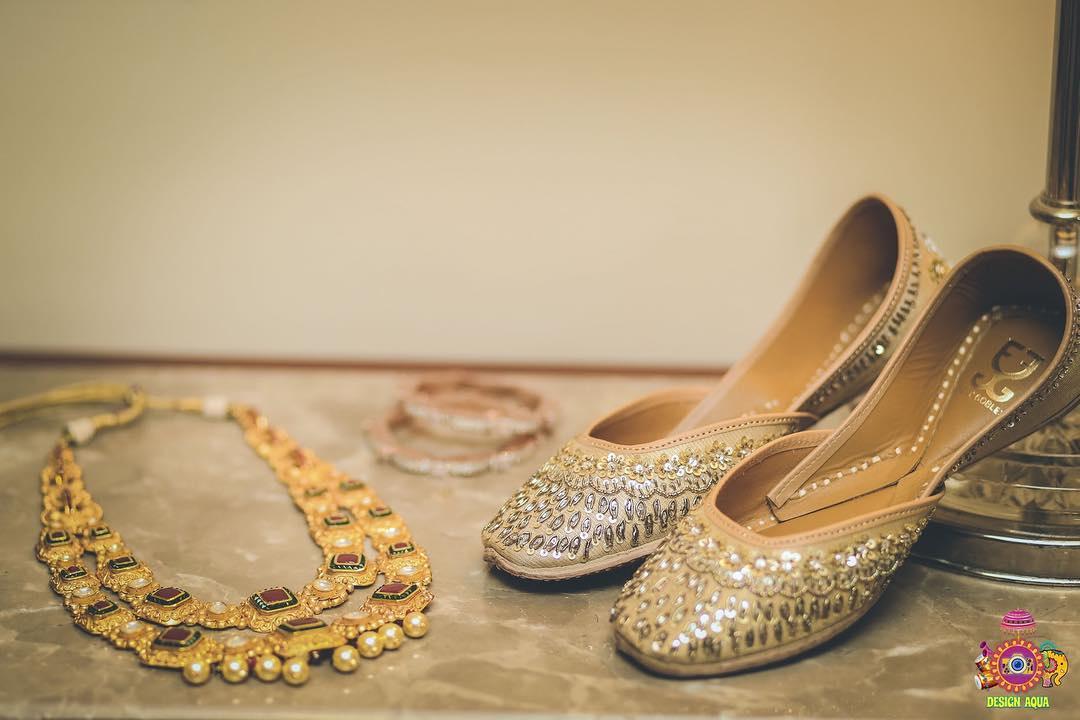 A golden jutti is perhaps the easiest to style with your clothes, as most wedding or festive wear does include elements of gold or other metallic shades. This particular pair has silver sequin work on a gold base, making this an extremely versatile pair for you to choose. The sequin work extends to the back of the designer jutti too, brings its lovely shimmer all over the shoe.
How to style this?
When you're wearing such a lovely pair of juttis, then you certainly need to take some steps to make sure they can be seen. Wear these pretty shoes with a designer long kurti with palazzo set that has lace at the end of the pants. This way, even if the pants are slightly longer than the ankle, the shoes will still show!
2. Yellow curvy jutti that's perfect for men!
When it comes to men's juttis, one thing that sets their designer jutti apart from their bride's is the fact that the top of the shoe covers a larger area of the foot. Often this part is designed the way a blouse's sweetheart neckline is made! Another design element that we see quite common when it comes to juttis for men is the curved horn embellishment at the tips of the shoes.
This bright yellow pair has both, a longer expanse of fabric and the curved horns. The vibrant hue makes it ideal for men who love using fashion to express themselves.
How to style this?
Pair this with black kurta pajama designs with jacket in a similarly bright colour. The black and yellow combination will look really cool, and make you look super dapper at a Mehndi or any other day event. If you are close to the bride, wear a bright pagri too for a funky ensemble made entirely with two solid colours! How's that for a great look?
3. Funky graphic juttis with pearl work!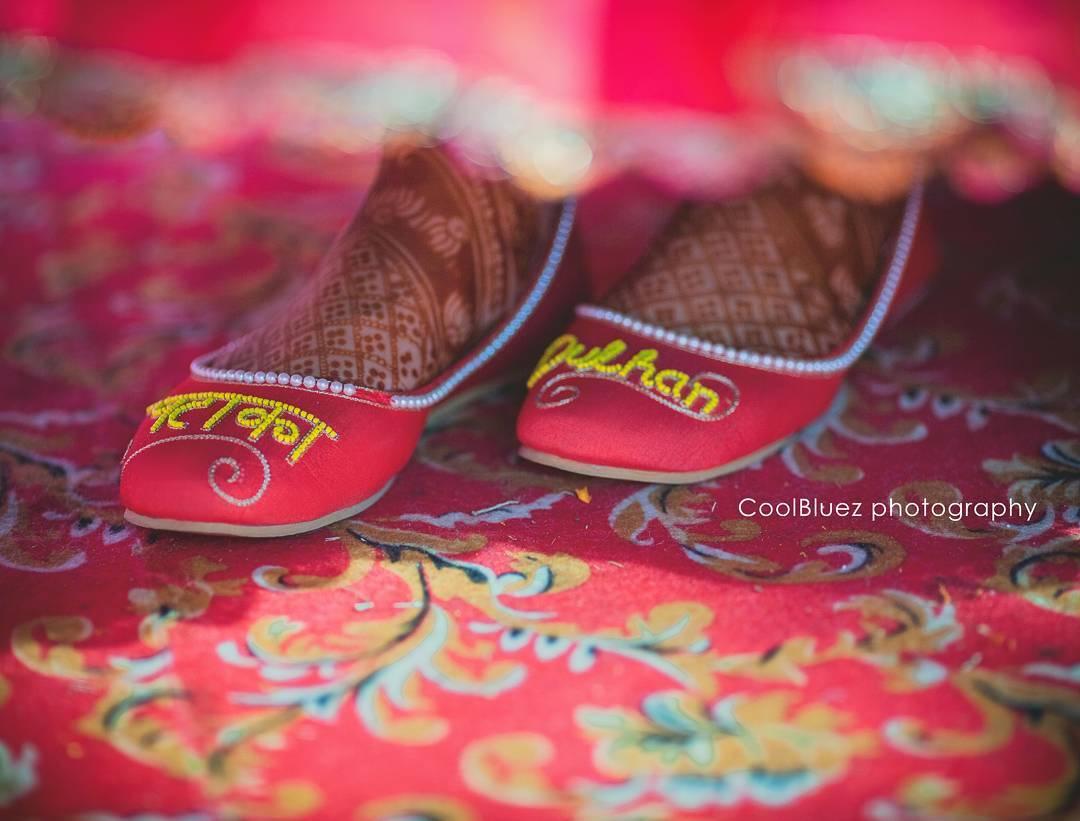 If you're the kind of person that loves the Chumbak aesthetic, then why not include that in your ensemble? Whether you are the bride or not, your shoes will certainly draw attention, so let's make sure that the attention that they do garner is positive through and through! Pick a modern jutti with a cool graphic design such as geometrical shapes or an embroidered word created over it.
This design jutti pair is in vibrant pink colour and comes with yellow embroidery work spelling out the phrase, Pataka Dhulhan! This style is so popular that we've seen a bunch of different renditions of it this wedding season alone! Another design element that makes this pair of shoes stand out is the pearl detailing all over, which will definitely make you look like someone who really selects her ensemble pieces with a ton of care.
How to style this?
A great way to style this is by wearing it with a crop top lehenga for wedding that stops at the ankles. Not only is that look currently in fashion, but it will also give you a chance to show off your shoes properly. Make sure that you match or create a contrast between the colours of the shoes with your outfit perfectly. This will help draw even more attention to the shoes, making sure that no one who says hello to you misses your designer jutti!
When you wear a designer jutti, the whole point is to be able to show them off, so wearing them at night events may not work in your favour. Stick to the Mehndi ceremony as not only is this during the day, but is also a slightly more informal event that can allow you to experiment with your ensemble. This is why this is the perfect time to wear a designer jutti!
Want your entire look to stand out? Visit a salon near you and get a great hairstyle before the event!