Blue Colour Combination Dresses for Your Serene Wedding Collection
Blue is an evergreen colour because it can be used in many ways. Wondering how? Check out these blue colour combination dresses for your wedding trousseau!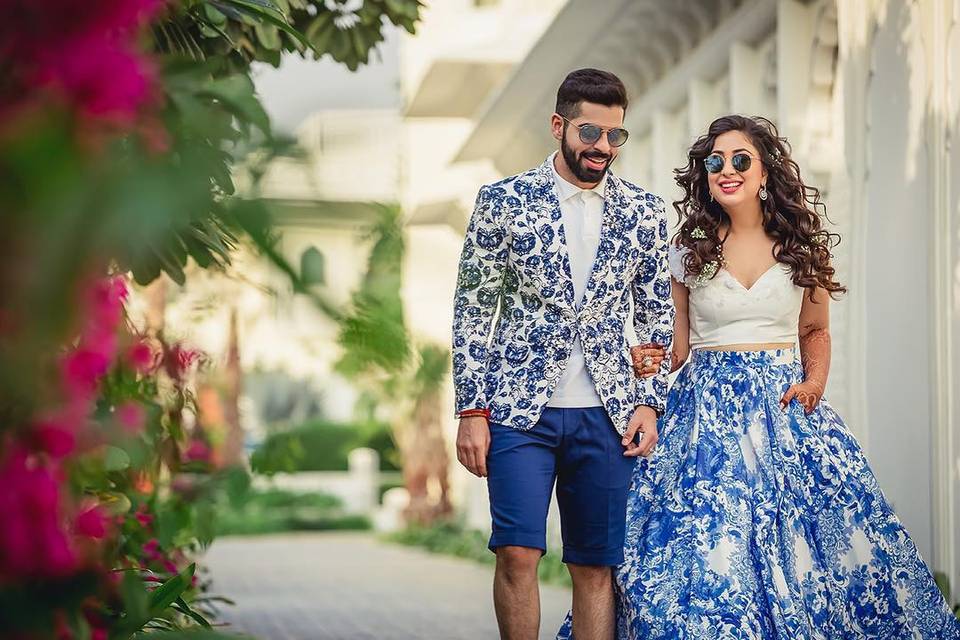 The colour of tranquillity and reliability, blue is a hot favourite amongst brides this wedding season. From stunning midnight blue lehengas for Sangeet to powder blue wedding attires, brides today just can't get enough of this shade. And why should they? With a vast array of options available, you can arguably wear blue colour combination dresses for every wedding function and still manage to look different at each! Sounds too good to be true?
Check out these awesome blue dresses that we've curated to show you how you can rock this serene colour on your wedding!
Cropped top skirt sets
To start with, we have some blue colour combination dresses that are crop top skirt sets. How are they different from a lehenga you ask? The main difference is that the blouse has a more western aesthetic, and the dress is generally complete without a dupatta. As a result, it's a fabulous contemporary take on an age-old garment, perfect for Millennial brides!
Blue & golden crop top skirt set with mirrors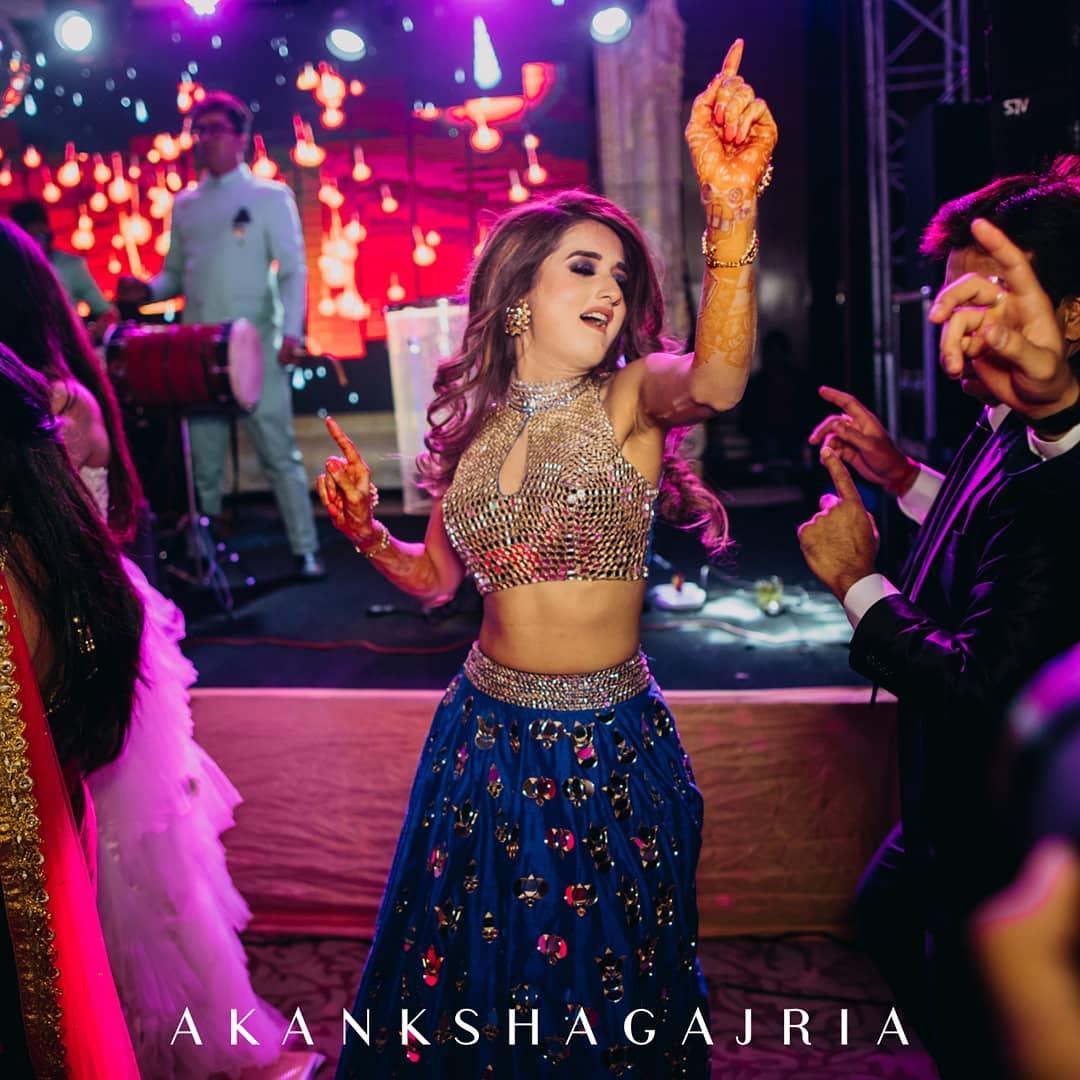 Image Courtesy: Akansha Gajria
This blue crop top set is one that'll make sure you dazzle the crowd thanks to the abundance of tiny mirrors all over the fabric. Wear this on your Sangeet and set the dance floor on fire!
Navy blue & purple crop top and skirt with white embroidery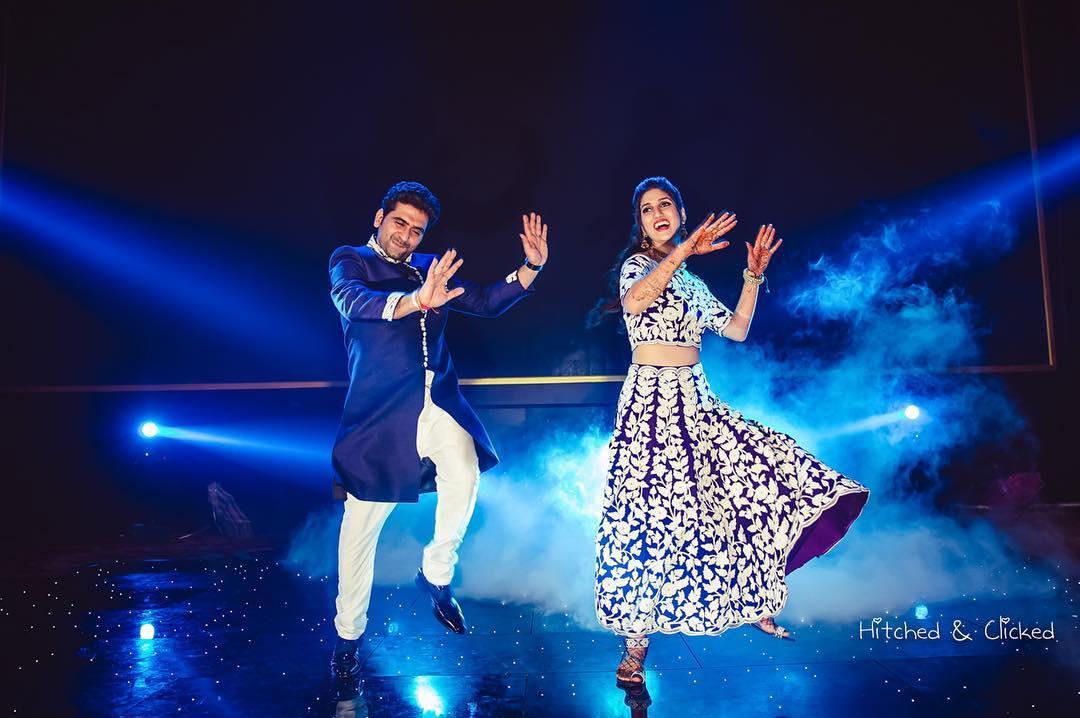 Sangeet is the time to dance your heart out, so make sure you pick a comfortable outfit like this navy blue crop top lehenga set and dance till you drop!
Blue sarees
We've all played dress-up with our mother's dupattas and pretended we were young women in glamorous sarees! There's just something so elegant about this outfit that we just cannot resist its lure. With your wedding approaching, you know you've got to build a fantastic collection of sarees. Check out these blue colour combination dresses for the wedding and for your wedding trousseau!
Blue & white combination saree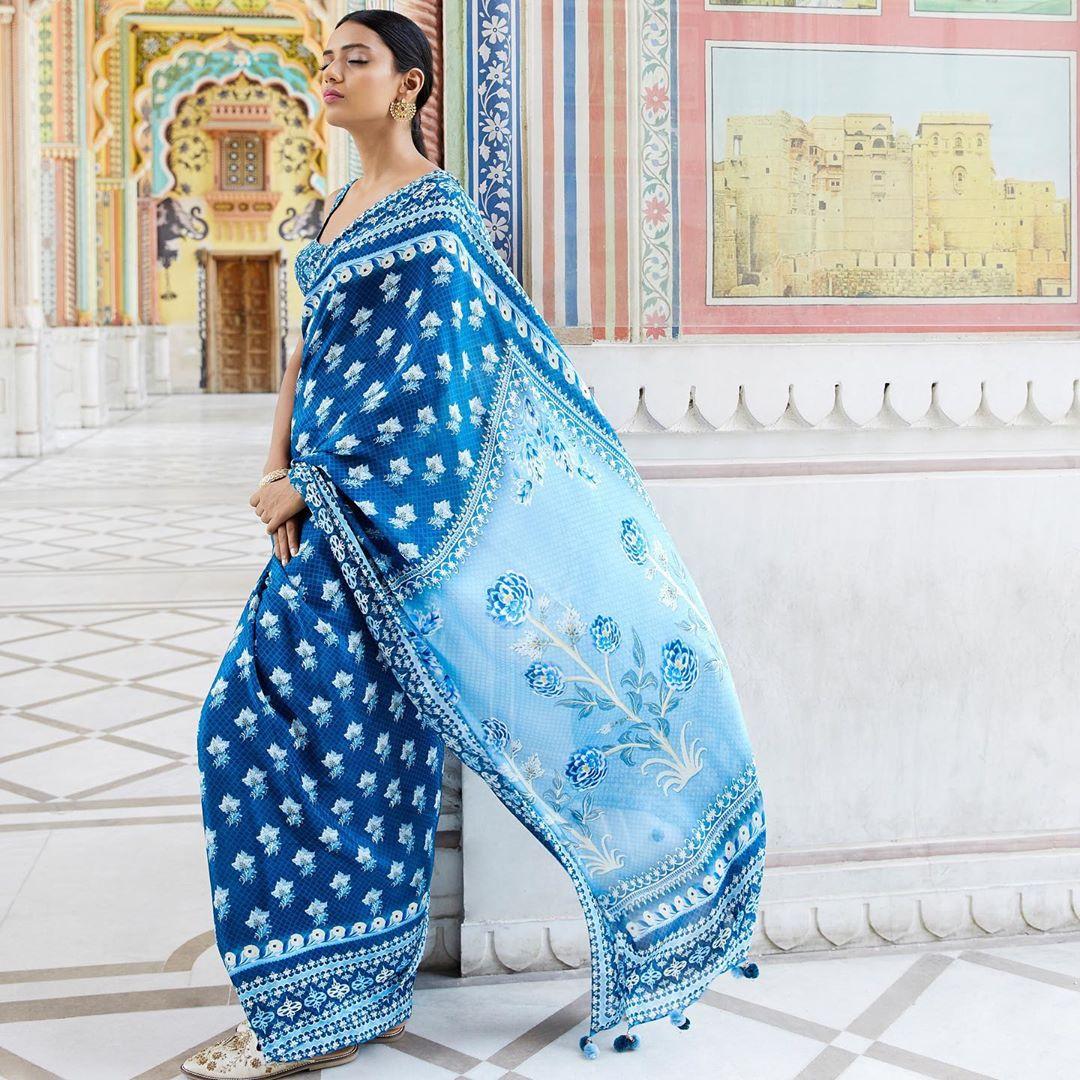 The weeks after your wedding will be filled with countless visits to relatives' homes, and for that, you need breezy cotton sarees that won't let you feel uncomfortable while wearing a saree all day. This blue and white saree is perfect for that!
Blue & pink combination silk saree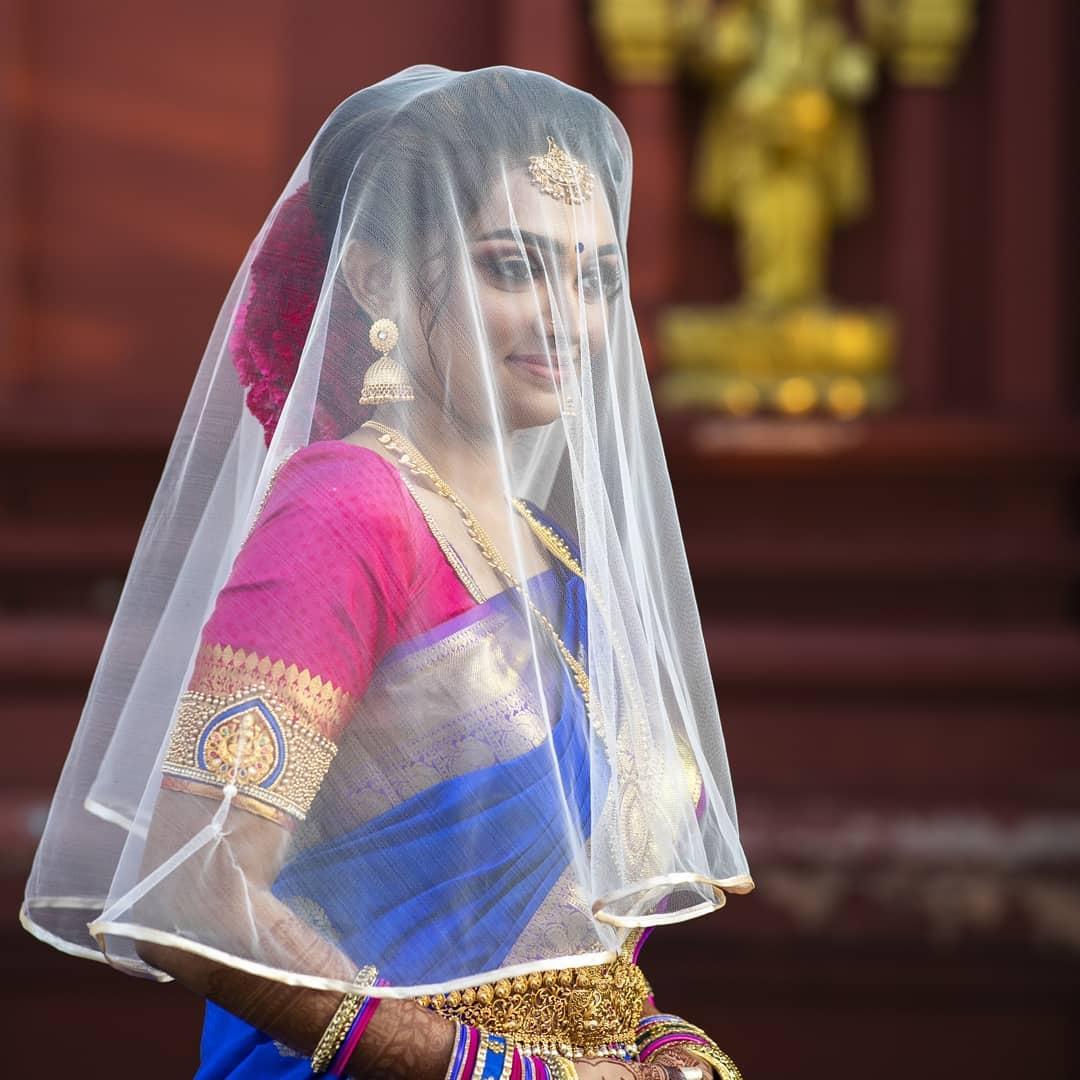 Image Courtesy: Ashevin K. Photography
Wearing contrasting colours is a trend that we've been digging a lot this year, and what better way to do so than by opting for pink and blue colour combination dresses? This blue saree with the hot pink blouse is perfect if you want to experiment with contrasting hues and traditional silhouettes.
Blue & silver saree with hints of yellow
With stunning silver zari work and bright pops of yellow, this blue saree is perfect for a day wedding! Pair it with temple jewellery to complete your look!
Blue & green saree with brocade work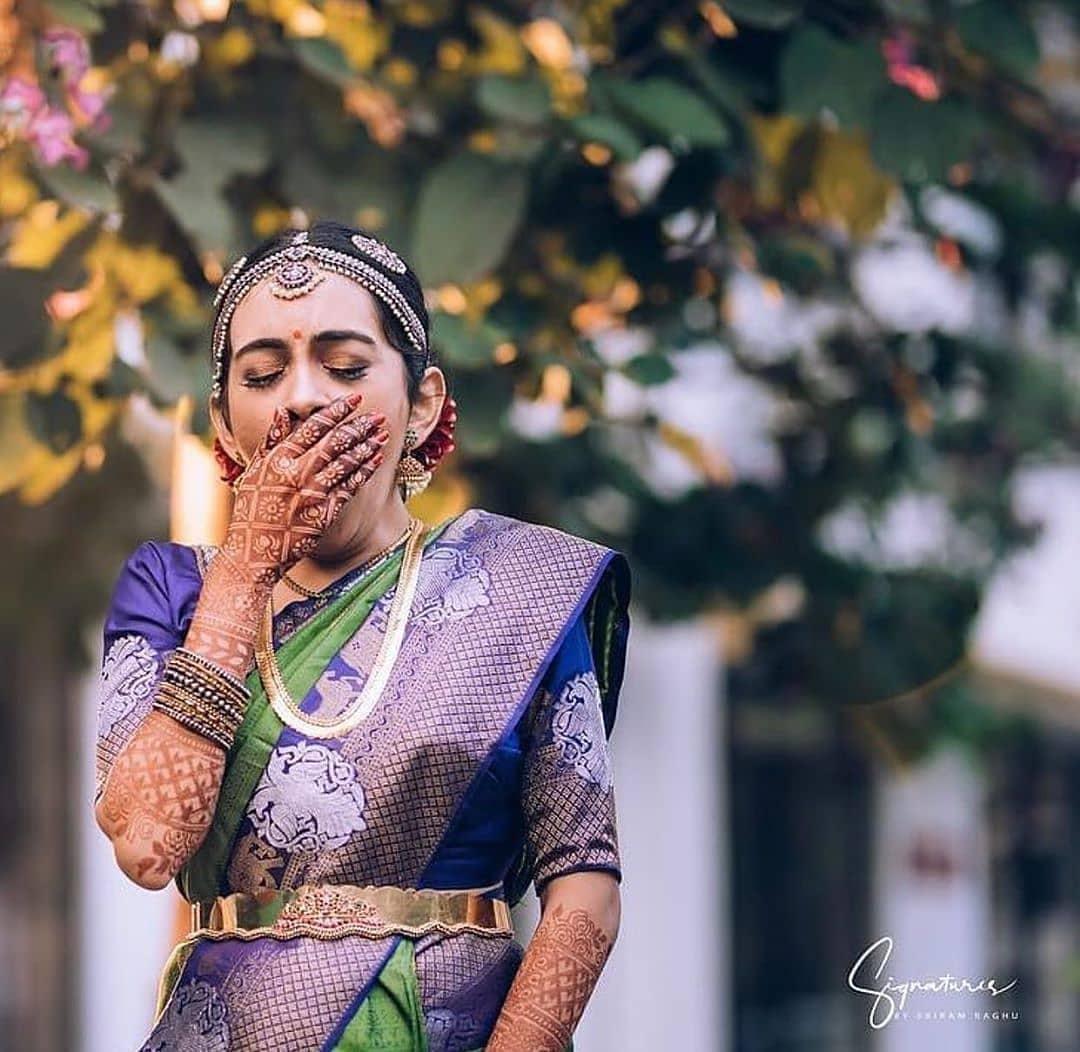 Image Courtesy: Signatures by Sri Ram Raghu
The blue blouse, purple silk saree and olive green borders come together wonderfully to create an ensemble that's perfect for an autumn wedding!
Blue suits
Salwar suits are one of the most comfortable outfits out there, even when they are made with heavy embroidery! As a newly-wed woman, you can wear bright and cheerful salwar suits post the wedding to remind everyone in a fun way that you're now married. We have picked out 2 blue colour combination dresses that you need to wear after your wedding!
Blue & white suits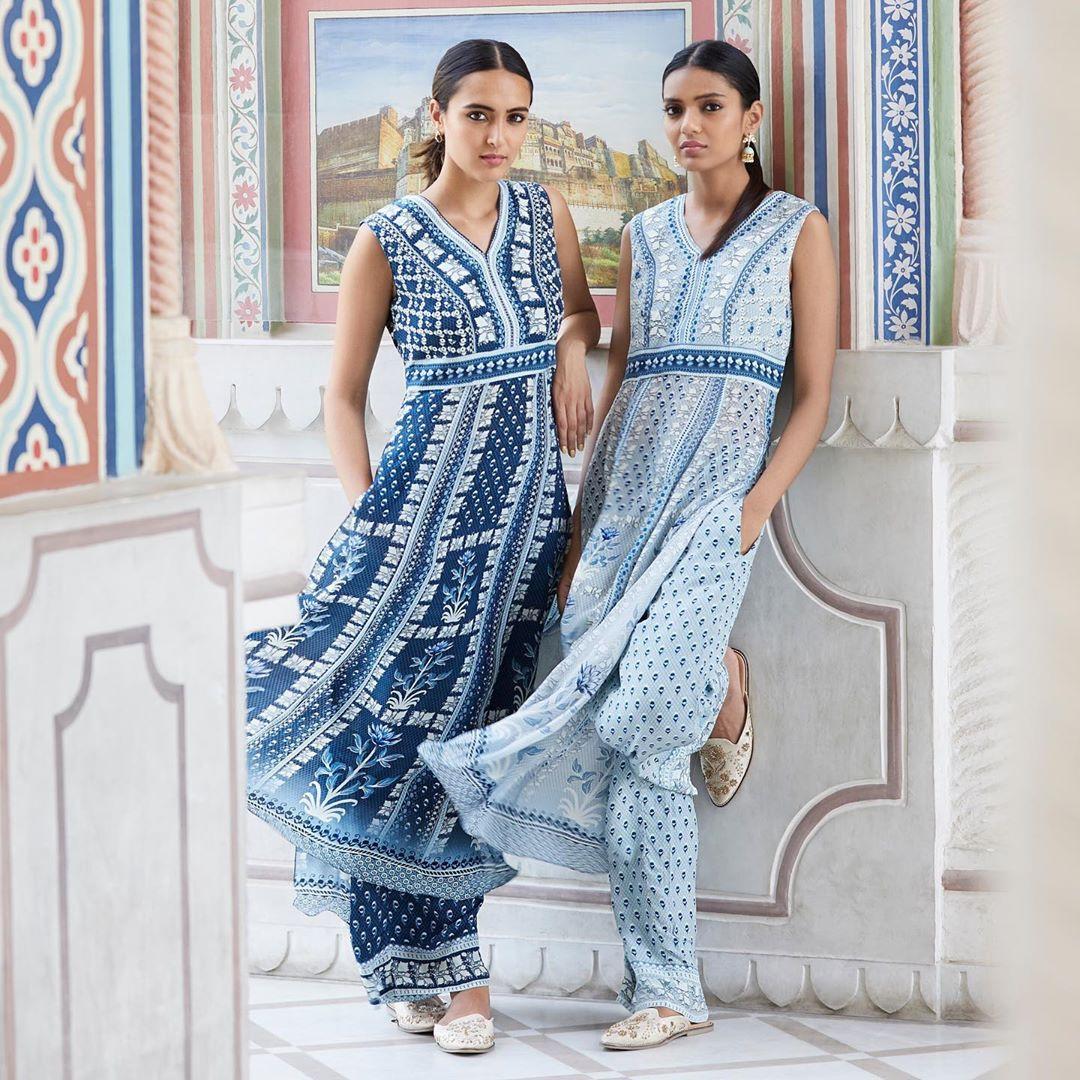 Long Kurtis with palazzos is the ideal workwear post your marriage because they are uber comfortable and svelte at the same time. Breeze into your office in this adorable suit and charm everyone you know with tales of the wedding!
Blue salwar suit with an orange dupatta!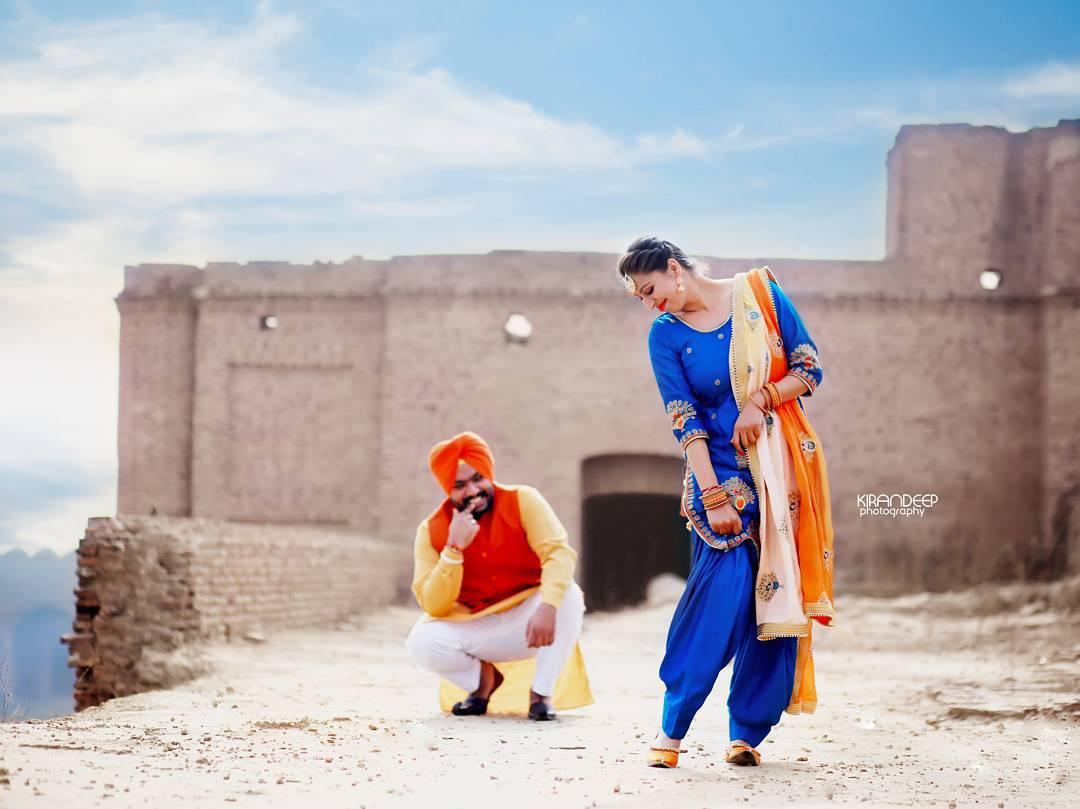 Every woman should have at least one or two salwar suits in her wardrobe. This blue salwar suit with a contrasting orange dupatta is perfect for days when relatives come over to meet the new bahu (which will be more often than you expected! )
Lehengas
No wedding collection is complete without a traditional lehenga! With its flowing skirt, fitted choli and heavily embroidered dupatta, this is an ensemble that never gets old! Check out these blue colour combination dresses that are ideal for the wedding!
Navy blue lehenga with white embroidery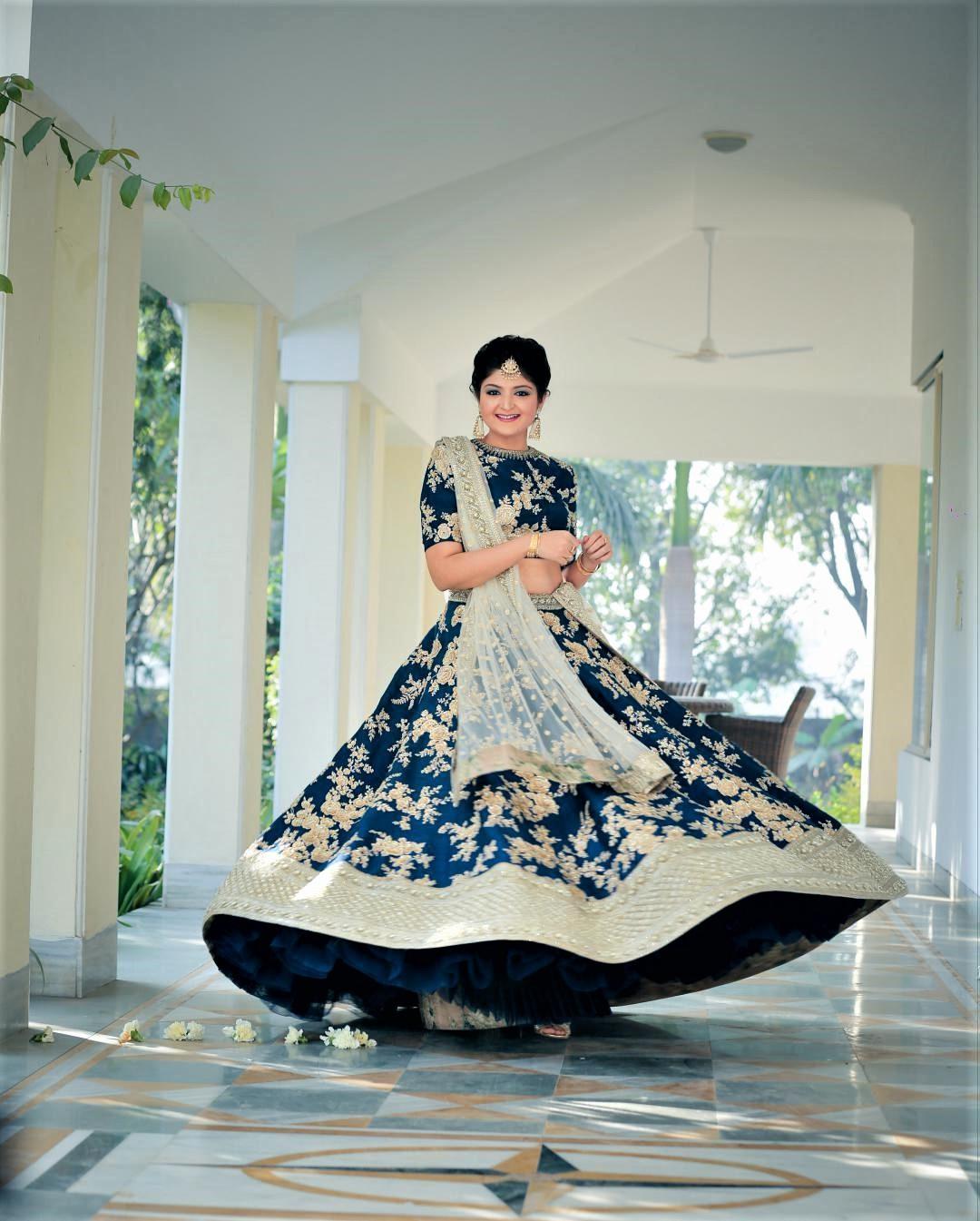 This deep blue lehenga has white embroidery that stands out magnificently against the intense background, making it a great option for a night event like the Sangeet. The sheer dupatta ensures that the ensemble is light enough for both brides and bridesmaids to pull it off!
Blue and golden lehenga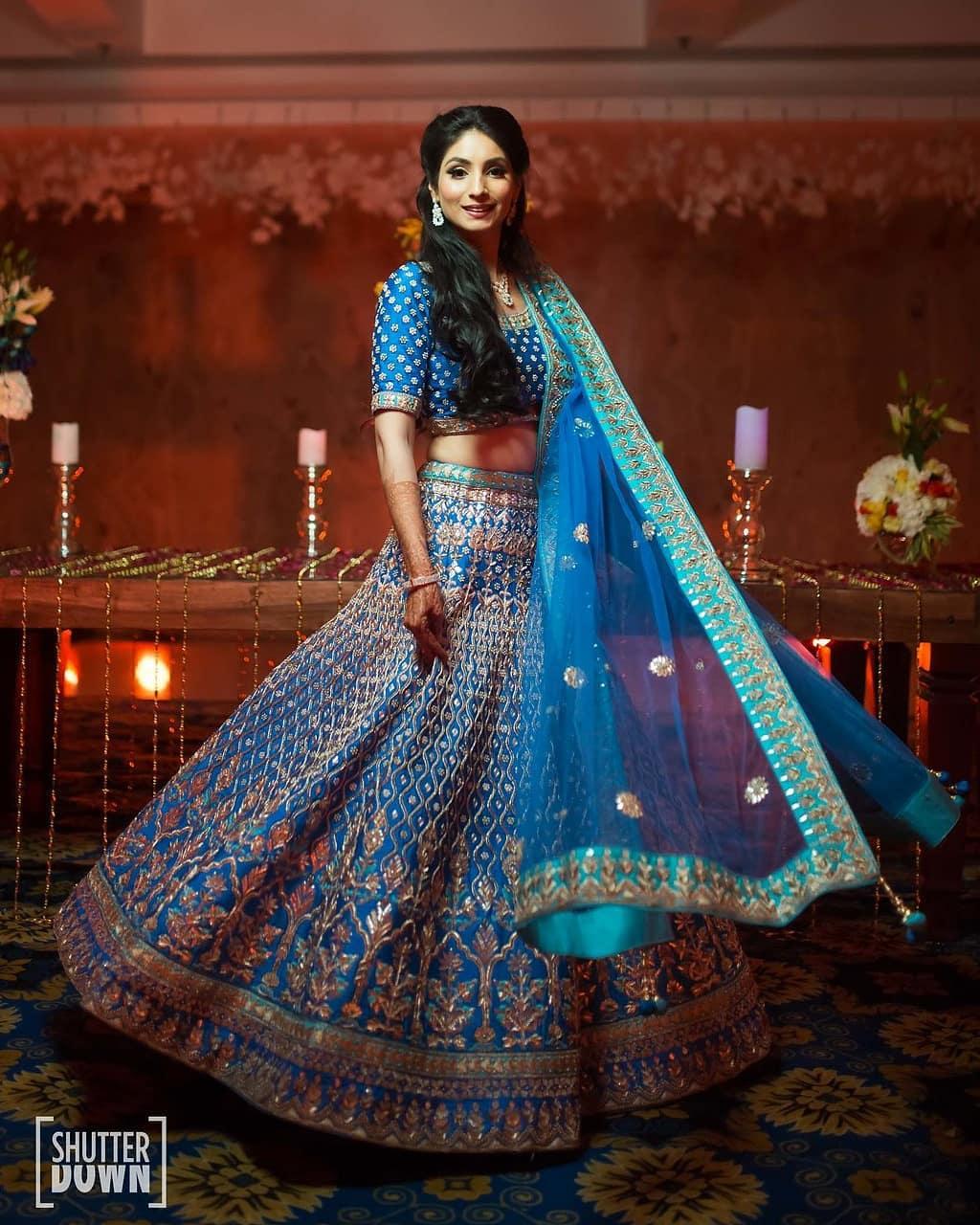 Just like blue and pink, blue and gold are one of the most popular combinations. For flashy ceremonies like the Sangeet where you want to shine out, a blue and golden lehenga like this will be perfect!
Blue and silver lehenga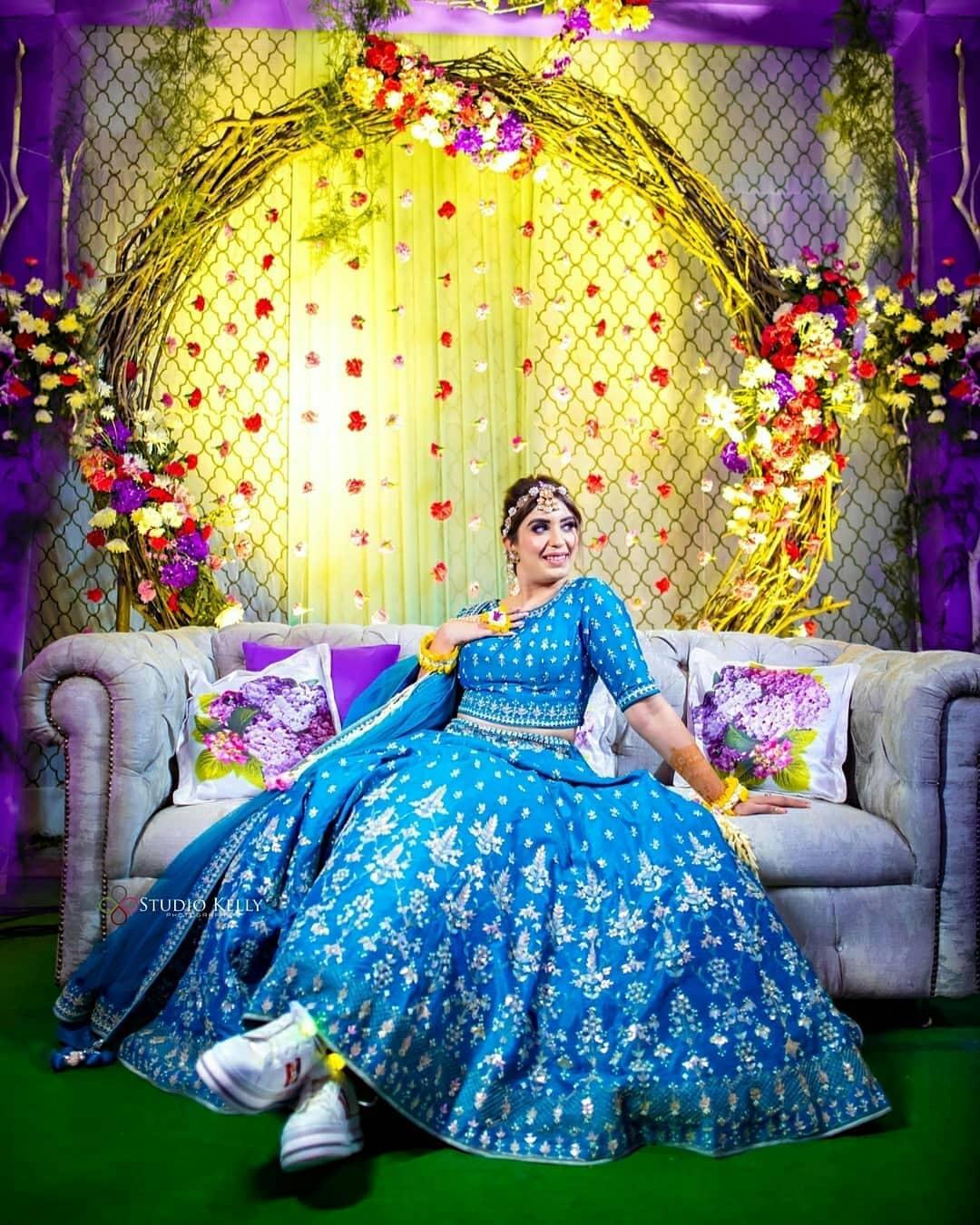 A blue lehenga with silver zari work like this one is perfect for day events like the Mehndi, mainly because it's not as dark a shade of blue as some of the other blue colour combinations dresses on our list. If you want to stand out during the day, this one's a great option to consider!
As you can see, blue colour combination dresses come in a wide array of styles and designs, making it easy for you to sport this combination for any event during your wedding. From gorgeous silk sarees that dazzle everyone you know to effortlessly chic lehengas and crop top sets, we know you can't go wrong when you pick blue colour combination dresses!
Check out these stores near you that offer great bridal lehengas!