New Lehenga Collection From Top 5 Designers: Are You Up to Date?
A mermaid-cut lehenga or a flared lehenga? Red or pastel? Make the right outfit decision while browsing through our list of new lehenga collection by top 5 designers.
The perfect wedding wear takes time, effort and an eye for detail. So don't be surprised if you have a wedding to attend or you're the bride-to-be, have gone through countless lehengas but still haven't found the dress of your dreams.
And browsing through countless outfit inspirations on Instagram and Pinterest doesn't help either because it's hard to find something that looks exactly like that around you. So, what do you do? Give up on your dream outfit and settle for something less? Wear something that you aren't in love with? Absolutely not.
The secret to this whole process is to go through new lehenga collection lists by Indian designers, pick one that you like and get it for yourself. Sounds easy, right? To make it even easier, we've shortlisted the top 5 designers and their absolutely stunning new lehenga collection for brides, bridesmaids or family members to wear and fall in love with.
So hold back, go through this list and create a gorgeous outfit for yourself. Ready?
Here we go!
ABU JANI SANDEEP KHOSLA
Dazzling lehenga in red and gold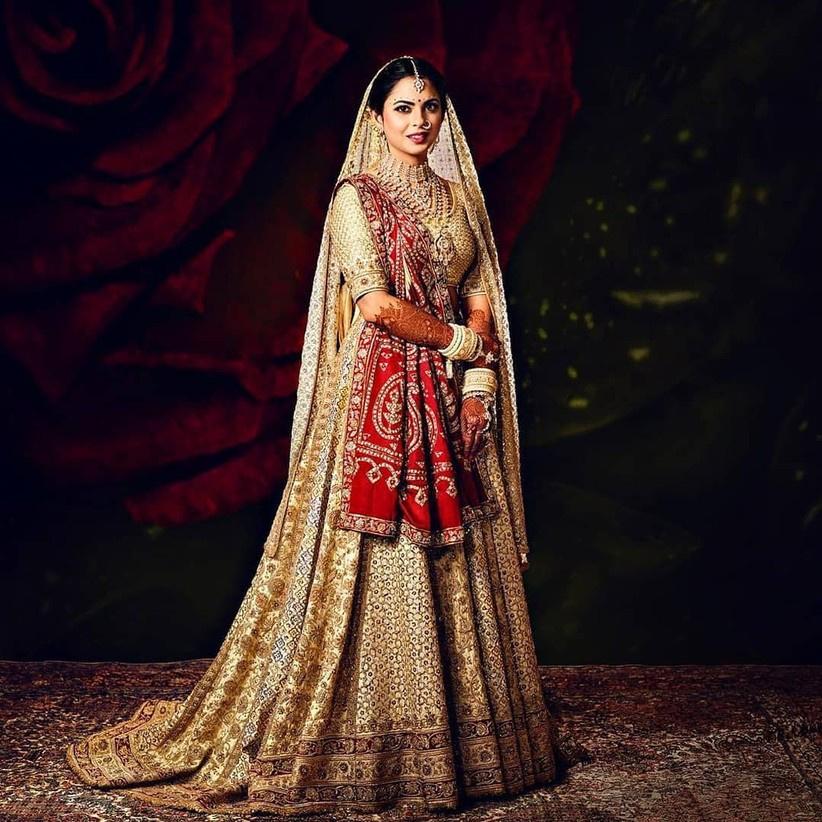 Red and gold - the classic combination, the stealer of hearts and the fulfiller of many a bride's dreams is something that you can't help but say 'Wow' to. In love with all things classic? Take this one from Abu Jani Sandeep Khosla's new lehenga collection and watch yourself turn into the diva bride you've always dreamt of being!
Orange lehenga with mirror work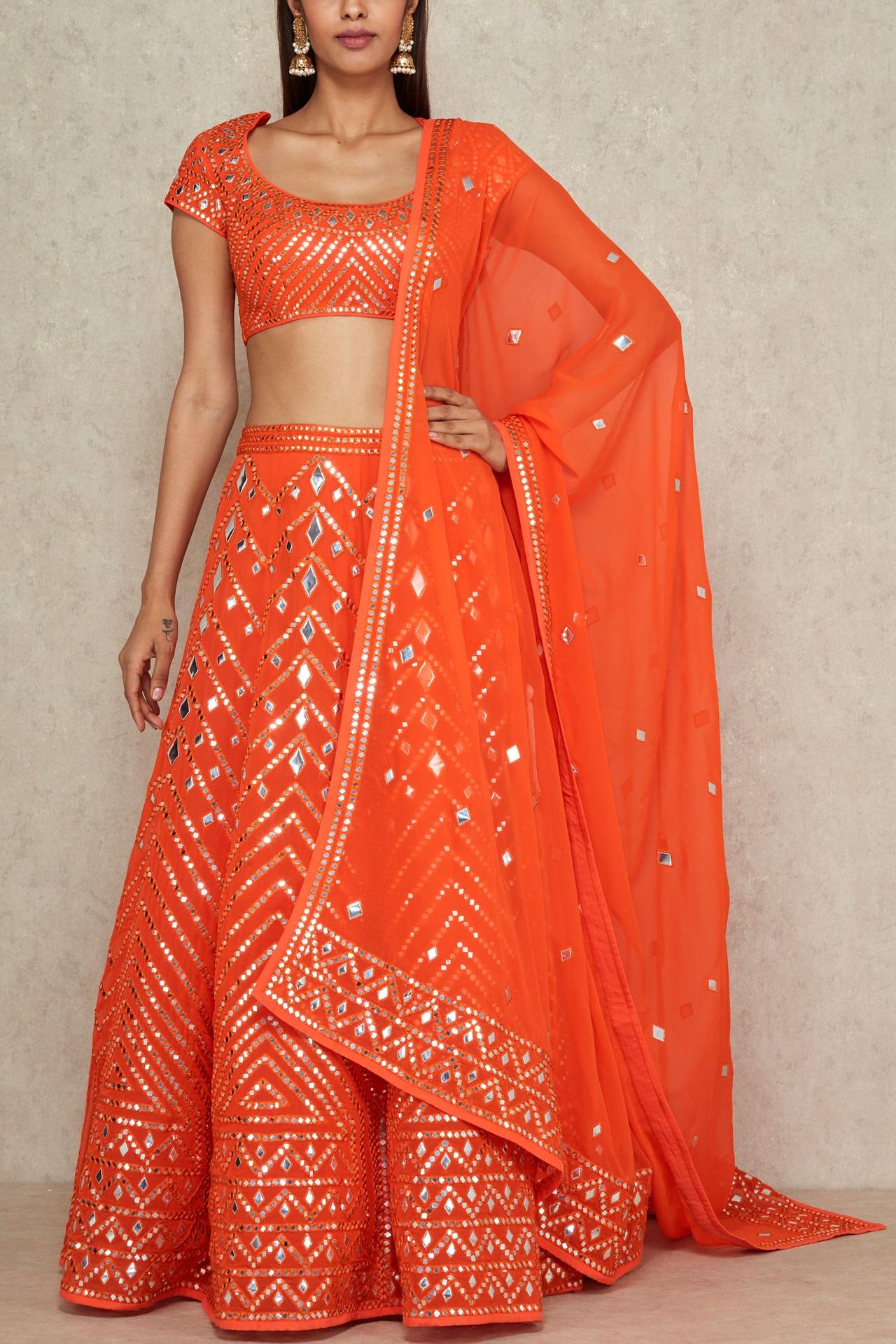 More than brides, this lehenga is perfect for friends and family attending the wedding. It's both exquisitely designed and not as elaborate as a bridal lehenga, so it does the job perfectly well. The mirror work all over is meant to give the attire a dazzling effect and the dupatta adds the right amount of 'traditional'. So go ahead with this from the new lehenga collection if you're looking for something vibrant and gorgeous!
ANITA DONGRE
The halter neck lehenga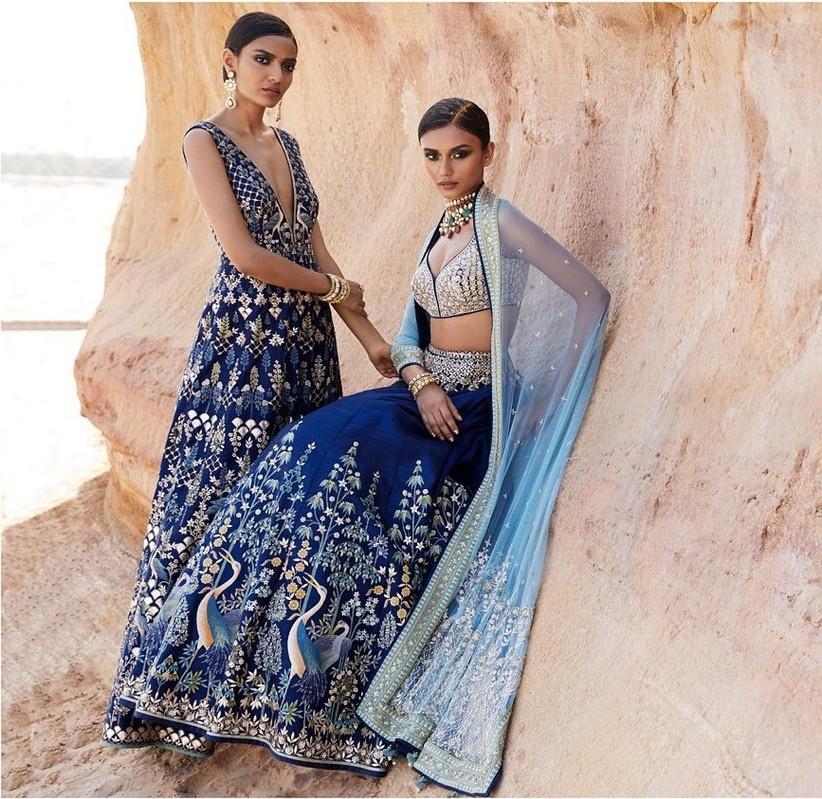 Anita Dongre's style is known for its ability to blend traditional with modern brilliantly well. This gorgeous lehenga with intricate traditional motifs at the bottom has a beautiful twist to it in terms of the neckline - the halter cut, makes it stand out, is offbeat and is perfect for brides who love making bold statements.
The pretty in pink lehenga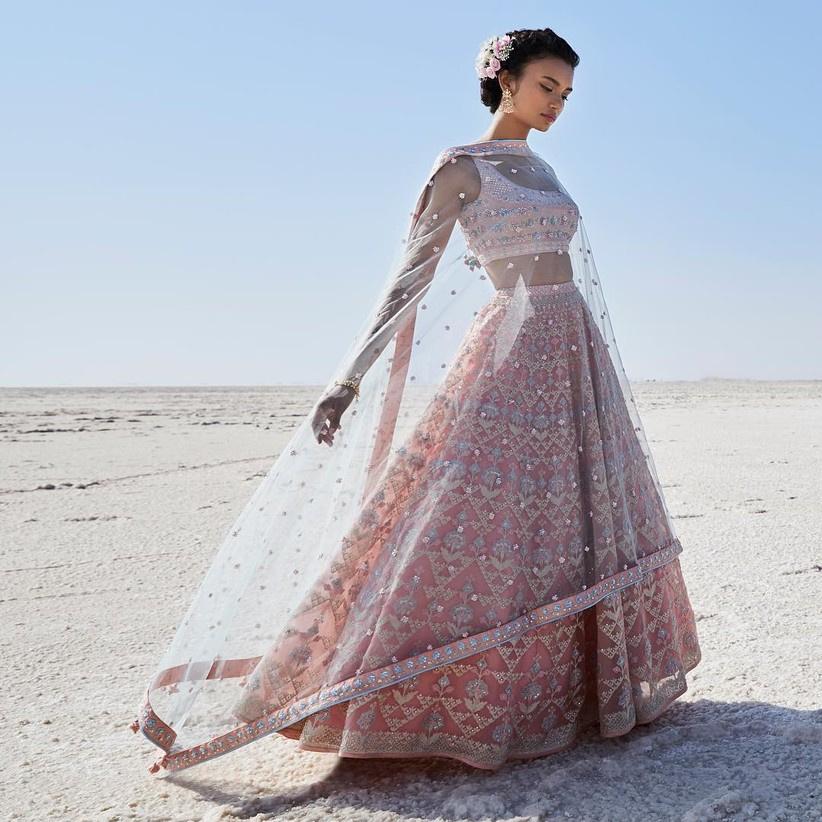 If you're looking for something soothing as a part of the new lehenga collection,
we have an option that matches up to that as well. This pink lehenga changes the game with its pretty and subtle colour. The stonework all over it, adds the celebratory vibe to it. If you so wish to, you can go light on the jewellery with this one, without any hassles.
MANISH MALHOTRA
Lehenga with flared sleeves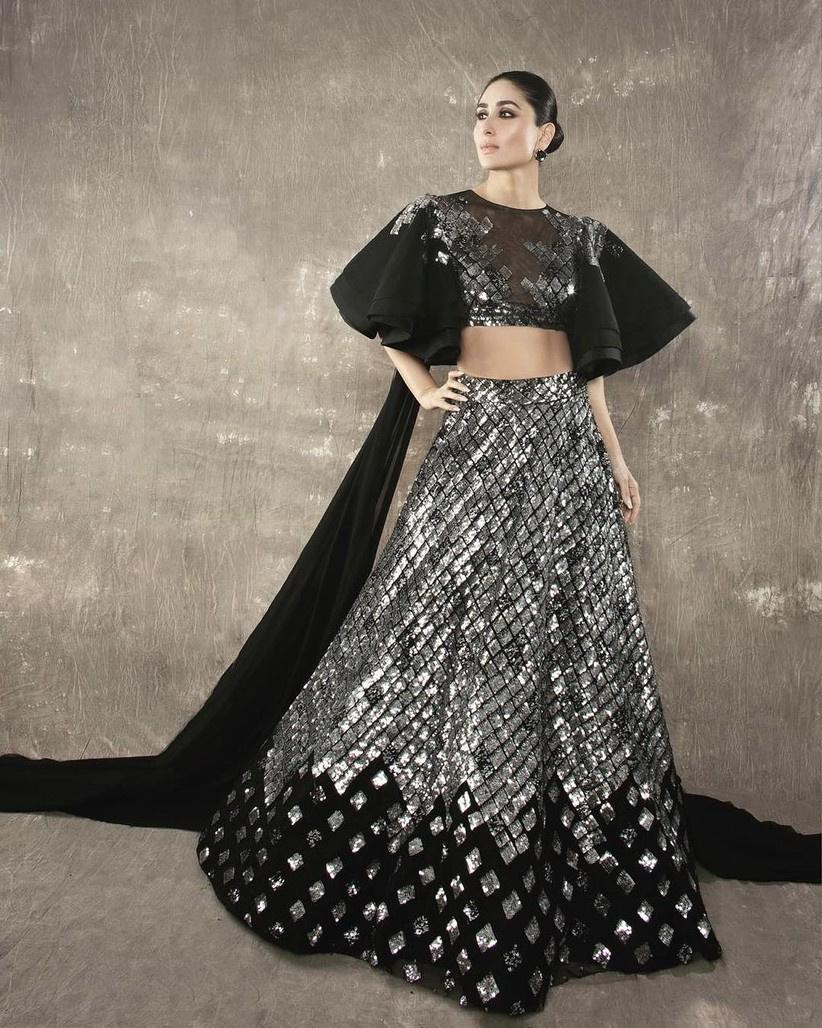 Image courtesy: Manish Malhotra
Brides who're looking for unparalleled lehengas from Manish Malhotra's new lehenga collection, for their engagement or cocktail, we've found the best match for you. Now we understand that for the cocktail, you will need something that also has a modern touch to it and trust us when we say this, there's nothing better and grander than this lehenga.
Stunning silver lehenga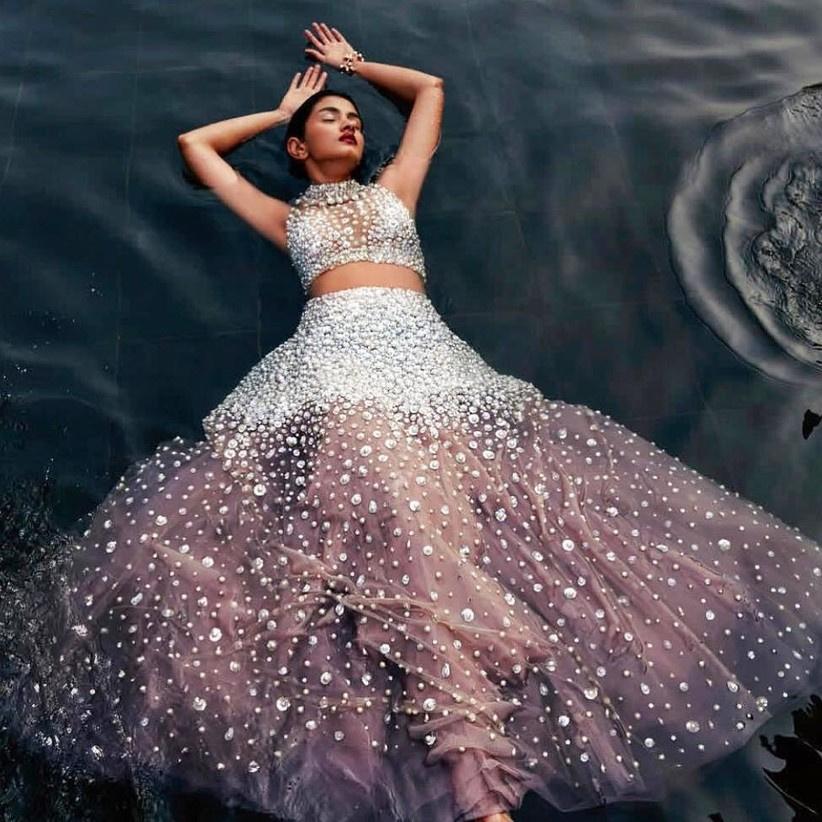 Image courtesy: Manish Malhotra
Want to look like a Disney princess and a dazzling dream? Then you must go ahead with this nude lehenga with silver stones all over it. The sheer neck adds even more elegance to it, while the whole feel of it remains exquisite, alluring and will definitely turn heads.
SABYASACHI MUKHERJEE
Lehenga in green and yellow hues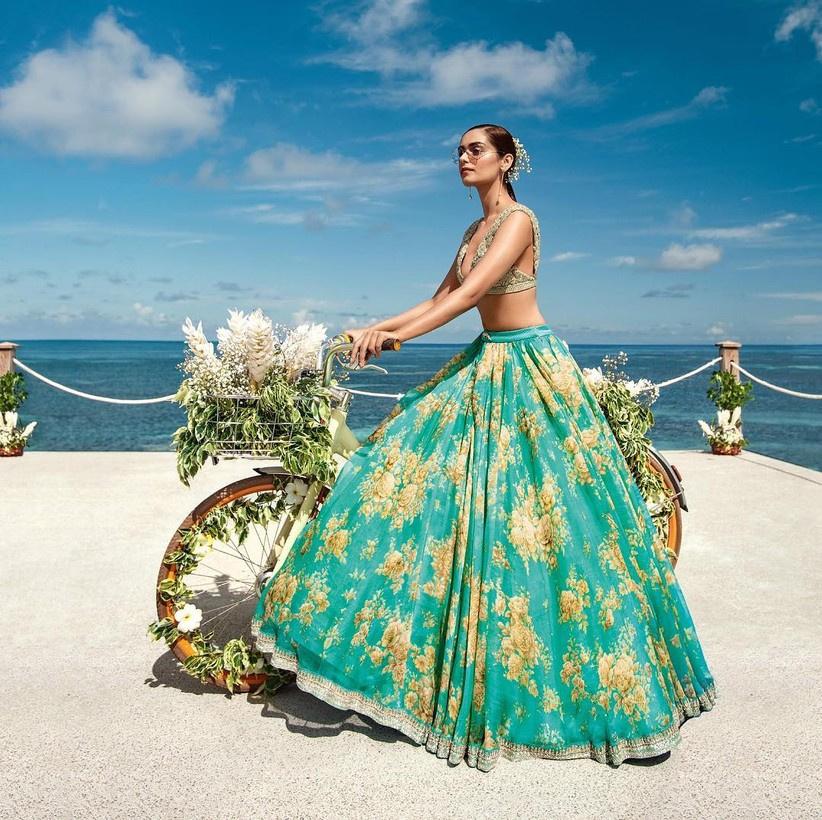 Image courtesy: Sabyasachi Mukherjee
If you're attending a wedding and looking for an outfit that has a very playful mood, we might just have found what you're looking for. Sabyasachi's new lehenga collection is what dreams are made of, and this particular one is all about a casual look but will also make you feel like you're dressed to the nines!
Royal pink lehenga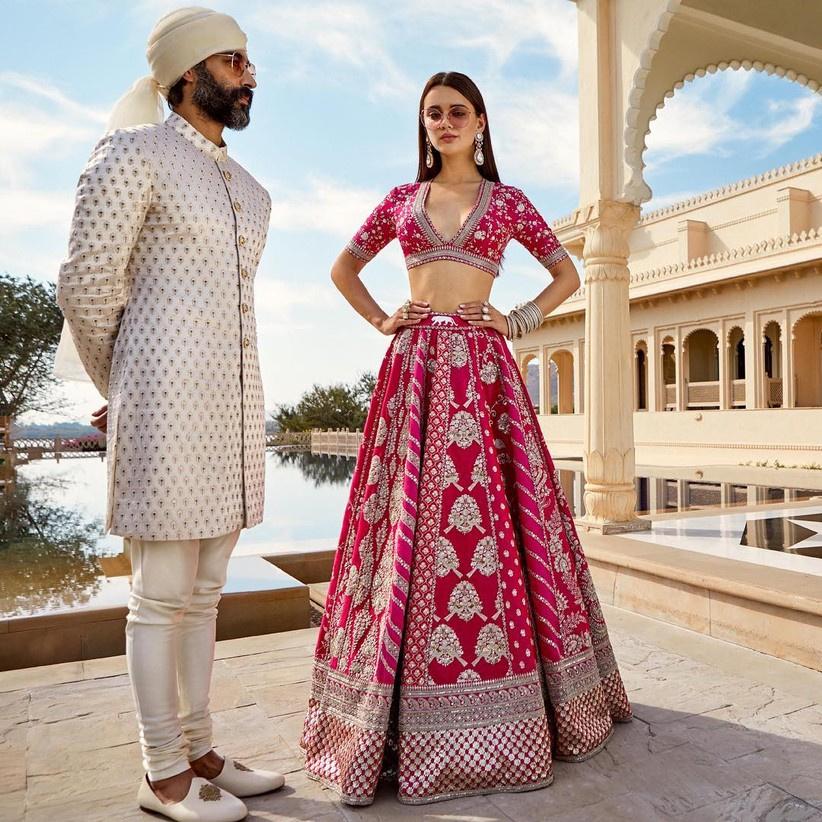 Image courtesy: Sabyasachi Mukherjee
Another masterpiece from the maestro's new lehenga collection, this impressive lehenga tells the tale of a queen. So, if you're planning on wearing this, get ready to look like nothing short of royalty. The best part about this is that, the silver touch gives it a contemporary feel too!
TARUN TAHILIANI
Classic lehenga in blue and biege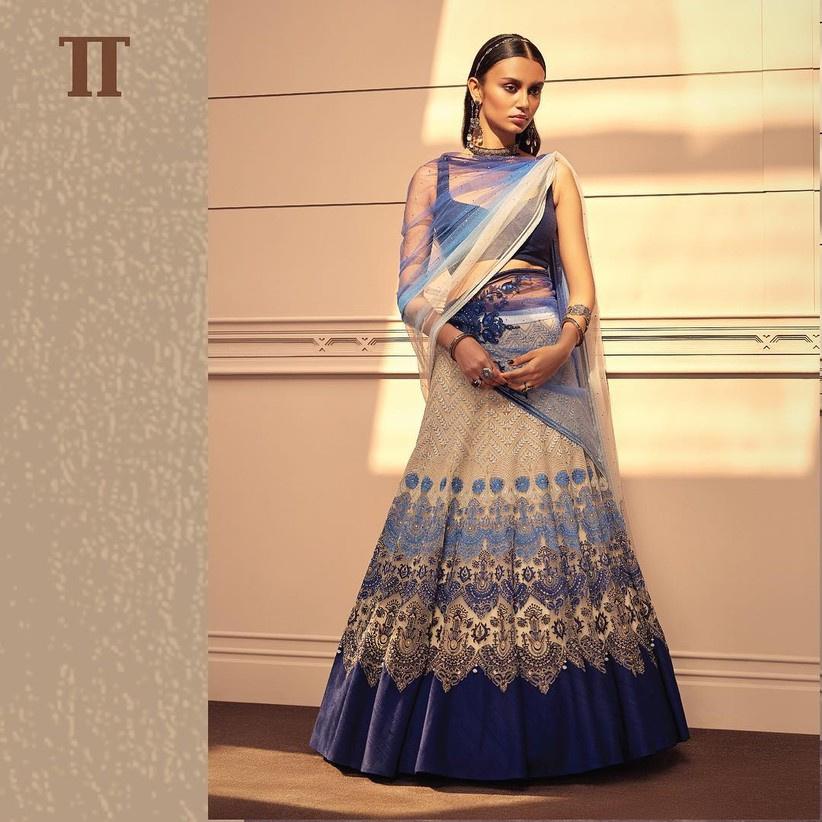 Although an unusual colour combination, this lehenga is all things beautiful. The lacework on the ends of the dupatta and the skirt, looks stunning, while the simple blouse with a heavy bottom is all you need to make a statement. Ready to wear this offbeat piece?
Mermaid lehenga in black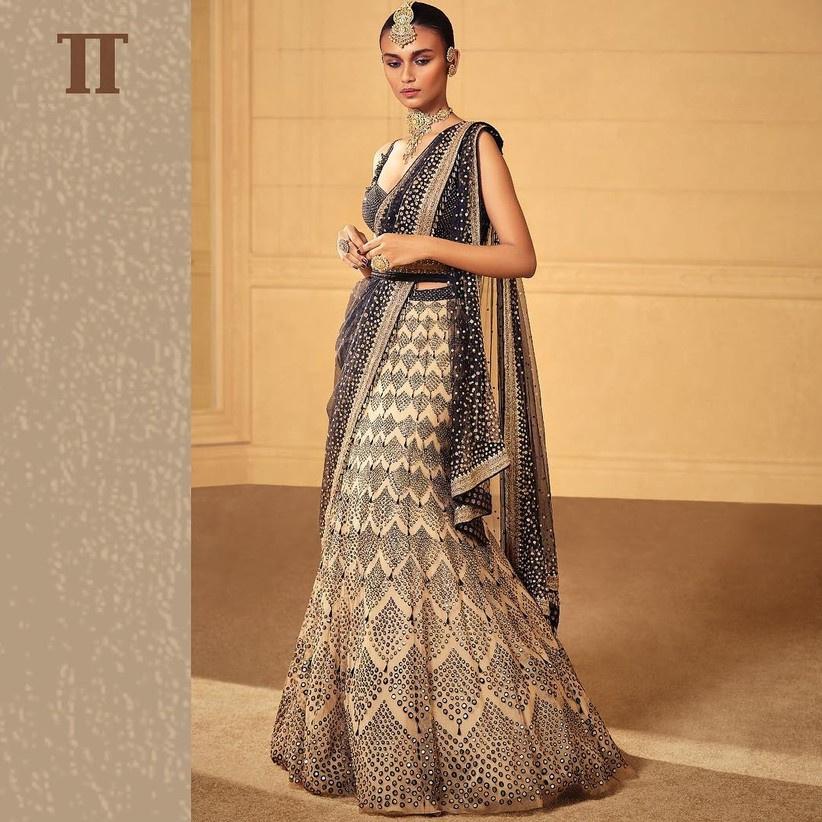 Want to show off those curves? Then you have to wear this mermaid lehenga that has the best fit, in the whole wide lehenga world! Although black is a colour with a lot of gravity, as a part of the new lehenga collection, this outfit, still manages to retain the simplicity, which is why you can put on some statement jewellery with this!
Get wedding-ready with this new lehenga collection list and prepare to be the centre of everyone's attention. These lehengas are so in trend, that you're going to light up every room you walk into while wearing these.
Want a lehenga as gorgeous as the ones shown here? Get in touch with our designers right away!