How to Wear Saree in Lehenga Style to Flaunt at a Friend's Wedding
Sarees are undeniably elegant and beautiful. Effortless, too! And sometimes you just want to be able to experiment with it to don a unique look. Need a cool idea to do that? Well here's a step-by-step guide on how to wear saree in lehenga style.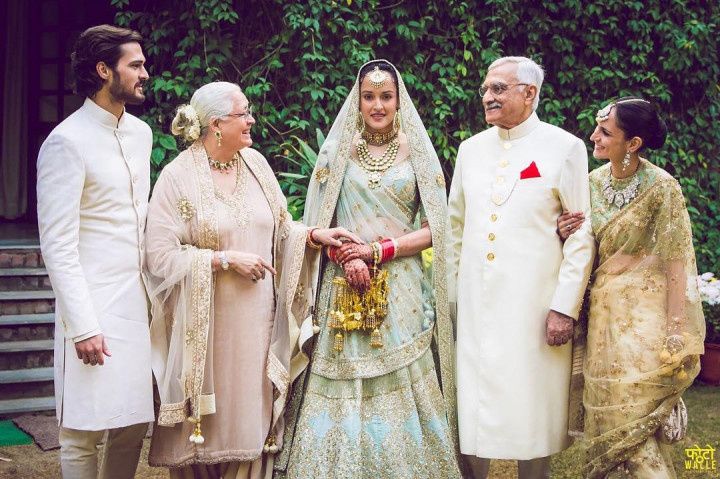 If you are heading to a wedding function and have no time to go and shop, then you've got to re-purpose. You could perhaps go ahead and have a lehenga or suit stitched out of your mum's old saree. Or you could go ahead and take your favourite saree and drape in a different style. There are a number of ways that you can do that, from draping the pallu the other side to leaving it a little loose. What we love though is draping it in a lehenga style. Well, here's how to wear saree in lehenga style.
Picking The Right Things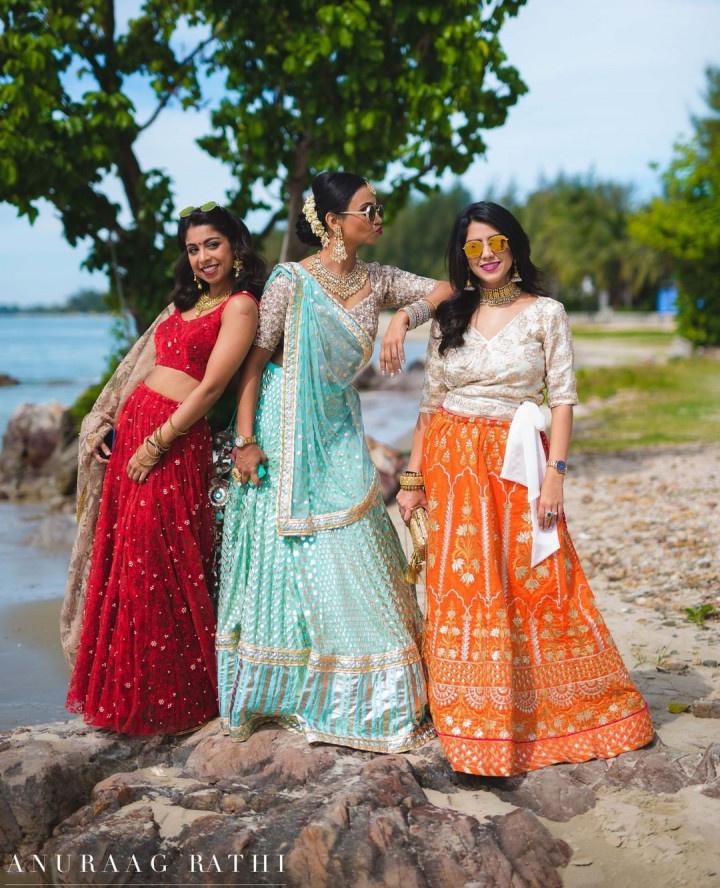 Before we dive into the steps of how to wear saree in lehenga style, it's important to pick out the right things. All you need is a beautiful old saree or even a new one if you so wish.
The second thing that you need is a beautiful blouse because you totally cannot go for a simple cotton one. While your plain blouses can be comfortable, they're hardly going to be suitable for the occasion. You need a slightly heavy and colour contrasting blouse much like a lehenga.
Next what you need is cancan. Yes, you do get cancan separately, all you have to do is slide it on like you would a skirt and pull your petticoat on top. This way you can totally be your own judge of whether you want a straight lehenga or a flared one.
Now that we have the raw materials in place, let's dive right into how to wear saree in lehenga style.
How To Do It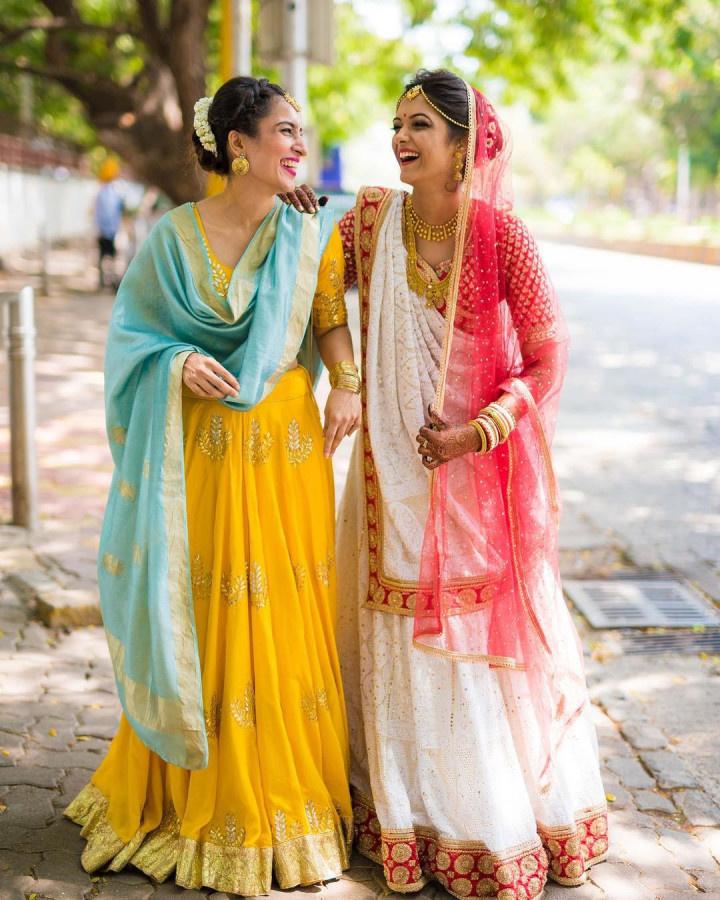 To begin with wear your blouse and if you wish to go for a straight lehenga style saree then wear the petticoat as it is. On the other hand, if you want to wear a flared saree lehenga then wear the cancan and then wear the petticoat on top. Make sure the petticoat is tight enough and you do not have to worry about tripping over the material.
Next, in line on how to wear saree in lehenga style are the pleats. This is the main part to achieve the look. Instead of classic pleats, tucked in at the centre, you have to spread them around. That is to say, that you make one pleat and then tuck it in. Start off the next on where the previous one ended and tuck that in. Go on with the process around the waist. By doing this, you are essentially creating Kalis like a lehenga.
Continue with the process until the drape comes to the right side of your waist and start pleating the pallu. Make sure that the pleats are not too broad, make smaller pleats. The next step in how to drape saree in lehenga style is placing the Pallu. While in most sarees the pallu goes across the body and lands up on the left shoulder, with this you put it on the right. This means the pallu wouldn't go across the body but come from behind the shoulder and towards the front. Pin the Pallu up once you are satisfied with the placement.
The next part is spreading the Pallu across the body. You might have seen many Parsi and Gujarati women do that with their sarees. That is exactly how you want your Pallu to look like. Many women these days are also making the style trendier by not spreading the Pallu across. This, essentially makes the Pallu look like the dupatta of your new and revamped lehenga. And that's how to wear saree in lehenga style.
What's More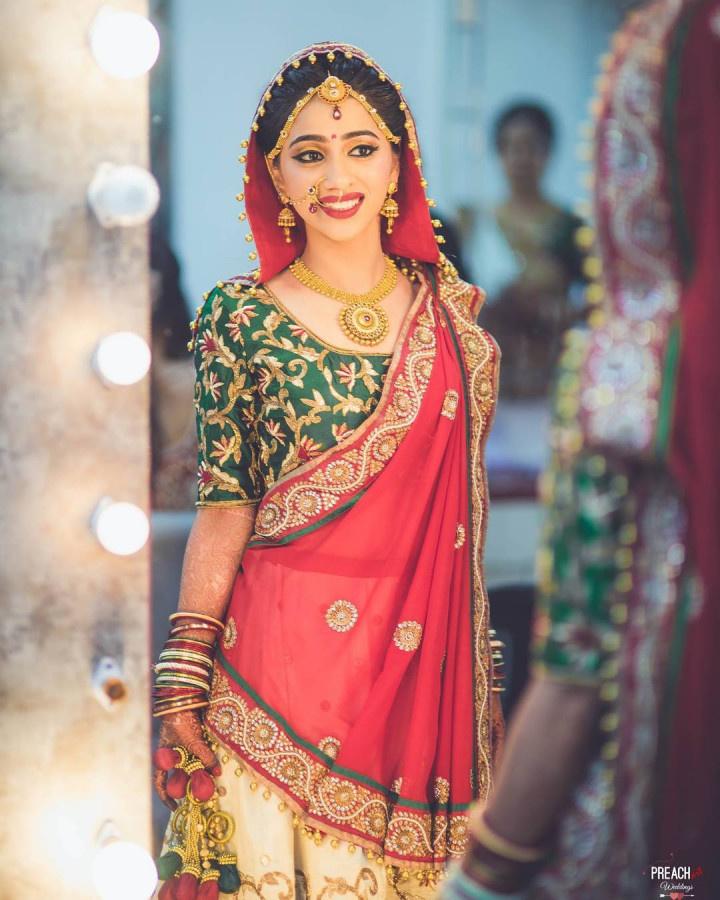 Now that you know how to wear saree in lehenga style, you could go ahead and experiment. Pair up contrasting shades together. You could even go all out with innovative blouse designs like off shoulder and more. We personally love this bride's white and red concoction, so if you do have an all-white saree then give this style a go.
We hope this comprehensive guide on how to wear saree in lehenga style helps. From what to pick to how to do it and how to play with it, this gives you all. What's amazing about this style is that it makes your old saree look new while remaining as comfortable. It's also a great way to re-use your investment. So next time you have a wedding you have nothing to wear for, this is your easy yet effective way out.
Have any innovative way that can make the lehenga style saree even trendier? Share some inspiration in the comments below.