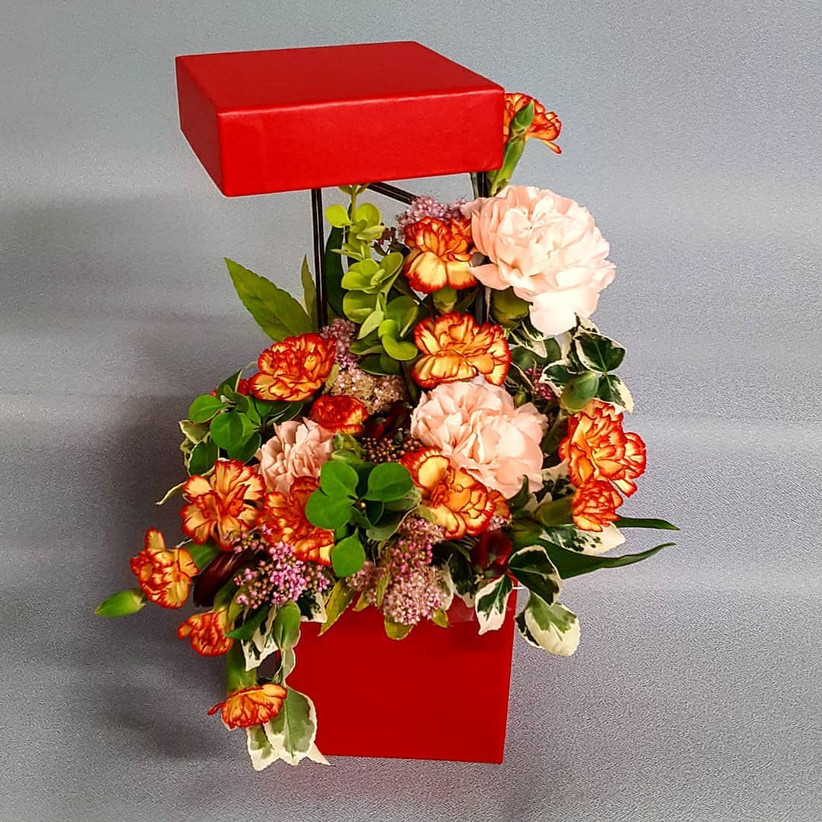 Image courtesy: Chryzantema Kolo
Want to gift flowers to a newlywed couple but don't want to go ahead with typical bridal bouquets? Introducing to you flower boxes for unique gifting ideas! Mix and match different flowers and put them in themed-boxes to create gifts that are memorable. Ready? Here goes top 20 flower box designs for you to gift:
1. Flower box with fiery blossoms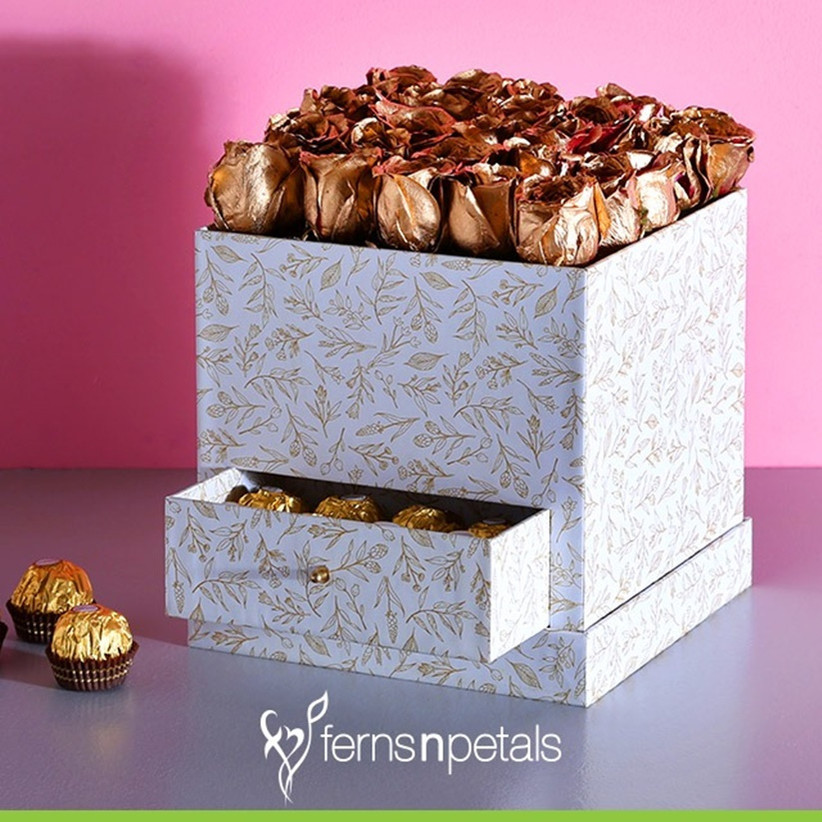 Pick a flower box with different shades of orange and yellow to create a fire 'effect' and get them arranged in an elliptical shape.
2. A vintage flower box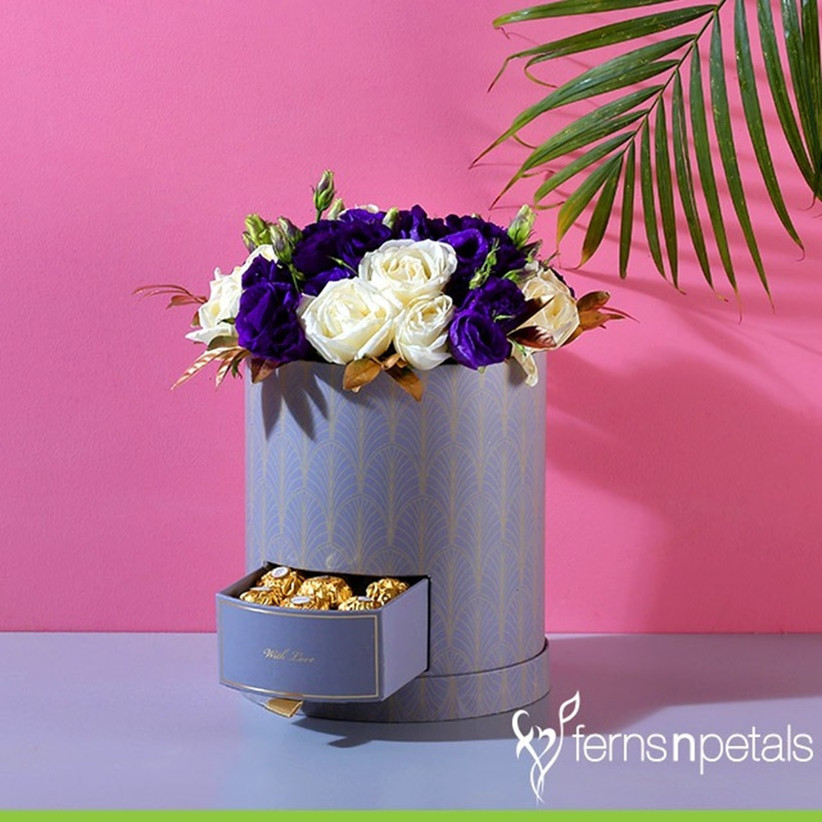 Is the couple you're going to gift the flower box to into rustic designs? Pick a flower box with shades like turquoise, peach and mossy green leaves. If these shades are not available in natural flowers, you can also pick artificial ones to create the look.
3. A Victorian flower box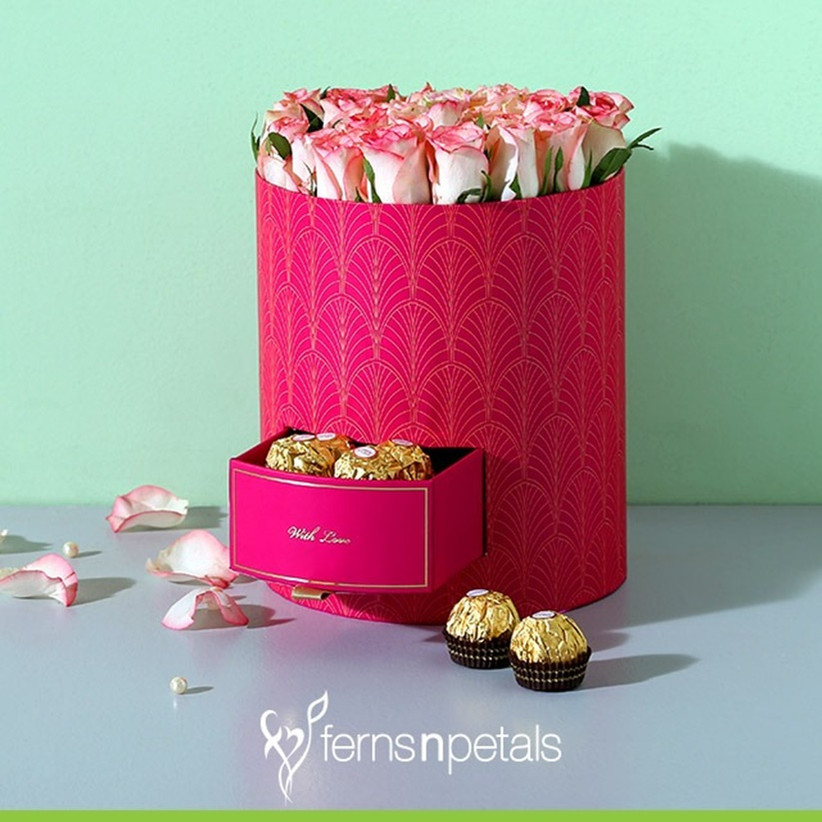 Get roses in pastel shades and drape them over each other in a criss-cross form and put them in a white flower box. Nothing screams old-school romance more than pastel roses and white boxes.
4. The summer days flower box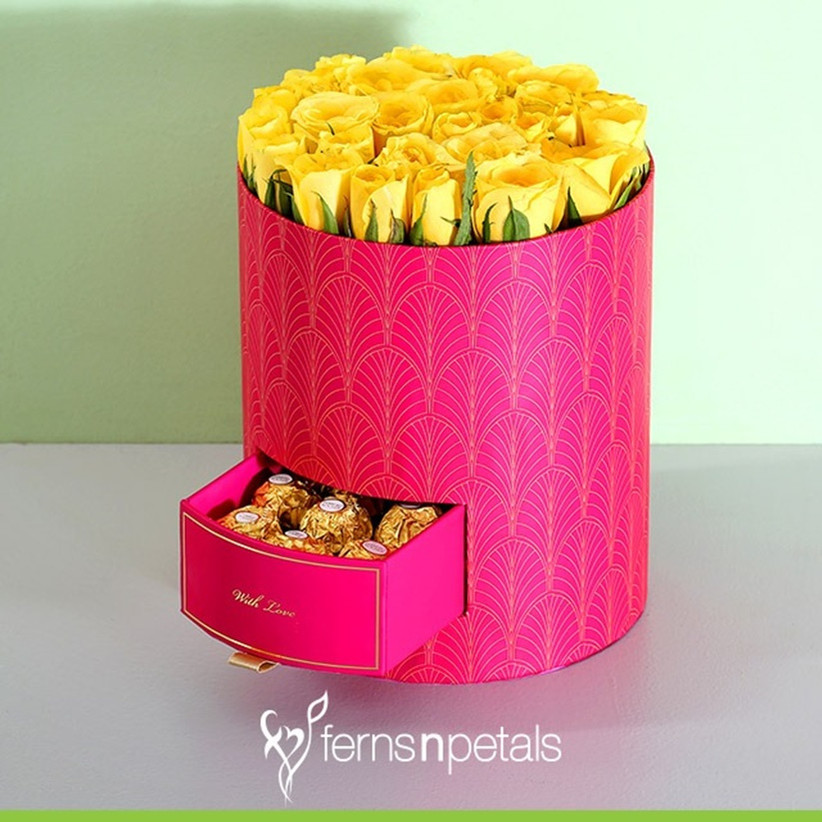 Think bright coloured flowers and leaves for this one ⁠— bright pink, yellow red mixed with bright green leaves that remind you of long and lazy summer days. More than a gift, it'll also stand apart as great decor.
5. Artistic ombre flower box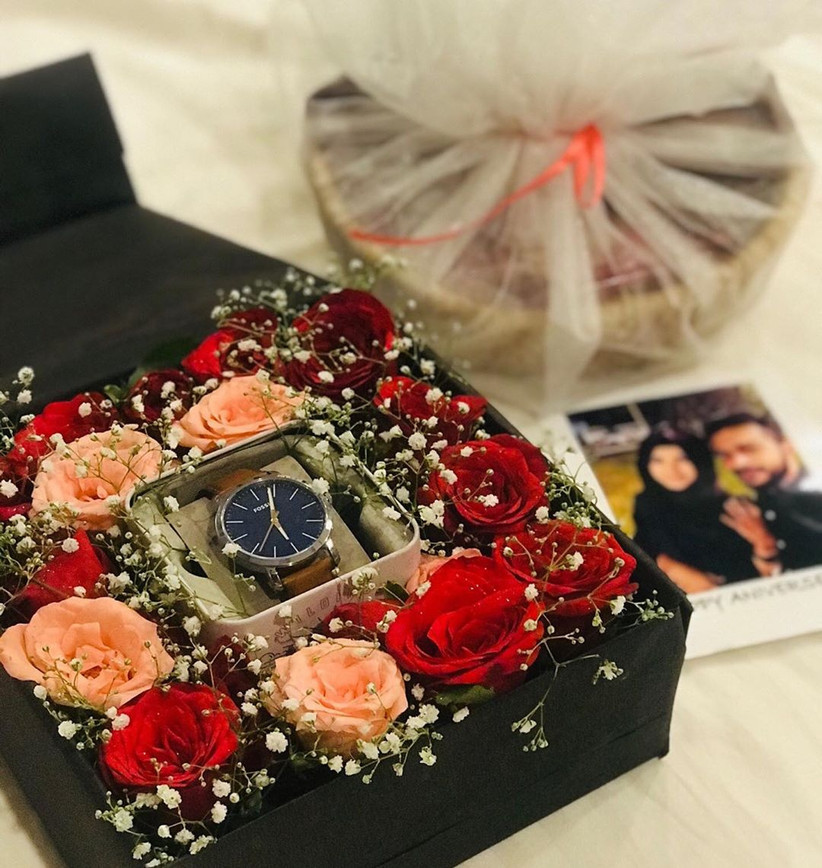 Image Courtesy: Afish Henna
A horizontal flower box is a great variation from the traditional bouquets for gifting and makes for stunning decor as well. You could arrange blooms by colours and surround them with intricate ferns.
6. Overflowing flower box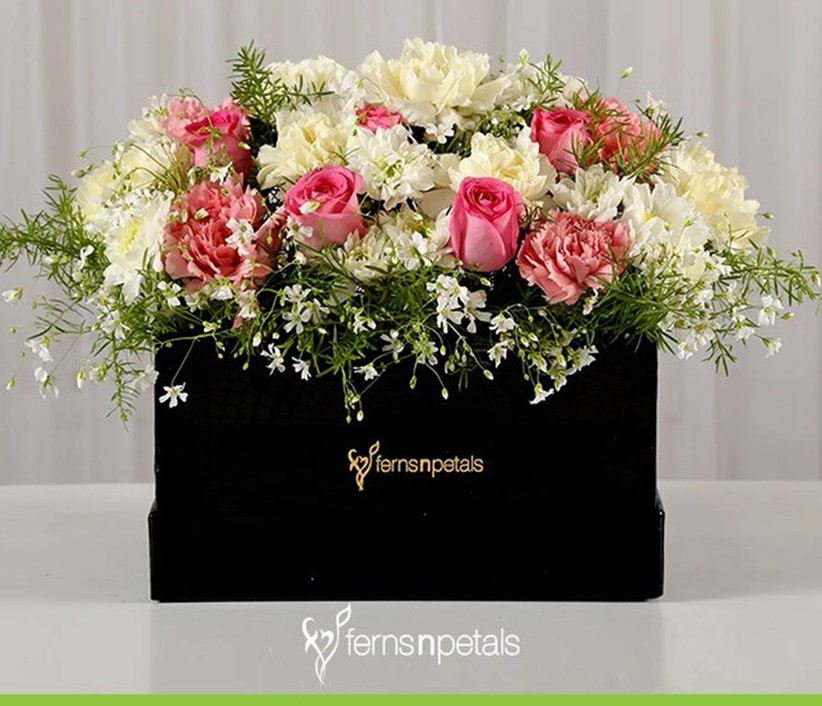 For a full-looking lush flower box, make the base with subtle greenery. On the outer rim, add delicate tendrils that spill over creating a 'full-effect'. Then add a colourful flower (or three, in case you don't have big ones) in the centre of the box.
7. The minimal flower box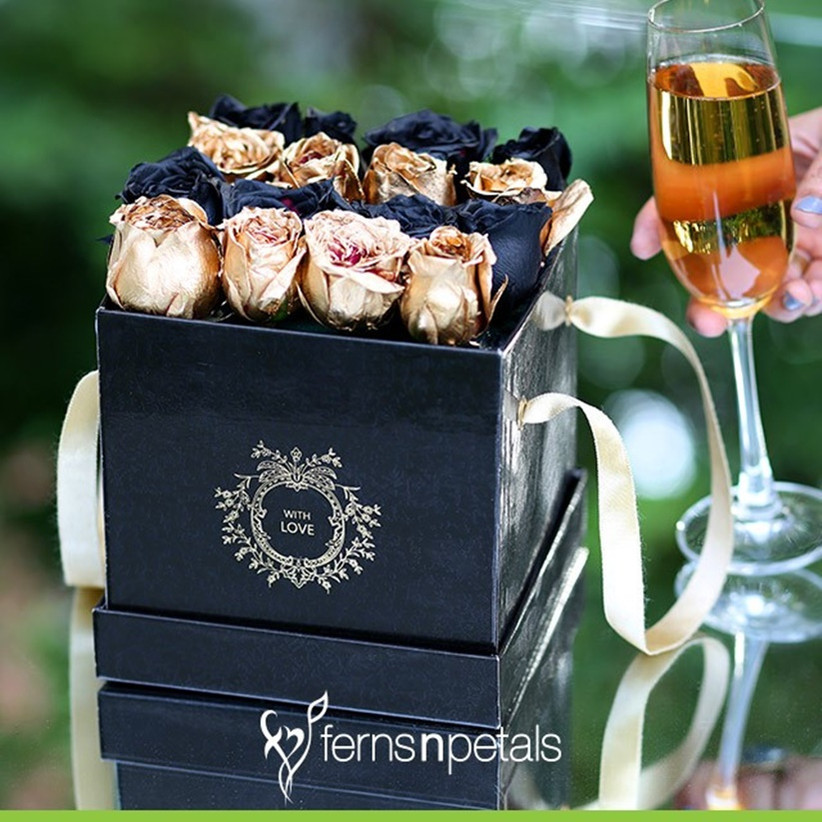 Minimalism always proves that simplicity is beauty. This flower box is all about elegance and the chic look. Add oversized foliage and one stem of a wildflower to create a beautiful (and very easy) flower box.
8. The mixed up flower box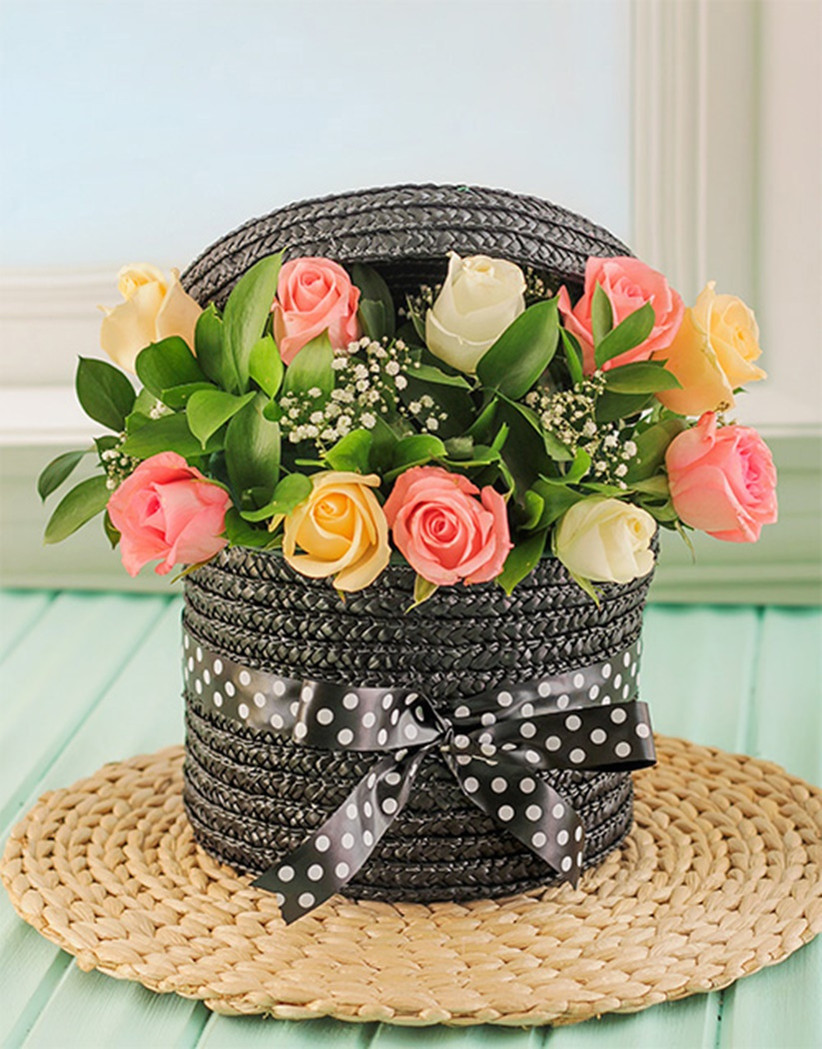 Image courtesy: Net Florist
Don't want to go ahead with the same shade of flowers? No problem! Bring in some variety by mixing up flowers with herbs. All you're going to need is fresh herbs, pink geraniums, purple pansies and roses.
9. A flower box made only with sunflowers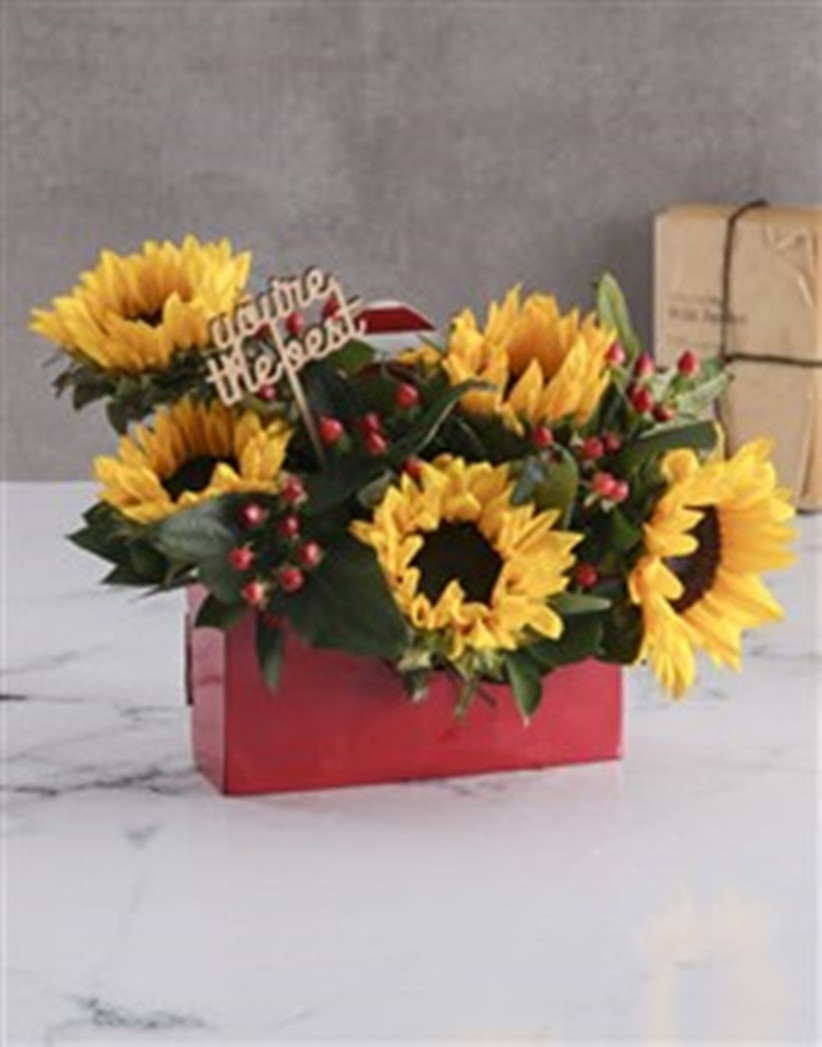 Image courtesy: Net Florist
Picking different shades of the same flower can be another interesting way to assemble a flower box. From yellow, orange and black put in different sunflowers to create a box that stands apart. This will definitely remind you of happy, relaxing and vibrant days!
10. Happy vibe Flower box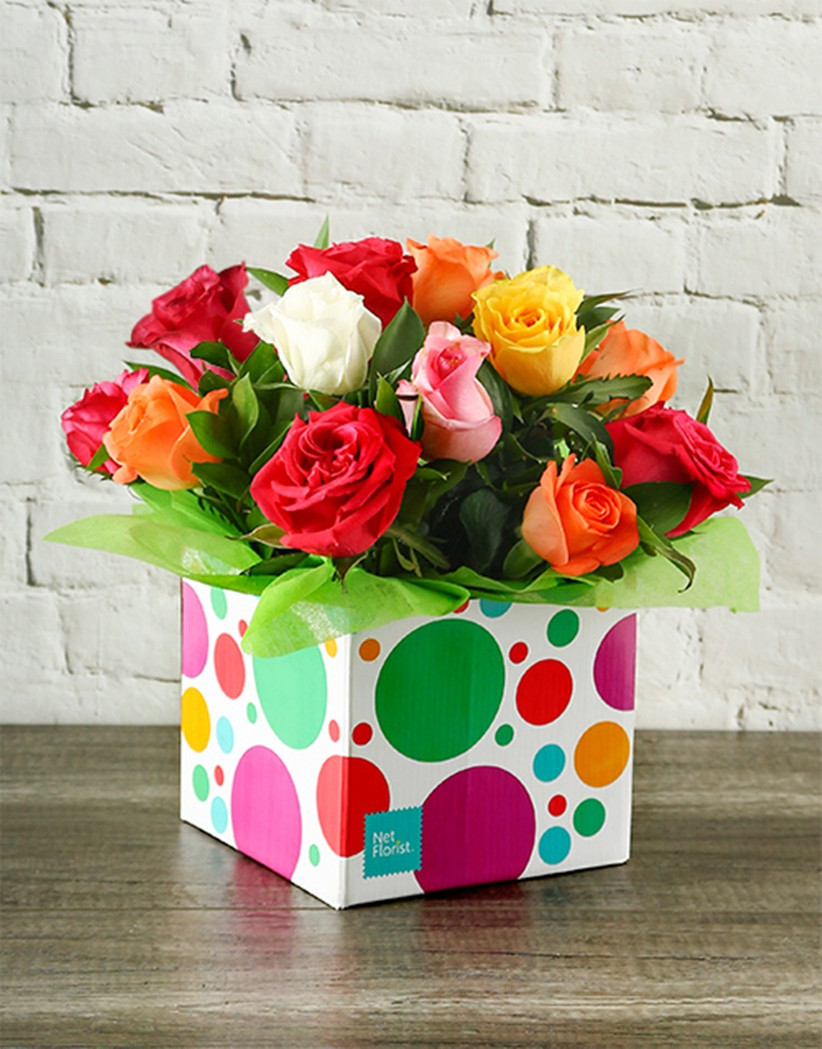 Image courtesy: Net Florist
An elegant flower like a rose when mixed with simple marigolds, make for a beautiful flower box. Make sure that the box is made of stoneware and the roses are similar to marigolds in appearance.
11. The fresh flower box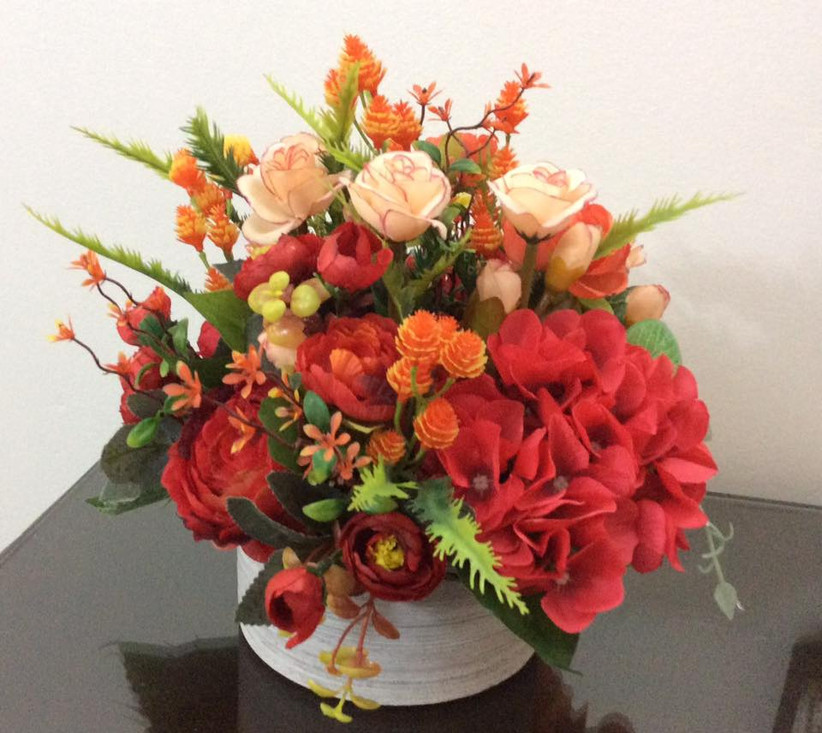 Image courtesy: Bunny Florist
Delicate blossoms with short stems in old bottles covered with an antique box. Despite the short stems the flowers will look celebratory and the smell is going to be heavenly.
12. The charming flower box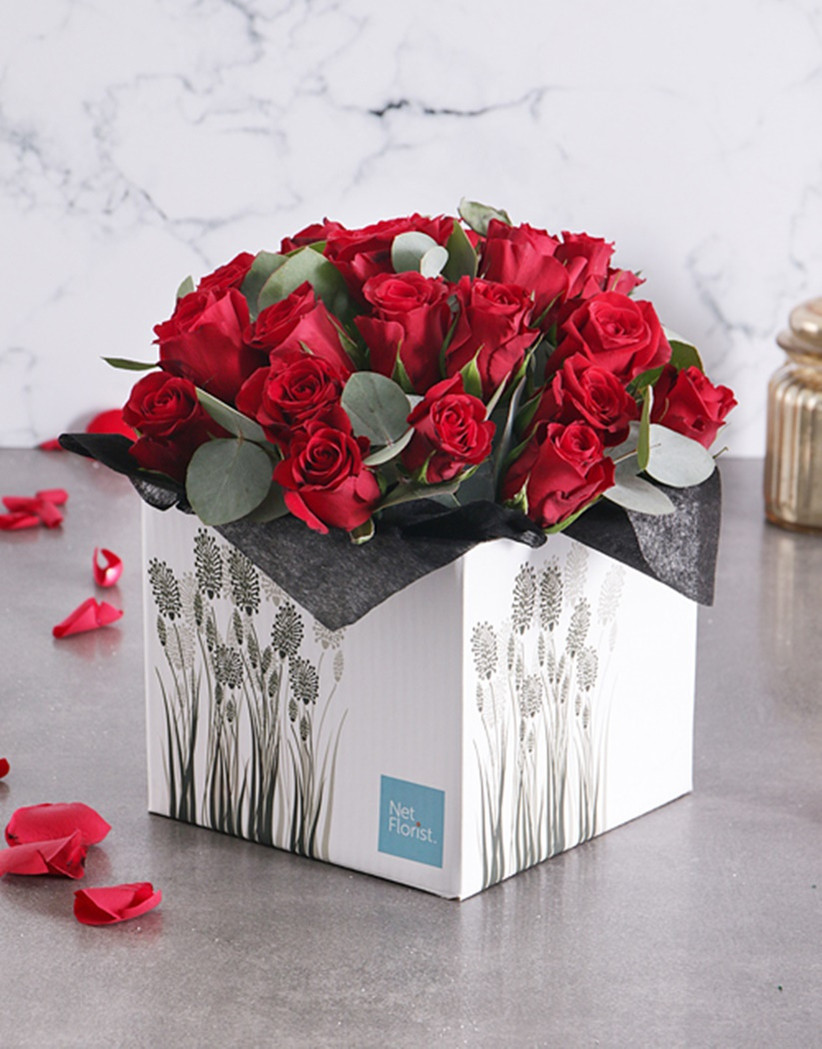 Image courtesy: Net Florist
A dozen magenta flowers and snippets of soft yellow or red blossoms in a stoneware container make a charming flower box.
13. The shaded flower box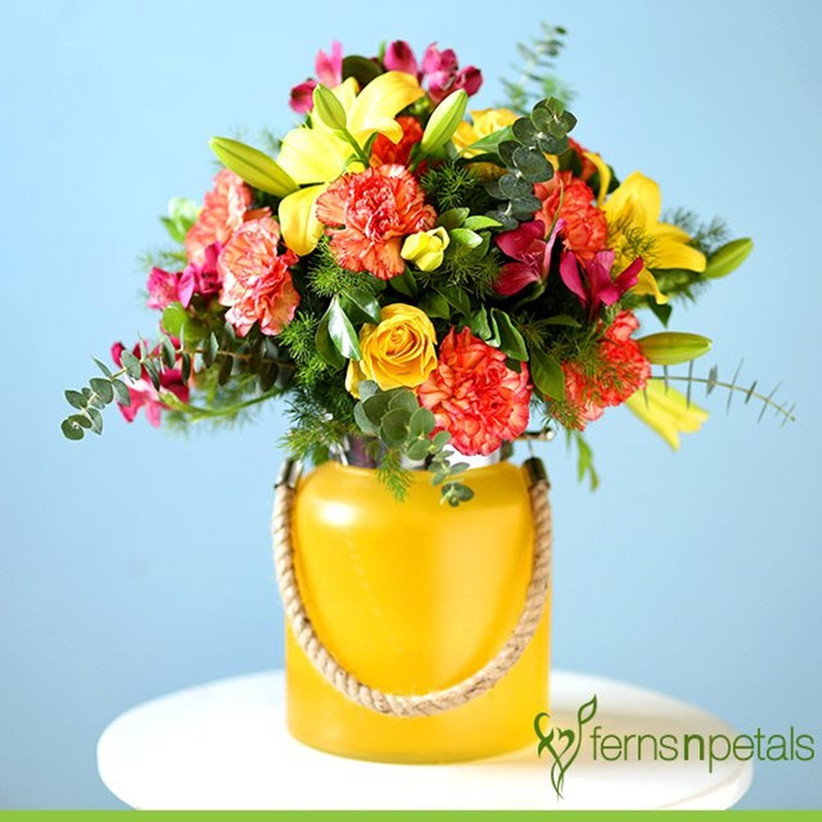 For this one, first, put together three containers with differently coloured but contrasting shades of flowers. You could try experimenting with colours that transition from red to white or vice-versa.
14. All-time favourite flower box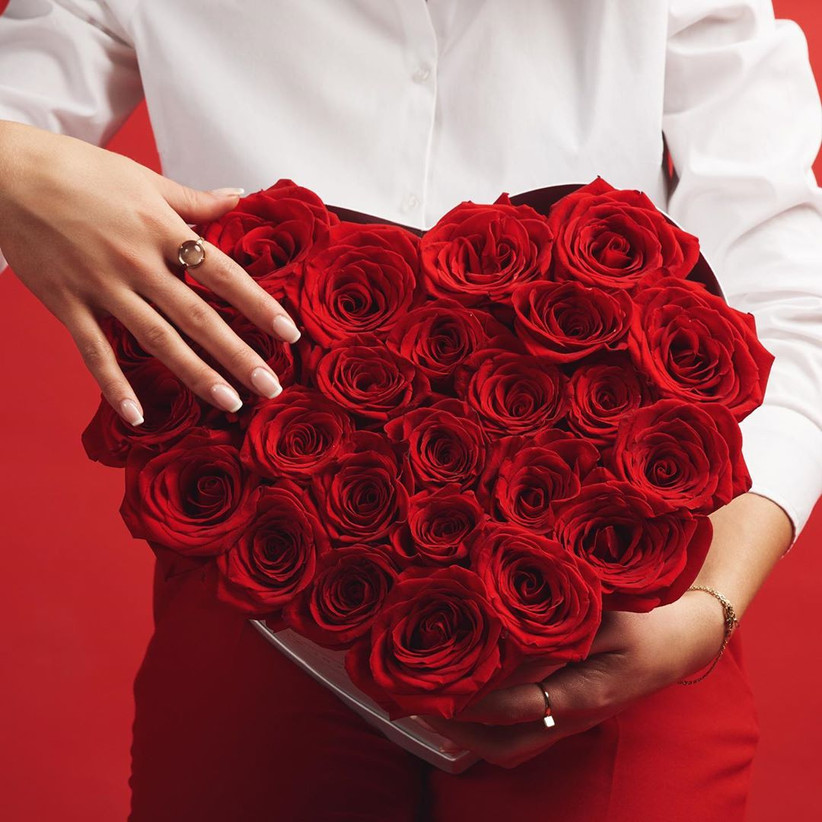 Image courtesy: Boutique 107
One option could also be where the look and feel of the flowers match the vibe of the boxes you arrange them in. Pick an antique box and fill them in with classic roses.
15. The traditional flower box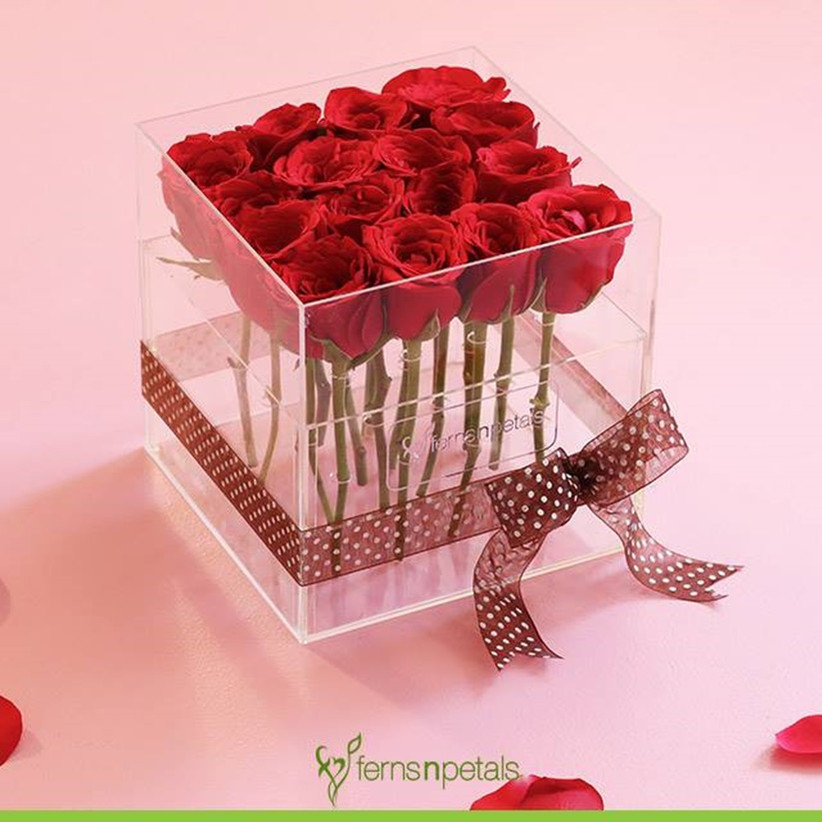 Chestnut flowers in blue boxes look stunning. Balancing the whole thing might be tricky so place the flowers in transparent jars first and then put them in the box.
16. The casual-vibe flower box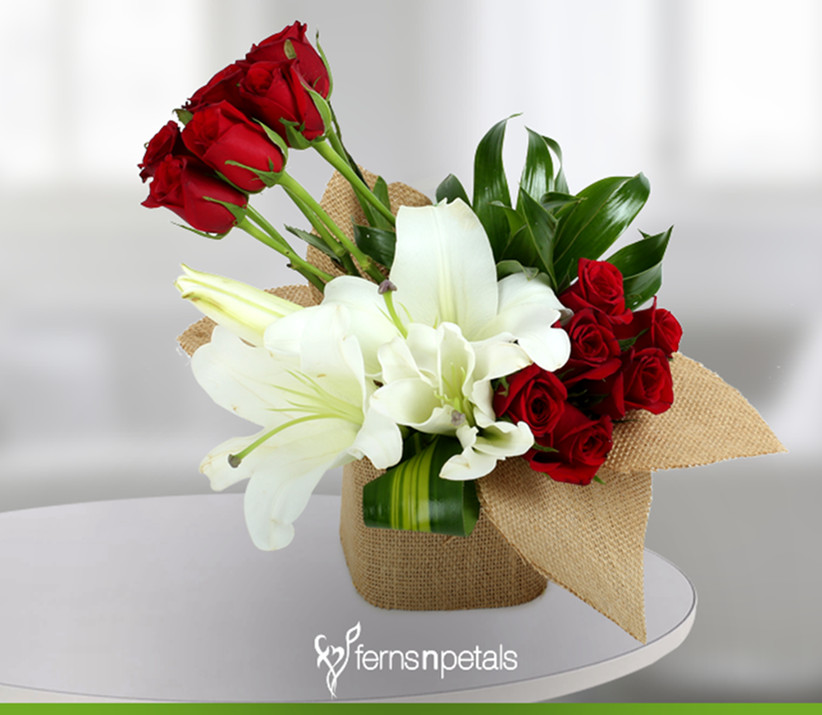 Simple boxes always make for a wonderful gift. Arrange stems of mustard or fennel seed herbs in a classic glass box for an elegant and simple gift.
17. The garden in a flower box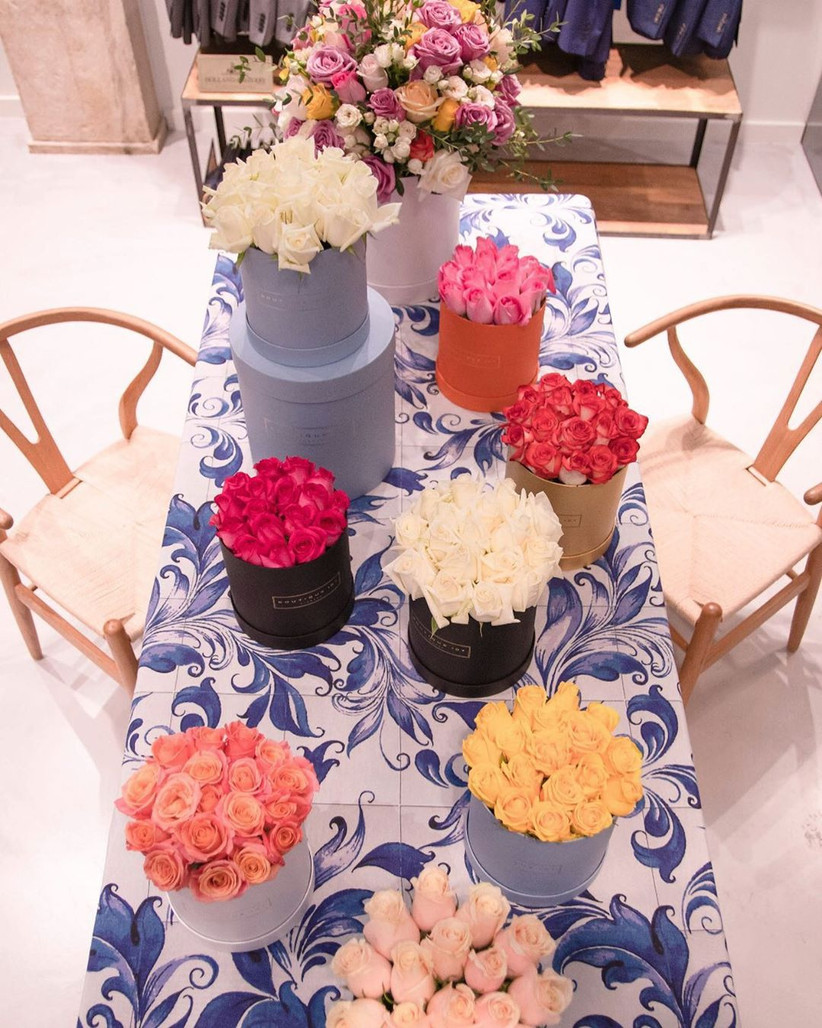 Image Courtesy: Boutique 107
If you have a vegetable garden at home you can create a wonderful gift with that too! A strand of tomato leaves will add depth and character to an otherwise light display. Plus as the fruit ripens the whole display will start taking shape.
18. The book-shaped flower box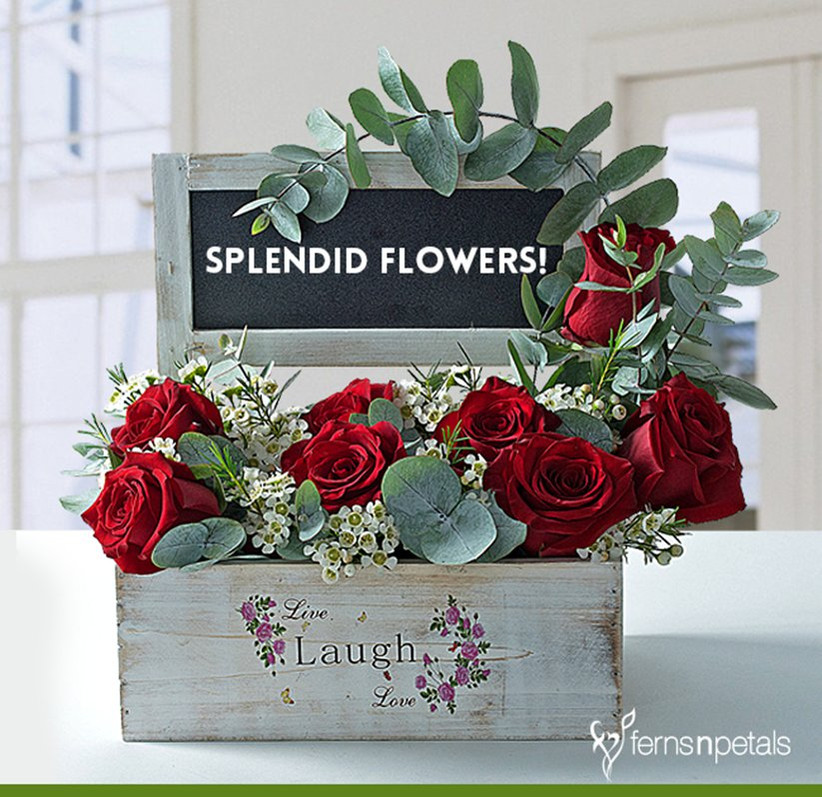 If the couple you're gifting this to, has a thing for books, then the book-shaped flower box makes a lot of sense. Collect some old books from a vintage store, and then hollow out the pages. Throw in some purple or pink flowers in the hollowed out shape. This will be symbolic of the life that books and words hold!
19. The flower box with heritage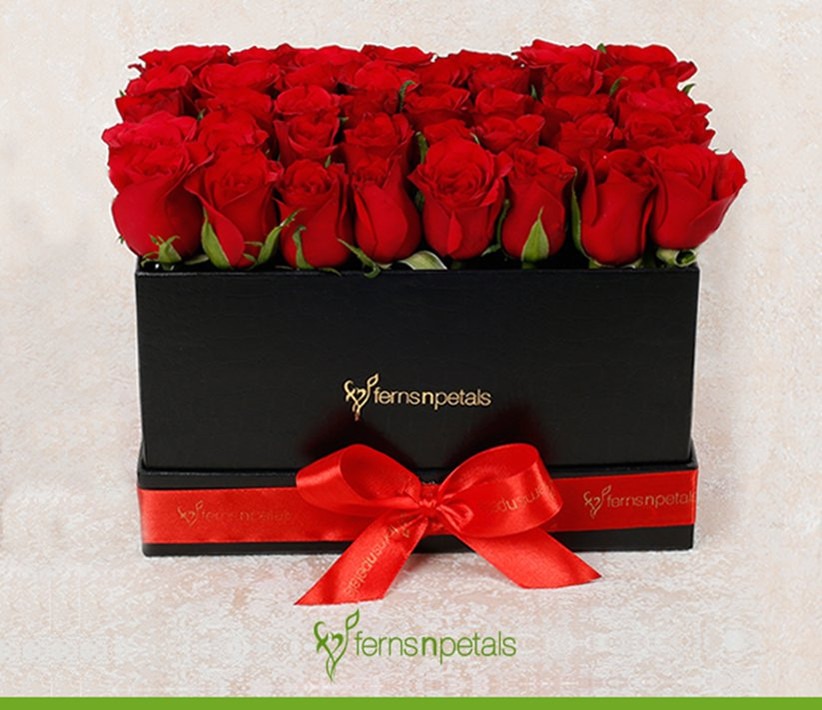 One fun way to personalise the flower box is to celebrate heritage. Search through vintage shops to find stellar boxes that will look nice with fresh flowers. Add brightly-coloured flowers and make sure they match at least one colour on the box.
20. The hat flower box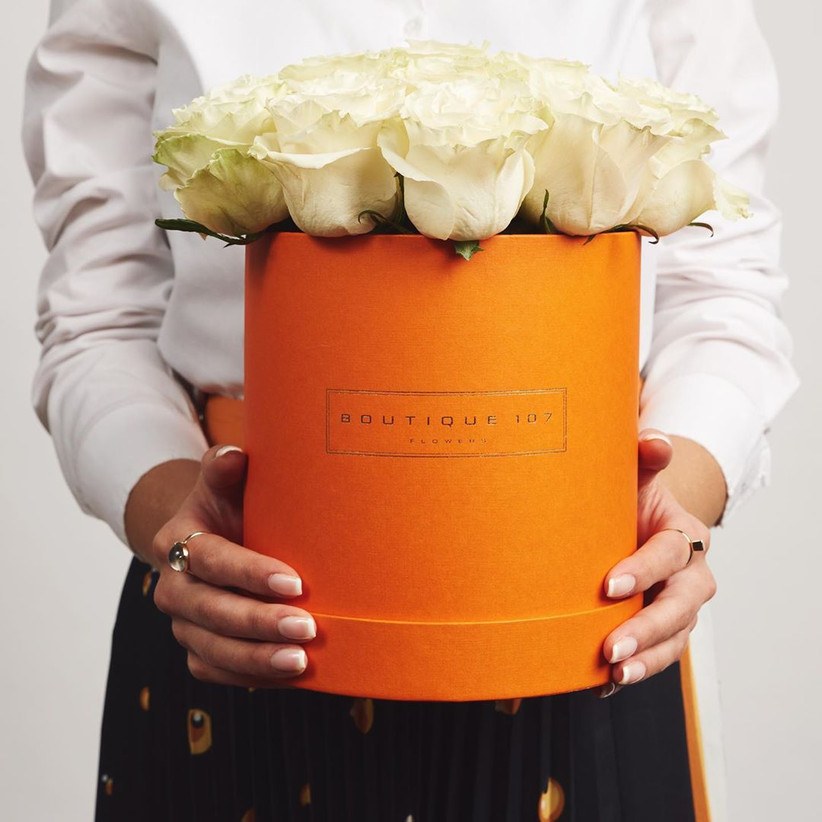 Image courtesy: Boutique 107
Hat boxes always stand out. They have this classy feel to them and the white or pastel ones are super elegant! Pick flowers that are not fancy and are closer to the colour of the box (think: pink roses). This would be ideal for gifting on your BFF's wedding!
Each of these flower boxes are unique in their own way and the one that you choose will depend on your relationship with the couple and the kind of mood and aesthetic they prefer. If you don't know them too well, the traditional flower box is the best option!
Interested in gifting a flower box? Get in touch with our florists here!
-Written by Rohini Roy